This Lime & Coconut Cake evokes the very best of those tropical island flavors. Tender coconut lime cake layers with a tangy lime curd and silky coconut buttercream.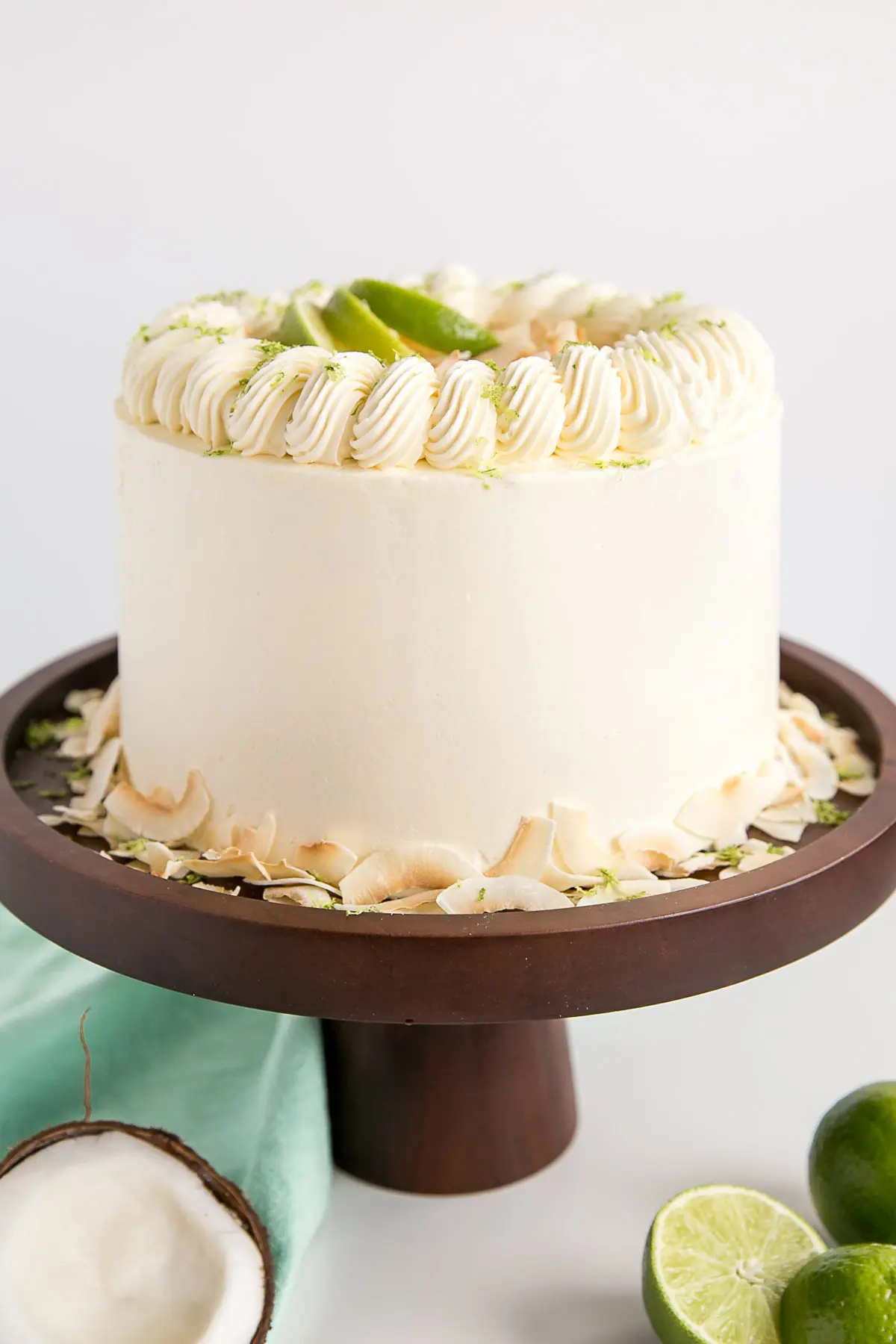 Has anyone seen Practical Magic? You know that scene with the Midnight Margaritas? The entire time I was working on this cake, I had that and the Put the Lime in the Coconut song in my head. Love me a good Sandra Bullock movie. I watch that one every year around Halloween!
After my last cake recipe, I'm happy to report that all components of this cake came together without issue. I basically merged parts of my Lemon Elderflower, Key Lime Pie, and Coconut Cakes to form this Lime & Coconut Cake. The decorating though, that went as badly as you can expect when filling a cake with a soft lime curd.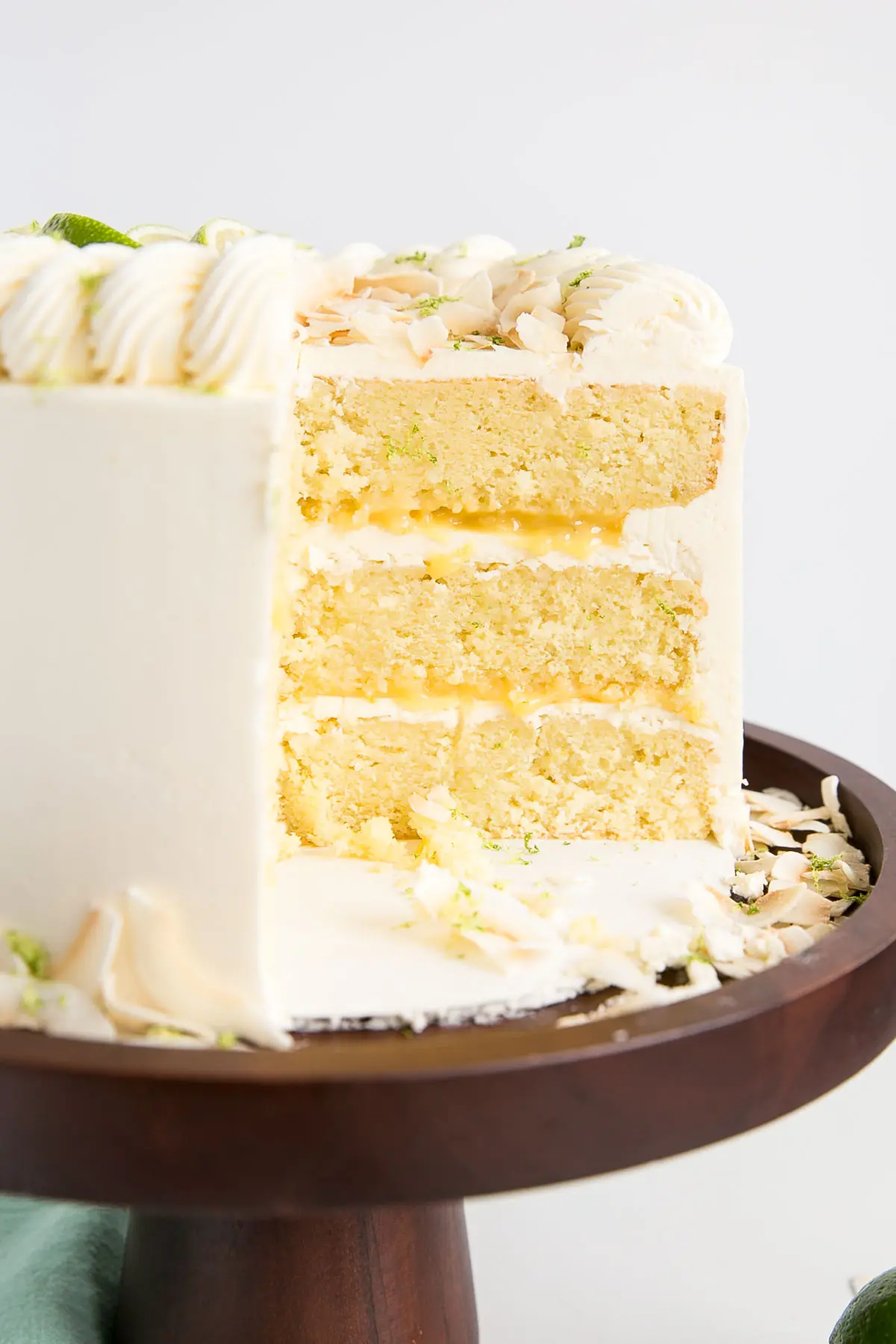 How Do You Make Lime Curd?
Lime curd (any curd really) is super simple to make. You just mix some eggs, sugar + zest and juice from whatever citrus fruit you're using. Cook it over low heat on the stove, stirring constantly until it thickens. Add butter, stir to melt, and you're done. It will thicken a bit more as it cools.
You can strain your curd if you like, but I prefer to see the little bits of zest in there. If you're worried you might have cooked some of the egg too much though, you can strain it to get any of those bits out.
I prefer to use whole eggs in my curd rather than just egg yolks. This is a matter of preference. I just like the look of a pale yellow curd vs. a rich yellow one. It just looks more natural to me, don't ask me why! But if you have an egg yolk only curd recipe that you use and love, feel free to use that instead. Since the buttercream uses egg whites, you'll have a bunch of yolks left over that you can use for it.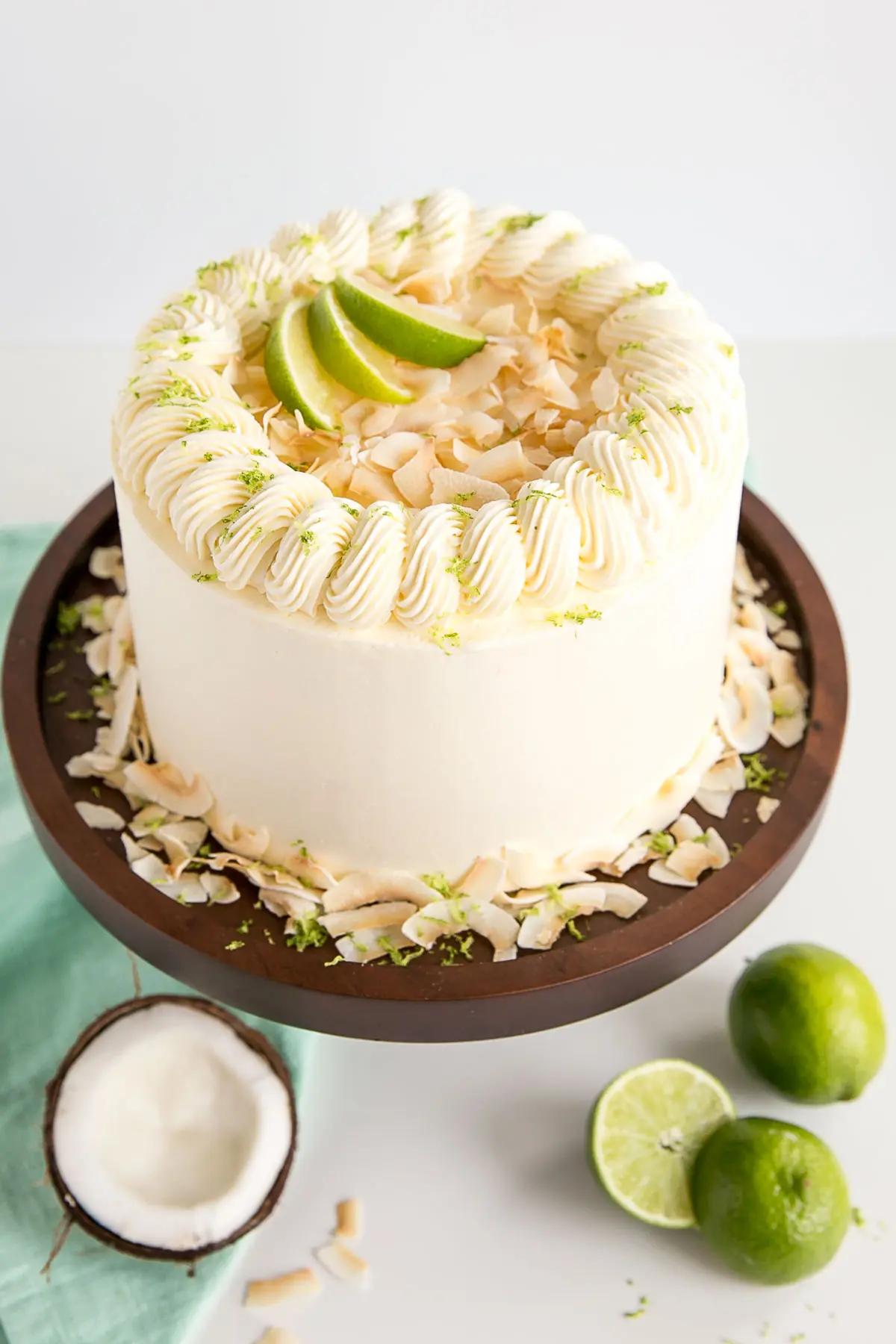 The lime & coconut cake layers baked up without issue, and I made my favorite Swiss Meringue Buttercream to go with the cake, flavoring it with a good bit of coconut milk powder. The trouble for me came with the assembly.
It's been cold (and snowy) here, and we tend to keep our place warm – like 23°C (73°F) warm. This doesn't usually have a huge impact on my cake baking/decorating, but in this case I had made the frosting the day before and just left it on the counter overnight. It was the perfect texture after rewhipping in the morning, but a bit on the softer side.
I frosted my cake, making sure to use a buttercream dam around the edges to hold in the lime curd on each layer, and gave it a good crumb coat all around. In hindsight, I may have put in a bit more curd than I should have, but it's seriously too good not to!! All was going well, until I went to transfer the cake into the fridge.
I bumped the damn cake board on the fridge shelf, and the layers shifted because the frosting was so soft. They only slid slightly, but enough that the curd stared to ooze out the sides. Many expletives were thrown about. I took the cake back out, recentered the layers, stuck bamboo skewers through the top of the cake (in hindsight, I should have done this in the first place) and worked quickly to try and patch the leak(s). I had to put huge spackles of buttercream on my perfectly crumb coated cake to stop further leaks. It looked like a mess, not gonna lie, but it seemed to be holding.
For fear of another curd leak disaster, I chilled the cake much longer than I normally would before giving a final frosting pass — maybe like an hour instead of 20mins. I did not want to risk any more sliding. That seemed to do the trick. I removed the bamboo skewers and got to frosting the cake.
Unfortunately, the extra long chilling time and the chunky spackled sections made the cake difficult to frost. Well, difficult to get perfectly smooth, anyhow. The frosting was setting very quickly and firming up, so it made it harder to smooth out. I ended up having to use a heated (under hot water) metal scraper to even it out. It did an okay job.
You can't see the imperfections in the pictures because I've edited them out via the magic of Photoshop! Ryan says no one would have noticed them, but a discerning cake decorator's eye surely would have.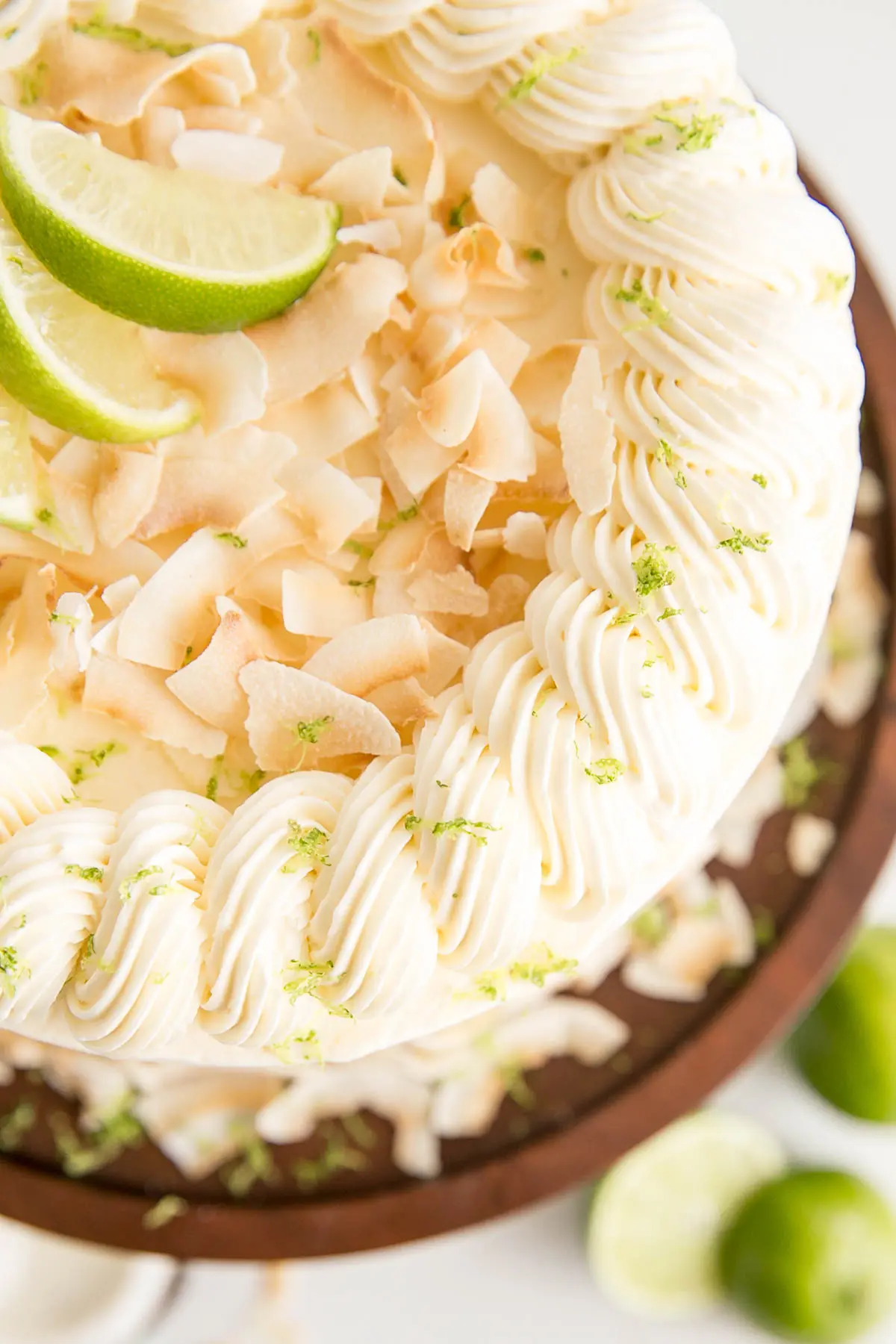 The rope border technique I used on the top of this cake is still my favorite. I've used this a few times before with a variety of piping tips.
If you want to see how I do it, you can check out the Baking Tips story highlight on my Instagram page.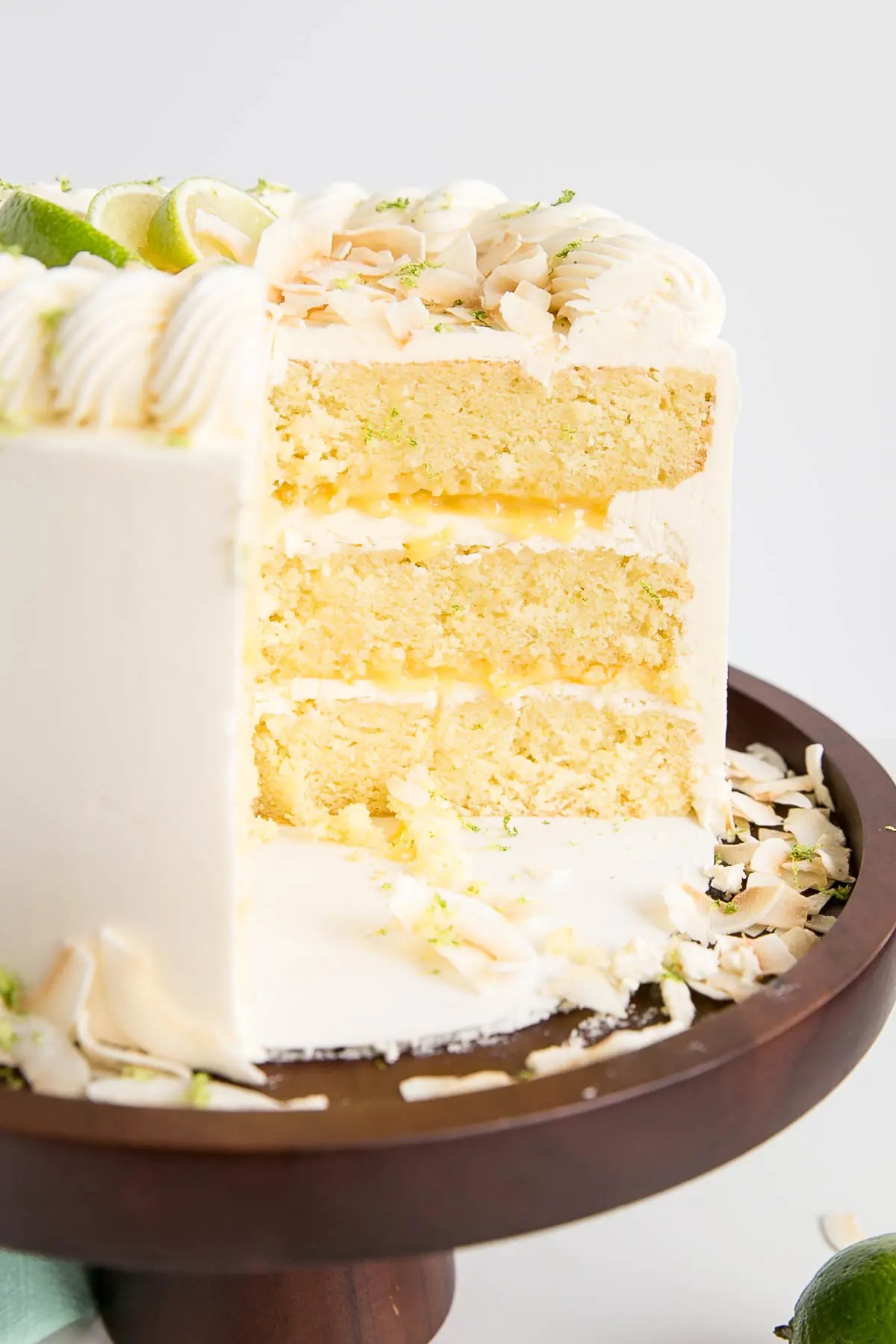 Cake decorating issues aside, this Lime & Coconut cake was totally worth the effort because it is SO good. The coconut lime cake layers are delicious on their own, but get taken to a whole 'nother level when paired with the best lime curd and coconut buttercream you'll ever have.
I love lime and coconut together, but you could also do lemon or even orange instead if you prefer. Key lime and Meyer lemon are also great options!
If you don't love the texture of shredded coconut in your cake (Ryan doesn't) then you can leave it out. The coconut flavor will still shine through from the coconut milk and frosting.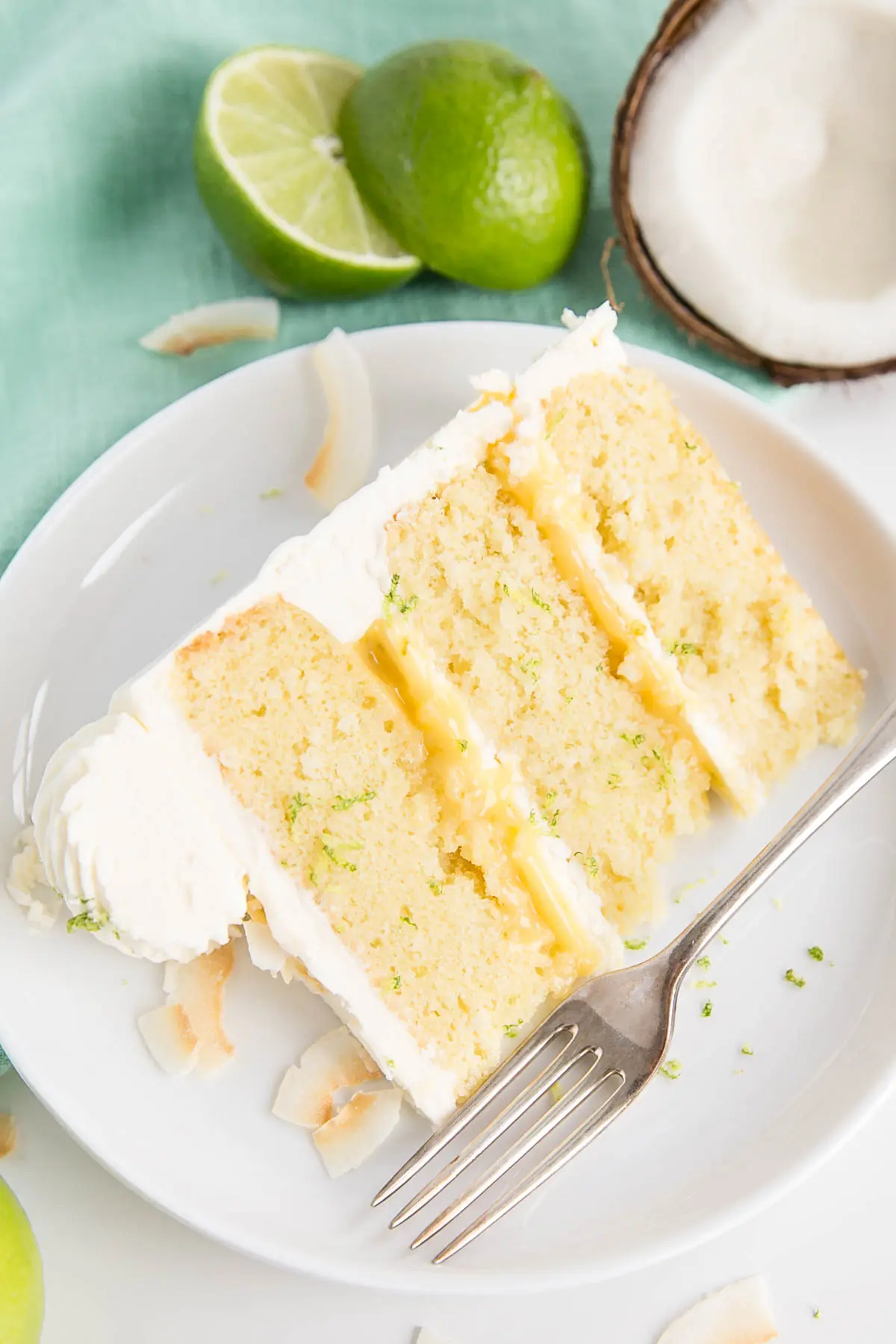 Looking for more Tropical Desserts?
Tips for making this Lime & Coconut Cake
Be sure to use canned coconut milk, not the stuff in the carton, and shake it well before use. Mine was quite smooth, but it can separate a bit, so be sure to shake it!
The coconut milk powder worked extremely well in the frosting, adding great flavor without affecting the texture.
You can leave the shredded coconut out of the cake batter if you prefer a smoother texture.
If you like, you can add a couple of Tbsps of coconut milk powder into the dry ingredients in the cake batter to enhance the flavor even more, especially if you leave out the shredded coconut.
My lime curd uses whole eggs, but if you have a yolk-only lime curd recipe that you love, feel free to use that instead.
You can use key limes instead of regular limes if you can get your hands on some.
To make cupcakes, all you need to do is reduce the baking time — start checking at 15mins or so.
Be sure to check my

Swiss Meringue Buttercream

post for tips and troubleshooting.
Learn how to keep your cakes moist using simple syrup.
To help ensure your cake layers bake up nice and flat, check out my Flat Top Cakes post!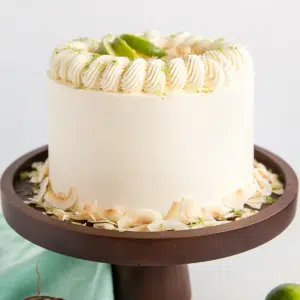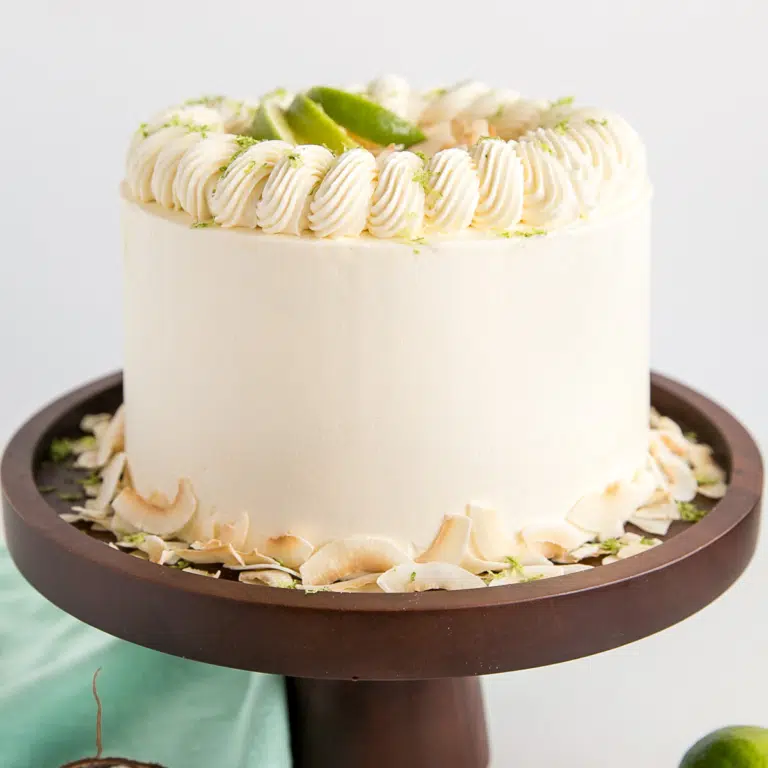 Coconut Lime Cake
This Lime & Coconut Cake evokes the very best of those tropical island flavors. Tender coconut lime cake layers with a tangy lime curd and silky coconut buttercream.
Ingredients
Instructions
Coconut Lime Cake:
Preheat oven to 325F. Grease and flour three 8″ cake rounds and line with parchment.

In a medium bowl, whisk flour, baking powder, and salt until well combined. Set aside.

Using a stand mixer fitted with a paddle attachment, cream butter and lime zest until smooth. Add sugar and beat on med-high until pale and fluffy (approx 3mins).

Reduce speed and add eggs one at a time fully incorporating after each addition. Add vanilla.

Alternate adding flour mixture with milk, beginning and ending with flour (3 additions of flour and 2 of milk). Fully incorporating after each addition. Gently fold in shredded coconut.

Spread batter evenly between the prepared pans and smooth the tops.

Bake for about 35mins or until a toothpick inserted into the center comes out mostly clean.

Place cakes on wire rack to cool for 10mins then turn out onto wire rack to cool completely.
Lime Curd:
Place eggs and sugar into a small pot, whisk to combine. Add lime juice and zest. Cook over medium-low heat whisking constantly until mixture thickens and coats the back of a spoon. Stir in cubed butter and whisk until smooth.

Transfer to a glass bowl and lay plastic wrap directly on surface to prevent a skin from forming. Chill for 2 hours to set. Makes a little over 1 cup.



Coconut Swiss Meringue Buttercream:
Place egg whites and sugar into the bowl of a stand mixer, whisk until combined.*

Place bowl over a pot with 1-2″ of simmering water and whisk constantly until the mixture is hot and no longer grainy to the touch or reads 160F on a candy thermometer (approx. 3mins)

Place bowl on your stand mixer and whisk on med-high until the meringue is stiff and cooled (the bowl is no longer warm to the touch (approx. 5-10mins)).

Switch to paddle attachment. Slowly add cubed butter and mix until smooth.**

Add 6-8 Tbsp coconut milk powder (to taste) one Tbsp at a time whip until smooth.
Assembly:
Place one layer of cake on a cake stand or serving plate. Poke holes into the cake using a bamboo skewer. Brush with simple syrup if desired.

Spread a thin layer of buttercream on top of the layer and pipe a border around the outside to hold the lime curd in. Fill with about 1/2 cup of lime curd. Repeat with next layer.

Place final layer on top and do a thin crumb coat on the cake. Chill for 20mins.

Frost the top and sides of the cake with remaining frosting. Smooth the sides and top and do a rope border with the remaining buttercream. Fill the center with large toasted coconut chips and sprinkle with lime zest if desired.
Notes
* Ensure there is NO trace of egg yolks in your whites and that your mixer bowl and whisk is completely grease free or your meringue won't stiffen.
** The buttercream may look like it's curdled at some point. Keep mixing until it is completely smooth.
Calories:
894
kcal
Carbohydrates:
82
g
Protein:
8
g
Fat:
60
g
Saturated Fat:
39
g
Cholesterol:
221
mg
Sodium:
198
mg
Potassium:
234
mg
Sugar:
62
g
Vitamin A:
1640
IU
Vitamin C:
1.6
mg
Calcium:
70
mg
Iron:
2.4
mg
The nutritional information and metric conversions are calculated automatically. I cannot guarantee the accuracy of this data. If this is important to you, please verify with your favorite nutrition calculator and/or metric conversion tool.