These Mini Key Lime Pies are the perfect bite-sized version of traditional Key Lime Pie.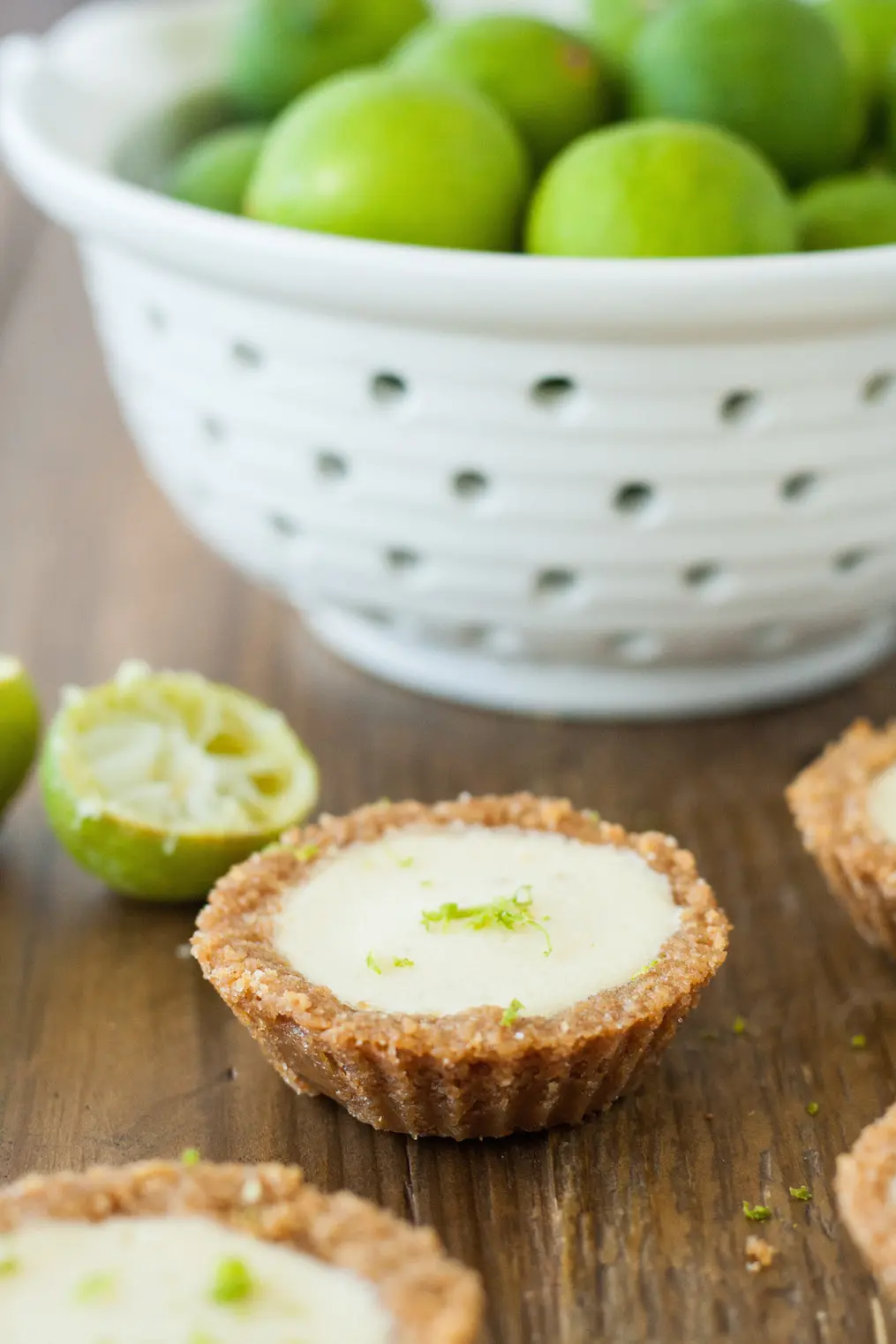 I don't typically take the easy road on things, unfortunately. In hindsight I always wish I had – like, what was I thinking?? In this case, I had it set in my mind that I wanted to make mini key lime pies, and I wanted them to be in mini tart pans, NOT in cupcake liners and tins like I'd seen in so many recipes online. Learn from my mistakes people, just use the damn lined cupcake tins like everyone else does. So. Much. Easier.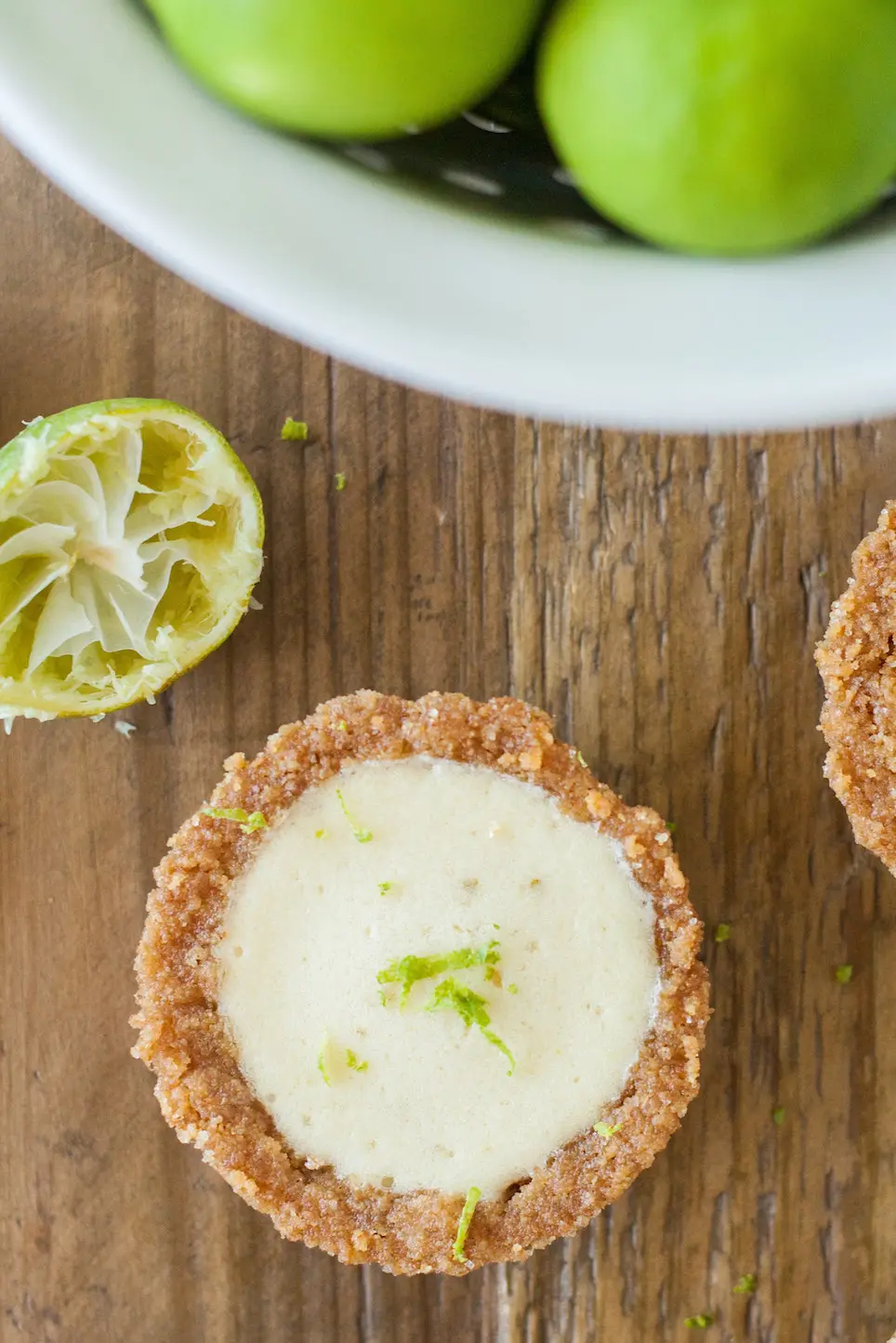 I didn't own a mini tart pan, so initially I was on the hunt for those aluminum foil pie plates you can buy in the grocery store, mini ones, but I couldn't find any. My ideal, obviously, was an actual mini tart pan, but I didn't think I'd find one, especially since I was not willing to pay full price for something I'd use maybe a handful of times.
Trips to a couple grocery stores left me empty handed — why are mini aluminum foil pans so hard to find?? Probably because I live in Canada and it's virtually impossible to find anything here. Or at least that's how it seems when you're on a mission for a very specific thing and can't find it in the two stores you go to.
I figured I would pop into Homesense to see if I could find anything, though my hopes were not high. If you've been to Homesense before, you know it's a total crapshoot. It's rare that they have the exact thing you're looking for at the exact time you're looking for it.
Well in this case, there it was. One lone mini tart pan staring me right in the face. Just one, and exactly what I was looking for. I figured it was fate. In hindsight, it was actually a test to see if I'd be foolish enough to spend the whole $12 instead of using the perfectly good cupcake tin that was waiting for me at home. I caved and bought it, obviously.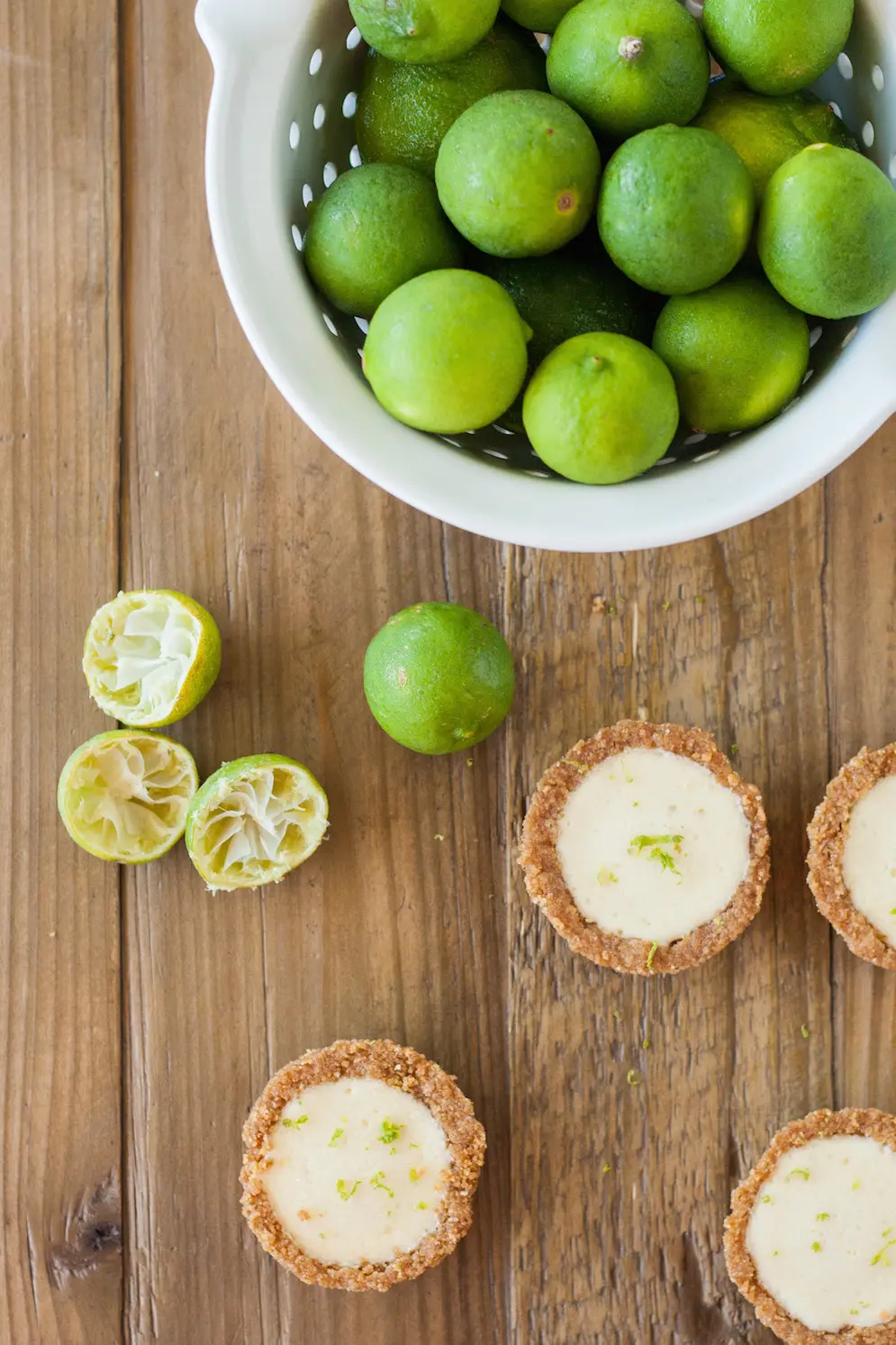 Now, this tart pan likely works perfectly if you're using a standard pie crust that you trim and press into each tart so it fits. But using a graham cracker crust was a pain in the ass. I had a pretty good makeshift stamper that I could use to press the crust into the bottoms, but the sides were a HUGE pain. It was awkward to press the crust into the sides and get it to stick to the bottom crust.
Halfway through, I gave up and decided that I would just do a bottom crust. I didn't have the foresight to think that the ones with only the bottom crust may not come out of the pan. They didn't. The filling totally just glued itself to the sides of the tart pan and wouldn't budge, even though I placed tinfoil "lifts" under each of the tarts. So those 6 little guys did not get their time in the photo spotlight.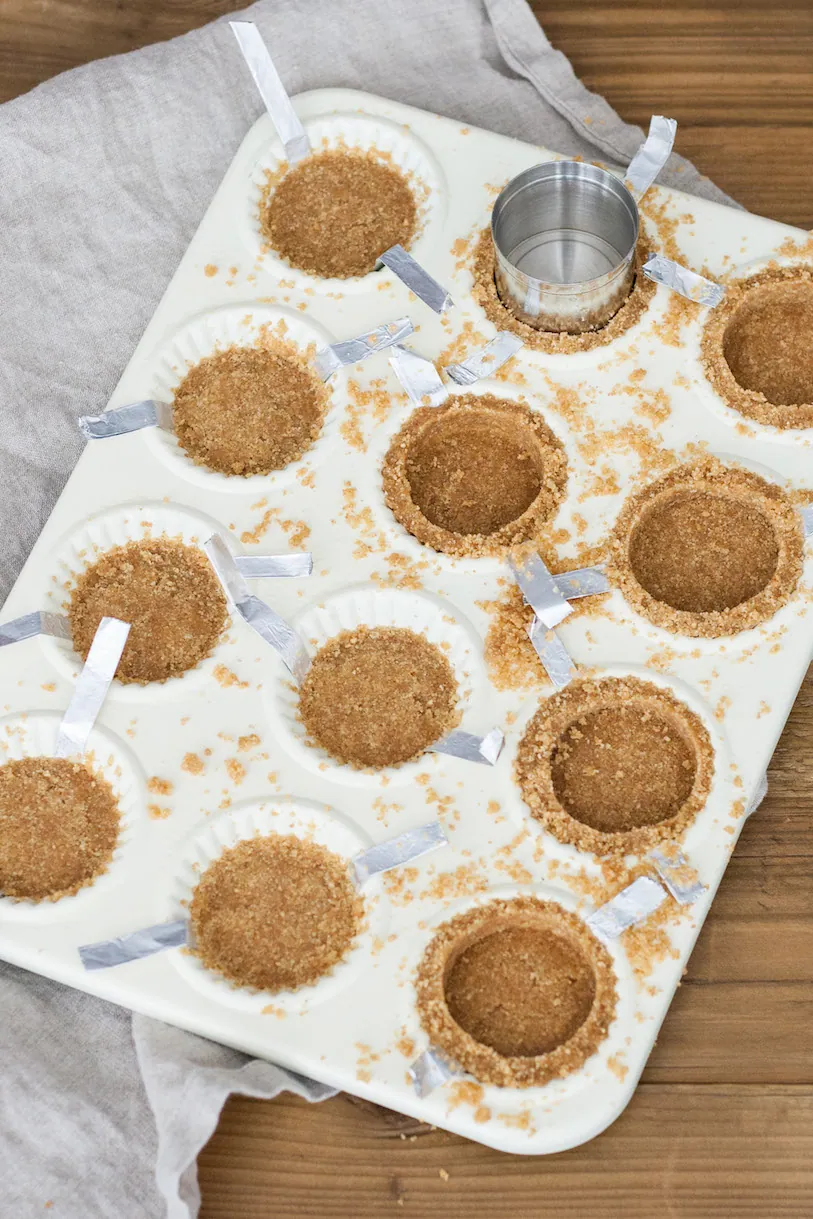 I had extra graham crust and filling, so guess what I did? I got out my cupcake tin and lined it with cupcake liners. Those ones came out perfectly (except that I should have used a bit more filling in each).
Now aside from the whole crust fiasco, I should mention that this is not the easiest recipe. Again, I could have taken the easy route like many recipes out there and used cream cheese or condensed milk. Except that I don't like cream cheese and I don't want my key lime pie to taste cream cheese-y, and I didn't have any condensed milk. But the real reason is that I wanted to modify a recipe we made in school – the lemon sabayon tart – which is, to this day, one of the best things I've ever had.
The ingredients for these mini key lime pies are simple — there are only 5. It's the method that is a bit painful and requires some elbow grease, namely whipping the living daylights out of the filling over a water bath for about 10 minutes. Again, I probably could have used a hand mixer to do this and saved myself both time and energy, but nooooo. In school we used a whisk and did it manually, so I did it that way. Stupid. I now have a blister to show for it. I had flashbacks to school while I was whipping the damn thing, sweating and cursing. Thankfully the end product is worth it.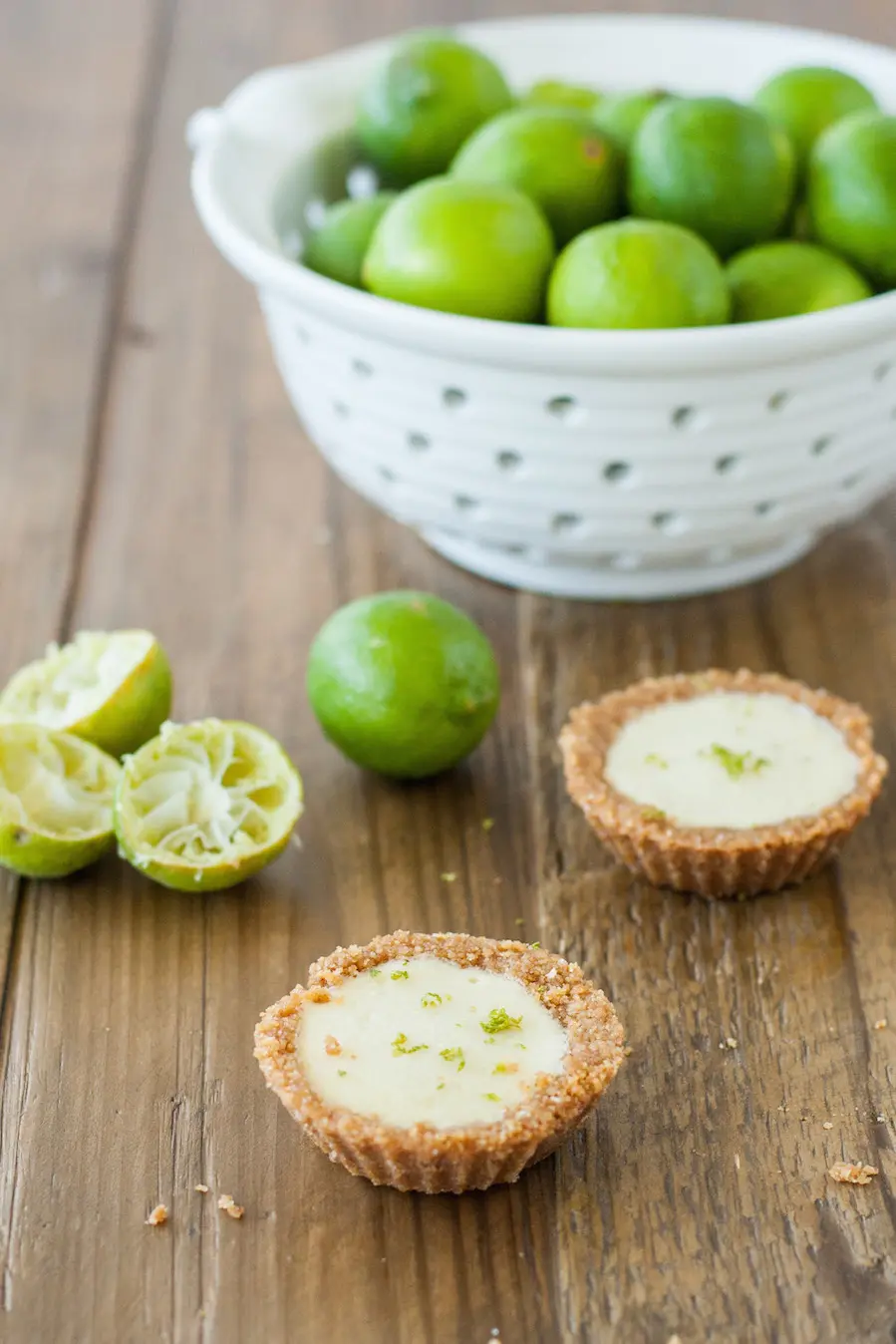 Perfectly smooth key lime filling with a crunchy graham cracker crust. Heaven.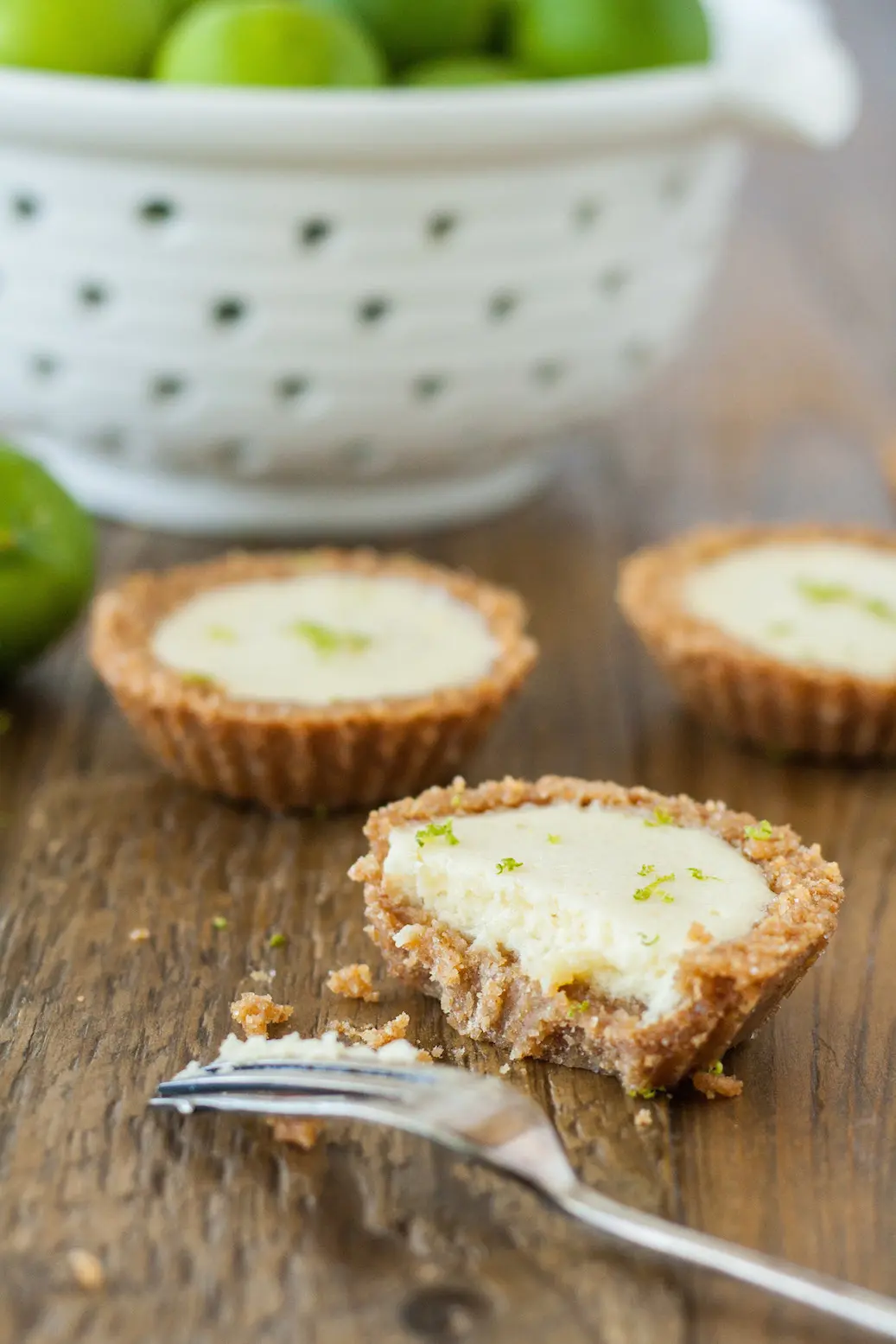 I do like the look of the tart ones better, but next time I would 100% use the cupcake tins and liners – tastes just as delicious with minimal effort!
If you love Key Lime Pie, you will love this mini version!
Mini Key Lime Pies
These Mini Key Lime Pies are the perfect bite-sized version of traditional Key Lime Pie.
Ingredients
Filling:
2

large

eggs

1/3

cup

granulated sugar

5

Tbsp

key lime juice

6-7 key limes

zest of 1 key lime

4

Tbsp

unsalted butter

melted, 57g
Instructions
Crust:
Preheat oven to 350F and line a standard 12 cupcake tin with paper liners.

In a medium bowl, combine graham cracker crumbs, sugar, and melted butter.

Divide crust evenly amongst the 12 liners, approx. 1 heaping Tbsp in each. Press firmly into the bottom of each liner.

Bake for 5-7 minutes. Set aside on cooling rack.
Filling:
Preheat oven to 300F.

Prepare a bain marie (water bath) on the stove.

Once the water is boiling, place eggs, sugar, key lime juice and zest into a large bowl and begin whisking.

Whisk vigorously over the boiling bain marie until thick and light (approx. 5-10mins). Take on and off bain marie every once in a while to prevent setting/cooking eggs. Alternatively, try using a hand mixer. The mixture is ready when it's light, thick (like pudding), and ribbons form when you run your whisk through it.

Remove from heat and whisk in melted butter.

Pour into pre-baked tart crusts and bake for 5-7minutes until set. The center of the pies should jiggle just slightly the pan is nudged.

Cool completely on a wire rack, then place in fridge for at least 2 hours.

Serve cold, topped with whipped cream if desired.
Calories:
189
kcal
Carbohydrates:
20
g
Protein:
1
g
Fat:
11
g
Saturated Fat:
6
g
Cholesterol:
56
mg
Sodium:
87
mg
Potassium:
38
mg
Sugar:
13
g
Vitamin A:
340
IU
Vitamin C:
1.9
mg
Calcium:
17
mg
Iron:
0.6
mg
The nutritional information and metric conversions are calculated automatically. I cannot guarantee the accuracy of this data. If this is important to you, please verify with your favorite nutrition calculator and/or metric conversion tool.