A rich chocolate cake infused with Guinness, paired with a Baileys dark chocolate ganache and a Baileys buttercream. This Baileys & Guinness Cake is the perfect grown-up treat.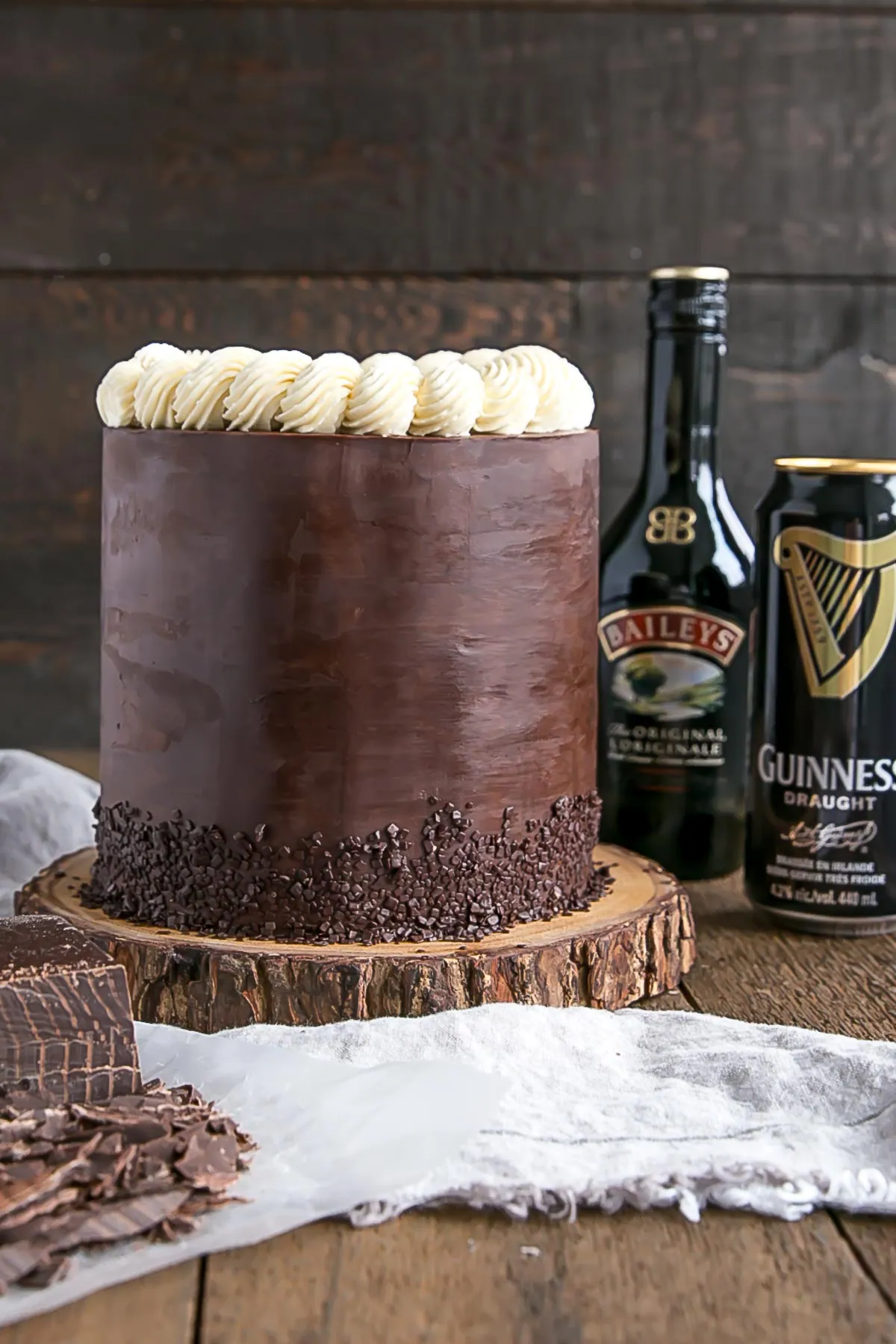 You know, for someone who doesn't really drink, I have more than my fair share of boozy desserts.
I love a good, sweet cocktail, but you'll never catch me with a glass of wine or a beer. My palette just prefers sweet drinks (surprised??) and I generally don't like the taste of alcohol.
That being said, the flavor of many alcoholic beverages is delicious and lends itself so well to baked goods — especially with this Baileys & Guinness Cake!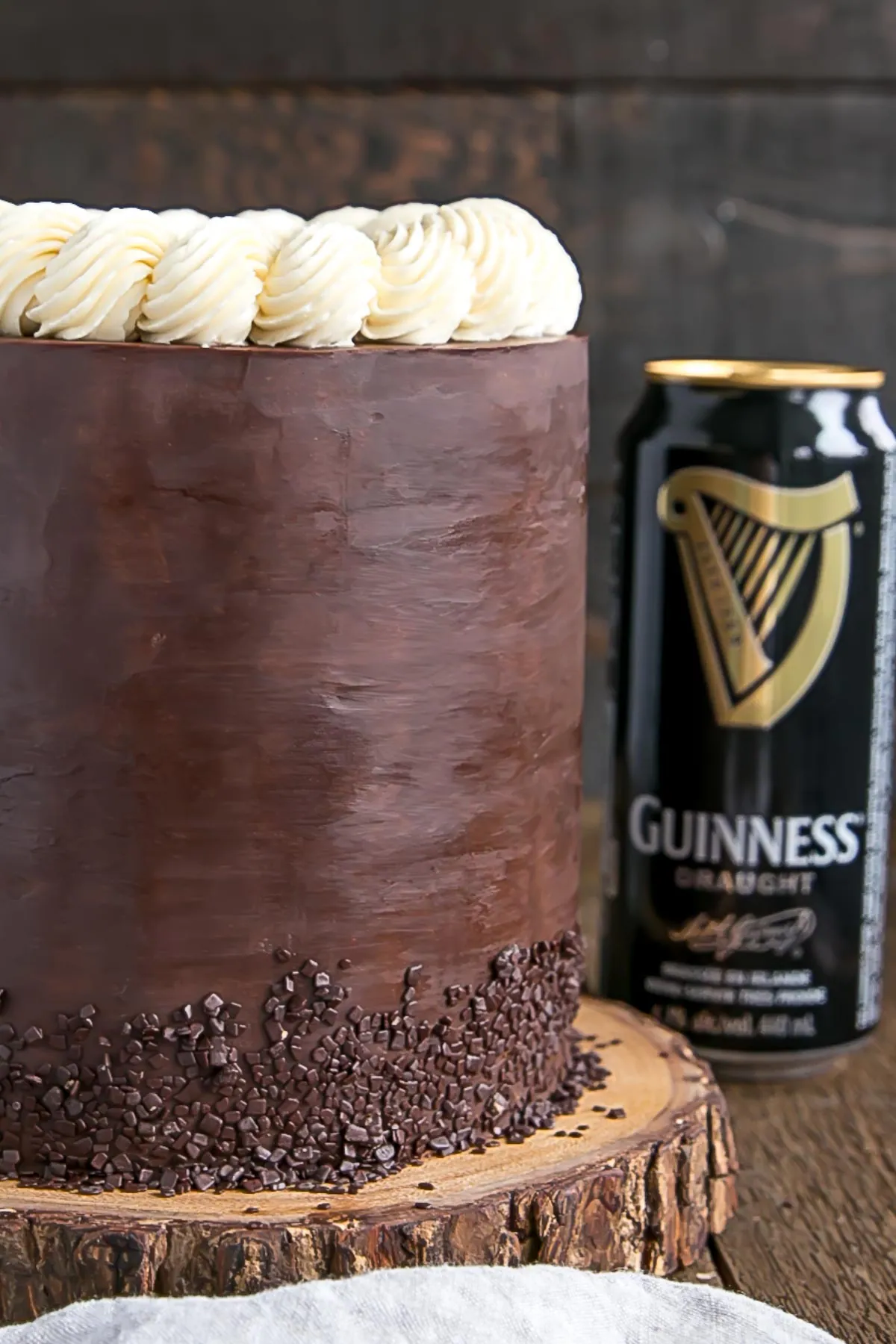 Baileys flavored desserts are not new to me. In fact, I think they are far too common on this blog (not that that's a bad thing).
Guinness though — I think this might be the first time I've ever tried it. So what better way to try it than in cake form, right?? I actually took a sip of it after using what I needed in the cake… I think I'll stick with the boozy desserts.
This Baileys & Guinness Cake is a long time coming. I actually planned to make it last year for St. Paddy's Day but never got around to it and made a Mint Chocolate Chip Cake instead. Better late than never though, right??
How to Make a Guinness Cake
To make this Guinness Cake, I took my favorite Chocolate Cake recipe and simply swapped out the hot water for hot Guinness. The result worked perfectly.
I also swapped out some of the Dutch-process cocoa powder for black cocoa to intensify the deep, dark color of the cake — trying to emulate the actual color of Guinness. If you don't have black cocoa though, Dutch-processed or regular cocoa powder will work fine.
Baileys Buttercream & Ganache
Most Guinness Cake recipes you'll find online pair the cake with a Baileys cream cheese frosting. While that sounds like a perfectly delicious combo, I wanted to do something a little different, so I made a Baileys dark chocolate ganache and Baileys Swiss meringue to go with the cake.
Cake Tip!
If you don't want to make both types of frosting, you can do either but see my tips below if you decide to do only one or the other.
I like both in the cake both for a stunning color contrast and for flavor, but either one would be equally delicious on its own.
Be sure to check out my detailed tutorial on How to Make Ganache for tips and troubleshooting.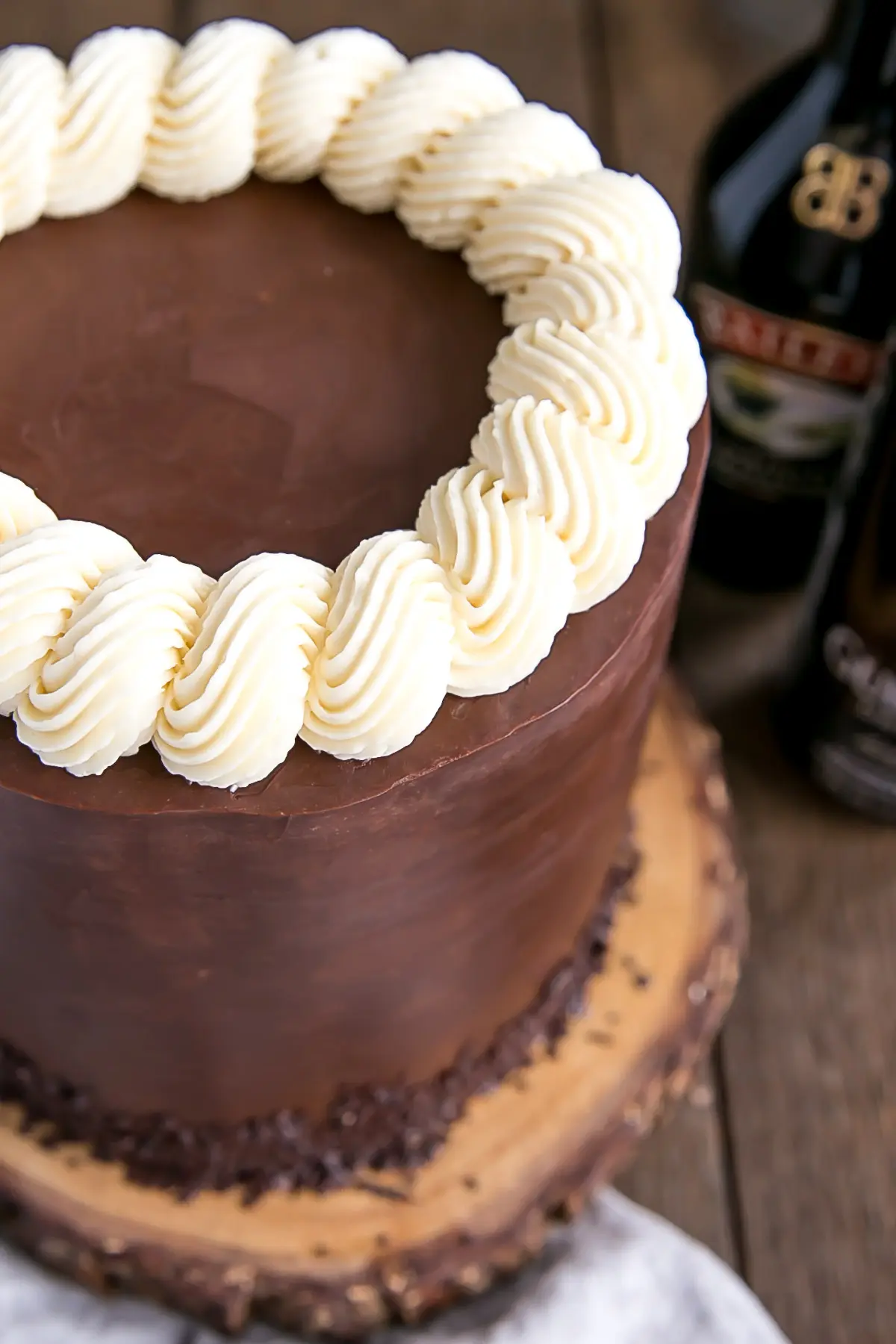 Something I should note is that this is actually my second version of this cake, because I tried and failed to do a pretty ombre frosting with the ganache and buttercream.
I started with the ganache at the bottom and it totally solidified on the cold cake, which made it impossible to blend in a pretty way. I tried to do something more rustic to compensate, but it just didn't work, so I redid the whole thing.
Flavor wise, the cake is delicious! Even for someone who doesn't like beer, I'm a huge fan of this cake. You can taste the beer, but it's almost more of an after-taste (to me anyhow) and it goes so well with the Baileys frostings.
If you're a Baileys/Guinness fan or looking for something fun and unique for St. Paddy's day, this cake is for you!
Looking for more St. Patrick's Day Recipes?
Frequently Asked Questions
How can I convert this recipe?
The recipe as-is will also work in two 8″ pans but the layers will be thinner. For three 8″ pans, 1.5x the recipe. Baking time may need to be adjusted.
To make cupcakes, all you need to do is reduce the baking time — start checking at 15mins or so. The recipe will make 18-24 cupcakes depending on size.
For other conversions go here.
Can I make it in advance?
The cooled cake layers can be baked ahead of time, double wrapped in plastic wrap, and frozen for up to 3 months. Take out 2-3 hours before assembly.
The frosting can be placed in an airtight container and refrigerated for 1 week for frozen for 3 months. Bring to room temperature and rewhip before using.
The ganache can be made a day or two in advance and kept at room temperature. Place plastic wrap directly on top to prevent a skin from forming. Do not refrigerate as it will get too firm.
The finished cake (whole or sliced, stored airtight) can be frozen for up to 3 months.
Can I get the measurements by weight/grams?
There is a Metric option in the recipe card. If you click it it will convert everything to grams.
This conversion is done automatically and I cannot guarantee the accuracy but many readers have had success using the metric option for this recipe.
What if I don't have Dutch-process Cocoa Powder?
I like to use Dutch-process cocoa powder in all of my chocolate recipes, but regular cocoa powder will work just fine. Dutch-process has had some of the acid stripped from it and yields a richer flavor overall. Again, it won't make or break the recipe to use regular cocoa powder here.
What if I don't have buttermilk?
Buttermilk is not optional and cannot be swapped for milk as it will affect the overall result.
If you don't have buttermilk, you can make your own at home by combining 1 cup of milk (whole milk ideally, but I often just use 1%) with 1 Tbsp of lemon juice or vinegar and letting it sit for 10mins.
Can I use hot coffee instead of hot water?
You'll often see this kind of chocolate cake recipe using hot coffee instead of hot water in the batter, and you can use either.
Tips for making this Baileys & Guinness Cake
Use the best quality chocolate you can find for the ganache, it makes a huge difference! I use Callebaut.
If you like, you can skip the buttercream and just use the Baileys ganache between all the layers. The recipe makes enough for the whole cake.
If you'd like to use the Baileys buttercream instead of ganache, double the buttercream recipe.
I like to prepare my cake pans using

Homemade Cake Release

then line with parchment.
Be sure to check my Swiss Meringue Buttercream and How to Make Ganache posts for tips and troubleshooting.
Learn how to keep your cakes moist using Simple Syrup.
To help ensure your cake layers bake up nice and flat, check out my How to Bake Flat Cake Layers post!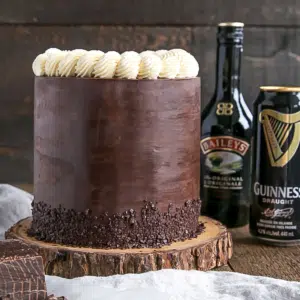 Baileys & Guinness Cake
A rich chocolate cake infused with Guinness, paired with a Baileys dark chocolate ganache and a Baileys buttercream. This Baileys & Guinness Cake is the perfect grown-up treat.
Ingredients
Baileys Chocolate Ganache Frosting: (make in advance)
Baileys Swiss Meringue Buttercream:
4

large

egg whites

1

cup

granulated sugar

1

cup

unsalted butter

room temperature, cubed

2

Tbsp

Baileys Irish Cream

1

tsp

vanilla
Instructions
Baileys Chocolate Ganache Frosting (make in advance):
Place chopped chocolate in a large heatproof bowl.

In a medium saucepan, combine heavy cream, Baileys, and butter. Cook over med heat, stirring often until it just barely starts to simmer.

Pour hot cream over chopped chocolate and cover bowl with plastic wrap. Let sit 5 minutes.

Stir gently with a spatula until completely smooth. If needed, place over a double boiler and stir until all chocolate has melted.

Place plastic wrap directly on top of chocolate ganache. Allow to thicken and set overnight.*
Chocolate Guinness Cake:
Preheat oven to 350F, grease three 6″ round baking pans and dust with cocoa powder. Line bottoms with parchment.

Place flour, sugars, cocoas, baking powder, baking soda, and salt into the bowl of a stand mixer fitted with a paddle attachment. Stir to combine.

Place Guinness into a small saucepan and heat until just simmering.

In a medium bowl whisk buttermilk, eggs, oil, and vanilla. Temper this mixture with the heated Guinness — pour hot Guinness into the bowl very slowly while whisking egg mixture quickly.

Add wet ingredients to dry and mix on medium for 2-3 mins. Batter will be very thin.

Pour evenly into prepared pans. I used a kitchen scale to ensure the batter is evenly distributed.

Bake until a cake tester comes out mostly clean. A total of 30-35mins.

Cool 10 minutes in the pans then turn out onto a wire rack to cool completely.
Baileys Swiss Meringue Buttercream:
Place egg whites and sugar into the bowl of a stand mixer, whisk until combined.**


Place bowl over a hot water bath on the stove and whisk constantly until the mixture is hot (160F) and no longer grainy to the touch (approx. 3mins).

Place bowl on your stand mixer and whisk on med-high until the meringue is stiff and cooled (the bowl is no longer warm to the touch (approx. 5-10mins)).

Switch to paddle attachment. Slowly add cubed butter and mix until smooth.

Add Baileys and vanilla and whip until smooth.***
Assembly:
Cut each layer of cake in half horizontally.

Place one layer of cake on a cake stand or serving dish. Top with about 1/2 cup buttercream, spread evenly. Repeat with remaining layers alternating buttercream with ganache.

Frost and smooth the outside with a thin crumb coat. Chill for at least 20mins until firm and set.****

Frost the chilled cake with the remaining ganache. It will start to set quicjkly against the cold cake.

To smooth the top and sides of the cake, use a metal bench scraper and offset spatula that have been run under hot water (wipe them off before use). Keep heating the scraper/spatula and repeat the process until the sides and top are smooth.
Notes
* You can speed up the thickening of the ganache by placing it in the fridge, but you need to stir it often.
** Ensure there is NO trace of egg yolks in your whites and that your mixer bowl and whisk are completely grease free or your meringue won't stiffen.
*** The buttercream may look like it's curdled at some point. Keep mixing until it is completely smooth.
**** If the ganache is too thin or soft and the cake layers start to slide around a bit during assembly, you can place 3-4 bamboo skewers into the top of the cake as support. You'll need to trim the skewers to the proper height of the cake.
Calories:
999
kcal
Carbohydrates:
97
g
Protein:
10
g
Fat:
63
g
Saturated Fat:
40
g
Cholesterol:
122
mg
Sodium:
385
mg
Potassium:
584
mg
Fiber:
7
g
Sugar:
66
g
Vitamin A:
1095
IU
Vitamin C:
0.1
mg
Calcium:
125
mg
Iron:
7.7
mg
The nutritional information and metric conversions are calculated automatically. I cannot guarantee the accuracy of this data. If this is important to you, please verify with your favorite nutrition calculator and/or metric conversion tool.