This Pecan Pie Cake is perfect for your holiday get-togethers! Brown sugar cake layers and buttercream filled with traditional pecan pie filling.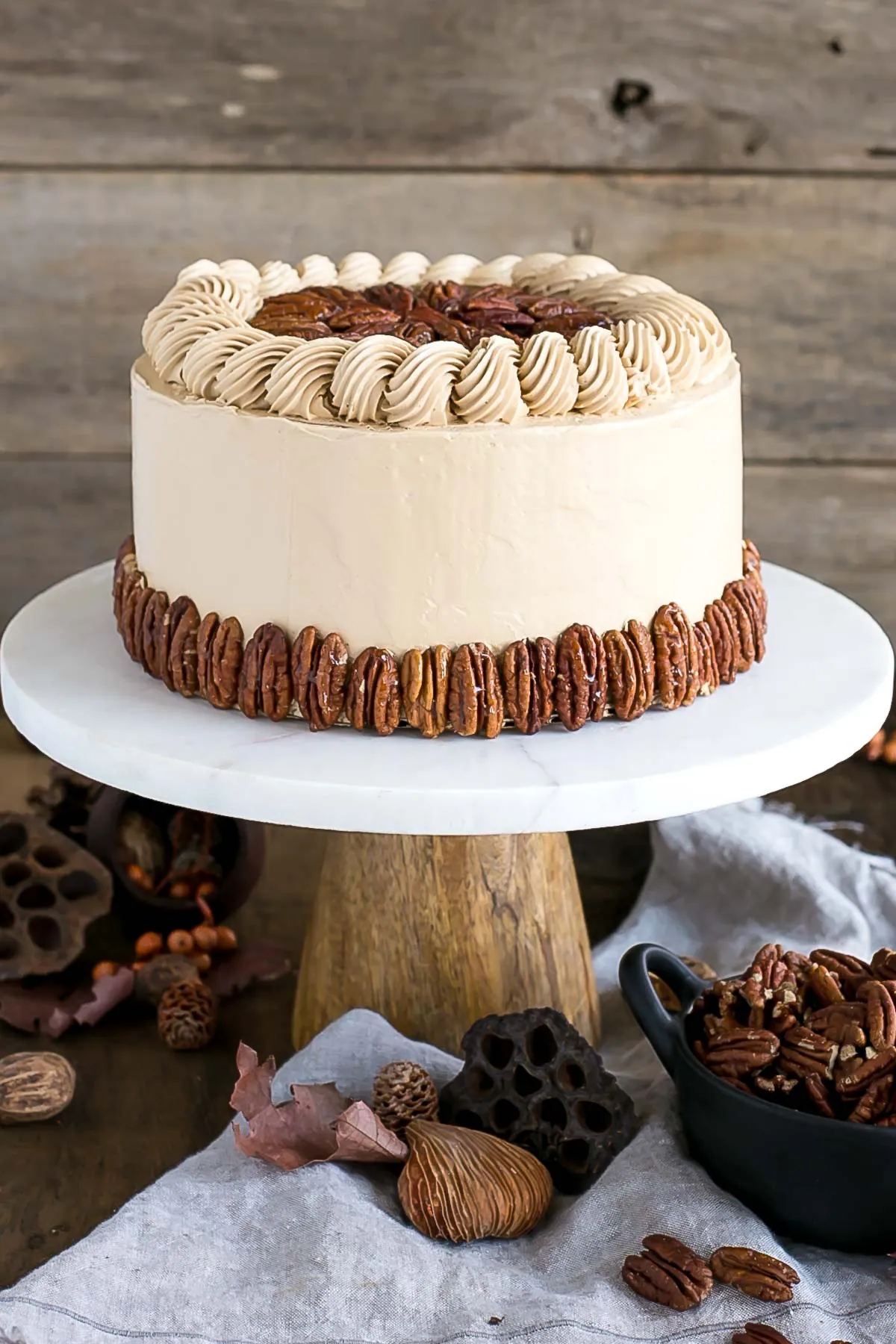 Thirty dollars. That's how much I spent on pecans for this cake. I kid you not. Thirty dollars!! Is that crazy to anyone else? Ridiculous.
The pecans were on sale, too. Good grief. I didn't use all of them (most, though), but I always get more than I need just in case. In hindsight, I probably could have gotten a giant bag of them in Costco for less.
I'm not complaining about it (only kinda), but more so this is a PSA for those people who don't bake. Next time you ask your baker buddy to make a cake for you, be aware that the ingredients do not come cheap, never mind the time it takes to make the cakes too.
And if they are making it for you for free, that is a good friend. You should cherish them and shower them with adoration and gift cards to their favorite baking store.
Now, let's talk about this delicious Pecan Pie Cake!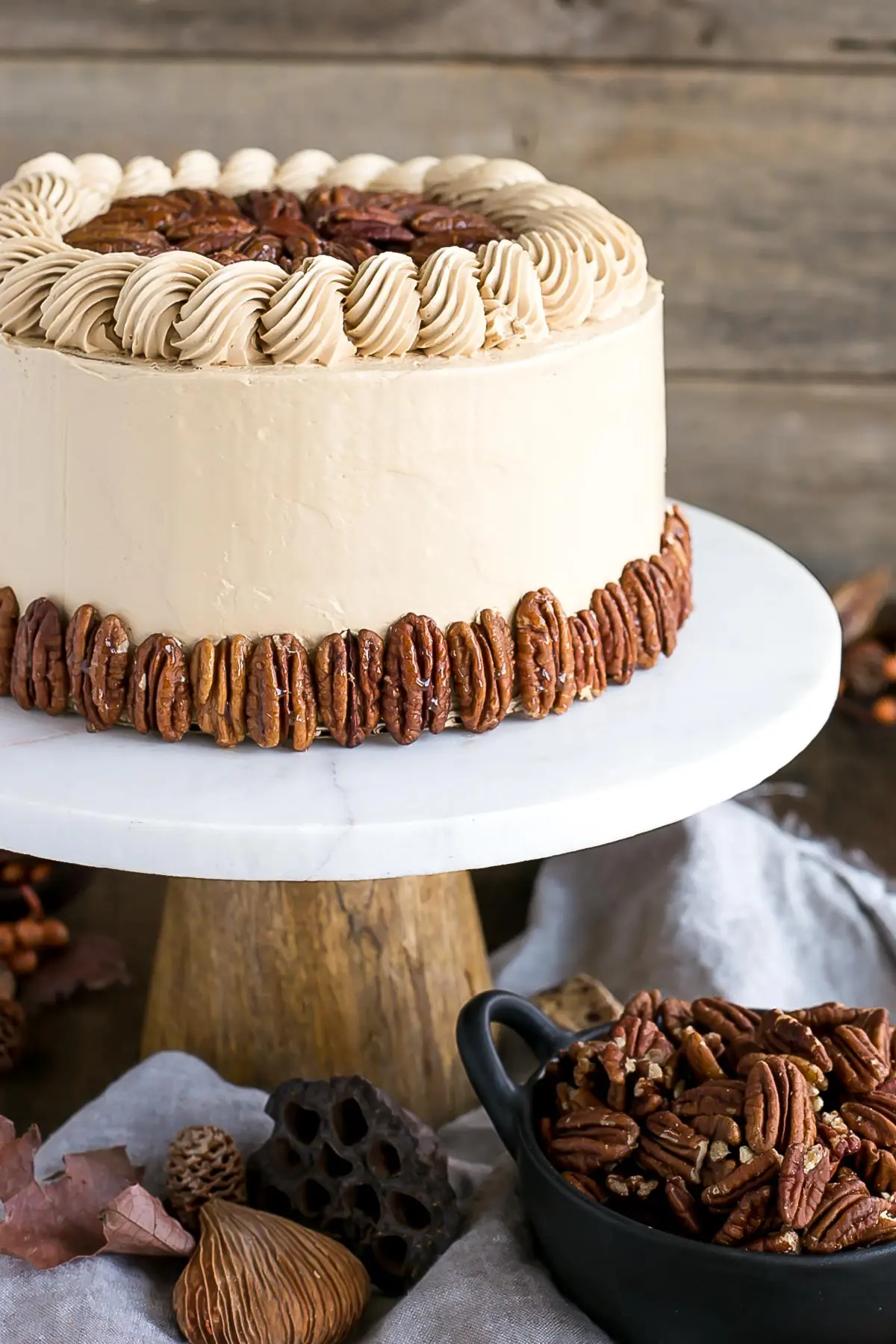 Pecan pie is my favorite Fall pie. It beats out apple pie (narrowly) and demolishes pumpkin pie (which I actually don't like at all — it's a texture thing).
We never had pecan pie growing up, or any kind of Fall pie or dessert to be honest. Thanksgiving was a tradition that we adopted after we moved here. It's not a part of Polish culture (obviously), but my parents happily accepted it and other Canadian traditions like Halloween when were growing up.
For some reason though, we never got the pies! I feel totally deprived. I am sure you can sympathize.
I must have been in my 20's before I had pecan pie for the first time. I'll be honest that it never really appealed to me before I had it. The filling looked weird, and I imagined the texture to be very unpleasant. Holy crap did I ever miss out. It is amazing!!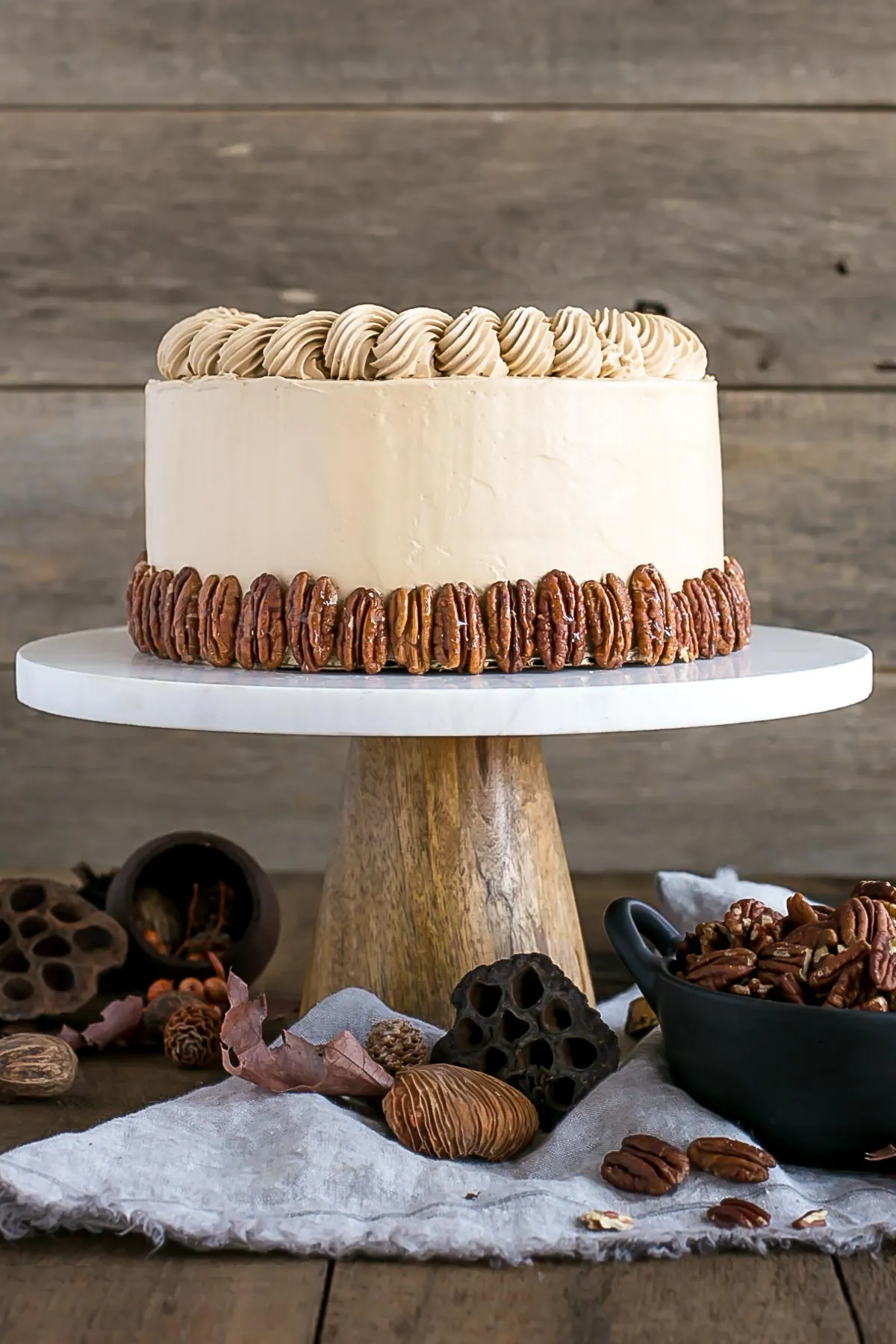 What I pictured as a gooey gelatinous filling is actually more creamy custard-like, and it is soooo good. Like, mouthwateringly so.
Since this is a cake blog and all, and I don't enjoy making pies, I thought this would be the perfect opportunity to take all that is delicious about pecan pie and transform it into a beautiful cake.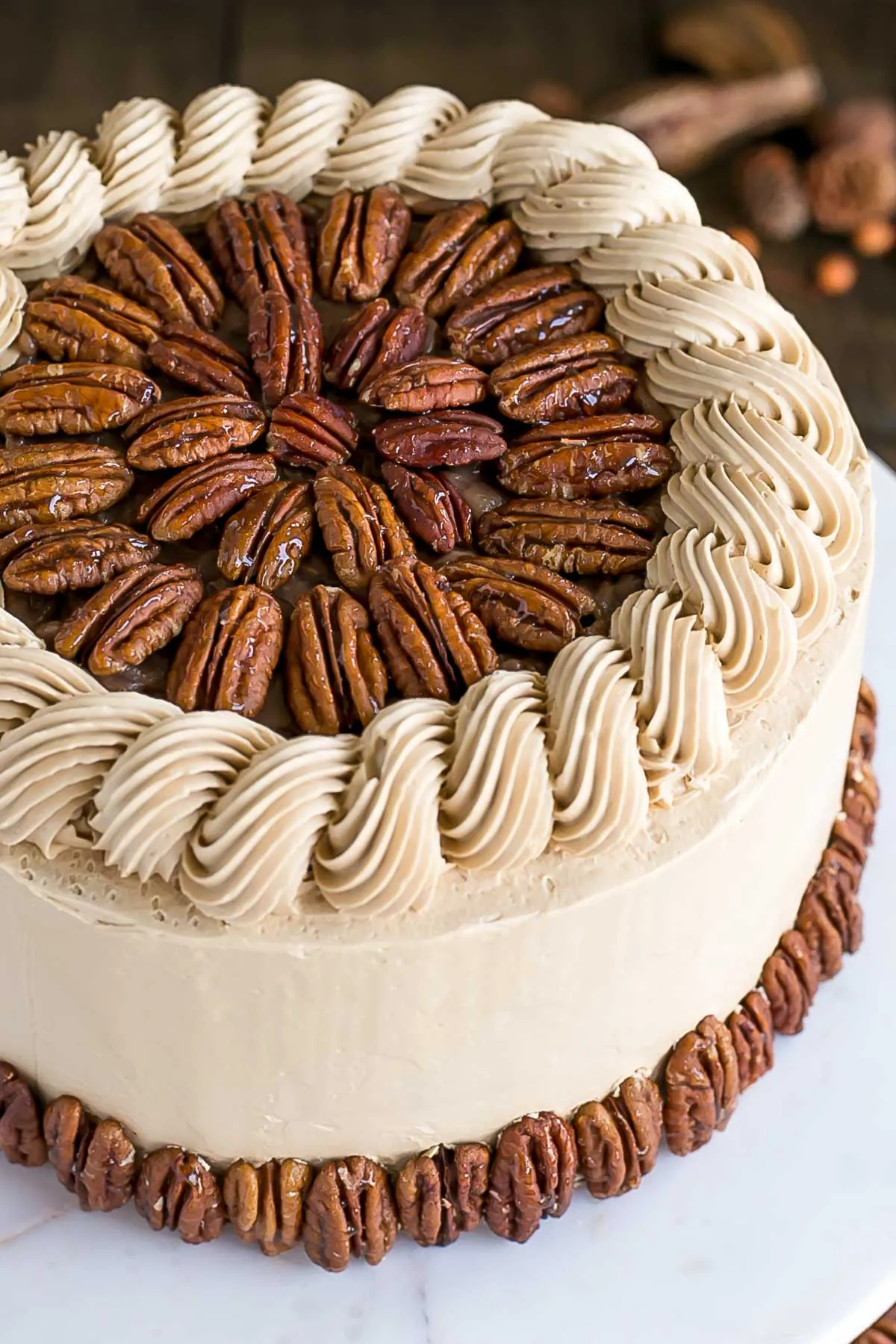 How to Make this Pecan Pie Cake
For the cake layers, I swapped out some granulated sugar and replaced it with (light) brown sugar to enhance the flavor and compliment the pecan pie filling.
The frosting is also made with (dark) brown sugar instead of the traditional granulated sugar you see in a Swiss meringue. This gives it a richer flavor, but I also love the color it gives the frosting! I used the same one for my Walnut Cake.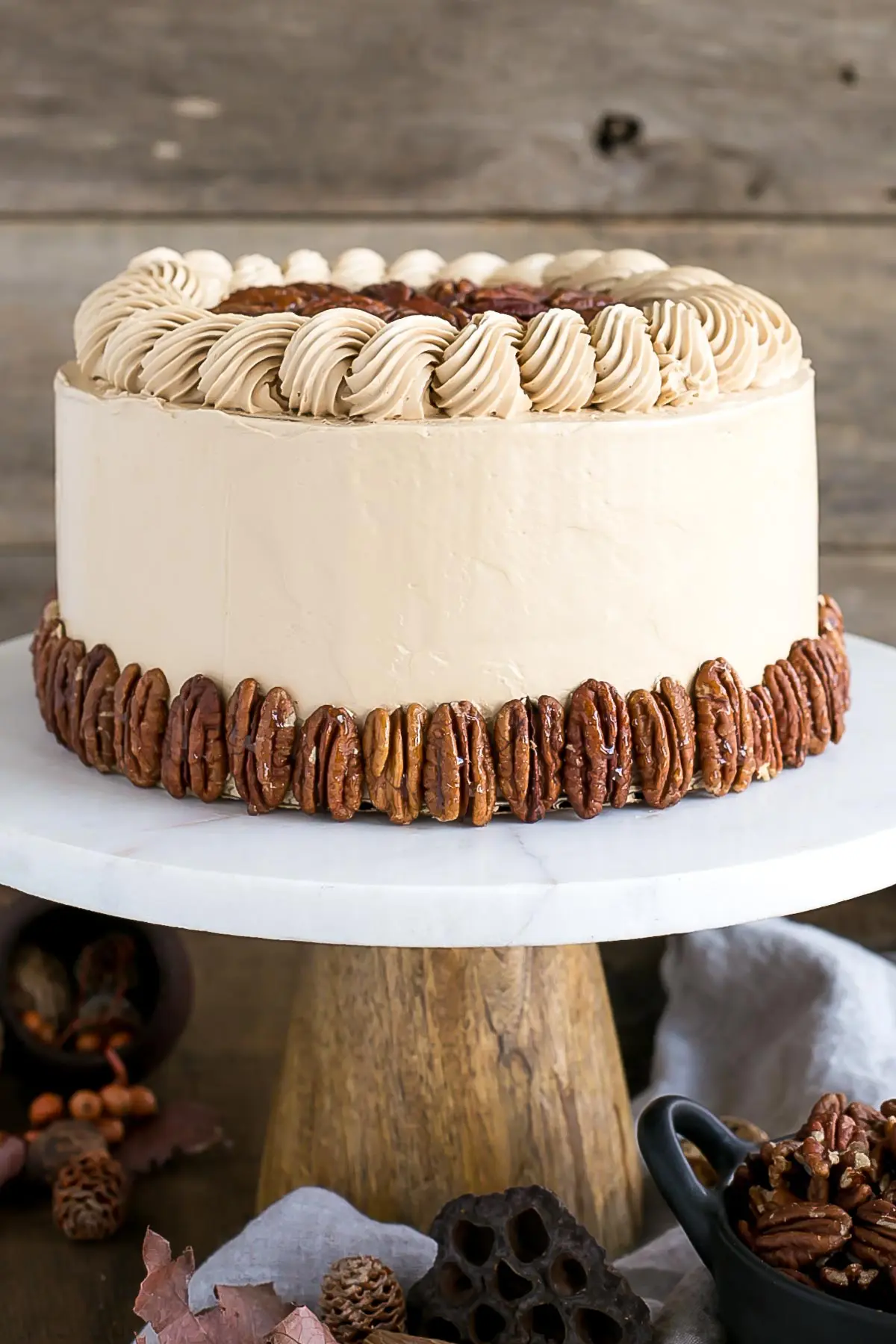 I chose to not put frosting between the layers of this Pecan Pie Cake, as I thought it would be a bit much in addition to the pecan pie filling.
The filling is quite sweet, and I thought it would be overkill with the frosting there too. I found the frosting on the sides and top to be enough, but you're more than welcome to slather some on that first layer too!
The filling tastes JUST like a pecan pie. It's pure heaven. The brown sugar cake and frosting are a perfect compliment to it.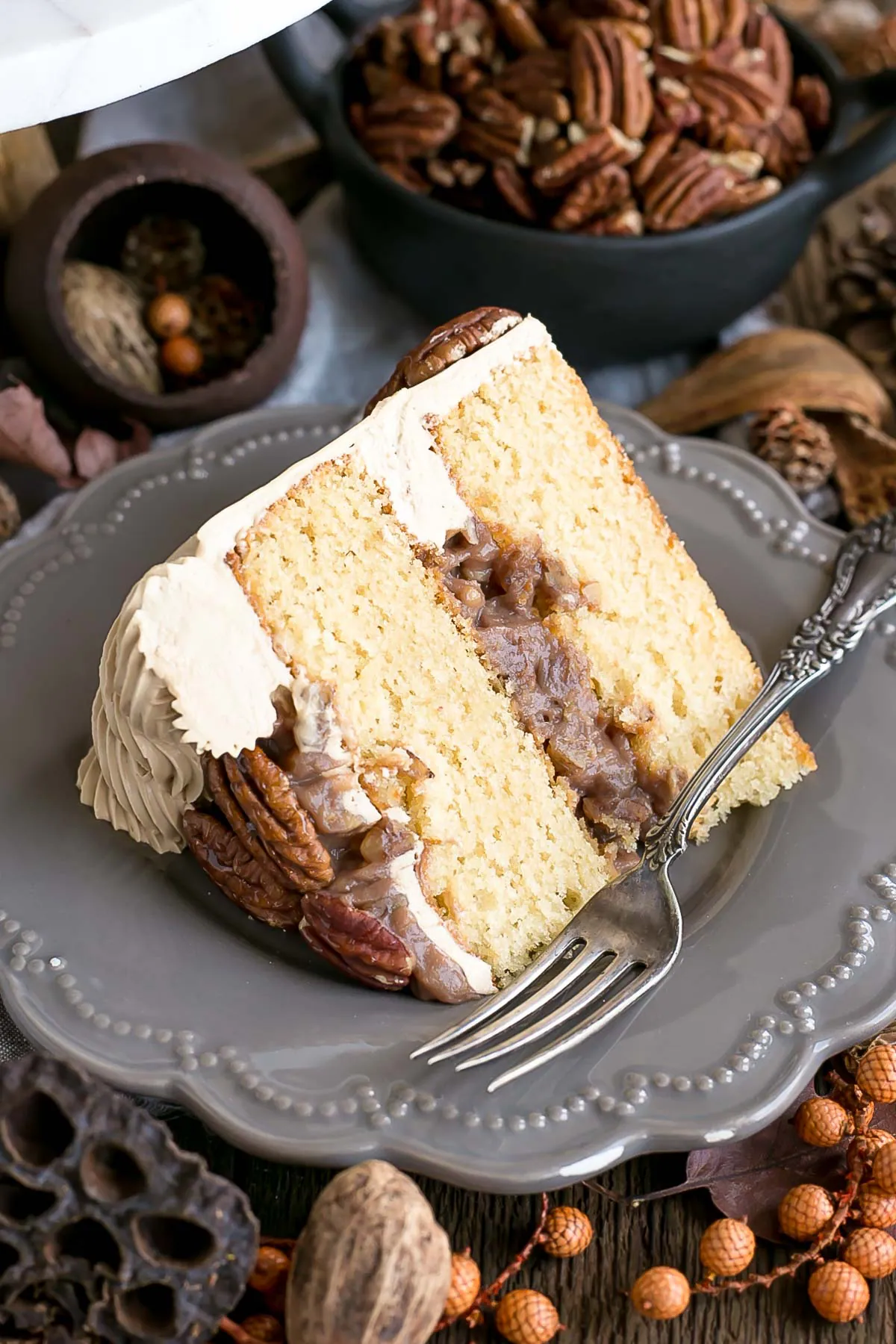 This Pecan Pie Cake is the perfect cake for your holiday baking, whether it's for Thanksgiving or Christmas, or anywhere in between!
Tips for this Pecan Pie Cake:
The recipe as-is will also work in three 6″ pans. For three 8″ pans, 1.5x the recipe.
To make cupcakes, all you need to do is reduce the baking time — start checking at 15mins or so.
The cooled cake layers can be baked ahead of time, double wrapped in plastic wrap, and frozen for up to 3 months. Take out 2-3 hours before assembly.
The pecan pie filling can be made a couple days in advance, just keep it in an airtight container in the fridge. Bring to room temperature and give it a good whisk before using.
The frosting can be placed in an airtight container and refrigerated for 1 week for frozen for 3 months. Bring to room temp and rewhip before using.
I didn't bother, but you can toast the pecans for extra flavor, especially the decorative ones. 350F for 5 mins or so, until they are fragrant.
I used a Wilton 6B piping tip to do the rope border at the top of the cake. I piped continuously in a corkscrew motion, holding my piping bag at almost 90 degrees, while turning the cake. It's kinda hard to describe, so I hope that makes sense!
Be sure to check my Swiss Meringue Buttercream post for tips and troubleshooting.
Learn how to keep your cakes moist using Simple Syrup.
To help ensure your cake layers bake up nice and flat, check out my How to Bake Flat Cake Layers post!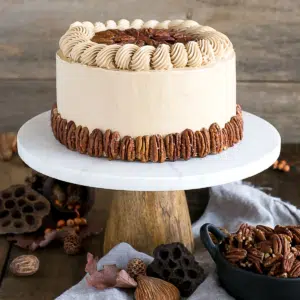 Pecan Pie Cake
This Pecan Pie Cake is perfect for your holiday get-togethers! Brown sugar cake layers and buttercream filled with traditional pecan pie filling.
Ingredients
Instructions
Pecan Pie Filling:
In a medium pot, whisk together water, egg yolk, and cornstarch. Add in brown sugar and chopped pecans and whisk to combine.

Cook over medium heat, whisking constantly, until mixture comes to a boil. Boil, whisking constantly for approx. 1 min.

Remove from heat and whisk in butter and vanilla. Cool completely before using on cake.
Brown Sugar Cake:
Preheat oven to 350F. Grease and flour two 8″ cake rounds and line with parchment.

In a medium bowl, whisk flour, baking powder, and salt until well combined. Set aside.

Using a stand mixer fitted with a paddle attachment, cream butter and sugars on med-high until pale and fluffy (approx 3mins). Reduce speed and add eggs one at a time fully incorporating after each addition. Add vanilla.

Alternate adding flour mixture and milk, beginning and ending with flour (3 additions of flour and 2 of milk). Fully incorporating after each addition.

Bake for 35-40mins or until a toothpick inserted into the center comes out mostly clean.

Place cakes on wire rack to cool for 10mins then turn out onto wire rack and cool completely.
Brown Sugar Swiss Meringue Buttercream:
Place egg whites and sugar into the bowl of a stand mixer, whisk until combined.*

Place bowl over a double boiler on the stove and whisk constantly until the mixture is hot and no longer grainy to the touch (approx. 3mins). Or registers 160F on a candy thermometer.

Place bowl on your stand mixer and whisk on med-high until the meringue is stiff and cooled (the bowl is no longer warm to the touch (approx. 5-10mins)).

Switch to paddle attachment. Slowly add cubed butter and mix until smooth.**

Add vanilla and whip until smooth.
Assembly:
Place one layer of cake on a cake stand or serving plate. Pipe a damn of buttercream around the top and fill with approximately 2/3rds of the pecan pie filling.

Place second cake layer on top and apply a thin coat of frosting all over to crumb coat. Chill for 20mins.

Frost & smooth the top and sides of the cake. Do a rope border using a

Wilton 6B piping tip

. Chill for 20mins.

Fill the middle between the rope border with the remainder of the pecan pie filling. Decorate top and bottom with pecan halves if desired.
Notes
*Ensure there is NO trace of egg yolks in your whites and that your mixer bowl and whisk is completely grease free or your meringue won't stiffen.
** The buttercream may look like it's curdled at some point. Keep mixing until it is completely smooth.
Calories:
935
kcal
Carbohydrates:
89
g
Protein:
9
g
Fat:
62
g
Saturated Fat:
30
g
Cholesterol:
179
mg
Sodium:
218
mg
Potassium:
354
mg
Fiber:
2
g
Sugar:
66
g
Vitamin A:
1475
IU
Vitamin C:
0.2
mg
Calcium:
146
mg
Iron:
2.4
mg
The nutritional information and metric conversions are calculated automatically. I cannot guarantee the accuracy of this data. If this is important to you, please verify with your favorite nutrition calculator and/or metric conversion tool.
Originally published on Oct 1, 2017