This Raspberry Mango Cake is the perfect way to celebrate summer! Raspberry cake layers and a mango Swiss meringue buttercream.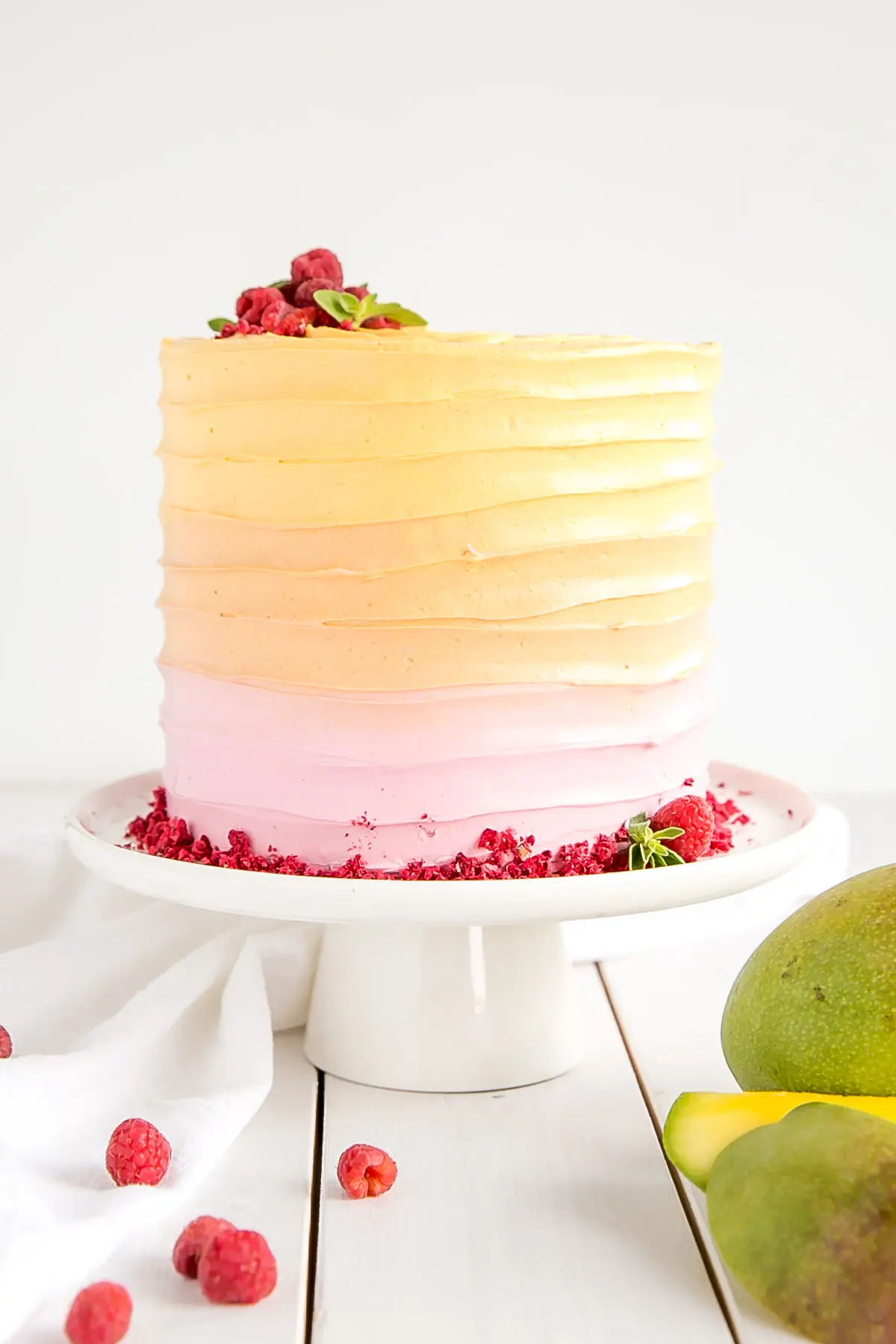 Anyone else grossly underestimate how long renovations take? And how easily things scale and multiply? And how much of your life you'll spend at Home Depot? At this point I've spent more time in the past 3 months at Home Depot than Homesense, so you can just imagine.
It's not a huge reno that we're doing — we're updating the main bathroom upstairs and relocating our washer/dryer from the kitchen to the basement. We're trying to do as much as we can ourselves which, truthfully, isn't much. We are FAR from experts in the DIY space, but these past few weeks has made us step out of our comfort zone and try to do some things ourselves. Smaller (but intimidating) things like doing most of the demo in the bathroom, changing out all the light switches, and replacing the light in the dining room (which was not in the plans, but remember how things multiply). All of this resulted in only two (somewhat) minor electrocutions and one trip to the emergency room for stitches. Did I mention we're newbies to this whole DIY thing?? It's a miracle the injuries haven't been more severe. We're not done yet though, so stay tuned.
The renovations have also been a bit more distracting than I had expected, so I'm feeling behind on all sorts of things in life, especially baking. I did manage to get this Raspberry Mango Cake baked up though, in between contractors and hospital visits.
How to make this Raspberry Mango Cake
If you've been following my posts lately, you know that powdered flavorings are my new favorite thing to use in baking. From peanut butter powder in buttercream (game changer) to various freeze-dried berries in cakes and frostings.
Adding fresh fruit to cakes or frostings is always a challenge due to the moisture content in them. Freeze-dried berries make the process so much easier. You can read more about the differences between dried and freeze-dried fruit here. They are NOT the same thing, and not interchangeable.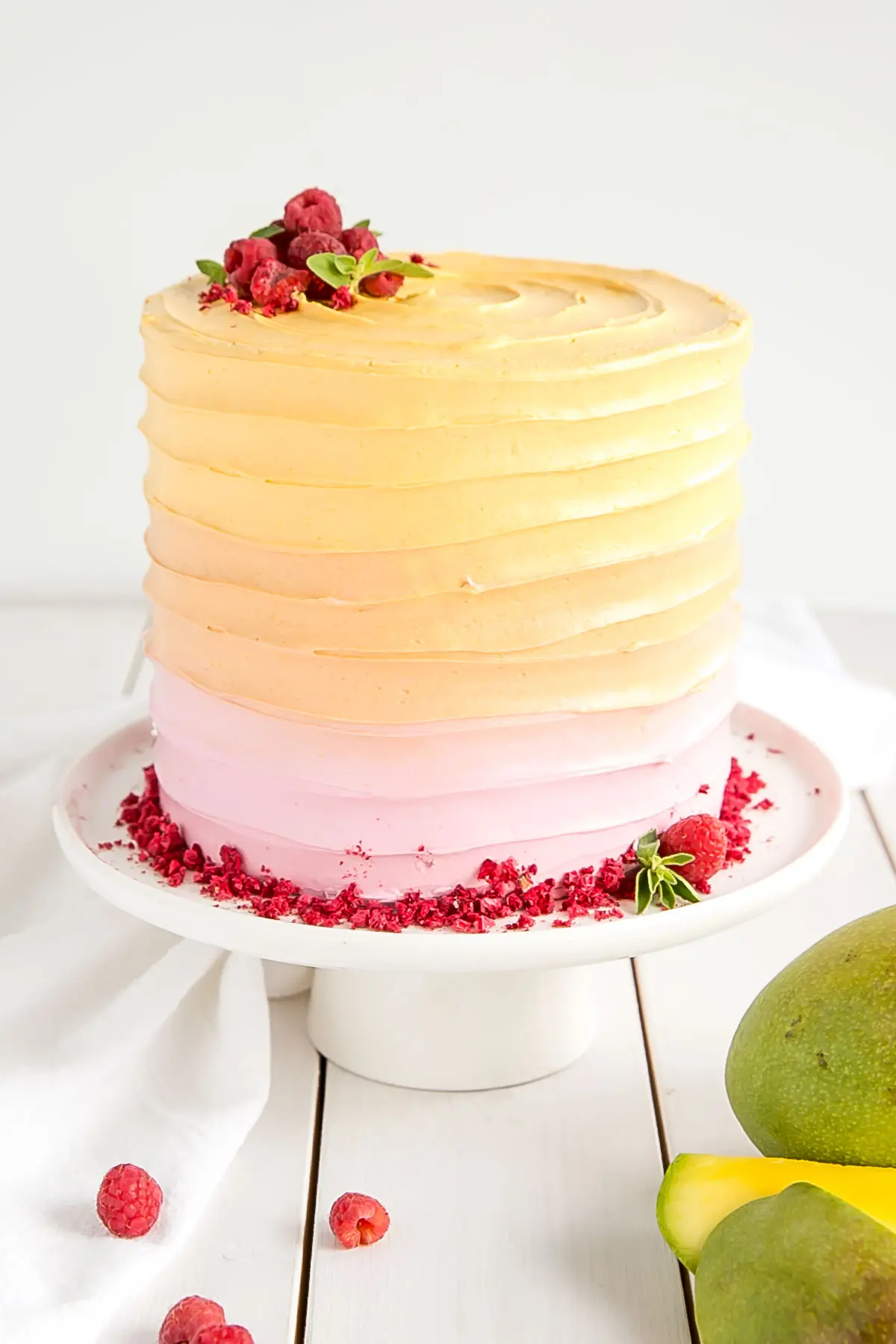 The challenge with freeze-dried berries is that they are harder to find locally and they tend to be more expensive. If you live in the US, you're lucky enough that you can get a variety of freeze-dried fruit at your local Trader Joe's. That's actually where I got the freeze-dried mango for this Raspberry Mango Cake!
I had the foresight to purchase that when we were in the States a couple months ago, and I'm glad I did. The flavor intensity of the mango in this buttercream is amazing. AMAZING! I swear I only want to bake with freeze-dried fruit for the rest of my life.
The fruit usually comes whole (unless you can find/buy the powder), so you'll need to process it in some way. I use a coffee/spice grinder to do this, and it works perfectly. You could also use a food processor. I always pass the powder through a fine mesh strainer to get rid of any larger chunks. The biggest pain in the butt is cleaning the coffee grinder after, to be honest. If anyone has any tips for this I would love to hear them.
I chose to pair mango and raspberry together because it's a delicious combo and the colors go so well together. The color was actually my biggest struggle with this cake and, to be honest, I don't love how it turned out.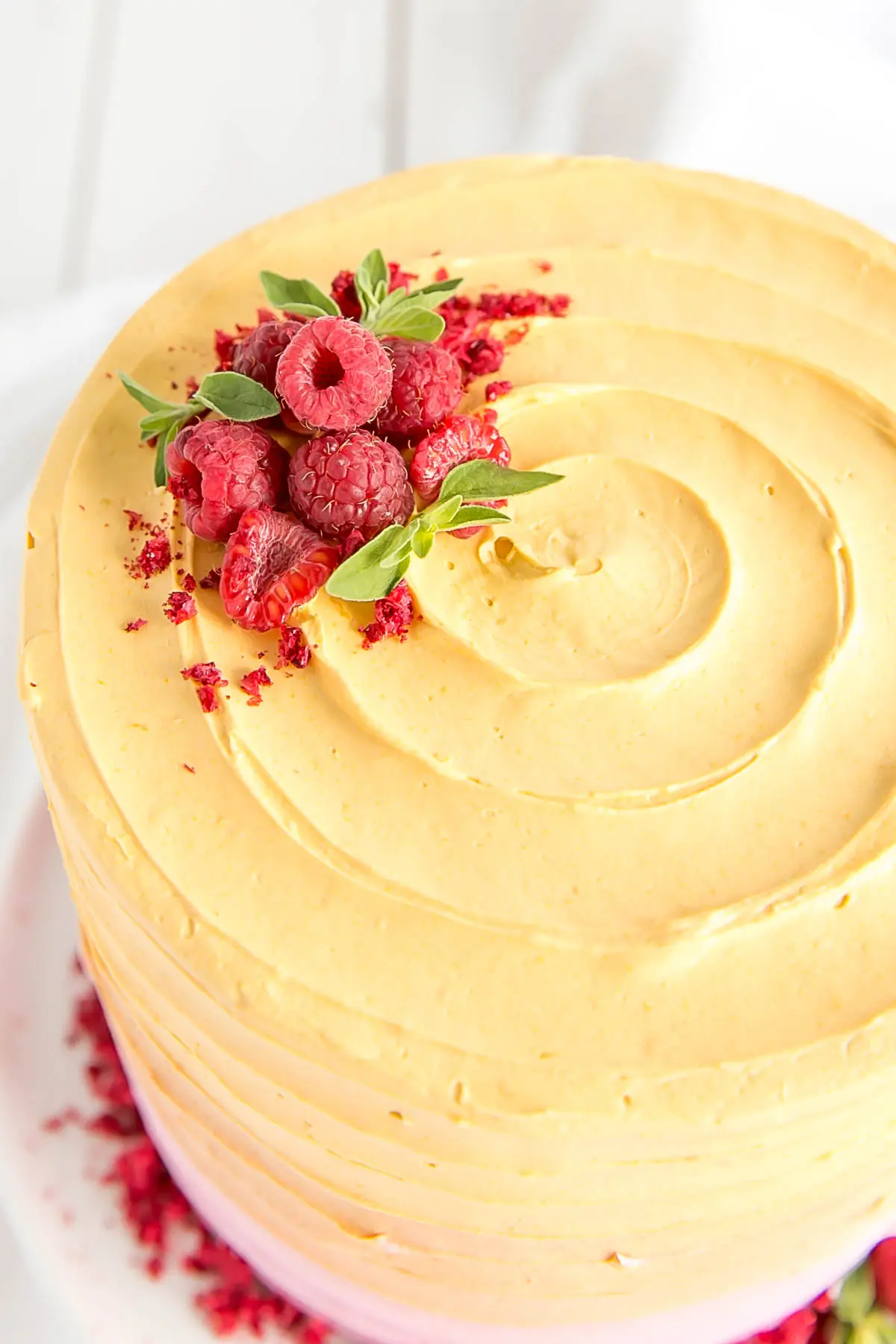 How to make an Ombre Cake
This is one of those "no one knows what your original vision of the cake was, so just move on" kinda things. At least that's what I had to tell myself, anyhow!
My goal was to do an ombre cake with dark pink frosting fading into pretty golden frosting. The mango color was really hard to match, and I didn't do a great job. I mostly used Wilton's Buttercup Yellow, then added some Americolor Orange and Wilton Golden Yellow. It only kinda sorta worked. The bigger struggle was the raspberry color.
I used Americolor Fuchsia and started out with just a toothpick amount of color. I don't know what I was thinking. Literally like 10 toothpicks later I was nowhere close to the deep, dark raspberry color I was hoping for. I should have just squirted a bunch of color in there. It takes a ridiculous amount of time/color gel to achieve a dark color. Eventually, I just gave up and went with a pale pink rather than the dark color I wanted. I'm not sure why I didn't keep going though, I still had a lot of color gel left!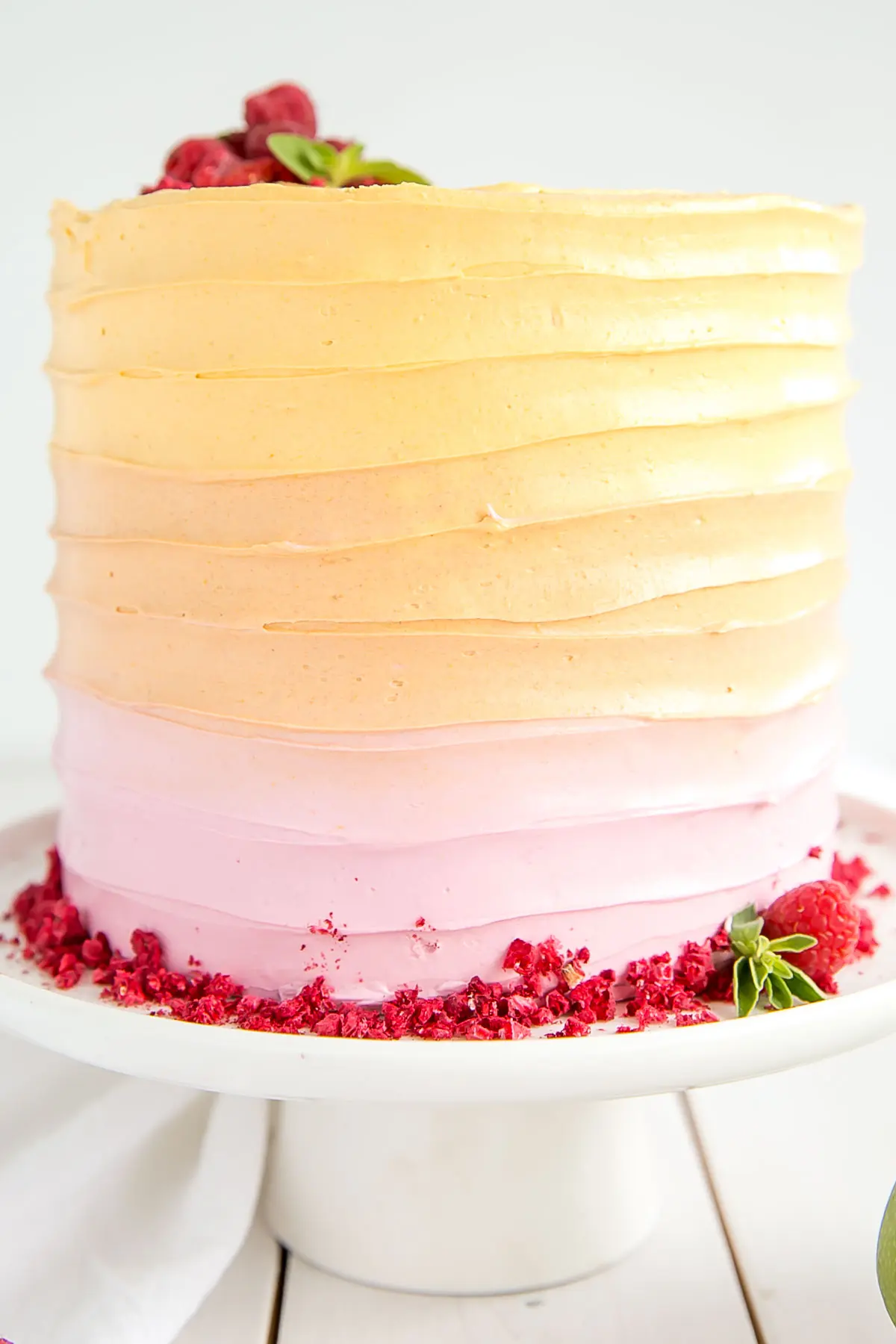 Buttercream color issues aside, this is one delicious tropical cake. Both the raspberry and mango flavors come through so well!! I added fresh raspberries between the layers for some color contrast for the pictures (since my pink color frosting was ultra lame), but I would probably leave these out next time. The raspberry flavor in the cake is already so strong due to the freeze-dried raspberry powder, so adding the fresh berries may be a bit of overkill. By all means though, go berry crazy if you like, and even add some fresh chopped mango too!
One thing I totally love, love, love about this cake is the color of the rough chopped freeze-dried raspberries along the bottom and sprinkled on top of this cake. Is that a stunning color or what?? Amazing. That's what I was hoping my frosting would be like, hah!
If you're looking for a fresh and summery tropical cake, this Raspberry Mango cake is sure to satisfy your craving.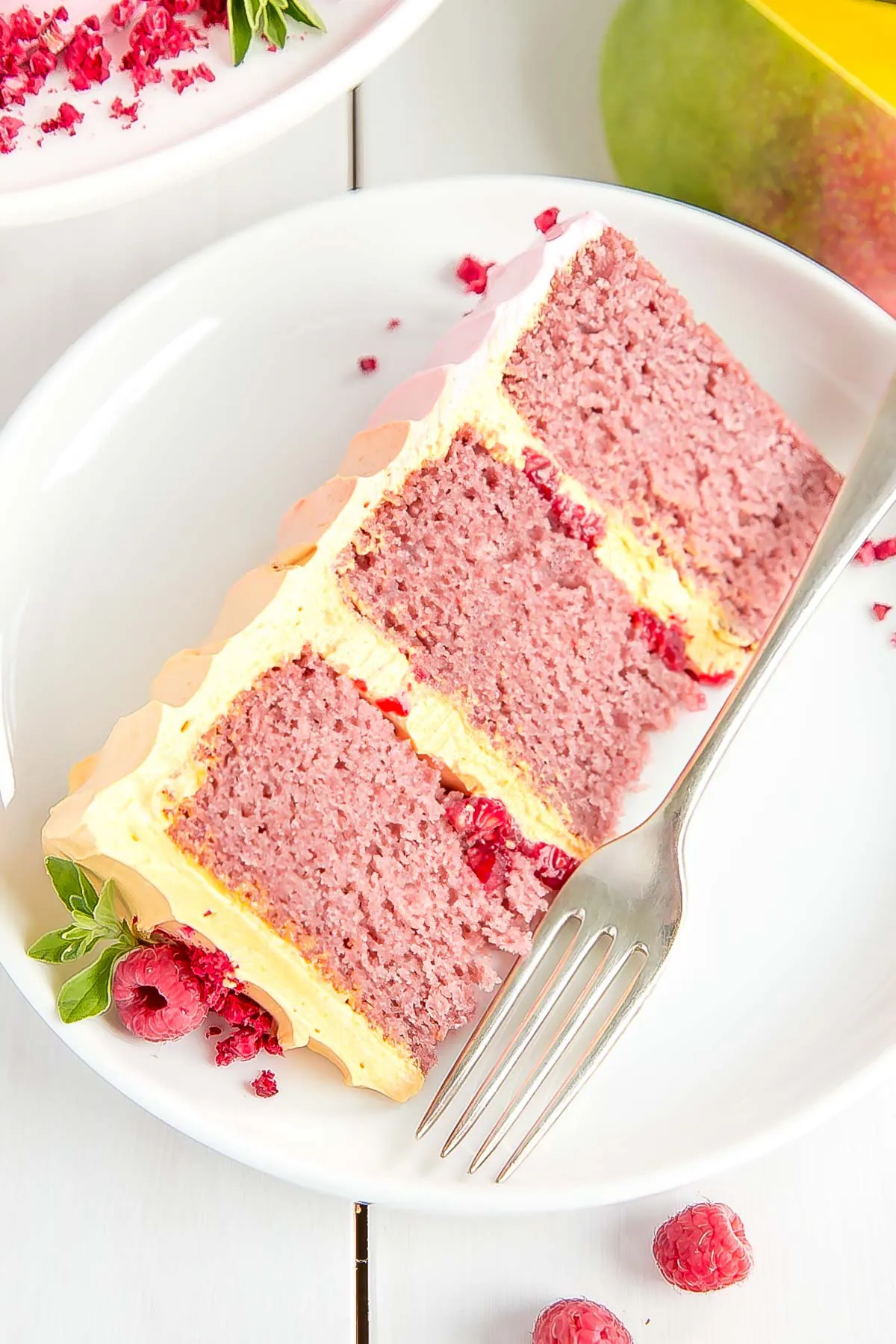 Looking for more Tropical Cakes?
Tips for making this Raspberry Mango Cake
Recipe revised May 5, 2020 – A few of you have found this recipe a bit dense so I've revised it to be a bit lighter.
The recipe as-is will also work in two 8″ pans. For three 8″ pans, 1.5x the recipe.
To make cupcakes, all you need to do is reduce the baking time — start checking at 15mins or so.
Do not use dried or dehydrated berries in place of freeze-dried. It is not the same thing and will not work out.
I put fresh raspberries between the layers, but I would probably leave them off next time as the raspberry flavor in the cake is already quite strong.
You can substitute any freeze-dried fruit in the cake and the frosting.
The color gels I used were: Wilton's Buttercup Yellow, Americolor Orange, Wilton Golden Yellow, and Americolor Fuchsia.
Be sure to check my

Swiss Meringue Buttercream

post for tips and troubleshooting.
Learn how to keep your cakes moist using Simple Syrup.
To help ensure your cake layers bake up nice and flat, check out my Flat Top Cakes post!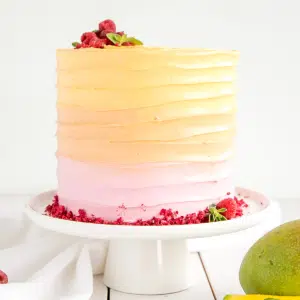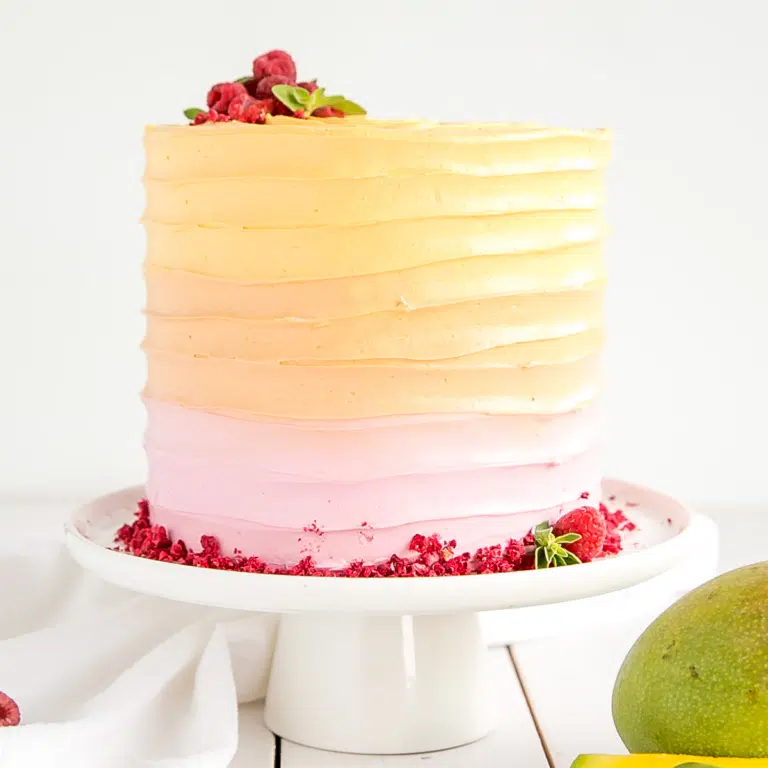 Raspberry Mango Cake
This Raspberry Mango Cake is the perfect way to celebrate the summer months. Raspberry cake layers and a heavenly mango frosting.
Ingredients
Mango Swiss Meringue Buttercream:
Instructions
Raspberry Cake:
Preheat oven to 350F. Grease and flour three 6″ cake rounds and line with parchment.

In a medium bowl, whisk flour, freeze dried raspberry powder, baking powder, and salt until well combined. Set aside.

Using a stand mixer fitted with a paddle attachment, cream butter until smooth. Add sugar and oil and beat on med-high until pale and fluffy (about 3mins). Reduce speed and add egg whites one at a time fully incorporating after each addition. Add vanilla.

Alternate adding flour mixture and milk, beginning and ending with flour (3 additions of flour and 2 of milk). Fully incorporating after each addition. Add color gel if desired.

Bake for 40-45mins or until a toothpick inserted into the center comes out mostly clean.

Place cakes on wire rack to cool for 10mins then turn out onto wire rack.
Mango Swiss Meringue Buttercream:
Place egg whites and sugar into the bowl of a stand mixer, whisk until combined.**

Place bowl over a double boiler on the stove and whisk constantly until the mixture is hot and no longer grainy to the touch (approx. 3mins). Or registers 160F on a candy thermometer.

Place bowl on your stand mixer and whisk on med-high until the meringue is stiff and cooled (the bowl is no longer warm to the touch (approx. 5-10mins)).

Switch to paddle attachment. Slowly add cubed butter and mix until smooth.***

Remove 2 cups of buttercream and color it pink. You can also add some freeze-dried raspberry powder to this if you like. Set aside.

Add freeze-dried mango powder to the remaining buttercream and whip until smooth. Add color gel to achieve desired color.
Assembly:
Place one layer of cake on a cake stand or serving plate. Top with approximately 2/3 cup of the mango buttercream. Press some slices raspberries into the frosting if desired. Repeat with remaining layers and crumb coat the cake. Chill for 20mins.

Combine some of the pink and mango buttercream to make a third color (about 1/2 cup each or as desired).

Starting with the bottom and the pink color, spread roughly onto bottom third of cake with a small offset spatula.


Clean spatula and do the same with the combined raspberry/mango buttercream

on the middle section.

Clean spatula add the remaining mango buttercream to the top of the cake and upper third. Try to ensure all sections of frosting have the same amount of thickness.

Take a bench scraper or a large offset spatula and smooth the sides and blend colors. Use a small offset spatula to create a swirl pattern on the sides and top.

Decorate with fresh and/or freeze-dried raspberries if desired.
Notes
* You can buy whole, freeze-dried fruit and pulverize it into a powder using a food processor or coffee grinder. Do NOT use dried fruit.
** Ensure there is NO trace of egg yolks in your whites and that your mixer bowl and whisk is completely grease free or your meringue won't stiffen.
*** The buttercream may look like it's curdled at some point. Keep mixing until it is completely smooth.
Calories:
770
kcal
Carbohydrates:
88
g
Protein:
7
g
Fat:
44
g
Saturated Fat:
29
g
Cholesterol:
104
mg
Sodium:
165
mg
Potassium:
355
mg
Fiber:
2
g
Sugar:
68
g
Vitamin A:
1223
IU
Vitamin C:
151
mg
Calcium:
81
mg
Iron:
3
mg
The nutritional information and metric conversions are calculated automatically. I cannot guarantee the accuracy of this data. If this is important to you, please verify with your favorite nutrition calculator and/or metric conversion tool.