This Lemon Elderflower Cake is my copycat version of the royal wedding cake! Elderflower infused lemon cake layers with lemon curd and elderflower buttercream.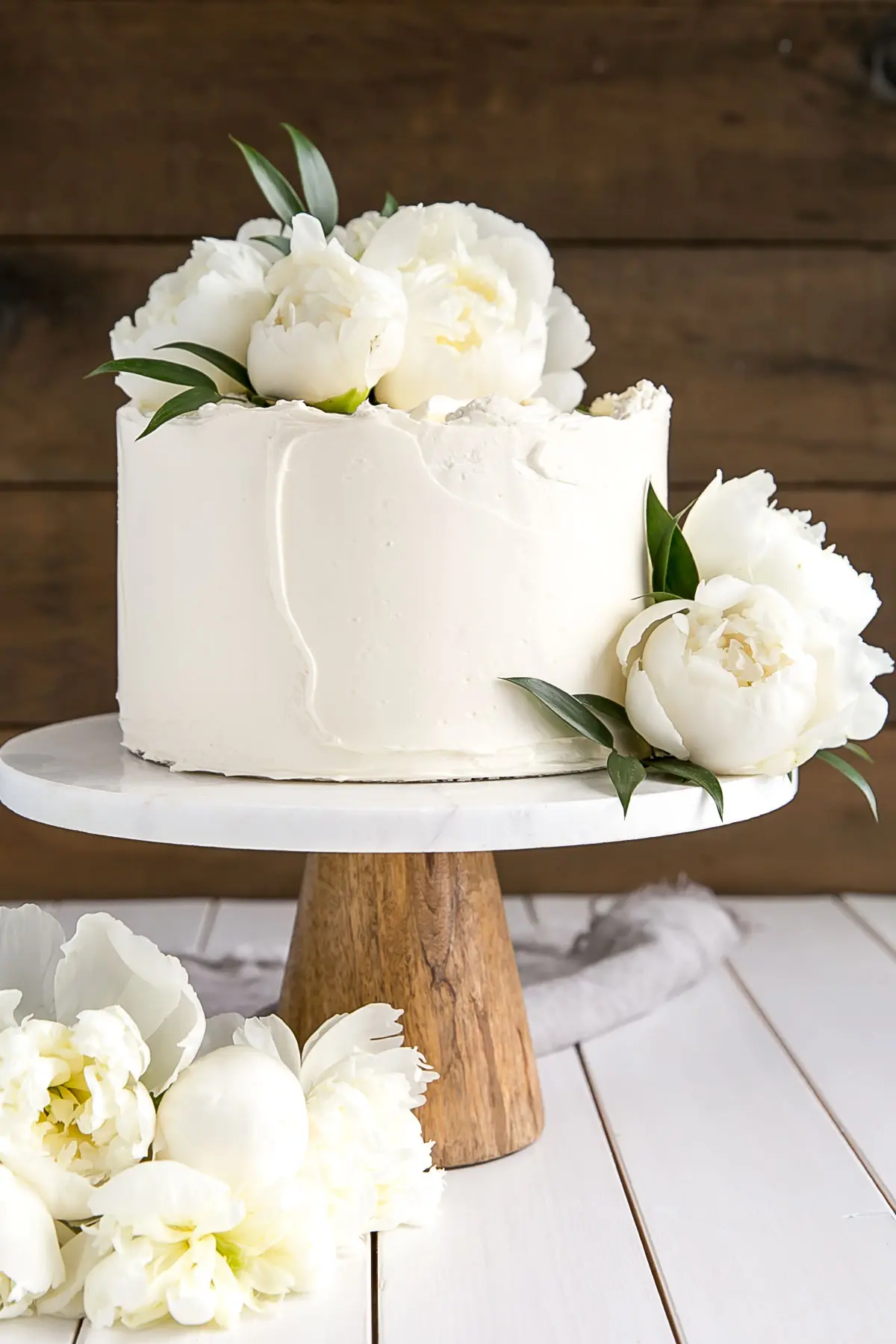 I am so excited to share this cake with you today, as it's my version of Prince Harry and Meghan's wedding cake. This Lemon Elderflower Cake was heavily inspired by Claire Ptak at Violet Cakes in London, who made the actual royal wedding cake for the couple.
I found out about the flavors shortly before the wedding, and was inspired to create my own version of it. Any excuse to make a cake and try something different, right??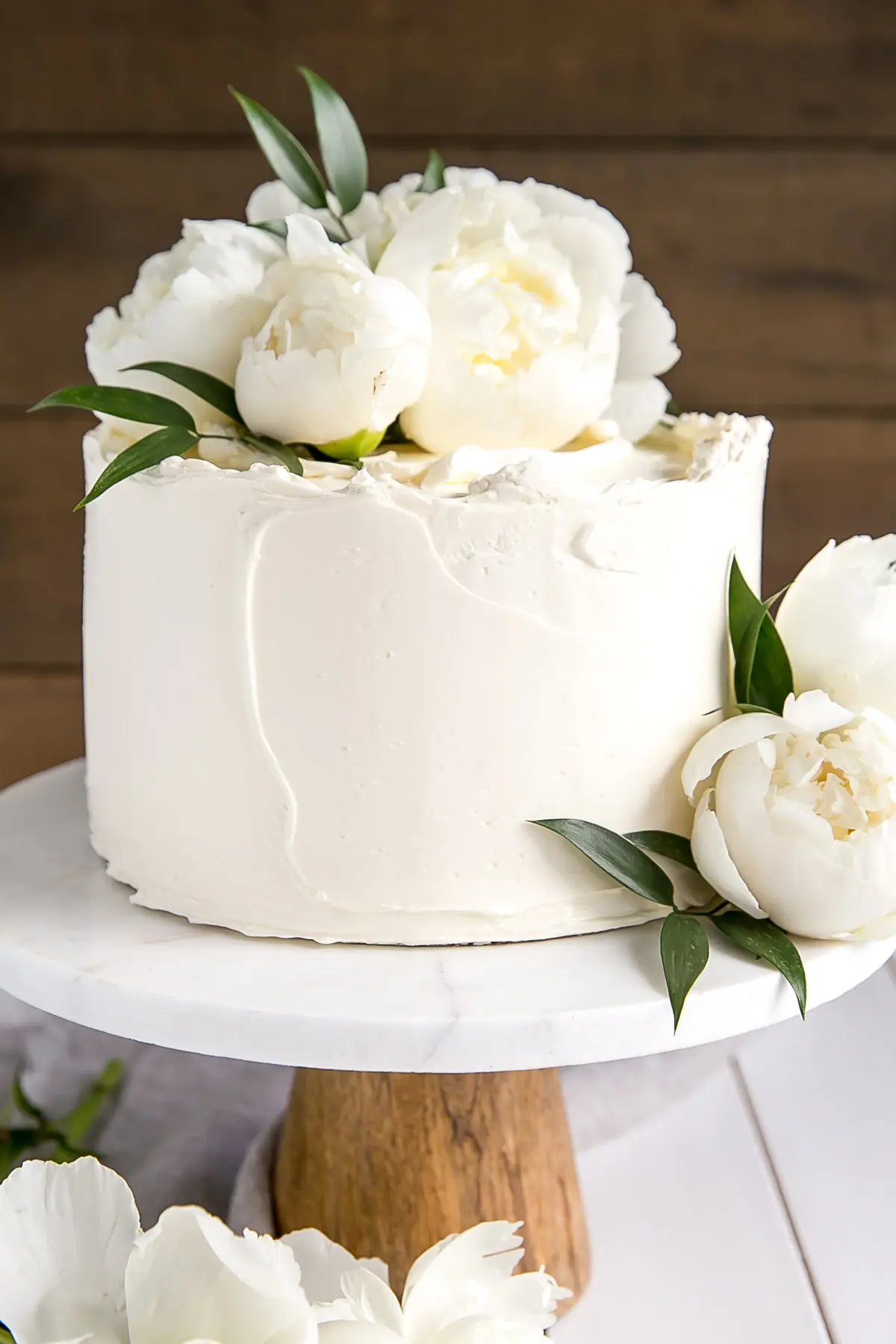 The cake consists of lemon infused cake layers, an elderflower syrup, lemon curd, and an elderflower Swiss meringue buttercream.
Maybe I'm living under a rock (likely) but I actually hadn't heard of elderflower until recently. I was actually shocked to find elderflower cordial in the first grocery store I checked. Usually I'm traipsing all over the city and back to find certain ingredients, only to give up and order them online, so to see it right there on the grocery store shelf was nothing short of a miracle.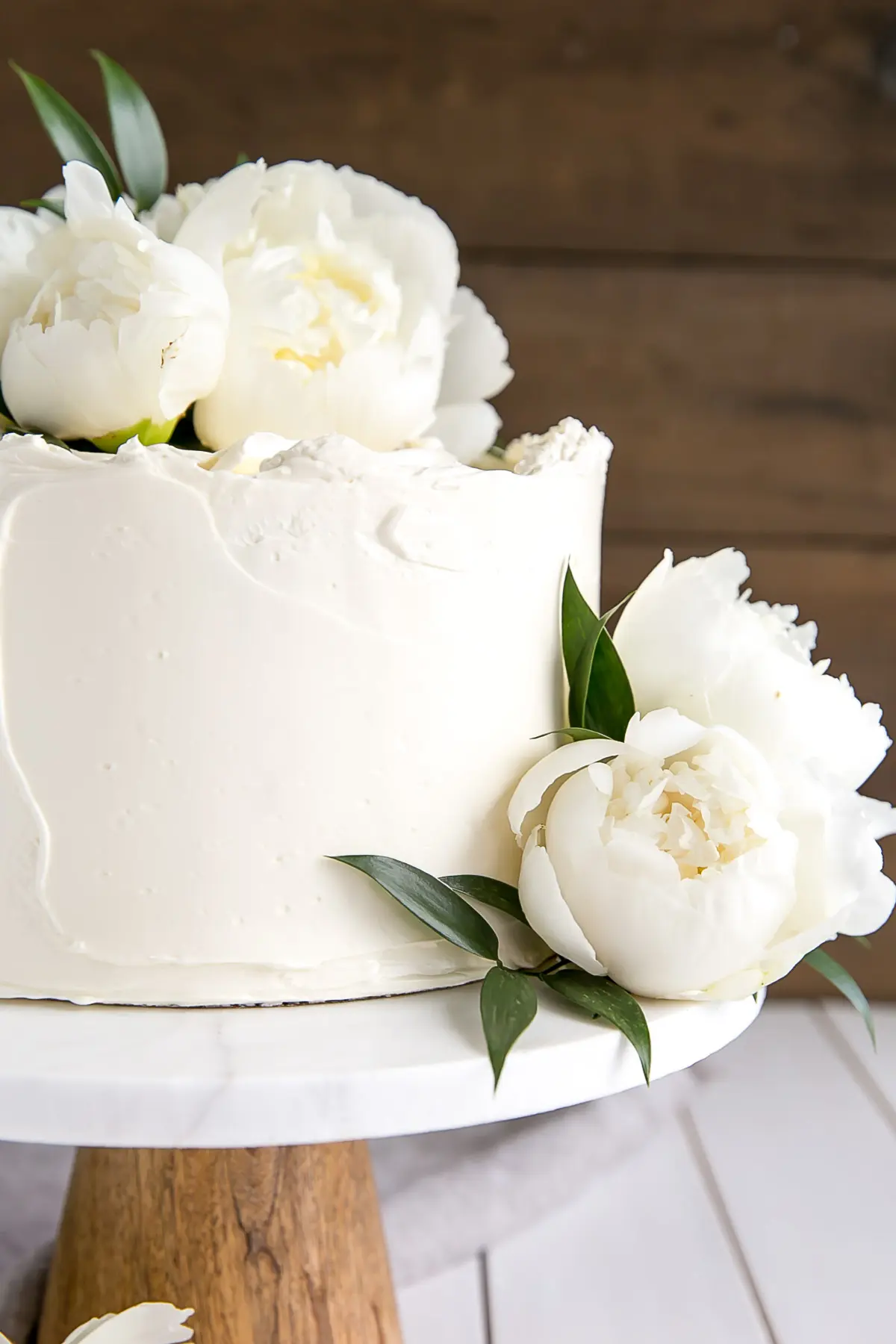 Elderflower cordial is very floral, with an almost citrusy aftertaste. It goes really well with lemon, and is just perfect for the spring/summer season.
For the lemon cake, I used the same recipe I used for my Lemon Blueberry Cake, but scaled it up for slightly thicker layers. For the lemon curd, I modified a recipe we used in pastry school (it's SO good omg). Be sure to check out my tutorial for How to Make Lemon Curd. Those went off without a hitch, but I made a couple of mistakes working with the elderflower cordial.
Initially, I made an elderflower syrup by bringing 1/4 cup water and 1/4 cup sugar to a boil before stirring 2 Tbsp of elderflower cordial into it. This tasted delicious, but once used on the cake, the elderflower was overpowered by the lemon flavors. The cordial itself is actually already a syrup (since you'd need to dilute it to use in drinks, etc.) so I should have just used it straight up. You can choose to do it either way though.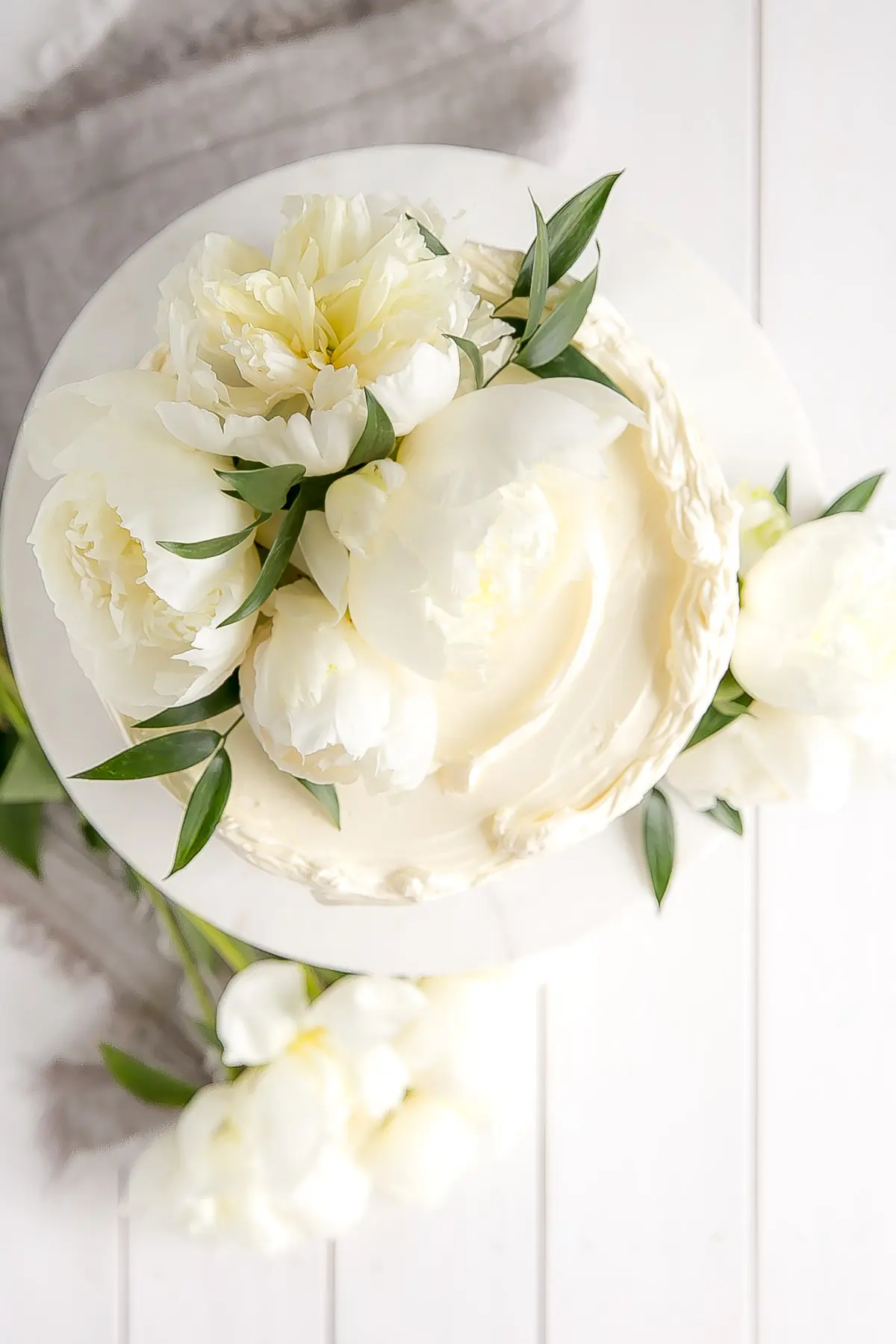 Speaking of drinks.. as I was working on this Lemon Elderflower Cake, I found out there's actually an elderflower liqueur too! What to do?! You know I love to booze up my cakes here and there, so I was so tempted to try this instead. A quick Google search led me to a $50 price tag though… yikes.
Nevertheless, I set out to find it. I didn't really try that hard though: I checked one liquor store and they didn't have it, so I decided to move on. I already had the cordial, and I didn't need to spend money on liqueur that will literally just sit in the cabinet after (I pretty much only use it for baking).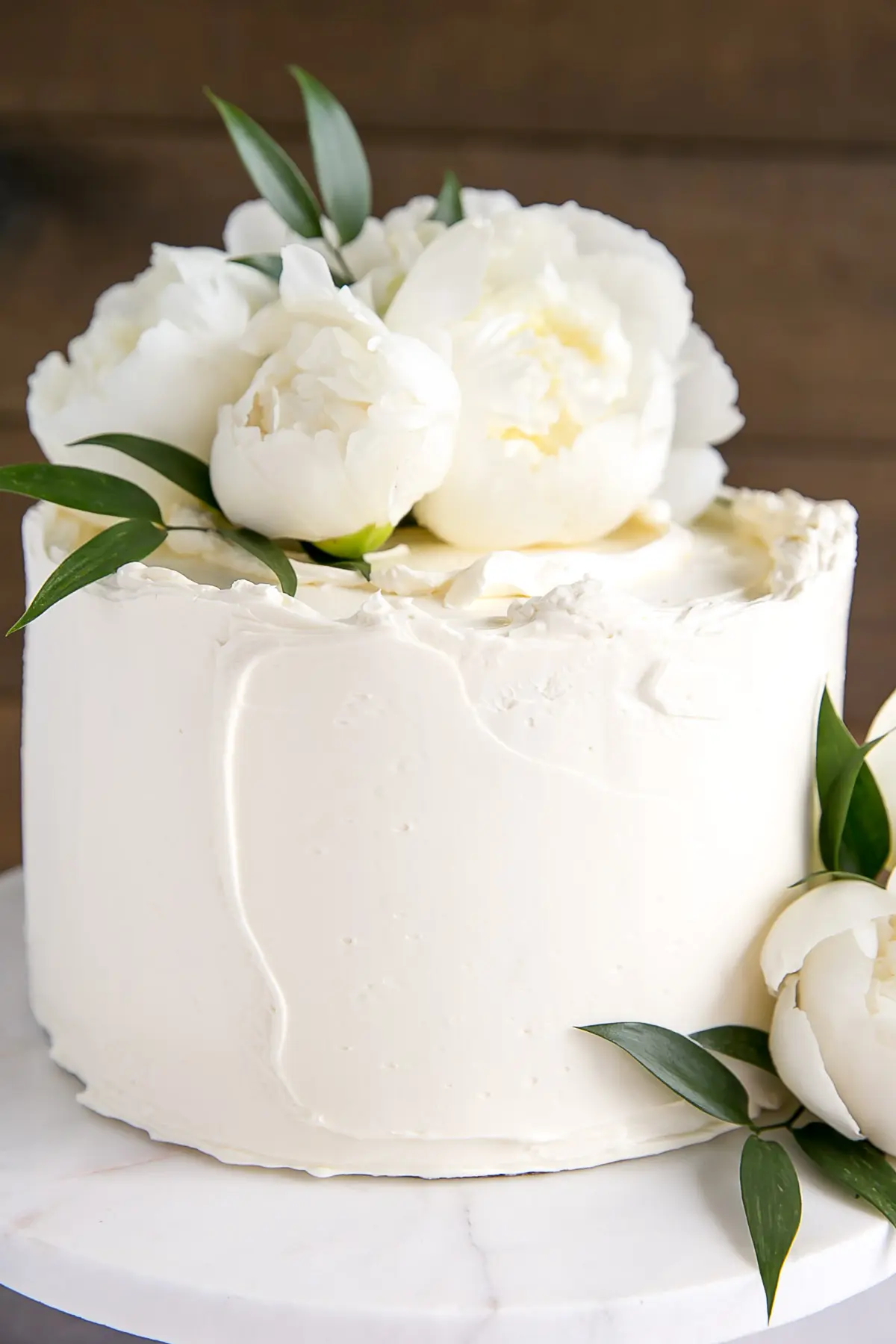 The second issue I had with the elderflower is that, in typical Olivia fashion, I forgot to put it in the buttercream!! Thankfully, I realized this after the crumb coat, so I added it in then. There's lemon curd between the layers instead of buttercream, so it wasn't too bad, but STILL. I need to be more organized. I always write down the recipe, but never actually refer to it while making the frosting!
How much elderflower you add to the buttercream is really to your taste. I found it to be quite subtle, but some can find it overpowering. However much you add, be sure to do it slowly (1 Tbsp at a time) and stop if it feels like you're affecting the texture of the buttercream. I've been able to add up to 1/4 cup of liquid to buttercream without affecting it, but just something to be aware of.
I waited until after the wedding to make the cake, as I wanted to see how it was decorated so I could emulate that as much as possible.
There's a lot of mixed feelings out there about the cake, but I think it looks beautiful. I love the rustic elegance to it — the juxtaposition of the ornate gold stands with the rustic flowers and frosting.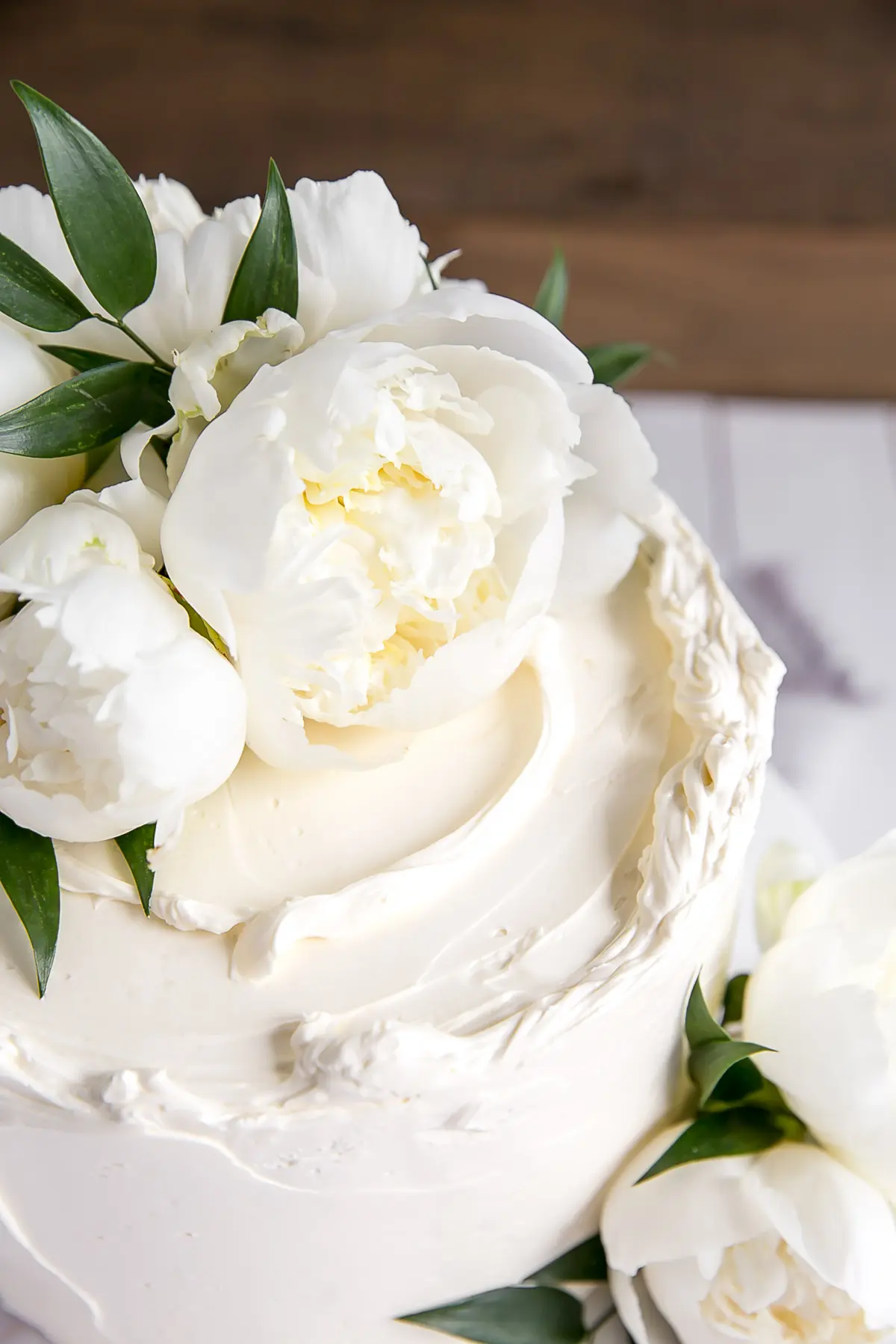 Decorating this cake was fairly simple. It was SUCH a relief to not have to worry about perfectly smooth frosting and sharp edges. It really was one of the easier cake frosting techniques I've tried. To be fair though, it's possible I totally lucked out and it just worked on the first go around. I am super pleased with the results.
I was also lucky enough to find peonies in the exact color I was looking for. In the first flower shop I went into!! High fives all around. I ended up spending $60 on peonies though, which is sort of ridiculous. Good thing I passed on the liqueur!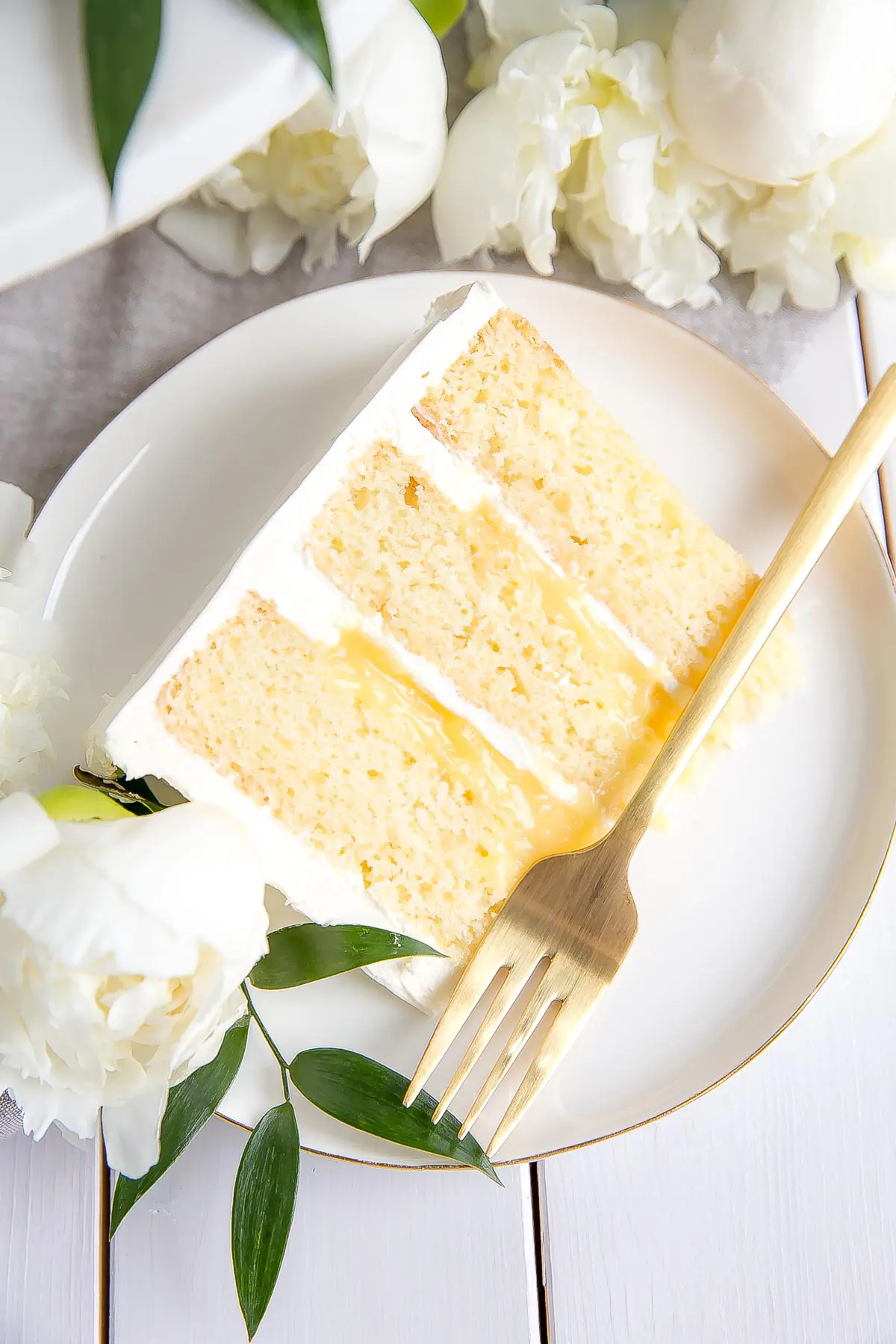 Overall, this Lemon Elderflower Cake turned out better than I expected, both in flavor and aesthetic. It was easy to decorate, and I think it looks stunning. I can see why Harry and Meghan chose this style and flavor combo for their special day.
Looking for more Lemon Desserts?
Tips for making this Lemon Cake with Elderflower:
I recommend not diluting the elderflower cordial for the cake layers too much (or at all), or you'll lose the flavor.
The amount of cordial you use in the buttercream is up to you. Only add it 1 Tbsp at a time though, and add to taste.
If you'd like to use St. Germain instead of the elderflower cordial, I recommend making a simple syrup and adding the liqueur to that:

Bring 1/4 cup water and 1/4 cup sugar to a boil, simmer 1 min. Remove from heat and add in 2Tbsp of St. Germain. Cool completely.

Be sure to check out my tutorial for How to Make Lemon Curd
Be careful about putting too much lemon curd in between the layers. This can make the cake more unstable.
Regardless of the amount of lemon curd, you must do a dam of frosting around the perimeter of each layer to hold in the curd. This is not optional!
You will have some curd left over which you can freeze if you like or use in another dessert.
The buttercream recipe makes enough to fully frost the cake (if you weren't using curd). You can freeze this as well if you have extra or just reduce the recipe slightly.
If you use fresh (non-edible) flowers like I did, be sure to protect them from the cake (I used floral tape around the stems).
Be sure to check my Swiss Meringue Buttercream post for tips and troubleshooting.
To help ensure your cake layers bake up nice and flat, check out my Flat Top Cakes post!
Lemon Elderflower Cake (Copycat Royal Wedding Cake)
This Lemon Elderflower Cake is my copycat version of the royal wedding cake! Elderflower infused lemon cake layers with lemon curd and elderflower buttercream.
Ingredients
Lemon Curd:
4

large

eggs

1

cup

granulated sugar

1/2

cup

lemon juice

fresh squeezed, from one large lemon

1

Tbsp

lemon zest

from one large lemon

6

Tbsp

unsalted butter

cubed
Elderflower Swiss Meringue Buttercream:
Assembly:
elderflower cordial/syrup
Instructions
Lemon Cake:
Preheat oven to 350F. Grease and flour three 8″ cake rounds and line with parchment.

In a medium bowl, whisk flour, baking powder, and salt until well combined. Set aside.

Using a stand mixer fitted with a paddle attachment, cream butter and lemon zest until smooth. Add sugar and beat on med-high until pale and fluffy (approx 3mins).

Reduce speed and add eggs one at a time fully incorporating after each addition. Add vanilla.

Alternate adding flour mixture with milk & lemon juice, beginning and ending with flour (3 additions of flour and 2 of milk & lemon juice). Fully incorporating after each addition.

Spread batter evenly between the prepared pans and smooth the tops.

Bake for approx. 35mins or until a toothpick inserted into the center comes out mostly clean.

Place cakes on wire rack to cool for 10mins then turn out onto wire rack to cool completely
Lemon Curd:
Place eggs and sugar into a small pot, whisk to combine. Add lemon juice, zest, and butter. Cook over medium-low heat whisking constantly until mixture thickens and coats the back of a spoon.

Transfer to a glass bowl and lay plastic wrap directly on surface to prevent a skin from forming. Chill for 3 hours to set. Makes 2 cups.



Elderflower Swiss Meringue Buttercream:
Place egg whites and sugar into the bowl of a stand mixer, whisk until combined.*

Place bowl over a pot with 1-2″ of simmering water and whisk constantly until the mixture is hot and no longer grainy to the touch or reads 160F on a candy thermometer (approx. 3mins)

Place bowl on your stand mixer and whisk on med-high until the meringue is stiff and cooled (the bowl is no longer warm to the touch (approx. 5-10mins)).

Switch to paddle attachment. Slowly add cubed butter and mix until smooth.**

Add 2-4 Tbsp elderflower cordial (to taste) one Tbsp at a time whip until smooth.
Assembly:
Place one layer of cake on a cake stand or serving plate. Poke holes into the cake using a bamboo skewer. Brush with elderflower cordial.***

Spread a thin layer of buttercream on top of the layer and pipe a border around the outside to hold the lemon curd in. Fill with approx 3/4 cup of lemon curd. Repeat with next layer.

Place final layer on top and do a thin crumb coat on the cake. Chill for 20mins.

Frost the top and sides of the cake with remaining frosting in a rustic manner. I started by spreading a generous amount of buttercream on the top and letting it overhang on the sides. Then I used a flat spatula to add buttercream to the sides of the cake and to smooth the which created a top lip with the overlapping buttercream.

Top with fresh peonies if desired, but be sure to wrap the stems in floral tape.
Notes
* Ensure there is NO trace of egg yolks in your whites and that your mixer bowl and whisk is completely grease free or your meringue won't stiffen.
** The buttercream may look like it's curdled at some point. Keep mixing until it is completely smooth.
*** You can dilute the cordial if you like, by adding it to some simple syrup.
Calories:
832
kcal
Carbohydrates:
84
g
Protein:
7
g
Fat:
53
g
Saturated Fat:
32
g
Cholesterol:
227
mg
Sodium:
179
mg
Potassium:
195
mg
Sugar:
65
g
Vitamin A:
1705
IU
Vitamin C:
5.9
mg
Calcium:
77
mg
Iron:
1.7
mg
The nutritional information and metric conversions are calculated automatically. I cannot guarantee the accuracy of this data. If this is important to you, please verify with your favorite nutrition calculator and/or metric conversion tool.