Turn a classic childhood after-school treat into a nostalgic grown-up after-work indulgence with this Milk & Cookies Cake!
Just when you thought milk & cookies couldn't get any better. That classic combination you'd always look forward to as a kid for after school snacks, treats on the weekends, while watching your favorite cartoons or movies…. it was the best! Well, for some people anyhow.
Truthfully, I was never a fan of milk with my cookies. I've had it numerous times but, if I had to choose, I'd take my cookies straight up — maybe nuked in the microwave for a few seconds. Seeing as how most people are fans of milk & cookies though, and I'm a fan of cake (in case you hadn't noticed), what better than to combine the two?
Ryan has been harassing asking me for a chocolate chip cake for some time now. It's always been on the radar, but there were more pressing season themed desserts that needed to be knocked out first. I am (only somewhat) restraining myself from jumping head first into Holiday baking (my favourite) and have been trying to distract myself with some Fall recipes instead. Fall baking is my second favorite, so it hasn't been too difficult.
This Milk & Cookies Cake doesn't really fit into either of those themes/seasons, but you're getting it anyway. It's a bit of a break from all the pumpkin and Halloween that's inevitably getting thrown at you from every direction. And even though it isn't even Halloween yet, I've been seeing Christmas stuff pop up in stores over the past couple weeks, and I am 100% ok with it. I know a lot of people prefer to wait until after US Thanksgiving to bust out the Holiday gear, but we had Thanksgiving a couple weeks ago in Canada and once Halloween is over, Christmas is literally the next thing on our radar. Although for some people it's on the radar as soon as September hits.
Ok, I'm totally rambling about the holidays instead of getting down to business with this cake!
This is a no frills cake, all in all. It's a basic vanilla cake jazzed up with some mini chocolate chips. Initially, I was going to do a chocolate buttercream to pair with it, but I figured the vanilla would let the chocolate chip flavour stand out and provide more contrast. That's when it turned into a Milk & Cookies Cake.
The drippy ganache adds a bit of fanciness to this otherwise simple cake.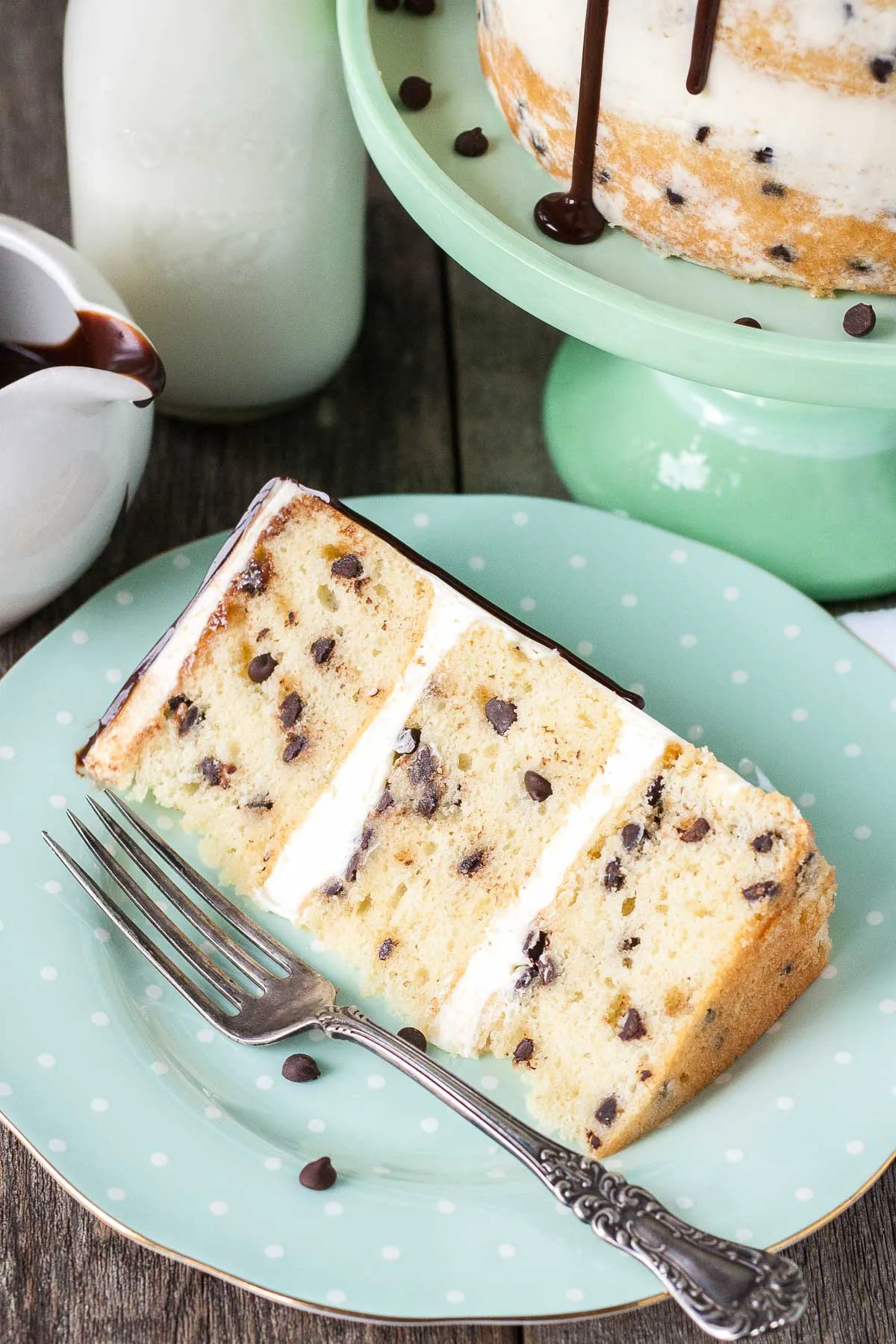 If you've been following this blog for a while, you know that I love drippy ganache cakes. It's a really easy way to add a bit of flair to your cakes – provided that you can get the frosting nice and smooth on the top and edges, which is my biggest challenge.
The cake itself is not super-sweet, which I think pairs well with the chocolate chips and sweet "milky" buttercream. If you're a milk & cookies lover, I hope you will enjoy this cake version of your favourite treat!
Notes & tips for this Milk & Cookies Cake:
To help ensure cakes come out of the pans cleanly, I spray my cake pans with Pam for Baking and line the bottoms with parchment paper.
For the ganache, I let mine set overnight (with plastic wrap placed directly on the surface). It will be too thick at this point, so I microwave it for 10 secs and stir it until it's the right consistency.
The drip technique works best on a chilled cake so that the drips set quickly.
Be sure to check my Swiss Meringue Buttercream post for tips and troubleshooting.
To help ensure your cake layers bake up nice and flat, see my Flat Top Cakes post.
***RECIPE UPDATED: Feb 5, 2017***
A few of you mentioned that you found the cake dry and dense so I've updated it to a lighter, more fluffy version that hopefully everyone should find delicious!
Milk & Cookies Cake
Milk & Cookies Cake! Classic milk & cookies gets a major transformation into this chocolate chip cake with milky white buttercream.
Prep Time
1
hour
50
minutes
Total Time
2
hours
30
minutes
Ingredients
Instructions
Simple Syrup (optional):
Place sugar and water into a small saucepan and cook over high heat until simmering and sugar is dissolved. Remove from heat and allow to cool slightly before using on cake.
Cake:
Preheat oven to 325F. Grease and flour three 6" cake rounds and line with parchment.

In a medium bowl, whisk flour, baking powder, and salt until well combined. Set aside.

Using a stand mixer fitted with a paddle attachment, cream butter and sugar on med-hig until pale and fluffy (approx 3mins).

Reduce speed and add eggs one at a time fully incorporating after each addition. Add vanilla.

Alternate adding flour mixture and buttermilk, beginning and ending with flour (3 additions of flour and 2 of milk). Fully incorporating after each addition.

Fold in chocolate chips and mix until just incorporated.

Bake for 35-40mins or until a toothpick inserted into the center comes out mostly clean.

Place cakes on wire rack to cool for 10mins then turn out onto wire rack. Poke holes into the warm cakes and brush with some of the cooled simple syrup. Allow cakes to cool completely.
Vanilla Buttercream:
Place egg whites and sugar into the bowl of a stand mixer, whisk until combined.*

Place bowl over a double boiler on the stove and whisk constantly until the mixture is no longer grainy to the touch (approx. 3mins).

Place bowl on your stand mixer and whisk on med-high until the meringue is stiff and cooled (the bowl is no longer warm to the touch (approx. 5-10mins)).

Switch to paddle attachment. Slowly add cubed butter and mix until smooth.

Add vanilla and whip until smooth.**
Ganache:
Place chopped chocolate and cream into a microwave safe bowl. Stir to combine. Microwave for 20 seconds, stir. Microwave in 10 second intervals, stirring in between, until ganache is smooth and silky. Set aside to cool and thicken slightly before using on cake.
Assembly:
Place one layer of cake onto a cake stand or serving plate. Top with approximately 2/3 cup of buttercream. Repeat with remaining layers and crumb coat the outside leaving the sides of the cake exposed. Use a bench scraper to smooth out the sides and top of the cake. Chill for 20mins.

Using a teaspoon, apply ganache near edges like so to create the drips. Pour some ganache on the top of the cake and spread with an offset spatula.
Notes
* Ensure there is NO trace of egg yolks in your whites and that your mixer bowl and whisk is completely grease free or your meringue won't stiffen.
** The buttercream may look like it's curdled at some point. Keep mixing until it is completely smooth.
***RECIPE UPDATED: Feb 5, 2017***
A few of you mentioned that you found the cake dry and dense so I've updated it to a lighter, more fluffy version that hopefully everyone should find delicious!
Calories:
722
kcal
Carbohydrates:
79
g
Protein:
6
g
Fat:
43
g
Saturated Fat:
26
g
Cholesterol:
148
mg
Sodium:
166
mg
Potassium:
214
mg
Fiber:
1
g
Sugar:
59
g
Vitamin A:
25.2
%
Calcium:
9.9
%
Iron:
11.5
%
The nutritional information and metric conversions are calculated automatically. I cannot guarantee the accuracy of this data. If this important to you, please verify with your favourite nutrition calculator and/or metric conversion tool.