This Peanut Butter Chocolate Cake is pure decadence! Rich chocolatey cake layers and a silky peanut butter frosting.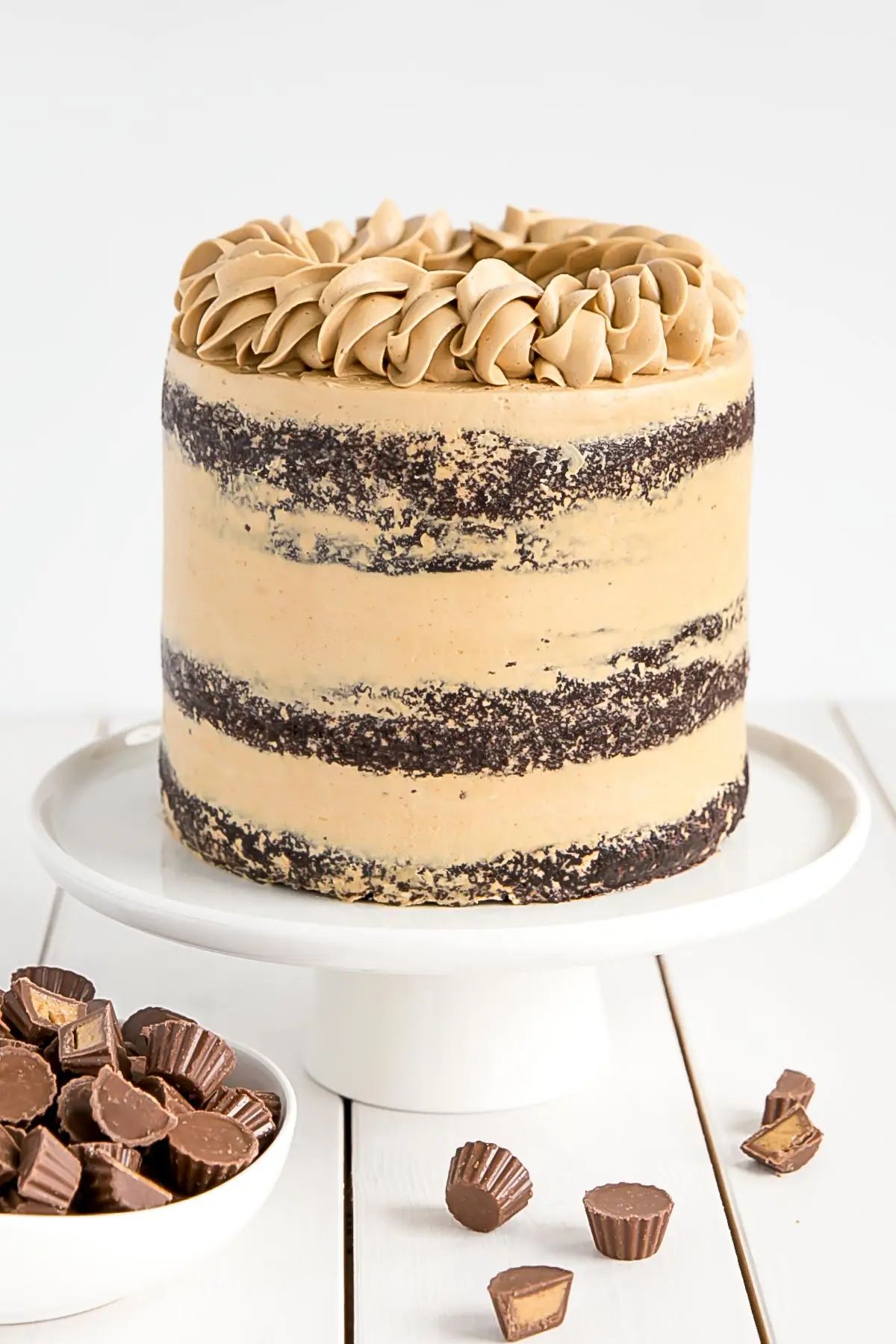 There are few things that go better together than peanut butter and chocolate. I know some of you will disagree, but it is one of my favorite flavor combinations. In fact, one of the first cakes I ever made for the blog was this exact combination. That was a long time ago, and I like to consider this one new and improved.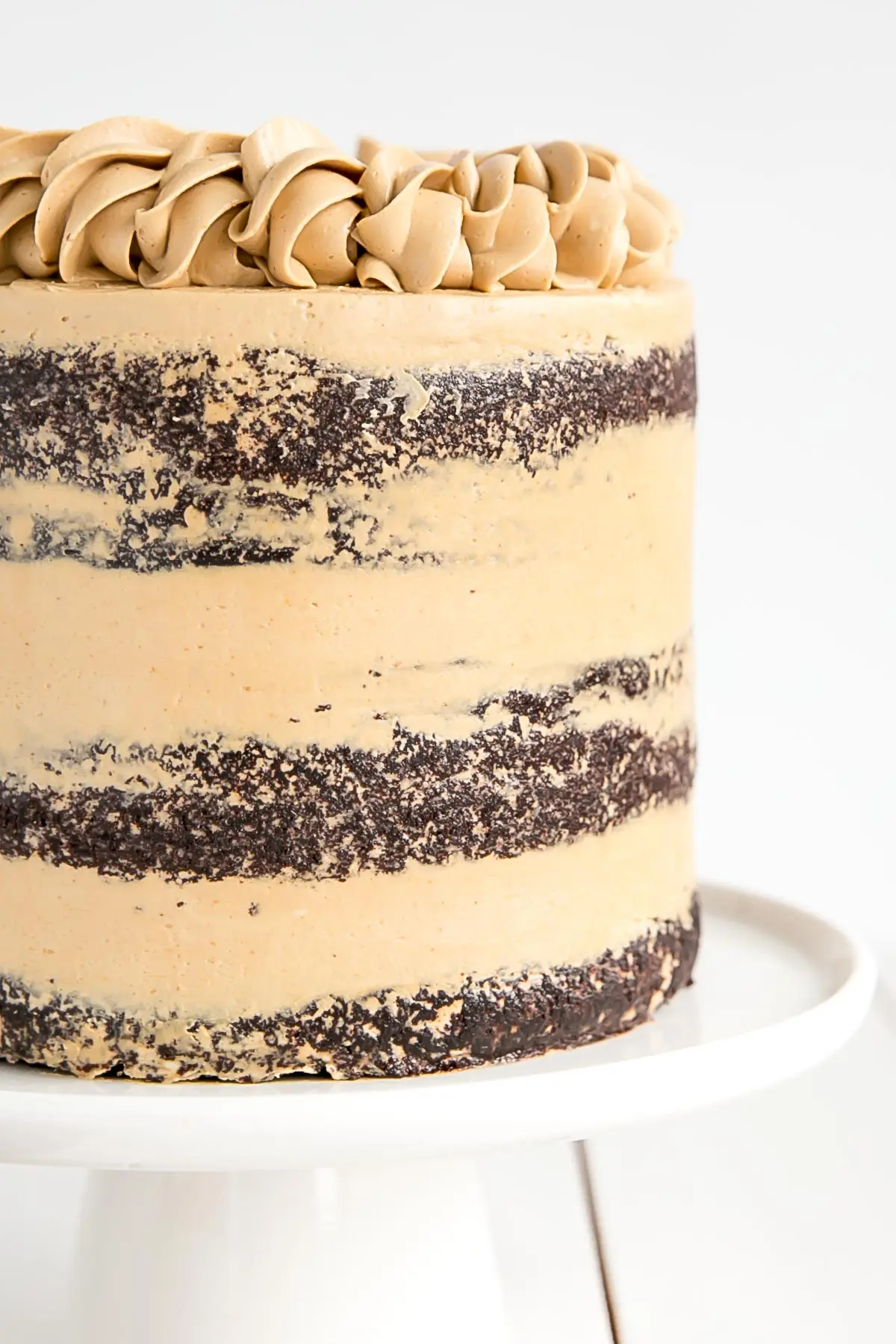 The main difference between this Peanut Butter Chocolate Cake and my old Peanut Butter Chocolate Cake is the frosting. The cake recipe is very similar, though smaller in scale – the old cake was three 8″ pans, this one is three 6″ pans – but the frosting got a complete, delicious makeover.
For the old recipe, I used an American style buttercream, which was delicious, but I generally prefer the taste and texture of meringue buttercreams. They are a tiny bit trickier and a bit more involved, but SO worth the extra effort.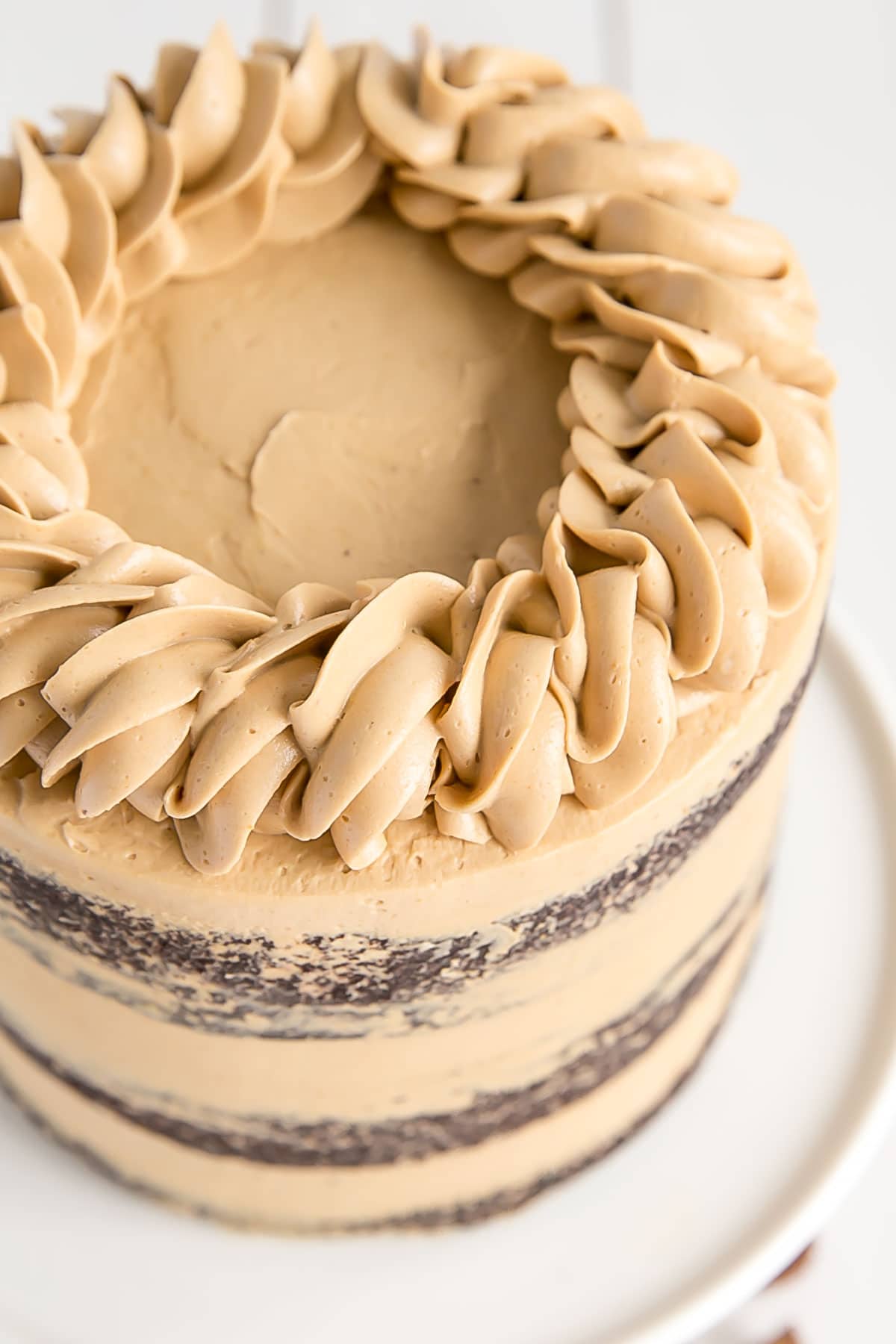 What is Swiss Meringue Buttercream?
Unlike American buttercreams, which use butter and powdered sugar, meringue buttercreams use a mixture of egg whites and granulated sugar that is gently heated and then whipped to stiff peaks. At that point, room temperature butter is added and the mixture is whipped until it's smooth and silky.
And that truly is the benefit of meringue buttercreams — they are super smooth! Unlike their grainy (but equally delicious) American counterpart. They are also less sweet, but some people consider them too "buttery". It's really just a matter of preference.
So, if you prefer an American buttercream with your Peanut Butter Chocolate Cake, head on over to my other recipe.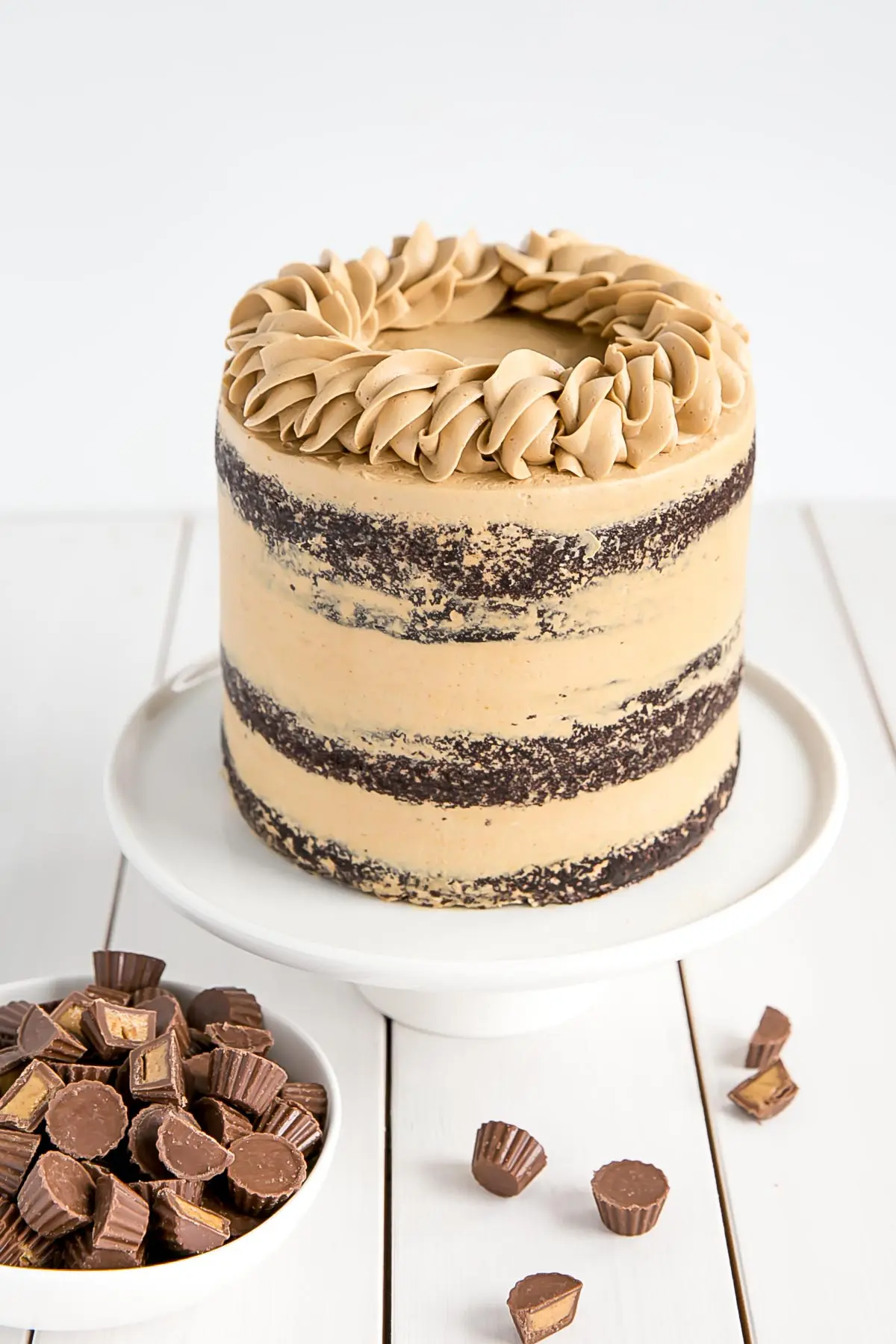 I actually made a peanut butter Swiss meringue not too long ago, in my Peanut Butter Banana Chocolate Chip Cake. In that particular frosting, I used regular old peanut butter (not the natural kind). It worked really well and was delicious, but the addition of the peanut butter made the frosting softer than normal and a bit trickier to work with.
For this peanut butter frosting, I used powdered peanut butter, and it was pretty much a game changer.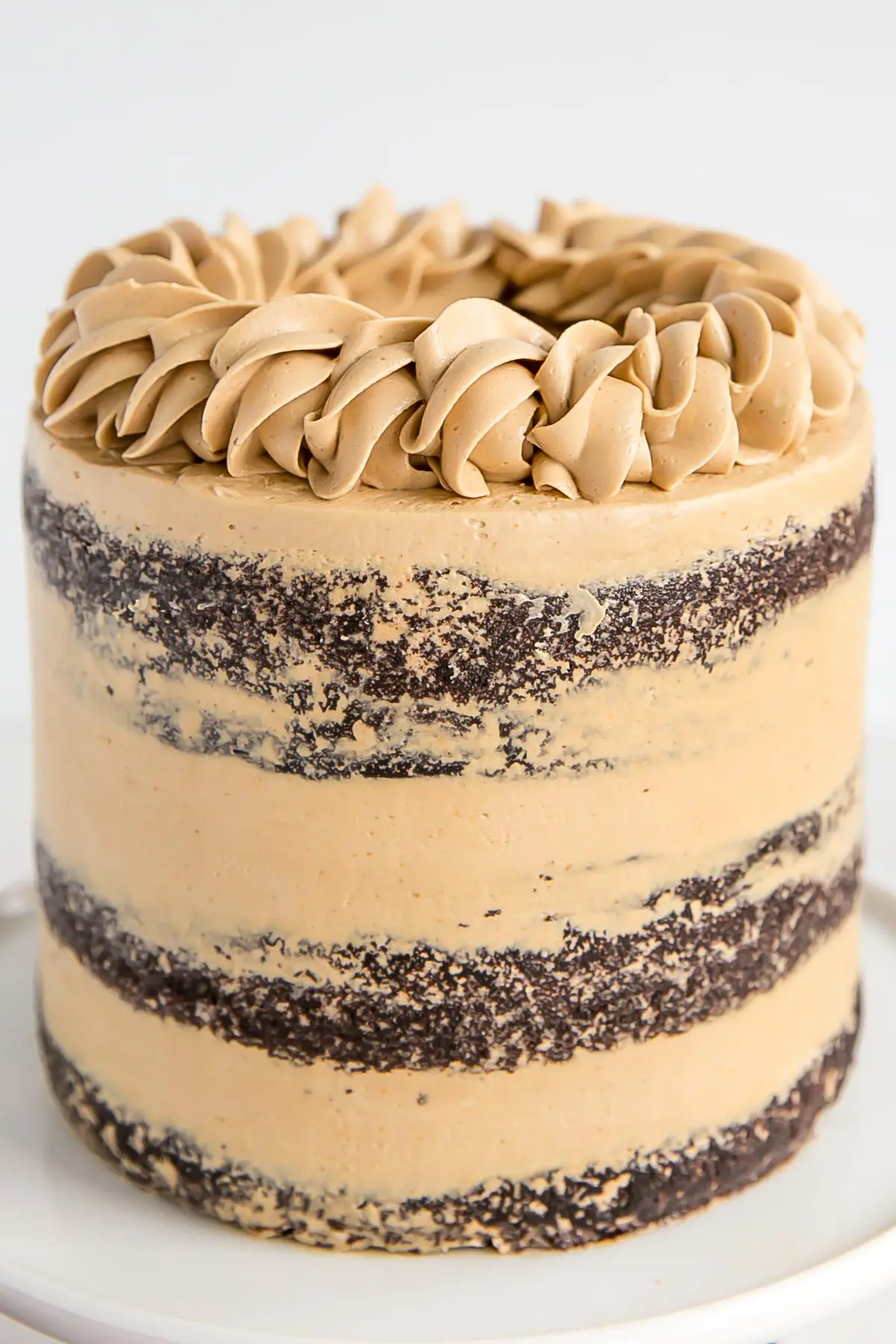 What is powdered peanut butter?
I didn't even know this existed until a month ago, when someone mentioned it in my Facebook Baking group.
Powdered peanut butter is made from roasted peanuts that have had the oil extracted. As such, it has way less fat per Tbsp than regular peanut butter. Once the oil is extracted, the peanuts are ground up to a superfine powder. The one I used had sugar and salt added, but you can get it without that as well. Either will work just fine.
Powdered peanut butter is often used in things like smoothies, breakfast bowls, oatmeal, etc. and unbeknownst to me in baking!
It can be harder to find than regular peanut butter, and is usually more expensive, but from a baking perspective it's totally worth it. I was able to find some for a steal at Homesense, so definitely check there if you have one near you!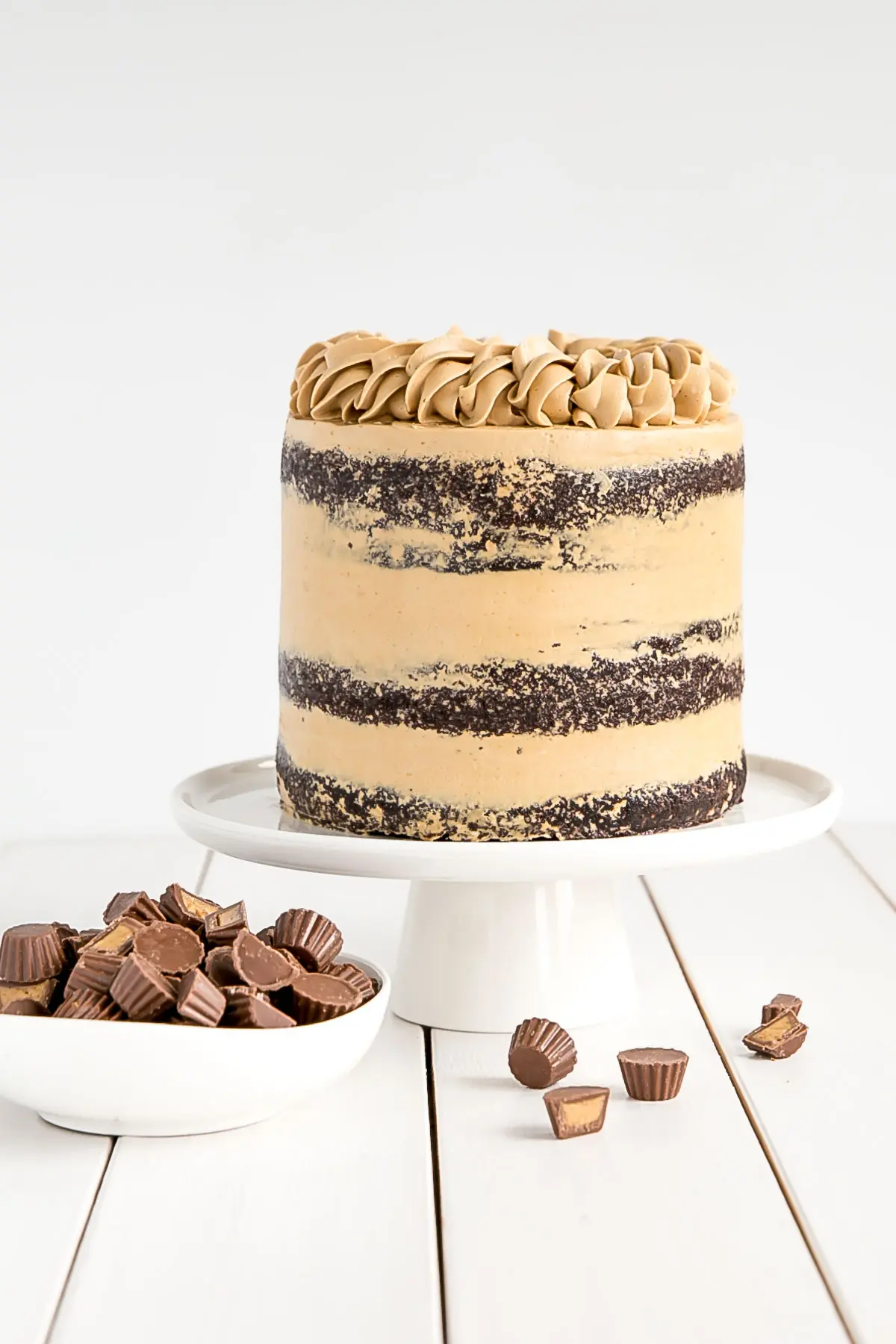 I didn't intend to do another naked cake with this one, but sometimes you just gotta go with the flow. I had intended to fully frost the cake and do a ganache drip before adding the decorative border at the top, but my ganache was not co-operating. I had some leftover that I had taken out of the freezer to thaw, but it had split and I didn't have the time to fix it or make a new one.
You can usually save a split ganache by reheating it and stirring it together again. If that doesn't work, you can try adding a bit more cream to it. It usually comes together. I didn't have the time to heat/cool the ganache though, so I scrapped the whole idea.
I had already made all of the frosting, so the recipe below will be enough to fully frost the cake if you choose to do so. I decided to do a naked cake because I wanted a bit of that dark contrast that the ganache was supposed to give me. I think it worked out in the end, maybe even better than I intended in the first place, which is always nice!
The technique for the decorative border is the same as I've done on my Pecan Pie Cake and Baileys & Guinness Cake, except I used a 1M tip from Wilton this time instead of the 6B tip. If you'd like to see a video of this technique, you can follow me on Instagram and check out my Baking Tips story highlights, or join our Baking Community Facebook group where I've also shared the video.
I didn't actually use any peanut butter cups in the cake (just as photo props), but you could totally chop some up and put them between the layers and/or pile them on top.
This Peanut Butter Chocolate cake is pure heaven. The cake is moist and delicious and the frosting is just the perfect pairing. If you have a chocolate peanut butter lover in your life (pretty sure everyone has one of these), this cake is sure to be a hit!
Looking for more Peanut Butter Recipes?
Tips for making this Peanut Butter Chocolate Cake
This recipe will also work in two 8″ pans, though the layers will be slightly thinner.
If you don't have powdered peanut butter you can use regular peanut butter and make the frosting from my Peanut Butter Banana Chocolate Chip Cake.
I added powdered peanut butter to the cake batter too, but I didn't find that it had a huge flavor impact so I put it as optional.
You can add chopped peanut butter cups, or chopped peanuts between the layers if desired.
This recipe makes enough frosting to fully frost the cake if desired.
Be sure to check my Swiss Meringue Buttercream post for tips and troubleshooting.
To help ensure your cake layers bake up nice and flat, see my Flat Top Cakes post.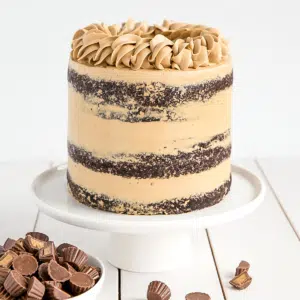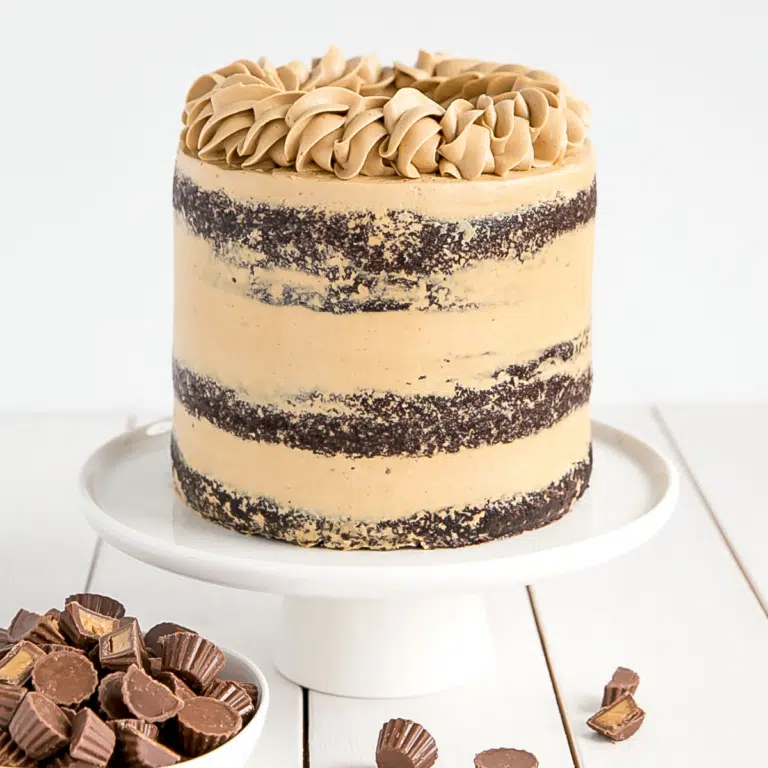 Peanut Butter Chocolate Cake
This Peanut Butter Chocolate Cake is pure decadence! Rich chocolatey layers and a silky peanut butter frosting.
Ingredients
Peanut Butter Chocolate Cake:
Peanut Butter Swiss Meringue Buttercream:
Instructions
Cake:
Preheat oven to 350F, grease three 6″ round baking pans and dust with cocoa powder. Line bottoms with parchment.

Place all dry ingredients into the bowl of a stand mixer fitted with a paddle attachment. Stir to combine.

In a medium bowl whisk all wet ingredients (pour water in slowly as not to cook the eggs if very hot).

Add wet ingredients to dry and mix on medium for 2-3 mins. Batter will be very thin.

Pour evenly into prepared pans. I used a kitchen scale to ensure the batter is evenly distributed.

Bake until a cake tester comes out mostly clean. A total of 35-40mins.

Cool 10 minutes in the pans then turn out onto a wire rack to cool completely.
Peanut Butter Swiss Meringue Buttercream:
Place egg whites and dark brown sugar into the bowl of a stand mixer, whisk until combined.*

Place bowl over a hot water bath on the stove and whisk constantly until the mixture is hot and no longer grainy to the touch (approx. 3mins). Or registers 160F on a candy thermometer.

Place bowl on your stand mixer and whisk on med-high until the meringue is stiff and cooled (the bowl is no longer warm to the touch (approx. 5-10mins)).

Switch to paddle attachment. Slowly add cubed butter and mix until smooth.**

Add powdered peanut butter 1 Tbsp at a time. Add vanilla and whip until smooth.
Assembly:
Place one layer of cake on a cake stand or serving dish. Top with about 2/3 cup buttercream. Repeat with remaining layers. Frost and smooth the outside with a thin crumb coat (thicker on the very top). Chill for 20mins.

Do a decorative rope border on top using a 1M tip if desired.***
Notes
* Ensure there is NO trace of egg yolks in your whites and that your mixer bowl and whisk is completely grease free or your meringue won't stiffen.
** The buttercream may look like it's curdled at some point. Keep mixing until it is completely smooth.
*** This recipe makes enough frosting to fully frost the cake if desired.
Calories:
578
kcal
Carbohydrates:
73
g
Protein:
8
g
Fat:
30
g
Saturated Fat:
19
g
Cholesterol:
93
mg
Sodium:
462
mg
Potassium:
242
mg
Fiber:
3
g
Sugar:
56
g
Vitamin A:
805
IU
Calcium:
87
mg
Iron:
1.9
mg
The nutritional information and metric conversions are calculated automatically. I cannot guarantee the accuracy of this data. If this is important to you, please verify with your favorite nutrition calculator and/or metric conversion tool.