Celebrate summer with this Sangria Cake! Cake layers infused with sangria and orange zest, topped with vanilla buttercream and fresh berries.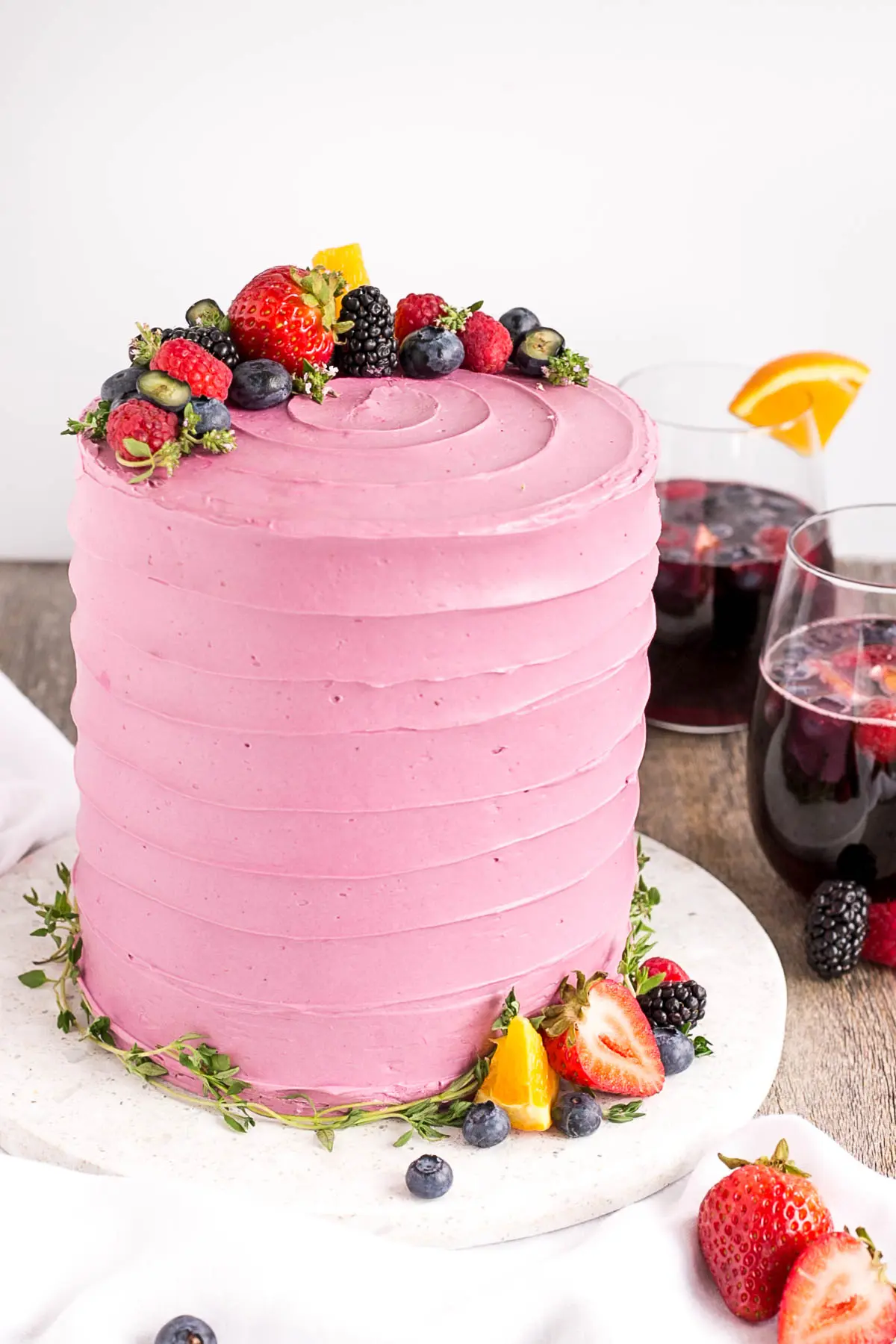 Continuing with the summer theme from last week, this week I bring you this amazing Sangria Cake! I am not a wine drinker — I actually have yet to find a wine that I actually *like*. I honestly cannot understand how people drink the stuff — same with beer. I find it bitter/sour, and just generally unpleasant. However, when you make sangria with it, that's a whole other story.
I think it's just that I prefer my alcoholic beverages to be sweet and fruity, preferably with a colorful paper umbrella sticking out of them. Sangria has to be my all-time favorite. I've had good sangria (sweet, sometimes slushy, fruity) and bad sangria (literally wine with some berries thrown in). I had only had it in restaurants until my good friend Sharai brought over a bottle of Lolea. I was hooked! This is not a sponsored post, I just really love their red sangria, and used it to make this cake.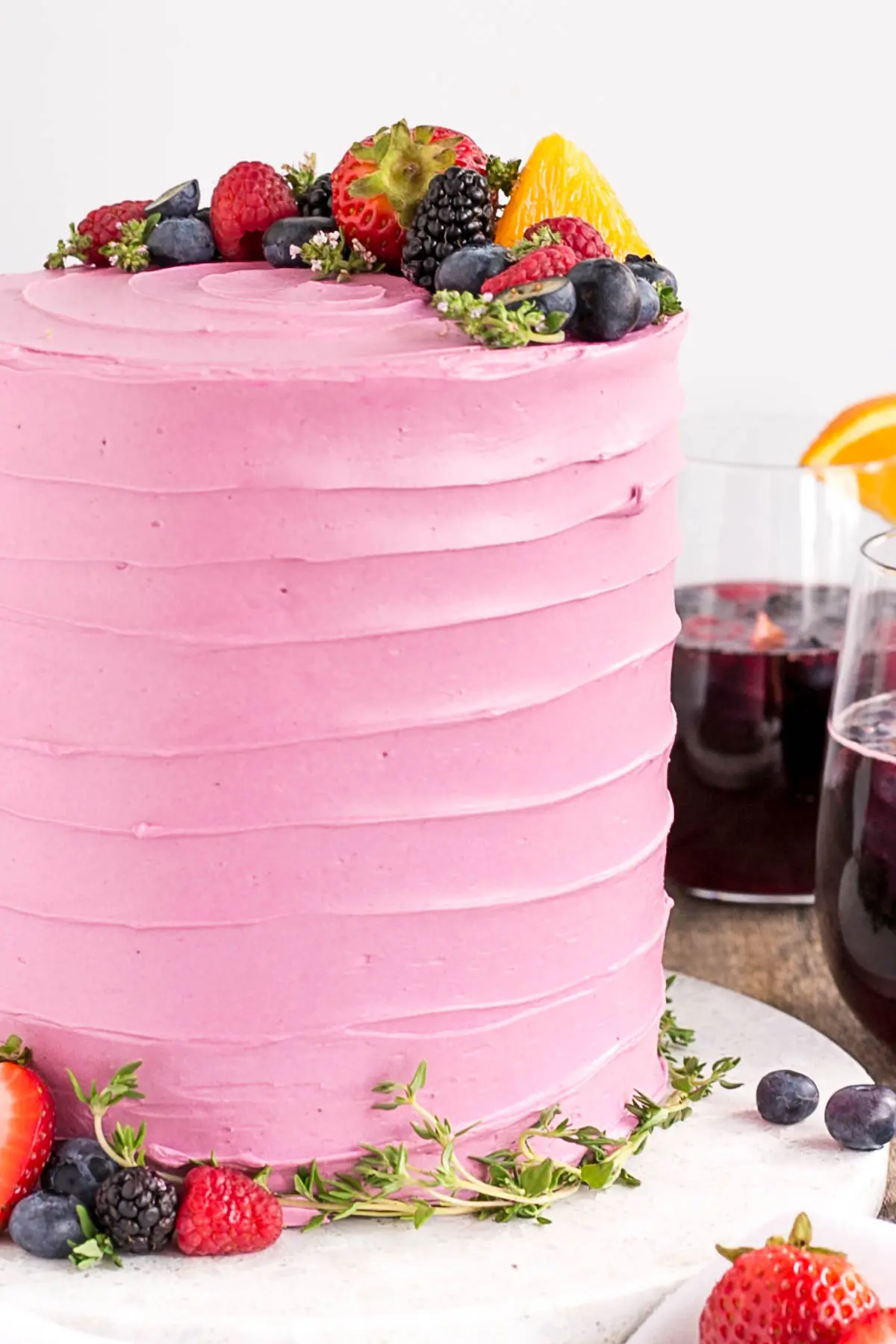 I had major issues with the frosting on this one, which seems to be a trend these days. I've made this frosting dozens of times before without issue but, once again, ingredient temperature was my downfall here.
I took the butter for the frosting out of the fridge first thing in the morning, as any good baker should do, but I totally forgot to take the cake layers out of the freezer (oops). Fast forward two hours, and I have room temperature butter and frozen cake layers. Ugh. It wouldn't have been *that* big a deal, except that it's been abnormally hot the past few days/weeks, and the kitchen can get quite warm. I waited to start the frosting until the layers were thawed (a good hour or so) and when I finally added the butter to the meringue, it was basically liquid. Totally thin and unusable in that state. No amount of whipping was helping it.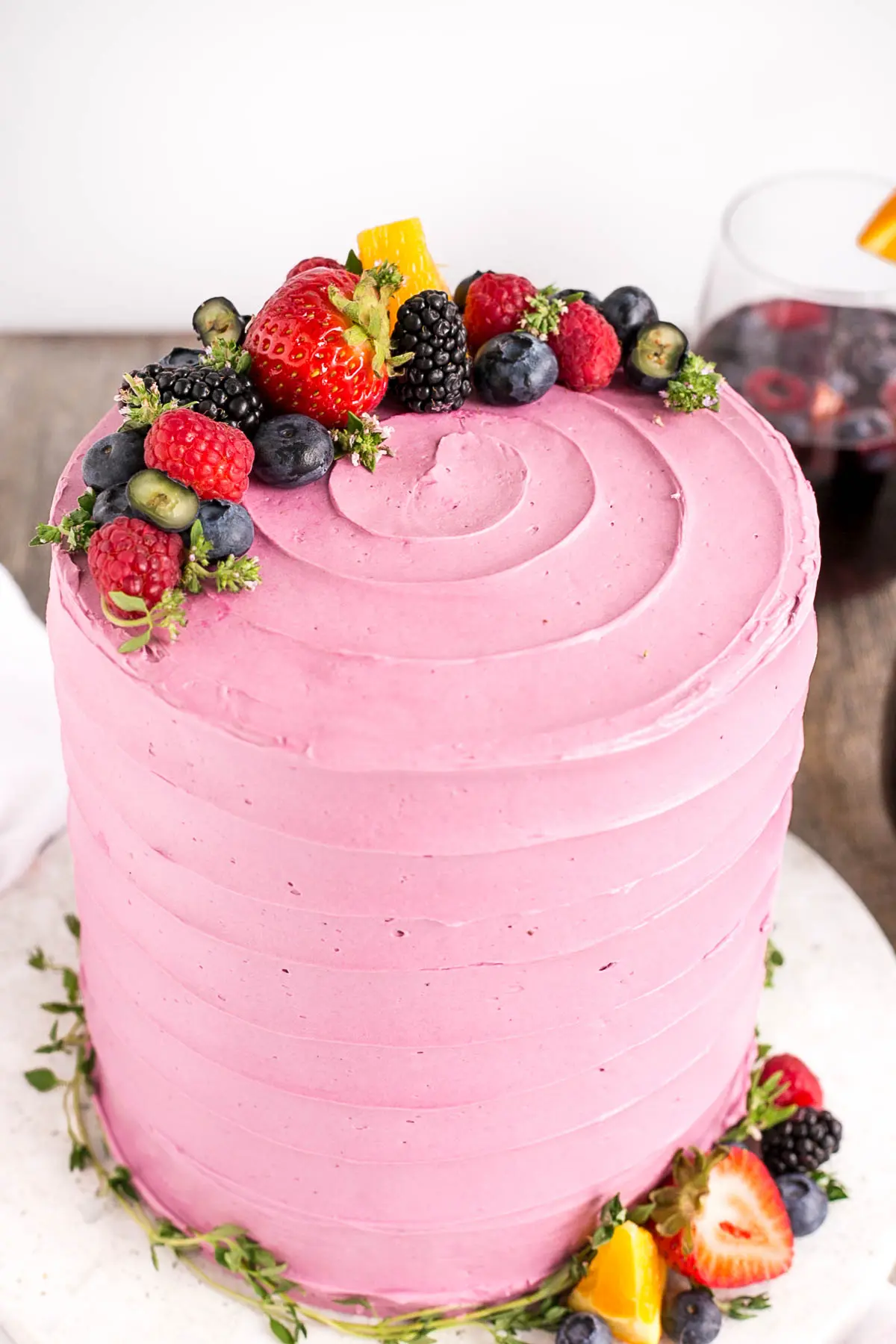 Meringue buttercreams are surprisingly salvageable, no matter how bad you think it may be (read about all my tips here!). Curdled? Keep whipping it or pop it onto a double boiler to heat up a bit. Runny? Pop the entire bowl into the fridge for 20mins and then rewhip. I've never not had one come together for me. As stressful as it is in the moment, it always works out. It just takes a lot longer than planned.
So, in the fridge it went, and 20 stressful minutes later it all came together. After that, it was fairly smooth sailing. I kept the decoration simple — a swirl on the sides and top with an offset spatula, some fresh berries, and some thyme for a pop of green.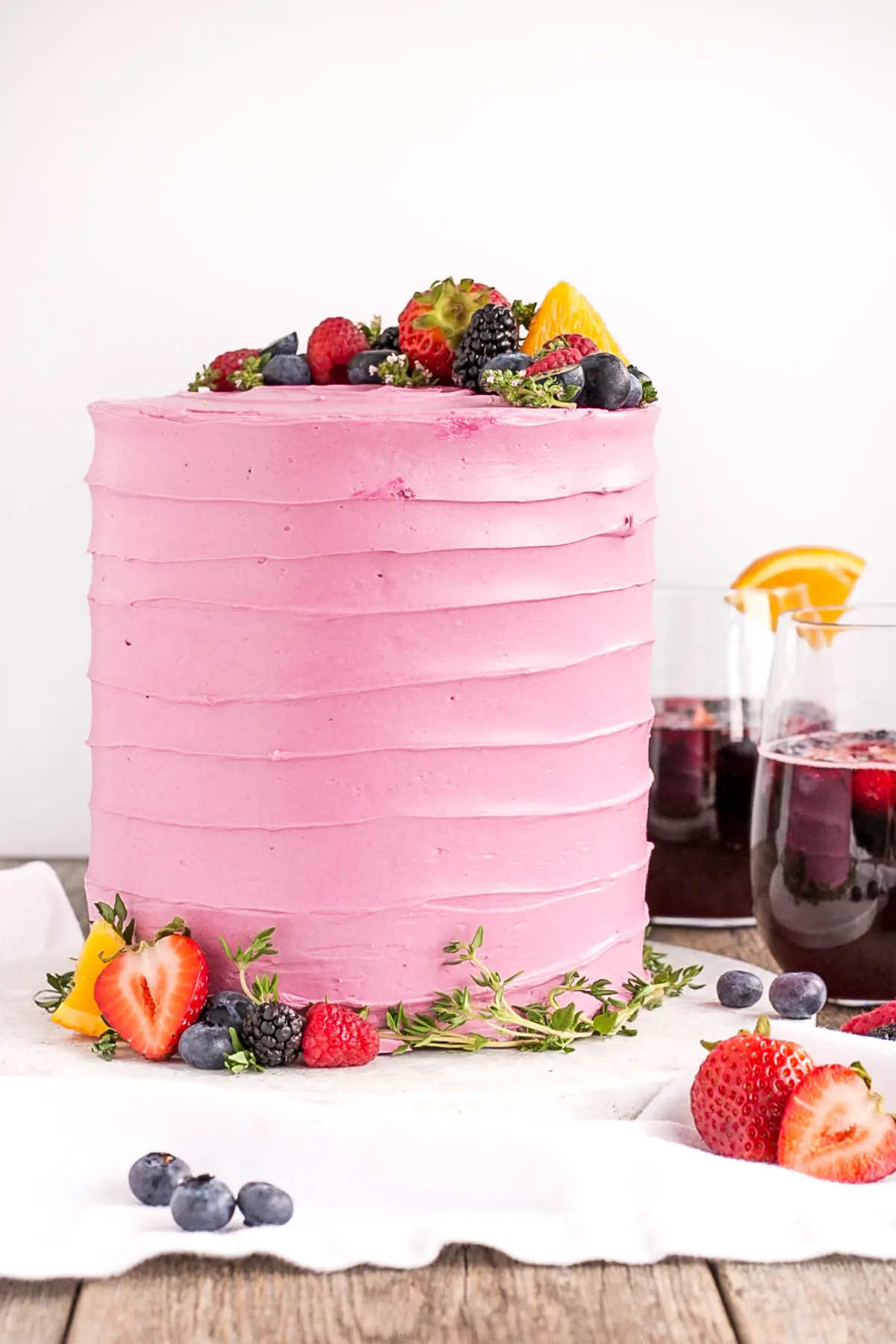 This Sangria Cake has a very unique flavor (similar to my Pink Champagne Cake). You'll either love it or hate it. Everyone who has tried a piece LOVES it though, so hopefully you will too :). I paired it with a simple vanilla buttercream, but you could add fresh berries or even jam to the frosting if you want to amp up the flavor.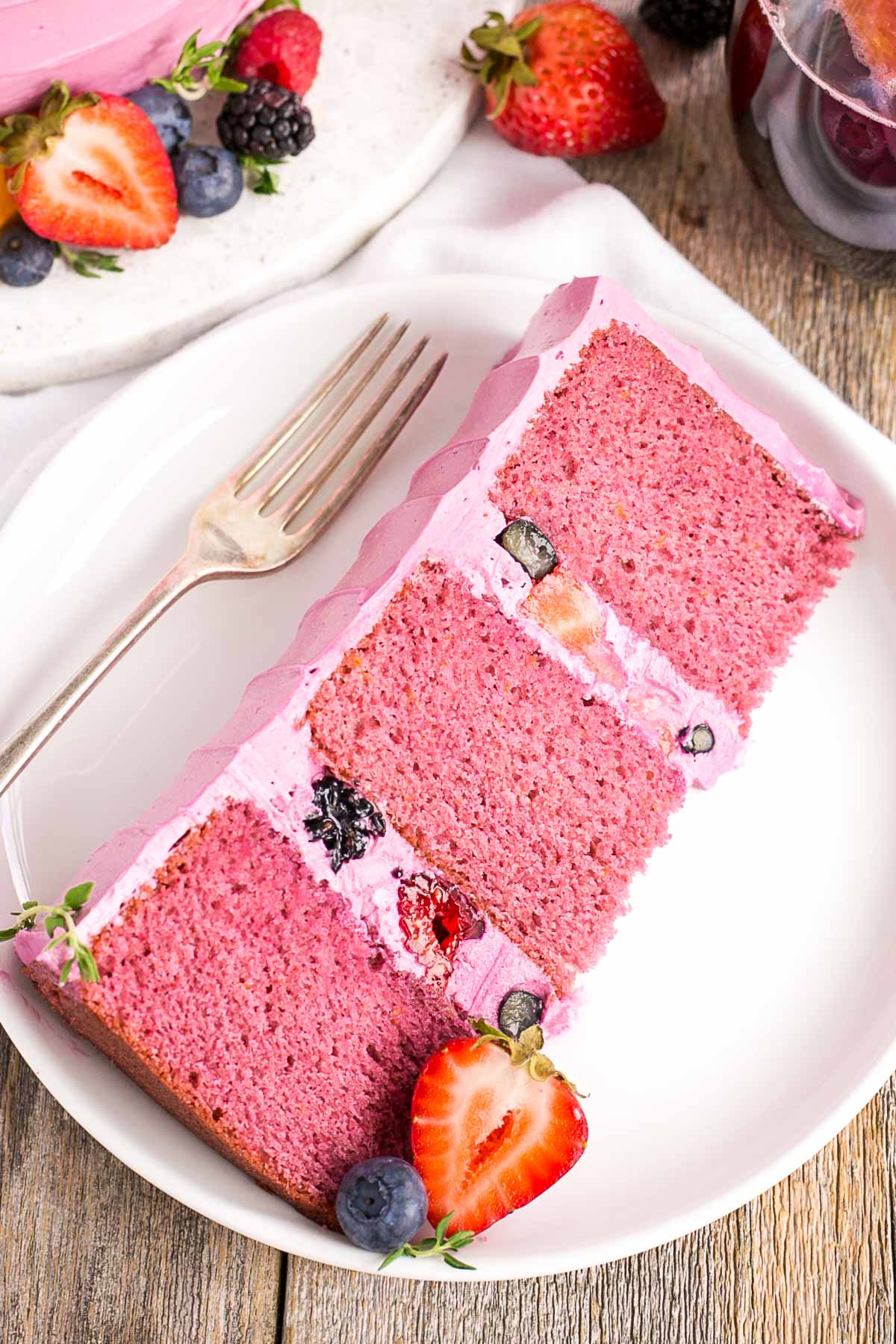 Tips for this Sangria Cake:
The cake has a very unique flavor, much like my Pink Champagne Cake. If you don't like the taste of wine/sangria, you may not like the flavor of this cake.
If you don't want to use the color gel, you can leave it out. Your cake will be a very pale pink (if you used red sangria) and your frosting will be off white. You can look into alternative coloring choices (like Beet Root Powder) but know that this may change the texture and/or consistency of the cake/frosting.
You can use any berries you like — I used a mixture of blueberries, raspberries, blackberries, and strawberries.
Be sure to check my Swiss Meringue Buttercream post for tips and troubleshooting.
To help ensure your cake layers bake up nice and flat, see my Flat Top Cakes post.
Sangria Cake
Celebrate summer with this citrus infused Sangria Cake!
Ingredients
Assembly:
fresh berries

whole blueberries, raspberries, blackberries and sliced strawberries
Instructions
Sangria Cake:
Preheat oven to 350F. Grease and flour three 6″ cake rounds and line with parchment.

In a medium bowl, whisk flour, baking powder, and salt until well combined. Set aside.

Using a stand mixer fitted with a paddle attachment, cream butter, orange zest, and sugar on med-high until pale and fluffy (approx 3mins). Reduce speed and add eggs one at a time fully incorporating after each addition. Add vanilla.

Alternate adding flour mixture and sangria, beginning and ending with flour (3 additions of flour and 2 of sangria). Fully incorporating after each addition.

Bake for 30-35mins or until a toothpick inserted into the center comes out mostly clean.

Place cakes on wire rack to cool for 10mins then turn out onto wire rack.
Simple Syrup:
Place sugar and water in a small pot. Stir and bring to a boil. Simmer for 1 min. Remove from heat and cool completely.
Vanilla Buttercream:
Place egg whites and sugar into the bowl of a stand mixer, whisk until combined.*

Place bowl over a double boiler on the stove and whisk constantly until the mixture is hot and no longer grainy to the touch (approx. 3mins). Or registers 160F on a candy thermometer.

Place bowl on your stand mixer and whisk on med-high until the meringue is stiff and cooled (the bowl is no longer warm to the touch (approx. 5-10mins)).

Switch to paddle attachment. Slowly add cubed butter and mix until smooth.**

Add vanilla and whip until smooth. Add fuschia color gel until desired color is reached.
Assembly:
Place one layer of cake on a cake stand or serving plate. Brush generously with simple syrup and top with approximately 2/3 cup of buttercream. Spread berries on top and gently press into the frosting.

Repeat with remaining layer and crumb coat the cake. Chill for 20mins.


Frost the top and sides of the cake and smooth with a bench scraper. Do a decorative swirl with an offset spatula if desired. Add fresh berries to the top of the cake.
Notes
* Ensure there is NO trace of egg yolks in your whites and that your mixer bowl and whisk is completely grease free or your meringue won't stiffen. ** The buttercream may look like it's curdled at some point. Keep mixing until it is completely smooth.
Calories:
660
kcal
Carbohydrates:
77
g
Protein:
5
g
Fat:
35
g
Saturated Fat:
22
g
Cholesterol:
138
mg
Sodium:
191
mg
Potassium:
176
mg
Sugar:
58
g
Vitamin A:
1130
IU
Calcium:
59
mg
Iron:
1.4
mg
The nutritional information and metric conversions are calculated automatically. I cannot guarantee the accuracy of this data. If this is important to you, please verify with your favorite nutrition calculator and/or metric conversion tool.