Make simple syrup at home with this quick and easy recipe! The perfect addition to your cakes, cocktails, and iced beverages.
I know this is far from the fancy cake recipes I usually throw your way, but I wanted to whip up a post on a quick and easy recipe that can greatly enhance (or save) your cakes!
Simple syrup is super useful in the cake baker's kitchen, but it's also got many other uses.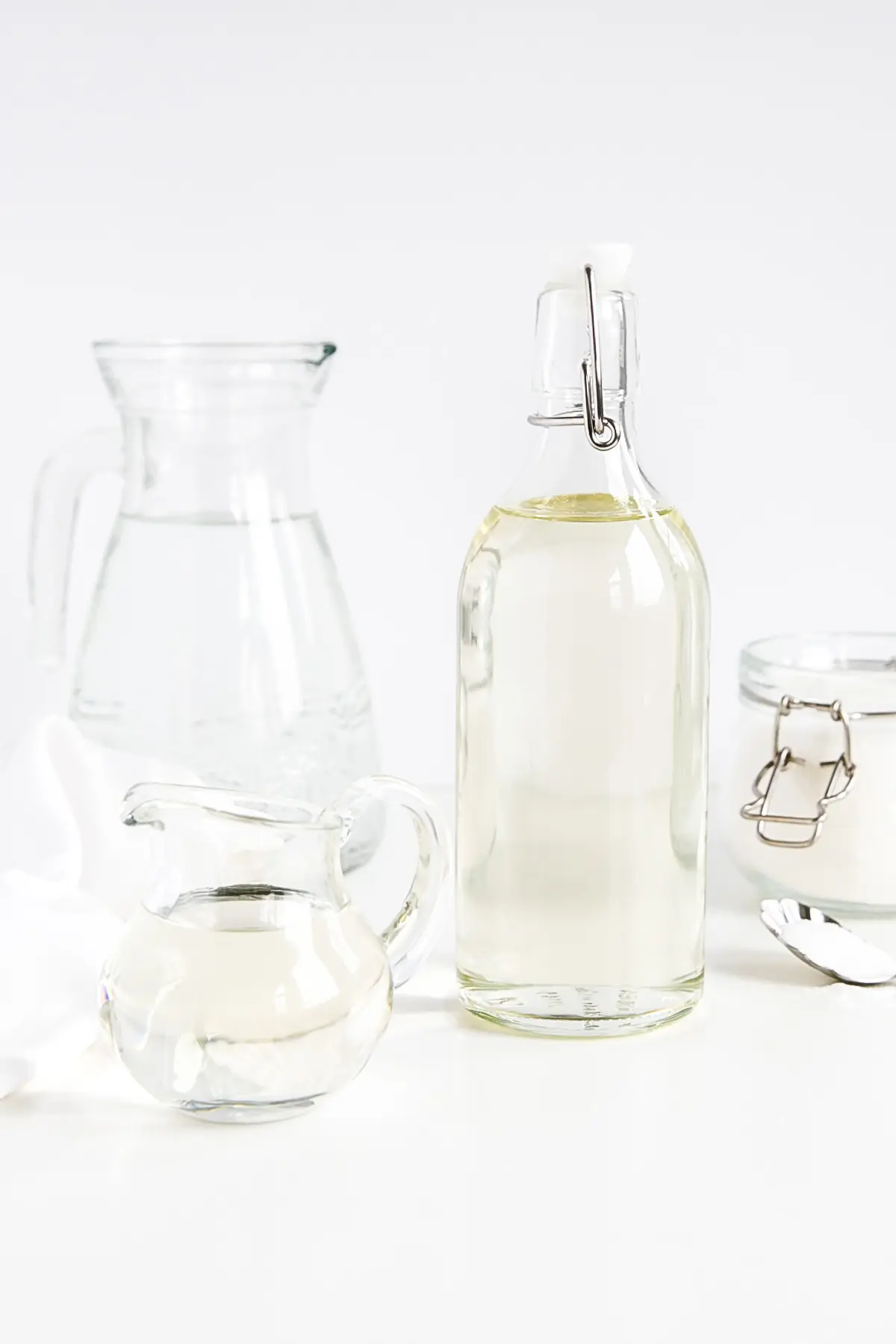 What is Simple Syrup?
Simple Syrup is a mixture of sugar and water that is heated briefly so the sugar dissolves. There's really not much to it at all.
One of the main uses of it in baking is to add moisture to cakes. As much as we try, sometimes our cakes come out drier than we would like, especially if there's a chance they've been overbaked. Simple syrup can help add or bring back any moisture lost during the baking process.
All you have to do is drizzle the syrup onto your cooled cake layers while you're assembling your cake. This is most effective if you've trimmed the crust from the top of your cakes.
I never do that, because mine usually bake up very flat, so instead I use a bamboo skewer to poke holes into the cake layers, and then drizzle the syrup onto them.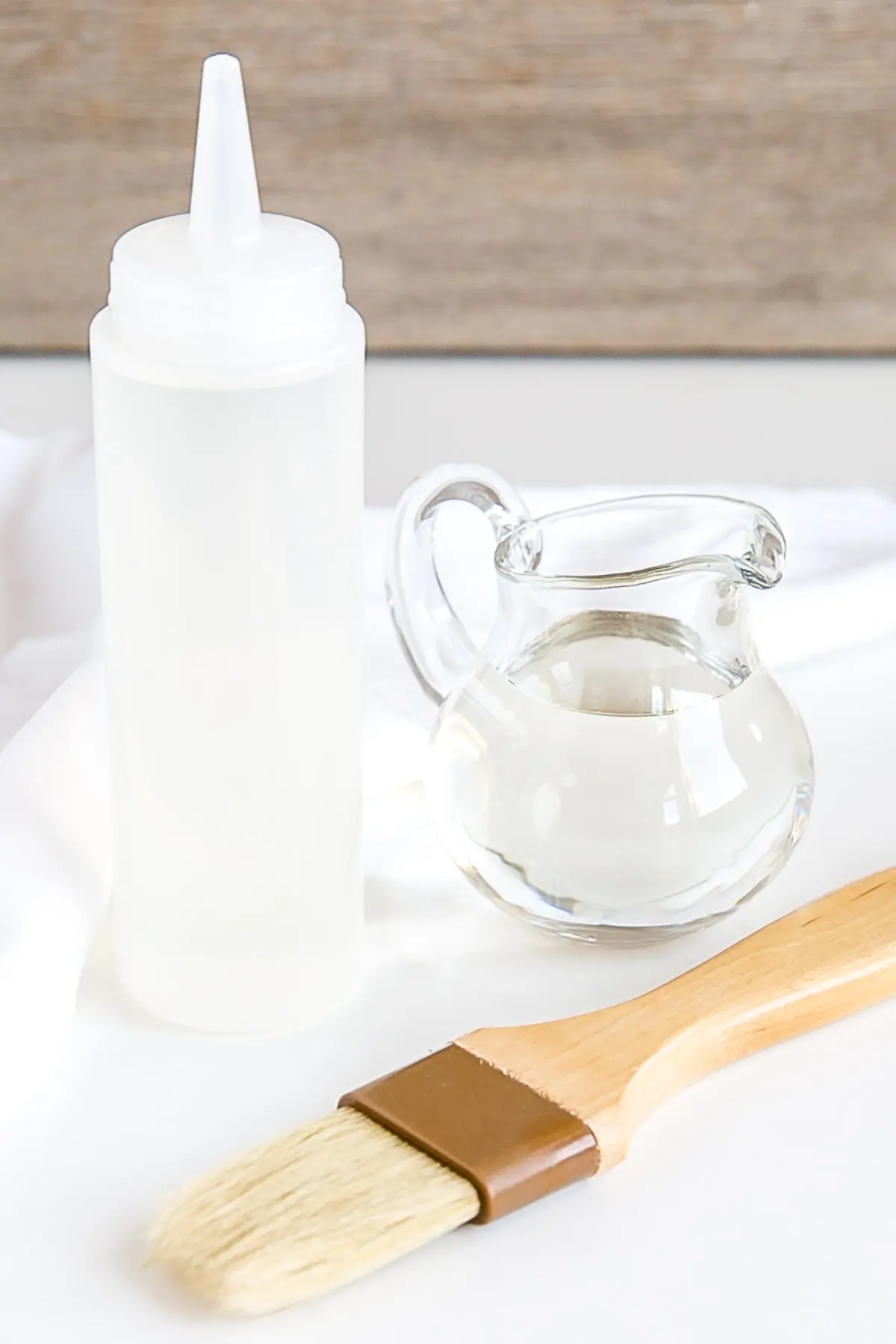 I kind of change up the tools I use to drizzle the syrup depending on what makes most sense for me at the time. If it's a plain syrup, I use a squeeze bottle to drizzle it on. I always have a batch of it made and stored in the fridge, and I find this is the easiest way to use it.
If I've made a flavored syrup for a specific cake, then I'm usually too lazy to transfer it into a bottle, so I just dip a pastry brush into it and generously soak the cake with it.
If you don't have either of those, a good old teaspoon will work just fine. This is what my mom always used to do. She'd soak her cakes in unsweetened black tea. They were delicious!!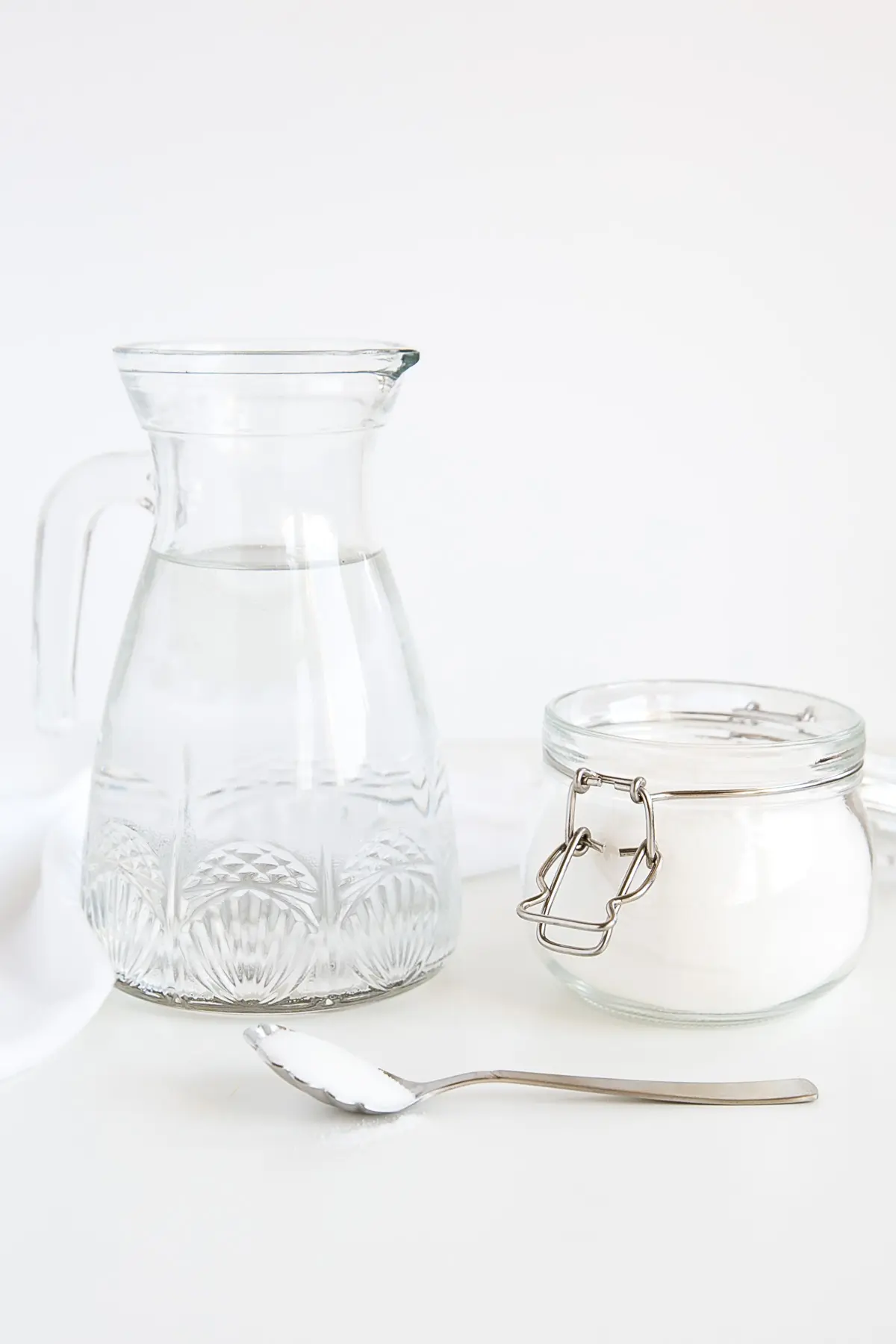 How do you make Simple Syrup?
This is the easiest recipe you will ever make. Put sugar and water into a pot, stir, bring to a boil, and simmer for a minute. That's it! How much you make is totally up to you, but I like to make a large(ish) batch and keep it in the fridge so that I have it when I need it.
Typically, the ratio is 1:1 granulated sugar to water, but you can make a more concentrated thicker version that is 2:1 sugar to water.
Other Uses
The uses for simple syrup go well beyond cakes. It is often used to sweeten cocktails, and I love using it to flavor iced beverages — iced coffee, iced tea, lemonade, etc.
Since sugar takes forever to dissolve in cold water (and often doesn't dissolve completely), the syrup helps to sweeten these drinks without having to worry about grainy bits of sugar.
I don't understand why it's not common practice to have it served with iced beverages. Especially in the US, where you guys don't sweeten your iced tea (blasphemy!!). A shot of syrup on the side would go a long way.
EDIT: Apparently those of you in the south DO sweeten your iced tea (my kinda people!).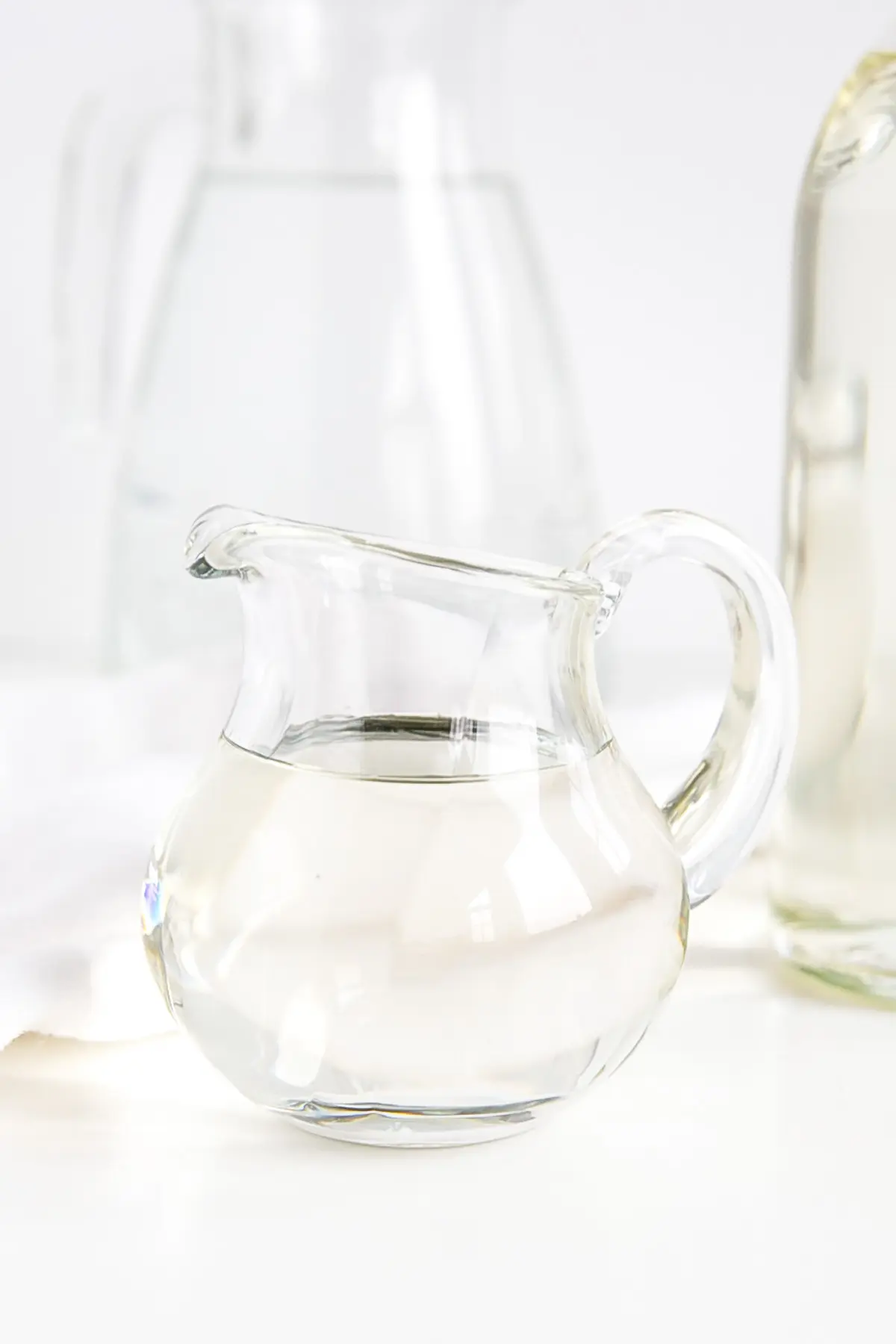 How do you store it?
Simple syrup (1:1 sugar to water) should be stored in the fridge in an airtight container. I have mine in the fridge in a squeeze bottle, but I put a piece of plastic wrap between the cap and the bottle to seal it in. It will last for a month this way.
If you make a more concentrated syrup (2:1 sugar to water) it will last up to 6 months in the refrigerator. You could also freeze either version in an airtight (non-glass — could crack) container for up to a year.
Flavor Variations
There are seemingly endless ways of flavoring simple syrup, and using it to enhance the flavor of your baked goods or your cocktails/beverages. You can infuse the syrup with different herbs, spices, citrus peels, or add your favorite liqueur.
If adding liqueur, I always recommend to add it at the very end, after you've taken it off the heat. This helps ensure the alcohol doesn't cook off. Here are some examples of recipes where I've used it:
Tips for making Simple Syrup
You can make a regular syrup using a 1:1 ratio of sugar to water, or a rich syrup using a 2:1 ratio.
The syrup should be refrigerated, and can be frozen. Regular syrup will last for a month in the fridge, rich syrup for 6 months. Frozen, they each last for a year.
You can use other sugars to make it if you prefer.
The syrup can be infused with a variety of herbs and spices, or citrus peels.
If adding alcohol, add it at the end, after you've taken it off the heat.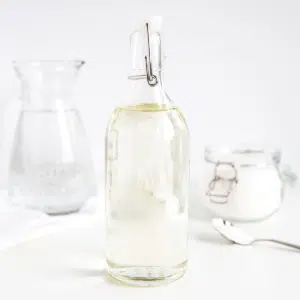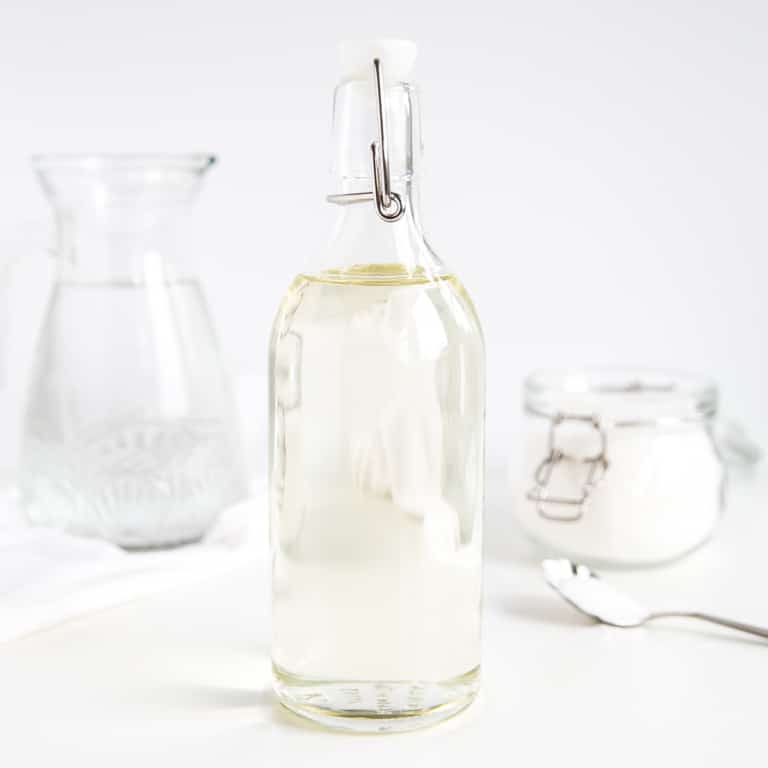 Simple Syrup
Make simple syrup at home with this quick and easy recipe! The perfect addition to your cakes, cocktails, and iced beverages.
Instructions
Place sugar and water into a pot over med-high heat. Stir to dissolve sugar and cook until mixture boils. Boil for 1 minute. Cool before use.
Calories:
580
kcal
Carbohydrates:
149
g
Sodium:
10
mg
Sugar:
149
g
The nutritional information and metric conversions are calculated automatically. I cannot guarantee the accuracy of this data. If this is important to you, please verify with your favorite nutrition calculator and/or metric conversion tool.