Rocky Road Bundt Cake! Alternating swirls of peanut butter and chocolate cake with a marshmallow glaze topped off with some candied peanuts.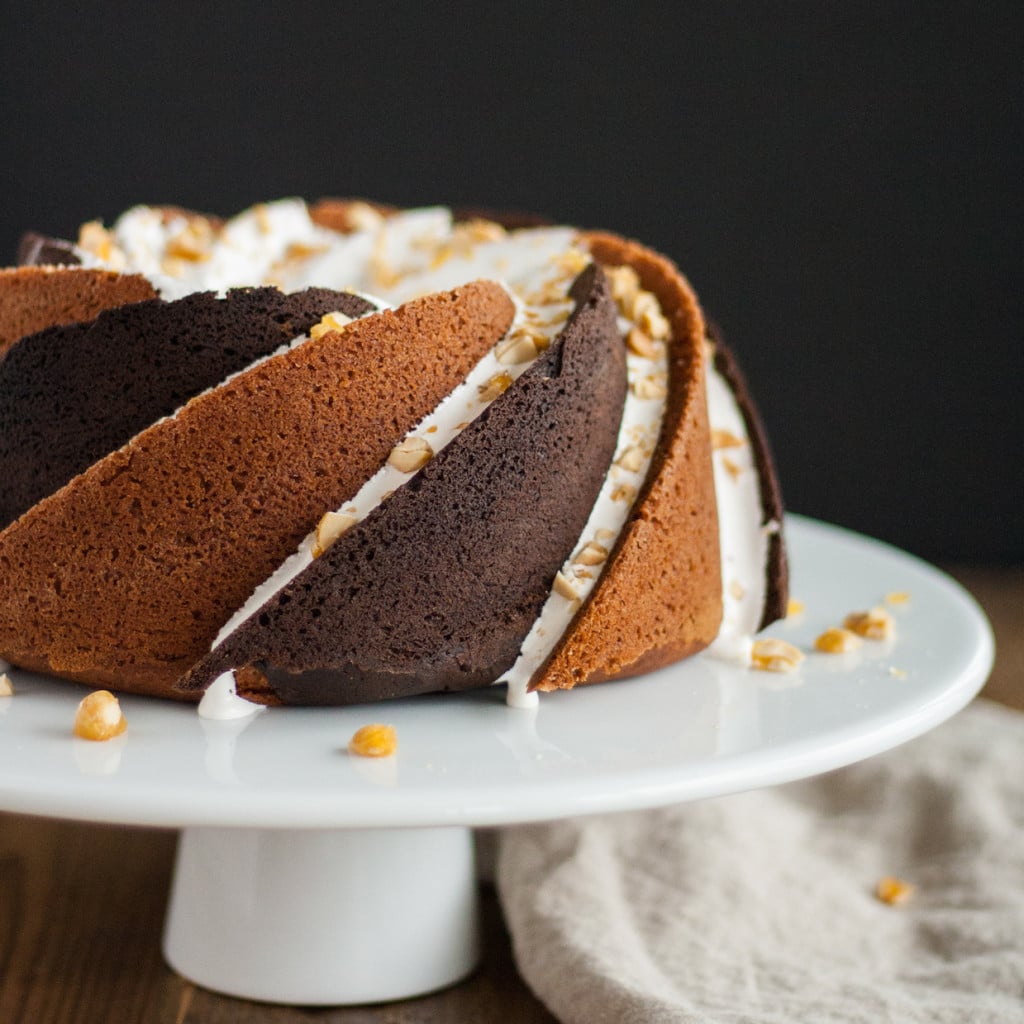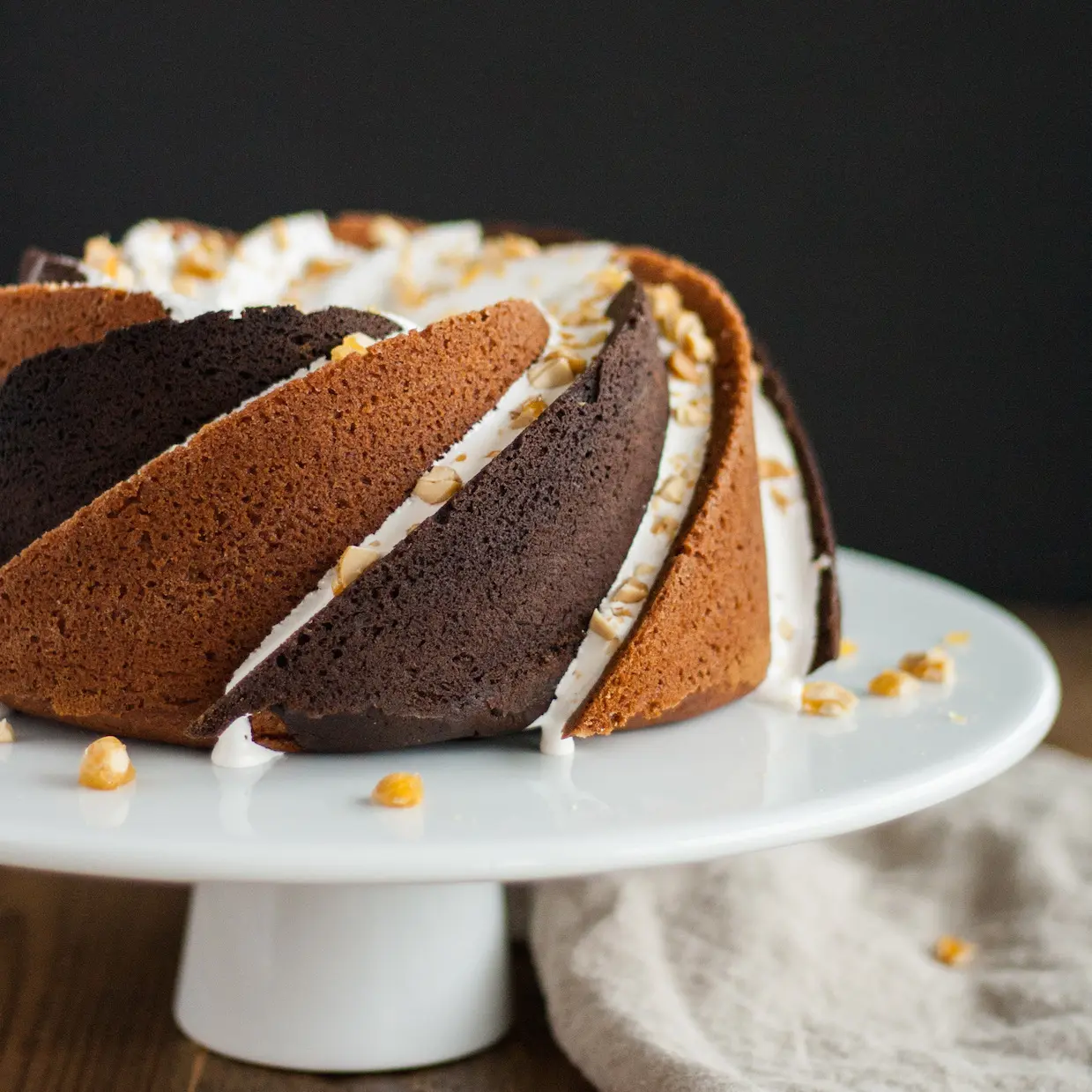 I don't usually toot my own horn, but does this cake look amazing or what??
I was brainstorming ideas with Ryan a few weeks ago, about this month's Bundt Bakers theme: Rocky Road, hosted by the lovely Laura from Baking in Pyjamas. Did you know that the ingredients in Rocky Road vary depending on where you live?? I decided to stick with the American version since it's the one I grew up with, even though I don't think I've ever had a Rocky Road anything. Crazy, right?
Anyhow, I knew I wanted chocolate and peanut butter to be the focus, but I didn't want to do a chocolate bundt since I did one last month. I also wanted to use the Heritage Bundt pan, as I thought the spirals would make for perfect "roads" and go with this theme.
We tossed around a few ideas, but nothing was exciting, and then Ryan said the words just as I was thinking them… "you know what would be cool, is if you could alternate chocolate and peanut butter spirals". Challenge accepted.
This wasn't exactly difficult to do, but if you're a perfectionist like me, you're gonna have a bit of a hard time trying to make it look perfect.
After making the peanut butter cake batter, I split it in half and added cocoa powder to one of the batches. Then I filled a piping bag with each of the batters, and piped the cake batter into the spirals. I started with the lighter, peanut butter batter and filled in every other spiral, being careful to not overfill them. Really I just needed the "shell" of the cake to look right – the inside was going to be marbled anyhow. I used a skewer to nudge the batter into the thinner areas of the spirals.
Then I did the same with the chocolate batter, making sure that the edges and points where the two batters met were as clean as possible. But I also knew I'd be pouring a glaze down each crack, so I didn't worry too much if there was some overlap. Once each spiral was filled, I layered the remaining batter in the pan and marbled it with the same skewer. (For a detailed tutorial see here).
Let me tell you, the fact that there is an odd number of spirals nearly had me rethinking this whole idea. My poor OCD. I'm hoping that you've gotten to this point in the post and haven't noticed this. If you have, welcome to my world!
I patiently waited a good 15mins before I turned the cake out onto a cooling rack and removed the pan, holding my breath the entire time. Thankfully, it was perfect. Yay!
And just so you know how crazy I am… there was some noticeable (to me) flour dust on the chocolate parts of the cake from the cake release I used on the pan. So I mixed up a bit of the two cocoa powders I used (black cocoa & Dutch-processed) and used a small pastry brush to brush the cocoa onto the cake. To me, this made a HUGE difference. Ryan likely would not have even noticed the flour dust to begin with :).
Had this been an all chocolate cake, I would have dusted the pan with cocoa powder instead of flour. I could have dusted each alternating spiral with flour and cocoa, but that's just crazy talk (it did cross my mind, but laziness prevailed).
I made an easy marshmallow glaze to drizzle into the cracks, and sprinkled the top with some chopped up candied peanuts.
Rocky Road Bundt Cake
Chocolate and peanut butter bundt cake with a marshmallow glaze and candied peanuts.
Instructions
Rocky Road Bundt Cake:
In a medium bowl, whisk together the flour, baking powder, baking soda, and salt. Set aside.

In a stand mixer fitted with the paddle attachment, beat butter and sugars on med-high until light and fluffy. Approx 2-3mins.

Add peanut butter and vanilla, beat until thoroughly combined.

Reduce speed and add eggs one at a time, thoroughly incorporating after each addition.

Reduce mixer to low. Add flour mixture in 3 portions, alternating with 2 portions of milk. Mix until just combined.

Pour half of the batter into a medium bowl, set aside.*

Add 3 Tbsp cocoa powder to remaining batter and return to stand mixer. Beat until just combined.

Prepare 2 separate pastry bags and fill one with chocolate batter and the other with peanut butter.

Pipe the batter, alternating the colors, into the cracks of the Heritage bundt pan, being careful to avoid spilling over into neighbouring cracks. **

Once cracks are sufficiently filled, add remaining batter in alternating layers and use a kitchen skewer to marble it. Spread the batter evenly.

Bake for 45-50mins or until a skewer comes out clean.

Remove from oven and transfer bundt pan to cooling rack for 10-15mins. Rap the bundt pan against the counter to loosen it then turn cake out onto cooling rack to cool completely.
Candied Peanuts:
Line a baking sheet with parchment or a silpat.

Place sugar and water into a small pot over med-high heat. Stir only to combine.

Wash down the sides of the pot with some water and a pastry brush to prevent sugar from crystallizing. Do this from time to time, as needed, while the sugar is cooking.

Continue to cook sugar until the caramel reaches a medium amber color. Do not stir at any point.

Add in peanuts and salt and stir for 1 minute to coat.

Pour peanuts onto baking sheet and spread evenly. Allow to cool completely, then roughly chop.
Marshmallow Glaze:
Place

marshmallow fluff

, and icing sugar into a medium bowl, stir well to combine. Add 2 Tbsp of cream and stir until glossy and smooth. Add more cream as needed until desired consistency is reached.

Using a small measuring cup, pour glaze carefully into the cracks of the cooled bundt cake.

Sprinkle top with chopped candied peanuts.
Notes
*I use a kitchen scale to weigh the batter to ensure I get exactly half, but a normal person would probably just eyeball it.
**I used a kitchen skewer for the finer points of the cracks. It's a process.
Bundt cake recipe adapted from Bake or Break.
Calories:
623
kcal
Carbohydrates:
93
g
Protein:
14
g
Fat:
24
g
Saturated Fat:
8
g
Cholesterol:
72
mg
Sodium:
404
mg
Potassium:
401
mg
Fiber:
3
g
Sugar:
59
g
Vitamin A:
375
IU
Calcium:
97
mg
Iron:
2.7
mg
The nutritional information and metric conversions are calculated automatically. I cannot guarantee the accuracy of this data. If this is important to you, please verify with your favorite nutrition calculator and/or metric conversion tool.