This Aloha Bundt cake is loaded with the very best Hawaii has to offer – bananas, pineapple, coconut, and macadamia nuts!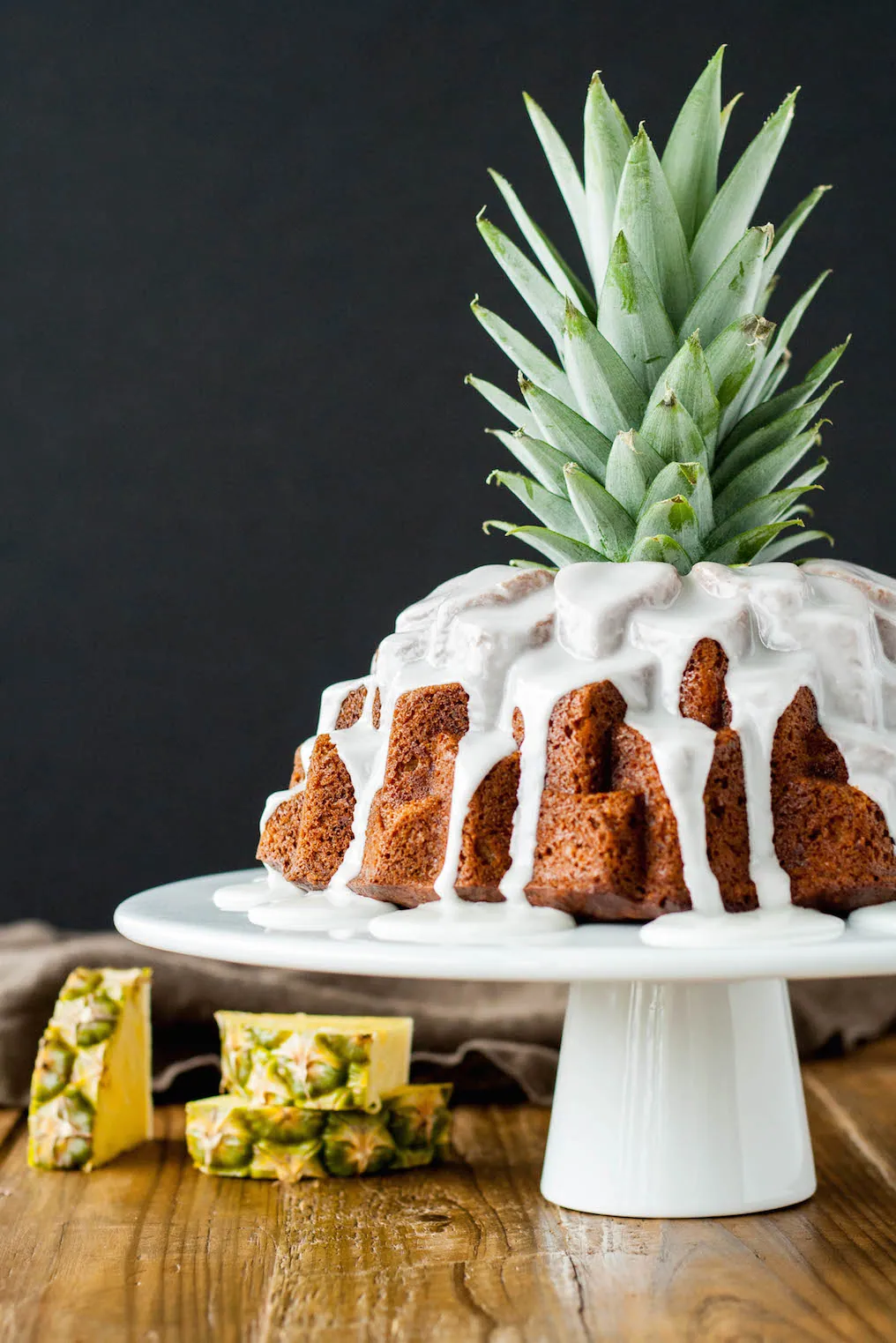 Last month at this time, I was sitting on the lanai of a fabulous condo on Maui, staring out at palm trees and bright blue water, listening to the birds. This month, even though our condo is pretty nice and the view is awesome, it's certainly no Maui. Not to mention that the sound of birds is replaced by the sound of construction and trains. So, instead of daydreaming about being back on Maui, I decided to create a little bit of paradise at home… Sigh, a train is literally barrelling down the tracks and drowning out the sounds of any other life as I type this.
This month's #BundtBakers theme — Fruit & Nut — comes to us from Shilpi at SimplyVeggies. I had originally planned to do a simple banana walnut bundt, but the trip to Maui inspired me to do something a little more tropical.
Ok, maybe a lot more tropical… this is one loaded bundt!
My sister-in-law, Nissa, had a pineapple banana bread recipe that I used as a base for this. It's full of bananas, pineapple, and coconut, and I threw in some macadamia nuts for good measure. If that doesn't scream Hawaii, I don't know what does.
Deciding on a bundt pan and style is always a challenge (for me), but it's also one of the most fun elements. Did you know that there is actually such a thing as an Aloha Bundt pan? Well, there is. I don't have said pan, and I certainly didn't need to try to track it down for what would likely be a one-time use, so I had to decide between the four bundt pans I do own.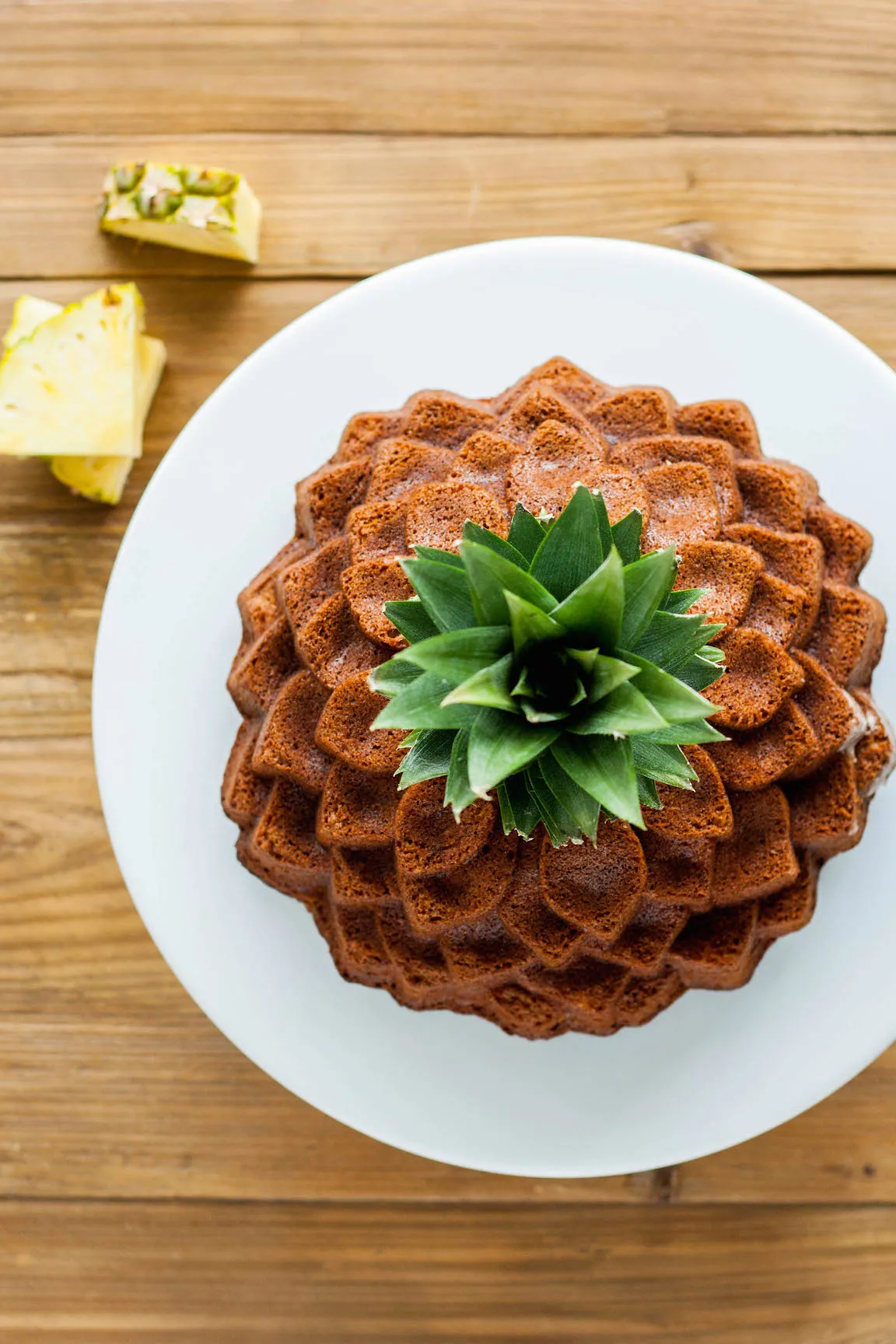 The one that felt most tropical to me was the Blossom bundt, which I had just used for last month's bundt cake. This was not ideal since I like to mix things up, but the Blossom bundt was easily the best fit for this.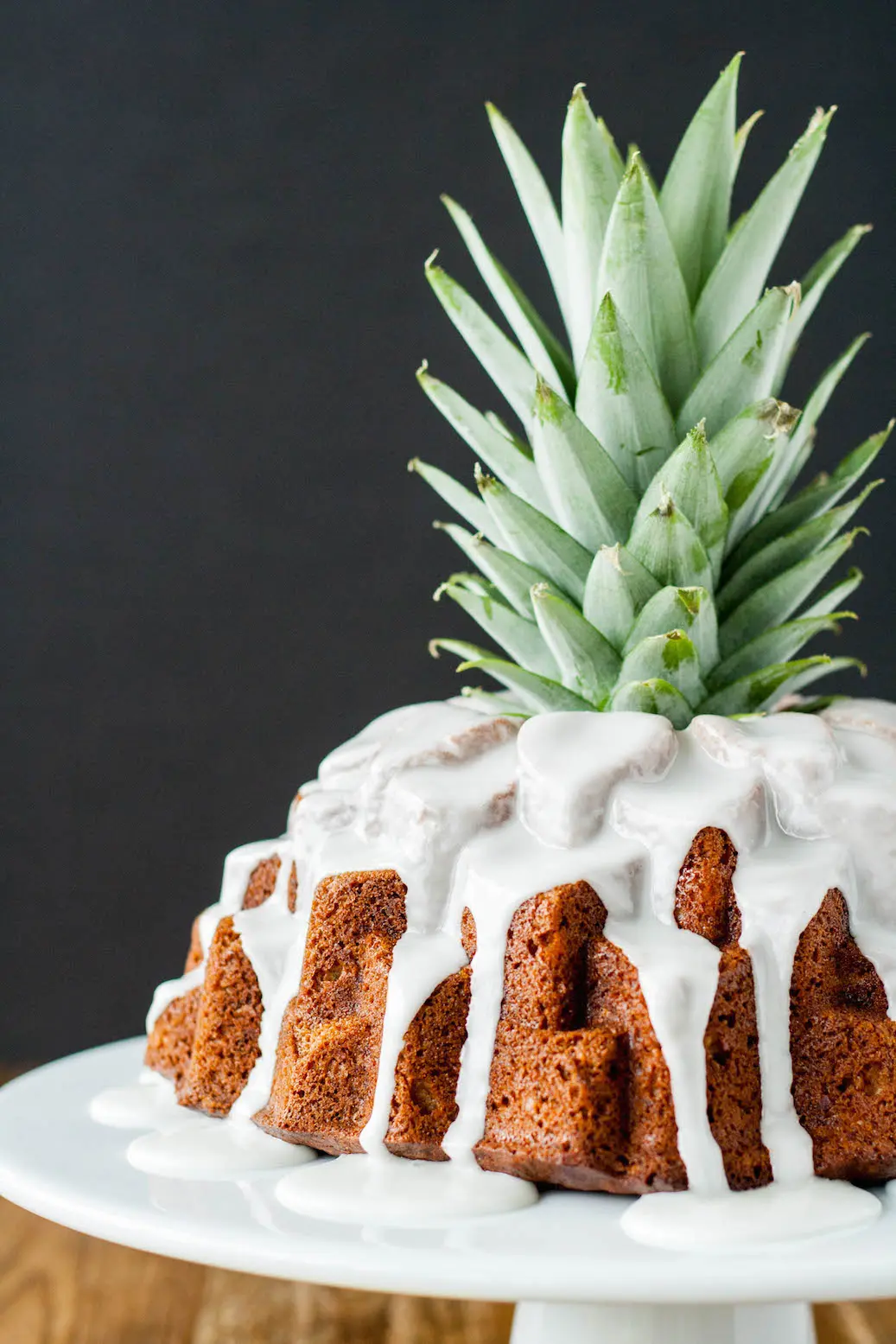 I don't know how I decided it would be a good idea to chop off the top of a pineapple and stick it into the center of the bundt, but I'm so glad I did. I love the way it turned out!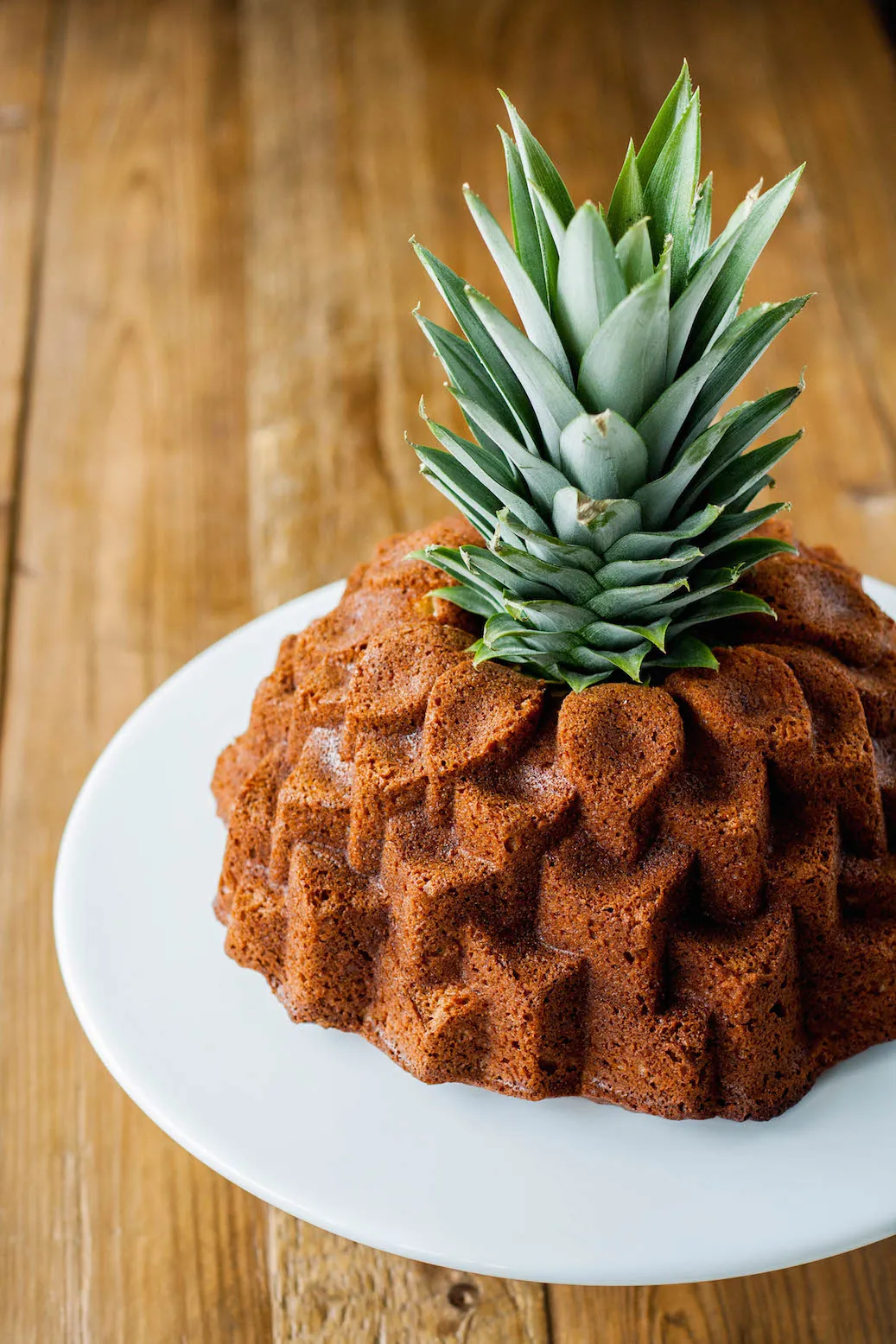 I know it doesn't quite look like a pineapple, but I think it goes pretty well with the bundt pan.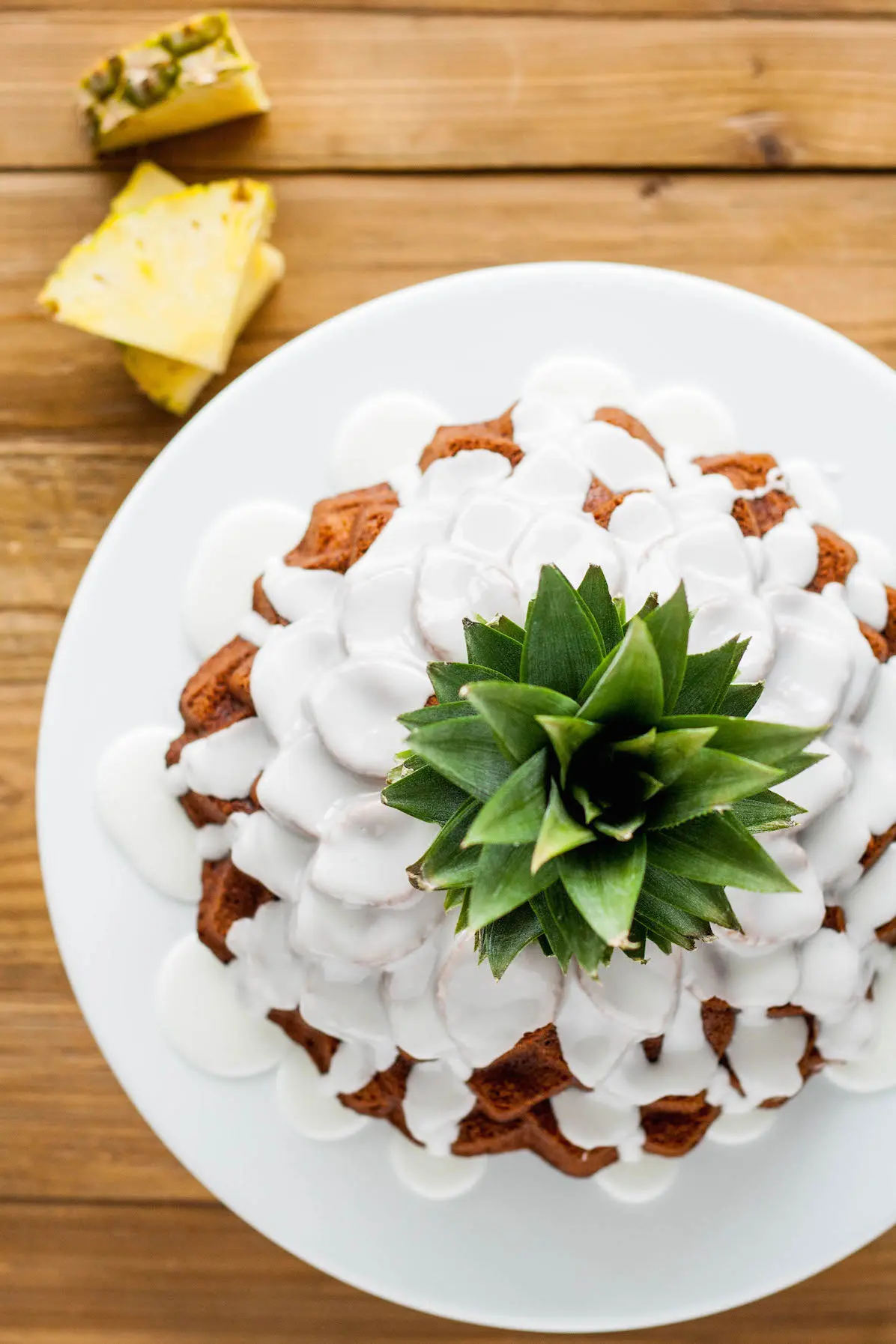 I couldn't decide if I wanted to glaze it, which is why there are two sets of pictures. I actually prefer the unglazed look and feel that it looks more like a pineapple, but it also looks a bit plain. It needed something, and the last bundt had a sugar dusting, so this one's got a glaze. Plus, who doesn't want glaze?? Just give me an extra bowl of glaze on the side so I can dip pieces of the cake into it.
This Aloha Bundt Cake truly tastes amazing. It's super moist and flavorful, with just the right amount of varying flavors and textures. If you don't like coconut or macadamia nuts you can easily leave them out, or change the type of nut. If you don't like pineapple either, then how have you made it so far down this post??
Aloha Bundt Cake
This Aloha Bundt cake is loaded with the very best Hawaii has to offer – bananas, pineapple, coconut, and macadamia nuts!
Instructions
Bundt:
Preheat oven to 350F and grease a 10 or 12 cup Bundt pan with cooking spray.

In a medium bowl, whisk together flour, cinnamon, baking soda, and salt.

In the bowl of an electric mixer, beat sugar, oil, and vanilla until combined.

Add eggs one at a time, fully incorporating after each addition. Beat till pale and fluffy (approx. 3-4 mins).

Add banana, pineapple, coconut, and macadamia nuts and mix until combined.

Add flour mixture and beat until just combined.

Pour into prepared Bundt pan and smooth the top with a spatula.

Rap Bundt pan on counter a couple of times to release air bubbles and fill nooks and crannies.

Bake until a cake tester comes out mostly clean (approx. 60-70mins).

Cool on a wire rack for 10mins.

Rap pan against counter to loosen the cake and turn out onto wire rack.

Cool completely before glazing.
Glaze:
Combine sugar and pineapple juice in a small measuring cup. Whisk with a fork until combined and lumps are gone. Add more juice as needed until desired consistency is reached.

Pour over cooled Bundt Cake.
Notes
* I freeze my over-ripe bananas and thaw them on the counter for an hour before using.
Calories:
517
kcal
Carbohydrates:
93
g
Protein:
6
g
Fat:
14
g
Saturated Fat:
5
g
Cholesterol:
46
mg
Sodium:
241
mg
Potassium:
309
mg
Fiber:
3
g
Sugar:
63
g
Vitamin A:
115
IU
Vitamin C:
8
mg
Calcium:
34
mg
Iron:
2.5
mg
The nutritional information and metric conversions are calculated automatically. I cannot guarantee the accuracy of this data. If this is important to you, please verify with your favorite nutrition calculator and/or metric conversion tool.