The classic Gingerbread Cake gets a delicious makeover! Gingerbread cake layers and caramel buttercream paired with gingerbread streusel and homemade caramel.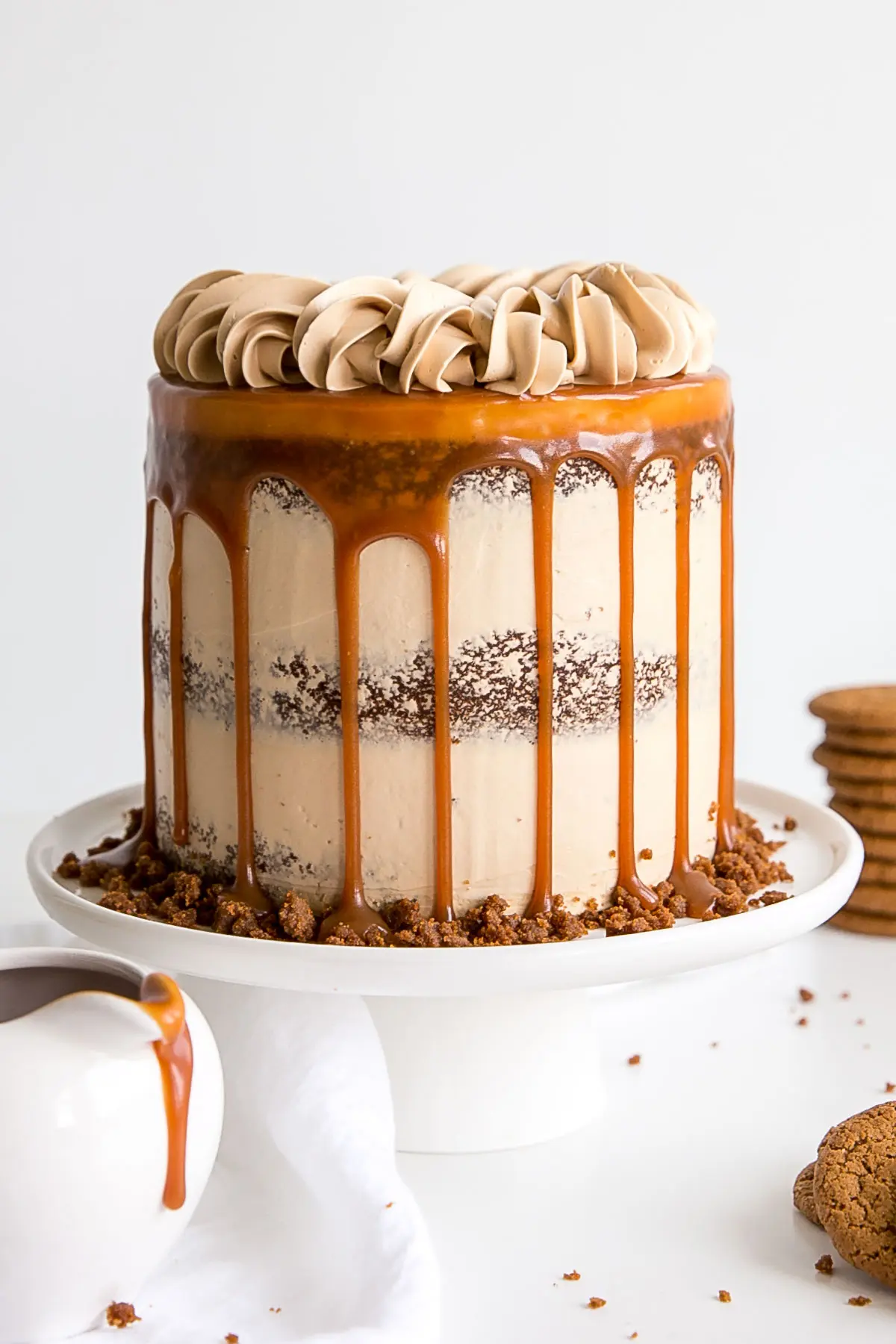 I'm kicking off the first day of summer (aka my least favorite season of the year) in the best way possible with this Caramel Gingerbread Cake!
I am not a hot weather kinda girl unless I'm on a tropical beach somewhere with a (clean) source of water (and some shade) nearby. I get super cranky when I'm hot and it's been way too hot here already. Being uncomfortable is not my thing and neither is summer clothing. I'm a scarves and sweaters, blankets and tea kinda girl.
So, in protest, I'm throwing this Caramel Gingerbread Cake your way today which is my way of saying that Christmas is just over 6 months away and are you as excited as I am?! And really, who says gingerbread is a holiday-only dessert? It's the best thing ever and should be celebrated any time of year.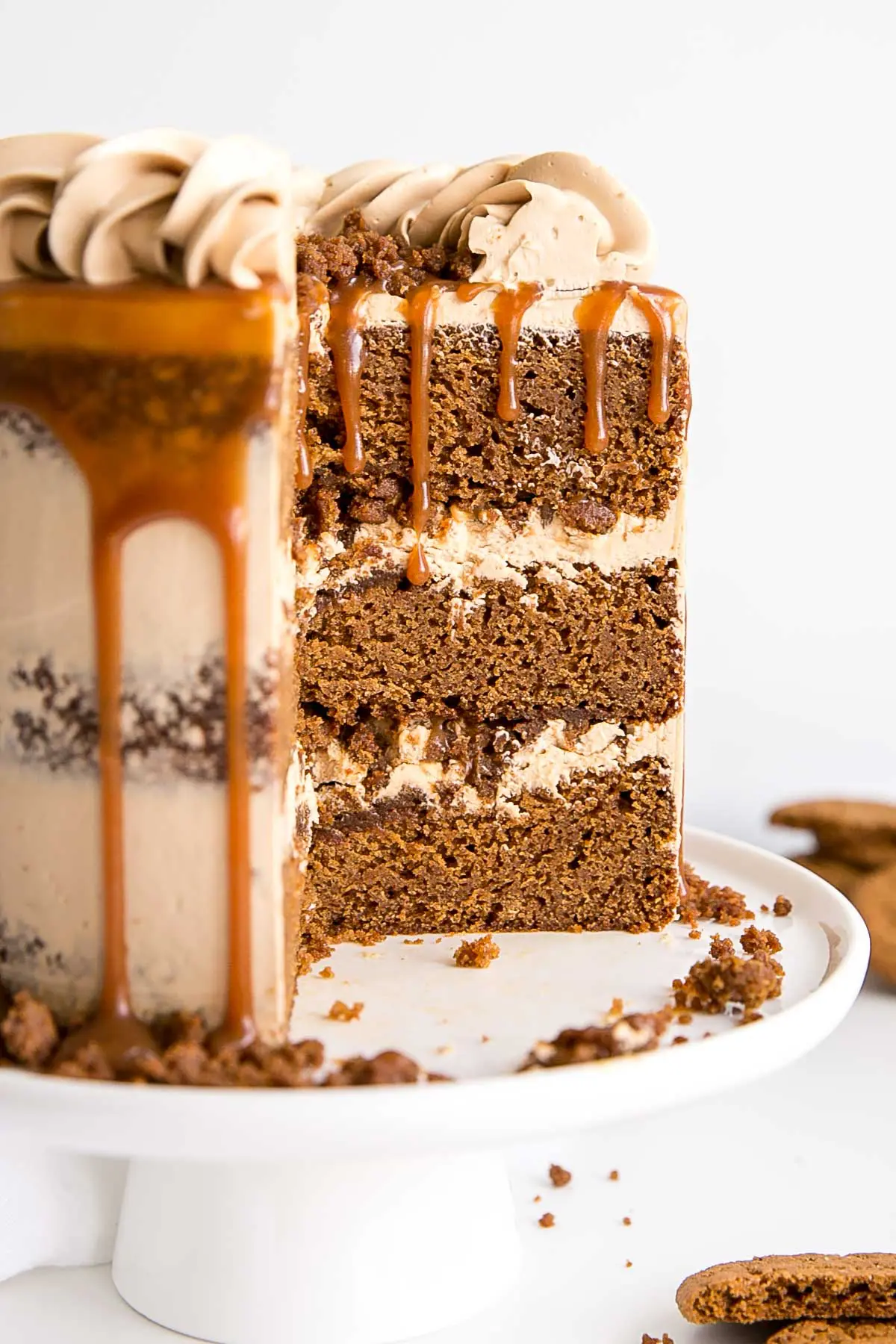 How to make this Caramel Gingerbread Cake
This gingerbread cake recipe is one of my absolute favorites. I've made a similar version of it before and used that recipe as a basis for the one I bring you today. I increased the amounts a bit to have taller layers, but otherwise the recipe is the same.
The most important thing to note about this gingerbread cake recipe is to not use blackstrap molasses. I used Fancy Molasses which is a lighter, sweeter type of molasses. Blackstrap is way too strong in flavor for the amount I've used in the recipe. This will result in a darker, more bitter-tasting cake. If you're all about that molasses flavor though, then by all means give blackstrap a try, but don't say I didn't warn you!
Cake Tip
Do not use Blackstrap molasses in the cake. It is quite a bit stronger than the fancy molasses I've used here and will overpower the flavor. If that's all you can find I recommend using half the amount of molasses and adding an equal part of golden syrup.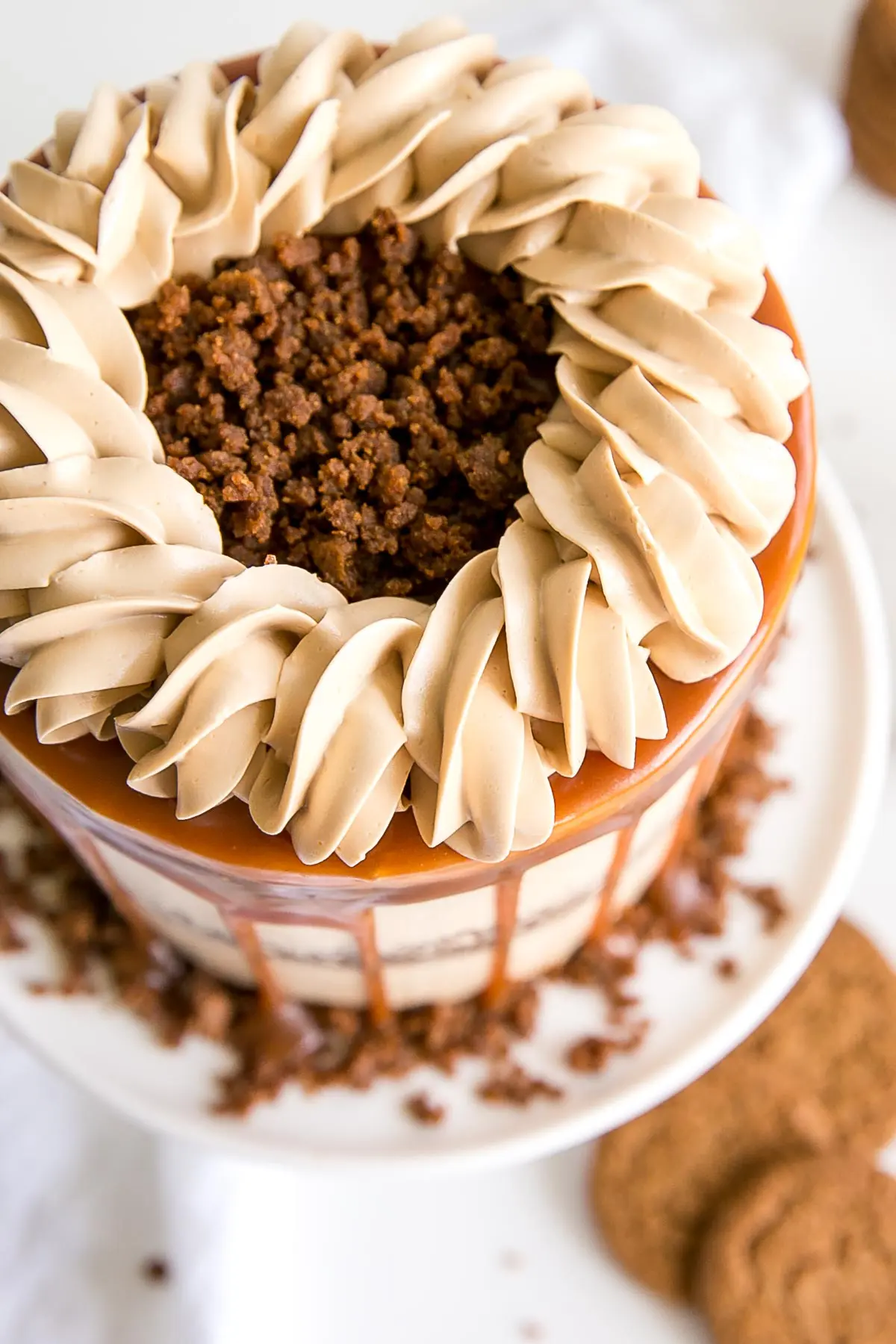 Caramel Swiss Meringue Buttercream
I've made this caramel buttercream many times before. It's insanely delicious and you'll be eating that caramel sauce with a spoon. You can read all about my tips on making caramel sauce and this caramel buttercream here.
I do recommend making your own caramel sauce. It's really not that difficult and the flavor is just SO delicious. You could certainly use the store-bought stuff in a pinch though. I can't say how well it would work for the drip though.
Be sure to check out my How to Make Caramel post for a detailed tutorial.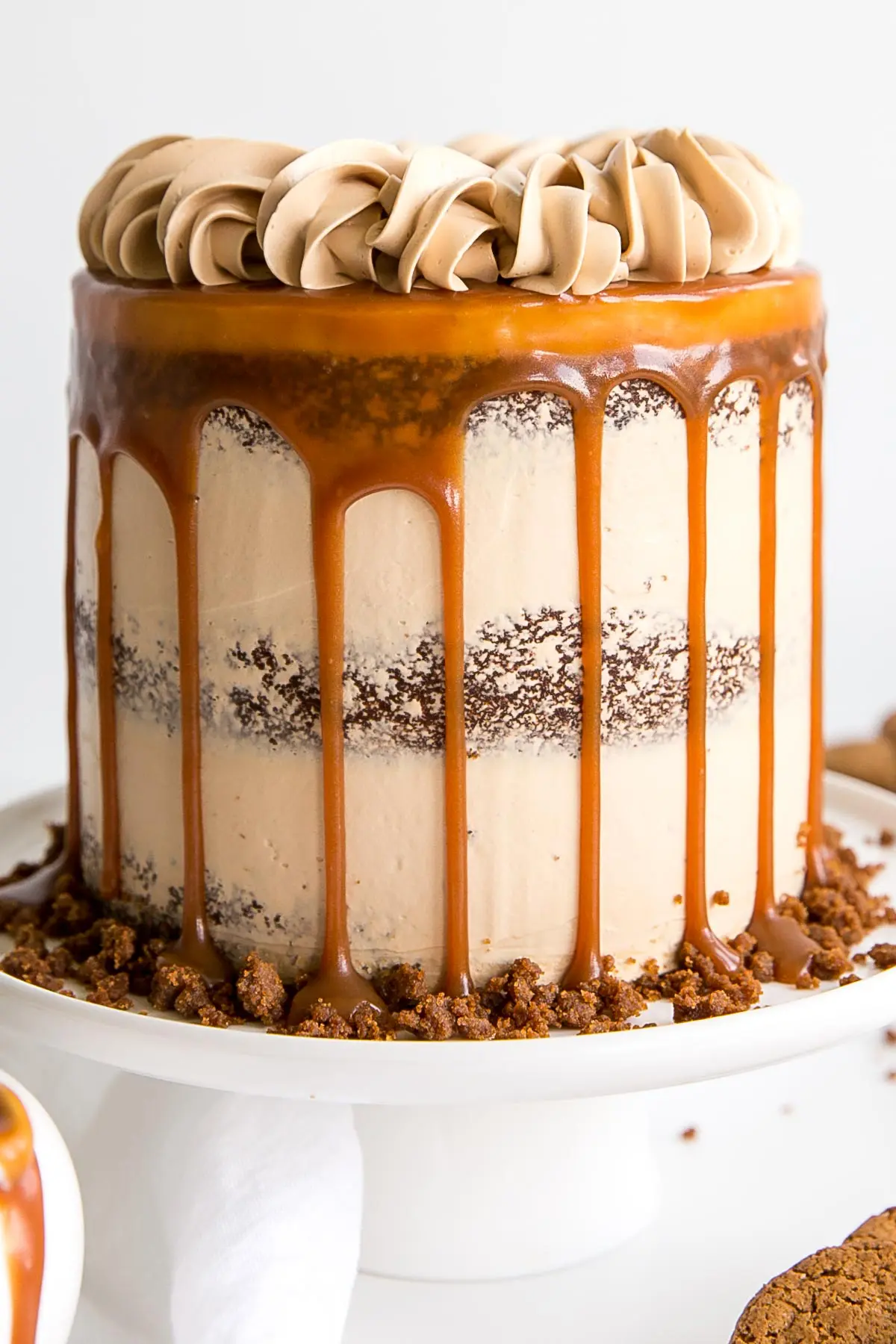 Caramel Drip
Speaking of drip cakes… last time I made a Caramel Cake I talked extensively about the do's and don'ts of caramel drips.
It's notoriously hard to work with and, as you can see here, sometimes it doesn't totally cooperate. I should have cooked my caramel a little bit longer, and/or not heated it up a bit before I did the drip. I thought it was too thick, but apparently it was not. Clearly I should have re-read my own caramel drip tips.
Still though, I think it looks pretty, and delicious, even though the caramel drips down all the way to the bottom. The most important thing is the taste anyway, right? And let me tell you, this cake does not disappoint in the flavor department.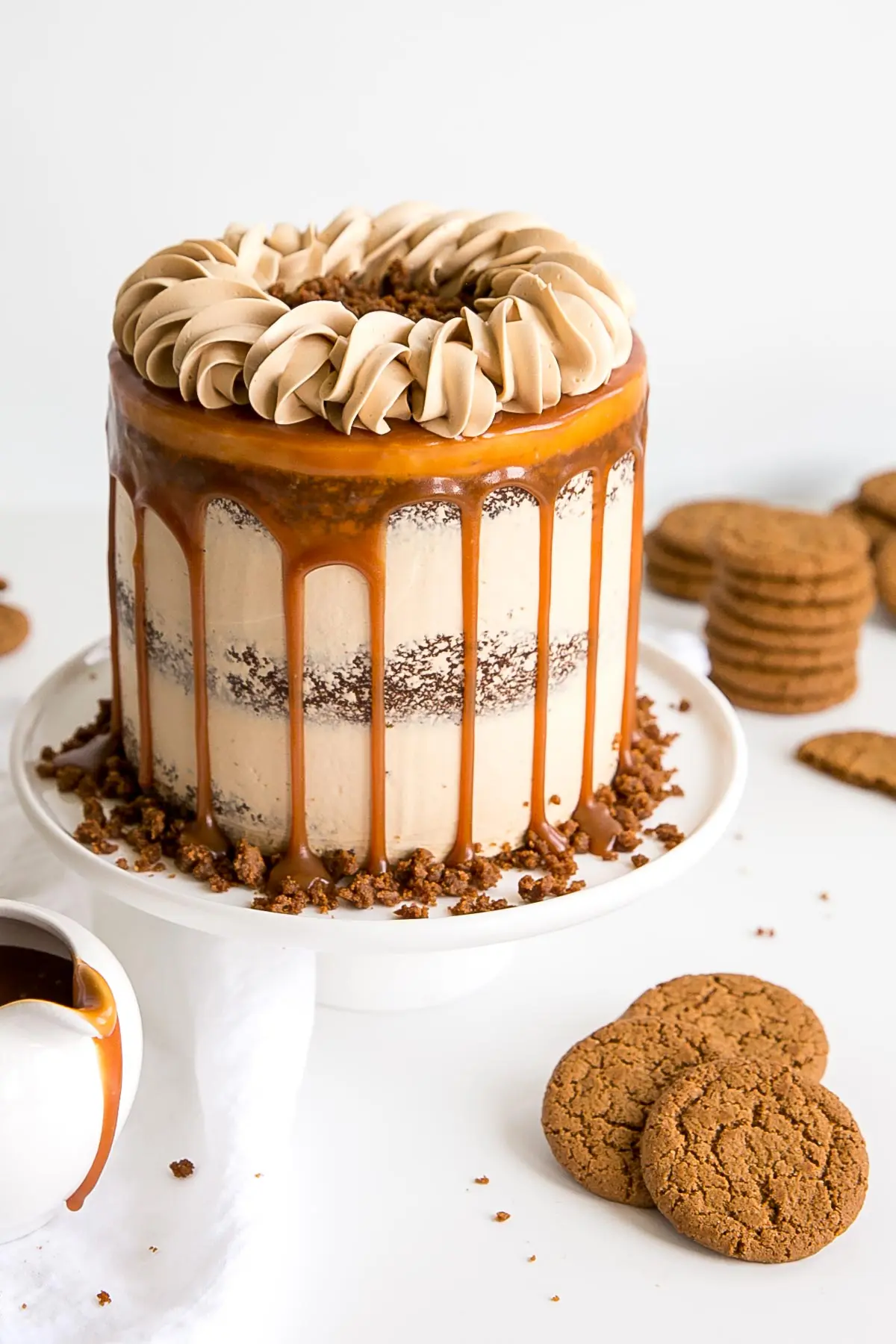 It's been a while since I did a naked cake so I opted for that easy decorating style and finished it off with my favorite decorative rope border.
You can find a video of the technique in my Instagram Baking Tips story highlights.
Gingerbread Streusel
I wanted to add some more texture and flavor to the cake so I hunted down some gingersnap cookies. These were harder to find than I thought, kinda. I didn't expect them to be easy to find this time of year, but the places I know that carry them were sold out. See, clearly people do love gingerbread any time of year.
I threw the cookies into a large Ziploc bag and crushed them up. Be sure to use crunchy gingersnaps for this, not chewy gingerbread cookies, they won't work as well.
Since the cookies were already sweet, all I did was add a little melted butter until the crushed cookies started to clump, then spread that on a baking sheet and baked for about 10 mins. I added a bit too much butter to mine so the streusel was a tiny bit on the greasy side. Only add as much as needed for it to just start to come together.
The combo of caramel and gingerbread has to be one of the best there is. I don't think we'll be sharing much (or any) of this Caramel Gingerbread Cake with friends (sorry!) because it truly is that good.
So, if you're on the Christmas in June bandwagon like I am, or just want to eat an insanely delicious cake, this recipe is for you! Who else is down for gingerbread all year round??
Frequently Asked Questions
How can I convert this recipe?
The recipe as-is will also work in two 8″ pans. For three 8″ pans, 1.5x the recipe. Baking time may need to be adjusted.
To make cupcakes, all you need to do is reduce the baking time — start checking at 15mins or so. The recipe will make 18-24 cupcakes depending on size.
For other conversions go

here

.
Can I make it in advance?
The cooled cake layers can be baked ahead of time, double wrapped in plastic wrap, and frozen for up to 3 months. Take out 2-3 hours before assembly.
The frosting can be placed in an airtight container and refrigerated for 1 week for frozen for 3 months. Bring to room temp and rewhip before using.
The caramel can be made the day before and left at room temperature overnight or refrigerated for a couple weeks. You'll need to bring it to room temperature again before use.
The cooled gingerbread streusel can be stored in an airtight container for up to a week. You can also freeze it for up to 3 months.
The finished cake (whole or sliced, stored airtight) can be frozen for up to 3 months.
Can I get the measurements by weight/grams?
There is a Metric option in the recipe card. If you click it it will convert everything to grams.
This conversion is done automatically and I cannot guarantee the accuracy but many readers have had success using the metric option on my recipes.
Why can't I use Blackstrap molasses?
Blackstrap molasses is too strong and will overpower the flavor. If that's all you can find I recommend using half the amount of molasses and adding an equal part of golden syrup.
What if I don't have Dark Brown Sugar?
Granulated or light brown sugar will work just fine too, the buttercream will just have slightly less caramel flavor and color.
Looking for more Gingerbread recipes?
Tips for making this Gingerbread Cake with Caramel Buttercream
For the caramel, it is critical that your cream and butter be at room temperature. Do not attempt to make it with cold cream or butter — it will separate when cooled. Check out my How to Make Caramel post for a detailed tutorial.
Be sure your cake is well chilled and your caramel on the thicker side before you attempt the drip. Thicker than you'd think — barely pouring off the spoon.
You will have some caramel left over. It will keep in the fridge for a couple weeks or you can freeze it for up to 3 months.
The buttercream recipe makes enough to fully frost the cake.
I like to prepare my cake pans using

Homemade Cake Release

then line with parchment.
Be sure to check my

Swiss Meringue Buttercream

post for tips and troubleshooting.
Learn how to keep your cakes moist using Simple Syrup.
To help ensure your cake layers bake up nice and flat, check out my Flat Top Cakes post!
Caramel Gingerbread Cake
The classic Gingerbread Cake gets a delicious makeover! Gingerbread cake layers and caramel buttercream paired with gingerbread streusel and homemade caramel.
Ingredients
Instructions
Caramel Sauce (make in advance):
Place sugar and water into a medium pot, stir to combine, but to not stir from this point forward. Cook over high heat, washing down the sides of the pot with a pastry brush dipped in water as needed to prevent crystals.

Cook until desired color of caramel is reached (amber) and immediately remove from heat. Very slowly pour in (room temperature) heavy cream while whisking quickly. The mixture will bubble up (a lot) and boil. Add (room temperature) butter, return to heat, and bring back to a boil. Simmer for 2 minutes whisking constantly.

Remove from heat and let cool to room temperature (about 2 hours). Transfer to a container and place in fridge to thicken.*
Gingerbread Cake:
Preheat oven to 350F and grease and flour three 6″ cake rounds, line with parchment.

In a medium bowl, whisk flour, baking powder, salt, and spices. Set aside.

Using a stand mixer fitted with the paddle attachment, beat butter until smooth. Add sugars and beat on med-high until pale and fluffy (2-3mins).

Reduce speed and add eggs one at a time, fully incorporating after each addition. Add molasses and vanilla and mix until incorporated.

Alternate adding flour mixture and buttermilk, beginning and ending with flour (3 additions of flour and 2 of milk). Fully incorporating after each addition. Do not overmix.

Spread batter evenly into prepared pans. Smooth the tops with a spatula.

Bake for approx. 30-35 mins or until a toothpick inserted into the center comes out mostly clean.

Place cakes on wire rack to cool for 10mins then turn out onto wire rack to cool completely.
Caramel Swiss Meringue Buttercream:
Place egg whites and sugar into the bowl of a stand mixer, whisk until combined.**

Place bowl over a pot with 1-2" of simmering water and whisk constantly until the mixture is hot and no longer grainy to the touch or reads 160F on a candy thermometer (about 3mins).

Place bowl on your stand mixer and whip on med-high until the meringue is stiff and cooled (the bowl is no longer warm to the touch (approx. 5-10mins)).

Switch to paddle attachment. Slowly add cubed butter and mix until smooth.

Add cooled caramel and whip until smooth.***
Gingerbread Streusel:
Preheat oven to 350F and line a baking sheet with parchment.

Place cookie crumbs and melted butter into a medium bowl, stir until it just starts to clump. Spread out on prepared baking sheet and bake for 8-10mins.

Cool completely before using on cake. Break up crumble if needed.
Assembly:
Place one layer of cake on a cake stand or serving plate. Top with 2/3 cup of frosting. Dollop 1-2 Tbsp caramel on top and swirl into the buttercream using a toothpick. Sprinkle with 1/4 cup gingerbread cookie crunch. Repeat with next layer.

Place the final layer on top and do a think crumb coat on the cake. Chill for 30mins.

Using a small spoon, place dollops of caramel around the top edges of the cooled cake, allowing some to drip down.****

Fill in the top of the cake with more caramel and spread evenly with an offset spatula. Let the caramel set for a few minutes. *****

Do a rope border using a 1M tip and fill the center with more gingerbread streusel.
Notes
* The caramel can be made the day before and either left on the counter overnight or in the fridge if longer. Bring to room temp again before using.
** Ensure there is NO trace of egg yolks in your whites and that your mixer bowl and whisk is completely grease free or your meringue won't stiffen.
*** The buttercream may look like it's curdled at some point. Keep mixing until it is completely smooth.
**** If caramel has thickened too much, microwave in 5-10 second intervals until it's pourable (but not warm). You want the caramel to be rather thick for the drips. It will continue to drip down.
***** Don't use too much caramel to fill in the top. I literally just pulled inward the top of the dollops to fill it in.
You will have some caramel left over.
The buttercream recipe makes enough to fully frost the cake.
Calories:
953
kcal
Carbohydrates:
107
g
Protein:
7
g
Fat:
57
g
Saturated Fat:
36
g
Cholesterol:
207
mg
Sodium:
240
mg
Potassium:
547
mg
Fiber:
1
g
Sugar:
87
g
Vitamin A:
1855
IU
Vitamin C:
0.1
mg
Calcium:
164
mg
Iron:
2.7
mg
The nutritional information and metric conversions are calculated automatically. I cannot guarantee the accuracy of this data. If this is important to you, please verify with your favorite nutrition calculator and/or metric conversion tool.