This Chocolate Gingerbread Cake is a delicious twist on a holiday classic. A rich chocolate spice cake paired with a silky dark chocolate ganache.
There are these cookies that my parents always get from the Polish store around the holidays. They're these puffy and soft (though often dry) gingerbread cookies coated in chocolate. Very similar to these ones, but with Polish packaging (lol). You can get them plain or filled with a jam of sorts, but I always preferred the plain ones.
I didn't actually set out to make this cake with those in mind, but once I tried the first bite I was all like — what does this remind me of?? This Chocolate Gingerbread Cake is my cake version of those cookies.
How to Make this Chocolate Gingerbread Cake
This cake was yet another adventure in the making. And this time I HAD bought everything I need in advance. I was ready for this one.
I thought I would get a head start on the baking too, and store the cake layers in the freezer until I was ready to decorate. Too bad I didn't remember that I wanted to use this Chocolate Gingerbread Cake with my new cake stand.
The two 8″ layers I baked were too big, and definitely not going to work with this stand. SIGH. Luckily, the layers tasted delicious on their own, so they didn't go to waste.
Take two on the layers (6″ this time) was a success, and I made the ganache frosting in advance since it needs to sit and thicken up.
Chocolate Ganache Frosting
The ganache frosting on this Chocolate Gingerbread Cake is on the thinner side (read: not the easiest to work with at room temperature). It's fairly soft, and when you're trying to stack 6 layers they can start to slide around a bit.
Once I had stacked the cake layers, I nudged them all into place so they were even, and then stuck 4 (trimmed to the right height) bamboo skewers through the top of the cake to act as support.
Another alternative is placing the ganache into the fridge to thicken up, but you need to watch it and stir often to make sure it thickens evenly. If left in the fridge for a long time, it will firm up to the point of not being spreadable.
The texture of the ganache is SO good with this cake. It's soft and creamy at room temperature, and rich and truffle-like when chilled. It's really the best.
It is my preference to have it this way, but you may want something a bit thicker and easier to work with. As such, I've included two Dark Chocolate Ganache recipes below — you can choose which one you'd prefer!
Decorating this Gingerbread Cake
Alright, so it's decorating day! I have my ganache ready, my second set of cake layers baked, and all of my props and garnishes on hand. Woohoo!
My original plan was to put rosemary trees on the top or the sides of the cake, similar to my Gingerbread Cake. I had also bought some thyme sprigs to act as a different set of trees.
I didn't take a good look at the rosemary when I bought it (ugh). When I finally did, I discovered it was HUGE. Seriously, these were some mutant giant rosemary sprigs.
They would have looked ridiculous on top for sure, or even on the sides of this cake. DAMMIT. Off to the store I go.
Not just one store though, noooo, that would be too easy. The farmers market I checked first also had the giant rosemary, Safeway had none at all (wtf), and I finally found some normal-sized rosemary at an organics store.
Ironically, it was the closest store to my house, and I should have gone there first (sigh). I also found pomegranate seeds and gingerbread cookies there that I intended to use as more props.
You'll notice that there are no rosemary trees on this cake (LOL).
I didn't like the way they looked, at all. The cake is already tall, so having them on top looked ridiculous, and pressing them into the sides just looked weird.
I didn't end up using the damn gingerbread cookies either (they were delicious to snack on during picture taking though).
So my 30min outing resulted in using the one thing I didn't intend to buy in the first place — pomegranate seeds.
Did I mention that I also left the house with no makeup, wearing whatever I was wearing (it was not pretty), and soaking wet hair in near freezing temps? It was fun times all around. In hindsight though, I think the pomegranate seeds look really pretty, so I'm glad I bought them!
Oh, AND, my ganache was lumpy because I didn't make sure all the chocolate bits were totally melted. UGH. I thought they were, it looked like they were, but I should have listened to my gut and put the bowl over a double-boiler on the stove just to make extra sure. So I had to strain my ganache (true story), because I wanted to get the chunks out.
Never a dull moment in the Liv for Cake kitchen!
Antler Cake Stand
So, this cake stand that I was so determined to use that I rebaked the cake layers… it's borderline tacky, I know, but it just screams holidays and winter and Christmas, and I had to have it. The deer antlers go so well with the woodsy-like exterior of this cake.
Apparently, it's actually not a cake stand at all. I literally found this out just now as I was looking it over for info to see if I could find it online to link to you (I couldn't), but the one thing I did find was some safety precautions for a pillar candle. Lol, oops.
Anyway, this candle holder moonlighting as a cake stand works pretty well, no? I think so. Except when it came to putting the cake in there and then cutting a piece out. The antlers did not make my life easy there, but it worked out in the end.
I'm happy about the texture on the frosting. It reminds me of tree bark, and I just love this rustic woodsy look for the holidays. It was actually really simple to do.
Once I frosted the cake and smoothed the sides, I used this icing comb (the grooves on the bottom) to make the texture.
I pressed it into the side of the cake and spun the cake on my turntable. I went over it a few times to create a more rustic and messy look.
Since the cake was chilled before the final frosting, the ganache would start to firm up on the cake which made it easier to create the texture.
I decided to go for 6 layers with this cake, and I'm so glad I did. The cake is incredibly rich and delicious, with hints of gingerbread throughout, and the silky dark chocolate ganache makes for a perfect pairing in this Chocolate Gingerbread Cake.
Tips for this Chocolate Gingerbread Cake:
The recipe as-is will also work in two 8″ pans. For three 8″ pans, 1.5x the recipe.
To make cupcakes, all you need to do is reduce the baking time — start checking at 15mins or so.
The ganache recipe is fairly soft at room temperature and can be harder to work with. Read post above for details. I've included an alternate ganache recipe that is thicker.
When making the ganache, be sure to chop your chocolate very fine, and make sure it's all melted after you add the cream. I had chunks in mine (because I was too lazy to chop the chocolate into small pieces) that I ended up having to strain out.
If you're looking for more holiday inspired cakes, be sure to check out my Gingerbread Cake, Eggnog Cake, Spice Cake, and White Chocolate Candy Cane Cake!
To help ensure your cake layers bake up nice and flat, see my Flat Top Cakes post.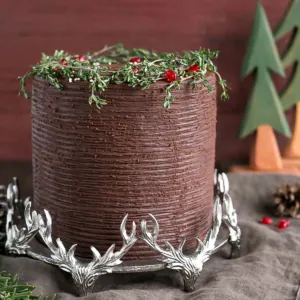 Chocolate Gingerbread Cake
This Chocolate Gingerbread Cake is a delicious twist on a holiday classic. A rich chocolate spice cake paired with a silky dark chocolate ganache.

Ingredients
Chocolate Ganache Frosting – Original:
Chocolate Ganache Frosting – Alternate:
Chocolate Gingerbread Cake:
Instructions
Chocolate Ganache Frosting (make in advance):
Place chopped chocolate in a large heatproof bowl.

In a medium saucepan, combine heavy whipping cream and butter. Cook over med heat, stirring often, until it just starts to simmer.


Pour hot cream over chopped chocolate and cover bowl with plastic wrap. Let sit 5 minutes.


Stir gently with a spatula until completely smooth.


Place plastic wrap directly on top of chocolate ganache. Allow to thicken and set overnight.*



Chocolate Gingerbread Cake:
Preheat oven to 350F, grease three 6″ round baking pans and dust with cocoa powder. Line bottoms with parchment.

Place all dry ingredients into the bowl of a stand mixer fitted with a paddle attachment. Stir to combine.

In a medium bowl whisk all wet ingredients (pour water in slowly as not to cook the eggs if very hot).

Add wet ingredients to dry and mix on medium for 2-3 mins. Batter will be very thin.

Pour evenly into prepared pans. I used a kitchen scale to ensure the batter is evenly distributed.

Bake until a cake tester comes out mostly clean. A total of 30-35mins.

Cool 10 minutes in the pans then turn out onto a wire rack to cool completely.
Assembly:
Cut each layer of cake in half horizontally.

Place one layer of cake on a cake stand or serving dish. Top with about 1/2 cup ganache. Repeat with remaining layers. Frost and smooth the outside with a thin crumb coat. Chill for at least 20mins until firm and set.**

Frost the chilled cake with the remaining ganache. It will start to set against the cold cake.

Use a decorating comb (I used the bottom side of the one here) on the sides and top of the cake. Run it across the cake a few times to create a rustic look.

Decorate the top with thyme sprigs and pomegranate seeds if desired.
Notes
* You can speed up the thickening of the ganache by placing the it in the fridge, but you need to stir it often.
** If the ganache is too thin or soft and the cake layers start to slide around a bit during assembly, you can place 3-4 bamboo skewers into the top of the cake as support. You'll need to trim the skewers to the proper height of the cake.
Calories:
698
kcal
Carbohydrates:
68
g
Protein:
8
g
Fat:
45
g
Saturated Fat:
28
g
Cholesterol:
95
mg
Sodium:
310
mg
Potassium:
618
mg
Fiber:
7
g
Sugar:
41
g
Vitamin A:
760
IU
Vitamin C:
0.2
mg
Calcium:
125
mg
Iron:
7.6
mg
The nutritional information and metric conversions are calculated automatically. I cannot guarantee the accuracy of this data. If this is important to you, please verify with your favorite nutrition calculator and/or metric conversion tool.
Originally published on Nov 26, 2017