Transform your favorite candy into this Turtles Cake! Layers of rich chocolate cake, caramel buttercream, caramel sauce, and chopped pecans.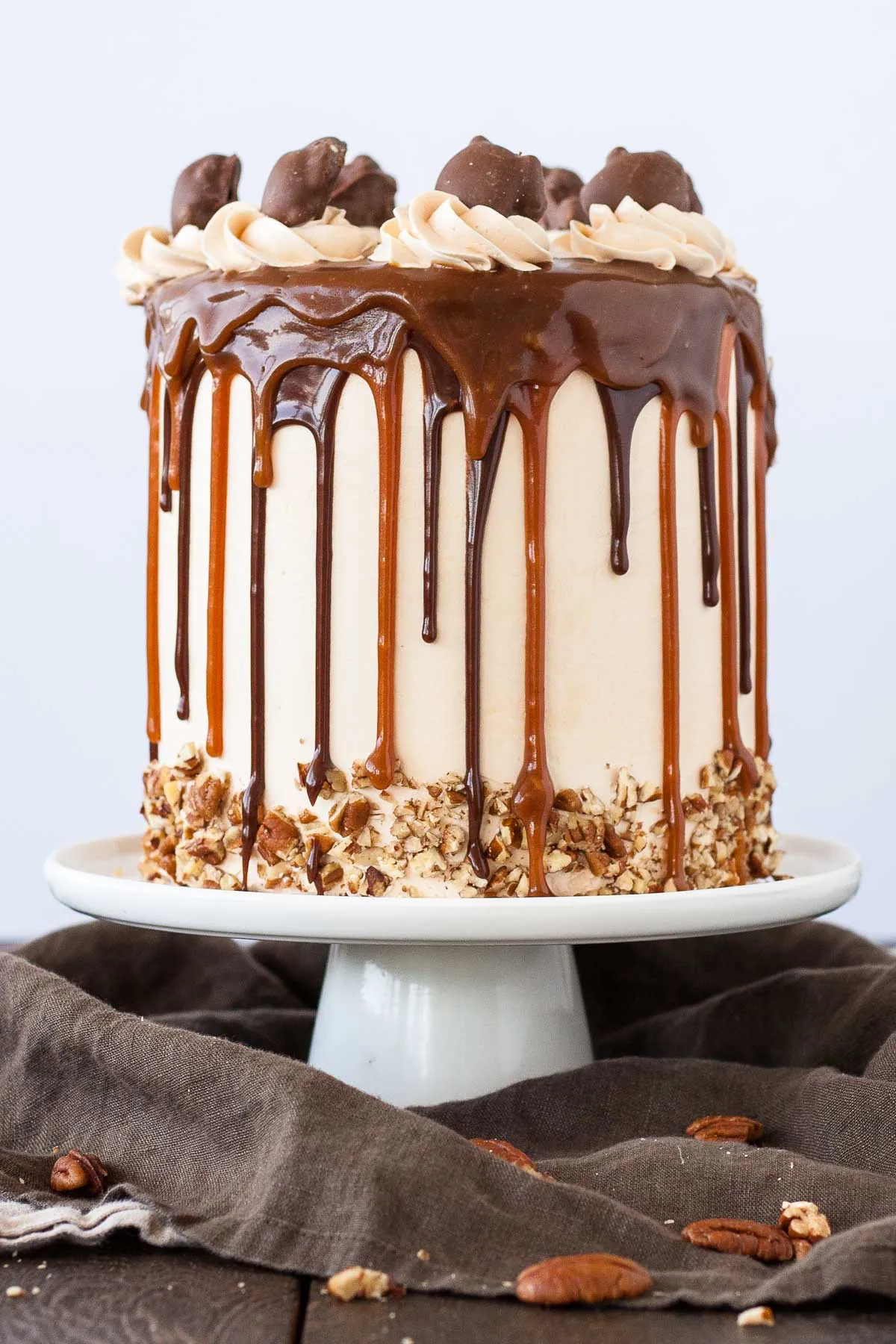 We've been in our new place just over a week now, and it's finally starting to feel a bit less chaotic and a bit more like home — some rooms, anyhow. I was super nervous about the kitchen aside from the appliances, as it's basically a 1989 original. It's in good shape considering its age, but it's a far cry from the modern kitchens these days. So I baked up a batch of my favorite chocolate chip cookies to test the setup and the oven. I've made those cookies so many times that I know exactly how they should turn out.
I actually struggled with them for the past 3 years, as our previous place had a gas oven. I can now say with confidence that I will never use a gas oven again. EVER. I love a gas cooktop (and miss it), but the inconsistency of the gas oven is horrible for baking. This was proven the other day when I baked up the cookies in an electric oven and they turned out better than they have in years.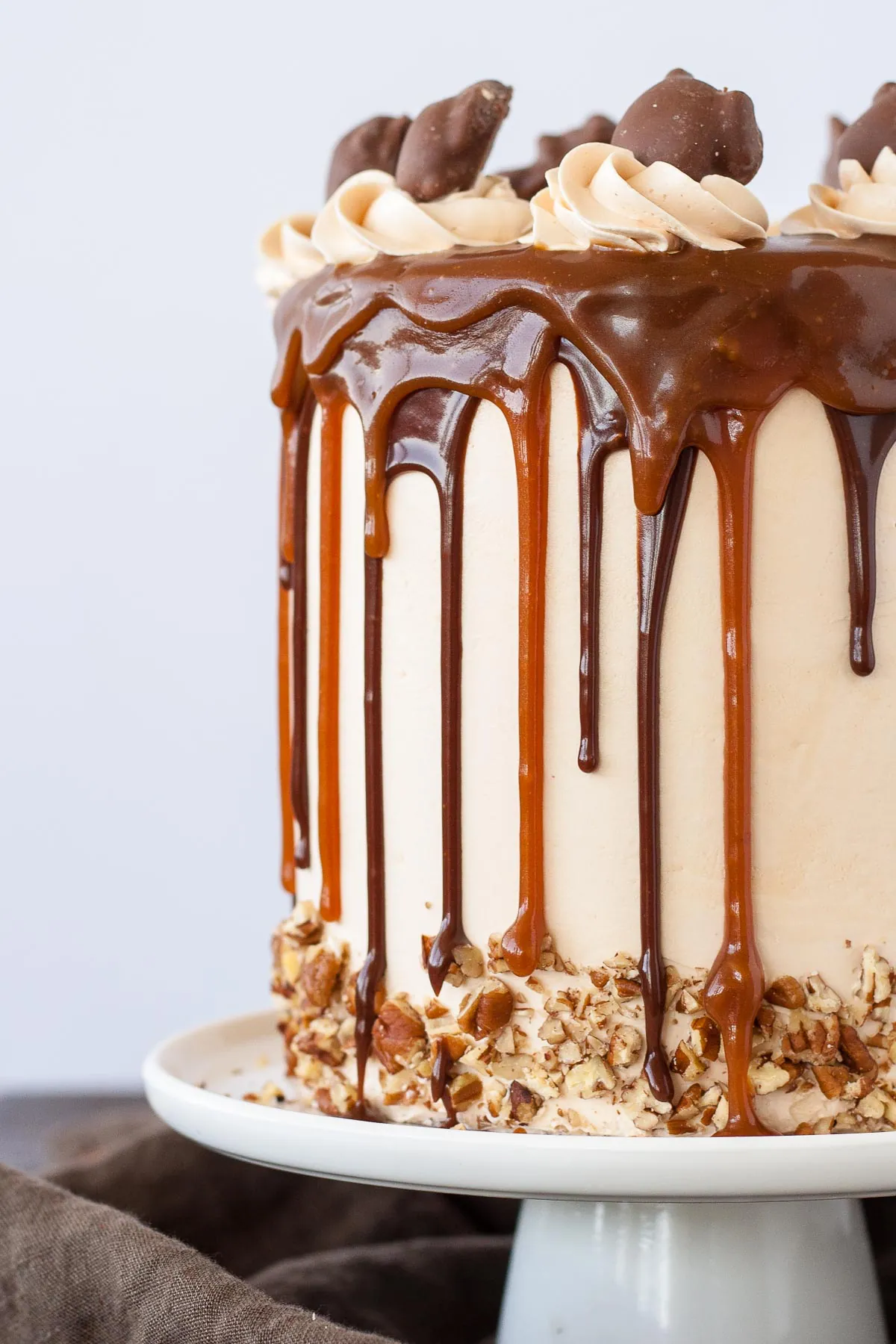 The kitchen was actually quite pleasant to bake in. I have a separate "pantry" section for all my baking needs, so it doesn't feel as cramped as I thought it would. The kitchen sink leaves a lot to be desired (small/cramped), but all in all the kitchen is pretty functional.
We still have a bunch of boxes (most empty) in the basement, but the main floor is done and some of the upstairs. I haven't touched my photography room yet though. I'm kinda procrastinating it because I don't really know where to start. It's a huge mess right now and I need to put up some shelving and a table, etc. I have to get that done next week because I've only got so many recipes in the backlog! Like this Turtles Layer Cake.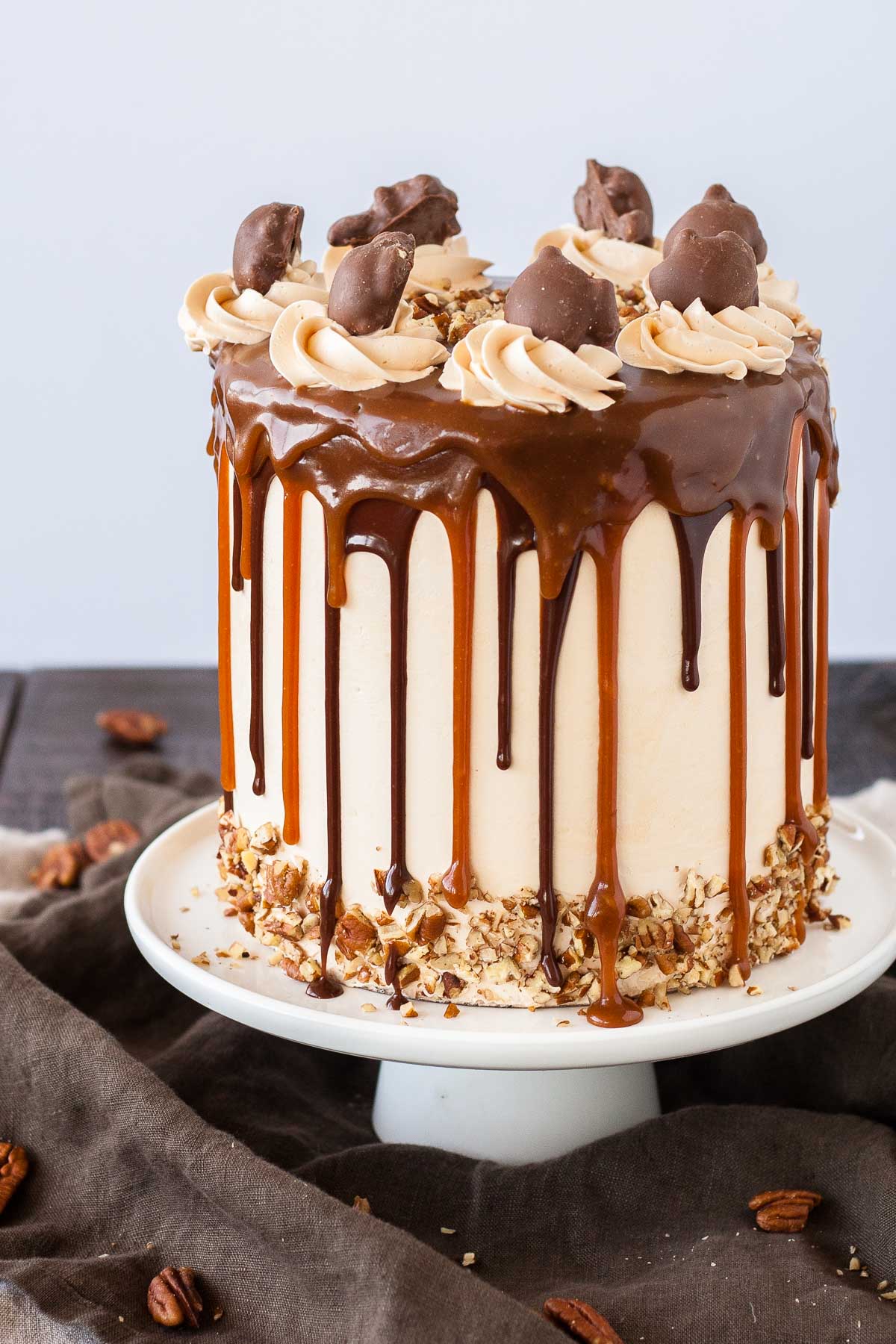 This Turtles Layer Cake is another one of Ryan's suggestions. I can always count on him to come up with crazy and delicious ideas. Turtles happen to be my favorite chocolate candy, so it really only made sense to make a cake version, naturally, keeping in line with my never-ending desire to turn other desserts into cakes. Because everything is better as a cake!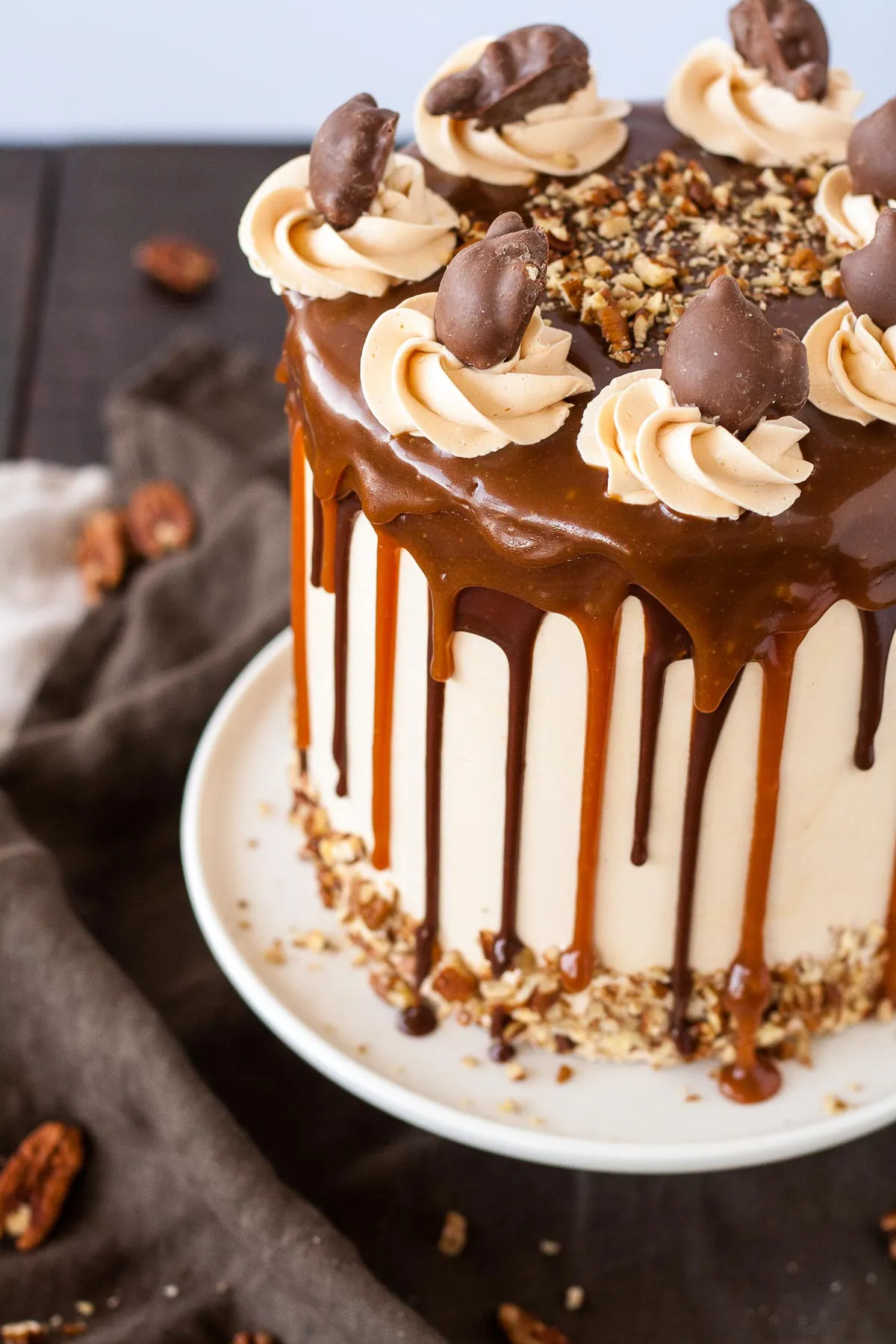 In true Olivia fashion, I did more to this Turtles Layer Cake than I should have, and I'm not totally happy with how it turned out. I mean, it looks GOOD, but it looked BETTER before I added the frosting rosettes and mini-Turtles on top.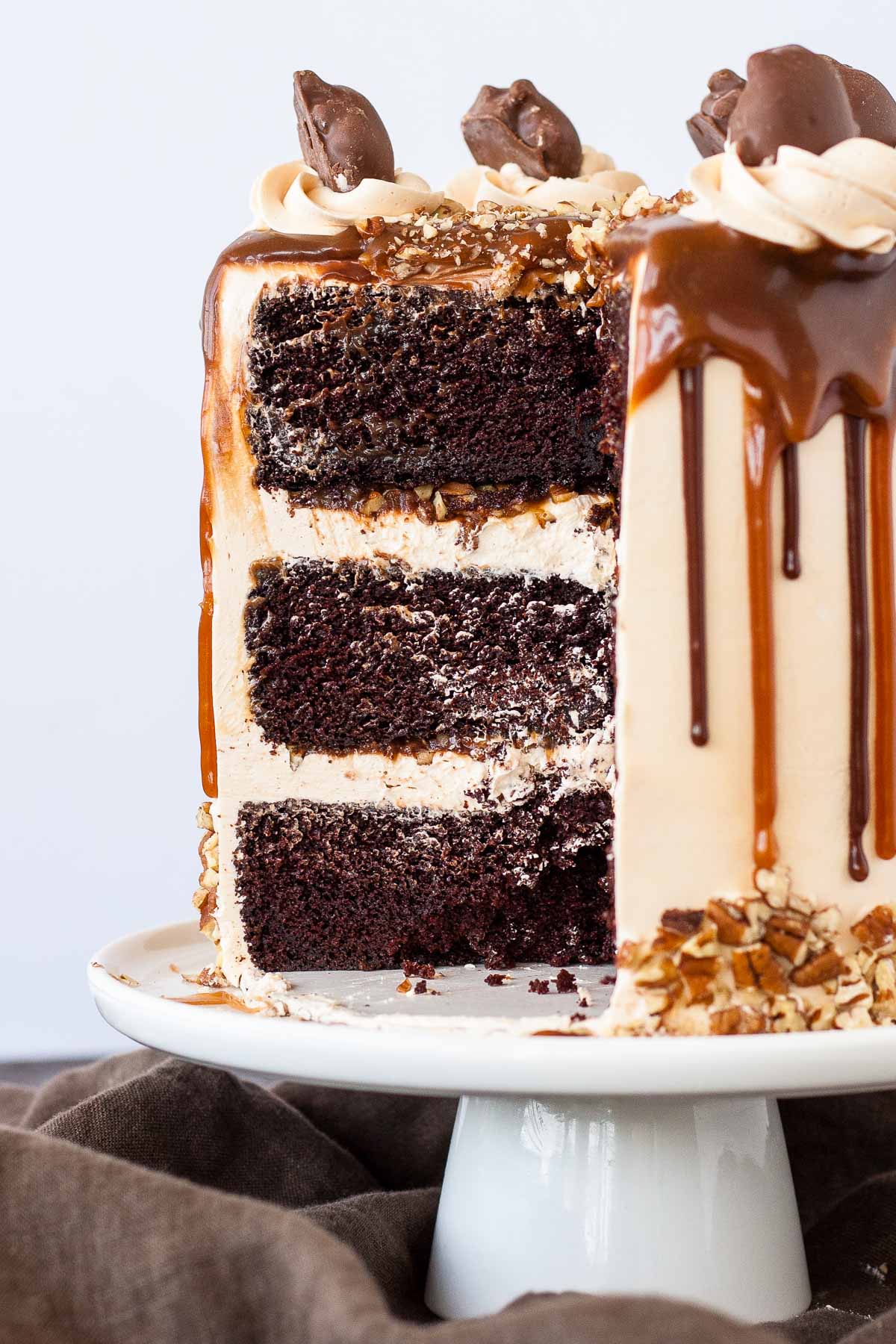 See, caramel doesn't set as well as ganache. I had these perfect, and I mean PERFECT, alternating drips and a smooth top going. It was a stunner. But I had some leftover buttercream and wanted to incorporate the mini-Turtles into the cake, so I took it a bit further. Big mistake. The weight of it all started pushing the caramel down the sides and the rosettes literally started sliding down the cake. So much so that one actually slid off and I had to redo it (it's in the back so you wouldn't see it in the pics).
I was in a mad rush to take these pics so that the rest of the cake wouldn't end up a complete disaster. As such, I hate the pics too, and literally re-edited them 3 whole times (countless hours). I keep telling myself that no one will notice the imperfections and no one knows what it looked like "before" so who cares. Except now I've told you, and you totally know.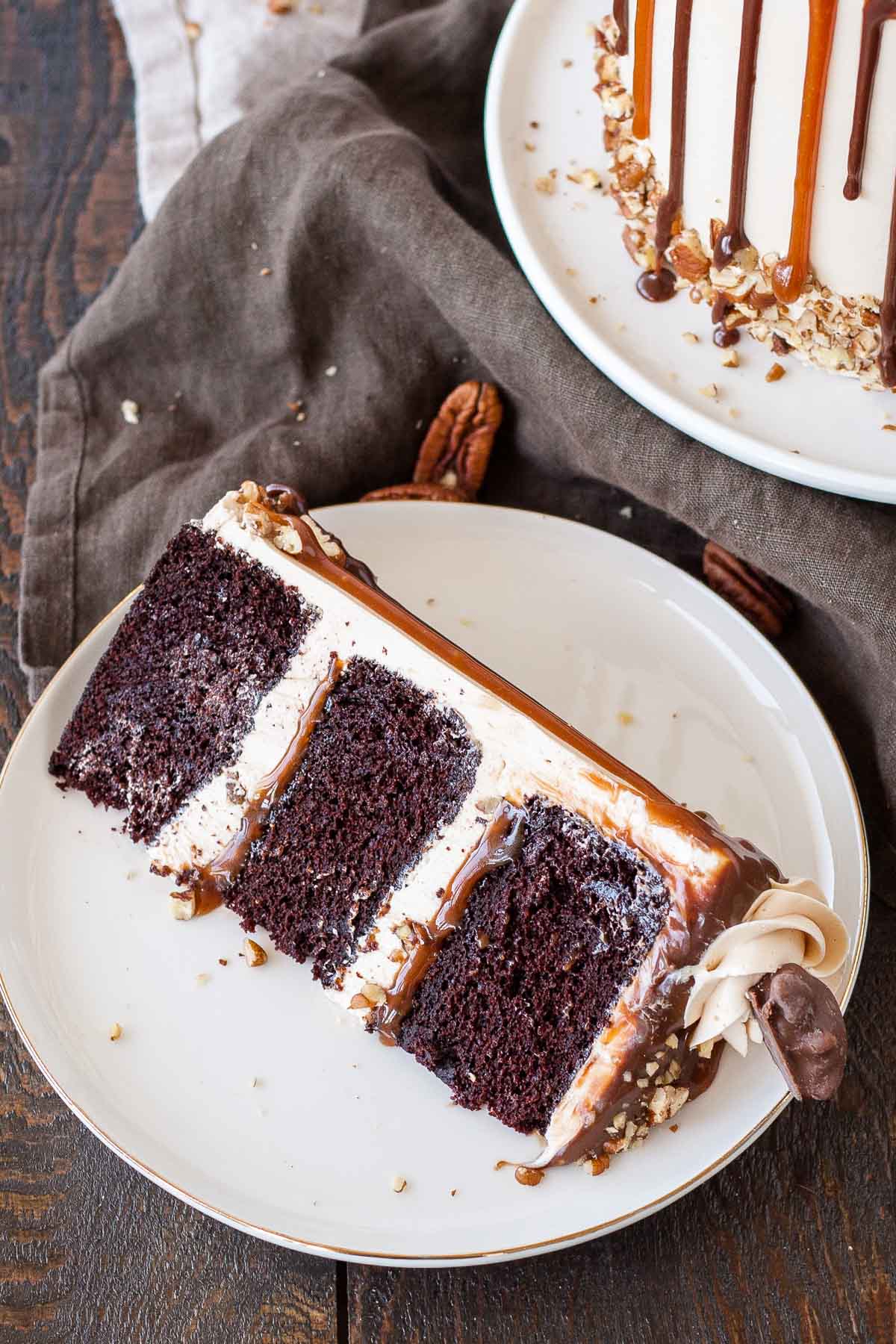 So, if you make this cake, I would recommend skipping the rosettes and Turtles on top. Or at least just do one or the other. I think it was actually the Turtles that did me in. Those suckers are dense.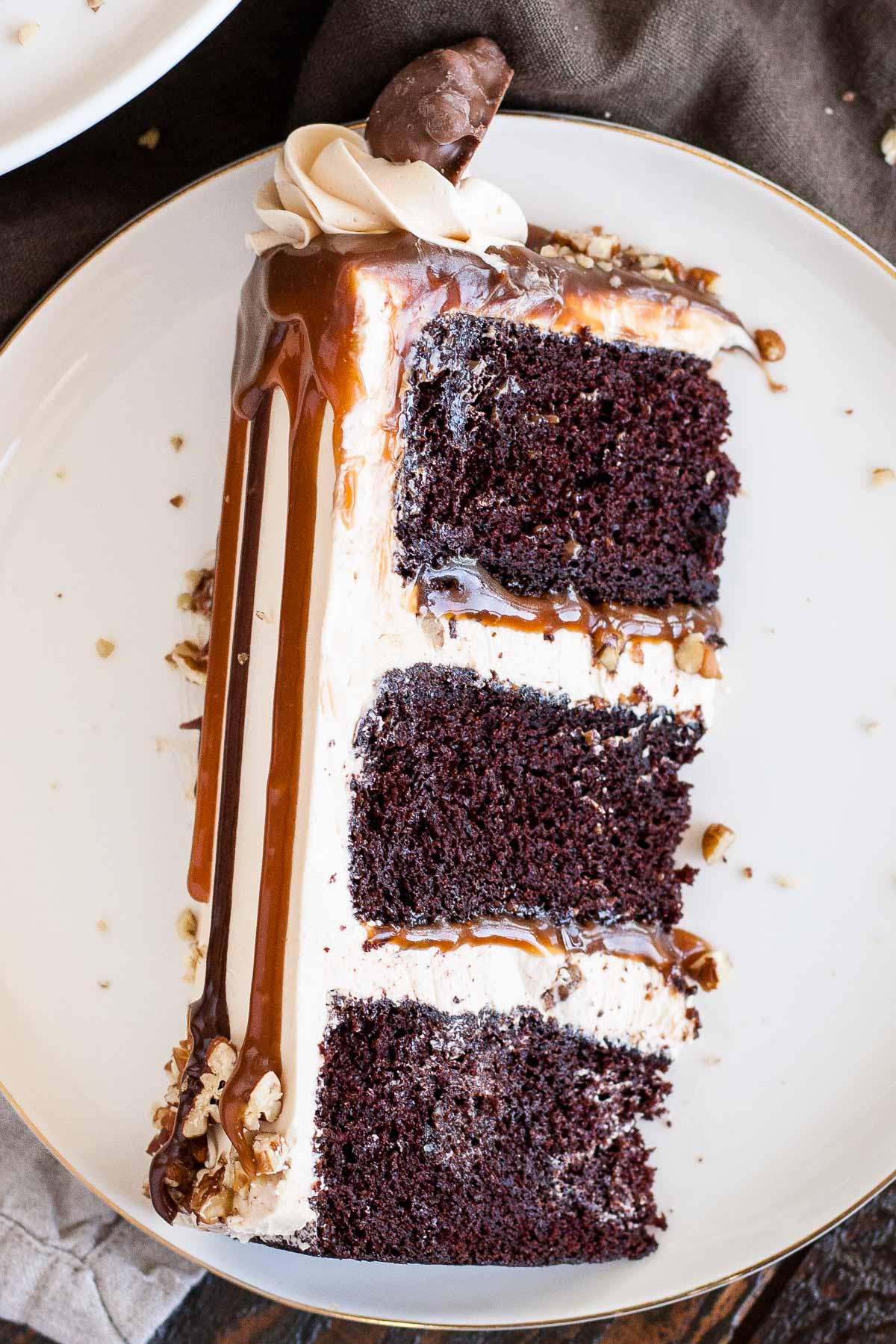 Cake decorating issues aside, this is one seriously delicious cake. If you're a Turtles fan (and really, who isn't?), you will love it! Dense chocolate cake with caramel buttercream and caramel sauce between the layers, and chopped up pecans for some crunch. Pure decadence.
Tips for this Turtles Layer Cake:
Adding rosettes and Turtles will cause the caramel to slide down more. I recommend skipping this step.
To enhance the chocolate flavor of the cake, you can use strong hot coffee instead of hot water.
For the ganache, I let mine set overnight (with plastic wrap placed directly on the surface). It will be too thick at this point, so I microwave it for 10 secs and stir it until it's the right consistency.
The drip technique works best on a chilled cake so that the drips set quickly.
To help ensure your cake layers bake up nice and flat, see my tips here.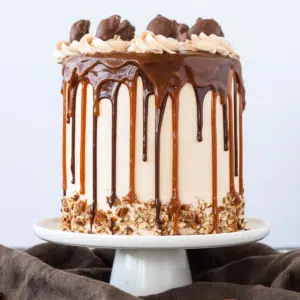 Turtles Cake
Transform your favorite candy into this Turtles Cake! Layers of rich chocolate cake, caramel buttercream, caramel sauce, and chopped pecans.
Ingredients
Instructions
Cake:
Preheat oven to 350F, grease three 6″ round baking pans and dust with cocoa powder. Line bottoms with parchment.

Place all dry ingredients into the bowl of a stand mixer fitted with a paddle attachment. Stir to combine.

In a medium bowl whisk all wet ingredients (pour hot water in slowly as not to cook the eggs if very hot).

Add wet ingredients to dry and mix on medium for 2-3 mins. Batter will be very thin.

Pour evenly into prepared pans. I used a kitchen scale to ensure the batter is evenly distributed.

Bake until a cake tester comes out mostly clean. A total of 30-35mins.
Caramel:
Place sugar and water into a medium pot, stir to combine, but to not stir from this point forward. Cook over high heat, washing down the sides of the pot with a pastry brush dipped in water as needed to prevent crystals.

Cook until desired color of caramel is reached and immediately remove from heat. Very slowly, whisk in heavy cream. The mixture will bubble up (a lot) and boil. Add butter, return to heat, and bring back to a boil. Cook for 2 minutes whisking constantly.

Remove from heat and let cool to room temperature. Transfer to a container and place in fridge to thicken.*
Milk Chocolate Ganache:
Place chopped chocolate and cream into a microwave safe bowl. Stir to combine. Microwave for 20 seconds, stir. Microwave in 10 second intervals, stirring in between, until smooth and silky. Set aside to cool completely before using.*
Caramel Buttercream:
Place egg whites and sugar into the bowl of a stand mixer, whisk until combined.**

Place bowl over a hot water bath on the stove and whisk constantly until the mixture is no longer grainy to the touch (approx. 3mins).

Place bowl on your stand mixer and whisk on med-high until the meringue is stiff and cooled (the bowl is no longer warm to the touch (approx. 5-10mins)).

Switch to paddle attachment. Slowly add cubed butter and mix until smooth.

Add cooled caramel and whip until smooth.***
Assembly:
Place one layer of cake on a cake stand or serving dish. Top with about 2/3 cup buttercream, drizzle with caramel and ganache and sprinkle with chopped pecans. Repeat with remaining layers. Crumb coat the outside and chill cake for 15mins. Frost and smooth the outside, chill for 30mins.

Using a teaspoon, drip ganache along the edges then fill in the top. Chill for 15mins.

Repeat with caramel and chill for 30mins.

If desired, top with rosettes and mini Turtles.****
Notes
* The ganache and caramel can be made the day before and left in the fridge overnight. Place plastic wrap directly onto the surface of each to prevent a skin from forming.
** Ensure there is NO trace of egg yolks in your whites and that your mixer bowl and whisk is completely grease free or your meringue won't stiffen.
*** The buttercream may look like it's curdled at some point. Keep mixing until it is completely smooth.
**** Adding rosettes and Turtles will cause the caramel to slide down more. I recommend skipping this step.
Calories:
909
kcal
Carbohydrates:
89
g
Protein:
7
g
Fat:
62
g
Saturated Fat:
36
g
Cholesterol:
161
mg
Sodium:
425
mg
Potassium:
289
mg
Fiber:
3
g
Sugar:
71
g
Vitamin A:
1545
IU
Vitamin C:
0.2
mg
Calcium:
87
mg
Iron:
2.2
mg
The nutritional information and metric conversions are calculated automatically. I cannot guarantee the accuracy of this data. If this is important to you, please verify with your favorite nutrition calculator and/or metric conversion tool.