Take a lunchbox classic to the next level with these surprisingly easy Peanut Butter & Jelly Cookie Cups!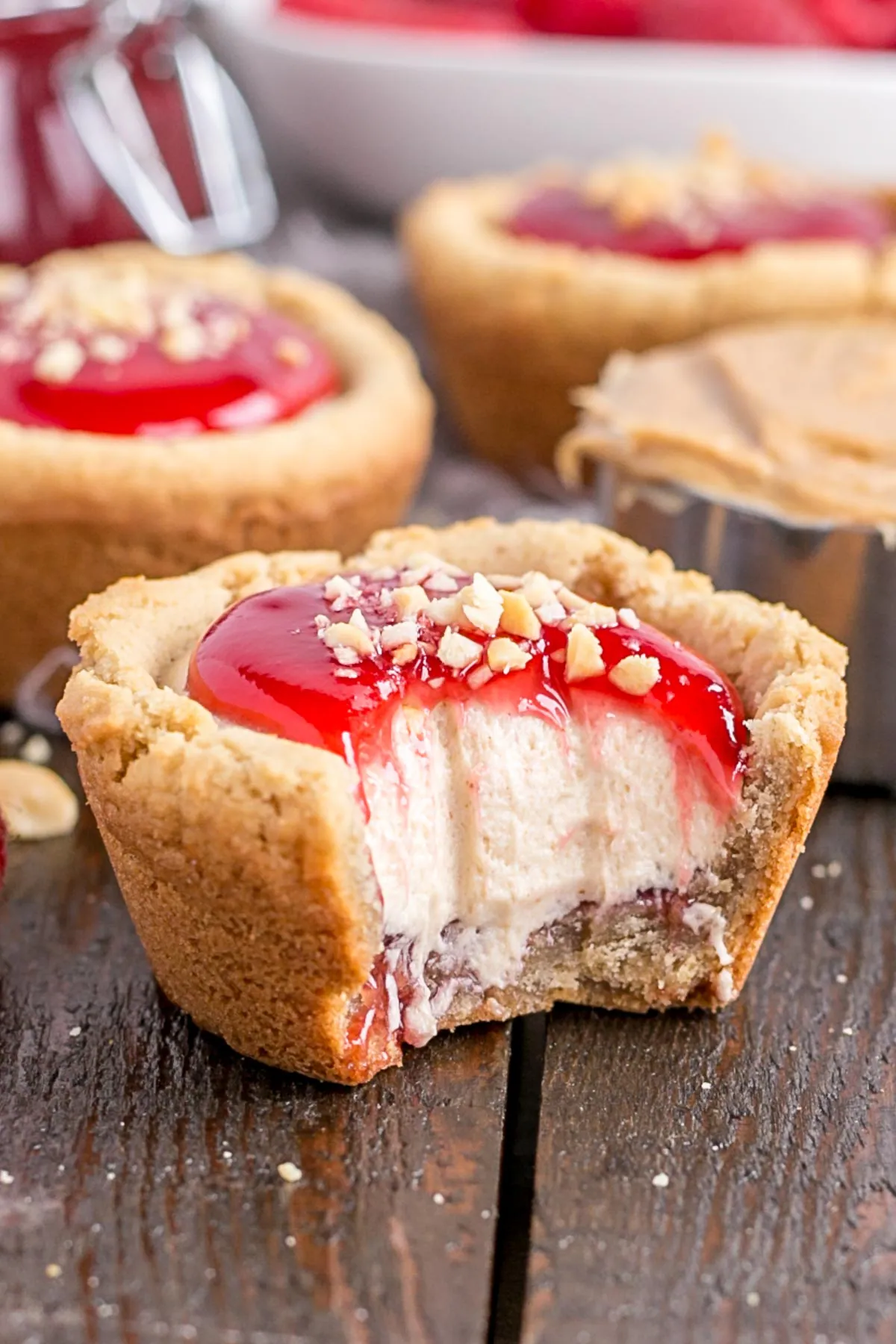 Good old peanut butter & jelly sandwiches. It's a childhood favorite for many. I say "childhood favorite", but let's be real here, I had one just the other day. There is just something so comforting about that peanut butter & jelly combination, and I often reach for it if I'm feeling a bit snackish or just need some comfort food.
I am pretty particular about how I eat my pb&j sandwiches — it HAS to be on white bread, with smooth peanut butter (Kraft or Skippy), and raspberry jam. That is the only combo that works for me. I've tried other jams and they just don't pair quite as well in my opinion. But as you know, I have a little bit of a raspberry addiction around here. It is the #1 berry after all!
Before we get into the deliciousness of these peanut butter & jelly cookie cups, let's talk about how much I hate these pics. Ugh. I don't even want to tell you how many hours I spent shooting and editing (including an entire reshoot on a white background). I ended up going with the original ones (go figure), but I don't love them, and the editing was a pain in the ass. I just could NOT get the colors to look right. I probably spent way more time on them than I should have (as usual). And they still look funny to me. Super frustrating. But, it is what it is.
While we're at it, I also hate the pics from last week's Chocolate Orange Cake. I have serious perfectionist issues that I am trying to work on. I keep telling myself that no one will notice the issues I see (but some people WILL). I try to tell myself that it doesn't make sense to spend so long editing/taking pics, since really I just need more time doing it and gaining experience to get it to the level I want. A year from now I'll be much better at photography (in theory), so no amount of tweaking will get them to that point right now.
Alright, moving on! To these killer Peanut Butter & Jelly Cookie Cups!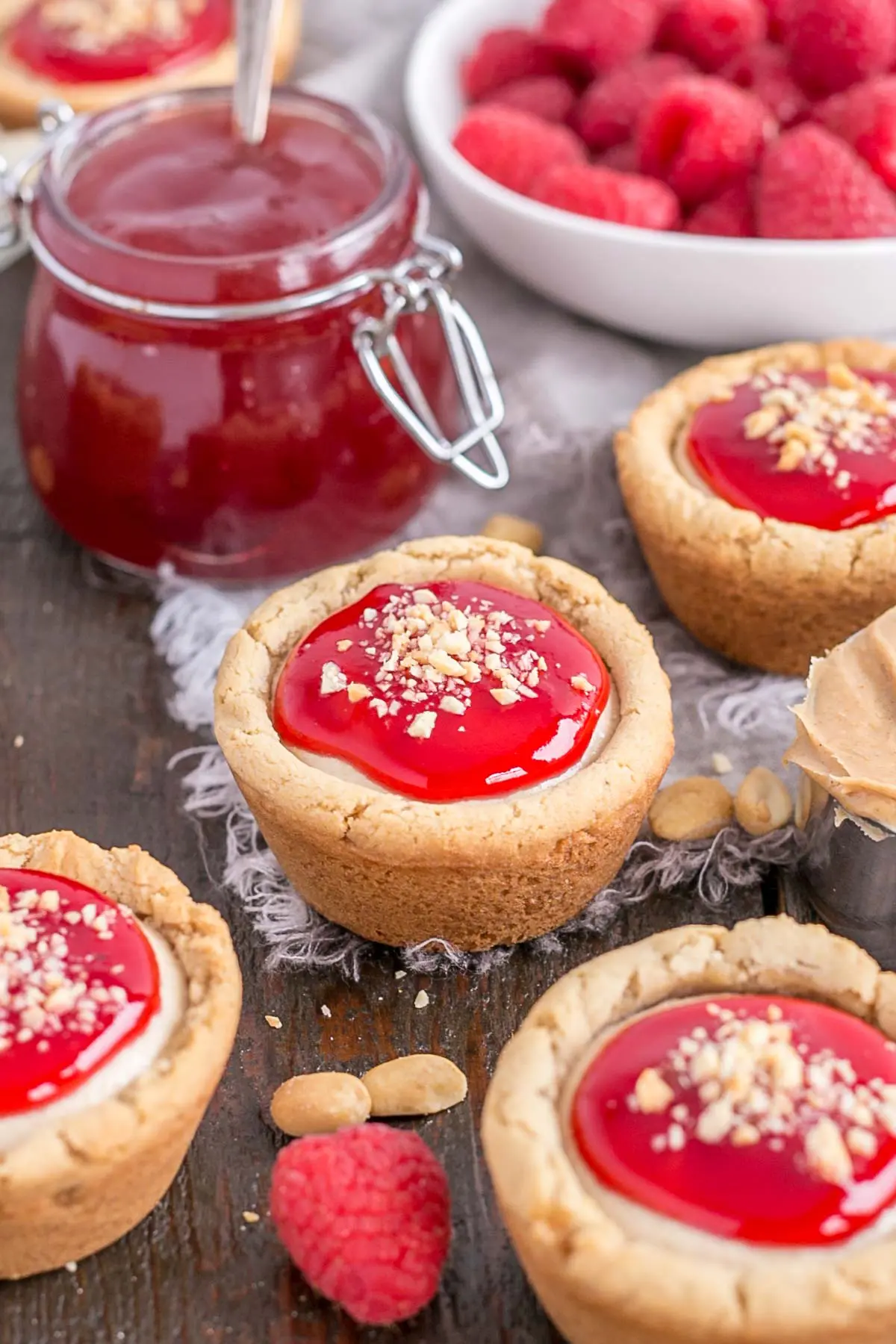 Ryan says they are his second favorite now, the first being my S'mores Cookie Cups. That is seriously high praise! Those s'mores ones were deadly and these peanut butter & jelly ones have definitely earned their place in my top three (along with the S'mores Cookie Cups and the Eggnog Cheesecake Cookie Cups).
As with all of my cookie cups, these are also really easy to make. The base for these peanut butter & jelly cookie cups is a good old peanut butter cookie. I had forgotten how good peanut butter cookies can be! I filled them with a little bit of seedless raspberry jam (though you can use any jam you like), added some peanut butter mousse on top of that, and topped it off with a more jam and chopped peanuts.
These Peanut Butter & Jelly Cookie Cups are seriously SO good. They taste just like a peanut butter & jelly sandwich! But better, because they're a dessert :).
I hope you love them as much as we do!
Notes & tips for this Peanut Butter & Jelly Cookie Cups:
You can use any type of jam you like — I prefer seedless raspberry, but any will work, seeded or not.
Do not use natural peanut butter in either the cookie or the filling. It has a much higher oil content and will affect the recipes.
These freeze very well! Store in fridge for up to 5 days or in freezer (in an airtight container) for 1-2 months.
Best served cold, out of the fridge.
Peanut Butter & Jelly Cookie Cups
Take a lunchbox classic to the next level with these surprisingly easy Peanut Butter & Jelly Cookie Cups!
Ingredients
Peanut Butter Cookie Cups:
Peanut Butter Mousse Filling:
Instructions
Peanut Butter Cookie Cups:
Preheat oven to 350°F. Spray a regular sized muffin tins with cooking spray.


Whisk together flour, baking soda, and salt, set aside.

Beat butter and peanut butter until smooth.

Add sugars and beat on med-high until pale and fluffy (approx. 2-3mins). Reduce speed and add egg and vanilla. Beat until combined.

Add flour mixture and mix until just combined.

Using a large cookie scoop (3 Tbsp), scoop dough into muffin tins, press down to flatten slightly.

Bake for 10-12 mins or until lightly browned and mostly set.

Remove from oven and immediately use a small jar or container to press firmly down in the center to create a well. Cool in pans for 10 mins, then place on wire rack to cool completely.
Peanut Butter Mousse:
Whip heavy cream until stiff peaks (ideally with a cold whisk and in a cold bowl).

In a separate bowl, beat cream cheese and sugar until smooth. Add peanut butter and mix until smooth.

Add whipped cream to the peanut butter mixture 1/2 cup at a time and beat until combined.
Assembly:
In a microwave safe bowl, heat raspberry jam to thin out. 20 second intervals. Spoon 1 to 1 1/2 tsp of raspberry jam into each cookie cup. Chill for 20mins.

Pipe peanut butter mousse on top of raspberry jam. Refrigerate until set (approx. 2 hours).

Top with additional raspberry jam and chopped peanuts if desired.

Serve cold and eat within 2-3 days. Or freeze for up to 4 weeks.
Calories:
451
kcal
Carbohydrates:
63
g
Protein:
8
g
Fat:
19
g
Saturated Fat:
8
g
Cholesterol:
56
mg
Sodium:
306
mg
Potassium:
214
mg
Fiber:
1
g
Sugar:
39
g
Vitamin A:
460
IU
Vitamin C:
3
mg
Calcium:
45
mg
Iron:
1.5
mg
The nutritional information and metric conversions are calculated automatically. I cannot guarantee the accuracy of this data. If this is important to you, please verify with your favorite nutrition calculator and/or metric conversion tool.