These Snow Capped Gingersnaps are the perfect Christmas cookies! Chewy gingerbread cookies dipped in white chocolate and topped with crystallized ginger.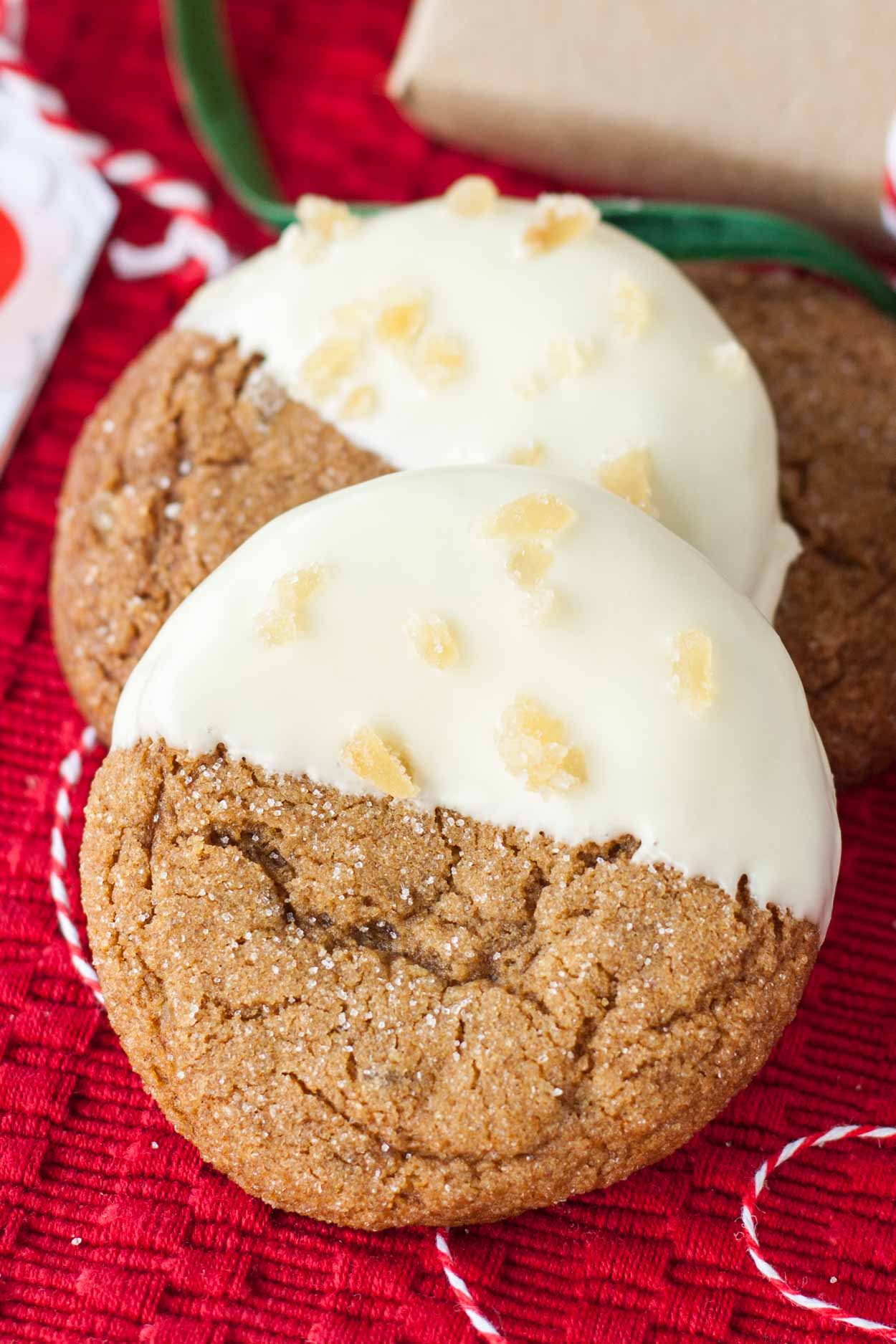 It's DECEMBER. Where did the year go?? I am so unprepared for the holidays it's not even funny. My sister was here for most of November so I did a whole lotta chatting and shopping (though none of it was actually Christmas shopping) and not nearly enough baking.
I have bought a total of TWO Christmas presents and I'm kinda freaking out about. I know it's only just December, and if I had even the slightest idea of what to get people it wouldn't be so bad, but that's definitely not the case…
ANYhow, these chewy gingerbread cookies here are my absolute favourite holiday cookies. I love them even more than the Dark Chocolate Candy Cane Cookies, which happen to be the most popular holiday recipe on my blog. These "Snow Capped" Gingersnaps though, they're the really winner.
Of course, you have to love gingerbread to love these cookies, and I do. My Gingerbread Cake is also a holiday favourite. Something warm and comforting about those spices and that molasses flavour. I just can't get enough.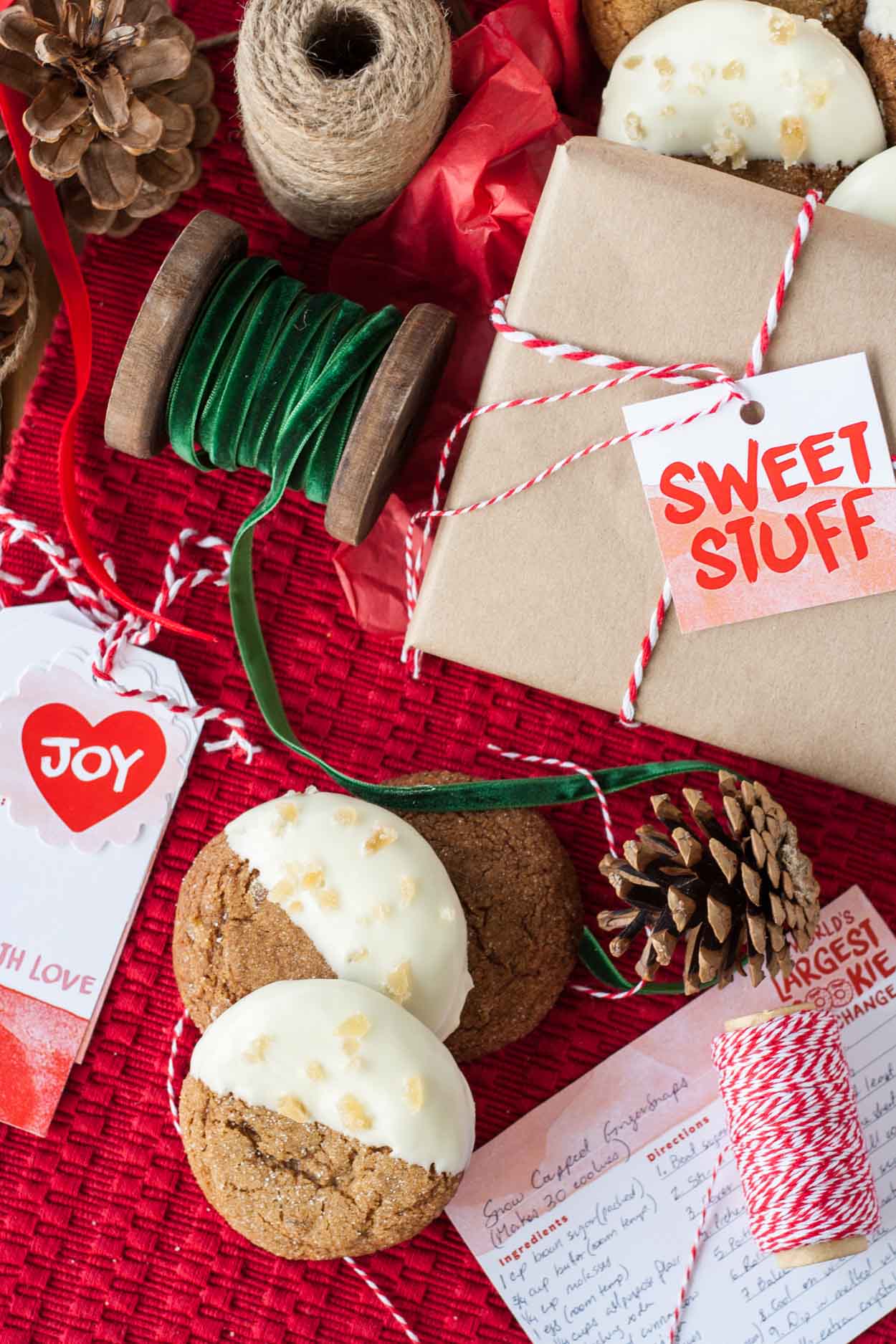 I adapted this recipe from an old Betty Crocker Christmas cookbook that I dug out of storage. I love holiday cookbooks, especially ones from the 80's and 90's and am so glad I kept this one!
You know what's not awesome though? Spending $15 on white chocolate (which I don't even like) and making TWO trips to the grocery store because it manages to seize TWICE when melting. No joke.
It must have had something to do with the butter. I specifically remember melting chocolate with butter at the same time in pastry school and it was perfectly fine, but for some reason I managed to royally screw it up, twice.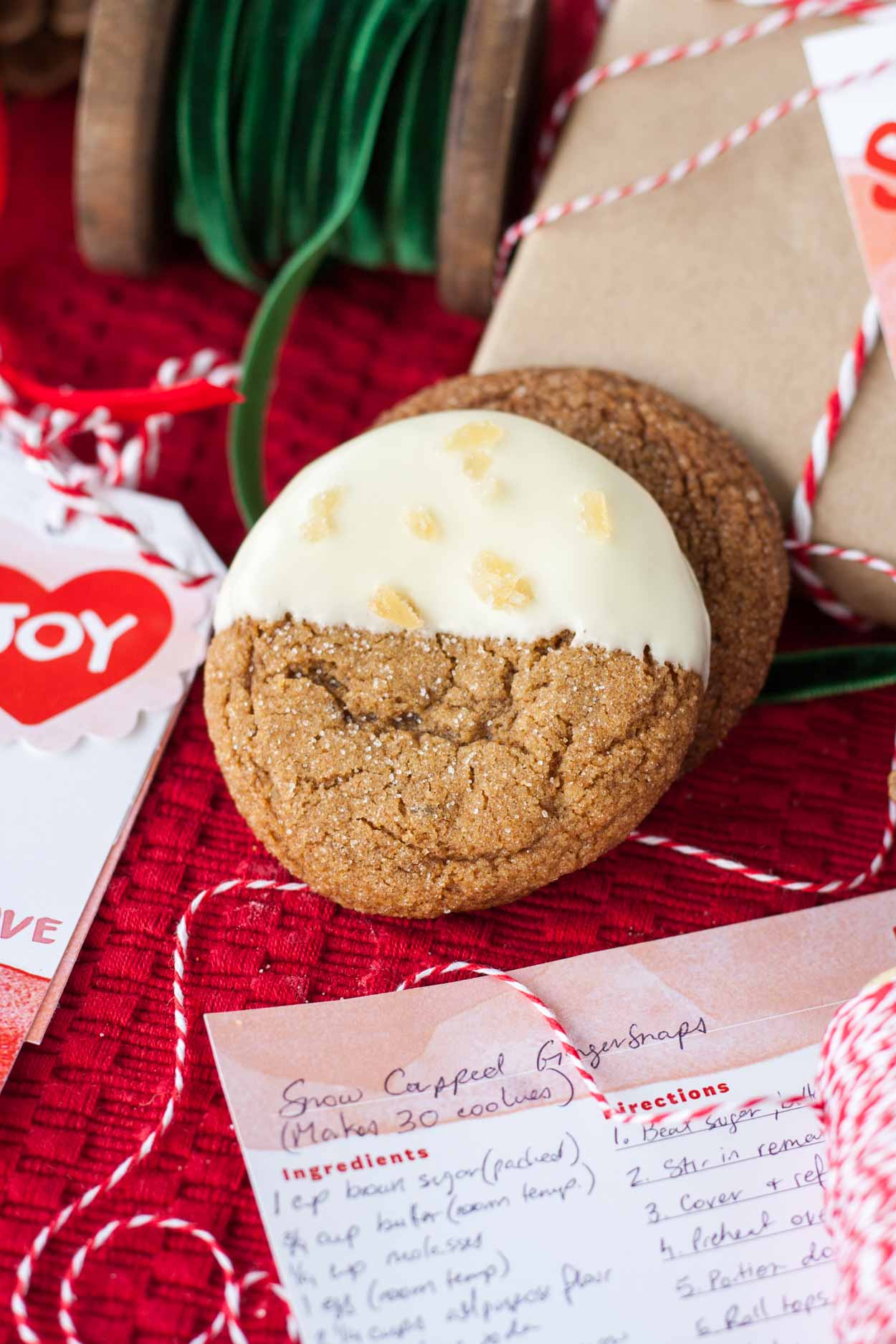 The first time, I tried melting it in the microwave. Mind you, the white chocolate I was using was over 5 years old (did I mention I don't like white chocolate?), so I assumed that was the issue. After a trip to the store I tried again, this time in a bowl over a pot of simmering water in case the microwave was the issue. White chocolate and butter, seized.
Much cursing ensued. Like, a ridiculous amount. Cursing out the white chocolate that I hate so much. Ryan shouted some words of encouragement from his office, but did not dare set foot in the kitchen.
Thankfully the store is within walking distance, so I stormed off. Again. The final time, I opted to use shortening with the chocolate rather than butter, and it worked perfectly. So, whatever, I don't know what the issue was exactly, but I won't be doing that again. I should note that the recipe actually did call for shortening with the chocolate, but I don't like to use it, so I tried it with butter.
I'm not exactly sure why the shortening was even needed to tell you the truth, maybe to help add shine? No idea. I am clearly not an expert in melted chocolate.
I did a few versions of these cookies, some with white chocolate & crystallized ginger, some with only white chocolate, and some just plain (because I didn't want to eat the white chocolate ones). WELL, get this. The white chocolate ones are totally my favourite. The white chocolate goes so well with the gingerbread flavour! Like, amazingly well. It's SO. GOOD.
In hindsight, I wished I had dipped them all, but alas, next time. And there will definitely be a next time. The white chocolate is the perfect pairing for these chewy ginger cookies, and the crystallized ginger adds a delicious hit of spiciness.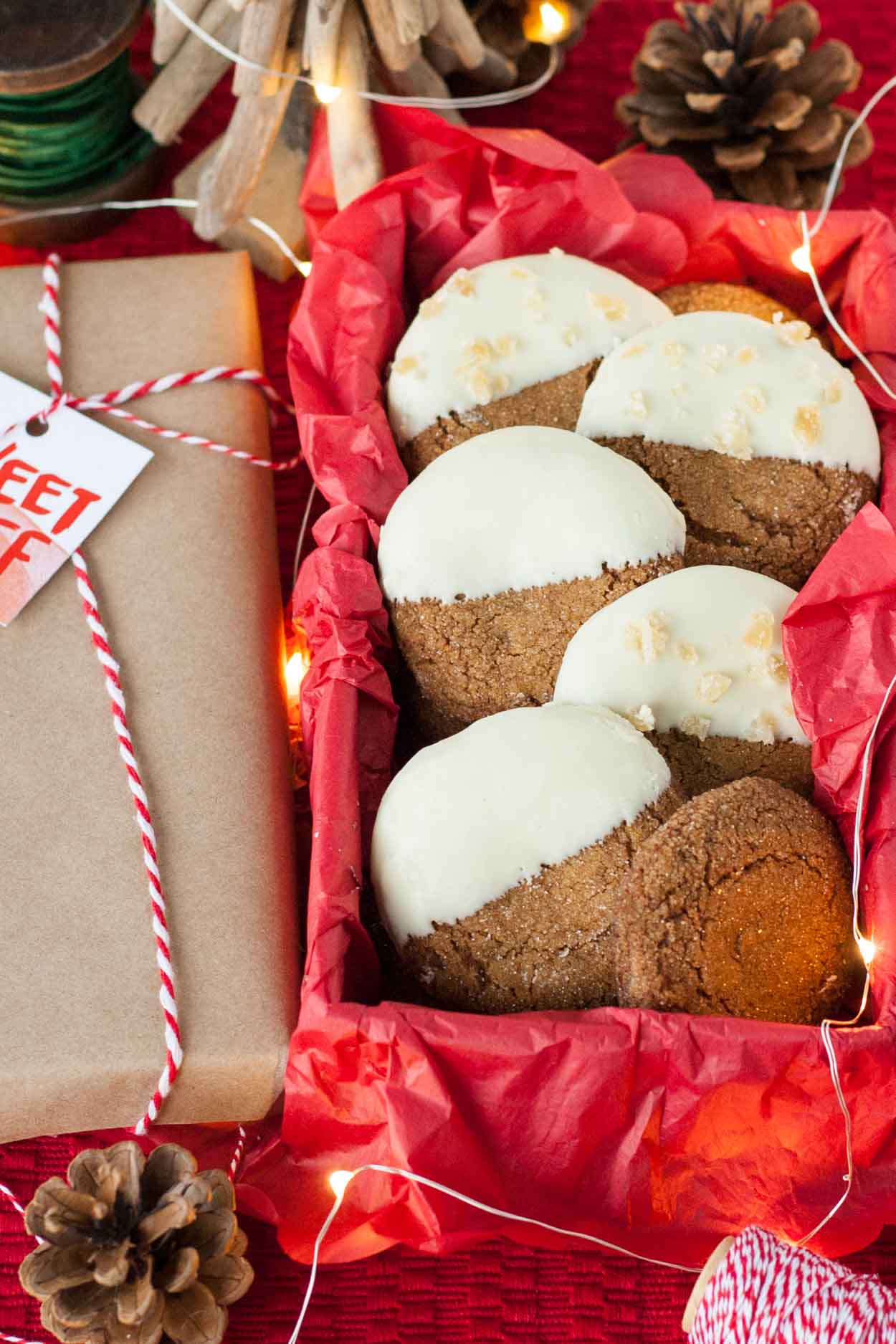 These Snow Capped Gingersnaps are perfect holiday cookie. If you're going to be doing some holiday baking or taking part in a cookie exchange, they are sure to be a hit!!
Originally published on November 8, 2015
Snow Capped Gingersnaps
These Snow Capped Gingersnaps are the perfect Christmas cookies! Chewy gingerbread cookies dipped in white chocolate and topped with crystallized ginger.
Instructions
Whisk flour, baking soda, cinnamon, ginger, cloves, and salt in a medium bowl.

In a separate bowl, beat butter, molasses, and brown sugar till pale and fluffy (I use my stand mixer). Add egg and beat until combined.

Reduce speed to low and add in dry ingredients. Fold in crystallized ginger.

Cover and refrigerate at least 1 hour.

Preheat oven to 375F and line baking sheets with parchment or silicone mats.

Portion dough using a small cookie scoop. Dip tops into granulated sugar and place on baking sheet at least 3" apart. I did 8 cookies per sheet.

Bake for 10-12 minutes until cracks form. Cool on cookie sheet for 10 mins then transfer to wire rack to cool completely.

Dip in melted white chocolate, place on parchment lined baking sheet, and top with extra crystallized ginger if desired. Let set until coating is firm.
Calories:
211
kcal
Carbohydrates:
29
g
Protein:
2
g
Fat:
9
g
Saturated Fat:
5
g
Cholesterol:
21
mg
Sodium:
123
mg
Potassium:
107
mg
Sugar:
22
g
Vitamin A:
155
IU
Vitamin C:
0.1
mg
Calcium:
46
mg
Iron:
0.7
mg
The nutritional information and metric conversions are calculated automatically. I cannot guarantee the accuracy of this data. If this important to you, please verify with your favourite nutrition calculator and/or metric conversion tool.