This Mint Chocolate Chip Cake is a mint lover's dream! Layers of decadent chocolate cake topped with a silky mint chip buttercream.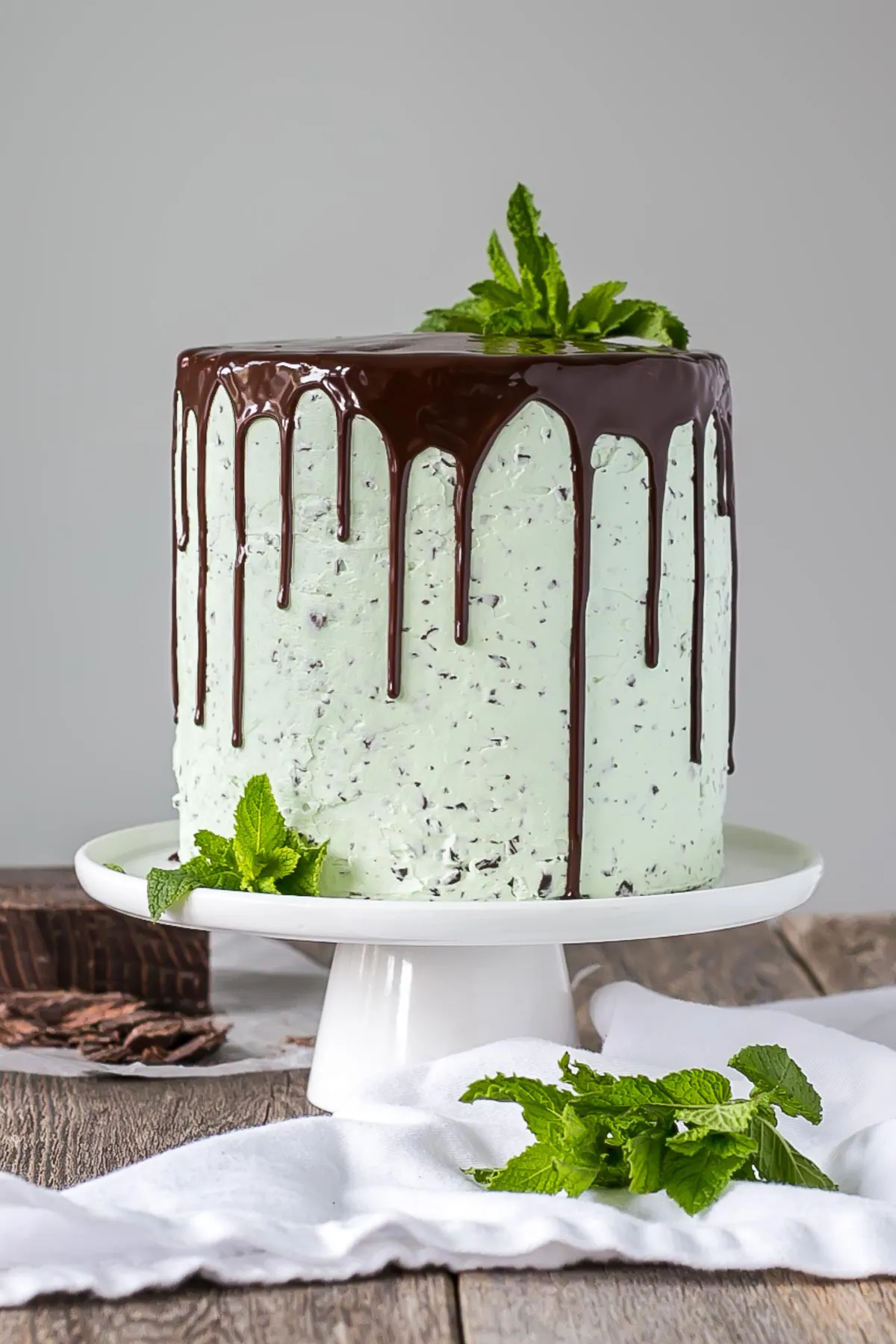 Did you know that there is only one Olive Garden restaurant in Vancouver? It's not really even in Vancouver, it's in a suburb called Langley about 40+ mins outside of the city. Further research tells me there is actually only ONE Olive Garden in all of BC. Meanwhile, just south of the border it seems like there's one every few blocks.
The one location we do have is about 20 mins from where we live, and always has at least a 1 hour wait. With such high demand, you think they'd expand to more locations?! So, I think I've only been to Olive Garden two or three times in my entire life. Sad, right??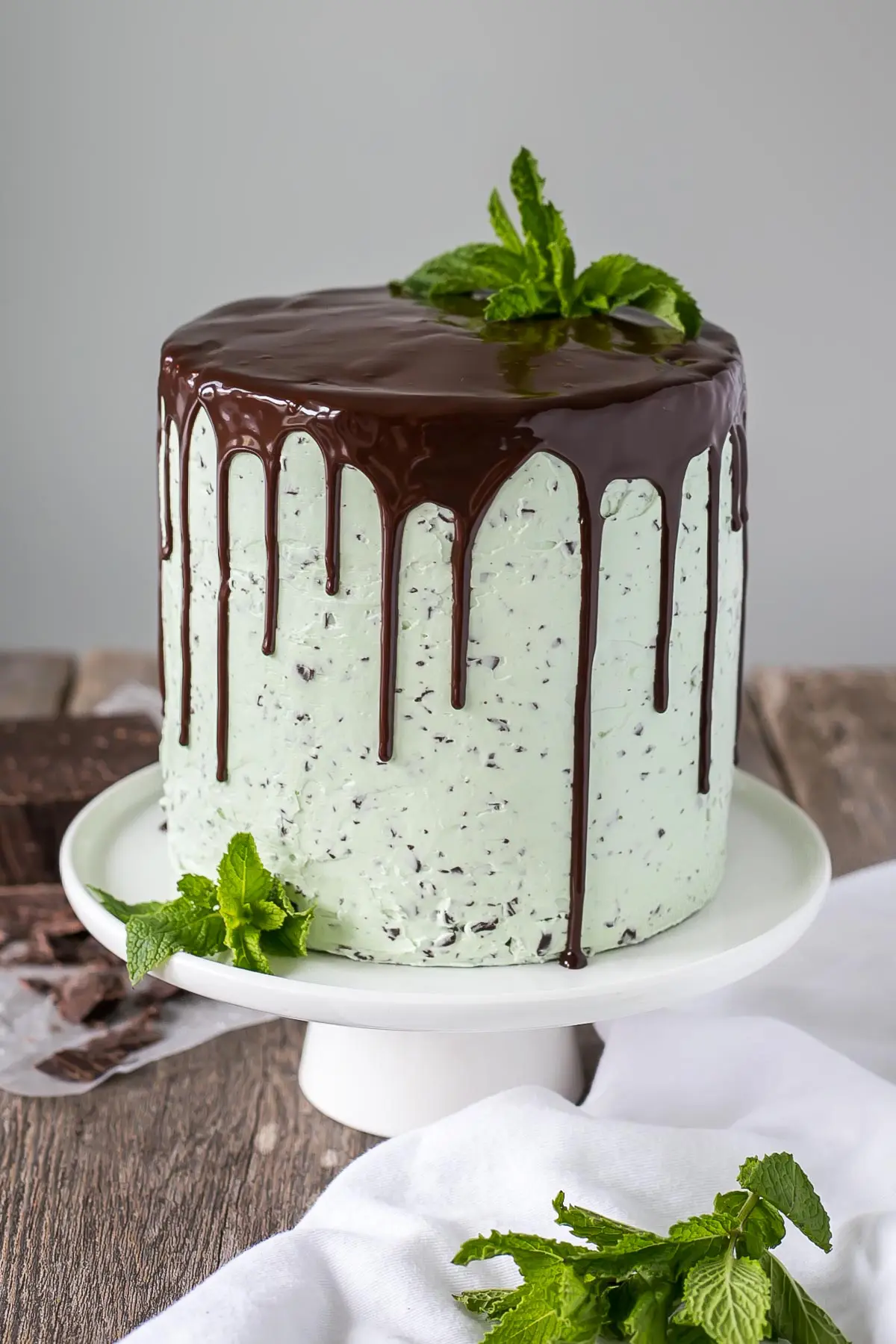 One of these times was actually just a few weeks ago, when Ryan and I spontaneously decided to go there for a late dinner. Very out of character for us — both the spontaneous Olive Garden trip and the late dinner. The wait was only 45 mins this time. It was worth it though — we got a great table and the food was delicious. Those breadsticks and dipping sauces (five cheese marinara, omg yum) and I finally got to try the infamous Zuppa Toscana. Maybe only infamous to me though. As a food blogger I see that recipe everywhere. Now I see why. I could happily have had free refills of that as my dinner and been content. Well, that and the breadsticks.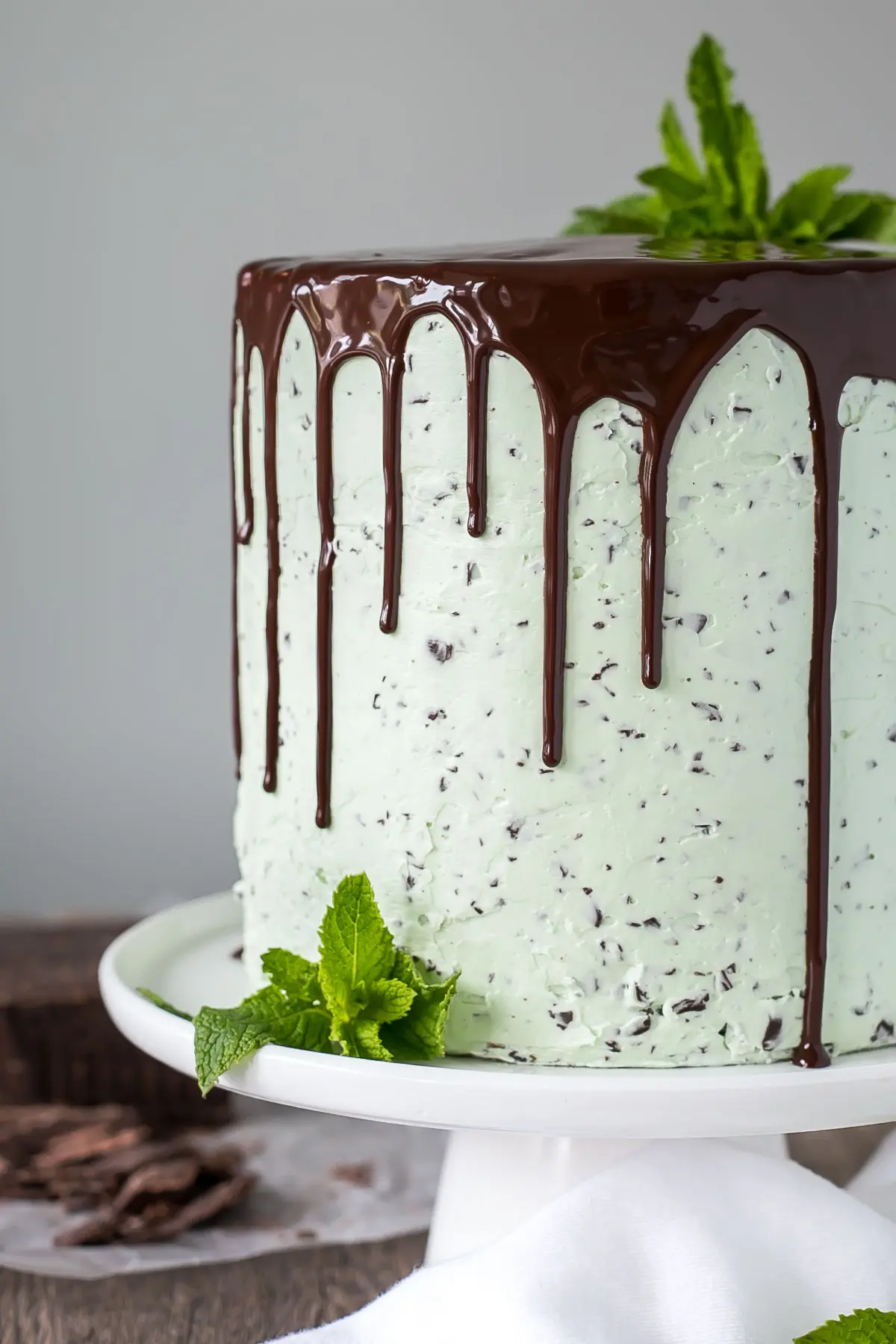 Anyhow, you're probably wondering where I'm going with this, and what on earth it has to do with this Mint Chocolate Chip Cake. Well, I had forgotten that at the end of the meal they give you these Andes Chocolate Mints and omg they are GOOD. I love the combo of mint and chocolate (hello After Eights ♥), but these mints are honestly the best. The BEST. Someone tell me where I can get these in Canada! I was hoping I'd find a giant tub of them in Costco, but no luck. I need these in my life, and my once-in-a-blue-moon trips to the Olive Garden aren't going to cut it.
So, inspired by the delicious Andes Chocolate Mints, and in an attempt to recreate this flavor and try to satisfy my craving, I bring you this Mint Chocolate Chip Cake!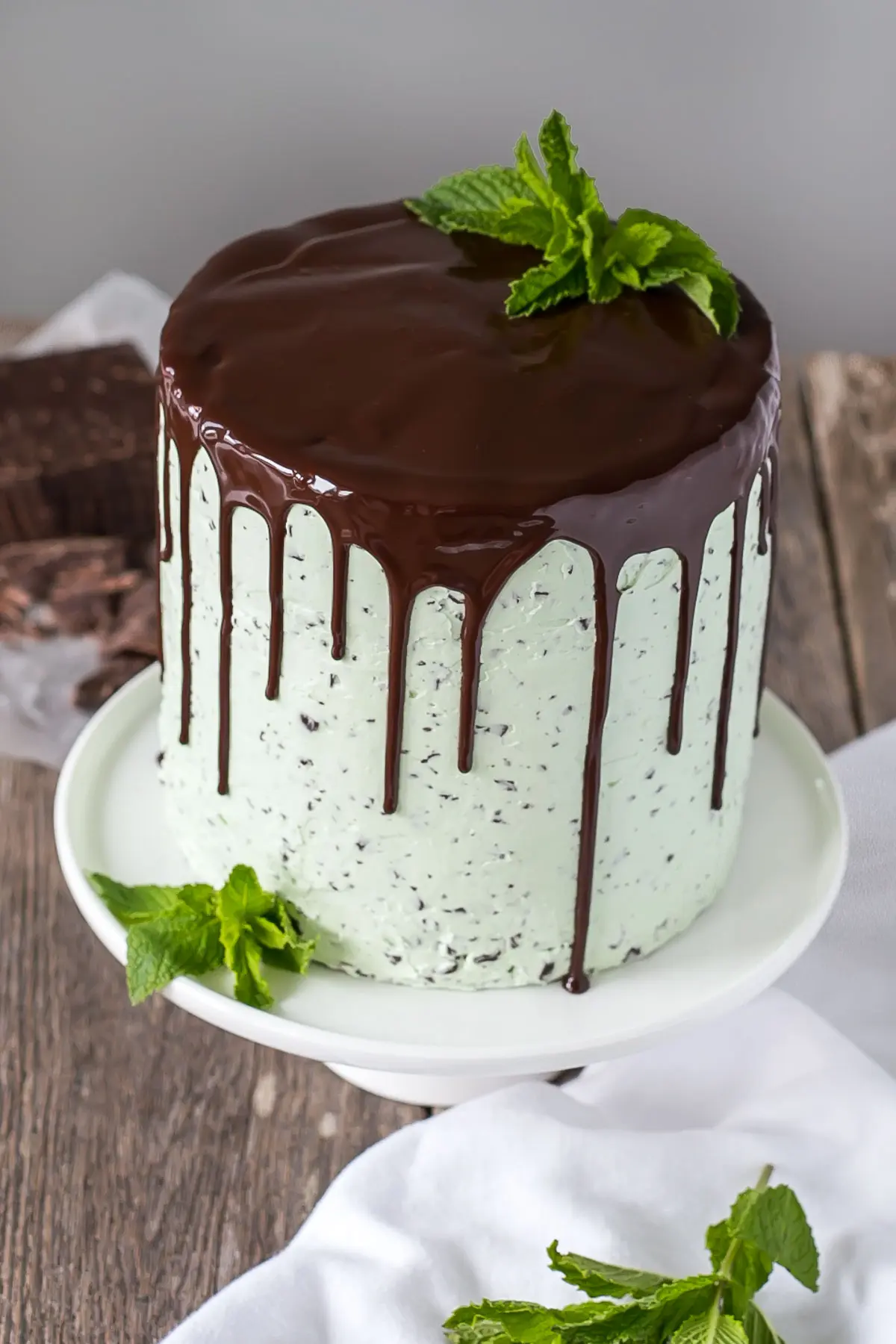 For the cake layers, I used my favorite chocolate cake recipe. It truly is the best if you like a rich, chocolatey flavor. I debated putting mint extract into the actual cake batter, but I stuck with vanilla. I wanted the frosting to contrast with the cake, and didn't want the mint flavor to be too overpowering.
The frosting is a classic Swiss meringue buttercream but with mint extract instead of vanilla, some green color gel, and chopped chocolate added in. I recommend using good quality chocolate for the chips and the ganache. It really makes a difference! I use Callebaut, but you can use any good quality chocolate that's available to you. If you're limited to a grocery store, Lindt is your best bet.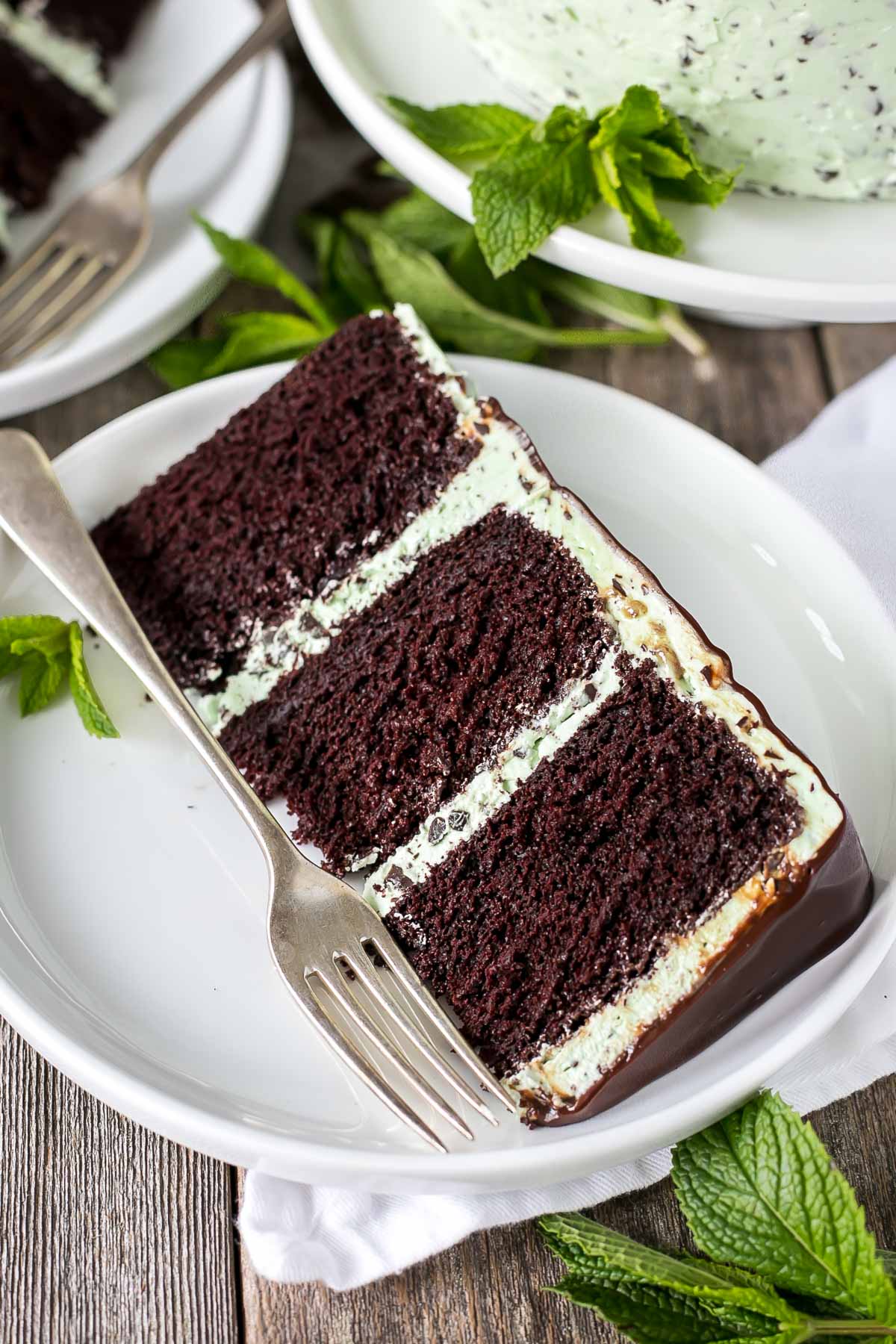 To me, this cake tastes just like those delicious Andes Chocolate Mints, but in cake form. A worthy substitute until I can get my hands on some. If you love mint chocolate candy, ice cream, or any other form, you will love this cake!
Tips for this Mint Chocolate Chip Cake:
To enhance the chocolate flavor of the cake, you can use strong hot coffee instead of hot water.
Use good quality chocolate if you can. I use Callebaut, but Lindt will do if it's easily available to you.
I used Kelly Green color gel to color the frosting.
For the ganache, I let mine set overnight (with plastic wrap placed directly on the surface). It will be too thick at this point, so I microwave it for 5-10 secs and stir it until it's the right consistency.
The drip technique works best on a chilled cake so that the drips set quickly.
Be sure to check my Swiss Meringue Buttercream post for tips and troubleshooting.
To help ensure your cake layers bake up nice and flat, see my Flat Top Cakes post.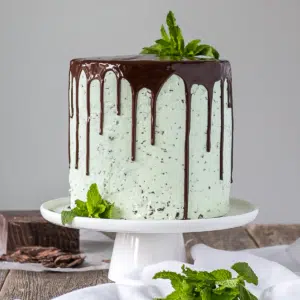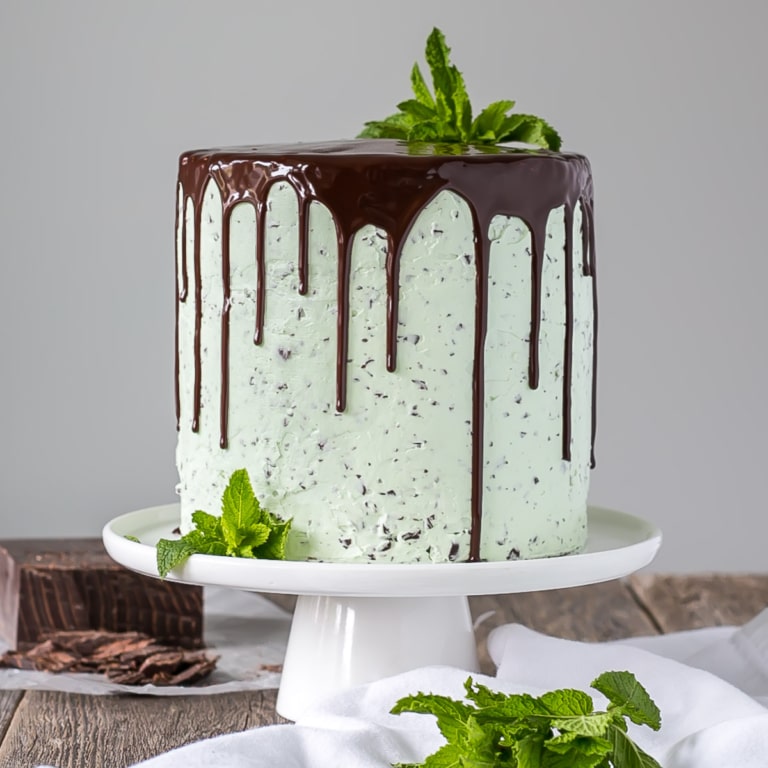 Mint Chocolate Chip Cake
This Mint Chocolate Chip Cake is a mint lover's dream! Layers of decadent chocolate cake topped with a silky mint chip buttercream.

Instructions
Cake:
Preheat oven to 350F, grease three 6″ round baking pans and dust with cocoa powder. Line bottoms with parchment.

Place all dry ingredients into the bowl of a stand mixer fitted with a paddle attachment. Stir to combine.

In a medium bowl whisk all wet ingredients (pour hot water in slowly as not to cook the eggs).

Add wet ingredients to dry and mix on medium for 2-3 mins. Batter will be very thin.

Pour evenly into prepared pans. I used a

kitchen scale

to ensure the batter is evenly distributed.

Bake until a cake tester comes out mostly clean. A total of 30-35mins.

Cool 10 minutes in the pans then turn out onto a wire rack to cool completely.
Mint Chip Buttercream:
Place egg whites and sugar into the bowl of a stand mixer, whisk until combined.*

Place bowl over a hot water bath on the stove and whisk constantly until the mixture is no longer grainy to the touch (approx. 3mins).

Place bowl on your stand mixer and whisk on med-high until the meringue is stiff and cooled (the bowl is no longer warm to the touch — approx. 5-10mins).

Switch to paddle attachment. Slowly add cubed butter and mix until smooth. Add peppermint extract.

Stop the mixer. Dip a toothpick into the green color gel then dip it into the frosting. Whip until smooth and evenly green. Add more color gel if desired.

Fold in chopped chocolate.
Ganache:
Place chopped chocolate and cream into a microwave safe bowl. Stir to combine. Microwave for 20 seconds, stir. Microwave in 10 second intervals, stirring in between, until ganache is smooth and silky. Set aside to cool completely and thicken slightly before using on cake. See notes.
Assembly:
Place one layer of cake on a cake stand or serving dish. Top with about 2/3 cup buttercream. Repeat with remaining layers. Frost and smooth the outside with a thin crumb coat. Chill for 20mins.

Frost the top and sides of the cake.

Using a small spoon, place dollops of ganache around the top edges of the cooled cake, allowing some to drip down. Fill in the top of the cake with more ganache and spread evenly with an offset spatula.***

Top with fresh mint if desired.
Notes
* Ensure there is NO trace of egg yolks in your whites and that your mixer bowl and whisk is completely grease free or your meringue won't stiffen.
** The buttercream may look like it's curdled at some point. Keep mixing until it is completely smooth.
*** You may have some ganache left over.
For the ganache, I let mine set overnight (with plastic wrap placed directly on the surface). It will be too thick at this point, so I microwave it for 5-10 secs and stir it until it's the right consistency.
Calories:
623
kcal
Carbohydrates:
71
g
Protein:
6
g
Fat:
36
g
Saturated Fat:
23
g
Cholesterol:
100
mg
Sodium:
411
mg
Potassium:
289
mg
Fiber:
3
g
Sugar:
53
g
Vitamin A:
850
IU
Calcium:
69
mg
Iron:
3.1
mg
The nutritional information and metric conversions are calculated automatically. I cannot guarantee the accuracy of this data. If this is important to you, please verify with your favorite nutrition calculator and/or metric conversion tool.