A European spin on a holiday classic! These traditional Polish gingerbread cookies use a sticky sweet substitute instead of the conventional molasses.
I've been inundating you with holiday cookies, and my beloved cakes have taken a seat on the back burner. Fear not! It's #BundtBakers week, so I have a killer Bundt coming for you in a few days, and another holiday cake planned if I can get my act together to make it in time. Until then, yes, more cookies! My friend Amanda over at The Cinnamon Scrolls reached out to a bunch of Canadian Food Bloggers and suggested it might be cool if we all do a post on a treat that was meaningful to us when growing up. For me, that was these traditional Polish gingerbread cookies.
Christmas time was the best when we were growing up. We never had a ton of money, but you'd never know it from the effort my parents made to make sure the holidays were special for my sister and I. Nothing but fond memories. Though I do feel slightly gipped from not getting the traditional 12 (!!) course Polish Christmas dinner. Ours was a more simplified (but delicious) 2 course, and still is to this day.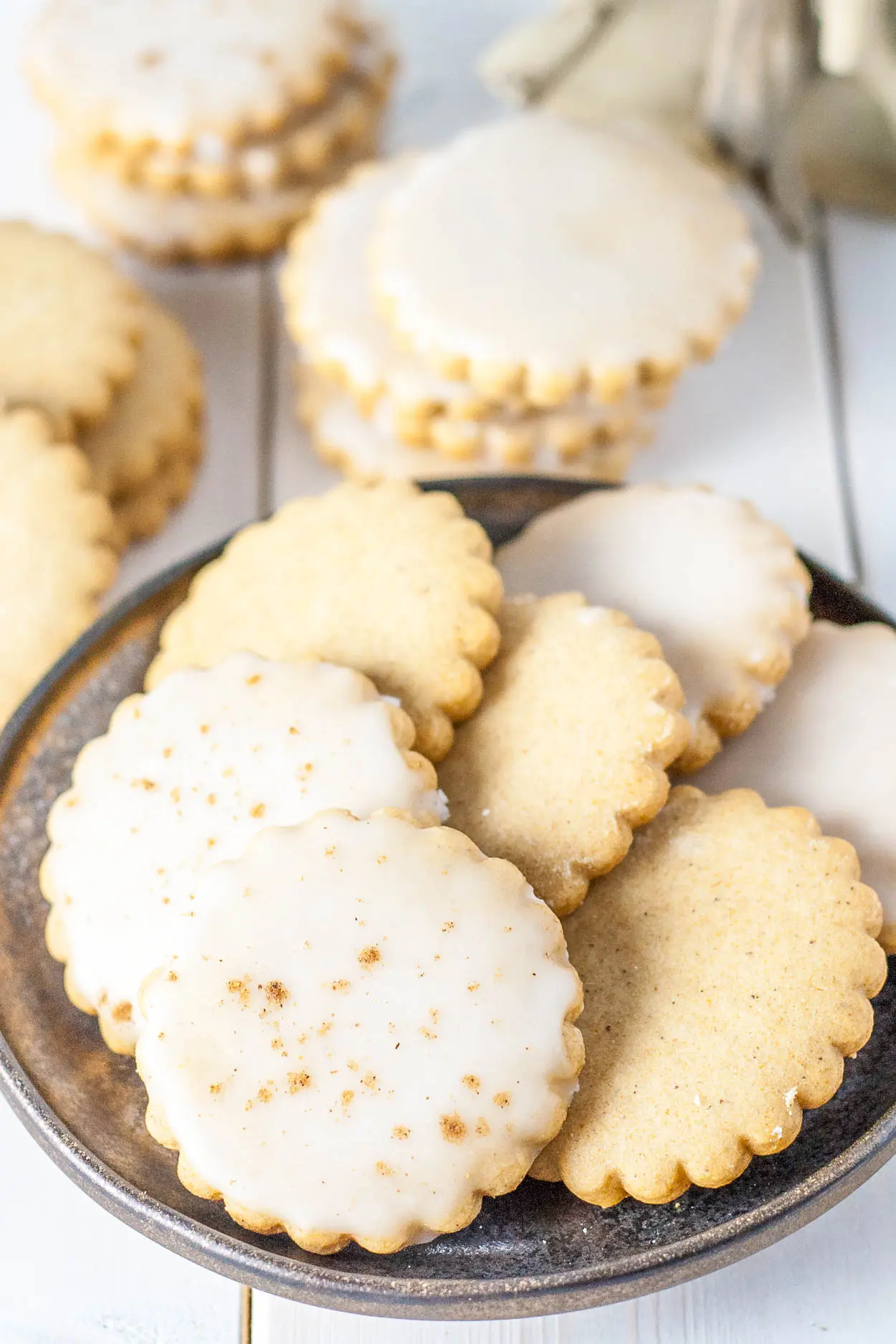 I actually don't think I've ever had the homemade version of these cookies. Despite being store-bought, I always looked forward to them around the holidays. Naturally, I wanted to try to recreate these for this collaboration.
The recipe is from a Polish baking book my mom got for me recently. The method is simple, but unique (aka not like any cookies I've made before). It starts with heating up some honey, powdered sugar, and gingerbread spice till it's all combined/dissolved, then mixing it with the rest of the ingredients. I didn't even know gingerbread spice was a thing, and I couldn't find any in stores, so I had to make my own. The recipe actually called for half a packet of gingerbread spice. Seriously. I had to Google these mysterious 'packets' to get an idea of how much they contained!
I did have a bit of trouble with the dough. Maybe I didn't let the honey mixture cool down enough, but the dough was way too soft — more of a scoopable dough than the rolling out kind. I ended up adding more flour and chilling it to get it to a working consistency (recipe below is according to my changes).
These cookies are delicious, but they're also kinda weird — 1) they don't use molasses like most gingerbread cookies, and 2) they're actually not very good straight out of the oven. They need to mature for days. I put mine in an airtight container and let them sit on the counter. So if you can resist the temptation, they will soften up after about 3-4 days and become amazingly delicious!
Traditional Polish Gingerbread Cookies (Pierniczki Tradycyjne)
A European spin on a holiday classic! These traditional Polish gingerbread cookies use a sticky sweet substitute instead of the conventional molasses.
Instructions
Cookies:
Preheat oven to 325F (160C) and line baking sheets with parchment or silicone mats.

In a small saucepan, heat honey, powdered sugar, and gingerbread spice until combined and sugar is dissolved. Stir in margarine. Set aside and let cool completely.

In a medium bowl, whisk flour and baking soda. Add egg and cooled honey mixture and stir until combined.

Turn out onto a well floured surface and knead until smooth. (If dough is too soft, either chill in the fridge for 30mins or add a bit more flour. I did both.)

Roll dough out to 0.5cm thickness. Cut shapes using a 2 1/2″ cookie cutter. Dust cookie cutter in flour as needed to prevent sticking.

Transfer cookies to baking sheet (I did 15 cookies per sheet). Chill for 15-30mins if desired. (Not necessary and I didn't do this with my first batch, but I found that the cookies help their shapes slightly better when chilled.)

Bake for 10-15mins or until edges start to brown slightly. Cool 5 mins on baking sheet and transfer to a wire rack to cool completely.

Once cooled, dip cookies into glaze and allow to set.
Notes
*IMPORTANT NOTE: The cookies will be very hard and (honestly) not very good the firs couple of days. They need to "mature" and will soften as they age. They will be at their best 3-4 days after baking.
Adapted from Domowe Wypieki.
Calories:
65
kcal
Carbohydrates:
13
g
Fat:
1
g
Cholesterol:
1
mg
Sodium:
25
mg
Potassium:
8
mg
Sugar:
8
g
Vitamin A:
45
IU
Calcium:
2
mg
Iron:
0.3
mg
The nutritional information and metric conversions are calculated automatically. I cannot guarantee the accuracy of this data. If this is important to you, please verify with your favorite nutrition calculator and/or metric conversion tool.
Check out the sweet treats from my Canadian Blogger friends below!
Apple Cider Cake with Salted Caramel Sauce by One Tough Cookie
Butterscotch Peanut Butter Marshmallow Squares by My Kitchen Love
Caribbean Sorrel by Chew Street
Chocolate Truffle Hedgehogs by Cocoa Bean, The Vegetable
Coco-Kalikimaka Cookies by The Chewy Life
Crispy Chocolate Peanut Butter Bars by The Cinnamon Scrolls
Gingerbread Cake with Maple Whipped Cream (Vegan) by The Refreshanista
Gingerbread Cake with Warm Caramel Glaze by Eat, Live, & Play
Peppermint Chocolate Snowball Truffles by The Busy Baker
Vegan Caramel Popcorn by The Viet Vegan