Kick off apple season with this delicious Caramel Apple Cake! A spice cake made with diced apples, paired with a caramel buttercream, and caramel drizzle.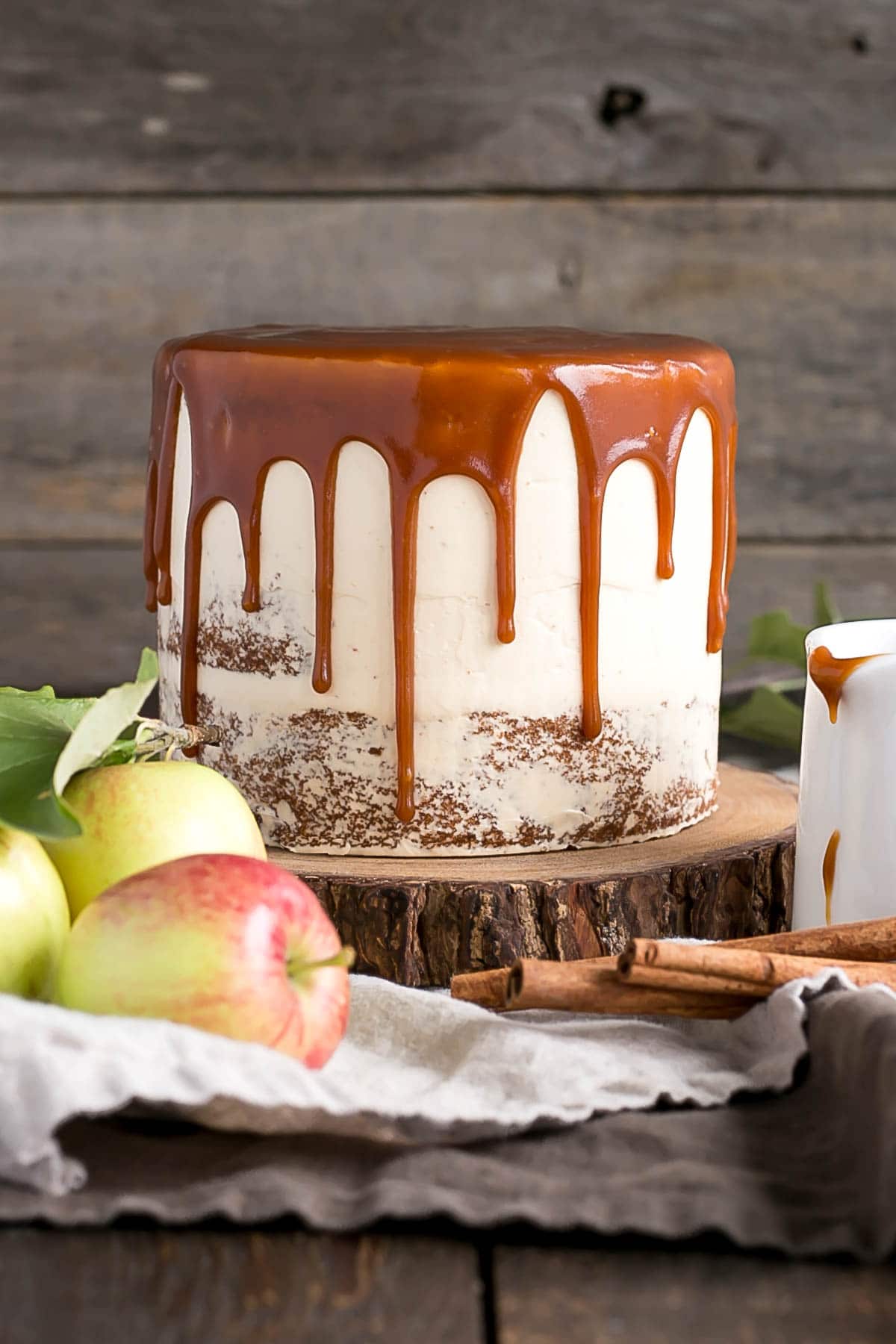 Know what my favorite thing ever is? Doing things twice. Even better if I'm redoing them because I did something stupid the first time, and that's exactly what happened with this Caramel Apple Cake.
I had to bake the damn cake layers twice because when I thought they were done, they actually weren't even close to done, but I took them out anyhow and they completely deflated and caved in. UGH.
I hate wasting things — time, ingredients (aka money), food, etc. So I trimmed the failed cake layers to even them out and stuck them in the freezer to be used for I don't know what, I don't know when.
I have issues throwing stuff out until the fridge/freezer situation gets so dire that I go in there to do a massive clean out and throw out anything I deem past its prime. I don't like to get to that point though.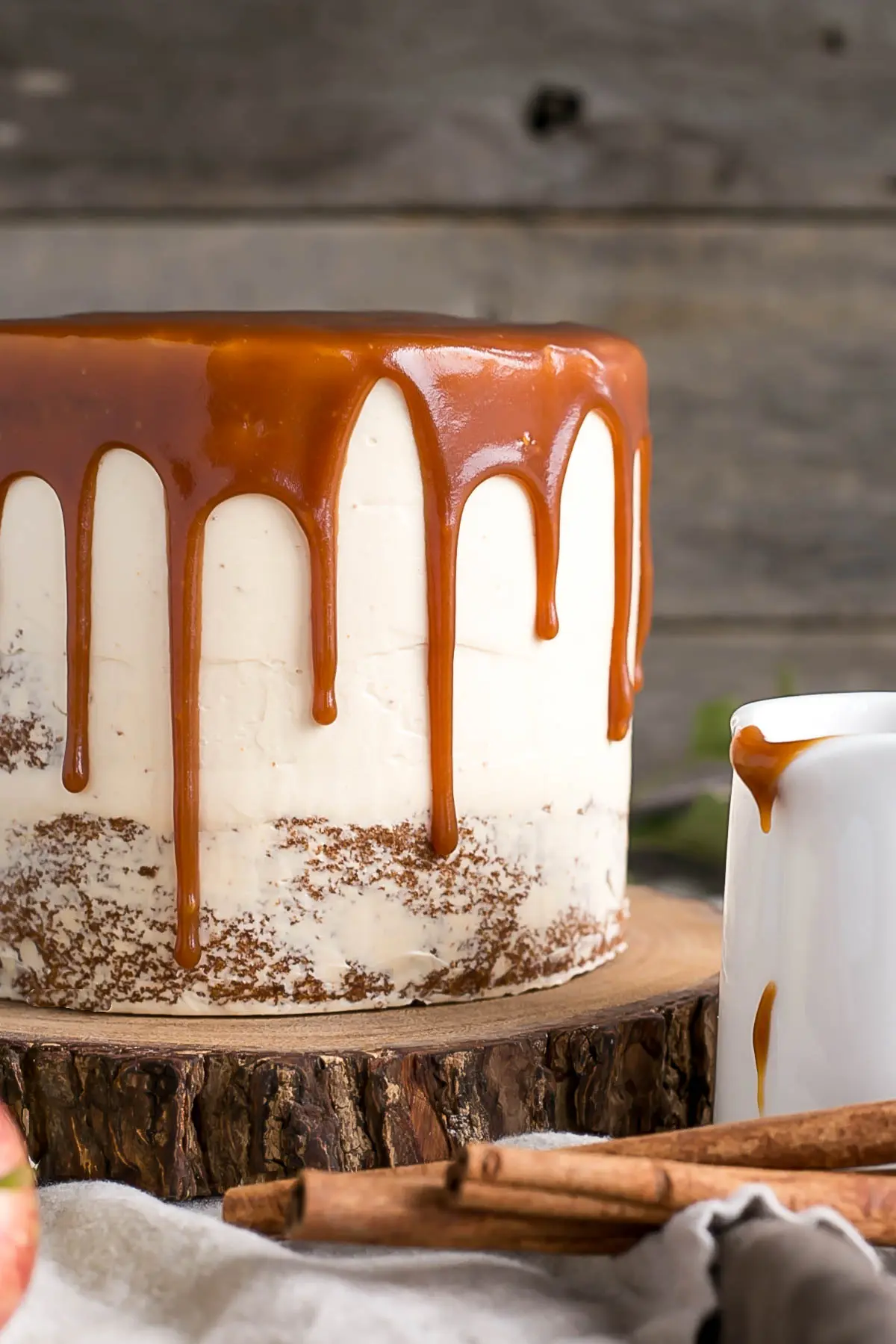 My second attempt at the cake layers went much better (I did tweak the recipe a tad though too), except that I overbaked them for fear of underbaking (lol).
Overbaked is better though — you can always save a drier cake with some simple syrup, but you can't serve people raw cake!
I've actually had a lot of troubles lately with premature cake removal, so I've decided to stop relying on skewers/cake testers to test if the cake layers are done. Often times I'll poke a skewer in there too early and the cake layer will collapse a bit. It's soul crushing.
Sometimes the skewer will come out clean, but they aren't actually done! Now, my first test will be to gently press the tops of the cake layers with my finger. If they spring back, they're done. If it leaves a bit of an indent, they're not.
Baking is stressful, guys.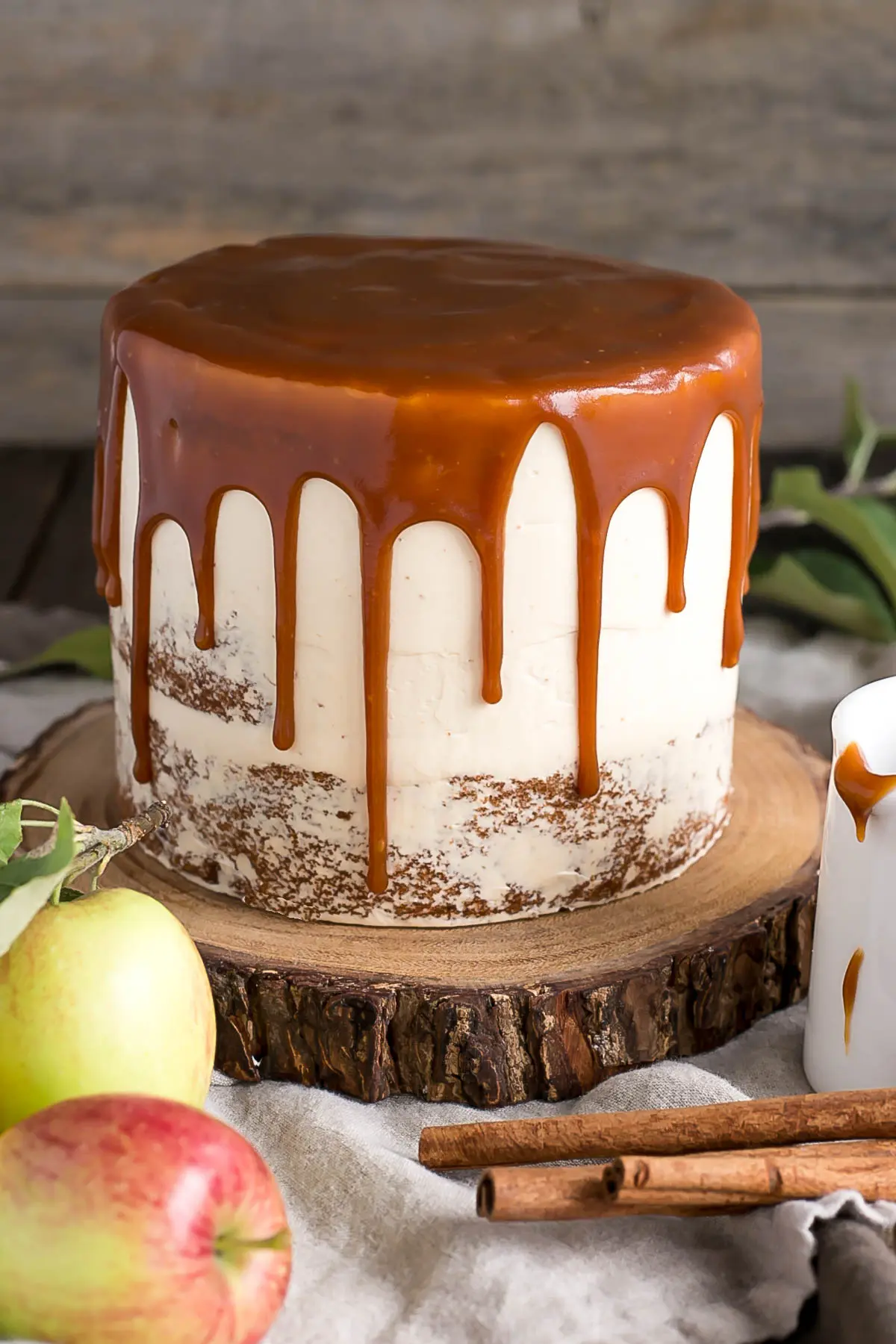 How to make this Apple Cake
Ok, let's talk about this Caramel Apple Cake because it is the perfect cake for Fall. Especially early Fall, where we are now. It's the start of apple season!
We're lucky to have a lot of amazing local apples grown in the BC interior. I haven't seen a lot of them at the markets yet, but they should be popping up soon.
My very favorite apples are Honeycrisp. They are crisp, juicy, and the perfect mix of sweet/tart. Actually, if I'm being honest here, my absolute fave are Macintosh, but they're not the best for baking (too soft).
I actually can't remember what kind of apples I used for this cake. It wasn't Honeycrisp, because I couldn't find any, and it wasn't Granny Smith. Really though, you could use almost any kind of apple you like for this Caramel Apple Cake.
I chose to chop the apples into small chunks to get more of that flavor/texture, but you could also grate them if you like.
The perfect and pretty apples in the pictures are from my friend Sam at My Kitchen Love. She graciously offered to give me the last 3 apples from her apple tree so I would have some rustic apples for my photos.
I'm not kidding when I tell you I had 10 perfectly fine store-bought apples sitting on my counter ready to be used, but instead, I chose to drive 1 hour round trip in the pouring rain on the morning that I was meant to shoot this cake just to get these 3 precious apples.
Totally worth it. By the way, you must check out Sam's blog, her recipes are both stunning and delicious!
The caramel recipe that I used for this Caramel Apple Cake is my absolute favorite. I have a detailed tutorial on it here. There are easier ways to make a caramel, sure, but this one isn't that hard and it's totally worth it for a smooth, silky texture. I used this same recipe in my Turtles Cake. It's truly delicious!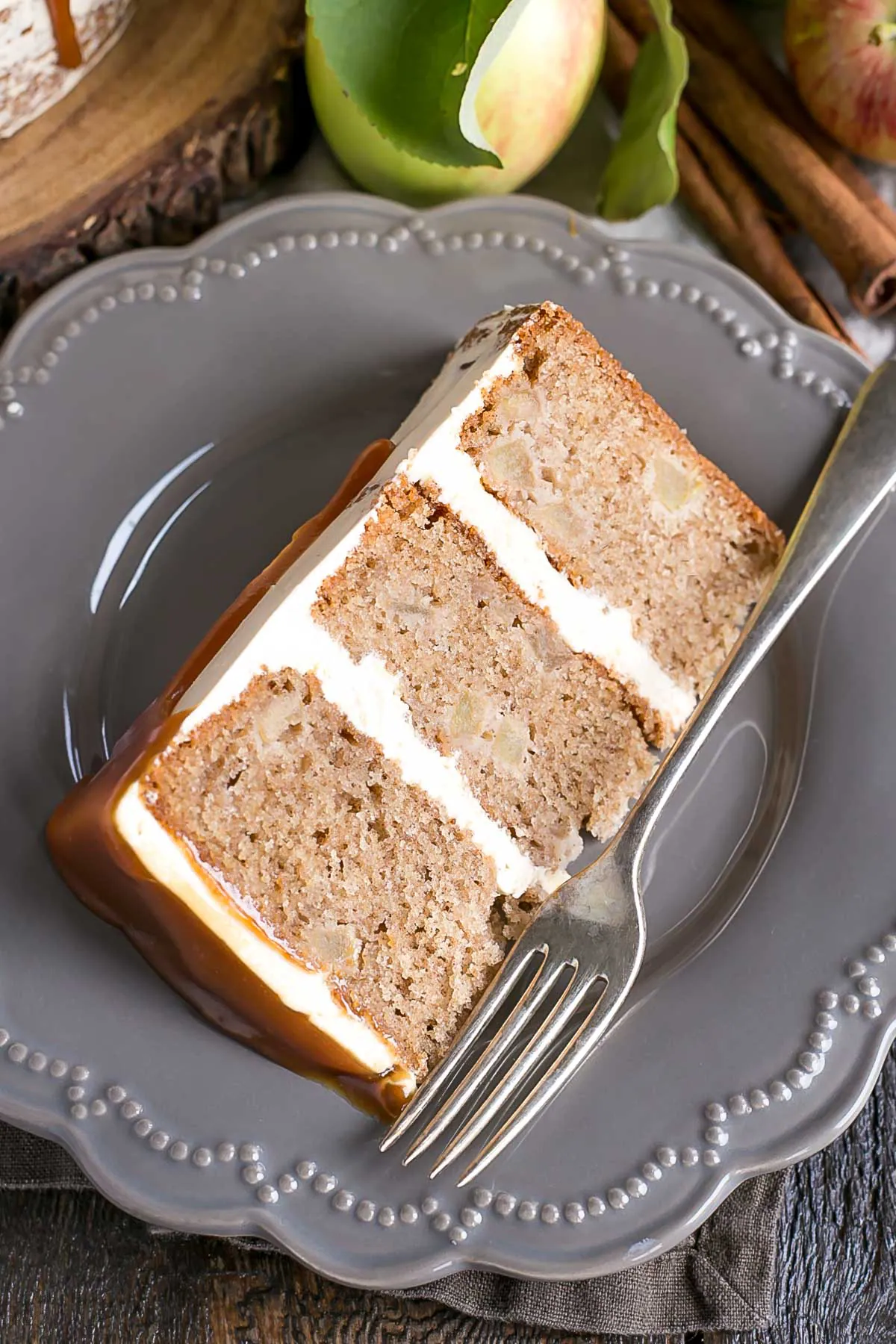 A simple Swiss meringue buttercream with caramel added into it is the perfect complement to this Caramel Apple Cake. The flavors go so well together.
If you'd like an additional hit of caramel, you can drizzle some onto the buttercream on each layer. You'll have enough to do that if you like.
I kept the decorating simple — a naked cake with a caramel drip. This is the perfect cake for Fall, and a great way to make use of all of those amazing apples!
Tips for this Apple Cake with Homemade Caramel:
The recipe as-is will also work in two 8″ pans. For three 8″ pans, 1.5x the recipe.
To make cupcakes, all you need to do is reduce the baking time — start checking at 15mins or so.
The cooled cake layers can be baked ahead of time, double wrapped in plastic wrap, and frozen for up to 3 months. Take out 2-3 hours before assembly.
The frosting can be placed in an airtight container and refrigerated for 1 week for frozen for 3 months. Bring to room temp and rewhip before using.
You can use any apples you like for this cake recipe.
Be sure to check out my How to Make Caramel post for a detailed tutorial.
The caramel will keep for a good month or so in the fridge, so you can make this in advance.
If caramel has thickened too much, microwave in 5-10 second intervals until it's pourable (but not warm).
If you like this, check out my other Fall themed recipes: Apple Pie Cake, Pumpkin Spice Latte Cake, Spice Cake, Pumpkin Spice Bundt, Pear & Walnut Cake.
Be sure to check my Swiss Meringue Buttercream post for tips and troubleshooting.
Learn how to keep your cakes moist using Simple Syrup.
To help ensure your cake layers bake up nice and flat, check out my How to Bake Flat Cake Layers post!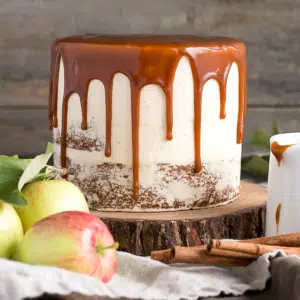 Caramel Apple Cake
Kick off apple season with this delicious Caramel Apple Cake! A spice cake made with diced apples, paired with a caramel buttercream, and caramel drizzle.
Ingredients
Instructions
Apples:
Toss peeled & diced apples in 1 Tbsp light brown sugar and 1 tsp cinnamon. Set aside.
Apple Spice Cake:
Preheat oven to 350F. Grease and flour three 6″ cake rounds, line with parchment.

In a medium bowl, combine flour, baking powder, spices, and salt. Set aside.

In the bowl of a stand mixer combine vegetable oil and sugars. Beat until well combined (2 mins). Add eggs one at a time, fully incorporating after each addition. Add vanilla.

Add flour mixture in 3 parts. Fold in apples.

Spread batter evenly into prepared pans and bake for 45-50 mins or until a toothpick inserted into the center comes out mostly clean.

Place cakes on wire rack to cool for 10mins then turn out onto wire rack to cool completely.
Caramel:
Place sugar and water into a medium pot, stir to combine, but to not stir from this point forward. Cook over high heat, washing down the sides of the pot with a pastry brush dipped in water as needed to prevent crystals.


Cook until desired color of caramel is reached (amber) and immediately remove from heat. Very slowly pour in heavy cream while whisking quickly. The mixture will bubble up (a lot) and boil. Add butter, return to heat, and bring back to a boil. Cook for 2 minutes whisking constantly.


Remove from heat and let cool to room temperature. Transfer to a container and place in fridge to thicken.*



Caramel Swiss Meringue Buttercream:
Place egg whites and sugar into the bowl of a stand mixer, whisk until combined.**


Place bowl over a hot water bath on the stove and whisk constantly until the mixture reads 160F on a candy thermometer and is no longer grainy to the touch (approx. 3mins).

Place bowl on your stand mixer and whip on med-high until the meringue is stiff and cooled (the bowl is no longer warm to the touch (approx. 5-10mins)).

Switch to paddle attachment. Slowly add cubed butter and mix until smooth.

Add cooled caramel and whip until smooth.***
Assembly:
Trim cake layers if needed. Place one layer of cake on a cake stand or serving plate. Top with 2/3 cup of frosting, spread evenly. Repeat with remaining layers.

Frost and smooth the outside with a thin crumb coat. Chill for 20mins.

Using a small spoon, place dollops of caramel around the top edges of the cooled cake, allowing some to drip down. Fill in the top of the cake with more caramel and spread evenly with an offset spatula.****
Notes
* The caramel can be made the day before and left in the fridge overnight.
** Ensure there is NO trace of egg yolks in your whites and that your mixer bowl and whisk is completely grease free or your meringue won't stiffen.
*** The buttercream may look like it's curdled at some point. Keep mixing until it is completely smooth.
**** If caramel has thickened too much, microwave in 5-10 second intervals until it's pourable (but not warm).
Calories:
607
kcal
Carbohydrates:
80
g
Protein:
5
g
Fat:
30
g
Saturated Fat:
19
g
Cholesterol:
124
mg
Sodium:
189
mg
Potassium:
185
mg
Fiber:
1
g
Sugar:
62
g
Vitamin A:
970
IU
Vitamin C:
1.1
mg
Calcium:
75
mg
Iron:
1.4
mg
The nutritional information and metric conversions are calculated automatically. I cannot guarantee the accuracy of this data. If this is important to you, please verify with your favorite nutrition calculator and/or metric conversion tool.
Originally published on Sep 24, 2017