Calling all Peanut butter lovers! Peanut butter cake layers studded with mini peanut butter chips covered in a peanut butter Swiss meringue buttercream.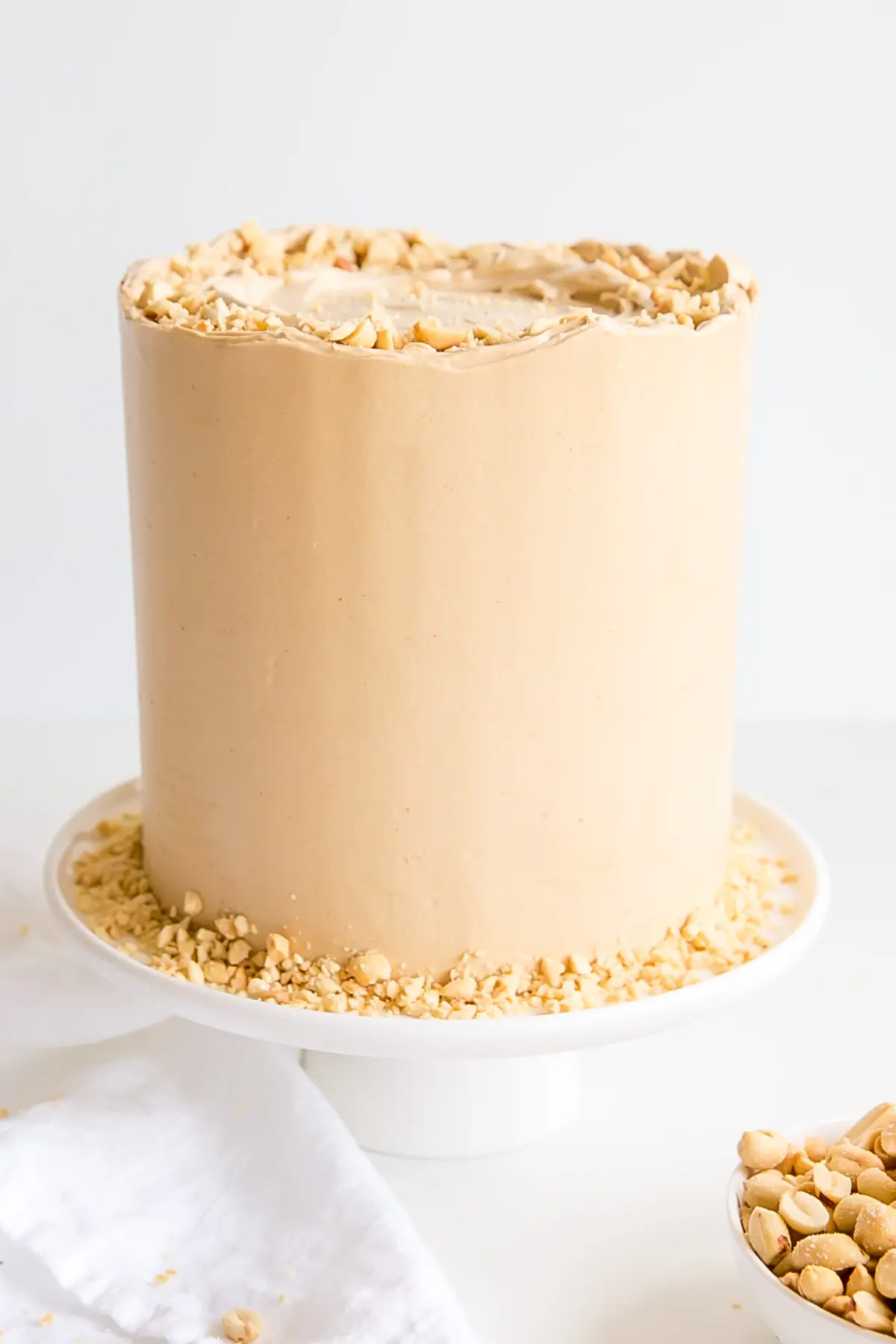 Sometimes I buy things randomly, assuming I'll use them some day one way or another. Hence my sprinkle-packed cupboard. I have an infinite amount of sprinkles that I almost never use, but I am suckered into buying them because they are SO pretty.
And sometimes it's actual baking ingredients I'm intrigued by, like that blonde chocolate that's been sitting in my pantry for well over a year. I also have toffee chips in there to be used in Idontknowwhat Idontknowwhen. What I don't have are things that I actually need or will use, like simple white chocolate.
This peanut butter cake all started from these mini peanut butter chips I found at a local gourmet foods shop and just had to have. We can get the regular sized pb chips in almost any grocery store, but the minis are not common, so I grabbed them.
And in my pantry they sat until I was looking for something completely different, and stumbled across them (and many other items I'd forgotten I had — my pantry is basically Narnia).
Have I mentioned I'm bad at planning? That and I clearly need a bigger/better pantry so I can actually see what I have in there.
How to make this Peanut Butter Cake
Peanut butter chips in hand, it was time to go all out and pair them with a peanut butter cake batter and my favorite peanut butter Swiss meringue buttercream.
The peanut butter cake recipe calls for both peanut butter and peanut butter powder (which gets dissolved in the milk). If you don't have the latter it's okay, but the peanut butter flavor won't come through as well.
If you want more details about pb powder, you can read about it in my Peanut Butter Chocolate Cake post.
I don't recommend using natural peanut butter. It's oilier than the regular stuff and could affect the texture of the cake. I haven't tried it though, so it could be good or bad. Definitely don't use it in the frosting though!
Peanut Butter Swiss Meringue Buttercream
This PB Swiss meringue is my favorite. I've made a version of it before, and I'm sure I'll make it again and again.
It starts off with a dark brown sugar Swiss meringue buttercream, both for color and amazing flavor. Then I add peanut butter powder until it has the most delicious caramelly peanutty flavor ever.
What if I don't have Peanut Butter powder?
If you don't have pb powder and can't find it (or don't want to buy it), you can just leave it out of the cake recipe. The flavor won't be as strong, but it will still be delicious.
For the frosting, you can use regular peanut butter instead. This will make the frosting on the softer side though, which can make it difficult to work with. I used regular peanut butter in this recipe here.
Again, don't use natural peanut butter for the frosting. I haven't tried it myself, but my gut says the results would not be great.
Want to make this a PB & J Cake?
I actually have a recipe for Peanut Butter & Jelly Cake, but it's one that I feel needs improvement (both in flavor and aesthetics). If I were doing it again (and I will at some point), I'd use this cake recipe and frosting as a base, but skip the mini pb chips and then add some jam on top of the frosting on each layer.
You can use any jam/jelly you like, but be careful not to add too much, as it can make the cake harder to stack (it will slide around), unless you do a buttercream dam first, which might be the safest bet.
This peanut butter cake is packed with peanut butter flavor throughout, from the cake layers to the buttercream (my fave). If you're a peanut butter fan, or have one in your life, I hope you give it a try!
Looking for more Peanut Butter recipes?
Tips for making this Peanut Butter Cake recipe
The recipe as-is will also work in two 8″ pans. For three 8″ pans, 1.5x the recipe.
To make cupcakes, all you need to do is reduce the baking time — start checking at 15mins or so.
If you don't have peanut butter powder, you can leave it out of the cake and use regular peanut butter for the frosting. This will make the frosting softer though, so only add enough to get the flavor to come through. I used regular peanut butter in this recipe here.
Don't use natural peanut butter, especially for the frosting. It's too oily.
If you want to turn this into a Peanut Butter & Jelly cake, just add some jam/jelly on top of the frosting as you're stacking the cake.
Be sure to check my

Swiss Meringue Buttercream

post for tips and troubleshooting.
Learn how to keep your cakes moist using Simple Syrup.
To help ensure your cake layers bake up nice and flat, check out my Flat Top Cakes post!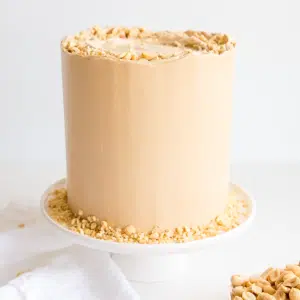 Peanut Butter Cake
Peanut butter lovers, this cake is for you! Peanut butter cake layers studded with peanut butter chips covered in a peanut butter Swiss meringue buttercream.
Ingredients
Peanut Butter Swiss Meringue Buttercream:
Assembly:
1/2

cup

chopped peanuts (salted or unsalted)

plus more for top
Instructions
Peanut Butter Cake:
Preheat oven to 350F. Grease and flour three 6" cake rounds and line with parchment.


In a medium bowl, whisk flour, baking powder, and salt until well combined. Set aside. In a measuring cup, whisk milk and powdered peanut butter, set aside.


Using a stand mixer fitted with a paddle attachment, cream butter, oil, and peanut butter until smooth. Add sugars and beat on med-high until pale and fluffy (3mins).


Reduce speed and add eggs one at a time fully incorporating after each addition. Add vanilla.

Alternate adding flour mixture and peanut butter milk, beginning and ending with flour (3 additions of flour and 2 of milk). Fully incorporating after each addition.

Fold in peanut butter chips (that have been tossed in 1 Tbsp flour) and mix until just incorporated. Do not overmix.

Bake for 40-45 mins or until a toothpick inserted into the center comes out mostly clean.


Place cakes on wire rack to cool for 10mins then turn out onto wire rack. Allow cakes to cool completely.

Peanut Butter Swiss Meringue Buttercream:
Place egg whites and sugar into the bowl of a stand mixer, whisk until combined.*

Place bowl over a pot with 1-2" of simmering water and stir constantly with a whisk until the mixture is hot and no longer grainy to the touch or reads 160F on a candy thermometer (3mins)

Place bowl on your stand mixer and whisk on med-high until the meringue is stiff and cooled (the bowl is no longer warm to the touch (approx. 5-10mins)).

Switch to paddle attachment. Slowly add cubed butter and mix until smooth.

Add powdered peanut butter 1 Tbsp at a time & vanilla. Whip until smooth.**

Assembly:
Place one layer of cake onto a cake stand or serving plate. Top with approximately 3/4 cup of buttercream, sprinkle with 1/4 cup chopped peanuts. Repeat with remaining layers and crumb coat the cake. Chill for 20mins.

Frost the top and sides of the cake with remaining buttercream. I started by spreading a generous amount of buttercream on the top and letting it overhang on the sides. Then I used a flat spatula to add buttercream to the sides of the cake and to smooth the which created a top lip with the overlapping buttercream.

Add a small dollop of buttercream into the top center and spread roughly. Sprinkle chopped peanuts on the top and along the bottom if desired.
Notes
* Ensure there is NO trace of egg yolks in your whites and that your mixer bowl and whisk is completely grease free or your meringue won't stiffen.
** The buttercream may look like it's curdled at some point. Keep mixing until it is completely smooth.
Calories:
857
kcal
Carbohydrates:
92
g
Protein:
14
g
Fat:
51
g
Saturated Fat:
30
g
Cholesterol:
148
mg
Sodium:
340
mg
Potassium:
339
mg
Fiber:
3
g
Sugar:
69
g
Vitamin A:
1198
IU
Calcium:
138
mg
Iron:
2
mg
The nutritional information and metric conversions are calculated automatically. I cannot guarantee the accuracy of this data. If this is important to you, please verify with your favorite nutrition calculator and/or metric conversion tool.