Ultra chewy peanut butter chip cookies made with Reese Chocolate Peanut Butter Spread.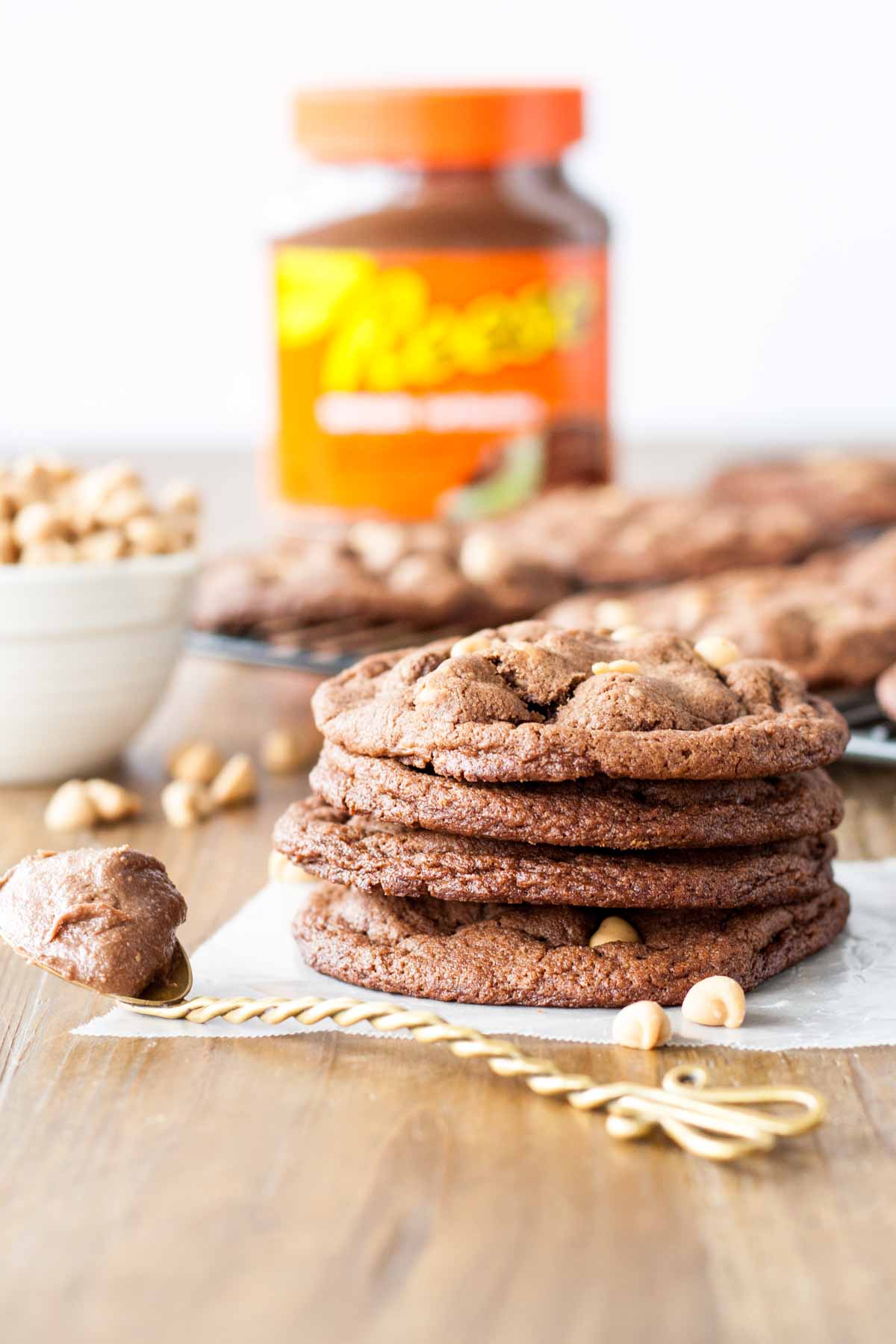 My good friend Sharai is a HUGE chocolate and peanut butter fan. Hard not to be, right?? So with her birthday coming up, I had a couple choc/pb treats in mind, one of them being these Peanut Butter Chip cookies made with Reese Peanut Butter Chocolate Spread. The other was Peanut Butter Cup stuffed brownies that were an epic fail. Apparently brownies are hard. They should be the simplest thing to make, but for the life of me, I suck at it. They always turn out WAY too thick, which means I have to cook them longer and the edges get bone dry. Ryan and Sharai insist that the brownies were delicious (I don't think so), so they may get a post in the future, but it might be more along the lines of how not to make brownies. Anyhow, on to these delicious cookies, because they turned out perfectly!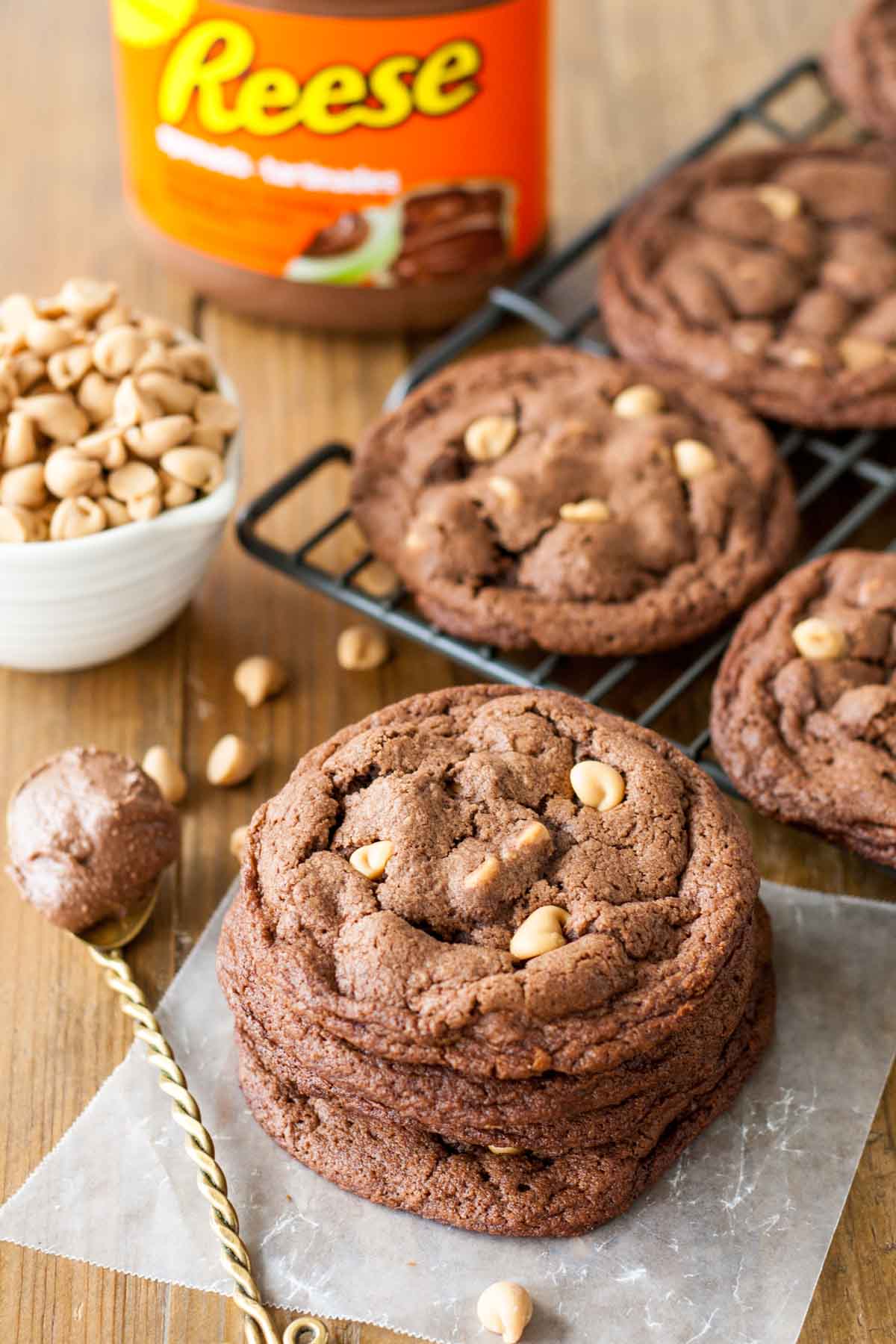 If you didn't know this Reese spread existed, let me tell you, it gives Nutella a run for it's money. It's basically like eating Reese Peanut Butter Cups with a spoon. Who's gonna say no to that? Crazy people, that's who.
The Reese Peanut Butter Chocolate spread gives these cookies a good balance of both peanut butter and chocolate, but I wanted to amp it up a bit, so I also added cocoa powder and peanut butter chips. Delicious.
The key thing with these cookies is that you HAVE to chill the dough. If you don't, you'll end up with one giant wafer-like mega cookie. This is not optional. The dough is really soft and sticky, so chilling time is a must. At least 2 hours in the fridge once the dough balls are shaped.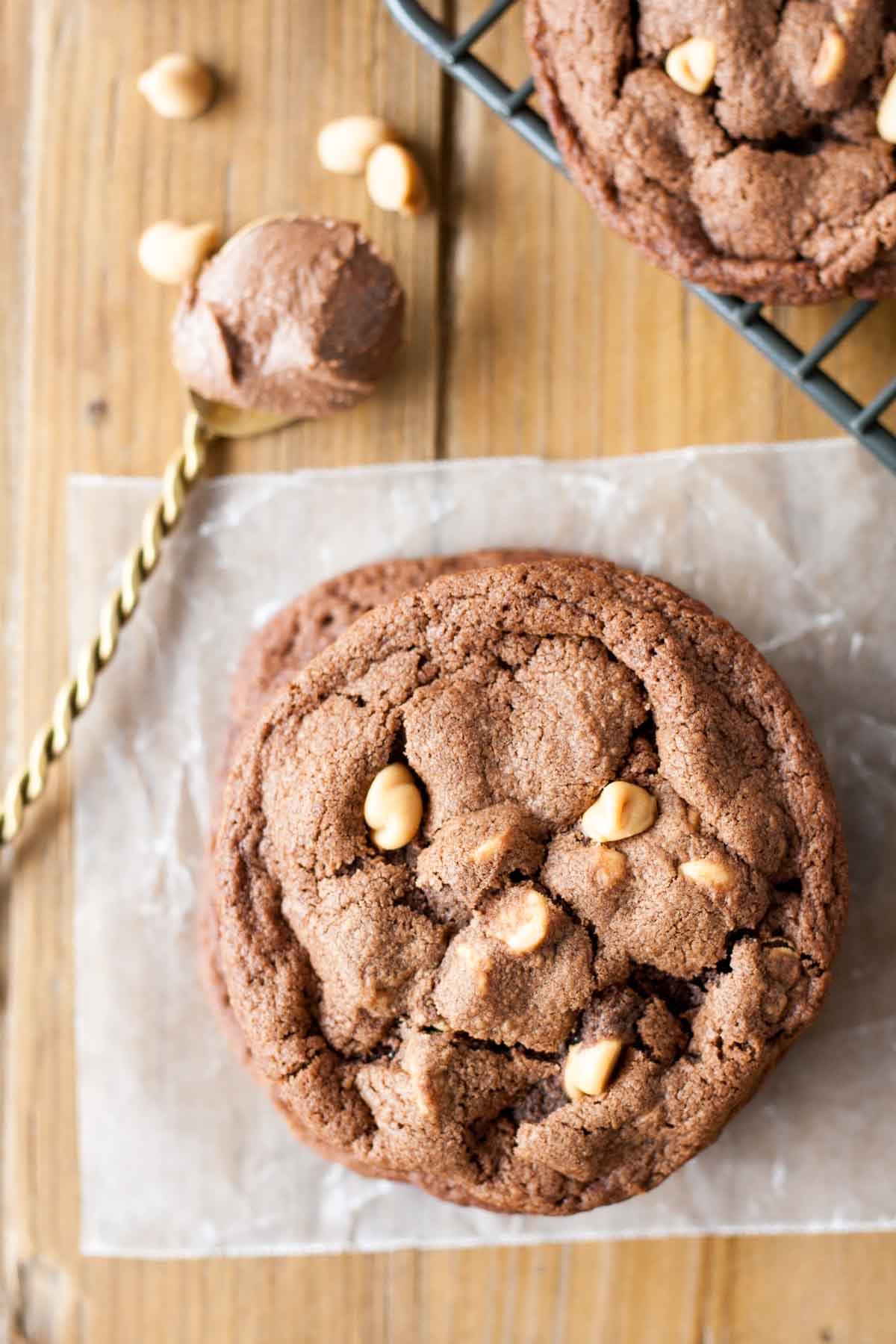 These Reese Peanut Butter Chip Cookies are ultra chewy, if you like that sort of thing (which I do), and have a perfect chocolate/peanut butter flavour. If you prefer softer cookies, you can reduce the baking time and cook for around 10-11 mins rather than 13-14mins.
Enjoy!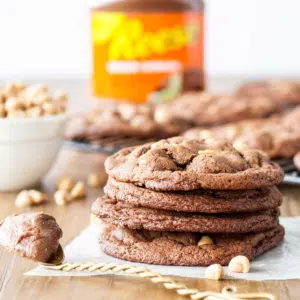 Reese Peanut Butter Chip Cookies
Ultra chewy peanut butter chip cookies made with Reese Chocolate Peanut Butter Spread.
Instructions
Whisk flour, cocoa, baking soda, and salt in a small bowl. Set aside.

Beat butter and sugars in the bowl of a stand mixer fitted with the paddle attachment until light and fluffy (approx 3mins).

Add Reese Peanut Butter Chocolate Spread and beat until combined.

Add egg and vanilla and beat until well combined (approx 1 min).

Reduce mixer to low and add flour mixture. Mix until just incorporated.

Add peanut butter chips and mix until just incorporated.

Using a large cookie scoop, portion the dough into 16 mounds. Round the mounds into balls and press down slightly to flatten.*

Place mounds on a tray, cover with plastic wrap, and refrigerate at least 3 hours. Do not bake unchilled dough! Cookies will spread too much.

Preheat oven to 350F. Line a baking sheet with parchment or a Silpat.

Place cookies on baking sheet at least 3″ apart. I use a half sheet pan and baked 6 cookies per sheet.

Bake for 11-14minutes or until cookies start to crack.**

Cool on baking sheet for 10mins and transfer to a cooling rack to cool completely.
Notes
*The dough will be quite soft at this point, I placed the scooped balls in the fridge for 15mins to firm up before rounding.
**If you prefer fluffier cookies, bake for around 11mins, before cracking.
Calories:
245
kcal
Carbohydrates:
31
g
Protein:
4
g
Fat:
12
g
Saturated Fat:
9
g
Cholesterol:
29
mg
Sodium:
108
mg
Potassium:
80
mg
Fiber:
1
g
Sugar:
22
g
Vitamin A:
195
IU
Calcium:
22
mg
Iron:
1.3
mg
The nutritional information and metric conversions are calculated automatically. I cannot guarantee the accuracy of this data. If this is important to you, please verify with your favorite nutrition calculator and/or metric conversion tool.