These easy Oreo Cheesecake Cookie Cups are perfect for the Oreo lover in your life!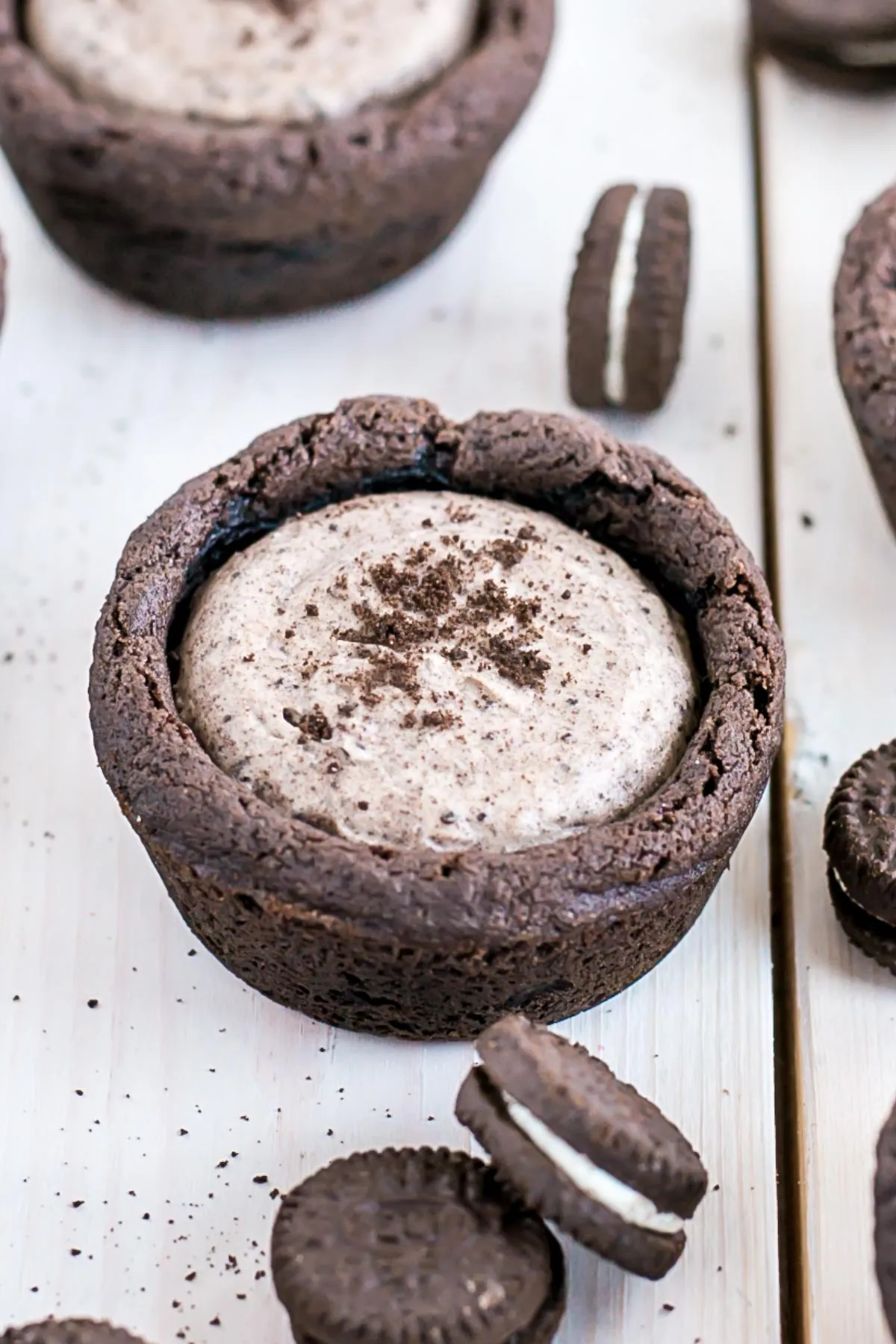 Air travel is the absolute worst. I love going places, but I hate the act of getting there. I swear, if I was offered a superpower I would take teleportation in a heartbeat. Imagine never having to drive anywhere, or wait in traffic, or get stuck in a cramped tiny shoebox for a 15 hour flight. Don't even get me started on the food. UGH.
I don't actually mind the act of flying so much. I'm not afraid of it or anything, though I can get motion sick if there is too much turbulence. But just the thought of being in a cramped space where you can barely move for extended periods of time…horrifying. Not as bad for shorter flights, but the 14-15 hour flight to/from Sydney is a killer. That's where Ryan and I were for the past 3 weeks, visiting my sister and her family. Now, sadly, it's over and we're back at home.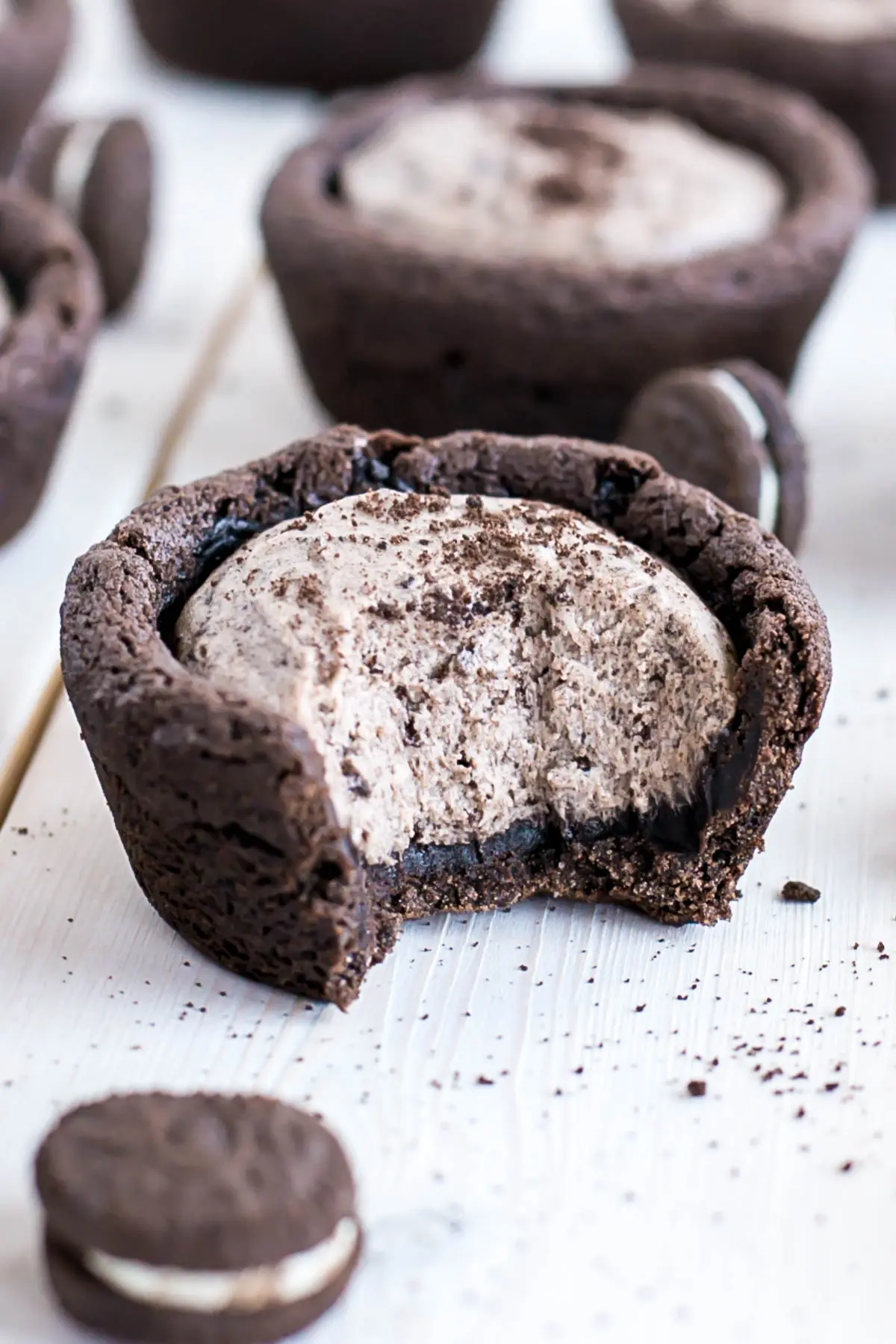 Coming home after a vacation away is never fun, but I feel like I deal with it worse than others. I have such a hard time getting back into the swing of things. It's nice to be back in your own bed and your own space, but I'd still rather be somewhere else, exploring and having new experiences.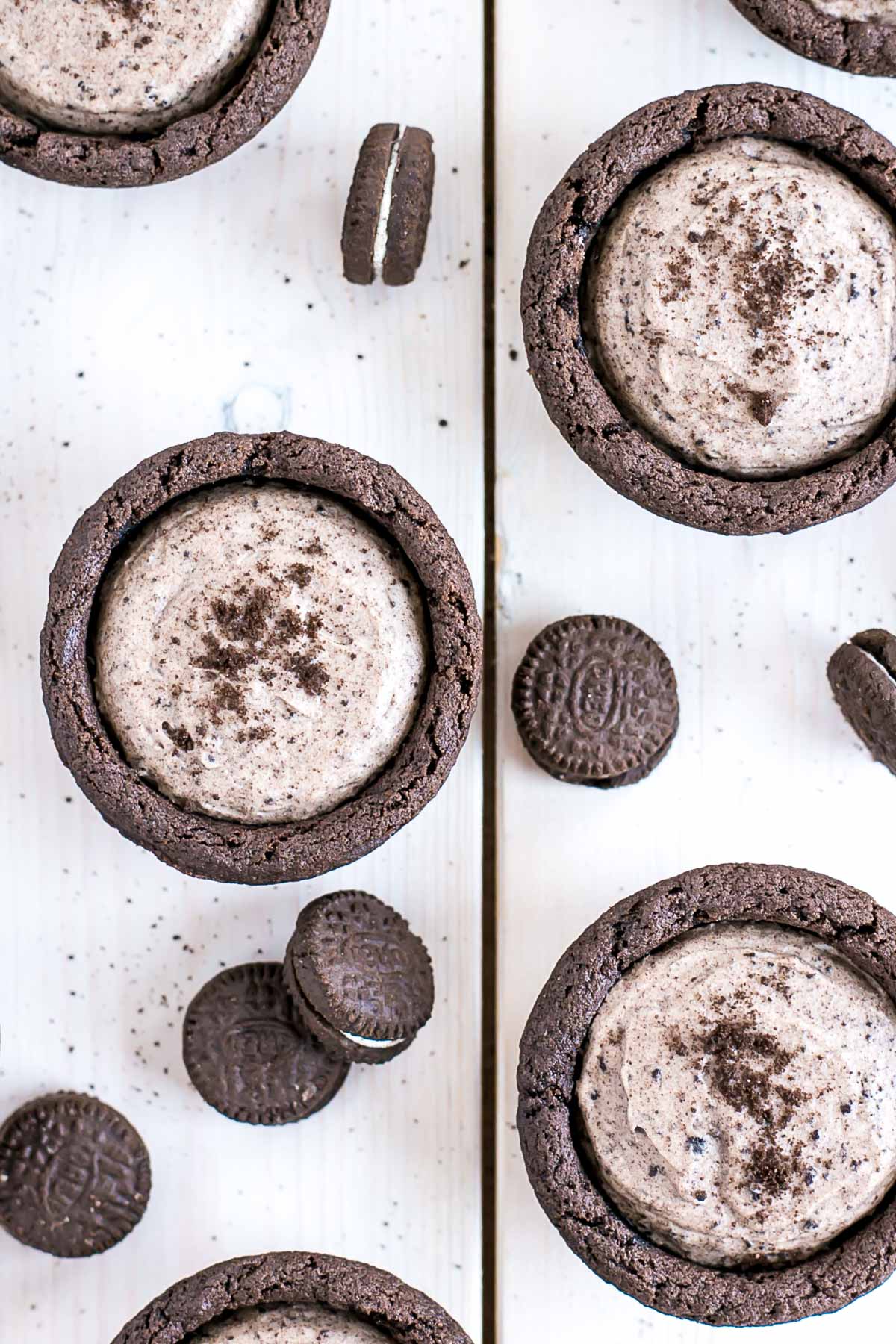 ANYhow, enough complaining. It's Sunday, I literally flew back yesterday, I'm jet-lagged, and clearly a tad grumpy. Thankfully I still have some of these Oreo Cheesecake Cookie Cups squirrelled away in the freezer to help me get through this adjustment back into reality!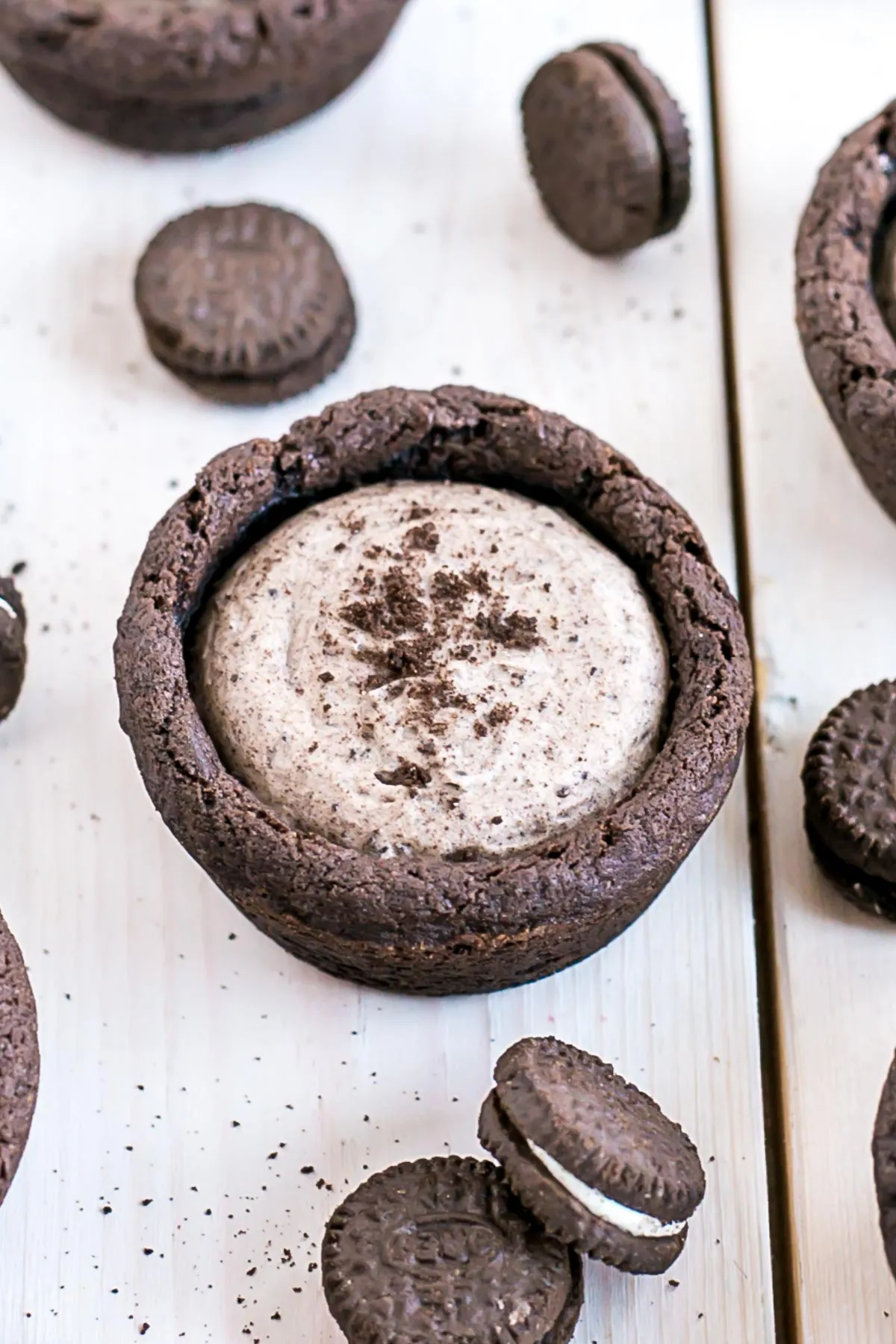 I know I just threw some cookie cups at you a couple weeks ago, but everyone seems to love them and they were easy for me to do ahead of our trip. These Oreo cheesecake ones are particularly delicious too, assuming you're an Oreo-lover… and really, how could you not be??
The cookie part of these cookie cups uses black cocoa powder, which helps give them that Oreo color and flavor. If you don't have black cocoa powder, you can just use regular or Dutch-processed, but your cookie cups won't have that distinct Oreo flavor (they'll still be delicious though!).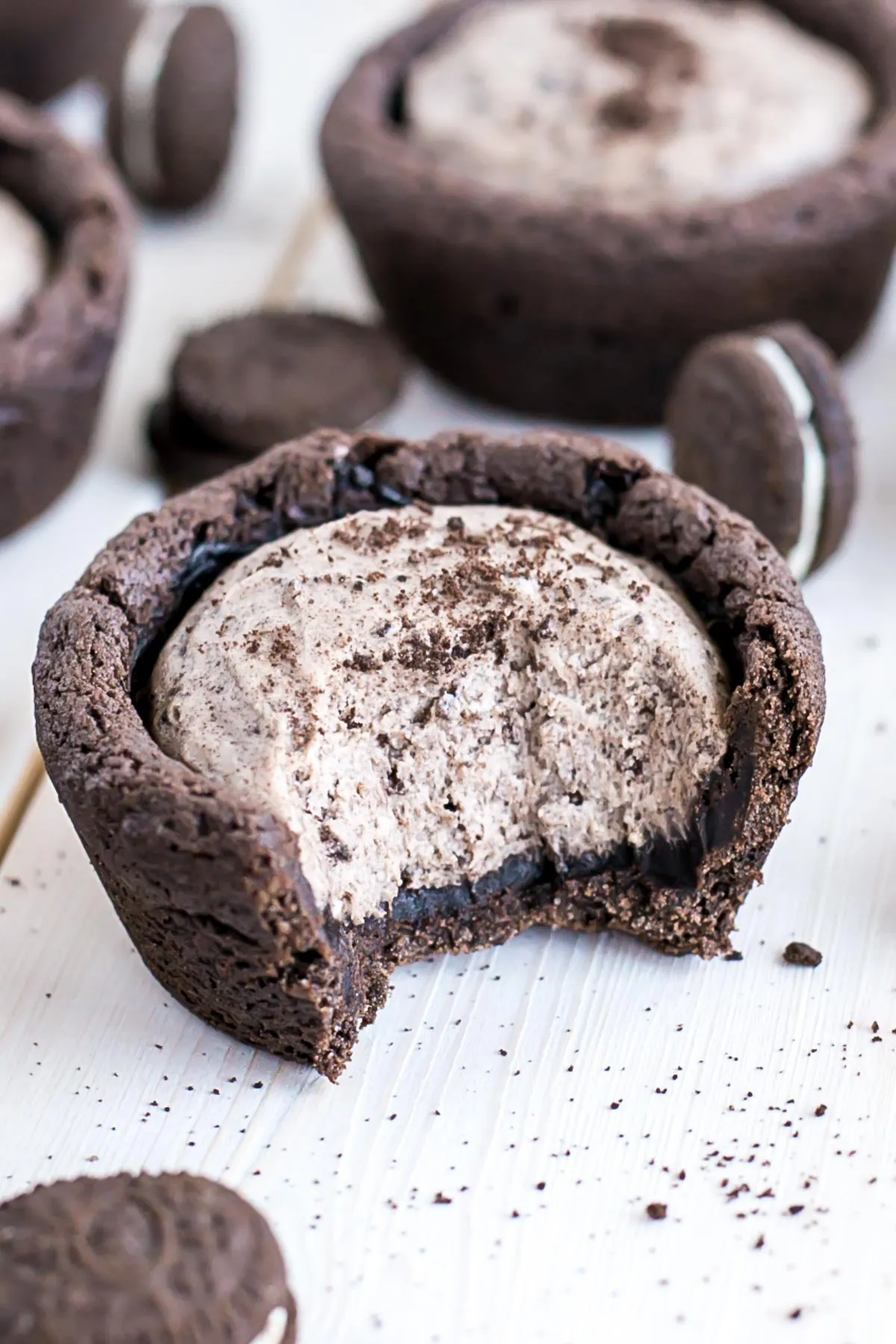 The filling is a simple mixture of cream cheese, whipped cream, and some Oreo Cookie crumbs. I can buy these locally (they are like graham cracker crumbs, but Oreo flavored). If you can't find them in stores, you could always just chop/crush up some Oreo cookies to use in the filling instead.
These Oreo Cheesecake Cookie Cups are super easy to make and are really delicious. If you like Oreos, you will love this dessert!
Notes & tips for these Oreo Cheesecake Cookie Cups:
For an authentic Oreo cookie taste, use both black cocoa powder and Oreo Cookie crumbs.
If you don't have black cocoa powder, you can use regular cocoa powder. The recipe will work fine, but it will affect the flavor and color slightly.
These freeze very well! Store in fridge for up to 5 days or in freezer (in an airtight container) for 1-2 months.
Best served cold, out of the fridge.
Oreo Cheesecake Cookie Cups
These easy Oreo Cheesecake Cookie Cups are perfect for the Oreo lover in your life!
Instructions
Chocolate Cookie Cups:
Preheat oven to 350°. Spray two regular sized muffin tins with cooking spray.

Whisk together flour, cocoa powders, baking soda, and salt. Set aside.

Beat butter and sugars on med-high until light and fluffy (approx. 2-3mins). Reduce speed and add eggs one at a time and vanilla. Beat until combined. Add flour mixture and mix until just combined.

Using a large cookie scoop (3 Tbsp) scoop dough into muffin tins, press down to flatten.

Bake for approx. 10-13mins or until mostly set, but still soft in the middle.

Remove from oven and immediately use a small jar or container to press firmly down in the center to create a well. Cool in pans for 10mins, loosen each slightly by twisting it in the pan. Cool for 5 more minutes then remove from pan and cool completely on a wire rack.
Oreo Cheesecake Filling:
Whip heavy cream until stiff peaks (ideally with a cold whisk and in a cold bowl).

In a separate bowl, beat cream cheese and sugar until smooth. Add Oreo cookie crumbs and beat until incorporated.

Add whipped cream into cream cheese mixture and beat until combined.

Pipe into cooled cookie cups and refrigerate until set (approx. 1-2 hours).

Sprinkle with additional Oreo cookie crumbs if desired.

Serve chilled and eat within 2-3 days. Or freeze for up to 4 weeks.
Notes
* If you don't have black cocoa powder, you can use Dutch-processed instead, but the cookies will not have the same "Oreo" taste or be as dark in color.
** If you can't find Oreo cookie crumbs, you can crush up the cookie part of the actual cookies.
Calories:
314
kcal
Carbohydrates:
34
g
Protein:
3
g
Fat:
18
g
Saturated Fat:
11
g
Cholesterol:
71
mg
Sodium:
185
mg
Potassium:
94
mg
Fiber:
1
g
Sugar:
21
g
Vitamin A:
640
IU
Vitamin C:
0.1
mg
Calcium:
38
mg
Iron:
1.1
mg
The nutritional information and metric conversions are calculated automatically. I cannot guarantee the accuracy of this data. If this is important to you, please verify with your favorite nutrition calculator and/or metric conversion tool.