The ultimate combo of chocolate and caramel come together in this delicious Chocolate Dulce de Leche Cake.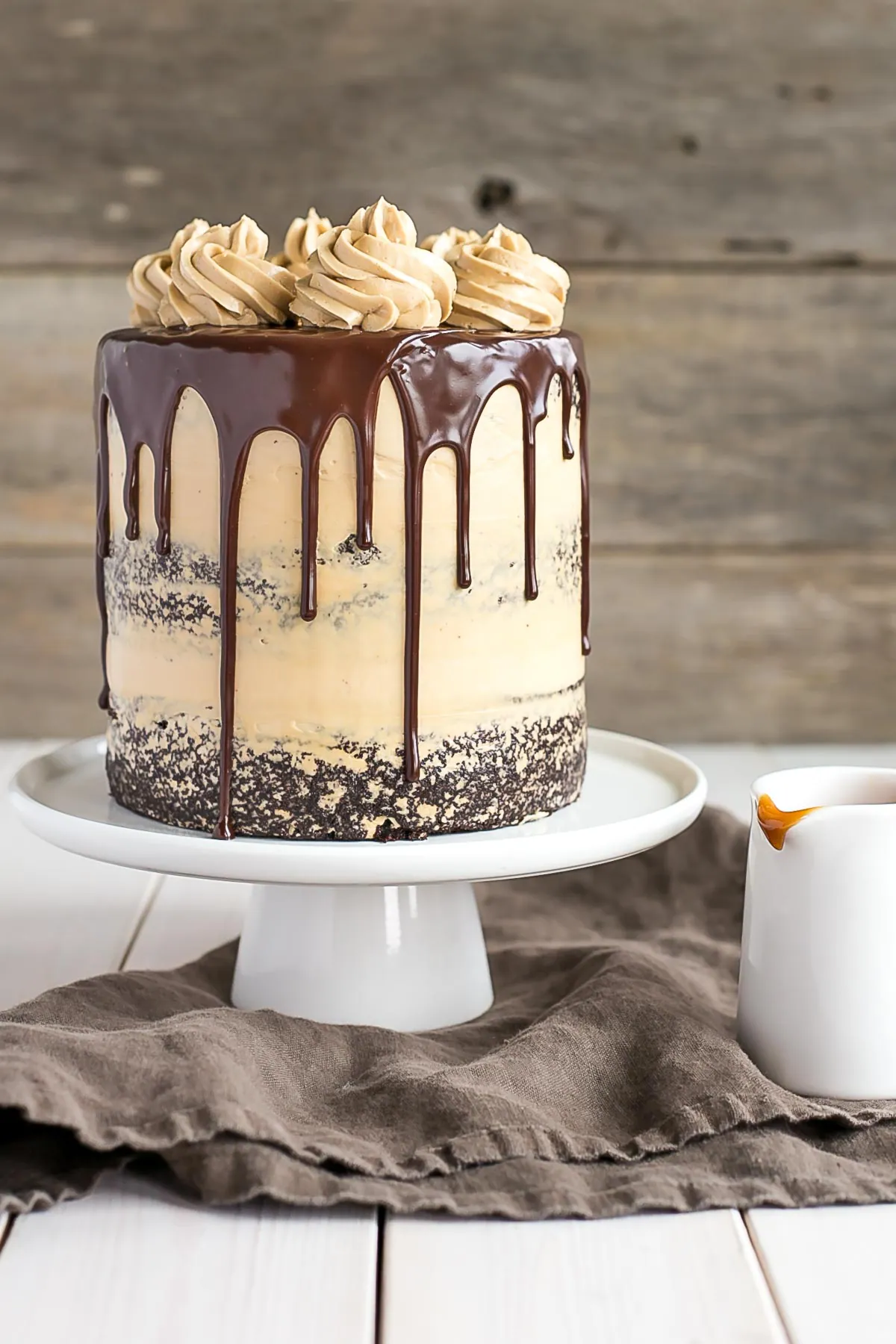 This post has been sponsored by Fat Daddio's. Thank you for supporting the brands I love – they help make Liv for Cake possible! All opinions expressed here are my own.
First off, sorry for the lack of a post last week. I have no excuse other than I'm having a hard time getting back into the swing of things after being away for 3 weeks, and the weather here has been cloudy and rainy so I haven't been able to take pictures. I guess that's kind of an excuse? Never mind the fact that we literally came back to SNOW. From a sunny Sydney summer, to snow. In Vancouver. In MARCH.
It literally almost never snows here, but this winter has been crazy. It's officially spring now, and my winter coat should be put away and I should be staring out at a garden full of flowers. Unfortunately, neither of those is a reality, so it's a good thing I have copious amounts of this Chocolate Dulce de Leche Cake in my fridge right now.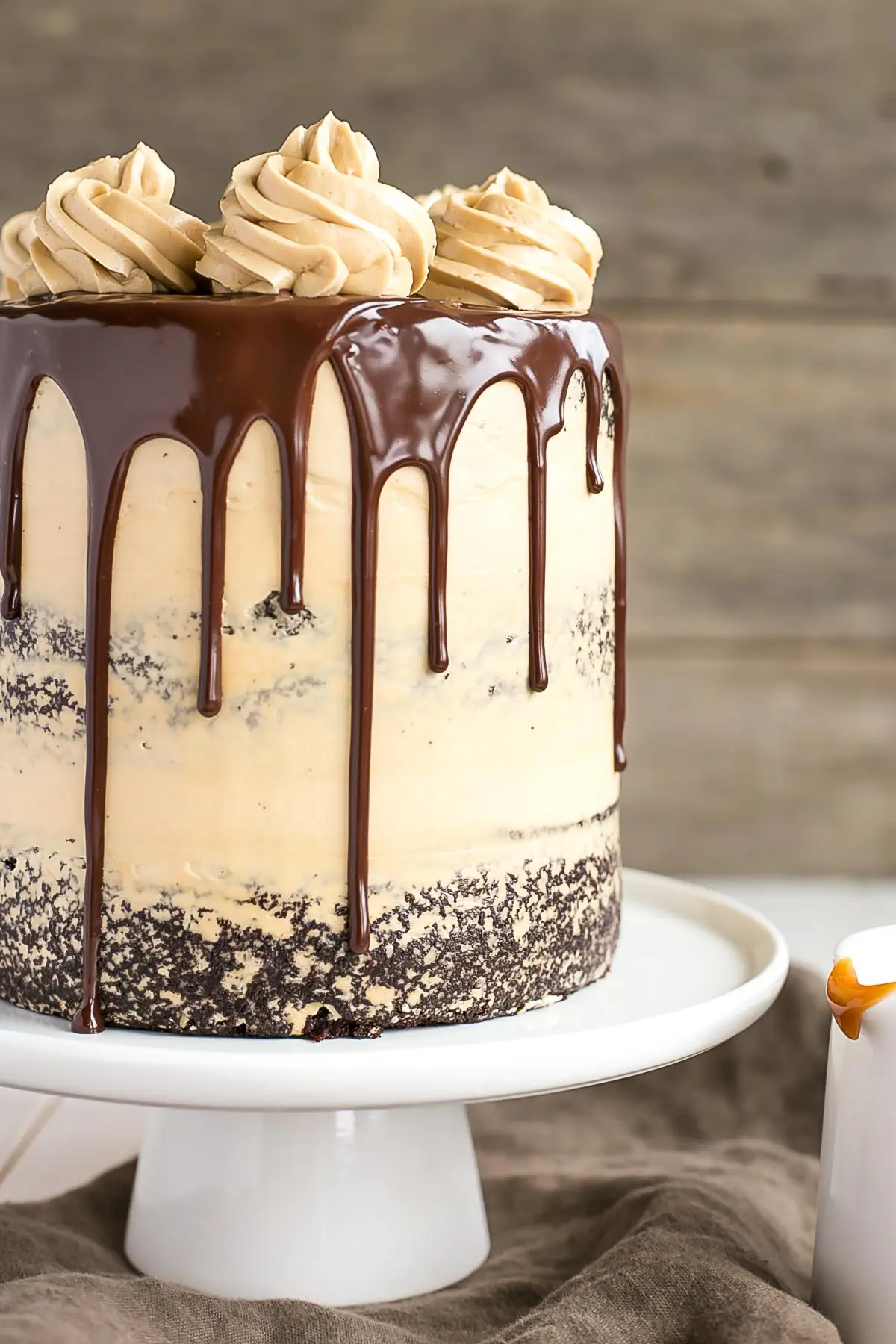 I'm so excited to bring you this post today because it's in collaboration with one of my favorite brands in the baking world — Fat Daddio's.
Fat Daddio's is renowned for manufacturing high quality, professional bakeware. They have a seemingly endless variety of cake pans and baking tools. Literally anything you could ever need or want. This family owned company has been around for decades and they are the go-to brand for professional pastry chefs and bakeries.
I've been using Fat Daddio's products for as long as I can remember and they are my favorite brand when it comes to bakeware. I specifically love their cake pans over any others I've tried, as they are sturdier and bake more evenly. Just look at those perfect, even layers!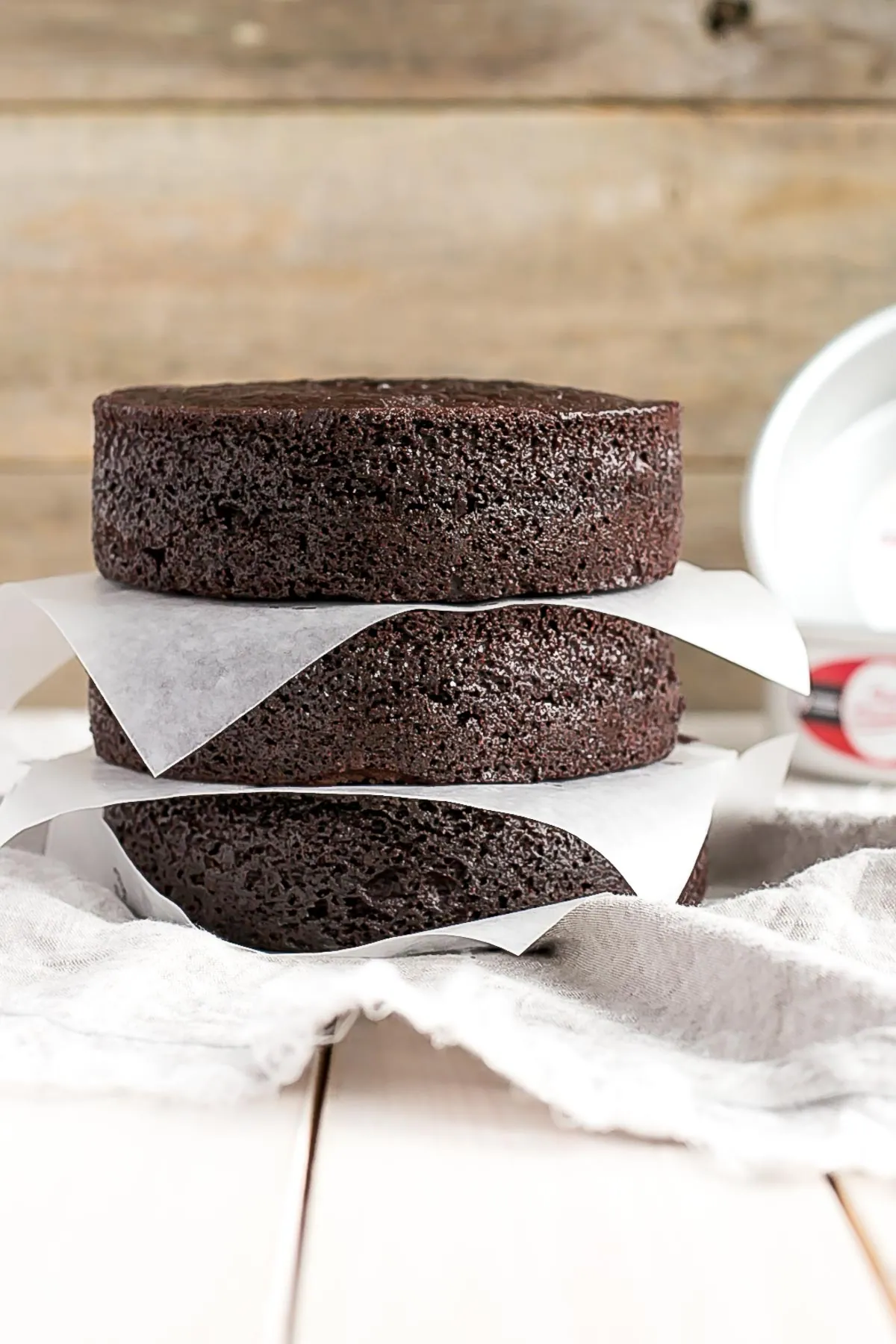 Cleanup is a breeze too! The most used Fat Daddio's products in my kitchen are the 6″ cake pans (shown below) and the cake lifter (which makes transferring cakes from the turntable to a cake stand a much less stressful endeavor).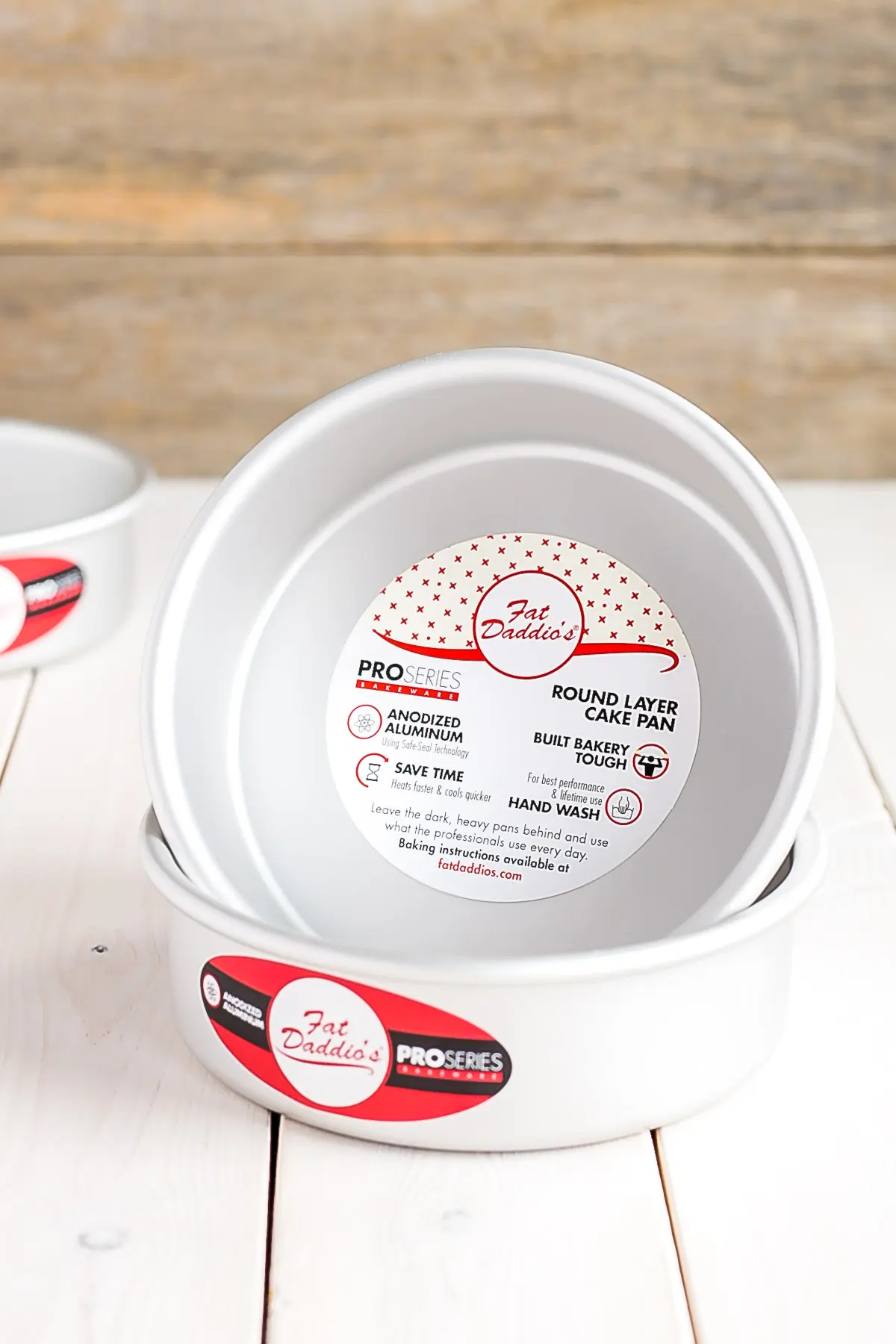 Fat Daddio's doesn't sell directly to consumers, but you can easily find their products online on Amazon or Golda's Kitchen. If you happen to live in Vancouver, my favorite place to get them is at the Gourmet Warehouse.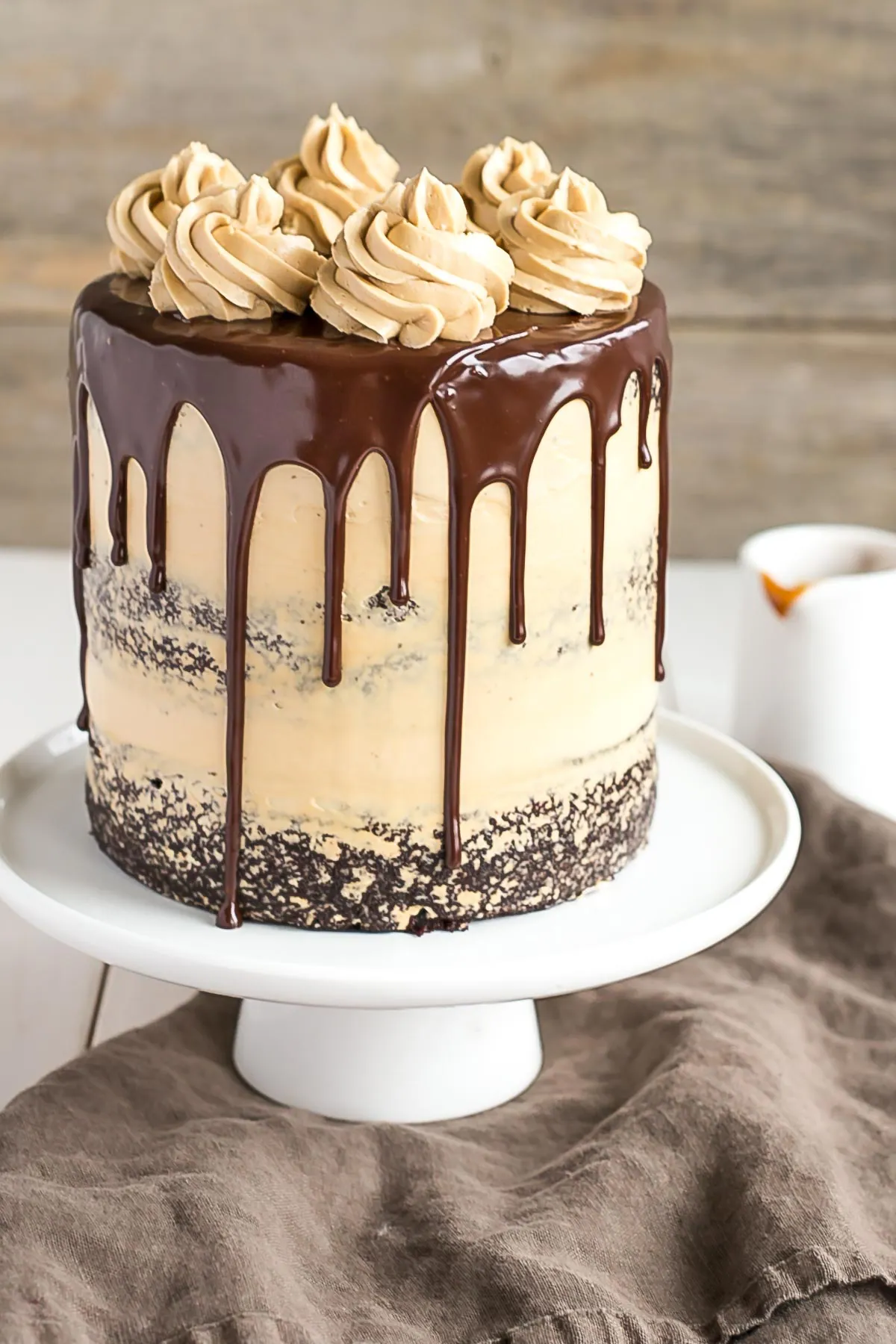 This Chocolate Dulce de Leche Cake is a new fave. I used my standard chocolate cake recipe (why mess with a good thing, right?) and paired it with a silky Dulce de Leche brown sugar buttercream. I used dark brown sugar instead of regular granulated sugar in the buttercream, because I wanted to enhance both the color and flavor.
I wanted a rich caramel color to the buttercream, and I knew that 1/4 cup of Dulce de Leche wouldn't be enough to do that. The brown sugar also adds to the caramel flavor. It's truly delicious.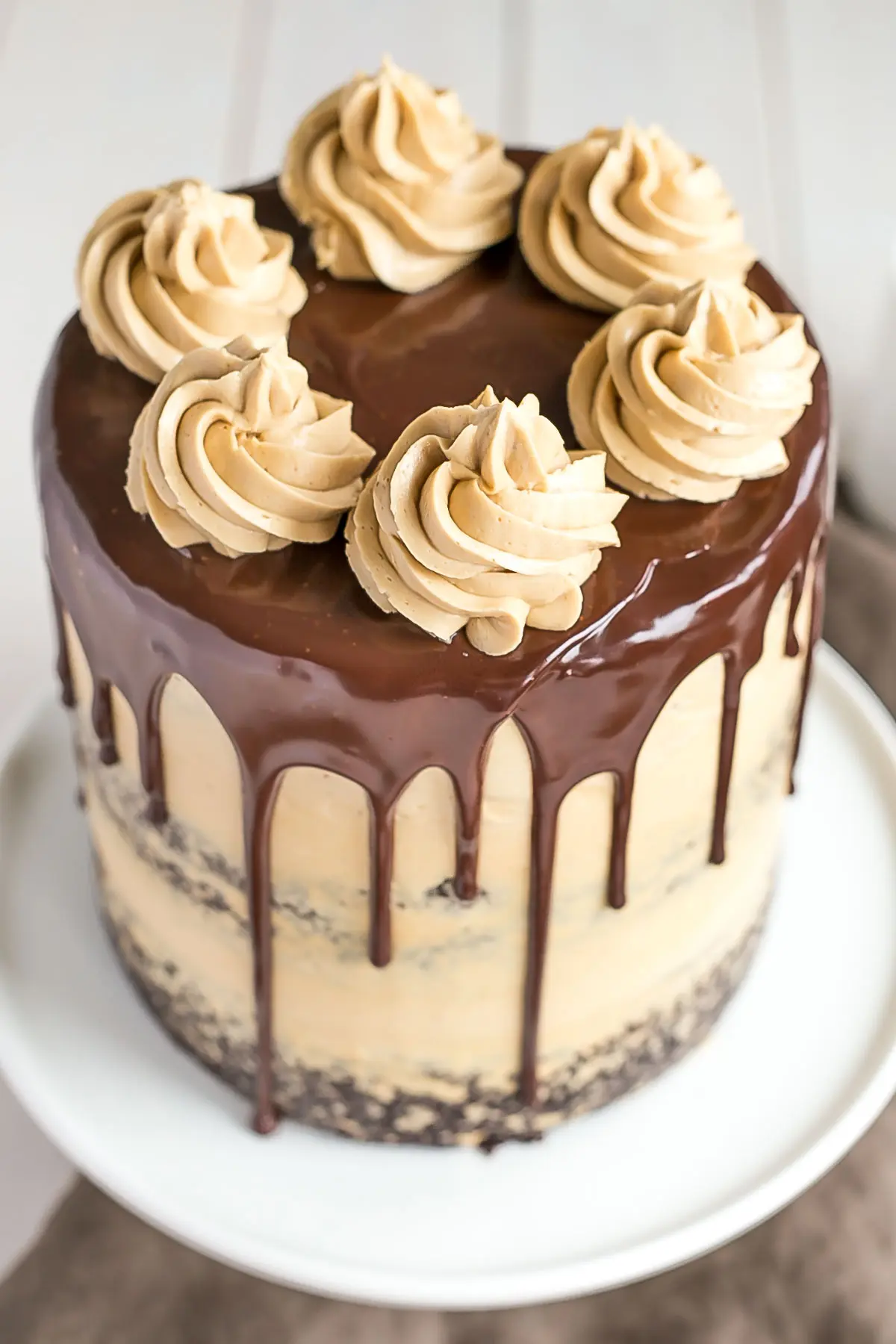 Now, I went the easy route and used store-bought Dulce de Leche sauce. Partly because I had some in my fridge from this Dark Chocolate Ganache Tart, and partly because I'm lazy. It's actually really easy to make Dulce de Leche at home. All you need is a can of sweetened condensed milk, a pot, some water, and time. I went with the leftover stuff I had, but you can make your own if you prefer!
The rich chocolate cake and silky caramel buttercream go so well together. Who doesn't love a good chocolate and caramel combo, right?? I amped up the flavor even more by drizzling Dulce de Leche over each slice. Pure heaven right there!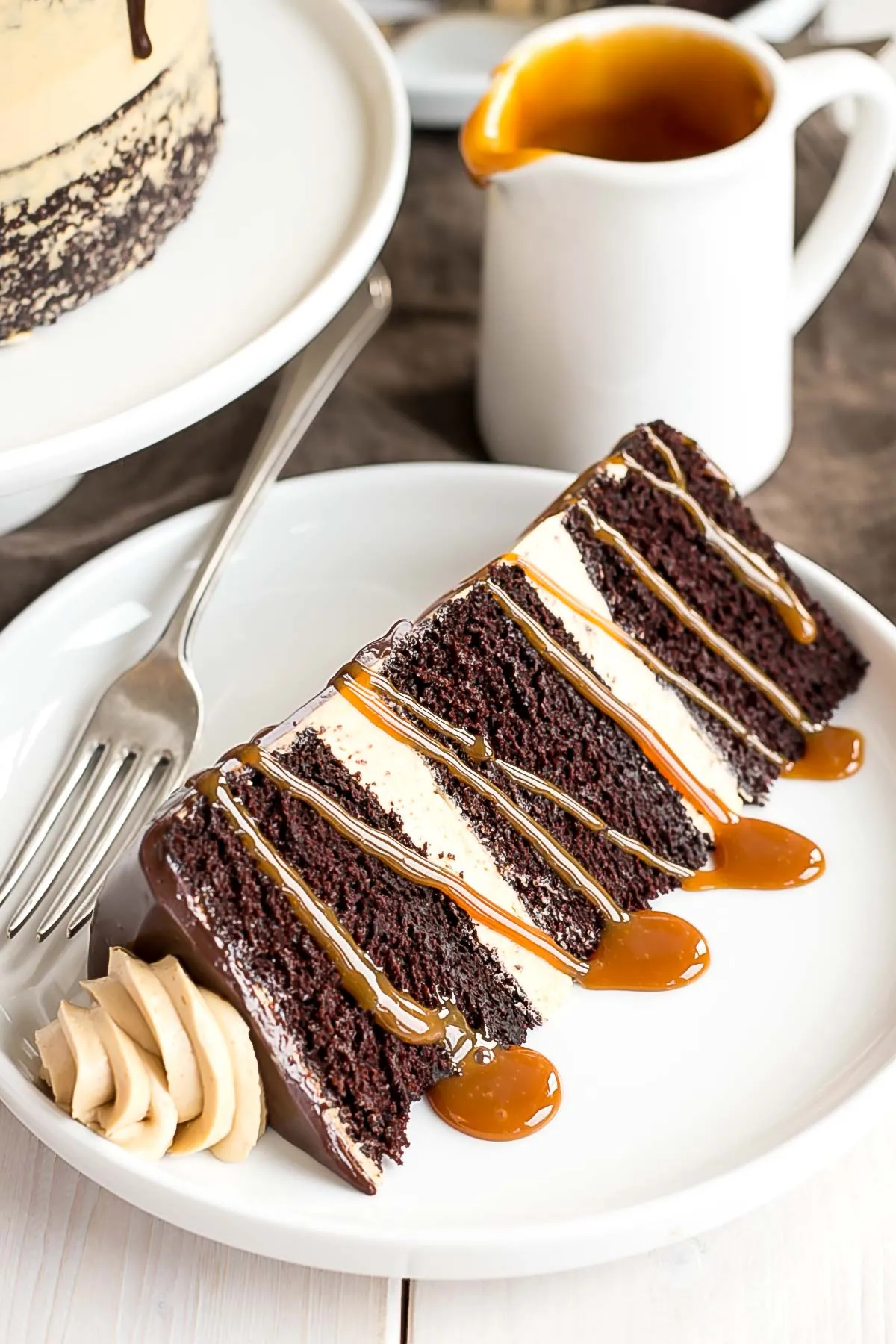 Looking for more Caramel recipes?
Notes & tips for this Chocolate Dulce de Leche Cake:
You can make your own Dulce de Leche at home rather than using store-bought if you prefer.
To enhance the chocolate flavor of the cake, you can use strong hot coffee instead of hot water.
For the ganache, I let mine set overnight (with plastic wrap placed directly on the surface). It will be too thick at this point, so I microwave it for 10 secs and stir it until it's the right consistency.
The drip technique works best on a chilled cake so that the drips set quickly.
Be sure to check my Swiss Meringue Buttercream post for tips and troubleshooting.
Learn how to keep your cakes moist using Simple Syrup.
To help ensure your cake layers bake up nice and flat, see my Flat Top Cakes post.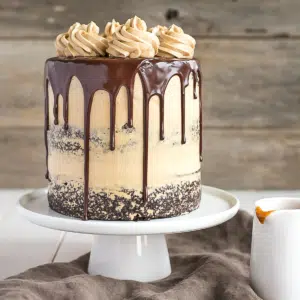 Chocolate Dulce de Leche Cake
The ultimate combo of chocolate and caramel come together in this delicious Chocolate Dulce de Leche Cake.
Ingredients
Dulce de Leche Buttercream:
3

large egg whites

1

cup

dark brown sugar

lightly packed

1 1/2

cups

unsalted butter

cubed, room temperature

1/4

cup

Dulce de Leche

storebought or homemade
Instructions
Chocolate Cake:
Preheat oven to 350F, grease three 6″ round

baking pans

and dust with cocoa powder. Line bottoms with parchment.

Place all dry ingredients into the bowl of a stand mixer fitted with a paddle attachment. Stir to combine.

In a medium bowl whisk all wet ingredients (pour water in slowly as not to cook the eggs if very hot).

Add wet ingredients to dry and mix on medium for 2-3 mins. Batter will be very thin.

Pour evenly into prepared pans. I used a kitchen scale to ensure the batter is evenly distributed.

Bake until a cake tester comes out mostly clean. A total of 30-35mins.

Cool 10 minutes in the pans then turn out onto a wire rack to cool completely.
Dulce de Leche Buttercream:
Place egg whites and dark brown sugar into the bowl of a stand mixer, whisk until combined.*

Place bowl over a pot with 1-2" of simmering water and stir constantly with a whisk until the mixture is hot and no longer grainy to the touch or reads 160F on a candy thermometer (approx. 3mins)

Place bowl on your stand mixer and whisk on med-high until the meringue is stiff and cooled (the bowl is no longer warm to the touch (approx. 5-10mins)).

Switch to paddle attachment. Slowly add cubed butter and mix until smooth.**

Add dulce de leche and whip until smooth.
Ganache:
Place chopped chocolate and cream into a microwave safe bowl. Stir to combine. Microwave for 20 seconds, stir. Microwave in 10 second intervals, stirring in between, until ganache is smooth and silky. Set aside to cool completely and thicken slightly before using on cake.
Assembly:
Place one layer of cake on a cake stand or serving dish. Top with about 2/3 cup buttercream. Repeat with remaining layers. Frost and smooth the outside with a thin crumb coat. Chill for 20mins.

Using a small spoon, place dollops of ganache around the top edges of the cooled cake, allowing some to drip down. Fill in the top of the cake with more ganache and spread evenly with an offset spatula.***

Top with decorative dollops of frosting (I used Ateco tip 825). Drizzle slices with dulce de leche if desired.
Notes
* Ensure there is NO trace of egg yolks in your whites and that your mixer bowl and whisk is completely grease free or your meringue won't stiffen.
** The buttercream may look like it's curdled at some point. Keep mixing until it is completely smooth.
*** You may have some ganache left over.
Calories:
550
kcal
Carbohydrates:
61
g
Protein:
6
g
Fat:
34
g
Saturated Fat:
22
g
Trans Fat:
1
g
Cholesterol:
100
mg
Sodium:
384
mg
Potassium:
246
mg
Fiber:
3
g
Sugar:
45
g
Vitamin A:
850
IU
Vitamin C:
1
mg
Calcium:
75
mg
Iron:
2
mg
The nutritional information and metric conversions are calculated automatically. I cannot guarantee the accuracy of this data. If this is important to you, please verify with your favorite nutrition calculator and/or metric conversion tool.