This Banana Chocolate Chip cake is paired with the most amazing peanut butter frosting you will ever have! It's a truly delicious flavor combination and a new favorite.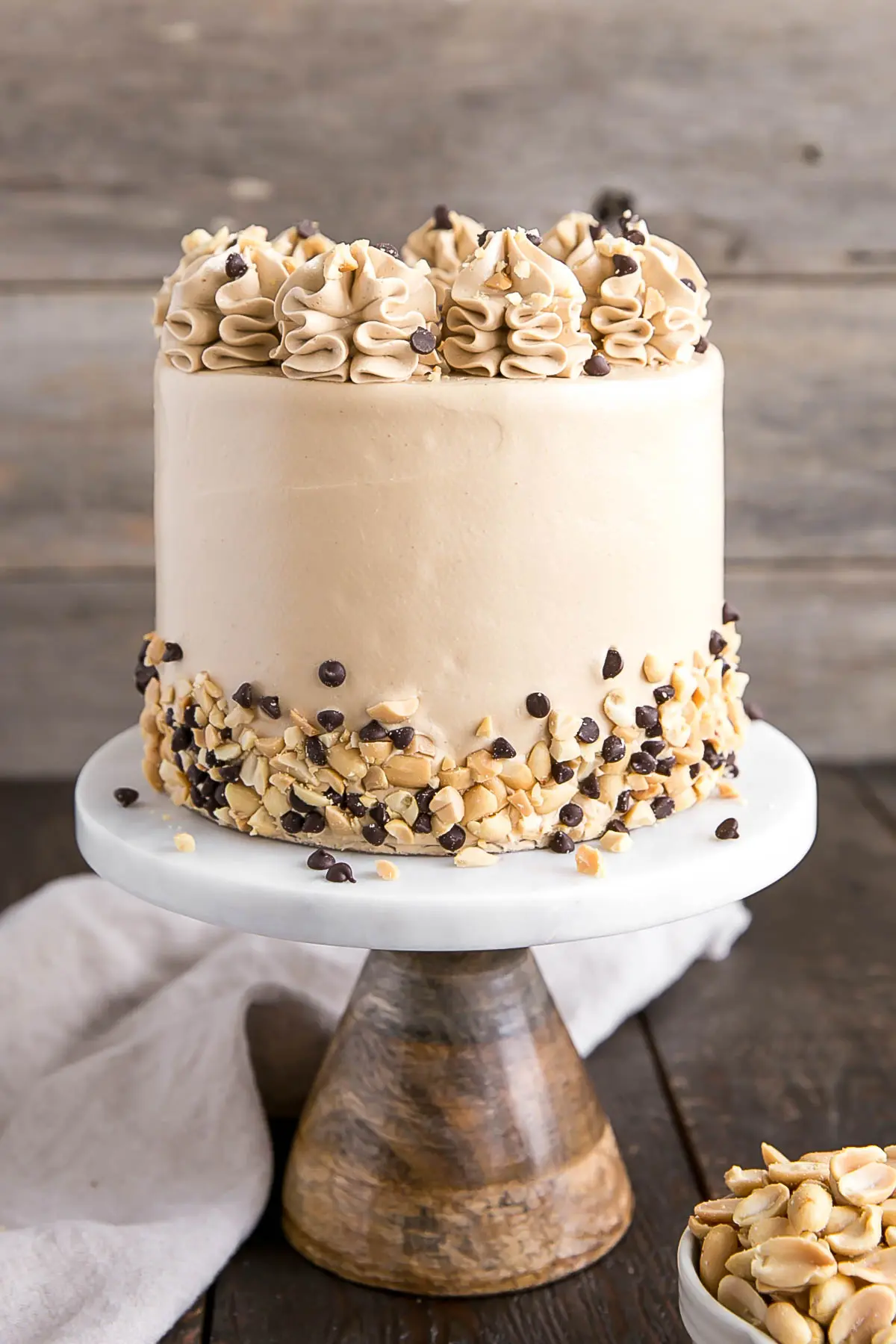 This is one of those recipes that turned out better than I expected. I mean, I expected it to be good — who doesn't love peanut butter and chocolate together in a banana bread-like cake? But this cake is a whole 'nother level.
The idea kinda started when I wanted to transform my favorite Chocolate Chip Banana Bread into a cake. I had done a Blueberry Banana Cake before, so it didn't take too much tweaking to add chocolate chips instead of blueberries, but it's really the peanut butter frosting that takes this cake to over the top deliciousness.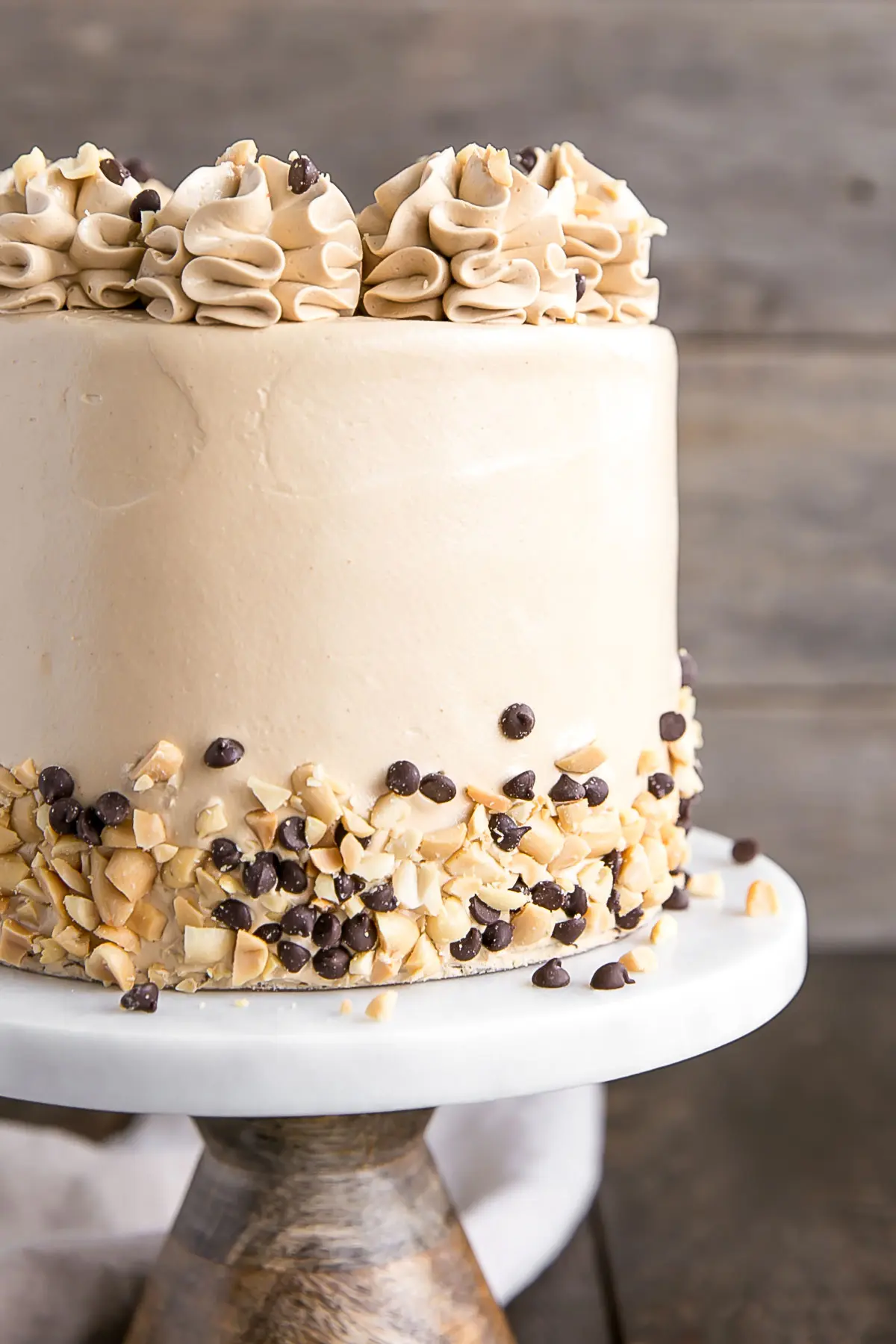 The Banana Chocolate Chip Cake itself is a bit denser than my usual cakes due to the banana in it, but I lightened it up with cake flour to balance that out a bit. The flavor of the banana really comes through, but it's very important to use overripe bananas for this!!
Mine were quite brown, mushy, and had that overly-strong banana smell. Bananas in this state actually really gross me out. The smell is TOO strong. You know your bananas are overripe when you can smell them when you come into the kitchen!
If you use fresh ripe bananas, they will be hard to mash up and the flavor just won't be there. There are methods to speed up the ripening of bananas, but I've never tried them. If you have, I'd love to hear your results!
I chose to use mini semi-sweet chocolate chips in the cake, but you could use dark or milk if you prefer. I think semi-sweet give the best flavor overall though.
I also chopped up some peanuts to sprinkle between each layer — it's optional, but adds additional flavor and texture, which I love.
Now, the frosting. The heavenly, silky, peanut butter frosting!! You'll be wanting to eat this stuff with a spoon, which I did, gladly. I used the same brown sugar Swiss meringue that I used in my Pecan Pie Cake as the base for this, as I wanted it to be brown and I knew that the peanut butter alone wouldn't quite get me the color I wanted.
Brown sugar Swiss meringue is one of my favorite things!! It adds such a delicious caramel flavor and color. I like to use dark brown sugar to amplify the color, but light brown would work too.
It's important that you don't use natural peanut butter. It might work ok, but I have never tried and have my doubts — it's much oilier than regular peanut butter, which could affect the texture of the frosting.
This peanut butter frosting is a bit on the softer side. Since making it, I experimented with using peanut butter powder instead and much prefer that option. It makes for a more stable buttercream, but both are equally delicious.
The peanut butter, banana, chocolate chip combo is amazing together! I hope you love it as much as I do.
Looking for more Peanut Butter recipes??
Tips for making this Banana Chocolate Chip Cake with Peanut Butter Frosting:
Make sure the bananas you use are overripe, soft, and strong smelling for best taste and texture!
Do not use natural peanut butter in the frosting. It's too oily and could affect the texture.
For extra flavor and texture I added some chopped up peanuts between the layers.
I used mini semi-sweet chocolate chips, but you could use any kind you like.
Be sure to check my Swiss Meringue Buttercream post for tips and troubleshooting.
To help ensure your cake layers bake up nice and flat, see my Flat Top Cakes post.
Banana Chocolate Chip Cake with Peanut Butter Frosting
This Banana Chocolate Chip cake is paired with the most amazing peanut butter frosting you will ever have! It's a truly delicious flavor combination and a new favourite.
Ingredients
Banana Chocolate Chip Cake:
Peanut Butter Swiss Meringue Buttercream:
Instructions
Banana Chocolate Chip Cake:
Preheat oven to 350F. Grease and flour three 6″ cake rounds, line with parchment.

In a medium bowl, whisk cake flour, baking powder, and salt. Set aside
.

In a small measuring cup, combine mashed bananas and buttermilk.

Beat butter until smooth. Add sugar and beat on med-high until pale and fluffy (2-3mins).

Reduce speed and add eggs one at a time, fully incorporating after each addition. Add vanilla and mix until well combined.

Alternate adding flour mixture and buttermilk mixture, beginning and ending with flour (3 additions of flour and 2 of buttermilk). Fully incorporating after each addition. Do not overmix.

Gently fold in chocolate chips.

Spread batter evenly into prepared pans and bake for 35-40mins or until a toothpick inserted into the center comes out mostly clean.

Place cakes on wire rack to cool for 10mins then turn out onto wire rack to cool completely.
Peanut Butter Swiss Meringue Buttercream:
Place egg whites and sugar into the bowl of a stand mixer, whisk until combined.*

Place bowl over a double boiler on the stove and whisk constantly until the mixture is hot and no longer grainy to the touch (approx. 3mins). Or registers 160F on a candy thermometer.

Place bowl on your stand mixer and whisk on med-high until the meringue is stiff and cooled (the bowl is no longer warm to the touch (approx. 5-10mins)).

Switch to paddle attachment. Slowly add cubed butter and mix until smooth.**

Add vanilla and peanut butter and and whip until smooth.



Assembly:
Place one layer of cake on a cake stand or serving plate. Top with 2/3 cup of frosting. Sprinkle with 2 Tbsp chopped peanuts. Repeat with remaining layers and apply a thin coat of frosting all over the cake. Chill for 20mins.

Frost the cake. Smooth the sides and top of the cake then use a 1M tip to pipe dollops on top with remaining frosting.

Do a border of peanuts and chocolate chips along the bottom if desired.
Notes
*Ensure there is NO trace of egg yolks in your whites and that your mixer bowl and whisk is completely grease free or your meringue won't stiffen.
** The buttercream may look like it's curdled at some point. Keep mixing until it is completely smooth.
Calories:
737
kcal
Carbohydrates:
77
g
Protein:
11
g
Fat:
44
g
Saturated Fat:
23
g
Cholesterol:
115
mg
Sodium:
194
mg
Potassium:
381
mg
Fiber:
2
g
Sugar:
57
g
Vitamin A:
1040
IU
Vitamin C:
1.2
mg
Calcium:
114
mg
Iron:
1.2
mg
The nutritional information and metric conversions are calculated automatically. I cannot guarantee the accuracy of this data. If this is important to you, please verify with your favorite nutrition calculator and/or metric conversion tool.