Transform a campfire classic with these Peanut Butter S'mores Cookies! Soft & chewy sandwich cookies with a rich chocolate ganache and toasted marshmallow fluff.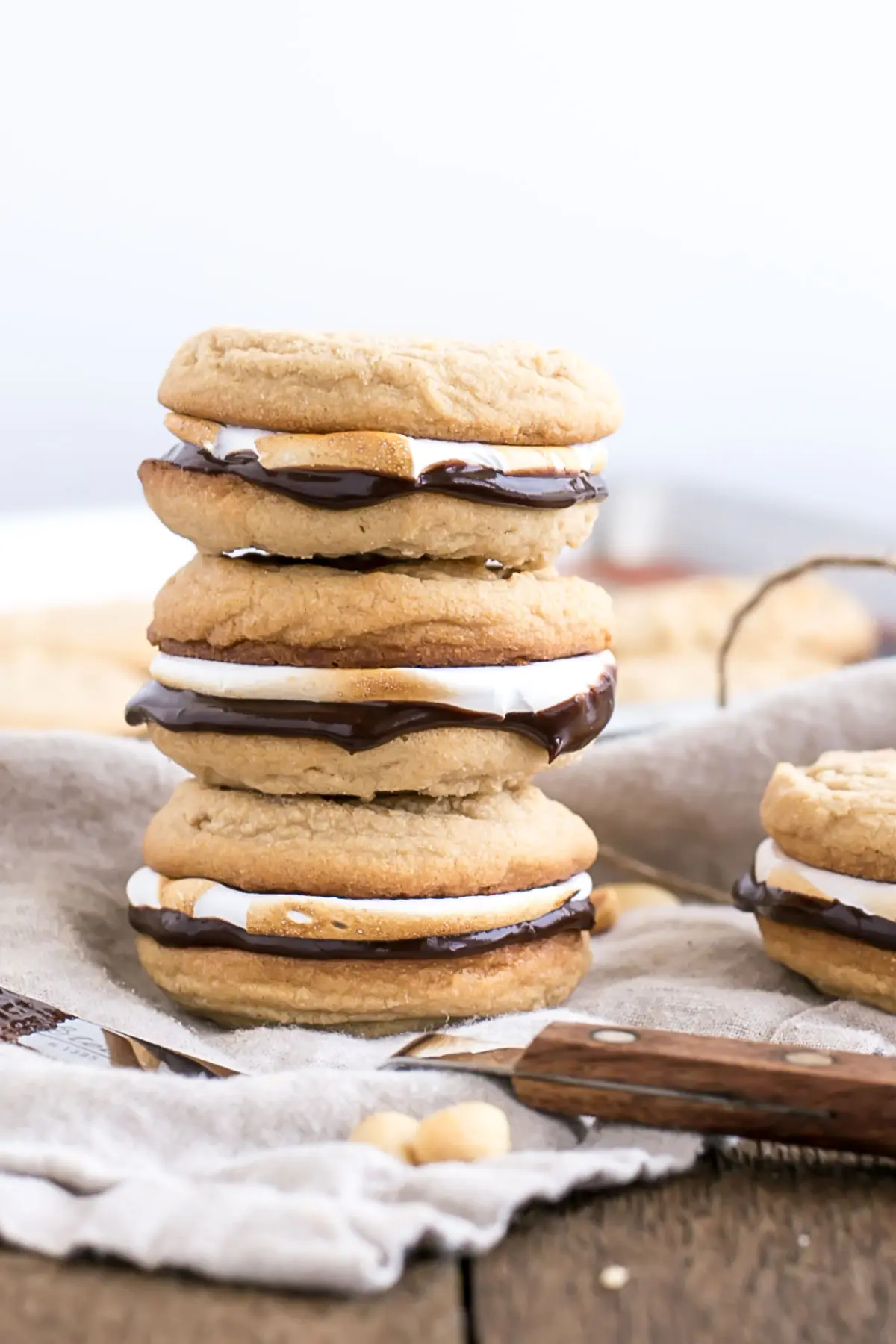 This post has been sponsored by Silpat®. Thank you for supporting the brands I love – they help make Liv for Cake possible! All opinions expressed here are my own.
It is peak summer here, and I am 100% in summer mode. After a crazy long, cold, and wet Fall/Winter/Spring (for real) we have had over three weeks of consistently hot, sunny weather that doesn't seem to be going away anytime soon. Truthfully, Summer is not my favorite season. I am a Fall girl through and through, but I figure I may as well embrace it and enjoy the nice weather while we have it!
For me, summer is synonymous with camping. When I was growing up in the prairies, summers were hot, filled with long sunny days and weekend camping trips with my family. It was the BEST. My sister and I still have some of our best childhood memories from those days. The Peanut Butter S'mores Cookies I bring you today are inspired by all things summer and camping!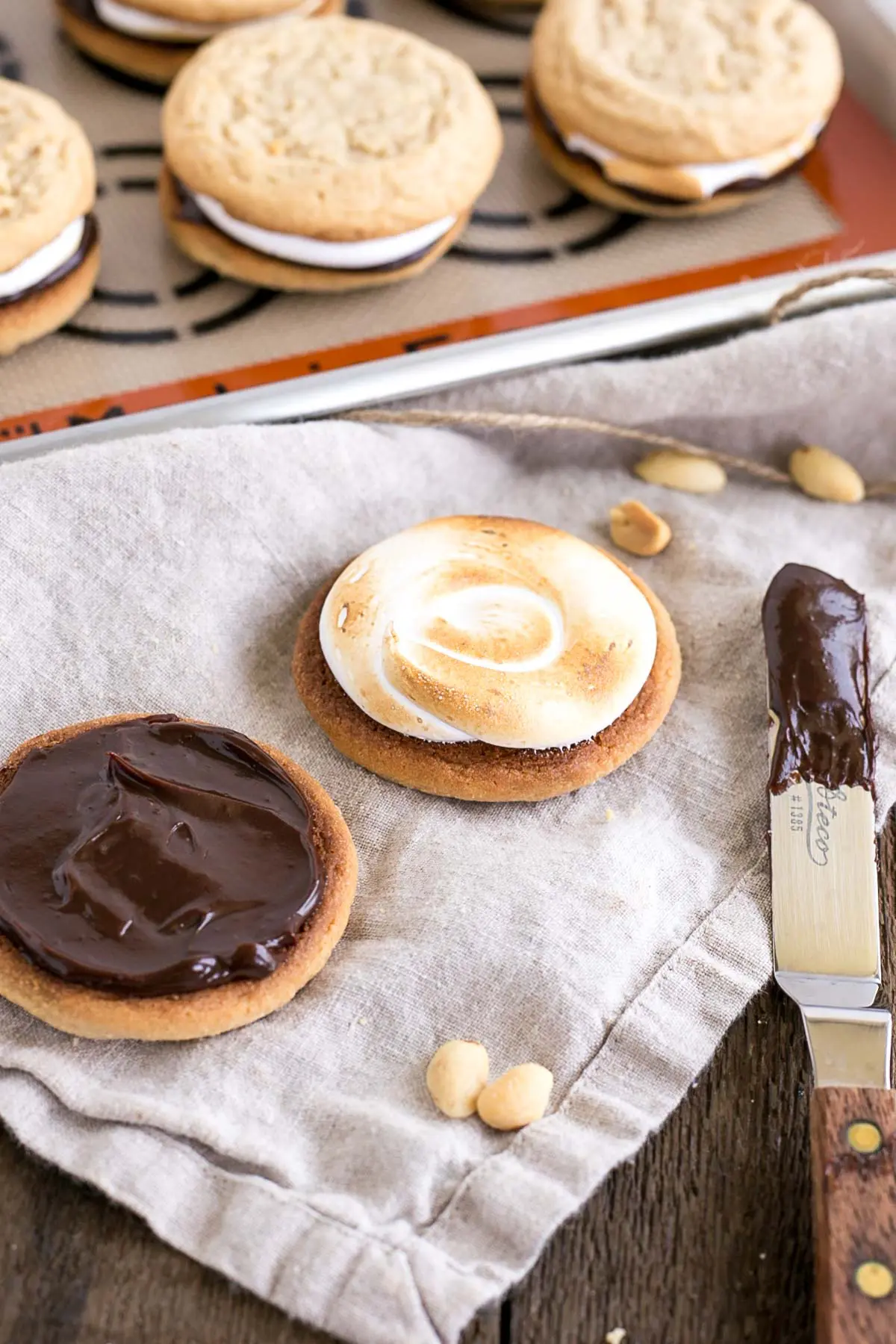 The lovely folks over at Silpat® reached out to me to try another one of their products: the Silpat® Perfect Cookie Mat.
If you've never used silicone mats before, let me tell you, you are missing out! Get some into your baking arsenal asap and you will never look back. I use them for anything and everything I'd bake on a sheet pan. They most often get used for cookies (of course), but also for things like roasting nuts, making streusel, galettes, etc. Basically anything that you'd use parchment for. Sure parchment works well too, but I love that the mats are reusable, and I find that things cook more evenly when I use them.
Silpat® mats specifically are made of fiberglass mesh and the highest quality food grade silicone, which provides consistent heat distribution and promotes even baking and browning. Plus, there is no need to grease them — cookies will slide right off after baking. Cleanup is a breeze, too. I usually just wipe mine down, but you can hand wash them. The mats really are a game changer.
The Silpat® Perfect Cookie Mat is designed specifically with cookie baking enthusiasts in mind. I love that this mat has evenly spaced guides to indicate where you should place your cookies. If you're like me and 1) you don't know how many cookies to fit onto a sheet, and 2) are anal and want them spaced perfectly, you will love this mat!!
A medium sized cookie scoop works best here. Just place your perfectly scooped balls of dough into the inner circle and bake. I recommend using a cookie scoop (especially for sandwich cookies like these) so that your cookies are nice, round, even, and easy to match up. If you don't have a cookie scoop, you can use a measuring spoon or regular spoon. Just make sure to round each ball of dough so it bakes up evenly.
The outer circle on the mat shows you the size of your final baked cookie. I usually chill my cookie dough so that the cookies don't spread too much, but I didn't here because I wanted to test the accuracy of the guide circles.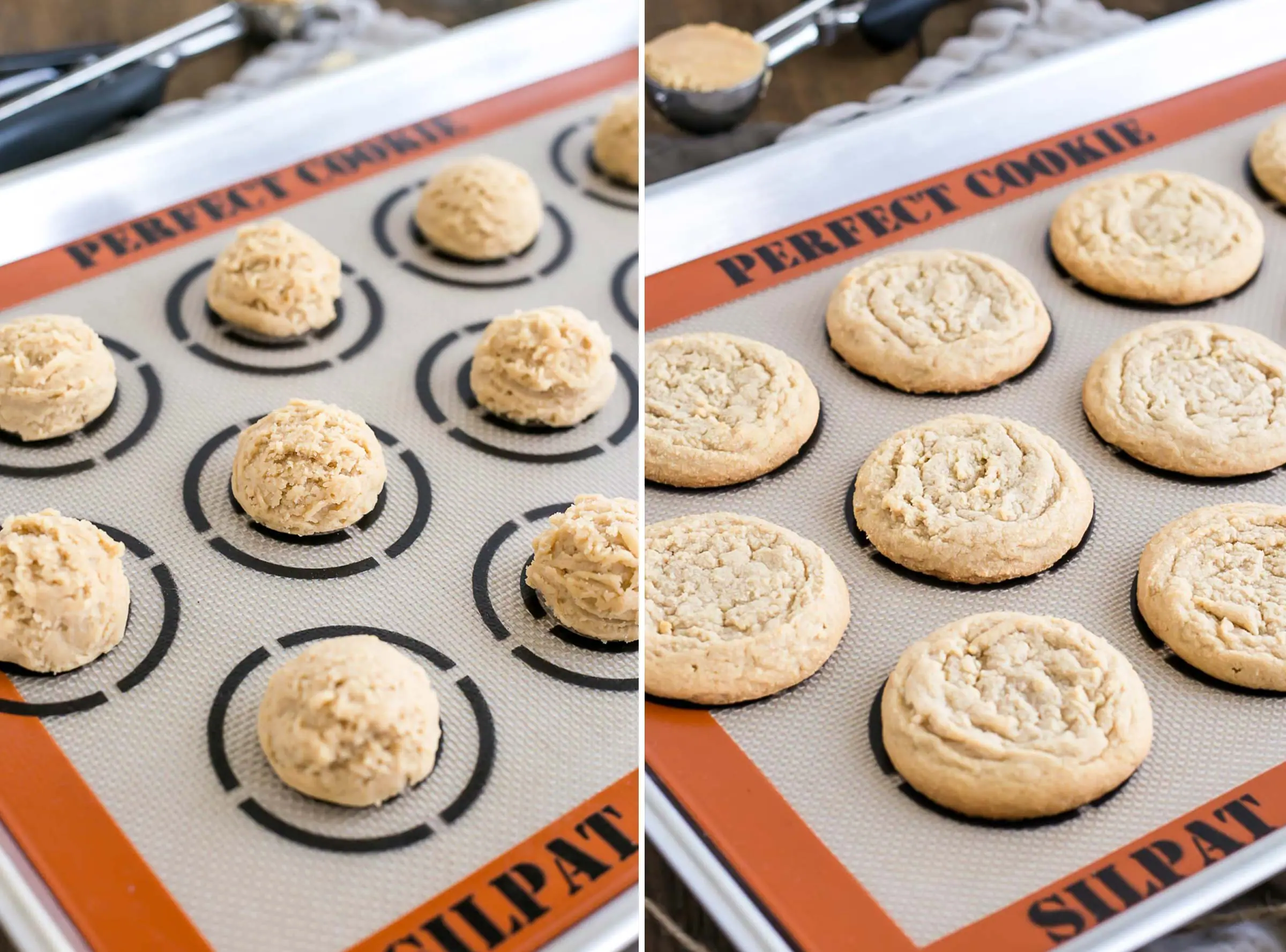 As you can see, they came out pretty perfect! This mat would also be great for making macarons. You can use either the small or large circles as a template when you pipe them out! Much easier than placing a parchment template under the mat, which is what I used to do.
Really, you can't go wrong with any Silpat® products, but if you bake cookies often, you should seriously consider adding the Silpat® Perfect Cookie Mat to your baking toolkit.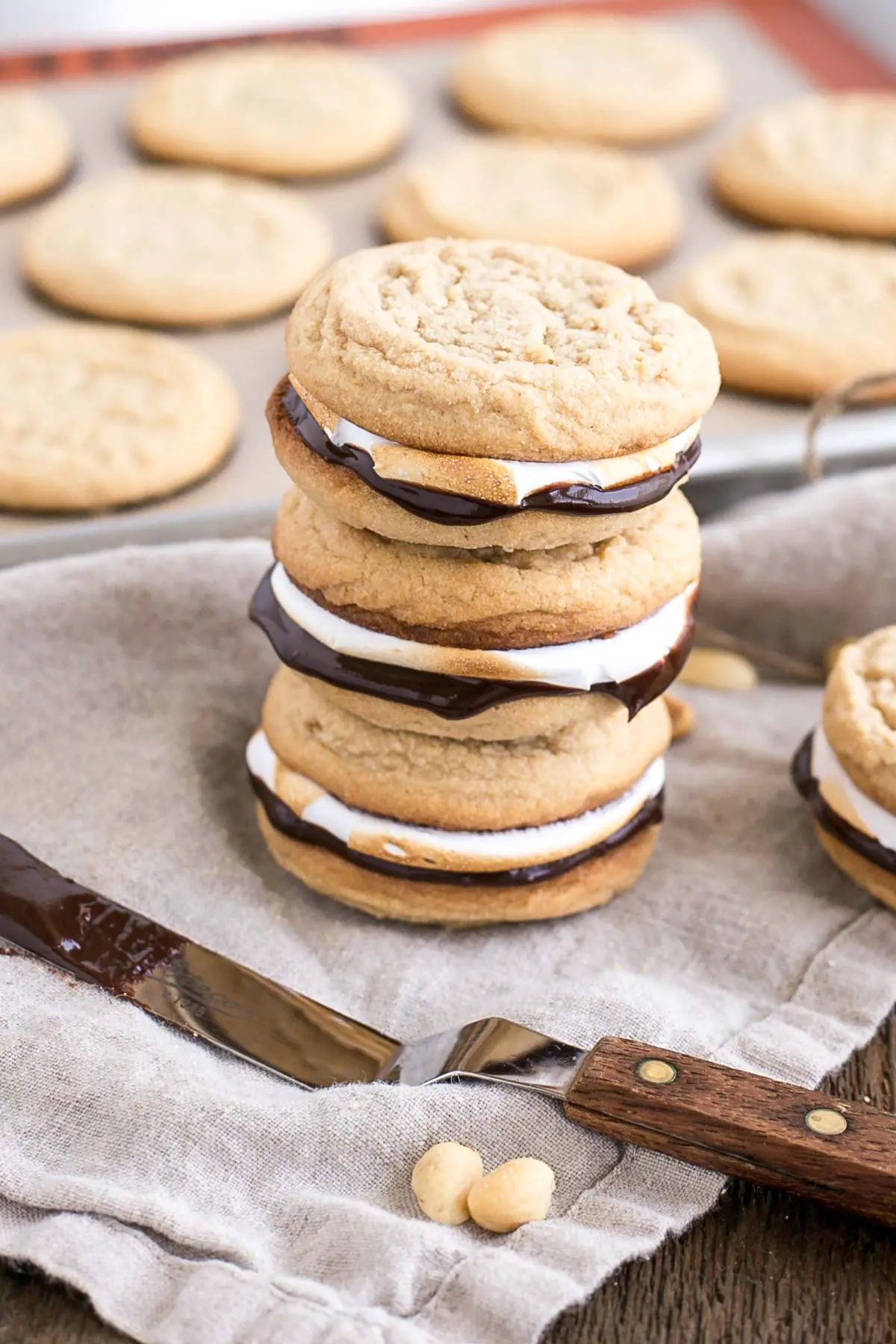 I wanted to bake up something special and new on this mat, and with Summer reminding me of camping, I went with a s'mores theme. But not just any old s'mores cookies… Peanut Butter S'mores Cookies! These delicious sandwich cookies consist of chewy peanut butter cookies, rich chocolate ganache, and homemade marshmallow fluff. They are amazing! The peanut butter cookies are a great alternative to the traditional graham cracker.
In case you don't have access to a campfire, or want an alternative to the traditional s'more, you can't go wrong with these s'mores cookies.
Tips for these Peanut Butter S'mores Cookies:
Peanut Butter S'mores Cookies
Transform a campfire classic with these Peanut Butter S'mores Cookies! Soft & chewy cookies sandwiched with a rich chocolate ganache and toasted marshmallow fluff.
Servings
13
sandwiched cookies
Instructions
Peanut Butter Cookies
Whisk together flour, baking soda, and salt, set aside.


Beat butter & peanut butter until smooth. Add sugars and beat on med-high until pale and fluffy (approx. 2-3mins). Reduce speed and add egg and vanilla. Beat until combined.


Add flour mixture and mix until just combined.


Bake one cookie sheet at a time in the center of the oven until cookies are lightly browned on edges (approx. 10-12 mins).

Remove from oven and let cool for 5mins before transferring to a cooling rack to cool completely.
Chocolate Ganache:
Place chocolate chips and cream into a microwave safe bowl. Stir to combine. Microwave for 30 seconds, stir. Microwave in 10 second intervals, stirring in between, until ganache is smooth and silky. Set aside to cool completely and thicken before using.*

Marshmallow Fluff:
Place water, sugar, and corn syrup in a medium saucepan. Stir to combine.

Insert a candy thermometer into the pot and heat over medium-high. Do not stir from this point on as crystals will form.

Ensure mixer bowl and whisk are completely grease free.**

Place egg whites and cream of tartar in the bowl of a stand mixer.

When the sugar syrup reaches about 225°F, start whipping the egg whites to soft peaks. Approx 3-4mins.

When the whites are ready, the sugar syrup should be at 240°F. Remove from the heat, turn mixer to medium and very slowly and carefully pour the sugar syrup into the whites in a thin, steady stream.***

Once all of the syrup is in, set mixer to medium/high and continue whipping. The whites will deflate at first, but they will thicken and fluff up.

Continue to whip for 7-8 minutes, or until the mixture is thick and glossy. Add in vanilla and whip until the fluff has cooled.
Assembly:
Spread chocolate ganache on one cookie and pipe marshmallow fluff on another. I used a piping bag fitted with an Ateco 808 tip, but you could also just spread this on.

Carefully toast the marshmallow using a kitchen torch and sandwich the two cookies together.
Notes
* I place plastic wrap directly on top of the ganache and let mine sit overnight to thicken. You can speed up this process in the fridge. Once cooled, if ganache is too thick to spread, you can microwave it for 5-10 seconds to thin it out.
** If there is even a speck of grease (or egg yolk) the meringue will not whip. I wipe everything down with lemon juice before adding the egg whites.
*** The sweet spot for this is getting the stream right between the whisk and the sides of the bowl, so the syrup doesn't get splashed by the whisk.
You may have some marshmallow fluff left over which you can store in an airtight container in the freezer and use it at a later date for S'mores Macarons, S'mores Cookie Cups, or good old Rice Krispie Treats.
Calories:
433
kcal
Carbohydrates:
59
g
Protein:
6
g
Fat:
20
g
Saturated Fat:
9
g
Cholesterol:
39
mg
Sodium:
198
mg
Potassium:
210
mg
Fiber:
1
g
Sugar:
47
g
Vitamin A:
305
IU
Calcium:
30
mg
Iron:
1.5
mg
The nutritional information and metric conversions are calculated automatically. I cannot guarantee the accuracy of this data. If this is important to you, please verify with your favorite nutrition calculator and/or metric conversion tool.