Peanut butter cake layers and frosting paired with your favorite jam. This Peanut Butter & Jelly Cake is a childhood flashback in the best way possible.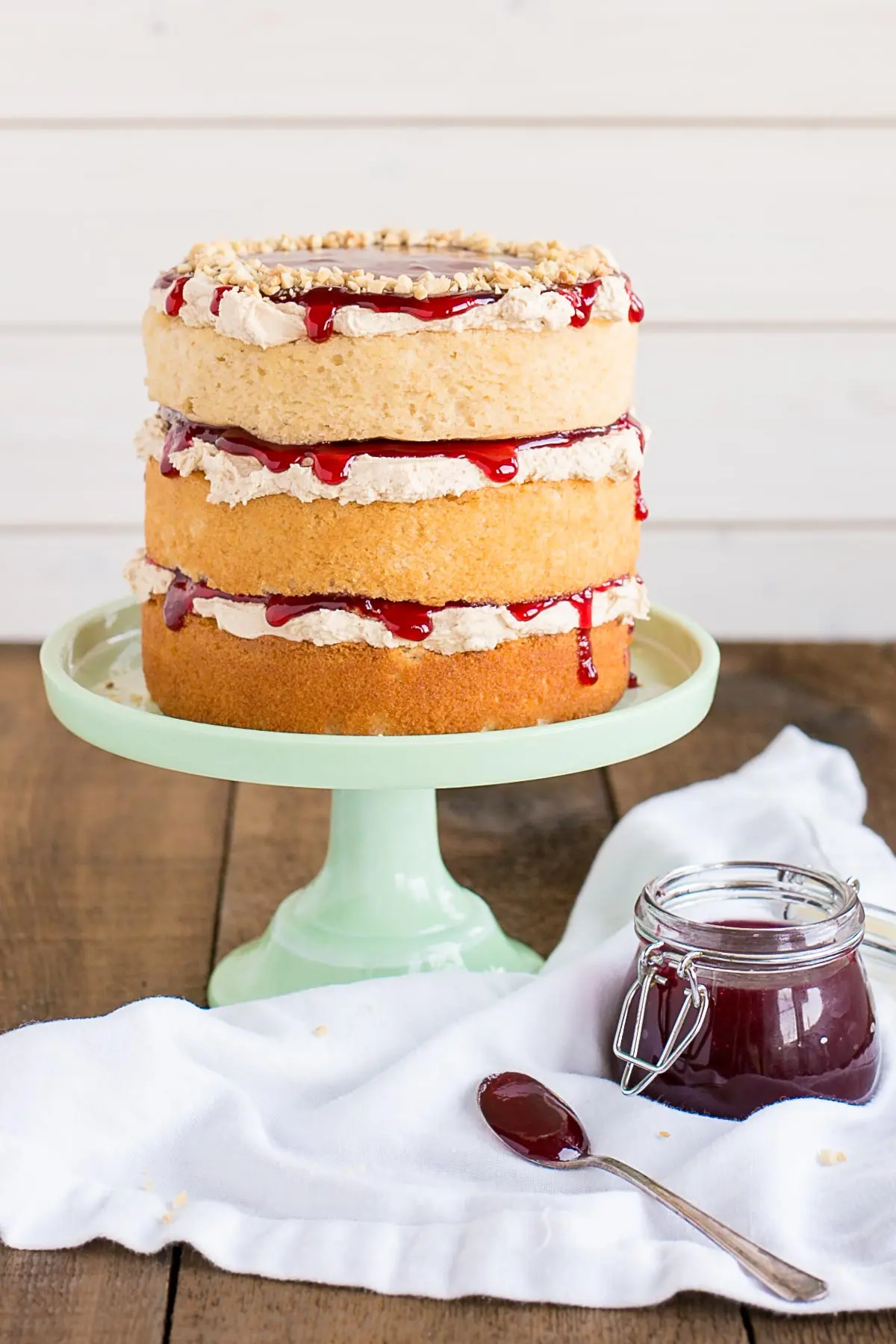 In case it's felt like Liv for Cookie Cups over here lately, rest assured that I have some delicious cakes coming your way over the next few weeks, starting with this Peanut Butter & Jelly Cake! I am a huge fan of this combo. That classic peanut butter & jelly flavor just takes me back to my childhood. I'm actually surprised it's taken me so long to turn it into a cake.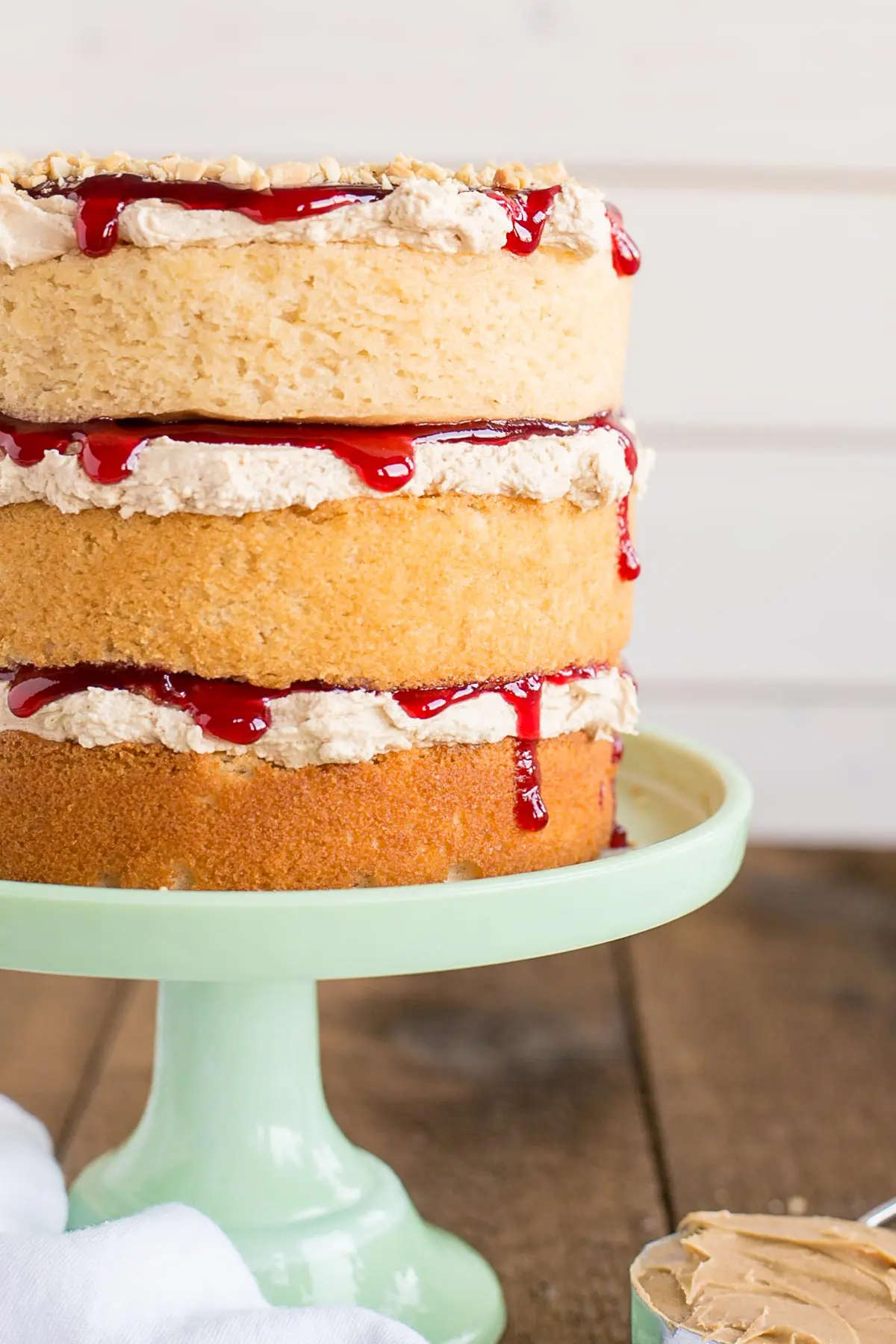 The unintentional ombre effect on these pretty layers is due to the fact that my oven sucks. The oven in our last place sucked too, but for different reasons. This new one has major hot spots, and it makes cooking 3 cake layers (evenly) at a time virtually impossible. Rotating the pans doesn't help either, because by the time the cakes have set enough to safely rotate, one of the layers is always practically done (and very brown).
I've tried to rotate the layers a little earlier, but on more occasions than I'd like to count, one of them wasn't set enough and collapsed on me. SO frustrating. I almost always have to take the layers out at separate times based on level of done-ness.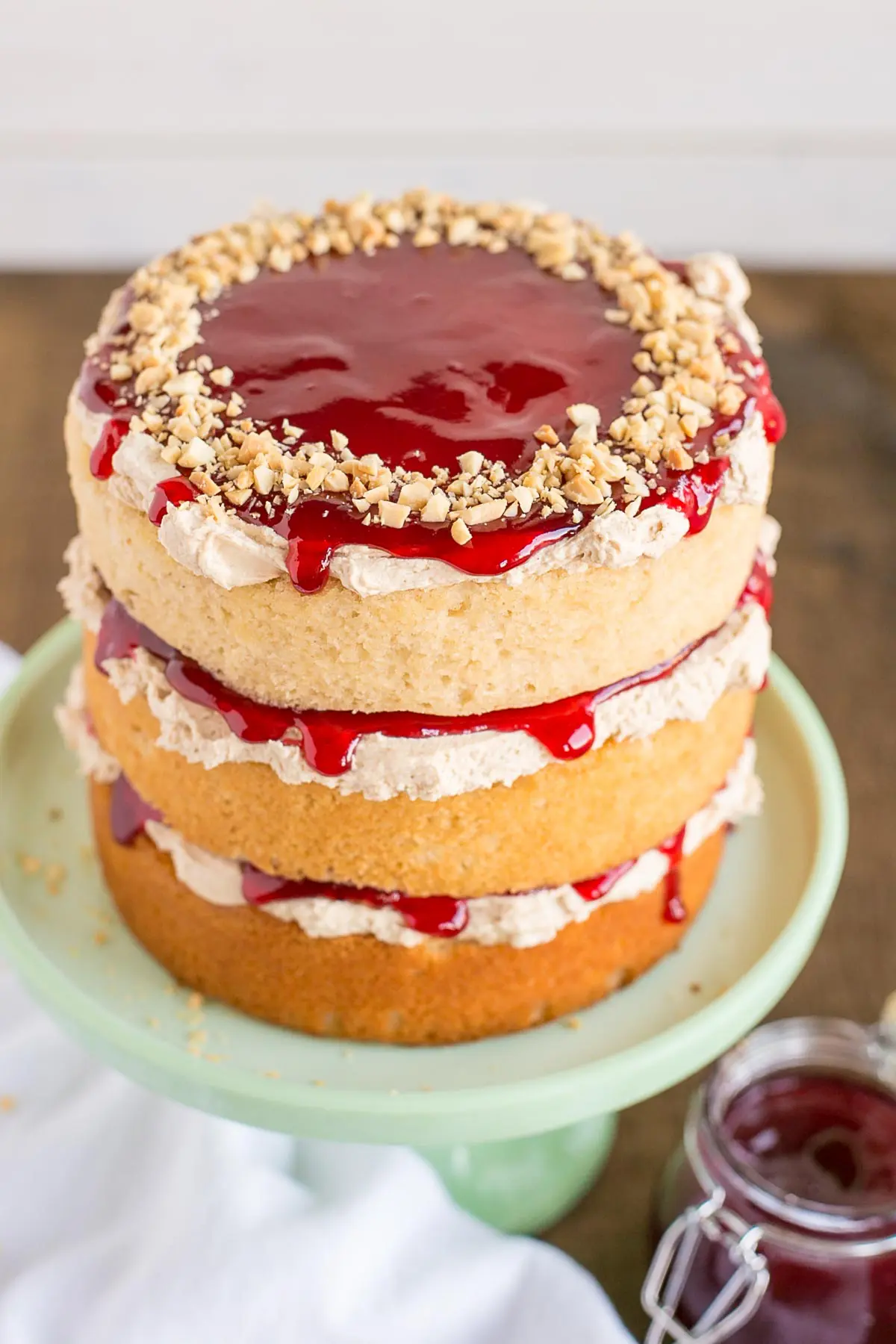 So, my intent was to do a naked cake for this Peanut Butter & Jelly Cake, but now I had unevenly colored layers to deal with. The lazy baker in me was not about to remake and rebake these cake layers, so I decided to stack them into an ombre effect. Despite not being what I intended, I think it actually looks quite pretty.
This Peanut Butter & Jelly Cake is one of the easier cake recipes on Liv for Cake, both in terms of baking and decorating. It uses a powdered sugar-based frosting, which I consider easier than meringue-based frostings (though meringues are my fave), but it's just as delicious. The only tricky part of this recipe is stacking the cake.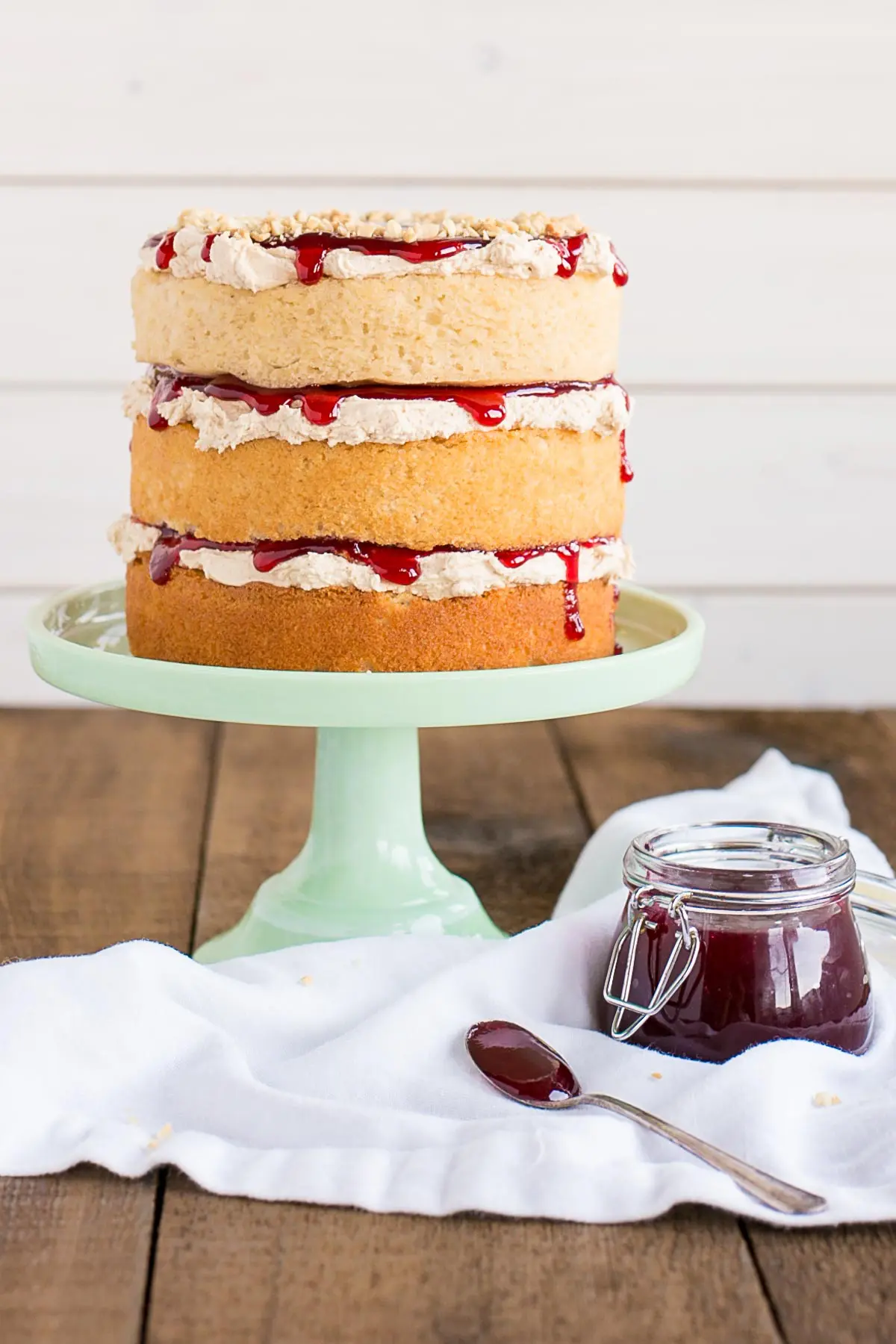 Because I put the jam on top of the frosting in each layer, it makes the assembly a bit more of a challenge. I used a decent amount of jam too (because I love it), which added to the difficulty. The jam makes the cake layers slide around quite a bit, so I recommend frosting and jamming each layer separately, then stacking them at the end. If that makes sense.
You could also try doing the jam first and then the frosting on each layer — that would help a bit but you wouldn't have the pretty drip effect. Regardless of which way you decide to go, I also recommend putting some skewers through the top of the cake once it's stacked for additional support.
This Peanut Butter & Jelly Cake tastes just like a PB&J sandwich, but with delicious cake layers instead of bread. If you're as big a fan of this combo as I am, you will love this cake!
Notes & tips for this Peanut Butter & Jelly Cake:
You can use any type of jam you like — I prefer seedless raspberry, but any will work, seeded or not.
Do not use natural peanut butter in either the cake or the frosting. It has a much higher oil content and will affect the recipes.
The layers are best frosted individually and then stacked as the jam makes them slide easily.
Place wooden skewers into the cake for additional support.
To help ensure your cake layers bake up nice and flat, see my tips here.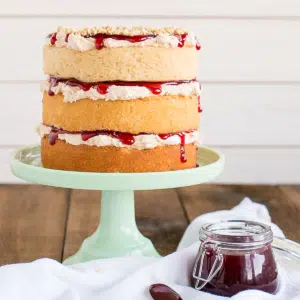 Peanut Butter & Jelly Cake
Peanut butter cake layers and frosting paired with your favorite jam. This Peanut Butter & Jelly Cake is a childhood flashback in the best way possible!
Instructions
Peanut Butter Cake:
Preheat oven to 350F and grease and flour three 6″ cake rounds, line with parchment.

In a medium bowl, whisk flour, baking powder, and salt. Set aside.

Using a stand mixer fitted with the paddle attachment, beat butter & peanut butter until completely smooth. Add sugar and beat on med-high (2-3mins).

Reduce speed and add eggs one at a time, fully incorporating after each addition. Add vanilla.

Alternate adding flour mixture and buttermilk, beginning and ending with flour (3 additions of flour and 2 of buttermilk). Fully incorporating after each addition. Do not overmix.

Spread batter evenly into prepared pans. Smooth the tops with a spatula.

Bake for approx. 25-30mins or until a toothpick inserted into the center comes out mostly clean.

Place cakes on wire rack to cool for 10mins then turn out onto wire rack.
Peanut Butter Frosting:
Beat butter until creamy. Add peanut butter and beat until well combined (2-3 mins).

Add sifted powdered sugar in one 1/2 cup at a time and beat until combined. Add vanilla.

Add cream one Tbsp at a time until desired consistency. Beat on high for 3 minutes until fluffy.
Assembly:
Place one layer of cake on a cake stand or serving plate. Top with 1/2 cup of frosting and spread evenly. Top with 3 Tbsp of jam. Repeat with remaining layers, then stack each on top of the other.**

Top with chopped peanuts if desired.
Notes
* I used seedless jam as I like the smooth texture, but you could use one with seeds if you prefer.
** The jam makes stacking the layers difficult. I recommend frosting each layer of cake separately and then stacking and also placing 3 cake skewers into the cake once stacked for additional support.
Calories:
335
kcal
Carbohydrates:
45
g
Protein:
7
g
Fat:
14
g
Saturated Fat:
6
g
Cholesterol:
53
mg
Sodium:
214
mg
Potassium:
206
mg
Fiber:
1
g
Sugar:
28
g
Vitamin A:
315
IU
Calcium:
55
mg
Iron:
1.2
mg
The nutritional information and metric conversions are calculated automatically. I cannot guarantee the accuracy of this data. If this is important to you, please verify with your favorite nutrition calculator and/or metric conversion tool.