A classic holiday flavor combo in one delicious cake! This Chocolate Peppermint Cake combines rich chocolate cake layers with a silky peppermint frosting.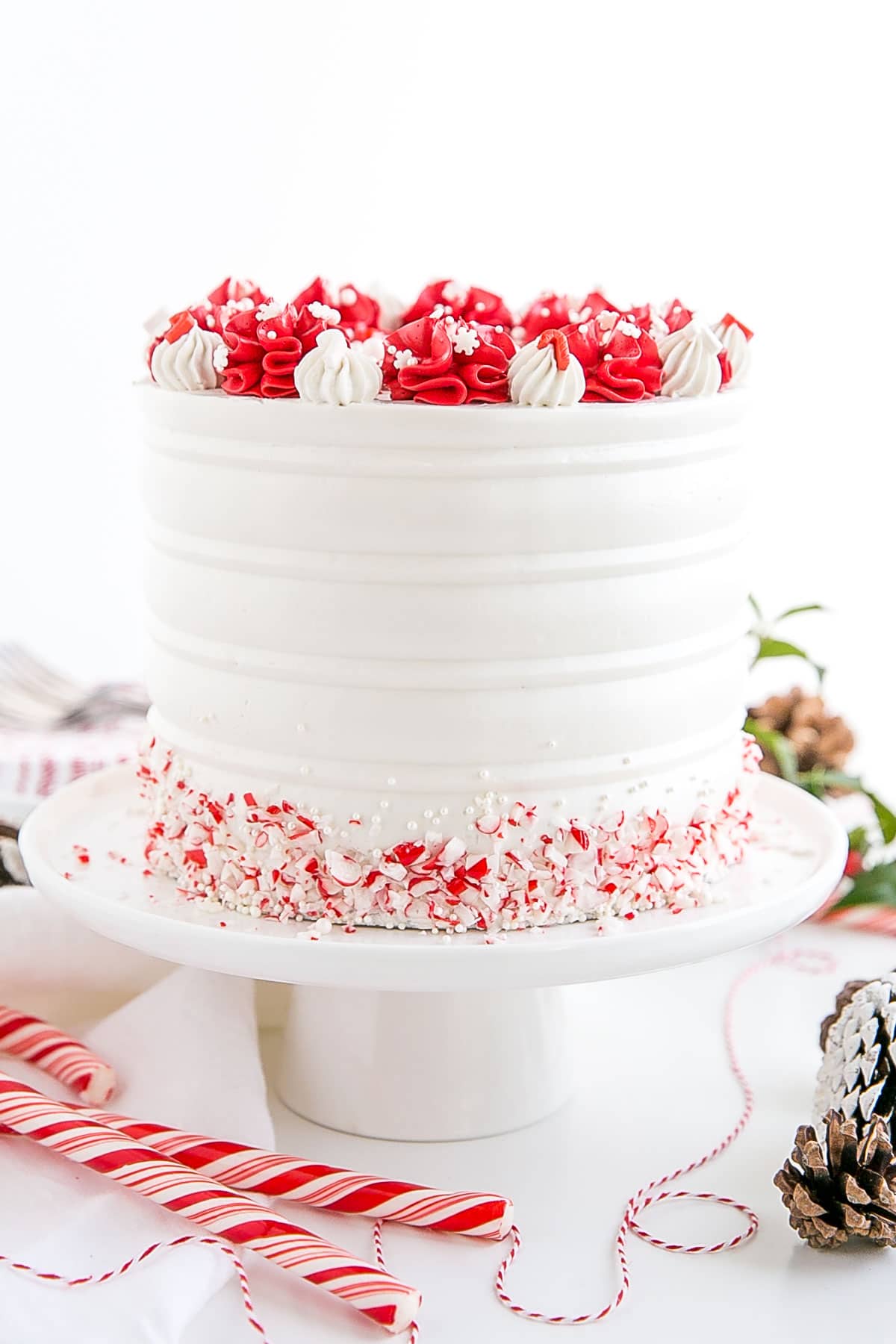 This recipe has been years in the making. Years! I first planned to make it two years ago, then again last year, but it kept getting pushed aside. I actually love the chocolate-mint combo (hello After Eights!) so I have no idea why I didn't get to it sooner. I've actually had the post sitting in my Drafts since Nov 2018!
Now, a full two years later, I think it's high time I give this Chocolate Peppermint Cake some time in the spotlight.
How to make this Chocolate Peppermint Cake
This is a very simple flavor combination. Chocolate cake with peppermint frosting. I used my favorite chocolate cake recipe for this, modified slightly for three 6″ pans.
Adding peppermint extract to the cake batter is optional. It depends on how strong a peppermint flavor you want throughout the cake. I didn't add it because I wanted a contrast of the chocolate cake with the peppermint frosting, but I think it would be delicious either way.
Peppermint Swiss Meringue Buttercream
I used my Swiss Meringue buttercream recipe and simply added some vanilla and peppermint to it. I say simply but it was not at all simple. I could not get that peppermint flavor to be strong enough no matter how much extract I added.
You really should only need 1 tsp or so but I ended up adding over 2 Tbsp and still found it very, very faint. My taste testers did too. Maybe it was the brand of extract I was using and maybe it was just a bad batch, but I would make sure you use a high-quality brand of peppermint extract. Next time I'll try to hunt some down from Nielsen-Massey.
How to Make Buttercream White
Depending on the type of butter you use, you could find yourself with a fairly yellow-tinted buttercream. This is often the case for me as I find the butter I use to be pretty yellow.
Yellow buttercream is less than ideal for a pretty WHITE and red peppermint cake, right?
Fear not, I have a few tips for you to neutralize that color and help make it more white. I have a detailed post on How to Make White Buttercream where you can see all my tips.
For my frosting here, I first added a bit of violet color gel and then brightened it up with some bright white gel.
How much of each you'll need to add really depends on how yellow your buttercream is. Be sure to not add too much violet though as your buttercream will start to look grey. I just add a little at a time with a toothpick. Again, have a look through my How to Make White Buttercream post for more details.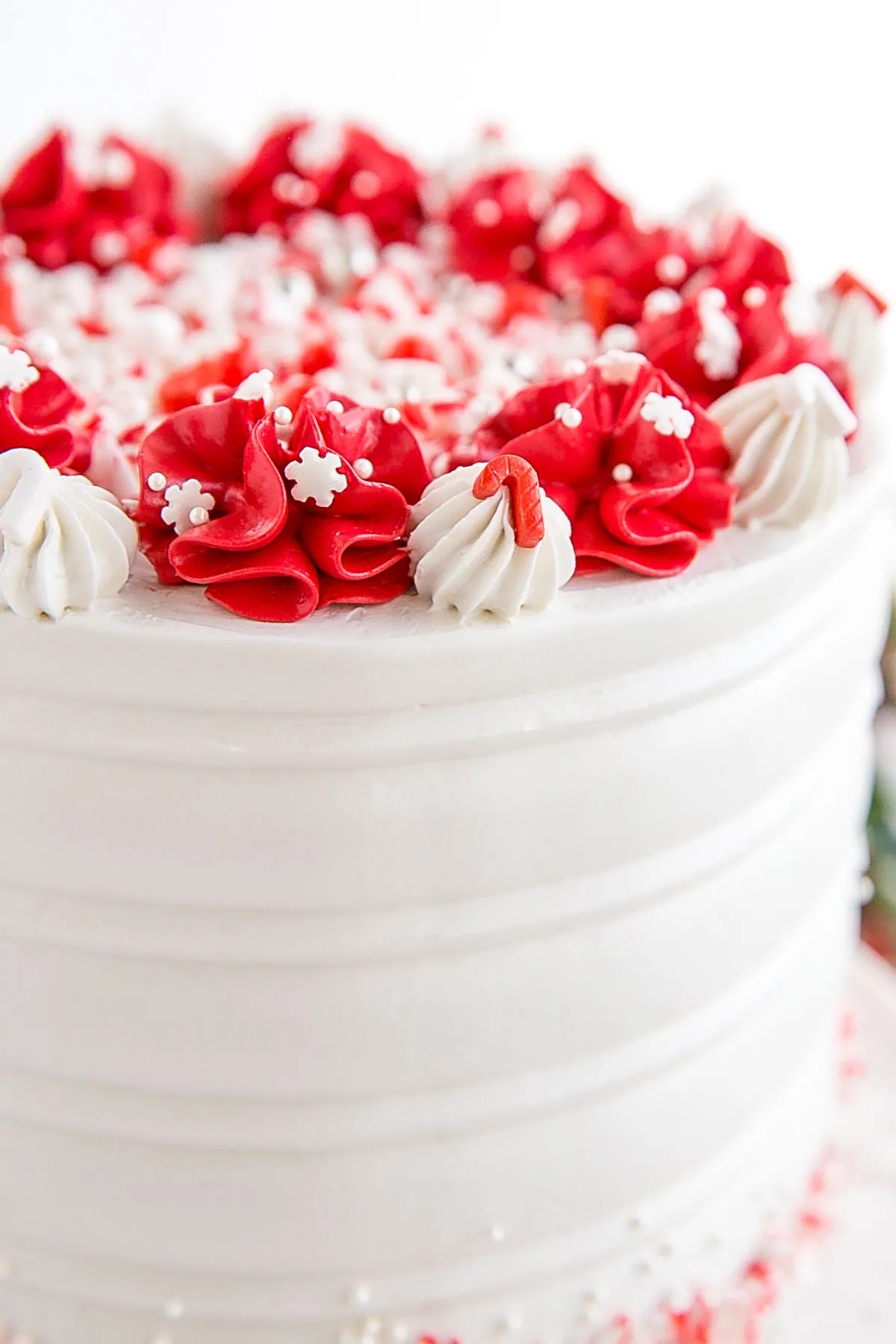 Coloring Buttercream Red
Getting rich colors with a Swiss meringue buttercream is next to impossible. It just doesn't take color as well as an American buttercream and you'll find that you need to use way more color gel to make any traction.
I used an obscene amount of red color gel to get that tiny bit of frosting deep red.
When I say obscene, I meant it. I took out about 1.5 cups of the white buttercream to tint red (in hindsight, I should have done this before I added the bright white color gel to it, oops) and used an entire brand new container of Wilton no-taste Red plus some leftover Americolor Super Red that I had. It took it to like a dark pink. I let it sit overnight and hoped for the best.
No luck, the color barely deepened at all. So I went and bought more color gel and used another half container (!!) of it in the frosting. It still wasn't red enough.
Finally, I went off to google for some tips and found this video where she mentions adding a bit of powdered sugar to the buttercream to help it take the color.
In hindsight, it sounds obvious since that's what helps American buttercream color so well. I was worried it would add some grittiness, but since I was using it only on a small amount of frosting I didn't think it would matter much. I added about 3 Tbsp of sifted powdered sugar and it totally worked!
So much so that I wondered if it was now too red. Hah.
The powdered sugar actually didn't add any grittiness at all which was a pleasant surprise.
So from now on, if you're looking to color your Swiss meringue buttercream, add a bit of powdered sugar to the frosting first. Oh and probably don't whiten it first like I did! Rookie mistake.
You will still need to use a lot more color gel than you would for an American buttercream, but not nearly as much as I did.
Decorating this Chocolate Peppermint Cake
The decorating of this Chocolate Peppermint Cake veered so much off the initial design that it's ridiculous. I'm going to share my ideas with you in case you prefer them and want to try them instead. Or maybe you're just curious.
My initial thought/plan was to line the entire outside of the cake with peppermint sticks. I actually spent $20 purchasing 40 (!!) individual peppermint sticks for this. They are all now sitting in my pantry hopefully to be used sometime next year? Or maybe as stir sticks for hot chocolate over the holidays.
Anyhow, there were a couple of issues with my plan for the peppermint sticks.
First of all, the red candy stripes were a little bit too dark, almost maroon-like. The rest of my Christmas sprinkles etc were more of a happy Christmas red. As I'm writing this I'm thinking back to that scene in The Holiday (which we just watched again last week) where Amanda is telling her editor to use a "happy red, not like a Scorsese red".
These candy cane sticks were most definitely a Scorsese red. And there was no way I was using more color gel to try to get the frosting to match.
Second, the sticks were all slightly different lengths. Breaking/cutting them was a recipe for disaster so that wasn't happening. They would have gone all the way to the top of my 6″ three-layer cake too and I just couldn't think of a way to make that look pretty. Maybe I could cover the tops of them with a pipe border or some other elements but nothing was really coming to mind.
So, that idea got scrapped and the pretty cake-combed sides were born.
In hindsight, I think this is much prettier. It lets the red frosting (that I worked so hard on) stand out and pop.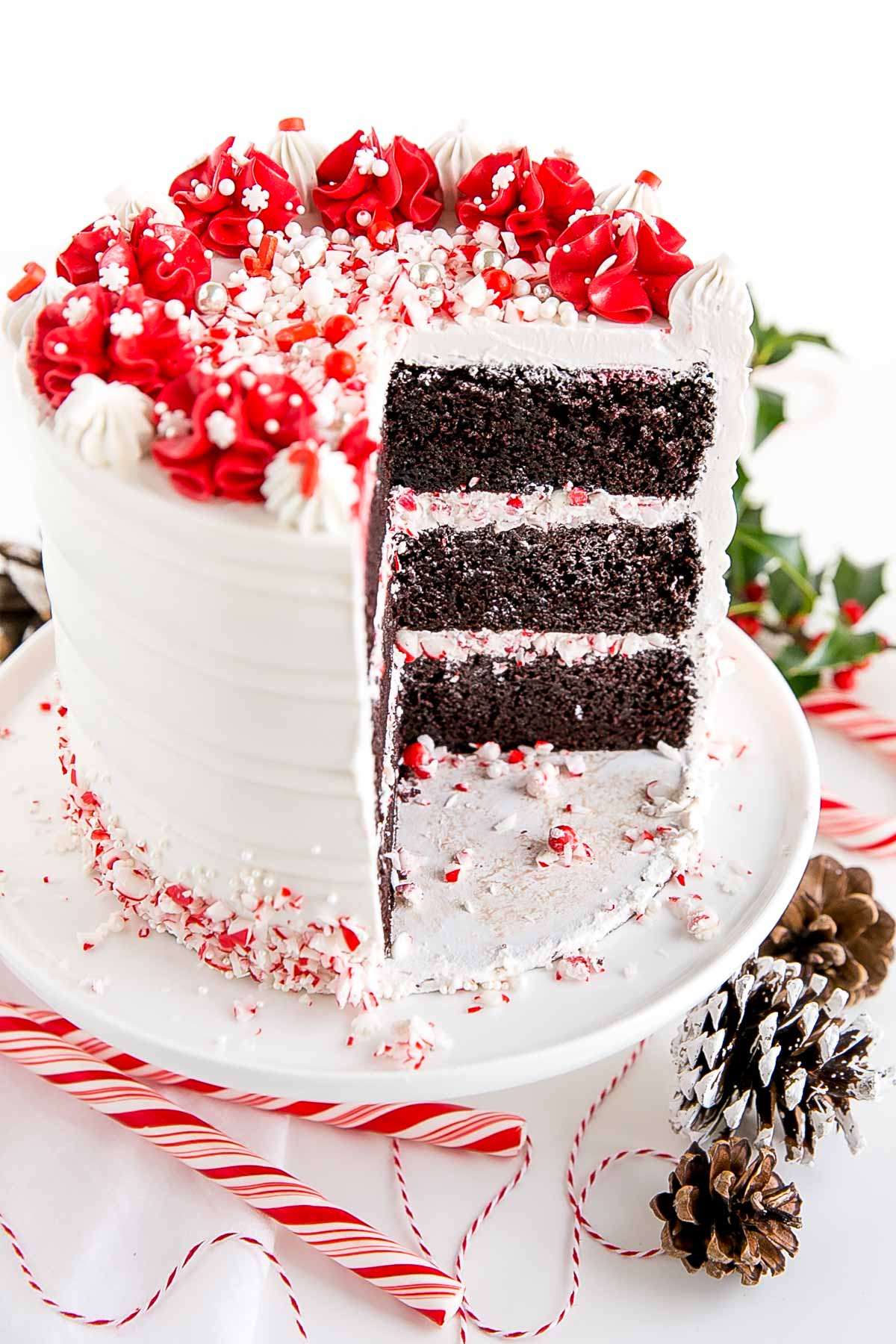 Another thing I initially planned to do was to stripe the frosting inside like I did with my White Chocolate Candy Cane Cake.
The plan was to pipe alternating rings of red and white to get that candy cane striped effect. You can see what I mean in the slice photo in that post.
Since I changed the design for the exterior, I decided to keep it simple inside. I thought it would look a little less whimsical and classier which is what I was going for with the new design. Instead, I just sprinkled some crushed candy canes on top of the frosting for each layer. The candy canes will soften over time and get a bit chewier, so just keep that in mind.
The stripes would be super pretty though if you decide to do them. You will need to color more of the frosting red if you plan to do that though!
For the top of the cake, I spaced out the red dollops (made with a 1M tip) slightly so I could pipe smaller white dollops (with a 4B tip) between them and top each of those with a candy cane sprinkle. I think it looks super cute!
The rest of the sprinkles are a homemade mix of a variety of ones I had. The snowflakes are particularly cute too I think!
If you're a chocolate mint fan, this cake will not disappoint! It's the perfect dessert to have over the holidays.
Frequently Asked Questions
How can I convert this recipe?
The recipe as-is will also work in two 8″ pans. For three 8″ pans, 1.5x the recipe. Baking time may need to be adjusted.
To make cupcakes, all you need to do is reduce the baking time — start checking at 15mins or so. The recipe will make 18-24 cupcakes depending on size.
For other conversions go

here

.
Can I make it in advance?
The cooled cake layers can be baked ahead of time, double wrapped in plastic wrap, and frozen for up to 3 months. Take out 2-3 hours before assembly.
The frosting can be placed in an airtight container and refrigerated for 1 week for frozen for 3 months. Bring to room temp and rewhip before using.
The finished cake (whole or sliced, stored airtight) can be frozen for up to 3 months.
Can I get the measurements by weight/grams?
There is a Metric option in the recipe card. If you click it it will convert everything to grams.
This conversion is done automatically and I cannot guarantee the accuracy but many readers have had success using the metric option on my recipes.
Looking for more Holiday Cake Recipes?
Tips this Chocolate Peppermint Cake
I used candy cane sprinkles and snowflake sprinkles and a mix of some other nonpareils I had.
If you add crushed candy canes between the cake layers, they will soften over time and get a little chewy.
It takes a LOT of red color gel to get the Swiss meringue buttercream a deep red color. Add a bit of powdered sugar to help it along. See post for details.
For the texture on the sides of the cake, I used the right side of the middle cake comb from this set.
I like to prepare my cake pans using

Homemade Cake Release

then line with parchment.
Be sure to check my

Swiss Meringue Buttercream

post for tips and troubleshooting.
Learn how to keep your cakes moist using Simple Syrup.
To help ensure your cake layers bake up nice and flat, check out my Flat Top Cakes post!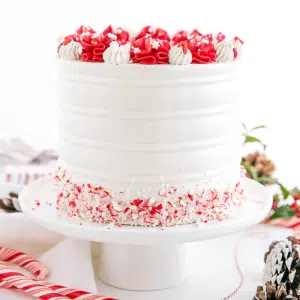 Chocolate Peppermint Cake
A classic holiday flavor combo in one delicious cake! This Chocolate Peppermint Cake combines rich chocolate cake layers with a silky peppermint frosting.
Ingredients
Chocolate Peppermint Cake:
Peppermint Swiss Meringue Buttercream:
Instructions
Chocolate Peppermint Cake:
Preheat oven to 350F, grease three 6″ round baking pans and dust with cocoa powder. Line bottoms with parchment.

Place all dry ingredients into the bowl of a stand mixer fitted with a paddle attachment. Stir to combine.

In a medium bowl whisk all wet ingredients (pour water in slowly as not to cook the eggs if very hot).

Add wet ingredients to dry and mix on medium for 2-3 mins. Batter will be very thin.

Pour evenly into prepared pans. I used a kitchen scale to ensure the batter is evenly distributed.

Bake until a cake tester comes out mostly clean. A total of 30-35mins.

Cool 10 minutes in the pans then turn out onto a wire rack to cool completely.
Peppermint Swiss Meringue Buttercream:
Place egg whites and sugar into the bowl of a stand mixer, whisk until combined.*

Place bowl over a hot water bath on the stove and whisk constantly until the mixture is hot and no longer grainy to the touch (approx. 3mins). Or registers 160F on a candy thermometer.

Place bowl on your stand mixer and whisk on med-high until the meringue is stiff and cooled (the bowl is no longer warm to the touch (approx. 5-10mins)).

Switch to paddle attachment. Slowly add cubed butter and mix until smooth.**

Add vanilla and peppermint extract (to taste) and whip until smooth.

Remove 1 1/2 cups of buttercream (more if doing inside stripes). To that add 2-3 Tbsp of powdered sugar and enough color gel to achieve the red you want. Color will darken slightly over time.

If desired, whiten the remaining frosting to remove the yellow tint by using bright white color gel or following these tips.
Assembly:
Place one layer of cake on a cake stand or serving plate. Top with about 2/3 cup buttercream. Sprinkle with 1/4 cup crushed candy canes if desired. Repeat with remaining layers. Frost and smooth the outside with a thin crumb coat. Chill for 20mins.

Frost and smooth the outside of the cake, generously frosting the sides specifically. Smooth with an icing smoother. Use a cake comb on the sides of the cake. Repeat, scraping off more frosting each time, until smooth.

Pipe dollops of the red buttercream on top, slightly separated, using a 1M piping tip. Pipe smaller dollops of the white frosting in between the red ones using a 4B tip. Decorate the bottom with crushed candy canes and sprinkles if desired.
Notes
* Ensure there is NO trace of egg yolks in your whites and that your mixer bowl and whisk is completely grease-free or your meringue won't stiffen.
** The buttercream may look like it's curdled at some point. Keep mixing until it is completely smooth.
Calories:
681
kcal
Carbohydrates:
85
g
Protein:
6
g
Fat:
37
g
Saturated Fat:
24
g
Cholesterol:
114
mg
Sodium:
413
mg
Potassium:
208
mg
Fiber:
2
g
Sugar:
68
g
Vitamin A:
1015
IU
Calcium:
59
mg
Iron:
2
mg
The nutritional information and metric conversions are calculated automatically. I cannot guarantee the accuracy of this data. If this is important to you, please verify with your favorite nutrition calculator and/or metric conversion tool.