Learn how to make buttercream white with these simple tips & tricks! Perfect for wedding cakes, wintery white cakes, and when you need a white buttercream base to start from.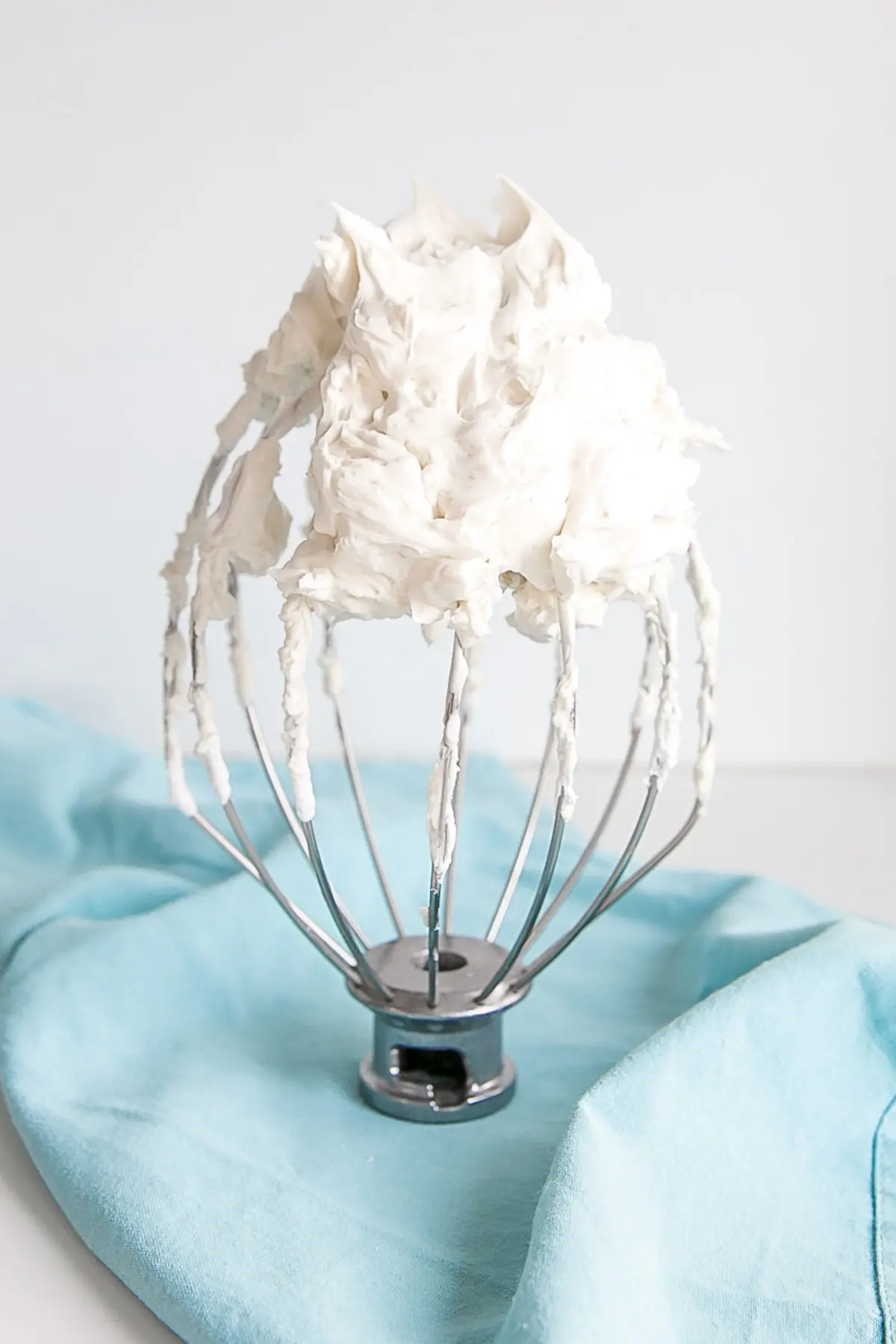 The best way to get a pure white buttercream is to use shortening. It's what you see in most novelty grocery store cakes. A simple American buttercream made with shortening and powdered sugar.
Most bakers though (myself included) prefer to use butter instead of shortening in their buttercreams. It not only gives a better flavor but a better texture too.
Mind you, I won't turn my nose up at any buttercream, shortening or not, and I am a closet fan of those sickly sweet grocery store cakes.
Chances are, if you're using real butter it's going to come out with a yellow tint to it. How yellow depends on a few factors that I cover below. This is less than optimal for a few reasons:
Sometimes you need a pure white buttercream (wedding cakes)
A white base is best to start with when adding other colors so that the yellow doesn't tint it (for example adding blue to a yellow buttercream will result in a green color)
In today's post I'm going to talk about the things you can do to prevent your buttercream from being too yellow, and things you can do to make your buttercream white or neutralize that yellow color.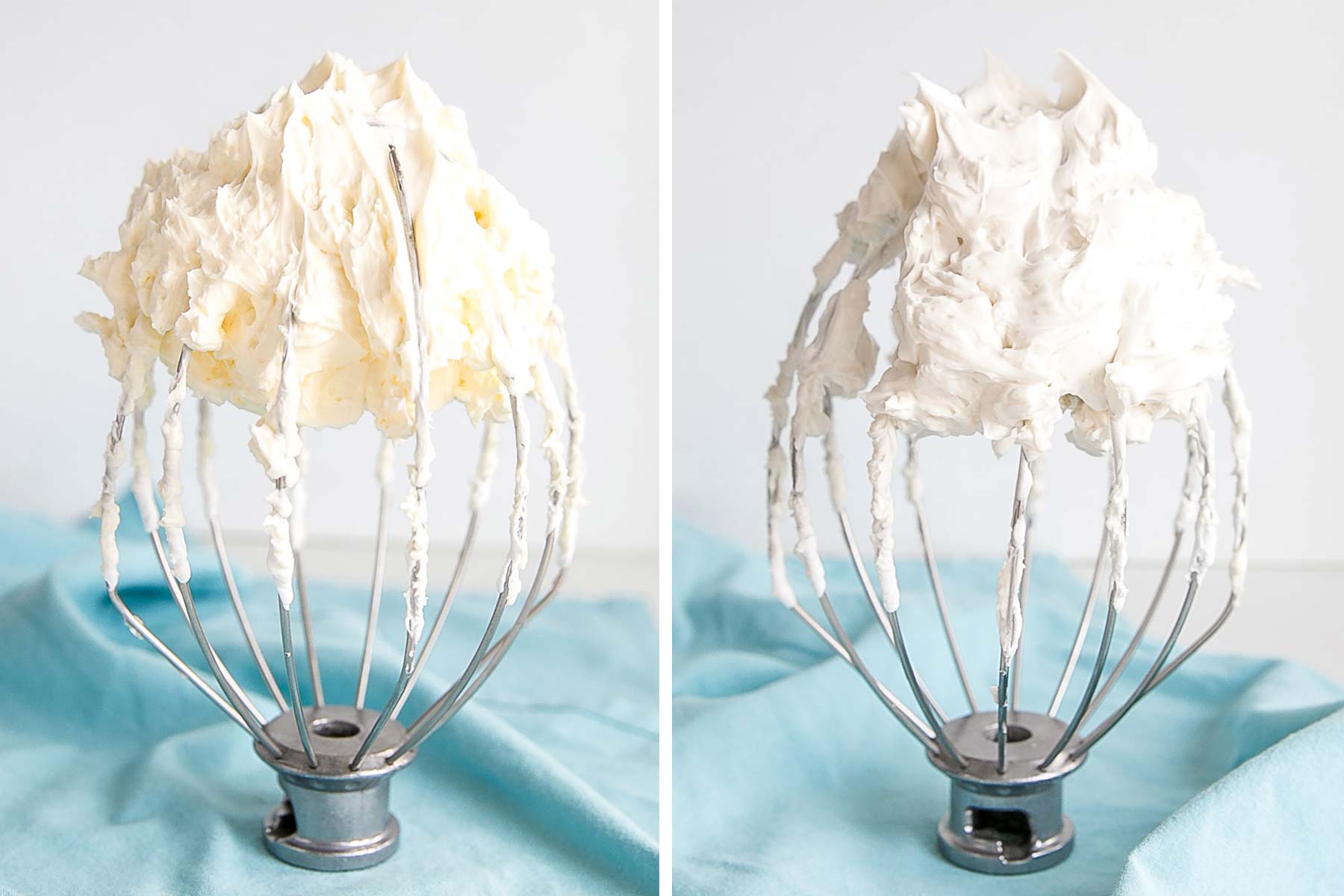 Let's get right into it…
How to Make White Buttercream
There are a few things you can do to help make your buttercream white — by starting out with a lighter base, avoiding color additions (vanilla), and neutralizing and yellow pigment that's left.
Step #1 – Choose Your Butter Wisely
Butter can vary greatly in color and if you're looking for a white buttercream I suggest trying to find the whitest color butter you can. Just check out this photo from HowDaily where they compared different brands of butter.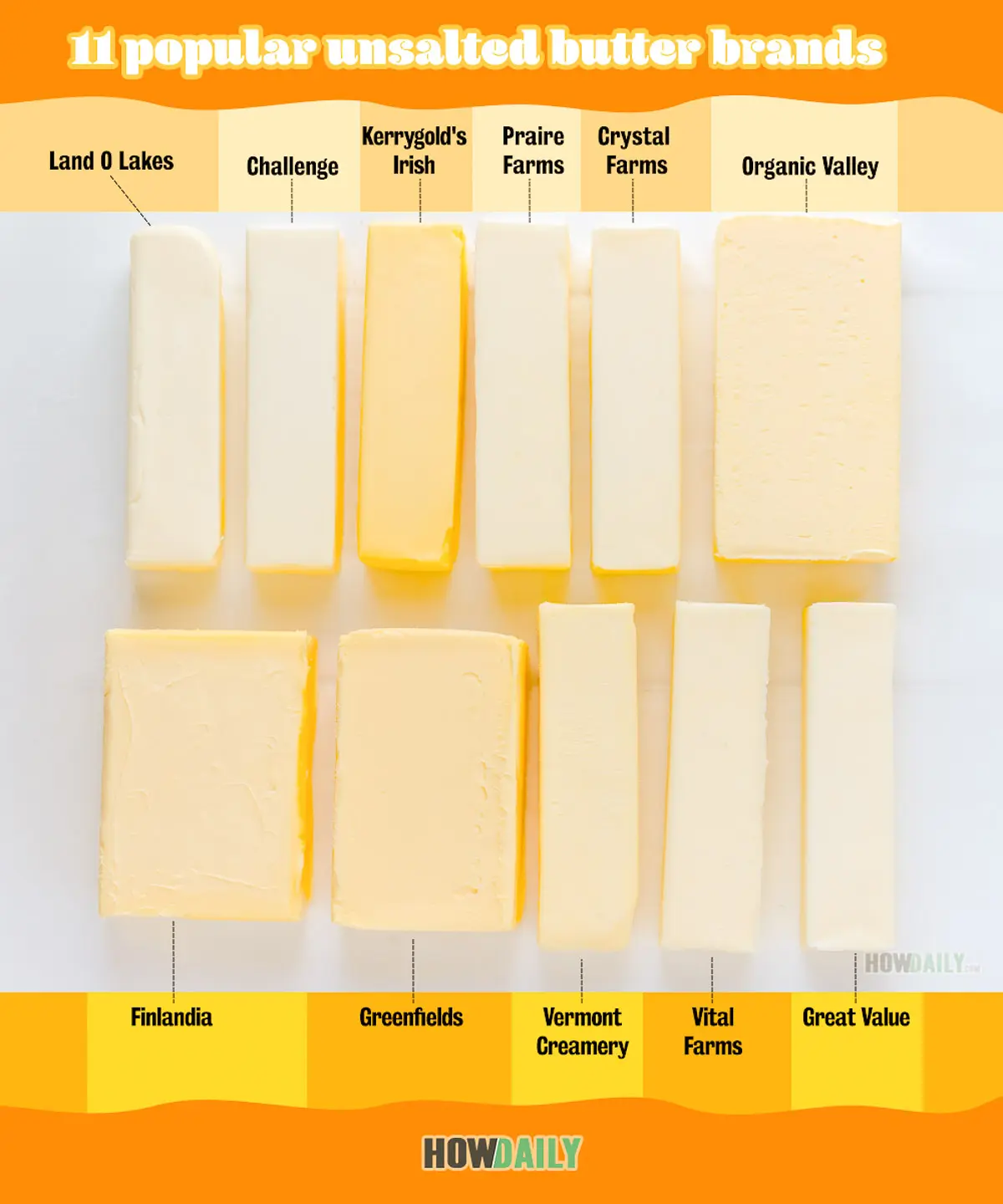 Crazy, right??
The difference between the color of butter comes down to the cow's diet.
Grass-fed cows have a diet rich in betacarotene and the butter produced from their milk will be more yellow. Whereas grain-fed cows lack beta carotene and tend to produce milk that makes a more pale butter.
Organic butter will generally be richer in color than that of regular butter. You can find out more about that here.
Step #2 – Whip it Good
For American style buttercreams, this is easy. Whip the living daylights out of the butter before you add the sugar. Get it super pale and fluffy, then add the sugar and whip it some more.
This will help give you a lighter base to start with.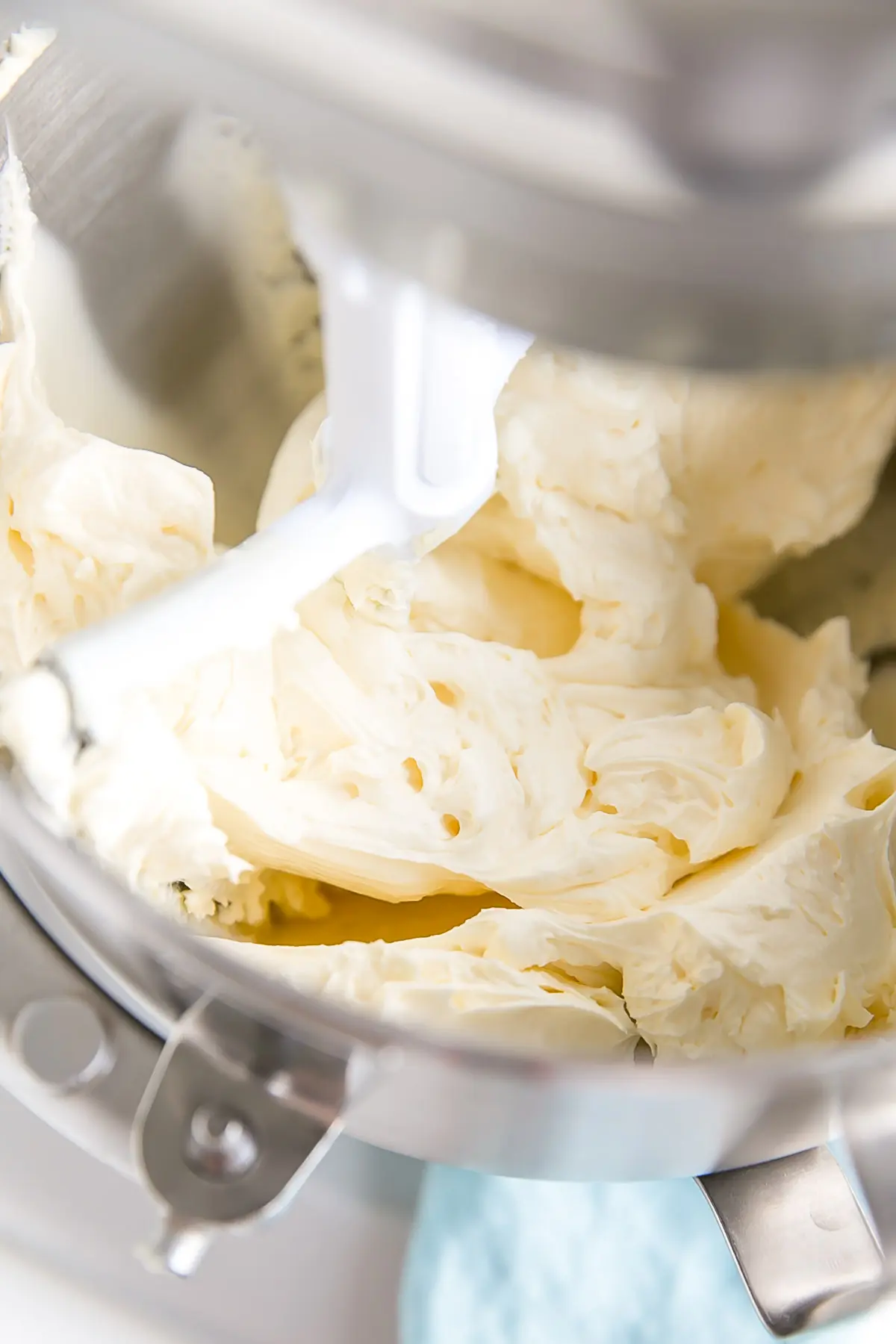 For Italian & Swiss Meringue Buttercream or German Buttercream, you can whip the butter in advance before adding it to the buttercream.
I haven't done that, but it should help. At the very least, give it a really good and long whip once all the butter has been added so that it's nice and light and fluffy.
For the German buttercream, it will be trickier though as the pastry cream will add a tint of yellow to it too. Read on for more tips on how to counteract that.
Step #3 – Skip the Vanilla
Vanilla, or any other colored flavoring, will tint the buttercream. If you'd like to use vanilla, I recommend clear vanilla extract. It does have a more candy-like artificial taste though.
Using regular vanilla isn't a deal-breaker though. If you've opted for lighter butter and whipped it well, you can do the next steps to whiten it some more.
Step #4 – Neutralize the Yellow
Violet color gel helps neutralize the yellow in the buttercream.
If you look at a color wheel, you can see that yellow and purple are on the opposite ends of the spectrum. Colors that are on opposite ends of the spectrum will tend to cancel each other out.
This is why your hairdresser tells you to use purple shampoo on blonde hair! It helps take away those yellow/brassy tones.
For buttercream, you really just want to add the tiniest amount of violet at the end to help get rid of the yellow tint. I dip a toothpick into the color gel and then dip that toothpick into the frosting.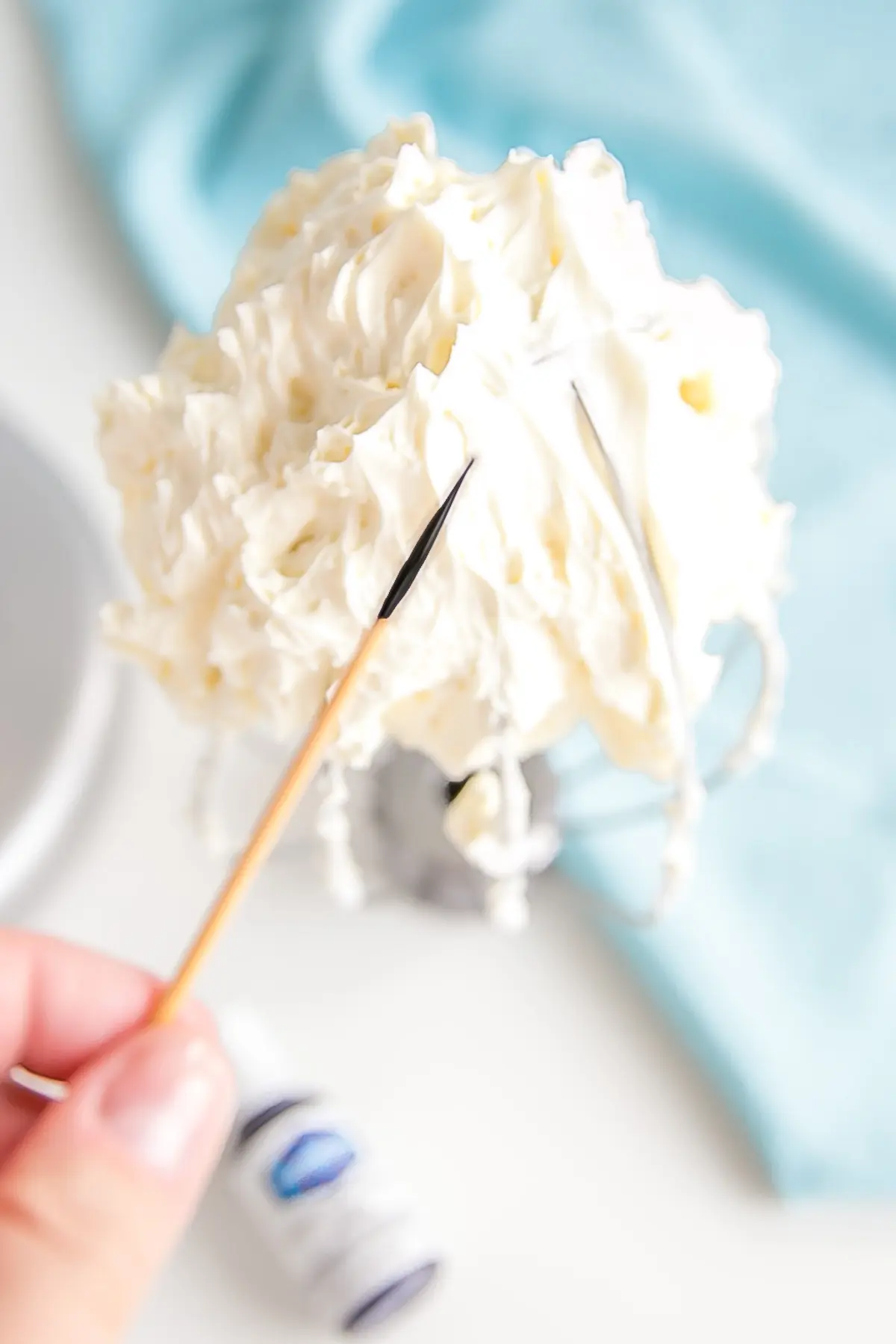 The amount on the toothpick above is more than I added. I basically swiped the toothpick over the buttercream on the whisk, so really only used one side of it. And that was for a large batch of buttercream.
I'd recommend starting with less and adding more as needed.
Cake Tip!
Be careful not to add too much violet color gel or your buttercream will turn grey.
Give the frosting a good whip and check the color. Add more violet as needed, but don't add too much or your frosting will start to turn a grey/blue/purplish color.
This before and after is of the same buttercream recipe: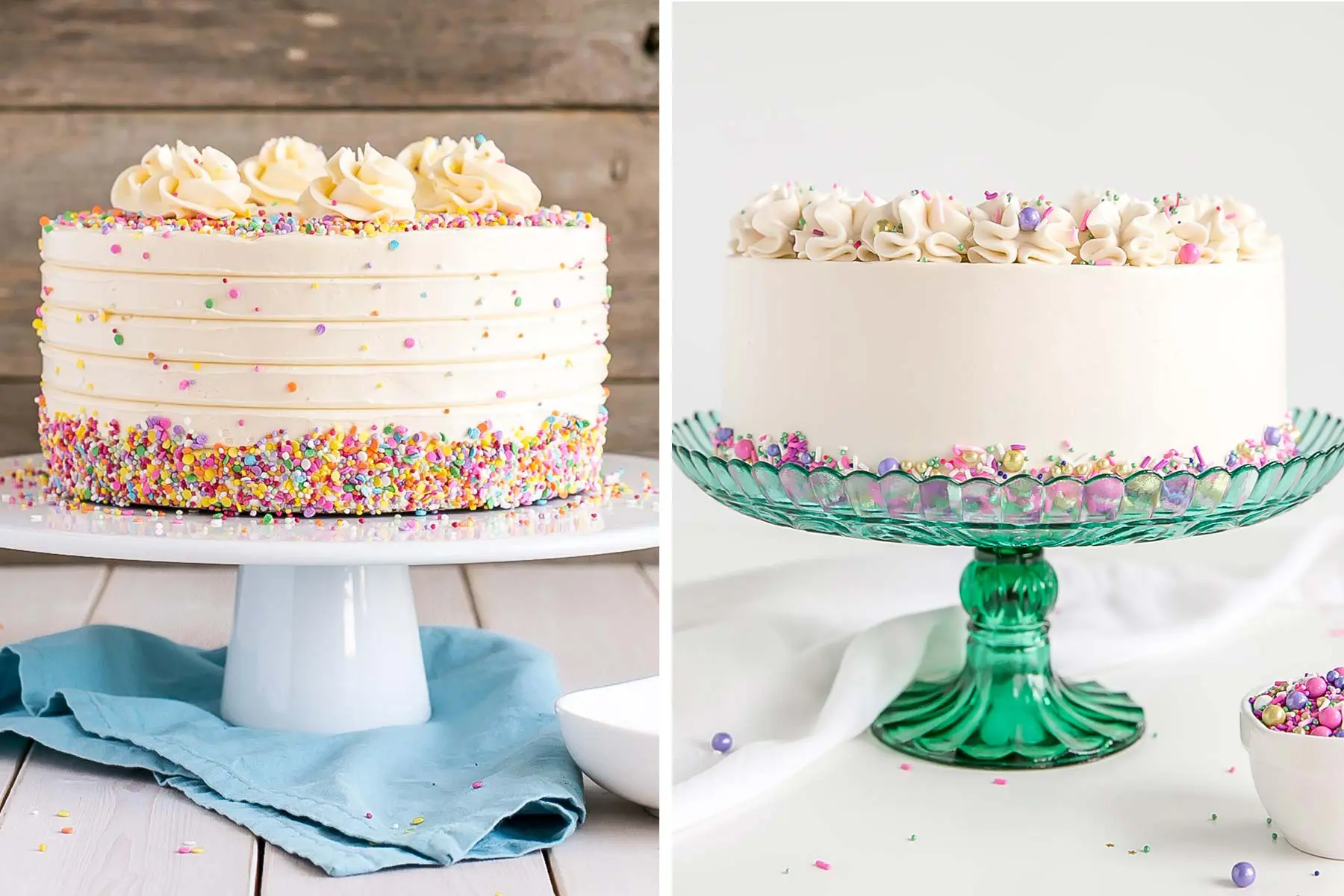 The cake on the left is my Vanilla Cake recipe. For the White Cake on the right, I used a lighter colored butter, clear vanilla extract, and added some violet color gel to it at the end.
Step #5 – Add Bright White Color Gel
Another great option is adding some bright white color gel to the frosting. I don't find this to work great on its own, but combined with some of the other tips above it will help to make your buttercream white.
The color gels (violet and white) will also work to brighter a white chocolate ganache which inherently has a yellow tint to it as well.
I hope you found these tips on How to Make Buttercream White helpful! Let me know if you try them or if you have any other tips that work well for you.
Check out my other Baking Tips!
Summary on How to Make your Buttercream White
Use the lightest color butter you can find.
Whip the butter well before using it.
Don't use colored flavorings.
Add a bit of violet color gel
Buttercream Recipes
The recipe I'm including below is for my favorite American Buttercream. Be sure to check out my Swiss Meringue Buttercream, Ermine Frosting (Flour Buttercream), and German Buttercream recipes too!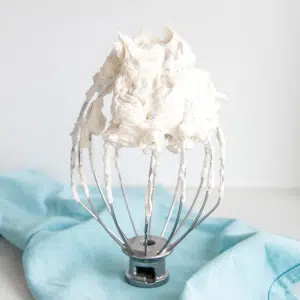 White Buttercream
Learn how to make buttercream white with these simple tips & tricks! Perfect for wedding cakes and when you need a white buttercream base to start from.
Servings
5
cups – enough to frost a 2-layer 8″ cake
Ingredients
6

cups

powdered sugar

sifted

2

cups

unsalted butter

room temperature, the whitest butter you can find

2

tsp

clear vanilla extract

or colorless flavoring of your choice

4

tbsp

heavy whipping cream

room temperature
Instructions
Prepare a stand mixer with a whisk attachment.

Whip butter until pale, fluffy, and creamy.

Reduce speed to low and add in powdered sugar 1 cup at a time until well blended. Increase speed to medium and whip for 3 minutes.

Add clear vanilla and 2 Tbsp cream and continue to whip on medium for 1 minute.

Add more cream as needed until desired consistency is reached (I added all 4 Tbsp).

Dip a toothpick into a tiny bit of violet color gel and add it to the buttercream. Whip to incorporate.
Calories:
1257
kcal
Carbohydrates:
144
g
Protein:
1
g
Fat:
78
g
Saturated Fat:
49
g
Cholesterol:
212
mg
Sodium:
18
mg
Potassium:
31
mg
Sugar:
141
g
Vitamin A:
2445
IU
Calcium:
30
mg
Iron:
1
mg
The nutritional information and metric conversions are calculated automatically. I cannot guarantee the accuracy of this data. If this is important to you, please verify with your favorite nutrition calculator and/or metric conversion tool.