The best Vanilla Buttercream you will ever make! Four simple ingredients are all you need to make this classic American buttercream recipe.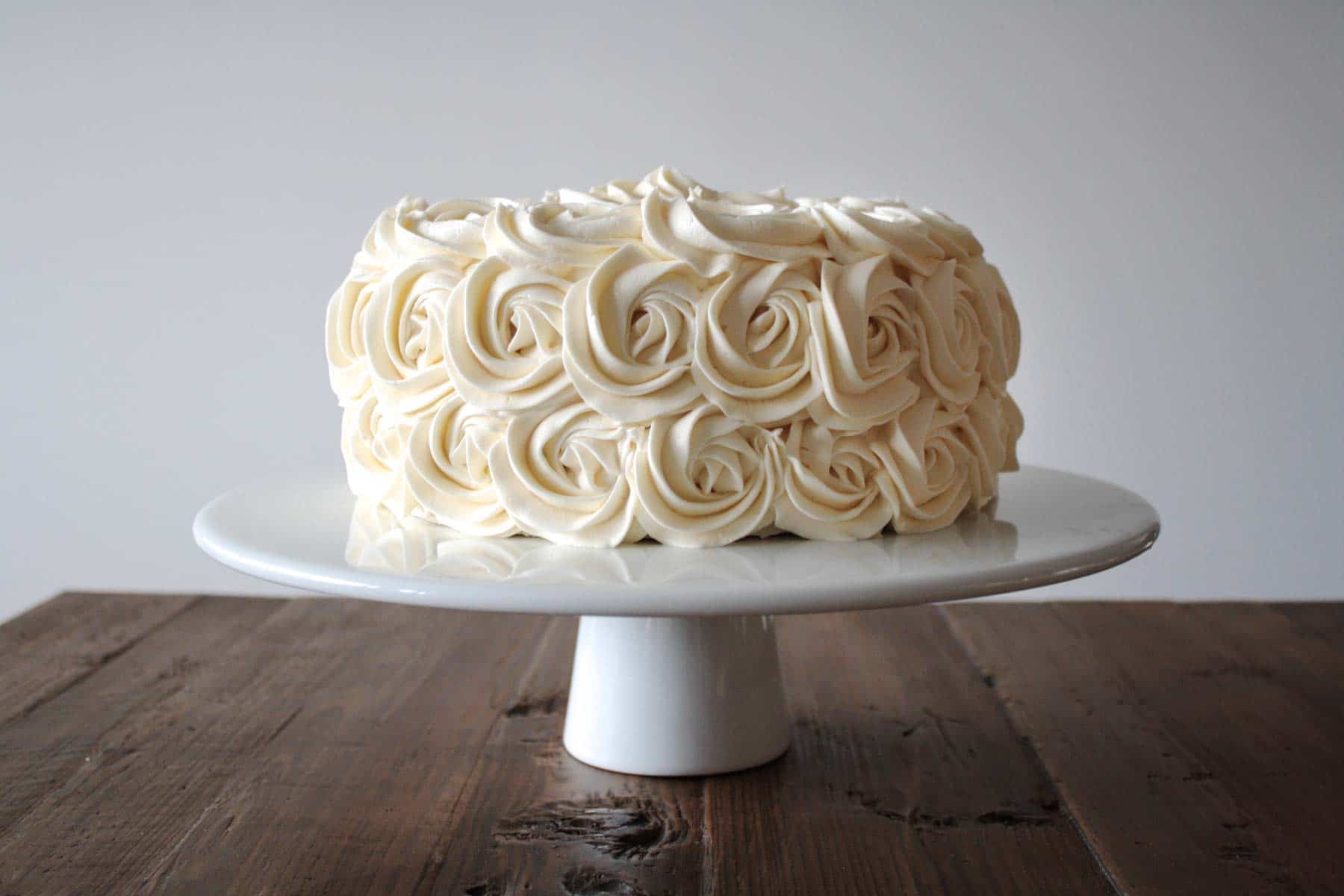 I made my own birthday cake. I think this is pretty standard for bakers, and I'm totally ok with it. I was actually not going to make a cake at all, since I was knee-deep in Pastry School at the time, but my husband insisted that we needed one, even if that meant buying one from the grocery store.
This is harder and harder for me to do these days. Buying a grocery store birthday cake used to be a thing (I know they are gross to some, but I love the sickly sweetness – I'm sorry!). These days I know I can (and have) made better, so I can't bring myself to buy them.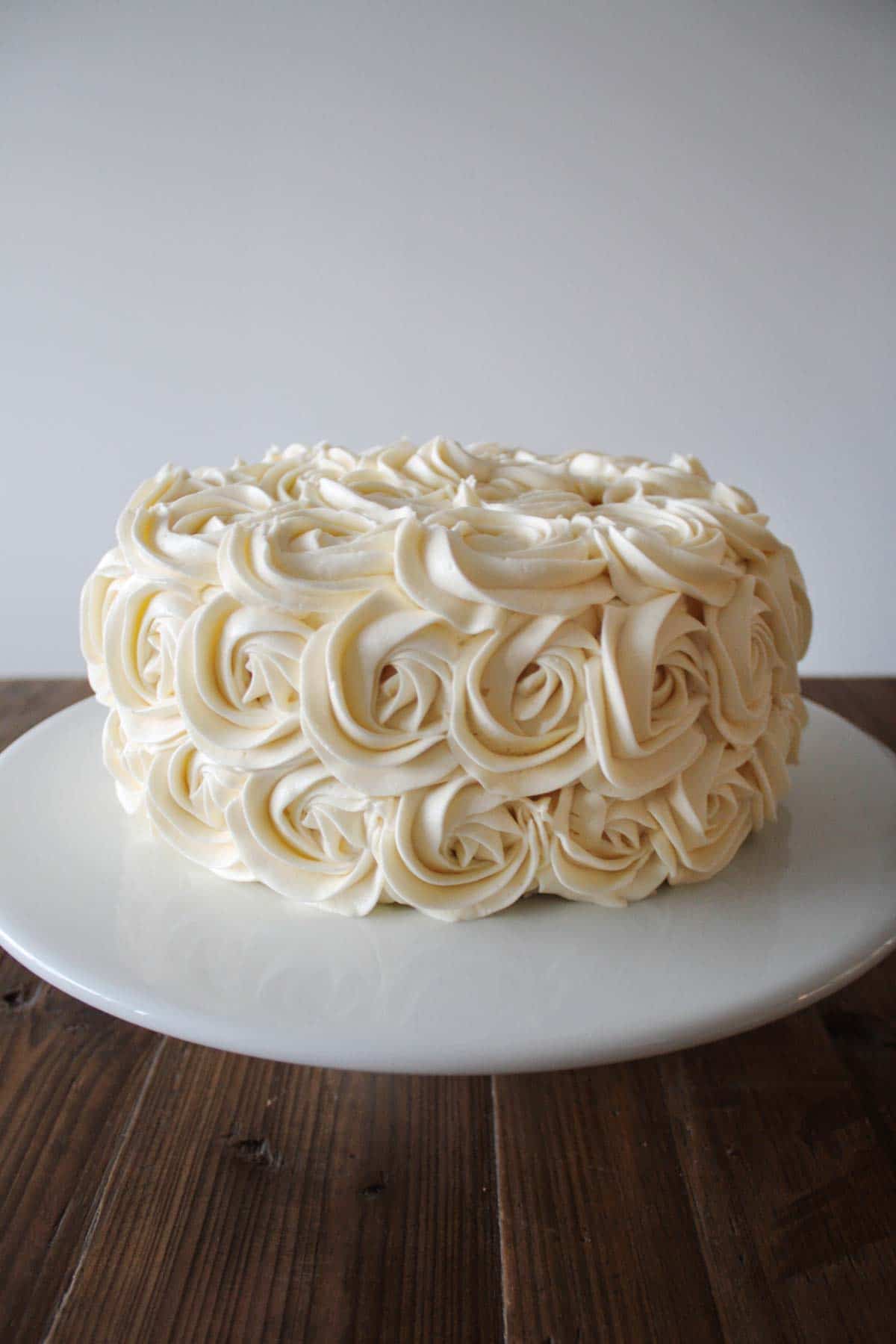 It helped that I still had a couple cake layers in the freezer from when I baked them for my Flat Top Cakes post. The recipe I used there was my Almost Scratch Cake. It is such a simple and delicious recipe and goes perfectly with this easy vanilla buttercream recipe.
So with the cake layers already done, all I had to do was defrost them, make the frosting, and decorate. I decided to go for an American Buttercream for ease.

What is American Buttercream Frosting?
I've actually had a hard time nailing down a good, simple vanilla buttercream recipe – what some would call American Buttercream – that uses mainly butter and powdered sugar.
I usually make Swiss meringue buttercream, which I love but takes a bit more effort, and I was most certainly looking for something with very little effort.
The BEST vanilla frosting I'd ever had was on my wedding cake, a cake we commissioned from Gannon's, the restaurant we had our reception at. We didn't do any tastings or see any samples, we just sent them a picture of what we wanted it to look like and chose our flavors.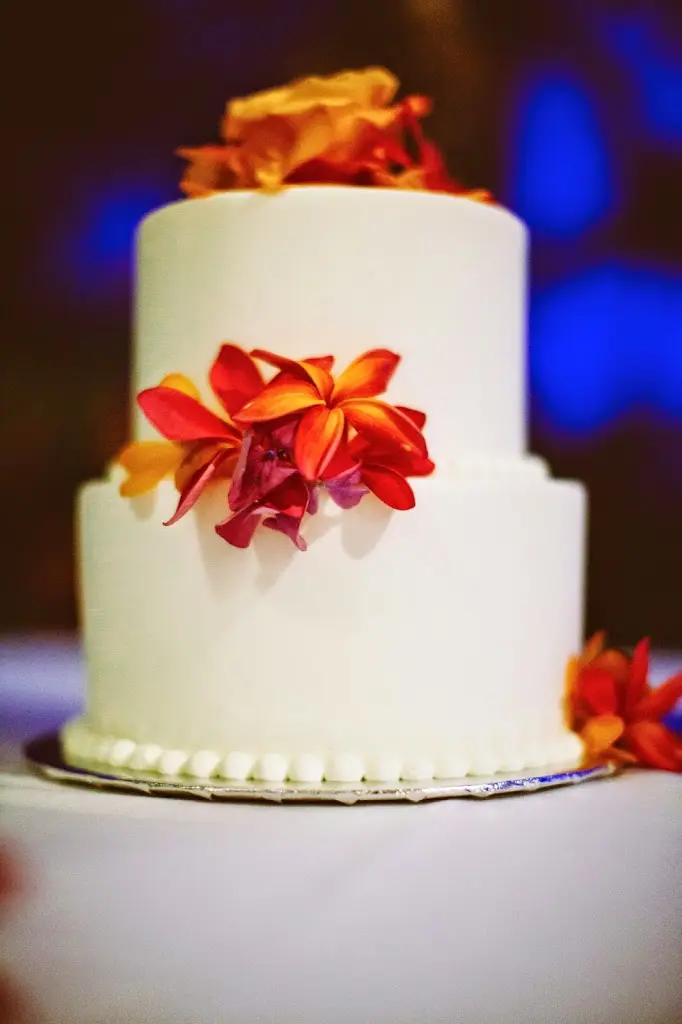 This cake was unbelievable, the buttercream so smooth and delicious. We had a ton of leftovers, which we happily took back to our condo and devoured over the next few days.
I'd mentioned multiple times to Ryan that I wondered how they made it. I assumed it was a meringue-based one because it was so silky smooth, but it was less buttery than ones I'd made before. Powdered sugar-based buttercreams always feel so gritty… so it couldn't be that.
Unbeknownst to me, Ryan had emailed Gannon's and asked them for the recipe. He should probably get some kind of award, right?! I would never do this. I honestly did not think they would divulge their secrets, but they sent over a recipe!
How to make American Buttercream
This American buttercream consists of four simple ingredients — butter, powdered sugar, vanilla, and cream. But there are a few key things you can do to make sure your buttercream is nice and smooth with as little grit as possible.
The first step is to really whip the butter on its own, before adding any powdered sugar.
Sift your powdered sugar! This is a bit of a pain, but really helps to break out those clumps
Add your powdered sugar slowly — 1/2 cup to 1 cup at a time to the buttercream and whip well in between additions.
Once all the sugar is added, give it a good whip for at least 3 mins, more if needed.
Add only as much cream as needed to reach the consistency that you want and whip some more until completely smooth.
Frosting Tip!
Help ensure a super smooth American buttercream by sifting that powdered sugar first to get rid of any clumps!
Now, I'm not convinced this is the exact same vanilla buttercream that was on our cake (it still felt a little gritty when I made it, not as gritty as others before), but it was delicious. I am super happy with the end result and will definitely be making this buttercream again!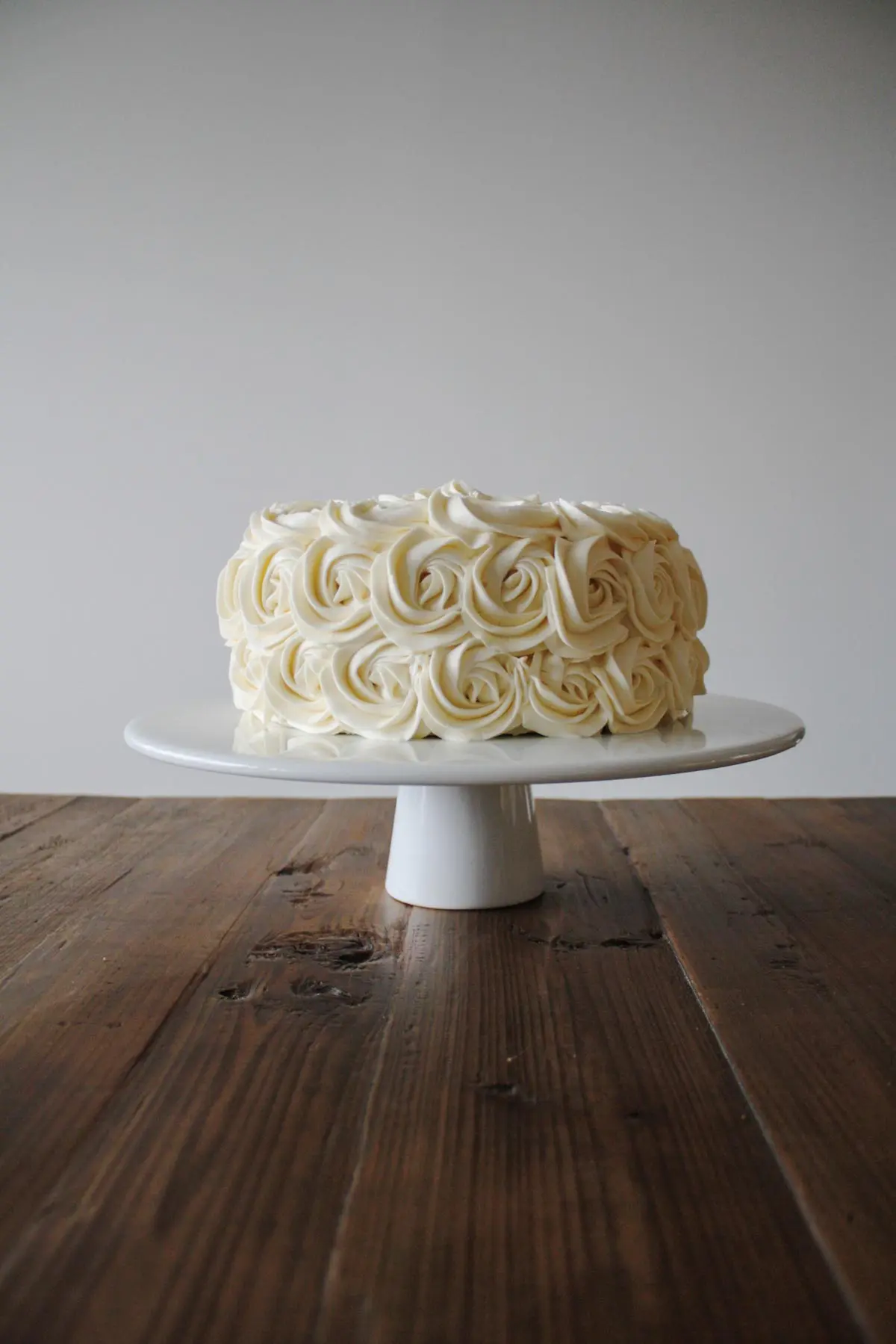 How to make a rosette cake
For the decorating, I wanted to try something new (to me) and a rosette cake. I've seen this done before and it looked amazing, so I wanted to give it a try.
I had done rosettes before, but usually just as decoration on top of the cakes or on cupcakes, not something that would cover the whole cake. I could have winged it, but I'm glad I checked out a couple of video tutorials first. I wouldn't have thought to offset each row of roses to fill in the gaps.
I stacked and iced the cakes and did a crumb coat layer on the outside – thicker than just a crumb coat, but not too thick, as the rosettes would add a lot of icing already.
For this rosette cake, I started at the bottom and worked my way around, then the next layer, then the top.

All in all, the rosette part was really easy and probably took less than 10mins. I'm surprised at how easy it was, really. It's a simple way to decorate your cakes and make them look stunning!
This particular vanilla buttercream is a bit less sweet than most you'll find. I don't like mine super-sweet, so I just added less powdered sugar. You can adjust this to your liking though — just use more/less if you prefer, but be sure to adjust the cream as needed!
If you're looking for an easy and delicious vanilla buttercream recipe, this one is for you!
Frequently Asked Questions
How much buttercream does this recipe make?
This recipe makes enough to frost an 8″ two-layer cake or one three-layer 6″ cake.
It should be enough to frost 18-24 cupcakes depending on how much frosting is used.
How can I flavor this buttercream?
Tips for making this vanilla buttercream
Add cream 1 Tbsp at a time until you reach the desired consistency, make sure it's at room temperature.
For the rosettes, it's best to practice a few on some parchment first. When ready, pipe the bottom row of rosettes, then offset them for the next row.
I used a 1M piping tip to do the rosettes.
If you'd like to try a meringue buttercream check out my Swiss Meringue Buttercream tutorial.
To help ensure your cake layers bake up nice and flat, see my Flat Top Cakes post.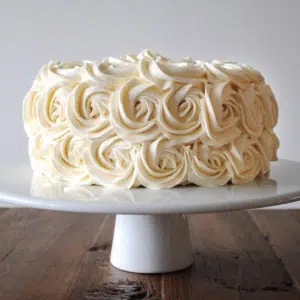 Simple Vanilla Buttercream (American Buttercream Recipe)
The best Vanilla Buttercream you will ever make! Four simple ingredients are all you need to make this classic American buttercream recipe.
Servings
5
cups – enough to frost a 2-layer 8″ cake
Ingredients
6

cups

powdered sugar

sifted

2

cups

unsalted butter

room temperature

2

tsp

vanilla extract

or flavoring of your choice

4

tbsp

heavy whipping cream

room temperature
Instructions
Prepare a stand mixer with a whisk attachment.

Whisk butter until creamy.

Reduce speed to low and add in icing sugar 1 cup at a time until well blended. Increase speed to med and beat for 3 minutes.

Add vanilla and 2 Tbsp cream and continue to whip on medium for 1 minute.

Add more cream as needed until desired consistency is reached (I added all 4 Tbsp).

Whip until the frosting is smooth and silky.

Use a 1M tip to do rosettes around the cake if desired.
Calories:
1257
kcal
Carbohydrates:
144
g
Protein:
1
g
Fat:
78
g
Saturated Fat:
49
g
Cholesterol:
212
mg
Sodium:
18
mg
Potassium:
31
mg
Sugar:
141
g
Vitamin A:
2445
IU
Calcium:
30
mg
Iron:
1
mg
The nutritional information and metric conversions are calculated automatically. I cannot guarantee the accuracy of this data. If this is important to you, please verify with your favorite nutrition calculator and/or metric conversion tool.
This recipe was originally published on Jan 4th, 2015. It was updated with new content on Jan 12th, 2023.