This Sticky Toffee Pudding Cake transforms the classic British dessert into a delicious layer cake! Date infused cake layers, vanilla buttercream, and a decadent toffee sauce.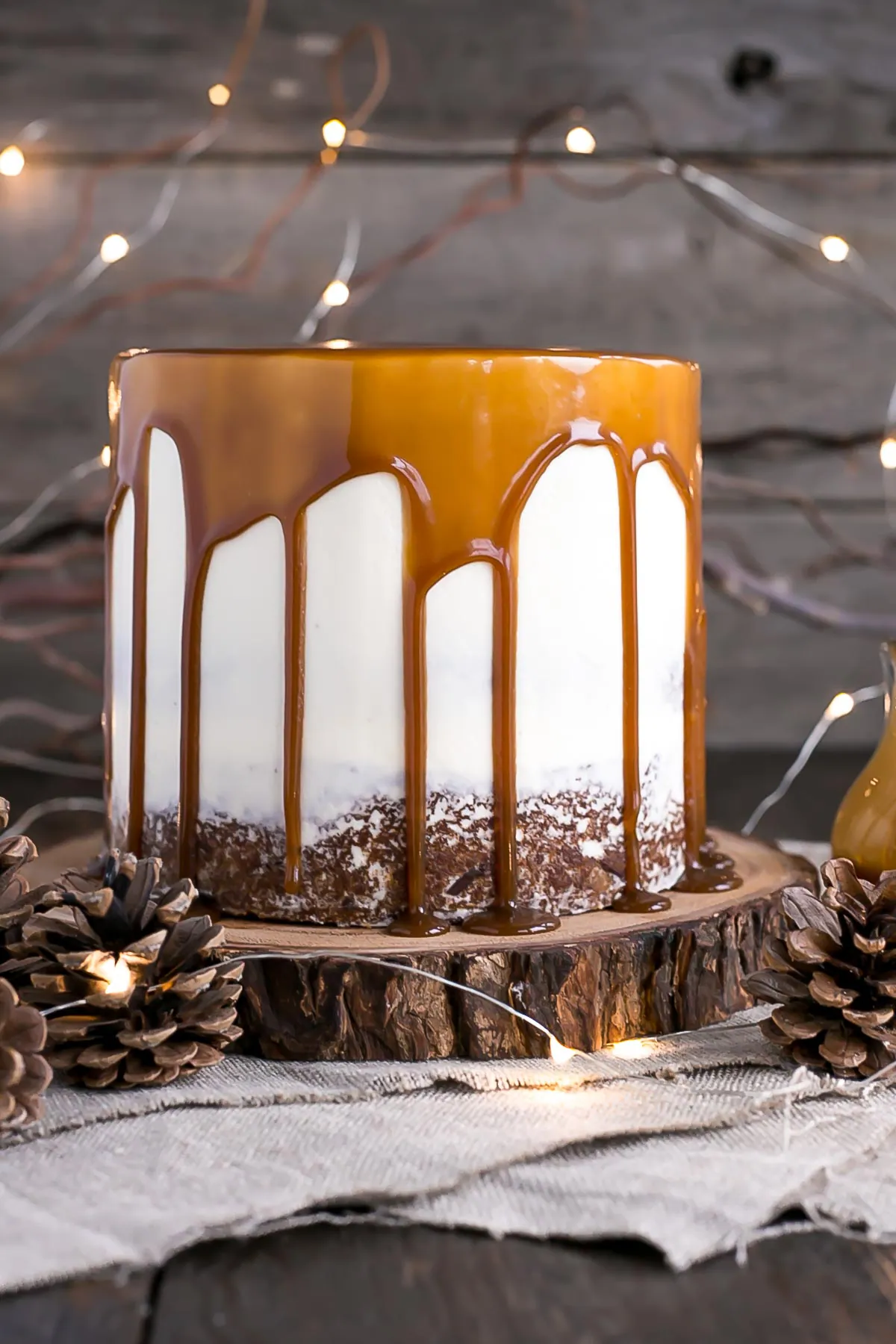 I am an excellent planner when it comes to almost everything in life… except for (apparently) baking. With baking, I am the worst.
The WORST.
I don't understand it. I have a background in project management, and when planning trips or anything else in life I am SO on top of it.
When it comes to baking… I just don't know what happens. It's like I can't commit to an idea or something. I'm constantly changing my mind and forgetting things, and it just makes for a huge waste of time. I can't make a decision to save my life.
Case in point: this Sticky Toffee Pudding Cake.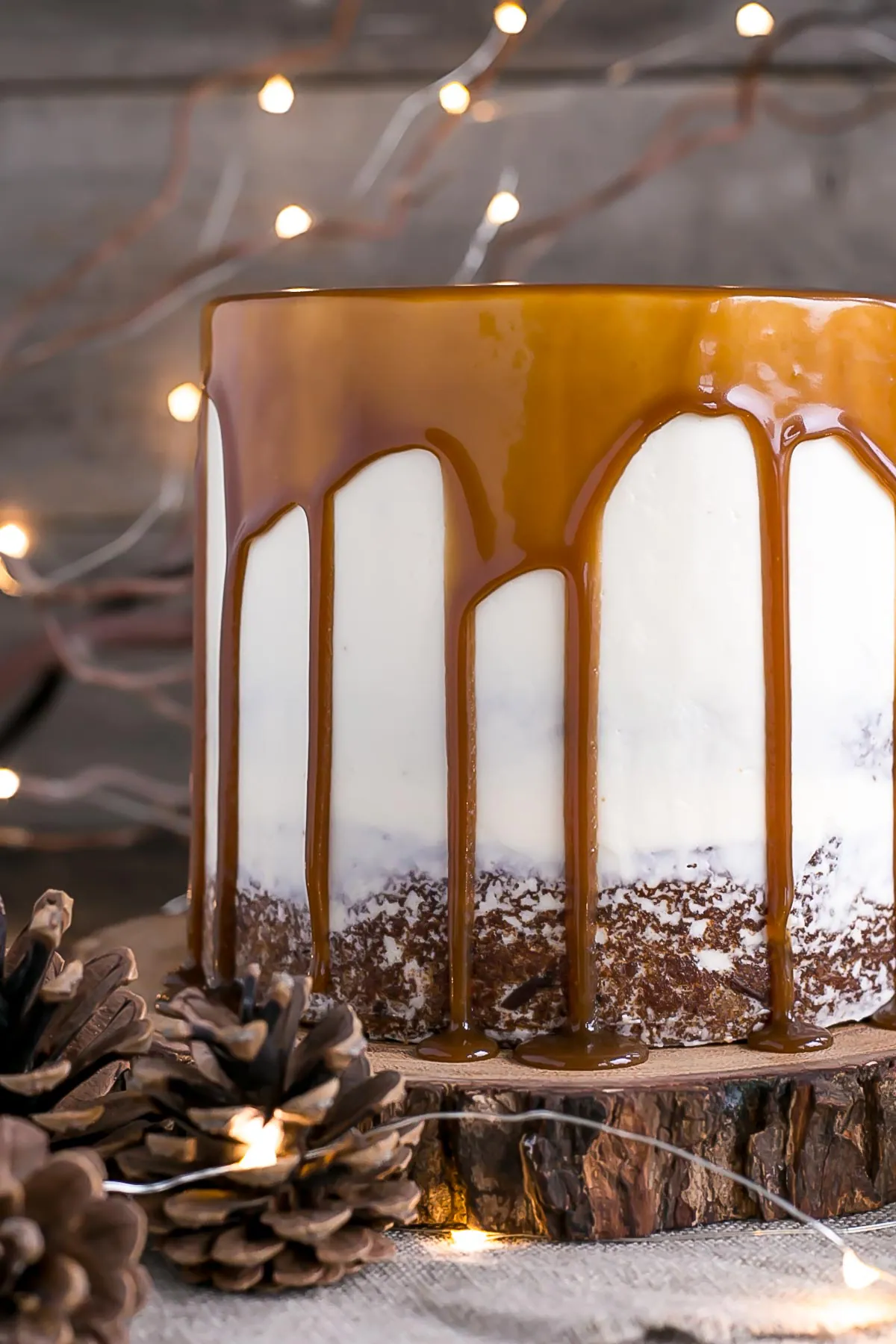 It all started with my lack of a plan on how to attack this cake. I had a recipe in mind (modified from Rock Recipes) but I didn't know how I wanted to incorporate the toffee sauce or how to decorate it.
Oh well, I knew I could get the cake layers baked up and out of the way, and worry about the rest at a later date (hah!).
I had the foresight to buy the Medjool dates, as I knew I'd be making this cake, but I didn't think to check my stock of other stuff.
So there I am, getting out all my trusty ingredients, only to realize that my molasses had expired. *&%$. Off to the store I go (it's a 20min round trip at best, usually longer).
So I go get what I need, get home, and start prepping everything. Somewhere in those few minutes, I realize that I want to drizzle the toffee sauce over the cake layers while they're still hot out of the oven. Do you think I'd have had the foresight to buy heavy cream for the toffee sauce while I was at the grocery store? NooOOOoooo. Why would I do that? That would be smart and efficient and organized. Clearly, I am none of those things.
So, off I go to the store. Again.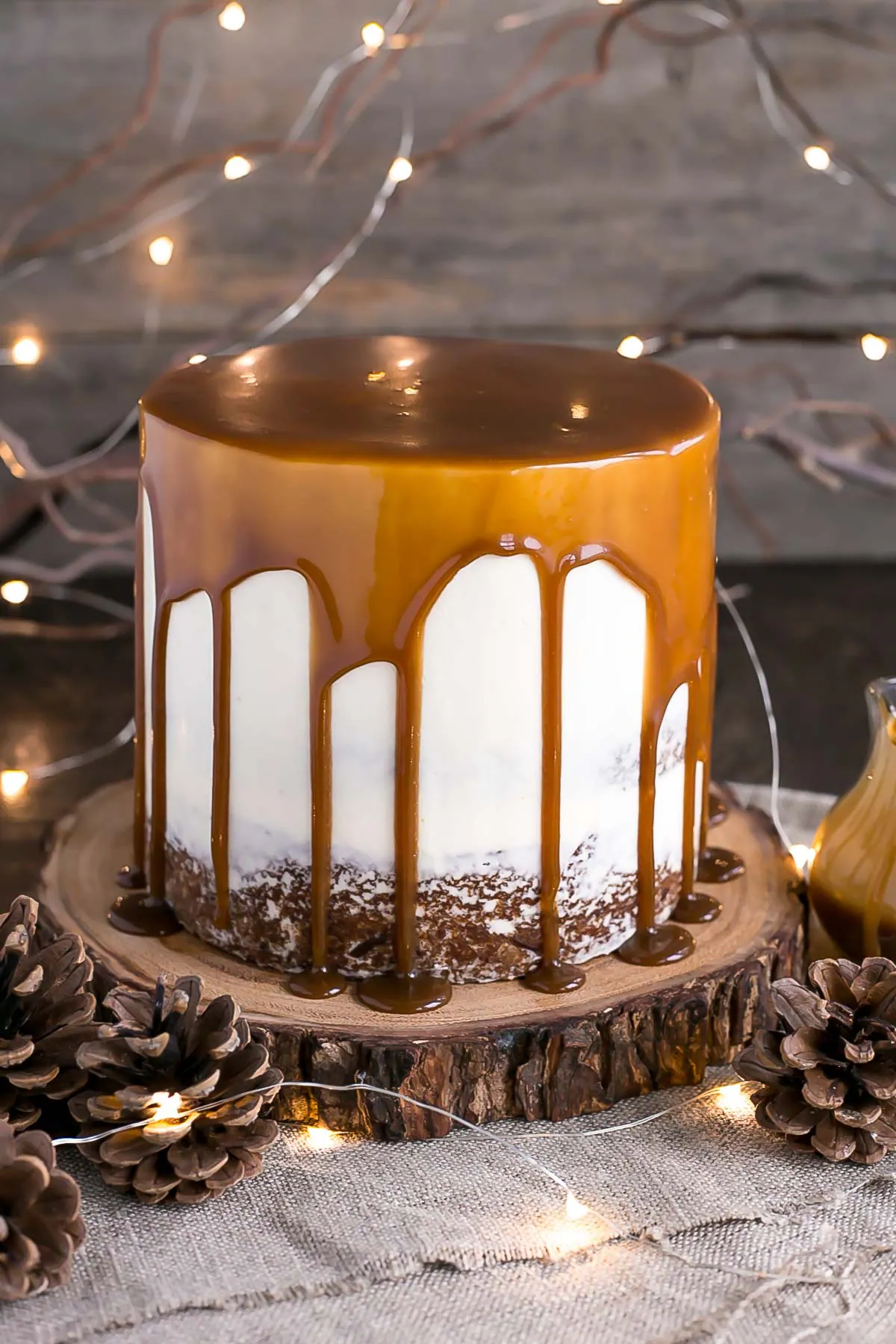 Finally back home, I start whipping up the cake batter. It all goes smoothly except I have way too much batter for my 2″ tall pans.
UGH.
Thankfully I realized this and did not overfill my pans. They didn't spill over, but I did have some excess. I've since modified the recipe, as I had to remake the entire cake anyhow (read on).
Once the cakes were out of the oven and out of their pans, I poked them all over with a bamboo skewer and slathered the hot toffee sauce onto them. I cooled them completely, wrapped them in plastic wrap, and stuck them in the freezer, since I wouldn't be finishing the cake until the following week.
I actually freeze almost all of my cake layers before using them. I try to spread out my baking as much as possible and do stuff in batches, so I'll often have a variety of frozen cake layers ready to go in the freezer.
Freezing the cakes works perfectly, whereas putting them in the refrigerator dries them out. Just be sure to double wrap them in plastic wrap before freezing.
So, fast forward to the following week — aka, decorating and photos. I could not, for the life of me, decide how I wanted to decorate this cake. I need to be better about planning this stuff up front, because winging it on the day really isn't working for me.
No joke that I spent 4 hours decorating and re-decorating this cake. It's ridiculous.
I did 4 versions one day, hated them all, and just stuck the cake into the fridge in order to try version 5 the next day.
Here are some crappy pics of the crappy 4 initial versions.
Versions 1-4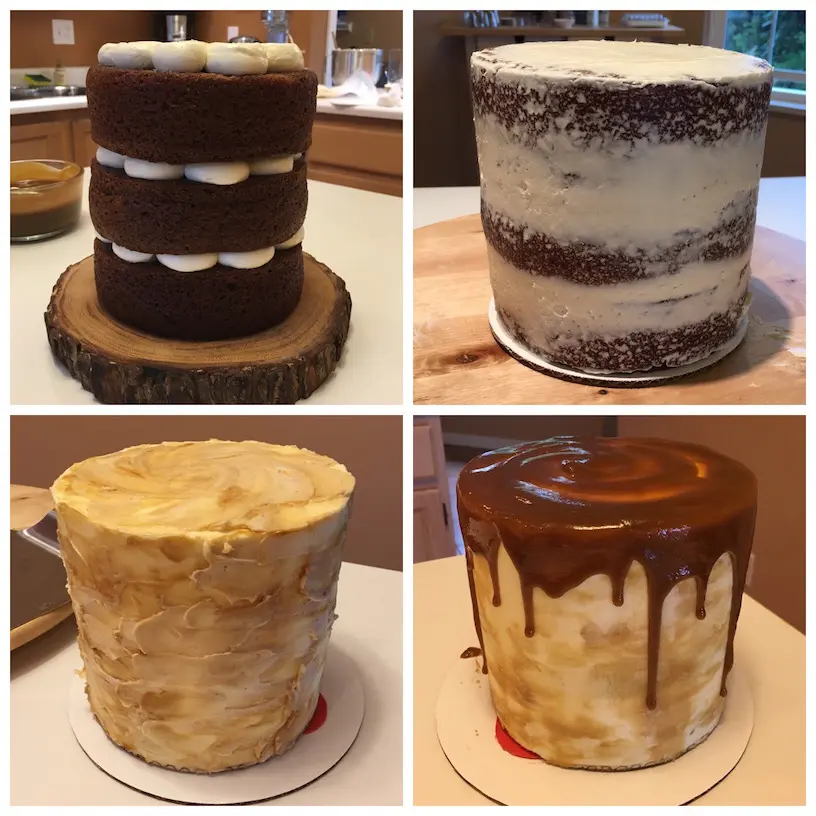 Before attempting version 5, I made more toffee sauce, since I had run out from all of the previous failed decorating attempts.
So, the next day comes along and it's another disaster. Maybe this cake was not meant to be.
Something was off in my toffee sauce — it was WAY too thin, and no amount of fridge/freezer time was thickening it. I was so over this cake by this point, so I just went with it and took pics, hating the cake through and through the entire time.
Here's a shot of version 5, which was just as disappointing as the initial 4.
Version 5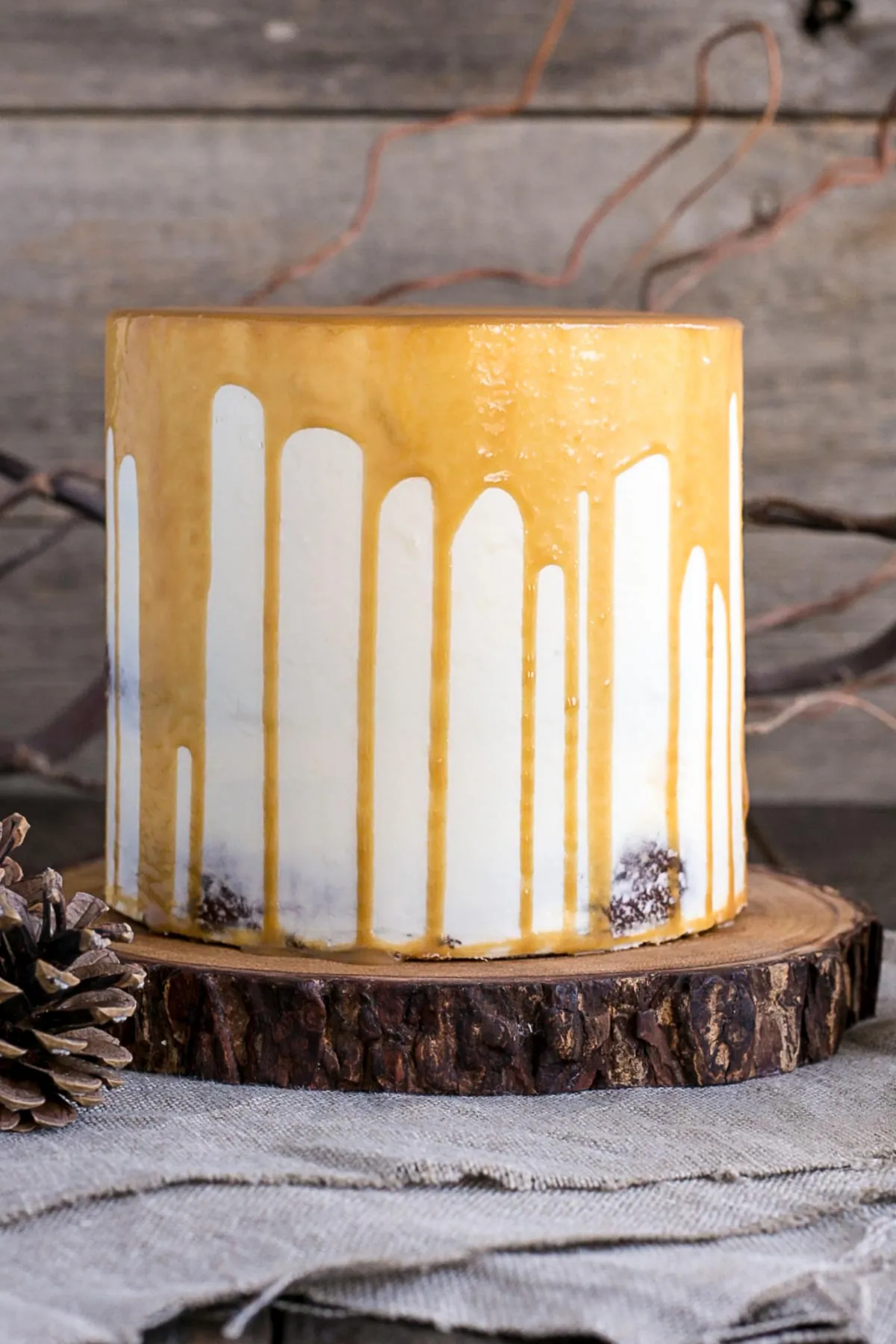 Unfortunately (for me) the pics just did not turn out.
Maybe it was self-sabotage because I hated the cake anyhow, I don't know. All the pics were dull and blurry. I thought I could edit them to be ok, but it wasn't working.
After a good week of mulling it over, I decided to redo the cake entirely. I tweaked the recipe a bit too since the first one made a bit too much batter. The layers baked up much prettier in the second version.
Version 6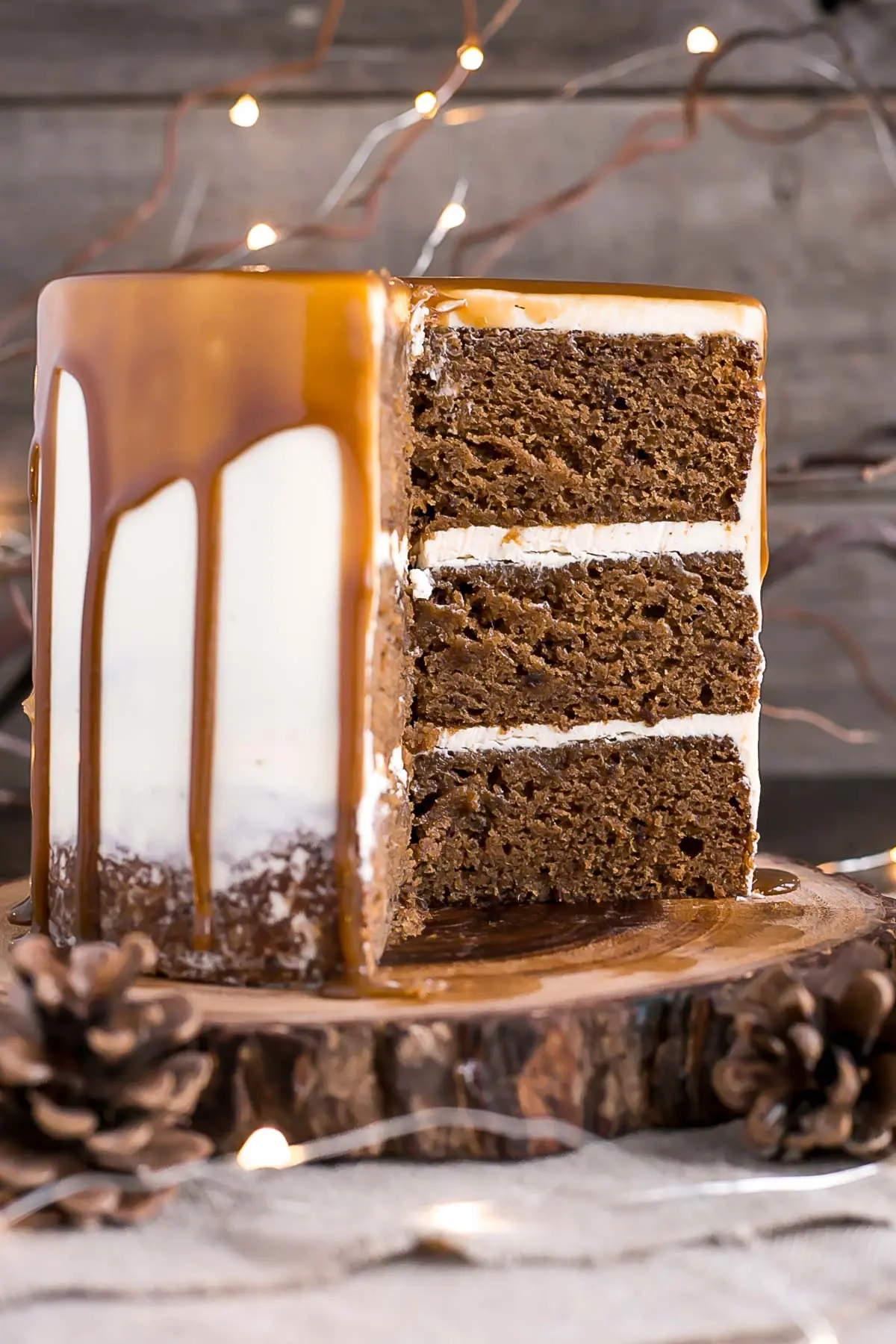 I think my biggest struggle with this whole Sticky Toffee Pudding Cake, and what ultimately caused all the issues, was deciding on the approach to take with the frosting.
Frosting isn't traditional in sticky toffee pudding. It's cake and toffee syrup, sometimes with ice cream or whipped cream on the side. So I didn't want this cake to be frosting heavy, but I also didn't want it to look too much like my Caramel Apple Cake.
It needed the toffee drizzle though since that's a main component of sticky toffee pudding! Ugh. Finally, I settled on a semi-naked cake with toffee drizzle. It is what it is, and really all that matters, in the end, is how it tastes, right?
So, version 6 (the final version) of this cake was better and good enough. I don't love that it looks so much like my Caramel Apple Cake and that it's another drip cake, but I think this style just worked best for a Sticky Toffee Pudding Cake.
Well, I've rambled (ranted) on for an eternity, and we haven't even talked about what Sticky Toffee Pudding is! If you've never tried it before, then trust me that you need it in your life, because it is SO delicious!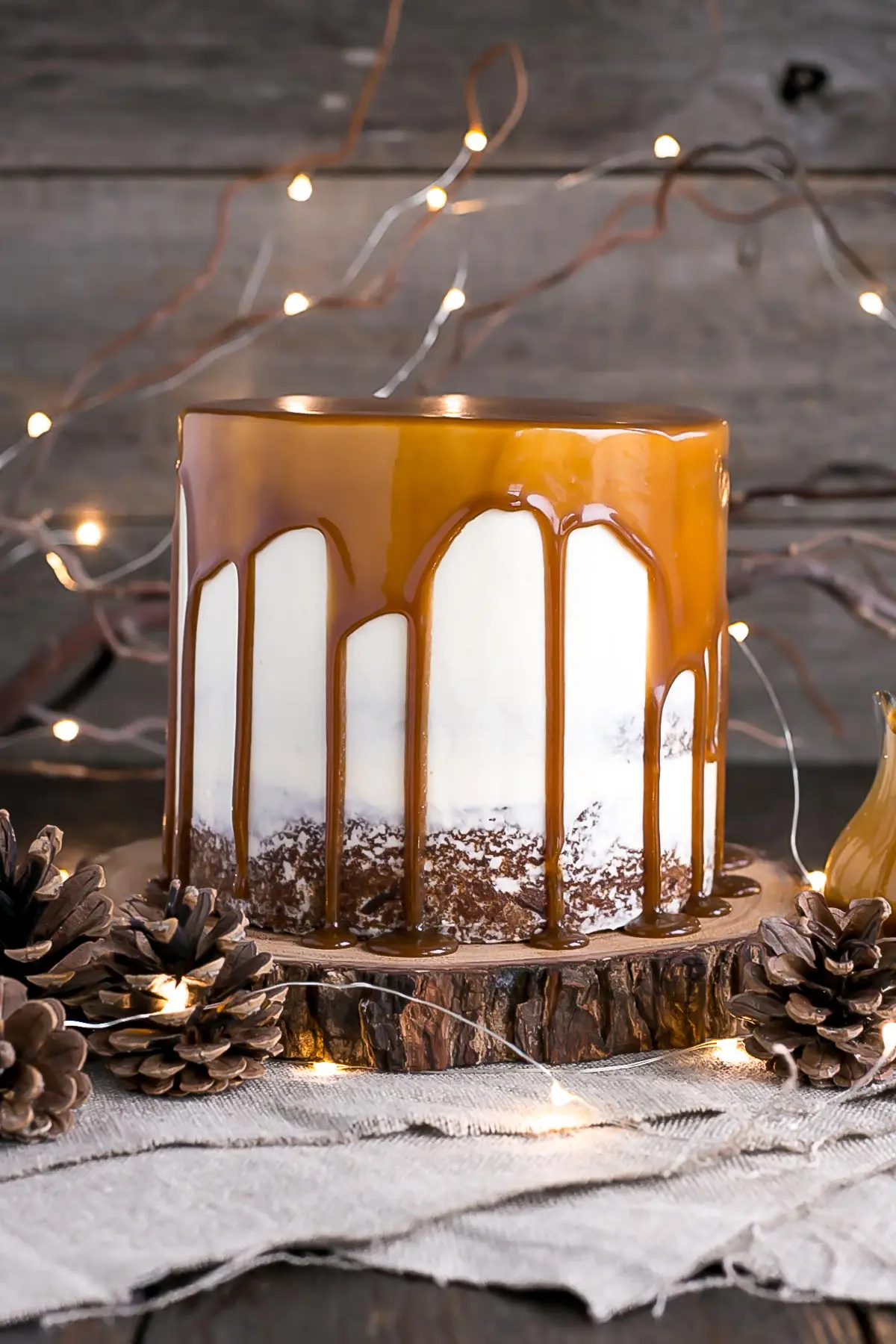 What is Sticky Toffee Pudding?
Sticky Toffee Pudding is a British dessert consisting of a cake made with dates and drizzled with toffee sauce.
When I first saw it on the menu at a restaurant I thought it was going to be a bread pudding-type dish. It's NOT. I am not a bread pudding fan. Soggy bread is one of the grossest things to me. I just can't deal with the texture. As such, I avoided sticky toffee pudding for a good chunk of my life and totally missed out!!
I think this Sticky Toffee Pudding Cake does the original justice. My taste testers have loved it, and I've had at least one British friend say it was amazing. That's all the validation I need, and it certainly makes the struggles with this cake worthwhile.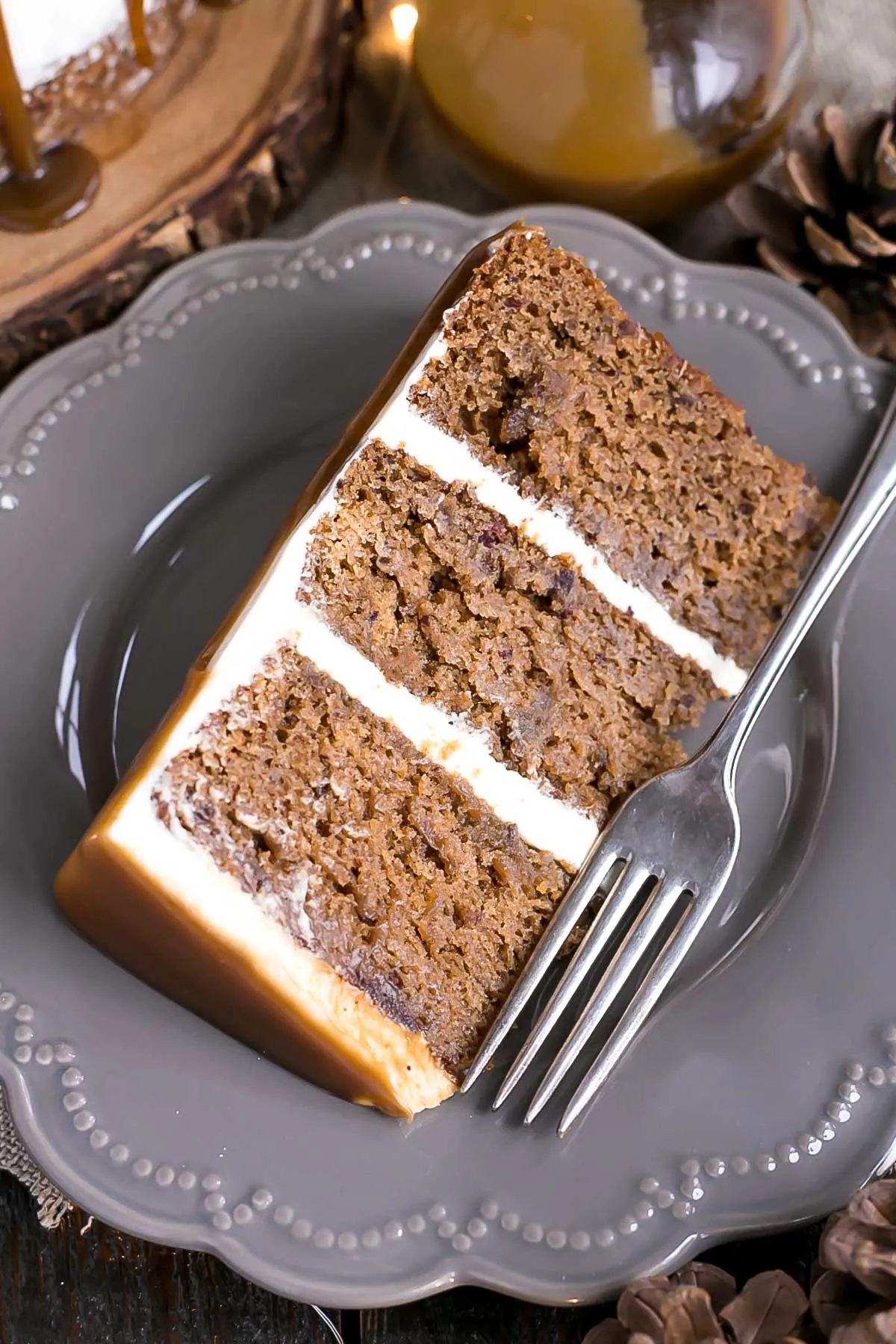 If you are a Sticky Toffee Pudding fan, I hope you will love this cake as much as I do!
Frequently Asked Questions
How can I convert this recipe?
The recipe as-is will also work in two 8″ pans. For three 8″ pans, 1.5x the recipe. Baking time may need to be adjusted.
To make cupcakes, all you need to do is reduce the baking time — start checking at 15mins or so. The recipe will make 18-24 cupcakes depending on size.
For other conversions go

here

.
Can I make it in advance?
The cooled cake layers can be baked ahead of time, double wrapped in plastic wrap, and frozen for up to 3 months. Take out 2-3 hours before assembly.
The frosting can be placed in an airtight container and refrigerated for 1 week for frozen for 3 months. Bring to room temp and rewhip before using.
The toffee sauce can be made the day before and left at room temperature overnight or refrigerated for up to a week. You'll need to bring it to room temperature again before use.
The finished cake (whole or sliced, stored airtight) can be frozen for up to 3 months.
Can I get the measurements by weight/grams?
There is a Metric option in the recipe card. If you click it it will convert everything to grams.
This conversion is done automatically and I cannot guarantee the accuracy but many readers have had success using the metric option on my recipes.
Do I drain the Dates mixture before mashing?
No. Mash the dates up with the liquid.
Tips for this Sticky Toffee Pudding Cake
I used a generous amount of toffee sauce on the layers, so the cake is extra moist. You can use as much or as little as you want.
The baking soda helps to soften the dates so they are easier to mash. Don't drain the dates before mashing.
If you make your toffee sauce in advance and refrigerate it (I did), you'll need to warm it up again the next day as it might separate a bit. Be sure to let it cool and thicken before drizzling on the top of the cake.
I prepare my cake pans using

Homemade Cake Release

and line with parchment paper.
Be sure to check my

Swiss Meringue Buttercream

post for tips and troubleshooting.
Learn how to keep your cakes moist using

Simple Syrup

.
To help ensure your cake layers bake up nice and flat, check out my

How to Bake Flat Cakes

post!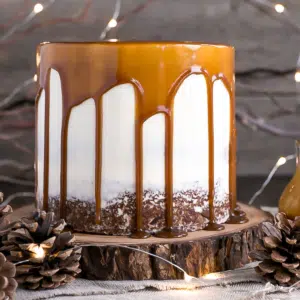 Sticky Toffee Pudding Cake
This Sticky Toffee Pudding Cake transforms the classic British dessert into a delicious layer cake! Date infused cake layers, vanilla buttercream, and a decadent toffee sauce.
Ingredients
Instructions
Dates:
Place dates and water into a medium saucepan. Bring to a boil over med heat and simmer for a couple minutes. Remove from heat and whisk in baking soda. Let sit while making the cake batter. Mash before using in cake. Do not drain water.
Cake:
Preheat oven to 350F and grease & flour three 6″ cake pans.

In a medium bowl, whisk together flour and baking powder. Set aside.

Using a stand mixer fitted with a paddle attachment, cream butter and sugar on med-high (approx. 3mins). Reduce speed and add eggs one at a time fully incorporating after each addition. Add molasses and vanilla. Beat until combined.

Add flour mixture in 3 batches then add in the hot mashed dates. Beat until combined.

Divide batter evenly between prepared pans and bake until the cakes spring back when touched and a toothpick inserted into the center comes out mostly clean (approx. 40-45 mins). Make Toffee Sauce while cakes are baking.

Cool in pans on wire rack for 10mins, then turn out onto wire racks to cool completely.
Toffee Sauce:
Combine all ingredients in a medium saucepan and bring to a boil while whisking occasionally. Simmer for 2 minutes.
Vanilla Swiss Meringue Buttercream:
Place egg whites and sugar into the bowl of a stand mixer, whisk until combined.*


Place bowl over a double boiler on the stove and whisk constantly until the mixture is hot and no longer grainy to the touch (approx. 3mins). Or registers 160F on a candy thermometer.

Place bowl on your stand mixer and whisk on med-high until the meringue is stiff and cooled (the bowl is no longer warm to the touch (approx. 5-10mins)).


Switch to paddle attachment. Slowly add cubed butter and mix until smooth.**

Add vanilla and whip until smooth.

Assembly:
Trim the tops so that they are flat and so that the top crust of the cake is removed.

Poke holes into the cakes using a bamboo skewer (or something similar in size). Spoon 2-3 Tbsp of the warm toffee sauce onto each of the cake layers. Spread evenly. Cool completely.

Place one layer of cake onto a serving plate or cake stand. Top with 2/3 cup buttercream and spread evenly. Repeat with remaining layers.

Do a thin coat of frosting all over the cake. Using a large icing scraper, scrape and smooth the frosting on the sides of the cake so that some of the cake starts to show through. Smooth the top with an offset spatula.

Warm up the toffee sauce if necessary until it is pourable but not too thin and not warm.

Using a small spoon, place dollops of toffee sauce around the top edges of the cooled cake, allowing some to drip down. Fill in the top of the cake with more toffee sauce and spread evenly with an offset spatula.
Notes
* Ensure there is NO trace of egg yolks in your whites and that your mixer bowl and whisk is completely grease free or your meringue won't stiffen.
** The buttercream may look like it's curdled at some point. Keep mixing until it is completely smooth.
Cake recipe adapted from Rock Recipes.
Calories:
748
kcal
Carbohydrates:
89
g
Protein:
5
g
Fat:
43
g
Saturated Fat:
26
g
Cholesterol:
146
mg
Sodium:
133
mg
Potassium:
479
mg
Fiber:
2
g
Sugar:
70
g
Vitamin A:
1410
IU
Calcium:
122
mg
Iron:
2
mg
The nutritional information and metric conversions are calculated automatically. I cannot guarantee the accuracy of this data. If this is important to you, please verify with your favorite nutrition calculator and/or metric conversion tool.