This Chocolate Chip Cookie Cake has brown sugar chocolate chip cake layers, a cookie dough filling, and a chocolate chip cookie frosting!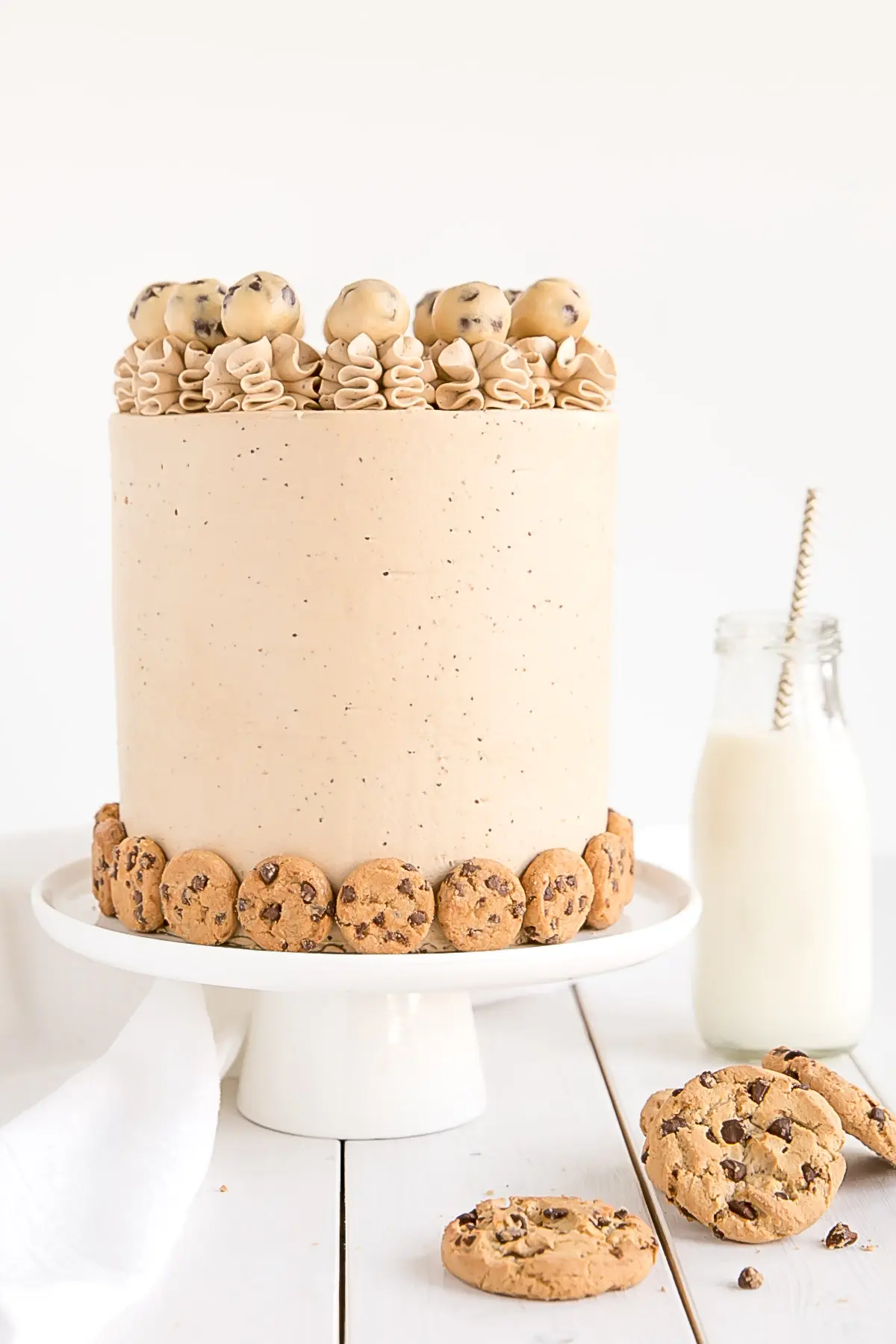 Chocolate chip cookie lovers, this cake is for YOU! I can't think of a better way to celebrate my birthday today than with this epic Chocolate Chip Cookie Cake.
This cake kinda came out of the blue. At this time of year, I'd typically be throwing something seasonal at you, whether for Thanksgiving, Halloween, or just Fall. But the cakes I make for my birthdays never really seem to follow a seasonal theme.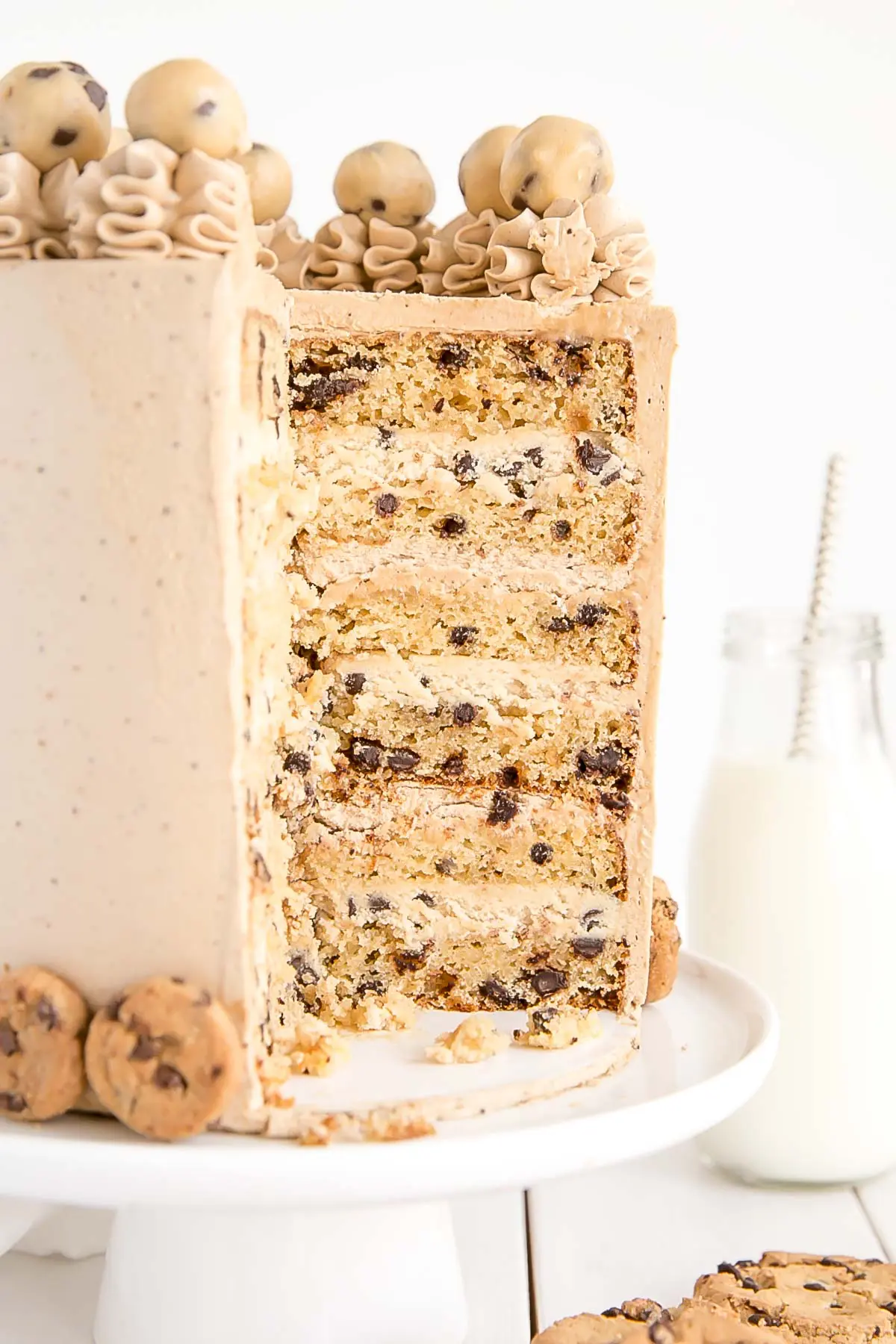 The first cake I made for my birthday (well, the first one I wrote about), was this pretty rosette cake that literally used a box mix (gasp) and a simple vanilla buttercream. Two years ago, I made this Milk & Cookies Cake (clearly I have a pattern), and last year I didn't make a cake at all because we were in Walt Disney World to celebrate. Not gonna lie, I'm seriously wishing I was back in WDW right now!!
But alas, I'm *stuck* at home celebrating my birthday on a sunny Saturday with one adorable puppy (she's a handful but I LOVE her) and one very loving husband (he's a handful but I LOVE him), and a I have a sizeable slice of this Chocolate Chip Cookie Cake to look forward to. It's no WDW, but it'll do :).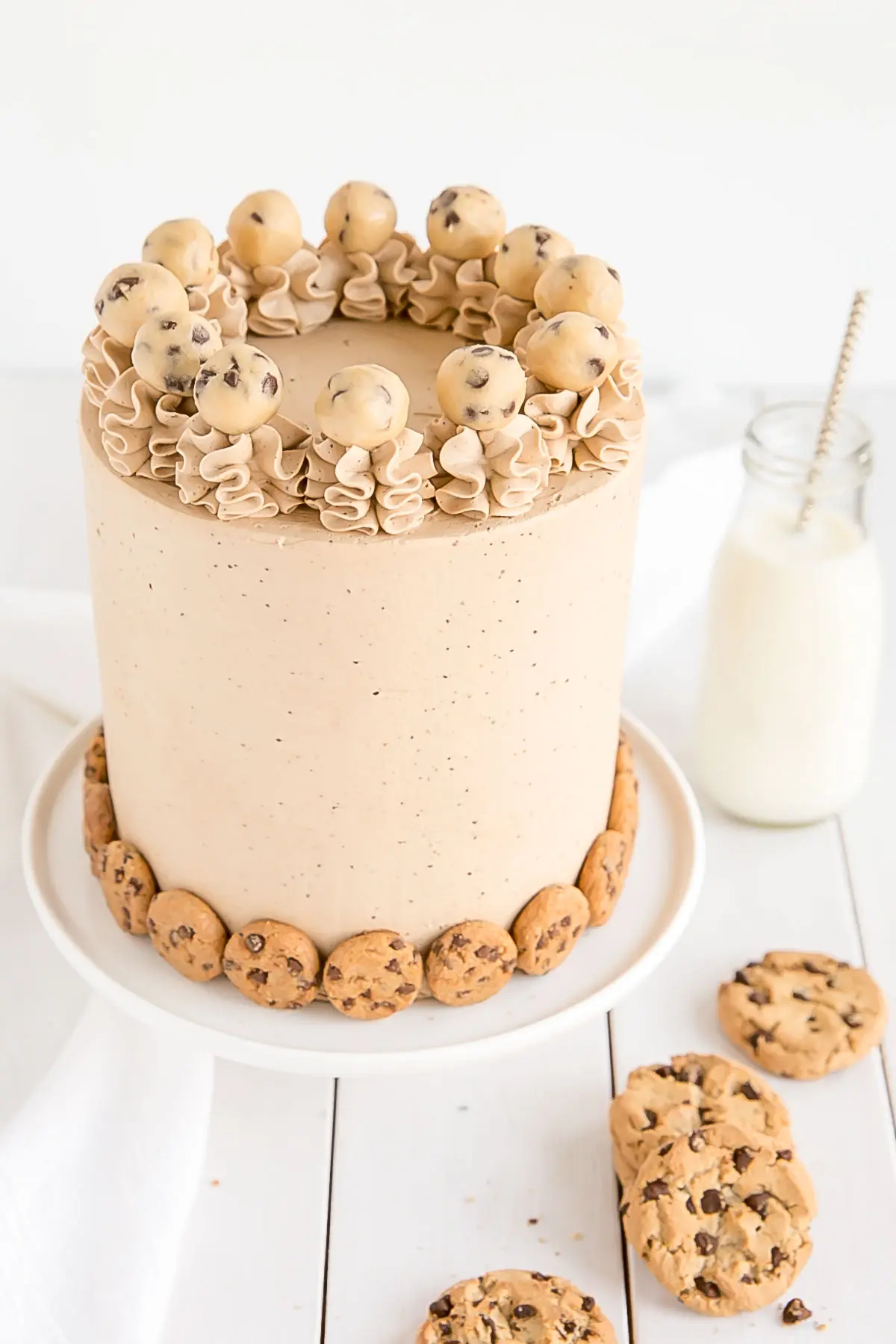 How do you make a Chocolate Chip Cookie Cake?
To make this cake I modified my Milk & Cookies Cake, and swapped out some of the granulated sugar for light brown sugar. I also used milk instead of buttermilk, but really you could go either way — buttermilk will yield a slightly less sweet cake due to the tartness of it.
When making the cake, be sure to coat your chocolate chips in flour. This is an important step, and if you don't do it they'll likely sink to the bottom of your pans. I actually forgot to coat mine. It's honestly the worst feeling. Folding in those chocolate chips and then realizing you forgot to toss them in flour!! I baked them up anyhow (what else was I going to do with that cake batter??) and they didn't sink too badly, but they sank more than I'd like. So, don't skip this step!
Once the cake layers were baked and cooled, I cut each of them in half horizontally to make 6 layers. You could just leave this as a 3 layer cake instead, but you'll have excess cookie dough and frosting (unless you reduce those recipes). The recipe will also work as a two-layer (cut into 4 layers) 8″ cake.
Once the layers were done, I whipped up a batch of my edible cookie dough.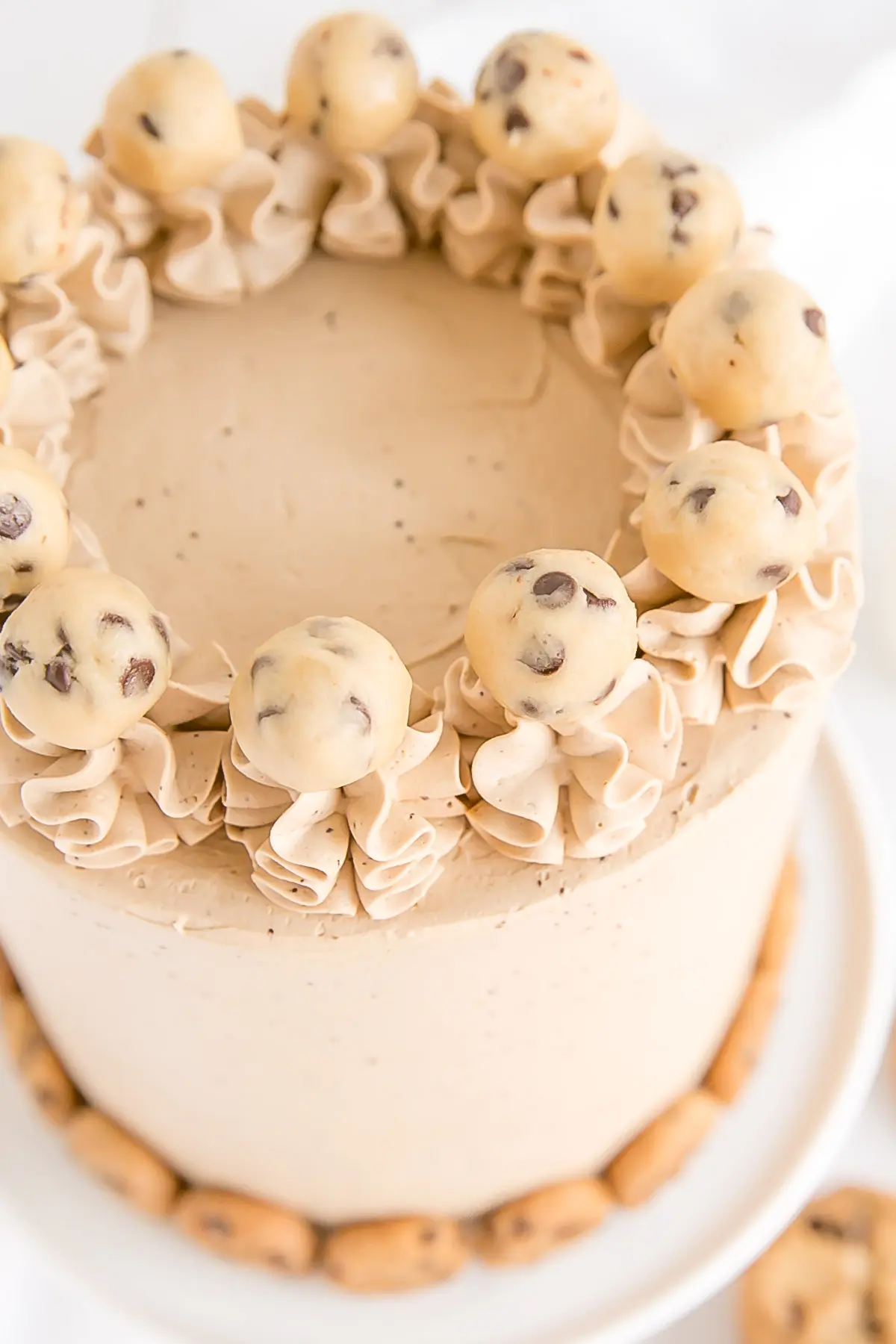 Can You Eat Raw Cookie Dough?
Let's be real here — one of life's greatest pleasures is licking cake batter off beaters or eating raw cookie dough by the spoonful. I do this every single time I bake a cake (quality control, right?) and have been doing it ever since I was little. I haven't had any ill effects from it, but there have been cases where people have gotten sick either from the raw eggs or (in rare cases) raw flour.
This may depend on where you live or where you get your ingredients, so you know better than I do what sort of risk this poses to you. The good news is that this Chocolate Chip Cookie Cake contains an edible cookie dough recipe that is egg-free with heat-treated flour and is safe to eat.
The cookie dough will be stiffer than a frosting, and hard to spread onto the layers. So I found it best to line my lightly greased baking pans with plastic wrap and press and shape the cookie dough into discs. I then chilled these discs and placed them onto the cake layers. This method made the discs slightly larger than my cake layers, but they were easy to smush in and adjust when placed on the cake.
If you don't want to do it this way, you can make the cookie dough filling lighter and fluffier by adding a bit more milk or cream until it's more of a spreadable consistency. Either method works. Do not chill the cookie dough before using if you do it this way though.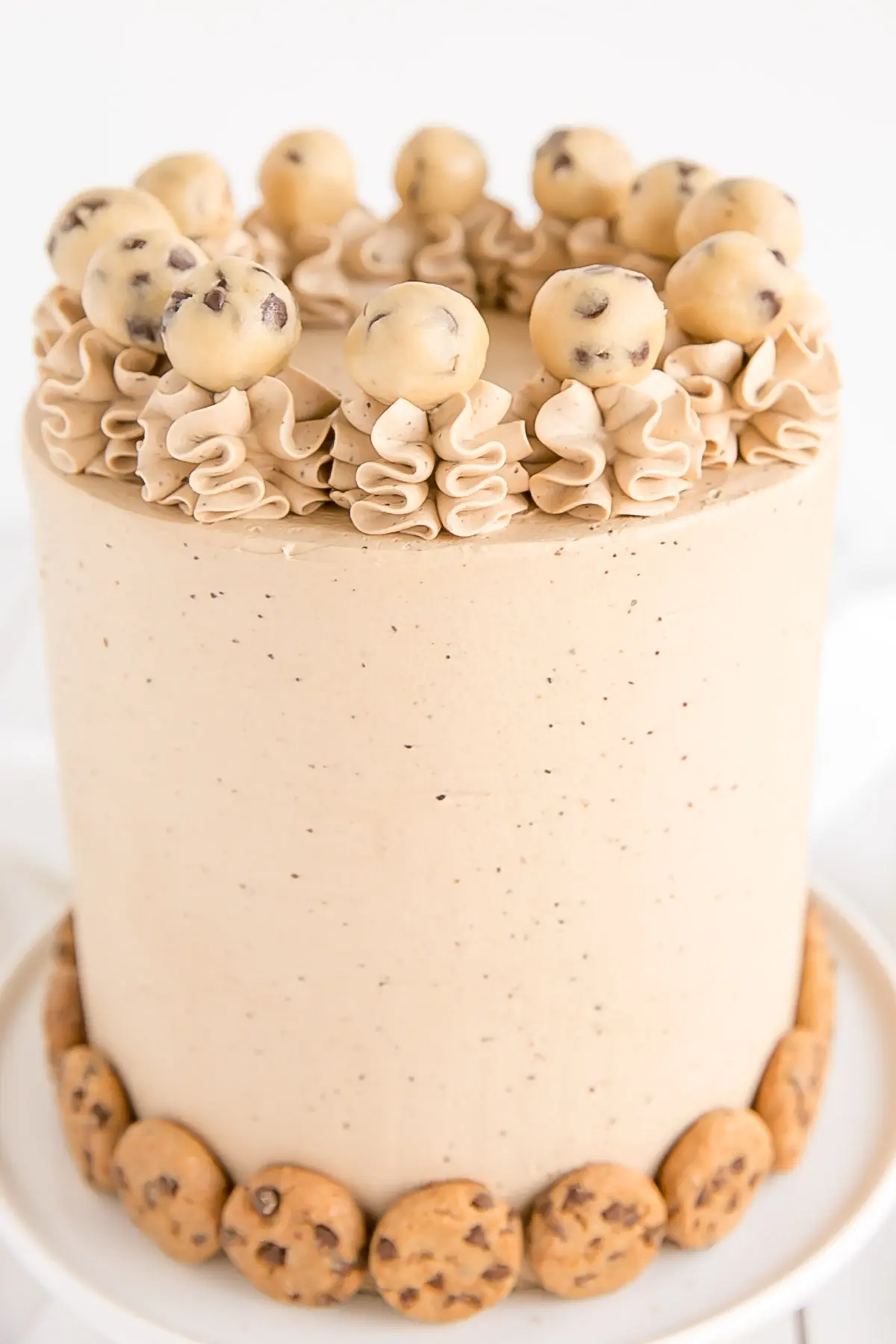 Chocolate Chip Cookie Frosting
The chocolate chip cookie frosting on this cake is a new fave. I used my favorite brown sugar Swiss meringue buttercream and added a whole bunch of crushed cookies into it.
I used store-bought Chips Ahoy cookies for this (partly due to laziness), but you could use your own favorite chocolate chip cookie recipe instead. Just make sure the cookies are more on the crunchy side rather than chewy, as you want to crush them up pretty fine and chewy cookies are more likely to clump.
I used a food processor to pulverize the cookies, then passed them through a mesh strainer to get out any larger lingering bits. This gave me the cookie powder I was looking for that would add just the slightest bit of texture to the buttercream, but still make it easy to smooth.
Decorating this Chocolate Chip Cookie Cake was fairly simple. I started with a smooth canvas of buttercream, some dollops on top (using a 1M tip), then made some cookie dough balls with the leftover cookie dough (about 1tsp each) and placed some store-bought mini Chips Ahoy cookies along the bottom. I think it's a simple and pretty way to express all the chocolate chip cookie goodness that awaits inside this cake!
If you're a chocolate chip cookie fan or love cookie dough as much as I do, this cake is one you'll need to add to your baking menu!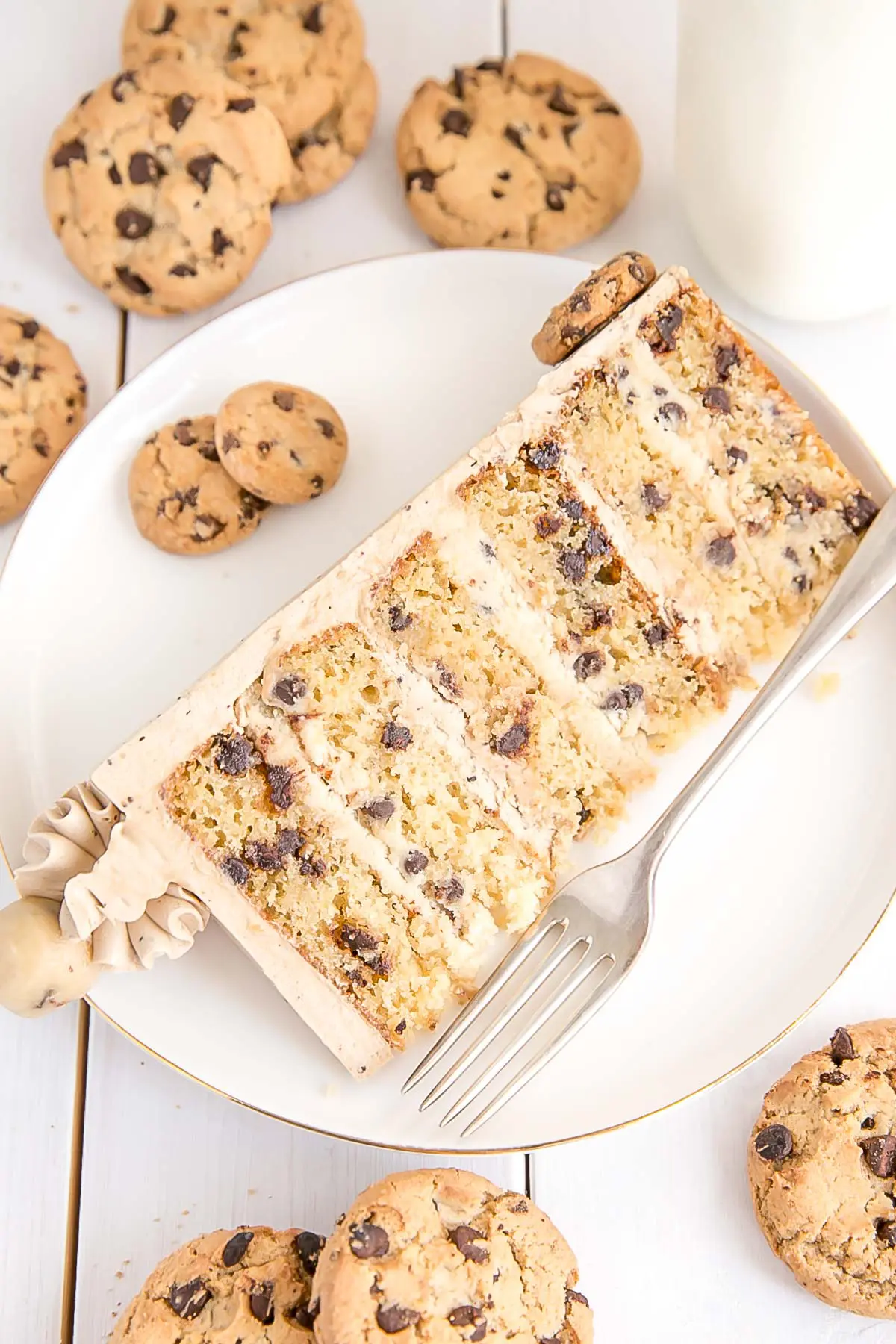 Looking for more Cookie Dough Recipes?
Tips for making this Chocolate Chip Cookie Cake
Be sure to heat-treat the flour in the cookie dough filling before use.
The recipe will also work as a two layer (cut into 4 layers) 8″ cake.
The buttercream recipe makes enough to frost the whole cake, if you wanted to skip the cookie dough layers.
You will have some cookie dough left over. You can make cookie dough truffles with any extra, or just store it in the fridge and eat it with a spoon like I did.
I used store-bought cookies for the buttercream, but you can use your favorite chocolate chip cookie recipe if you prefer.
Be sure to check my Swiss Meringue Buttercream post for tips and troubleshooting.
To help ensure your cake layers bake up nice and flat, check out my Flat Top Cakes post!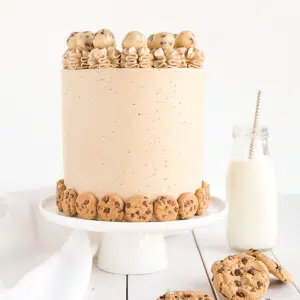 Chocolate Chip Cookie Cake
A cookie lovers dream! This Chocolate Chip Cookie Cake has brown sugar chocolate chip cake layers, a cookie dough filling, and a chocolate chip cookie frosting!
Ingredients
Instructions
Brown Sugar Chocolate Chip Cake:
Preheat oven to 350F. Grease and flour three 6″ cake rounds and line with parchment.

In a medium bowl, whisk flour, baking powder, and salt until well combined. Set aside.

Using a stand mixer fitted with a paddle attachment, cream butter and sugars on med-hig until pale and fluffy (approx 3mins).

Reduce speed and add eggs one at a time fully incorporating after each addition. Add vanilla.

Alternate adding flour mixture and milk, beginning and ending with flour (3 additions of flour and 2 of milk). Fully incorporating after each addition.

Toss chocolate chips in 1 Tbsp flour. Fold in chocolate chips and mix until just incorporated.

Bake for 35-40mins or until a toothpick inserted into the center comes out mostly clean.

Place cakes on wire rack to cool for 10mins then turn out onto wire rack and cool completely.
Cookie Dough Filling:
In a small bowl, whisk flour and salt, set aside.

Beat butter until creamy, add sugars and beat on high until pale and fluffy (approx. 2-3mins). Add vanilla and mix until combined.

Reduce speed to low and slowly add in flour mixture. Mix until just incorporated. Slowly pour in milk. Increase speed to med-high and beat for 2-3 minutes. Stir in chocolate chips.

Spray three 6″ pans with cooking spray and line each with plastic wrap. Place 2/3 cup of the cookie dough filling and each and spread evenly (I used my hands for this — it helps if your fingers are slightly wet). Fold the plastic wrap over to cover the cookie dough and chill to set.**
Chocolate Chip Cookie Buttercream:
Place egg whites and sugar into the bowl of a stand mixer, whisk until combined.***

Place bowl over a double boiler on the stove and whisk constantly until the mixture is no longer grainy to the touch (approx. 3mins).

Place bowl on your stand mixer and whisk on med-high until the meringue is stiff and cooled (the bowl is no longer warm to the touch (approx. 5-10mins)).

Switch to paddle attachment. Slowly add cubed butter and mix until smooth.

Add vanilla and cookie crumbs whip until smooth.****
Assembly:
Cut each layer of cake in half horizontally.

Place one layer of cake onto a cake stand or serving plate. Top with one of the discs of cookie dough filling. The cookie dough may extend over the edges of the cake. If so, just smush it in a bit and smooth it out.

Place another layer of cake on top and press down gently. Top with 2/3 cup of frosting and spread evenly.

Repeat with remaining layers, alternating cookie dough and frosting and crumb coat the cake. Chill for 20mins.

Frost the cake and smooth the sides and top. Use a 1M tip to pipe dollops on top. Use some of the remaining cookie dough to make small balls (1 tsp) to place on top of the frosting dollops. Place small chocolate chip cookies around the bottom of desired.
Notes
* If you're concerned about eating raw flour, you can bake it at 350F for 5mins. Cool before using.
** You can skip this step and try and spread the cooke dough onto each layer instead. It will be quite firm though and a bit harder to spread.
*** Wipe your mixer bowl and whisk down with lemon juice or vinegar to make sure it is completely grease free and make sure there is no trace of yolk in your whites or your meringue will not stiffen.
**** The buttercream may look like it's curdled at some point. Keep mixing until it is completely smooth. If it looks soupy, place it in the fridge for 20mins and rewhip.
Calories:
999
kcal
Carbohydrates:
116
g
Protein:
9
g
Fat:
56
g
Saturated Fat:
34
g
Cholesterol:
178
mg
Sodium:
390
mg
Potassium:
297
mg
Fiber:
1
g
Sugar:
82
g
Vitamin A:
1605
IU
Calcium:
167
mg
Iron:
2.8
mg
The nutritional information and metric conversions are calculated automatically. I cannot guarantee the accuracy of this data. If this is important to you, please verify with your favorite nutrition calculator and/or metric conversion tool.