This French Silk Pie Cake is the dessert of your dreams!! Incredibly moist chocolate cake layers topped with an unbelievably silky chocolate frosting.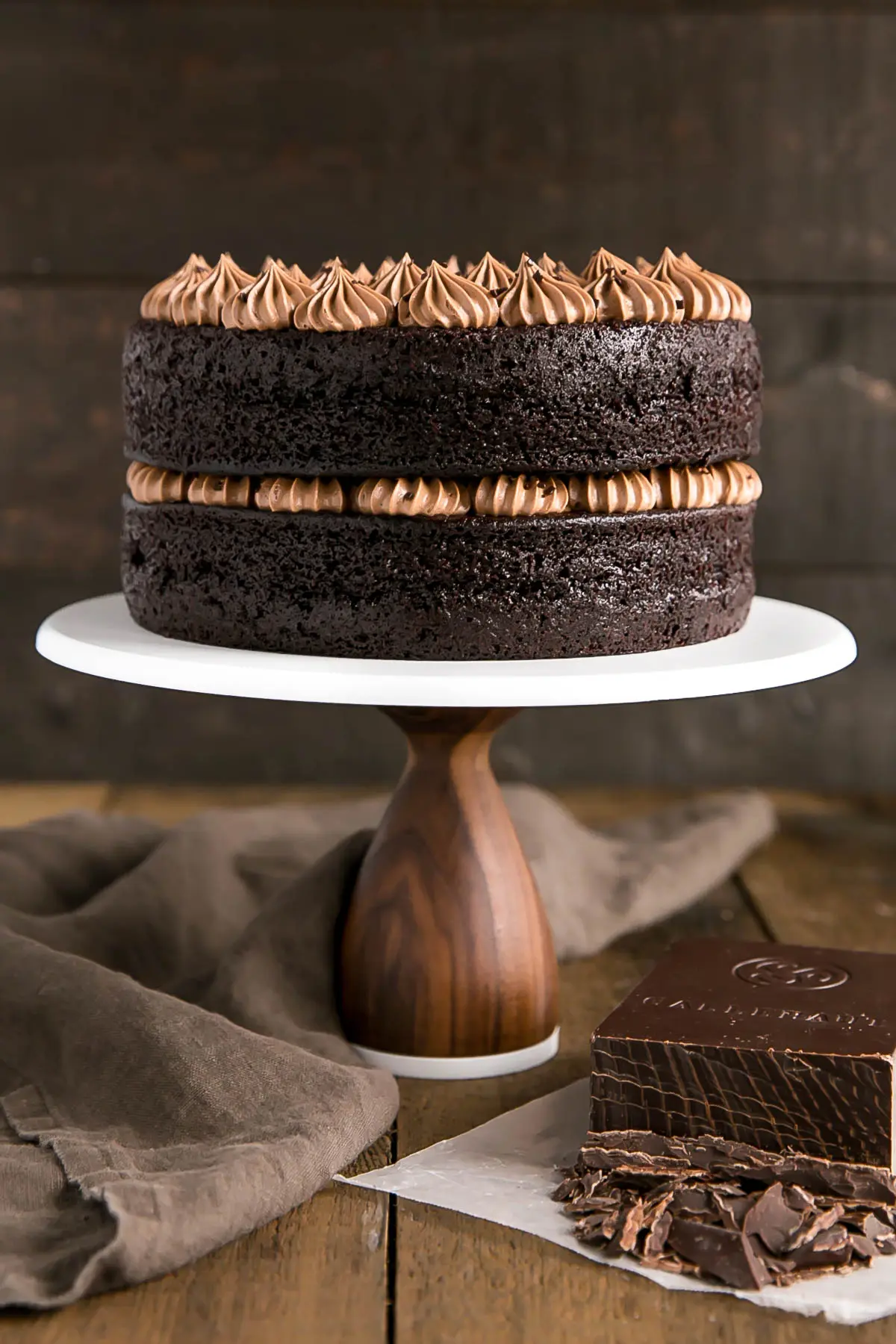 This French Silk Pie Cake is an homage to my very favourite cake from my childhood, and it's still one of my favourite cakes today: the McCain Deep'n Delicious Chocolate Cake.
This cake is so good. SO. GOOD. We wouldn't get it often when I was little, but when we did, it was the best treat. The cake itself is fine, basically good old chocolate cake. But the frosting… the frosting!! Where is the heart eyes emoji?? That stuff is like crack. I'd gladly take a bowl full of that frosting with a spoon and be happy.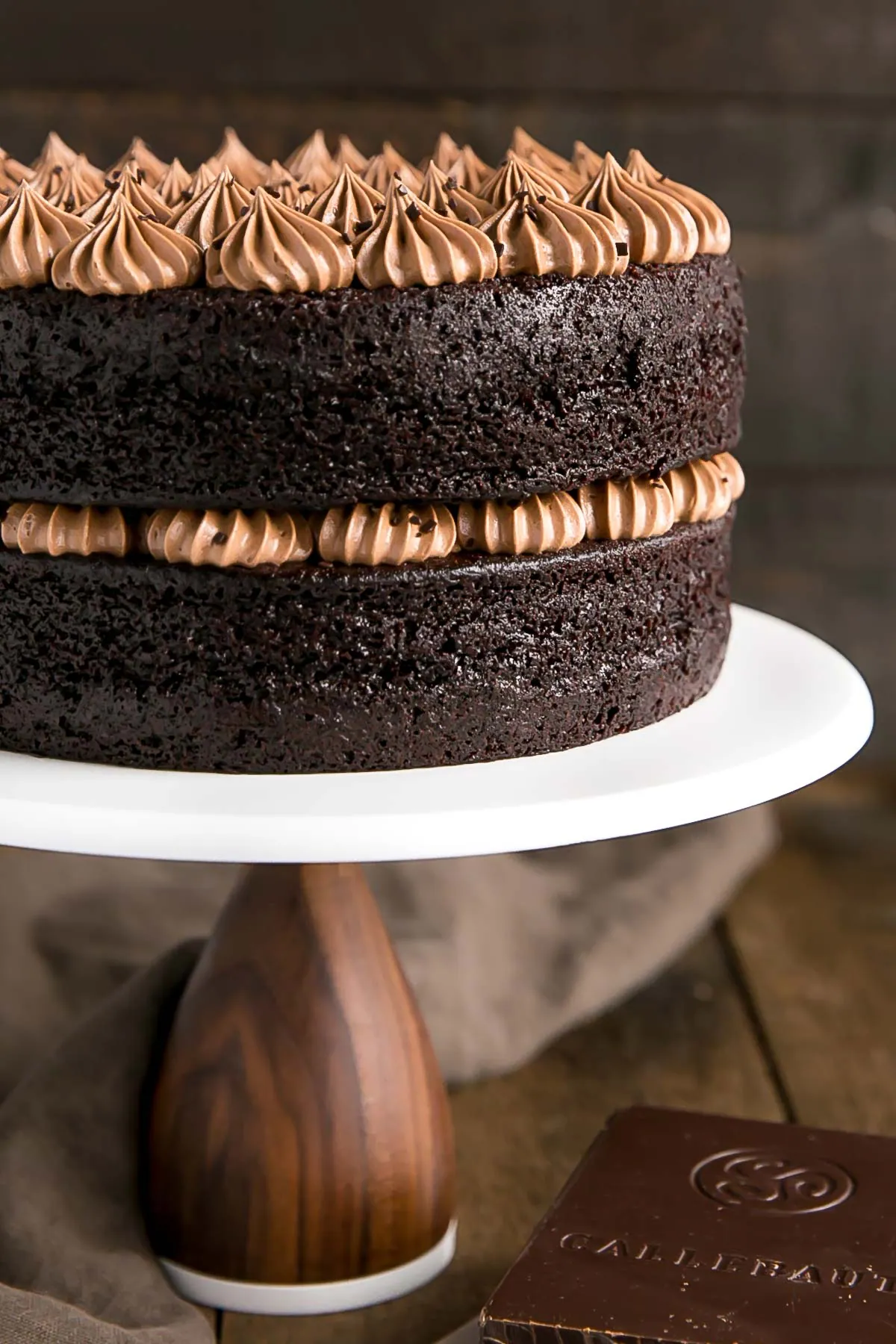 I actually haven't had this cake in decades (seriously), but over the holidays I got this inexplicable craving that just had to be satisfied. All the precious cakes lining my freezer were just not going to cut it. Ryan was all like — imagine if your followers knew what you were getting?? Blasphemy! Little did he know I had already blasted my guilty pleasure to everyone on my Instagram stories. There were some closet Deep'n Delicious fans that came out of the woodwork, let me tell ya — this cake has a cult following. Rightfully so.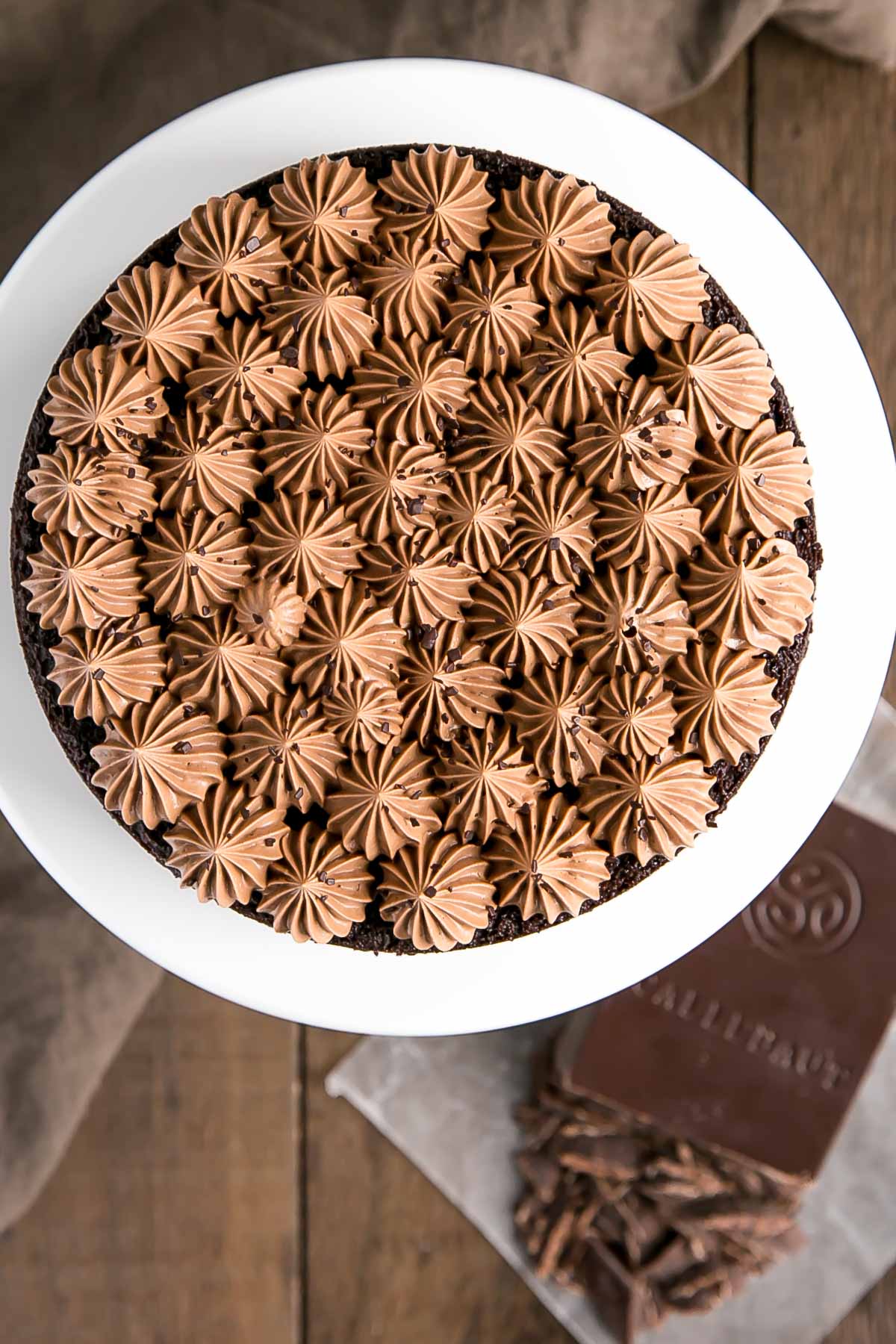 So twenty some odd years later, I am happy to report that it's every bit as good as I'd remembered. Except it used to come with chocolate sprinkles. Where did the chocolate sprinkles go??
I am not kidding when I say I bought at least two (maybe three) of these cakes over the holidays and ate them all. Happily. Maybe it was that I needed a break from baking, or that I was tired of all my cakes, or I just wanted to relive some nostalgia. It was wonderful.
Over the course of discussing our mutual obsession with my friend Amy from Constellation Inspiration, I decided I needed to try and re-create this cake. A quick Google search led down a rabbit hole which eventually led me to French Silk Pie. Apparently the filling for this pie is what is used as the frosting on the Deep'n Delicious cake.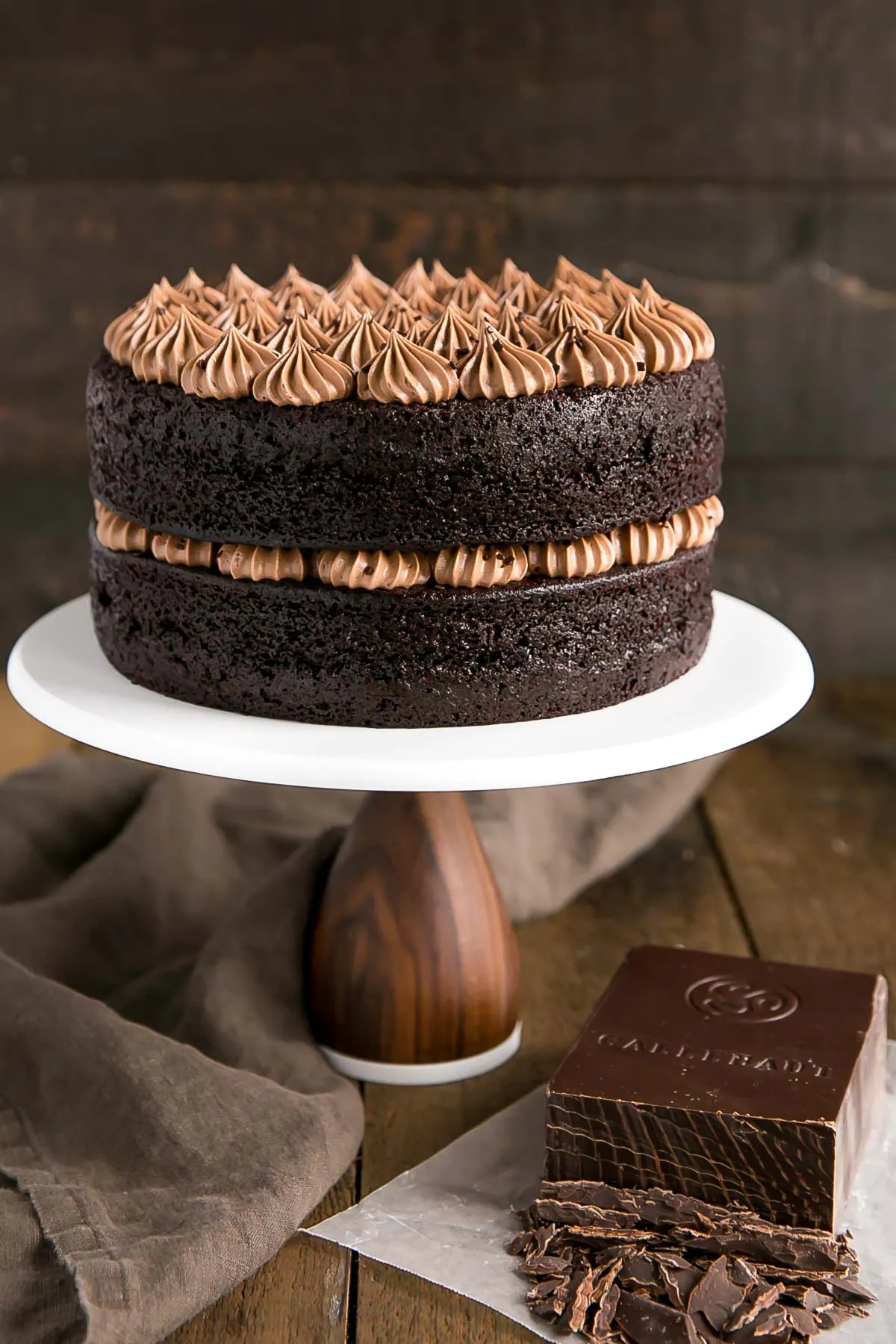 What is French Silk Pie?
It's basically a mousse, but not made in the traditional way you'd make a mousse. The key difference with French Silk Pie is the way you whip the eggs. Or rather, how long you whip them for.
The recipe starts out with creaming butter and sugar together, then adding in melted chocolate. At this point you start adding cold eggs one at a time and whipping for 5 minutes after each addition. This part is critical. If you add the eggs all at once it will be a big soupy mess. If you don't whip for long enough after each egg, the filling/frosting/mousse will be grainy. Trust me when I say not to rush this process.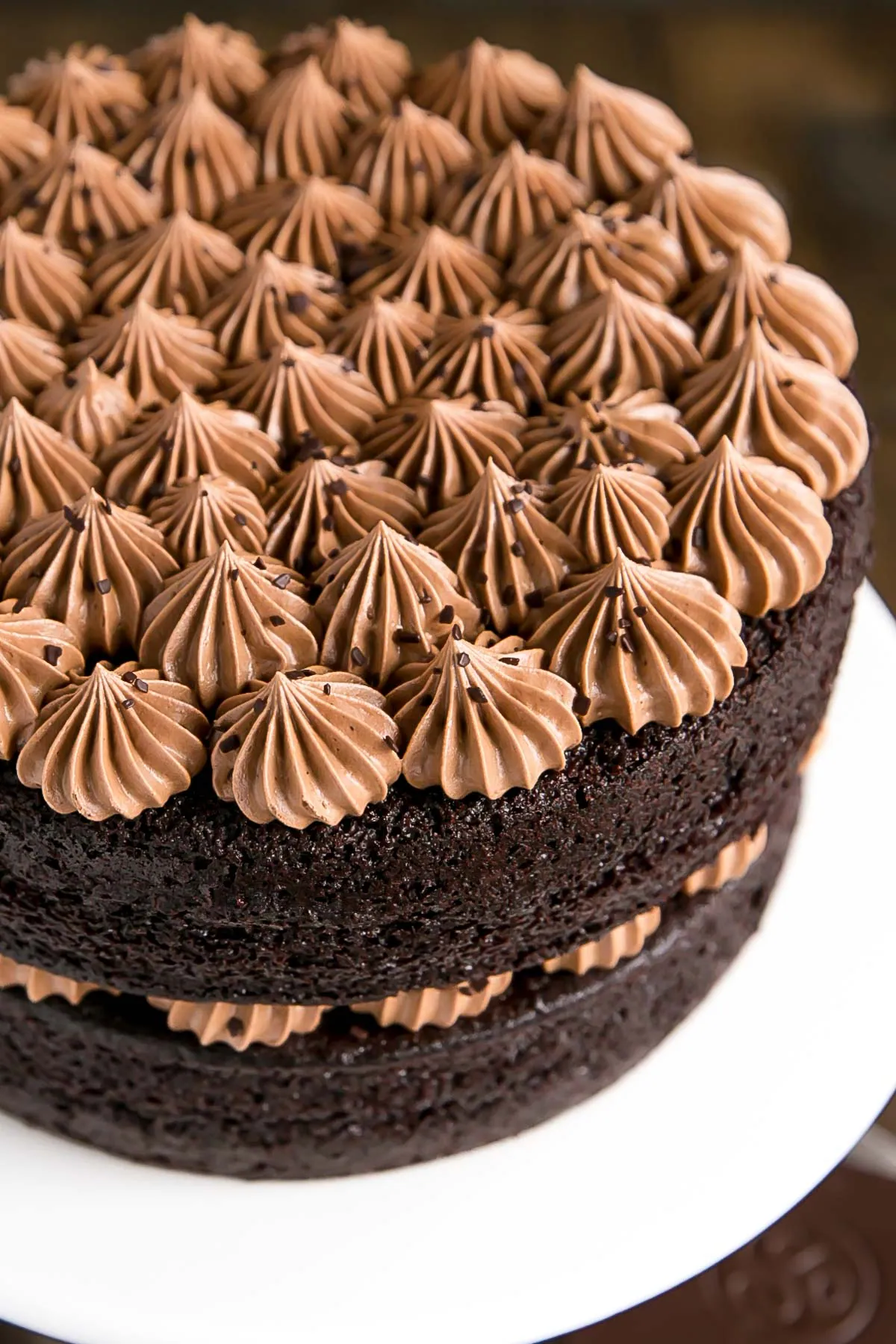 When you're finished whipping, the filling will be thick, fluffy, and silky… but a bit on the runny side. You couldn't use it as a frosting in this state. All you need to do is pop it into the fridge for 20-30mins so that it starts to firm/set up a bit. I chilled mine for a total of 30mins, rewhipping every 10mins. It was still thinner than a normal frosting at this point, but totally worked for piping the dollops. You could chill it a bit longer if you prefer.
It's important to note that I piped the dollops on each layer separately and chilled them again for 30mins before stacking. I wanted to make sure the frosting was firm enough so that it wouldn't ooze out the sides. You could serve this cake stacked or as two individual layers. How you choose to serve it is up to you. Each is equally pretty in my opinion.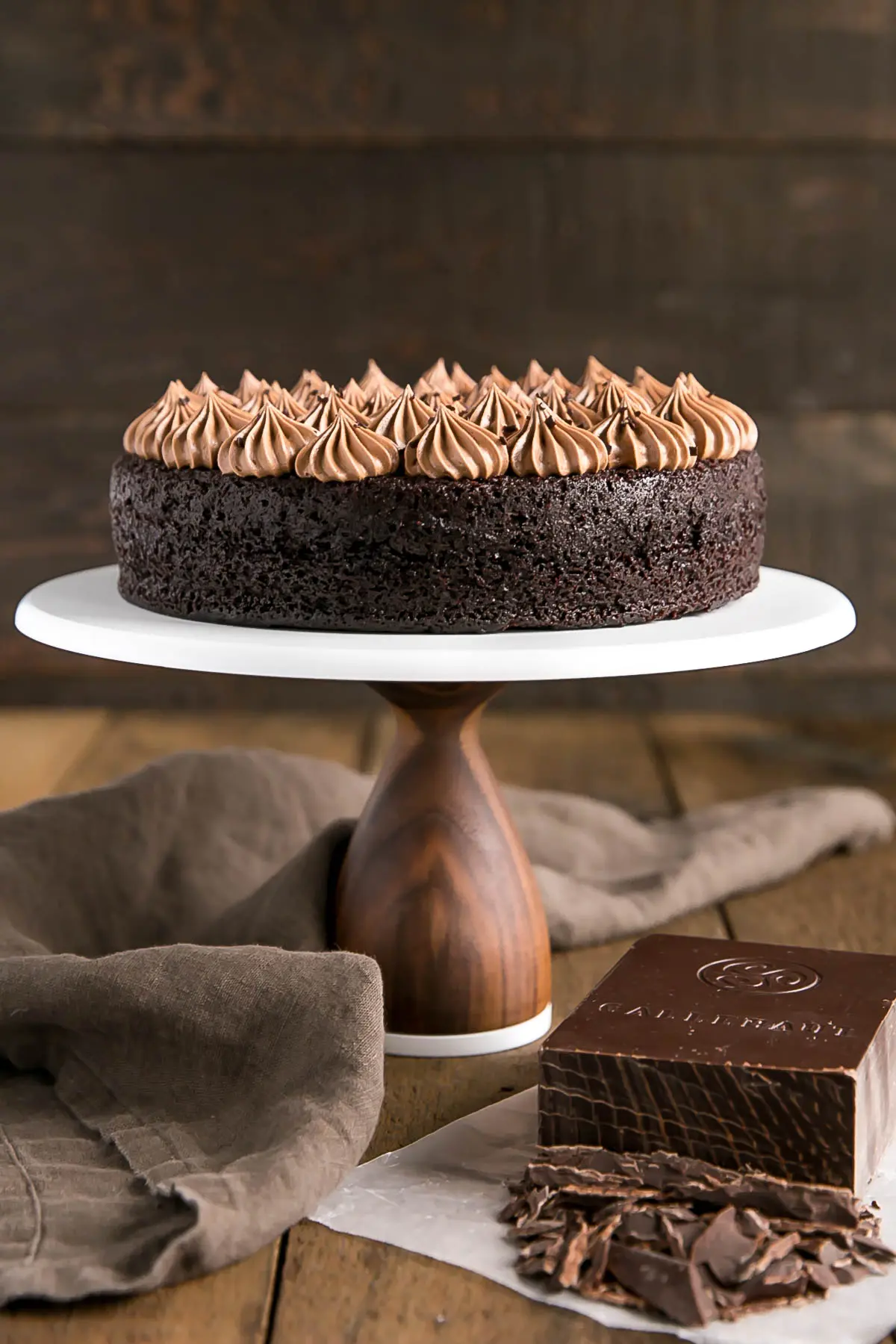 This French Silk Pie Cake recipe is simple, but a bit more time intensive (not THAT much more though). Decorating this cake is super easy, so the time spent on making/chilling the frosting balances out. And it's worth it, I promise!! That frosting is pure heaven.
So, did my version of the Deep'n Delicious cake live up to my expectations?? I gotta tell ya, it's pretty darn close. My cake layers are more dense and moist (which I like better), but the frosting is almost identical. Certainly in texture. I used unsweetened Baker's chocolate in the frosting as that's what most French Silk Pie recipes called for, but I think next time I'd try it with a high quality dark chocolate instead (Callebaut is my favourite). I am a chocolate snob when it comes to baking!
Does this mean I'll stop buying the McCain cakes? Unlikely. But if you're as big a fan of that nostalgic cake as I am, you will love this homemade version!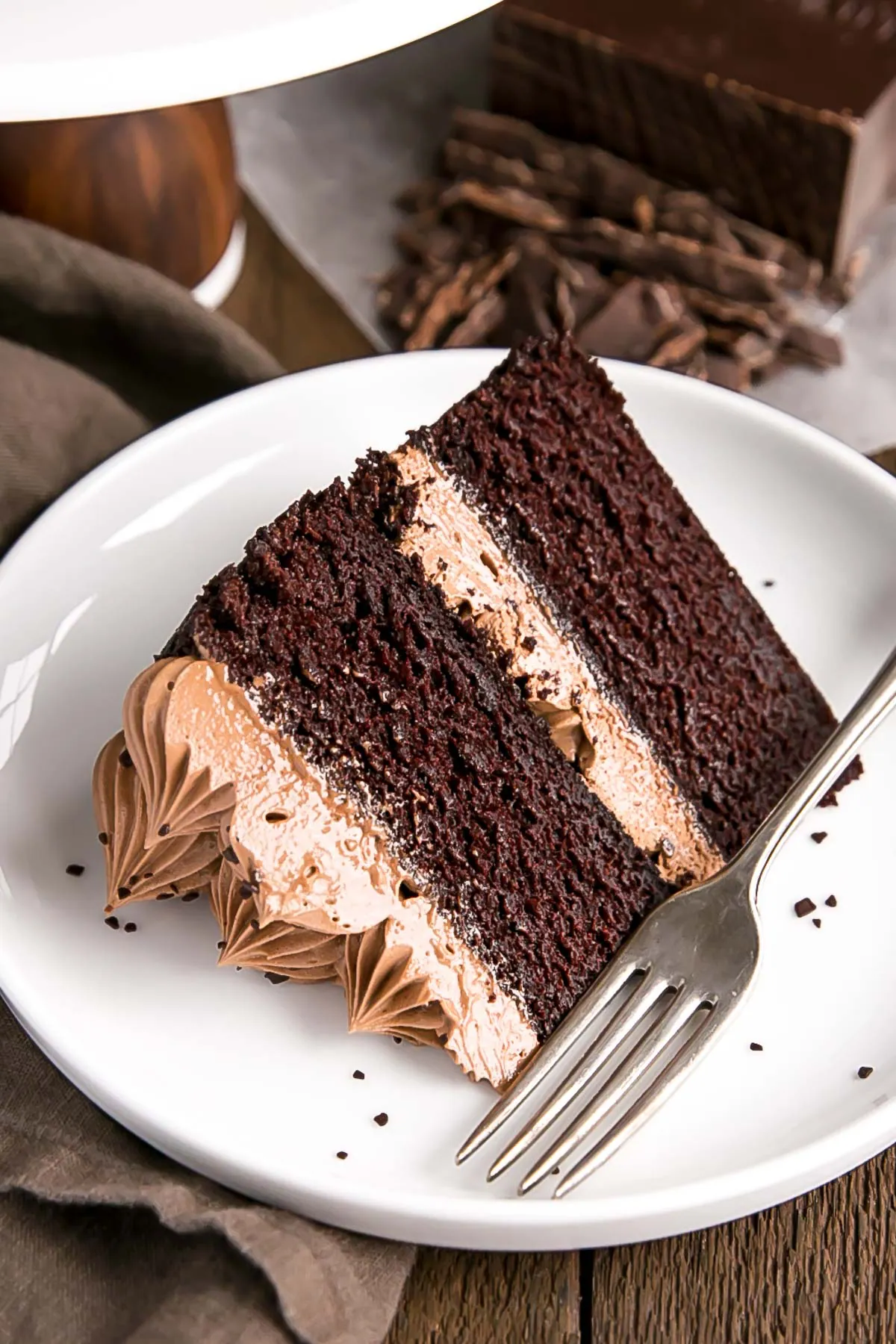 Tips for making this French Silk Pie Cake :
This recipe uses raw eggs for the frosting. If you're uncomfortable eating raw eggs, you can use pasteurized eggs or try one of my other chocolate frosting recipes.
Raw eggs should not be consumed by pregnant women, small children, or anyone with health issues.
Do NOT skimp on the whipping time for the frosting. You really need to whip for 5 minutes after each egg so that the sugar dissolves completely and the frosting is light and fluffy.
I used caster sugar as it's super fine and will dissolve quicker, but good old granulated sugar will work just fine. Just make sure the sugar is completely dissolved. If not, keep whipping until it is.
I used Baker's chocolate in the frosting, but next time I think I would try it with a really good quality dark chocolate.
To help ensure your cake layers bake up nice and flat, see my Flat Top Cakes post.
Looking for more Chocolate Recipes??
French Silk Pie Cake
This French Silk Pie Cake is the dessert of your dreams!! Incredibly moist chocolate cake layers topped with an unbelievably silky chocolate frosting.

Ingredients
Instructions
Chocolate Cake:
Preheat oven to 350F, grease two 8" round baking pans and dust with cocoa powder. Line bottoms with parchment.

Place all dry ingredients into the bowl of a stand mixer fitted with a paddle attachment. Stir to combine.

In a medium bowl whisk all wet ingredients (pour hot water in slowly as not to cook the eggs).

Add wet ingredients to dry and mix on medium for 2-3 mins. Batter will be very thin.

Pour evenly into prepared pans. I used a kitchen scale to ensure the batter is evenly distributed.

Bake for 45 mins or until a cake tester comes out mostly clean.

Cool 10 minutes in the pans then turn out onto a wire rack to cool completely.
French Silk Frosting:
Using a stand mixer fitted with a paddle attachment, beat butter and sugar until pale & fluffy (approx. 3 mins). Ideally use a a chilled bowl*. Scrape bowl as needed.

Add cooled melted chocolate and vanilla, whip until combined. Scrape bowl as needed.

Switch to whisk attachment. Add eggs one at a time, whipping for 5 mins after each addition. Scrape bowl before adding each egg.**

Frosting will be fairly runny. Place entire bowl with whisk into the fridge to chill for 30mins (take out to whip every 10mins).
Assembly:
You can either serve them like this, as two separate cakes, or place both in the fridge to chill for 1 hour, then carefully remove one from the cake board stack on top of the other.
Notes
NOTE: This recipe uses raw eggs which may be an issue for some. You can use pasteurized if you prefer. Raw eggs should not be consumed by pregnant women, small children, or anyone with health issues.
* A cold bowl will help the frosting whip up better.
** Do not skimp on this! It takes a long time, but this is what helps give it the proper texture.
*** You will have a bit of frosting left over. You can use this to add more frosting to the cake if desired, or spoon into small bowls and serve as mousse.
French Silk Pie filling recipe from Martha Stewart.
Calories:
543
kcal
Carbohydrates:
72
g
Protein:
7
g
Fat:
27
g
Saturated Fat:
18
g
Cholesterol:
110
mg
Sodium:
459
mg
Potassium:
264
mg
Fiber:
3
g
Sugar:
51
g
Vitamin A:
500
IU
Calcium:
73
mg
Iron:
3.4
mg
The nutritional information and metric conversions are calculated automatically. I cannot guarantee the accuracy of this data. If this important to you, please verify with your favourite nutrition calculator and/or metric conversion tool.