This Tiramisu Cake turns your favourite Italian dessert into a delicious and decadent layer cake. Coffee soaked layers paired with mascarpone buttercream.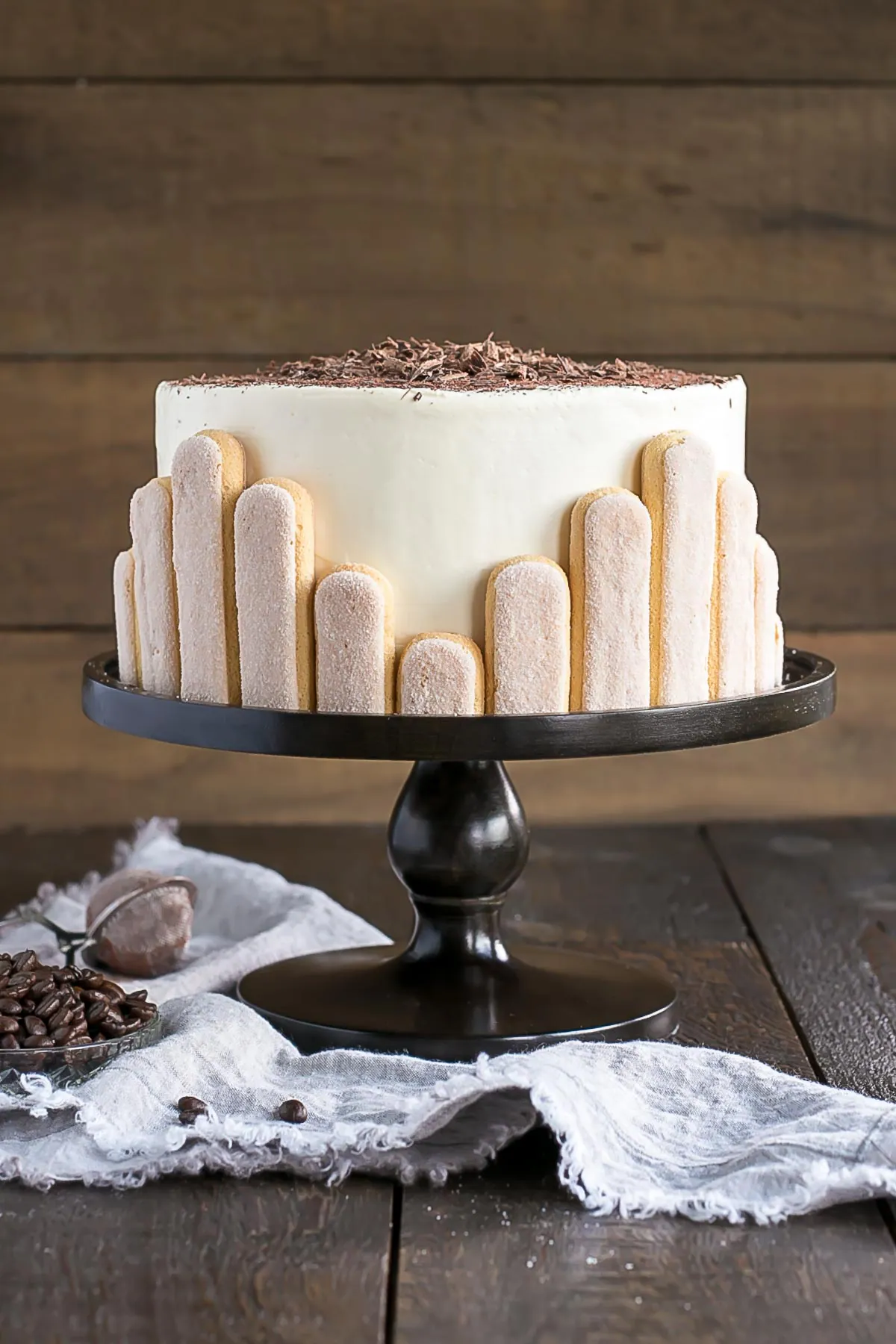 Hiiiii everyone! Sorry for the lack of posts over the past couple weeks. Ryan and I were in London for the last week of June, then it was Canada Day/4th of July, and things just kinda got away from me (read: I did as little as possible and loved every minute of it). I hope the lack of dessert in your inbox wasn't too much of a disappointment!
This is going to be another one of those posts where you will hopefully learn something from my mistakes. It's no secret that I have fails in the kitchen more often than I'd like to admit. I figure most normal people do though, so why not just lay all the cards out on the table? Things don't always go how you expect. And this time, with this Tiramisu Cake, it was due to a rookie mistake on my part.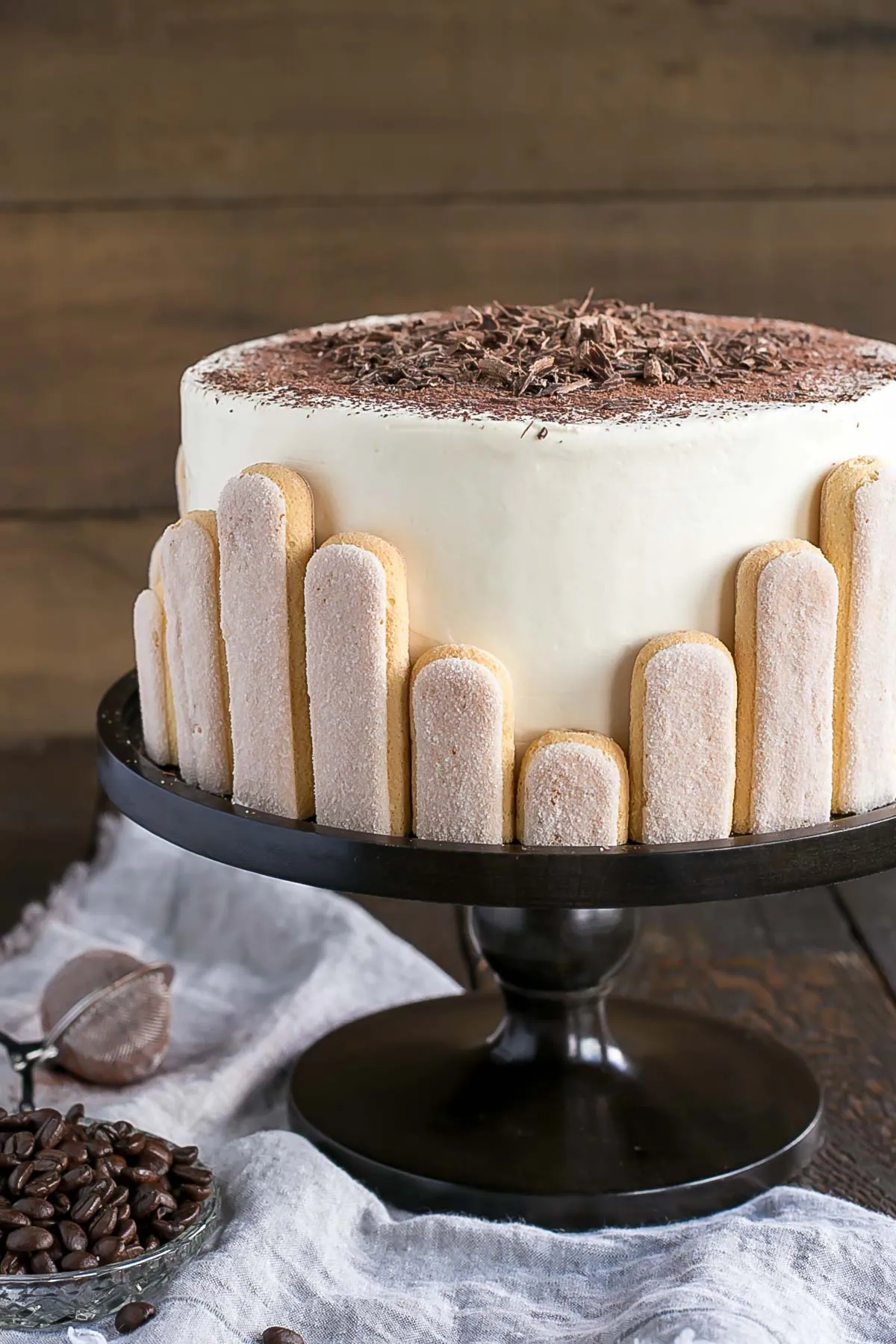 I am usually really good at making sure all of my ingredients are at room temperature. This is important so that all of the ingredients emulsify together and yield proper results when baking. I never mess around with this when it comes to cookie dough or cake batter, but I tend to be a bit more lax when it comes to buttercream. Even still, I usually check the ingredients to make sure they're not rock hard. But I actually broke my favourite KitchenAid beater blade a couple of weeks ago because I tried to whip a large chunk of butter when it was still too hard. Sad times.
So this time, with this mascarpone buttercream, I actually cut my butter up into cubes so it would come to room temperature faster. What I failed to do though, and ultimately what caused the issue (I think), is that I didn't properly bring the tub of mascarpone to room temp. I didn't even check it!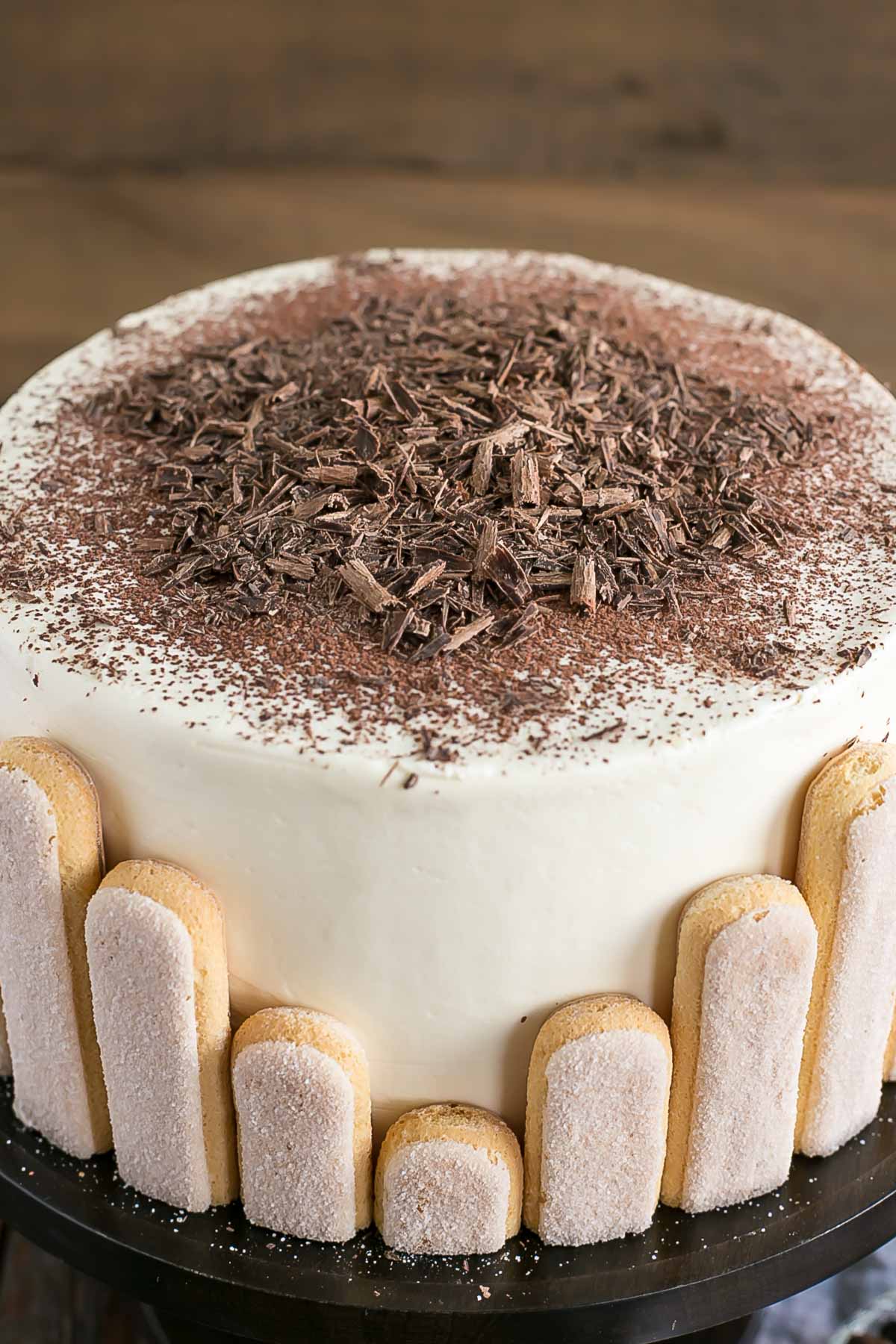 I don't know why I didn't check it. I guess I thought it would be fine (cream cheese usually is) or that even if it was a bit stiff, it would soften up while it was whipping. What I didn't anticipate is that the butter and mascarpone would completely curdle and separate when whipped together.
Minor panic set in when I looked into the bowl. I though that surely more whipping would fix it, so I added in the sugar and whipped it to oblivion. No dice. Honestly, I almost considered using it in this state (wtf Olivia?). If we still had a grocery store close by, I would have ran out and bought new ingredients, but that wasn't really an option here. Thankfully, I came to my senses and tried a trick to see if I could save it.
A few years ago, I remember ages ago dealing with a curdled/separated meringue buttercream. I had frozen some leftover buttercream, thawed it, and started to rewhip it (which is what you should do after thawing). I guess it was still a bit too cold, because what was in my mixer looked like cottage cheese soup. I'm not even kidding you. This mascarpone frosting didn't look quite that bad, but it just didn't look right (or taste right).
What I remembered from last time is that you just needed to warm the frosting up a bit so that it can emulsify properly. So I grabbed my trusty hair dryer and started heating up the sides of the bowl while the mascarpone buttercream was whipping. The hair dryer has saved me from more than one baking disaster. Sure enough, after heating it a bit and letting it whip some more, it came together perfectly. You can also heat the buttercream in bursts over a double boiler — whipping between heating — if you'd rather try something more professional, lol.
So learn from my mistakes, people. Make sure all of your ingredients are actually at room temperature, or you'll have some ugly curdled buttercream on your hands. But if that happens, now you know how to save it, right??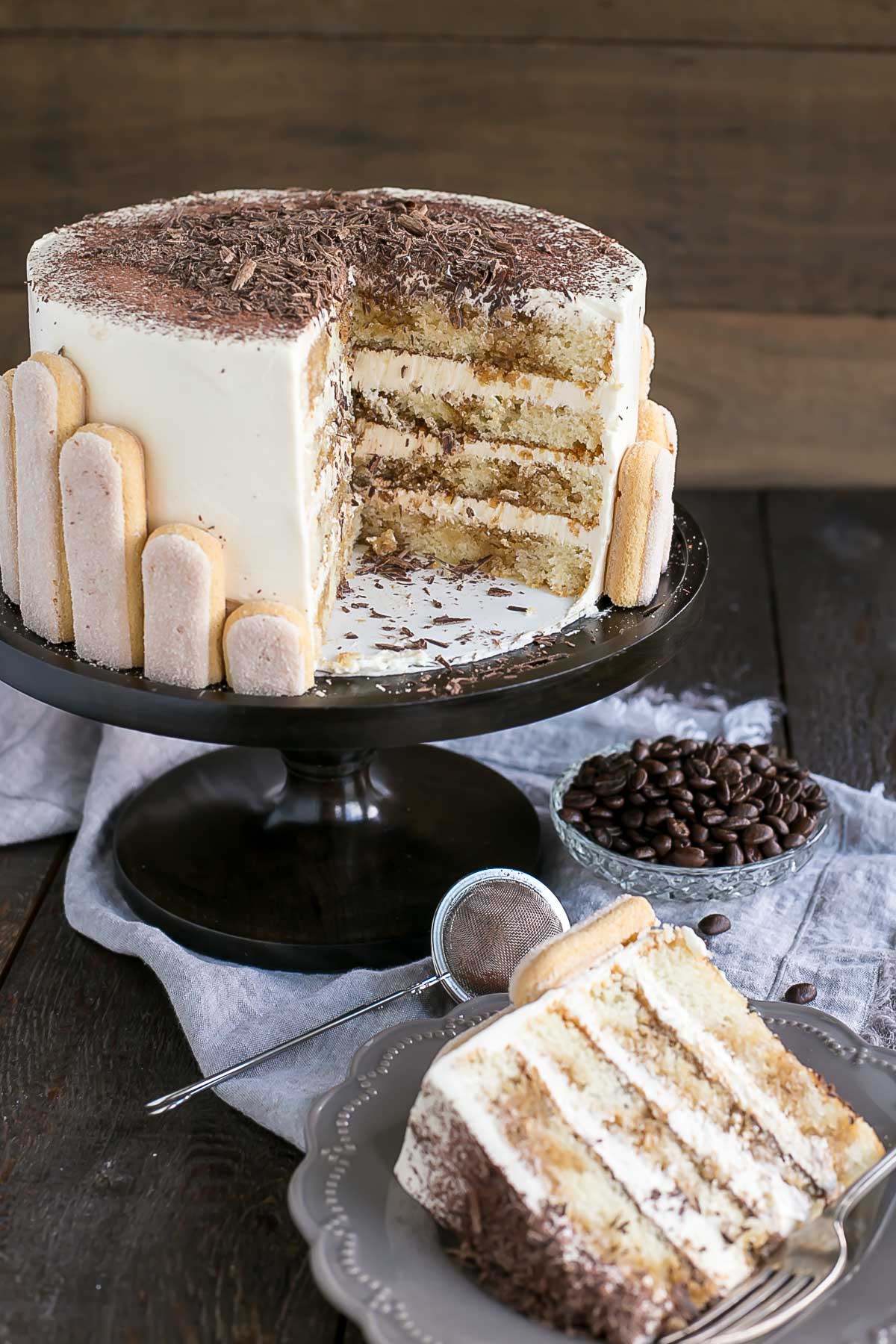 I'm not in love with how this Tiramisu Cake looks (shocker). I should have done something, anything, with the frosting on the sides. It's too flat and boring. Ryan says it looks very art deco, which makes me like it a little bit more. Oh well, it's the taste that matters and it tastes ridiculously delicious!
Really, it tastes just like a tiramisu. You could just have tiramisu, but this way is better because it's a cake. Those coffee soaked layers are some of the best I've ever had. And the mascarpone buttercream has just the perfect balance of flavours. It's a bit heavier than what you'd see in a traditional tiramisu, but I wanted the cake to have more structural integrity. Plus, I love a good buttercream.
If you love tiramisu and are looking for something a little different, then this Tiramisu Cake is for you!
Tips for this Tiramisu Cake:
Make sure all of your ingredients are at room temperature. Especially for the frosting, as it can curdle! See post for details.
For added crunch/flavour, you can crush up some lady fingers and spread them between the layers. They will soften the longer they sit in the cake, though.
I was a little too generous with the frosting between the layers (I used about 1 cup per layer). A thinner layer between each would have balanced the cake better. This would also leave enough frosting to do some piping on top.
The coffee liqueur is optional – you can leave it out, and it will still taste delicious!
To help ensure your cake layers bake up nice and flat, see my Flat Top Cakes post.
Tiramisu Cake
This Tiramisu Cake turns your favourite Italian dessert into a delicious and decadent layer cake. Coffee soaked layers paired with mascarpone buttercream.

Ingredients
Instructions
Coffee Syrup:
Bring sugar, water, and espresso powder to a boil in a small pot over med-high heat. Simmer for 1min. Remove from heat and stir in coffee liqueur or rum if desired. Set aside to cool.
Cake:
Preheat oven to 350F. Grease and flour two 8" cake rounds and line with parchment.

In a medium bowl, whisk flour, baking powder, and salt until well combined. Set aside.

Using a stand mixer fitted with a paddle attachment, cream butter and sugar on med-high until pale and fluffy (approx 3mins). Reduce speed and add eggs one at a time fully incorporating after each addition. Add vanilla.

Alternate adding flour mixture and buttermilk, beginning and ending with flour (3 additions of flour and 2 of milk). Fully incorporating after each addition.

Bake for 30-35mins or until a toothpick inserted into the center comes out mostly clean.

Place cakes on wire rack to cool for 10mins then turn out onto wire rack. Cool completely.
Mascarpone Frosting:
Beat butter and mascarpone until fluffy (2 mins). Add powdered sugar one cup at a time. Add vanilla and beat until fluffy (3 mins).
Assembly:
Cut each cake layer in half horizontally.

Place one layer of cake on a cake stand or serving plate. Brush generously with about 4 Tbsp coffee syrup. Dust with cocoa powder if desired (I did).

Top with approximately 3/4 cup of mascarpone buttercream and spread evenly.

Repeat with remaining layers and crumb coat the cake. Chill for 20mins.

Frost the cake with the remainder of the buttercream and smooth the sides and top.

Dust top with cocoa powder and/or sprinkle with chocolate shavings, and press lady fingers into the sides if desired.
Calories:
768
kcal
Carbohydrates:
82
g
Protein:
6
g
Fat:
45
g
Saturated Fat:
28
g
Cholesterol:
152
mg
Sodium:
182
mg
Potassium:
152
mg
Sugar:
65
g
Vitamin A:
1450
IU
Calcium:
113
mg
Iron:
1.2
mg
The nutritional information and metric conversions are calculated automatically. I cannot guarantee the accuracy of this data. If this important to you, please verify with your favourite nutrition calculator and/or metric conversion tool.