These egg-free Cookie Dough Truffles are the perfect bite-sized treat!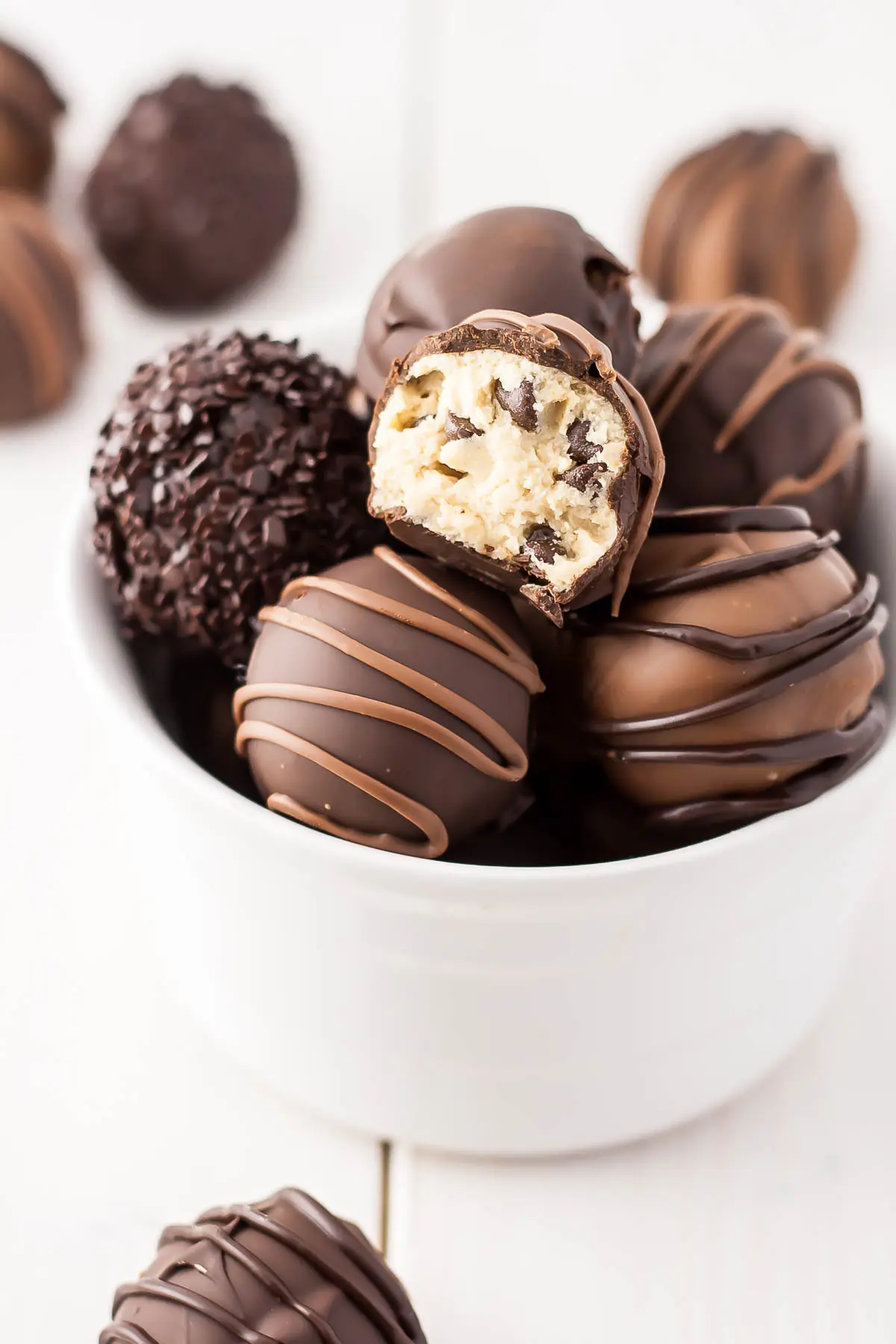 I LOVE chocolate chip cookie dough. Specifically this chocolate chip cookie dough. It's honestly the best thing ever. No shame that I eat it by the spoonful when I'm making those cookies. It's almost better than the baked version. So, I adapted my favourite cookie dough recipe for these cookie dough truffles.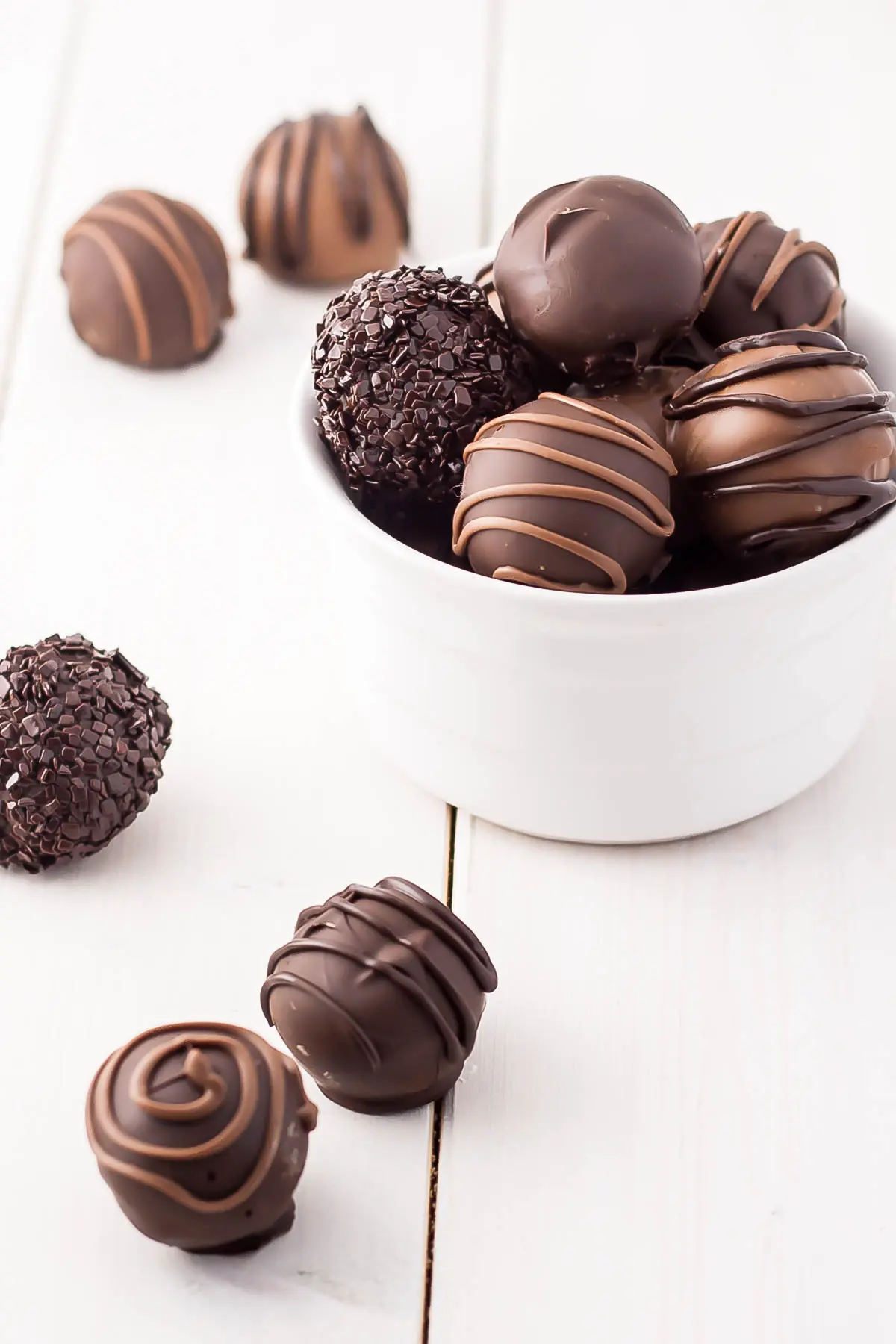 Is it safe to eat raw cookie dough?
This edible cookie dough is an eggless version that is totally safe to eat. But has anyone actually died of eating raw cookie dough? Like, was it 100% certain that was the cause?? I wanna know. ANYhow, many people understandably frown at the raw egg aspect, and eating raw eggs can be dangerous to some, so this version is completely egg-free.
If you're concerned about eating the raw flour too — you can bake the flour on a baking sheet at 350F for 5 minutes. This is said to kill off any lingering bacteria that may be present.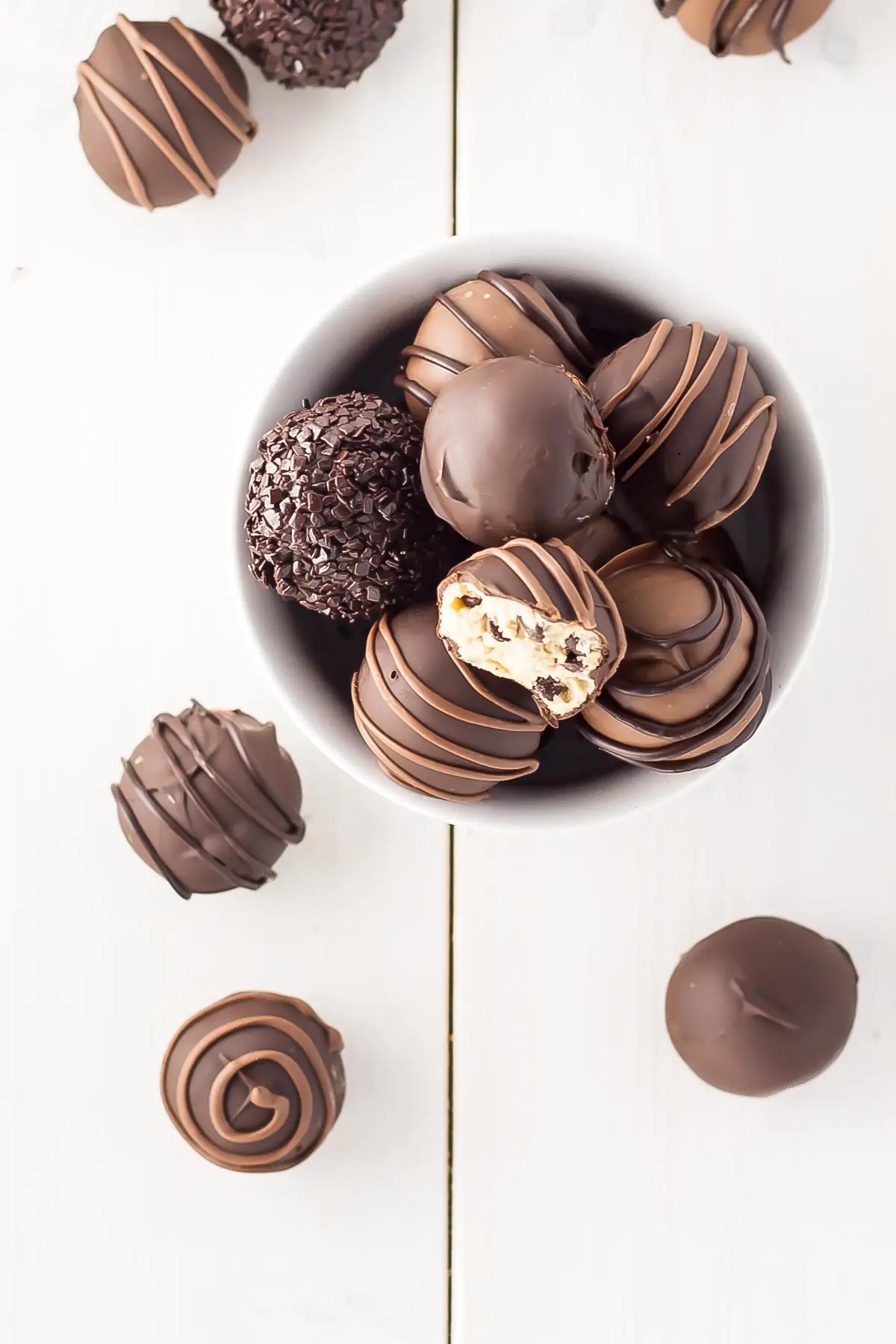 How do you make edible cookie dough?
This edible cookie dough is super easy to make — any standard cookie recipe would do, really. Just scoop it into small balls, freeze, then dip into melted chocolate and you're done.
You have to do the chocolate dipping rather quickly since the cookie dough balls are frozen and the chocolate will start to harden right away. Basically, toss the cookie dough balls into a bowl of melted chocolate, one at a time, roll them around with a fork, scoop them out, and tap off the excess.
The chocolate dipping can be done with a fork, or if you're crazy like me, you'll go out and buy a chocolate dipping set for this specific purpose. I'm sure to use it again at *some* point in the future…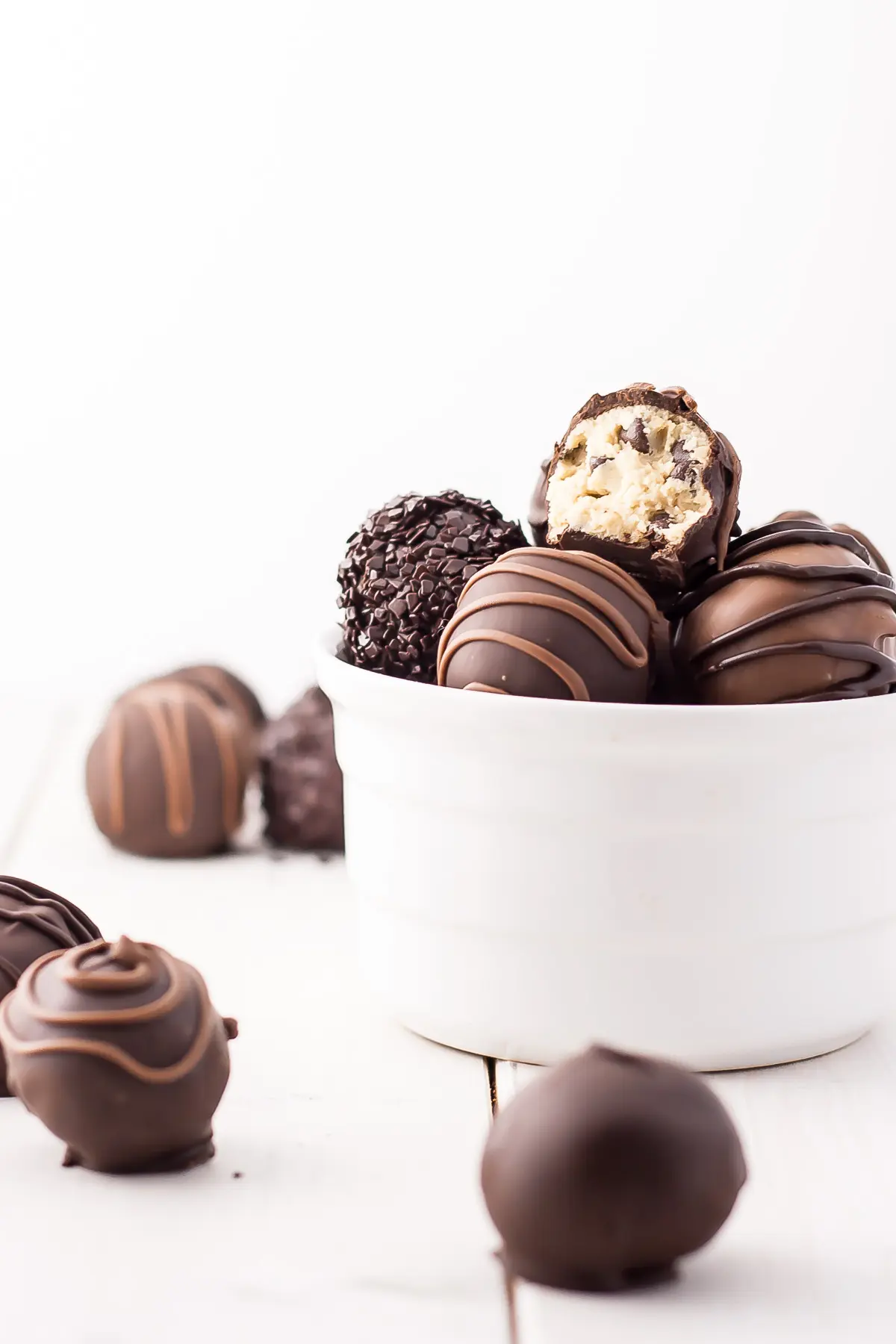 I used both dark and milk chocolate for dipping and drizzle, as well as some chocolate flakes I picked up while I was looking for the dipping forks. I actually went to the store to buy a round cooling rack, which they didn't have, and ended up buying all these other things that I "needed".
Those chocolate flakes though? Pretty happy with that purchase. These are just as delicious with no chocolate coating at all, so if you're feeling lazy, you can totally skip that.
These cookie dough truffles are a delicious (and safe) way to enjoy the very best guilty pleasure. Cookie dough in a variety of flavours and textures which is sure to appeal to everyone!
Looking for more Cookie Dough Recipes?
Tips for making these Cookie Dough Truffles
These cookie dough truffles are egg-free and safe to eat.
If you're concerned about consuming raw flour you can bake the flour for 5mins at 350F. Cool completely before use.
You can skip dipping them in chocolate if you're just looking for an edible cookie dough recipe.
I used a chocolate dipping fork to dip the chilled cookie dough balls into the chocolate.
Cookie Dough Truffles
These egg-free edible Cookie Dough Truffles are the perfect bite-sized treat!
Instructions
Line a baking sheet with parchment.

In a small bowl, whisk flour and salt, set aside.

Beat butter until creamy, add sugars and beat on high until pale and fluffy (approx. 2-3mins). Add vanilla and mix until combined.

Reduce speed to low and slowly add in flour mixture. Mix until just incorporated. Slowly pour in milk. Increase speed to med-high and beat for 2-3 minutes. Stir in chocolate chips.

Using a small cookie scoop (2 tsp), scoop cookie dough and roll into balls. Place on prepared baking sheet and freeze for 30mins.

Place chopped chocolate into two separate microwave bowls. Microwave separately -- starting with 30 seconds, stir, then in 10 second intervals until chocolate is completely melted. Allow to cool slightly.

Remove cookie dough balls from freezer and dip into melted chocolate using a fork or

chocolate dipping tool

. Place on parchment lined baking sheet and drizzle with additional chocolate if desired.

Refrigerate for 15mins to set.
Calories:
100
kcal
Carbohydrates:
12
g
Fat:
5
g
Saturated Fat:
3
g
Cholesterol:
7
mg
Sodium:
37
mg
Potassium:
37
mg
Sugar:
8
g
Vitamin A:
90
IU
Calcium:
12
mg
Iron:
0.6
mg
The nutritional information and metric conversions are calculated automatically. I cannot guarantee the accuracy of this data. If this important to you, please verify with your favourite nutrition calculator and/or metric conversion tool.
Originally published on Jan 17, 2016