This Spiderweb Cake is perfect for Halloween! A rich black cocoa cake with an orange flavored buttercream.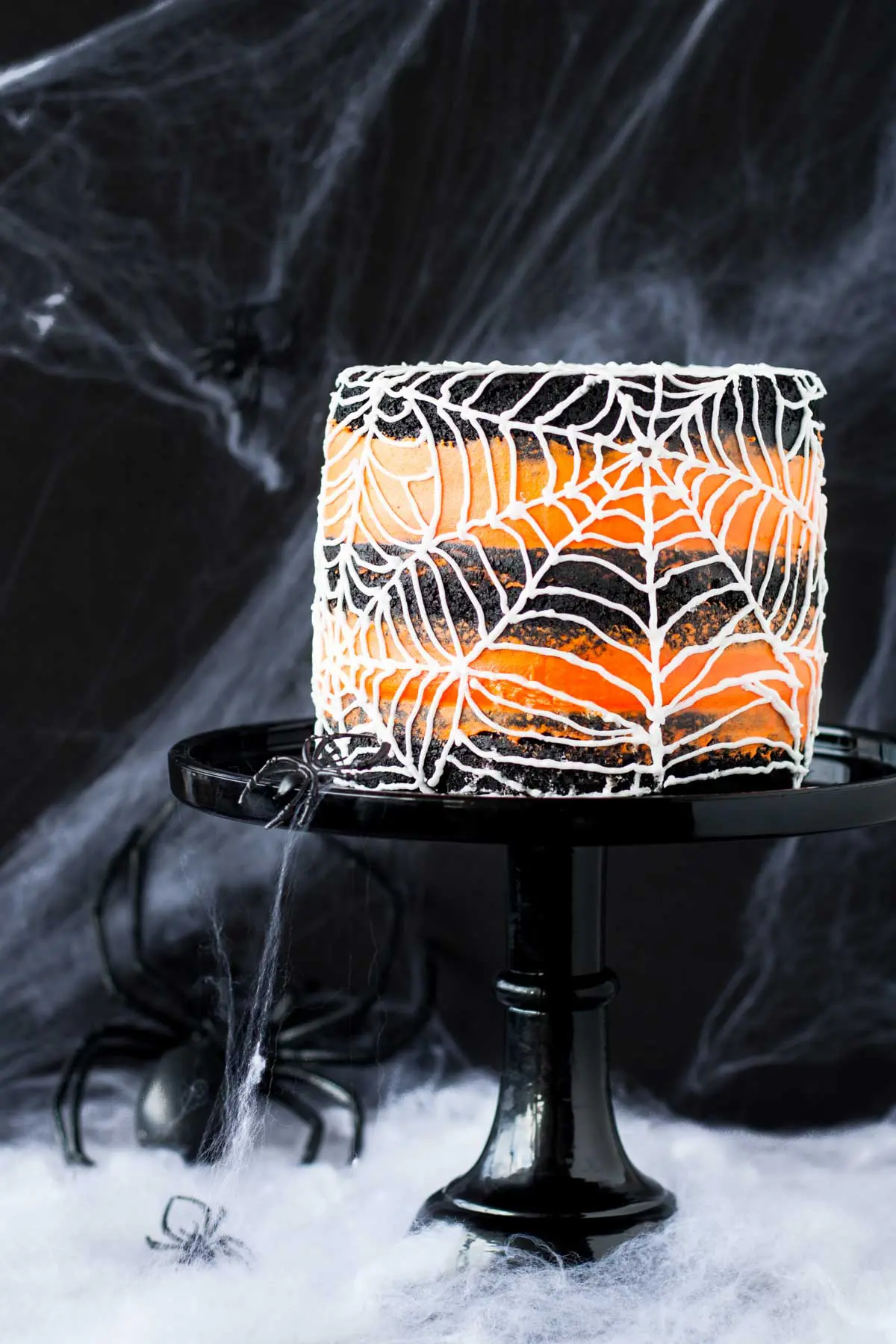 Fake spiderweb could be the worst thing to work with ever. EVER.
It gives an awesome effect, but holy CRAP it will get snagged on ANYthing. Heaven forbid you have any dry patches on your hands, you will have a heck of a time trying to place this stuff around and get it to stay.
Want to adjust one of the little spiders? Good luck. Just get some scissors and cut the sucker out. It probably took me a good hour just to set this up so I could take pics!
Now that I have that off my chest, on to this Spiderweb Cake!
It didn't quite turn out how I envisioned. Wouldn't it be nice if things just WORKED? I used to be heavily into cake decorating years ago, and had an arsenal of tips and tricks. Apparently I retained none of that information, as I made some pretty rookie mistakes here.
But instead of sulking about the imperfections, I'm going to tell you what not to do if you attempt this.
This cake did double duty this weekend for an early Halloween get-together with friends as well as a birthday cake (for me). Both occasions were days early, but who's gonna complain about having cake? Crazy people, that's who. The cake I made for myself last year is still my favorite, but I love the Halloween theme of this one.
My inspiration for this spiderweb cake came from my friend Elizabeth over at Sugar Hero. Her version was just so stunning I had to try it! I loved the naked cake peeking through the spiderweb design, and it seemed simple enough. Hah. Seriously though, go check out Elizabeth's work because it is seriously stunning.
Unfortunately, my piping skills are mega rusty, never mind the fact that I kinda winged it and figured it would just *work*. In hindsight, I should have used royal icing instead of buttercream so the web lines would be smoother. But royal icing dries hard, and I didn't want it to crumble when I cut the cake, so I went with a buttercream instead. That was mistake #4, so let's backtrack a bit…
As it turns out, you don't need to use half a bottle of color gel to get a bright orange color. I'd forgotten that color will get darker as it sits, and adding more gel will affect the consistency of your frosting. These were both issues here.
I kept adding more and more orange gel because it wasn't looking Halloween-y enough for me. I finally got it to the right color, only to find out a couple hours later that it had darkened a ton. The excessive amount of gel also made the frosting softer than planned. That was mistake #1.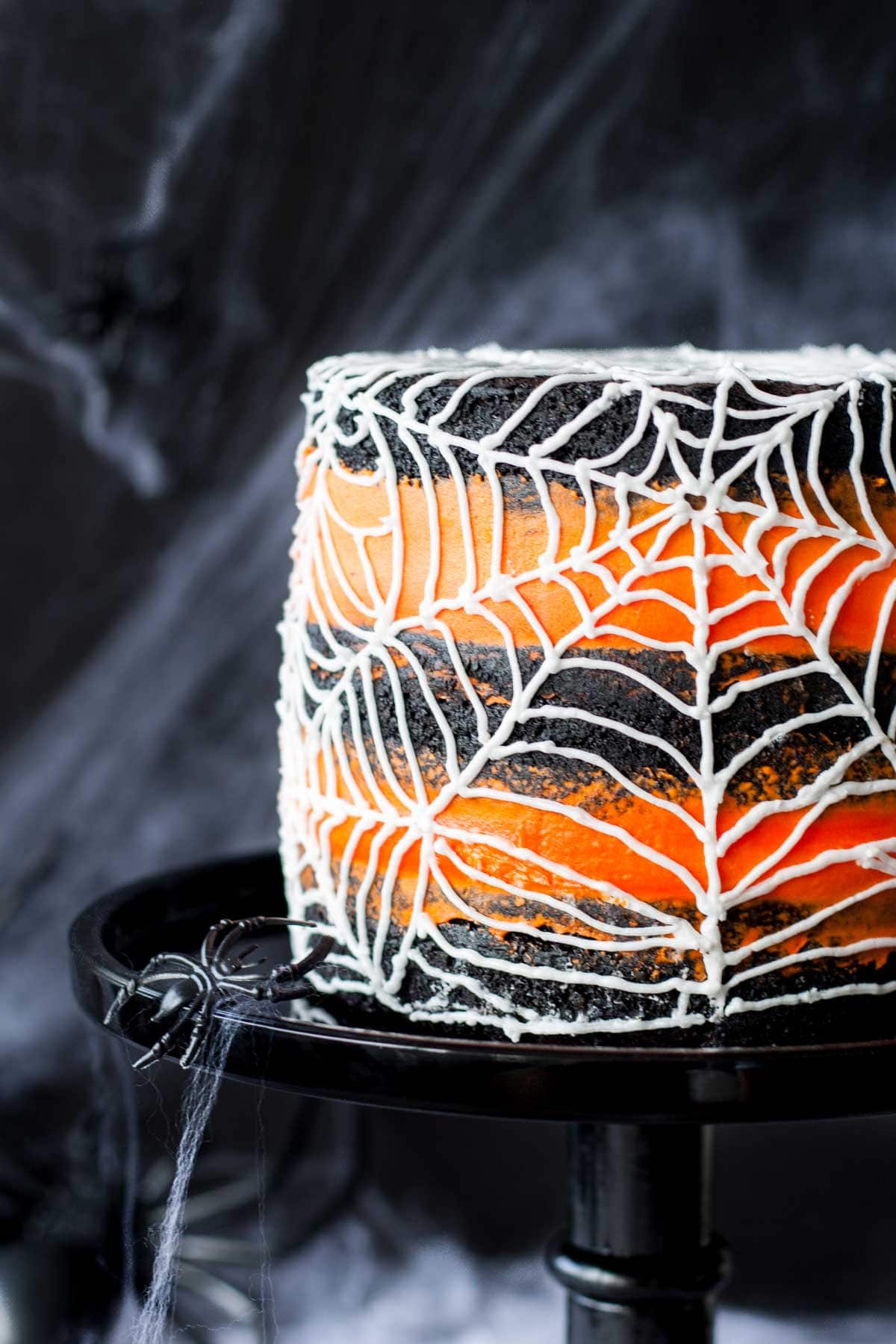 Mistake #2 is one I often make due to my lack of patience. I should have chilled the cake longer before starting to pipe the spiderweb. The piping took a decent amount of time, so everything was quite soft by the time I was done with it. This made it much harder to correct any mistakes with the web.
Normally, I'd be able to scrape some of the web off with a toothpick or something if the cake underneath was cold enough. Unfortunately, when I tried to do this after the cake warmed up, the orange buttercream was way too soft and it smudged in the process.
Mistake #3 was not really having a plan going into the piping. I just started in an area and went with it, not really thinking about how the webs would meet each other. The side with the pictures is definitely the best one, so you can imagine the poor backside of this cake.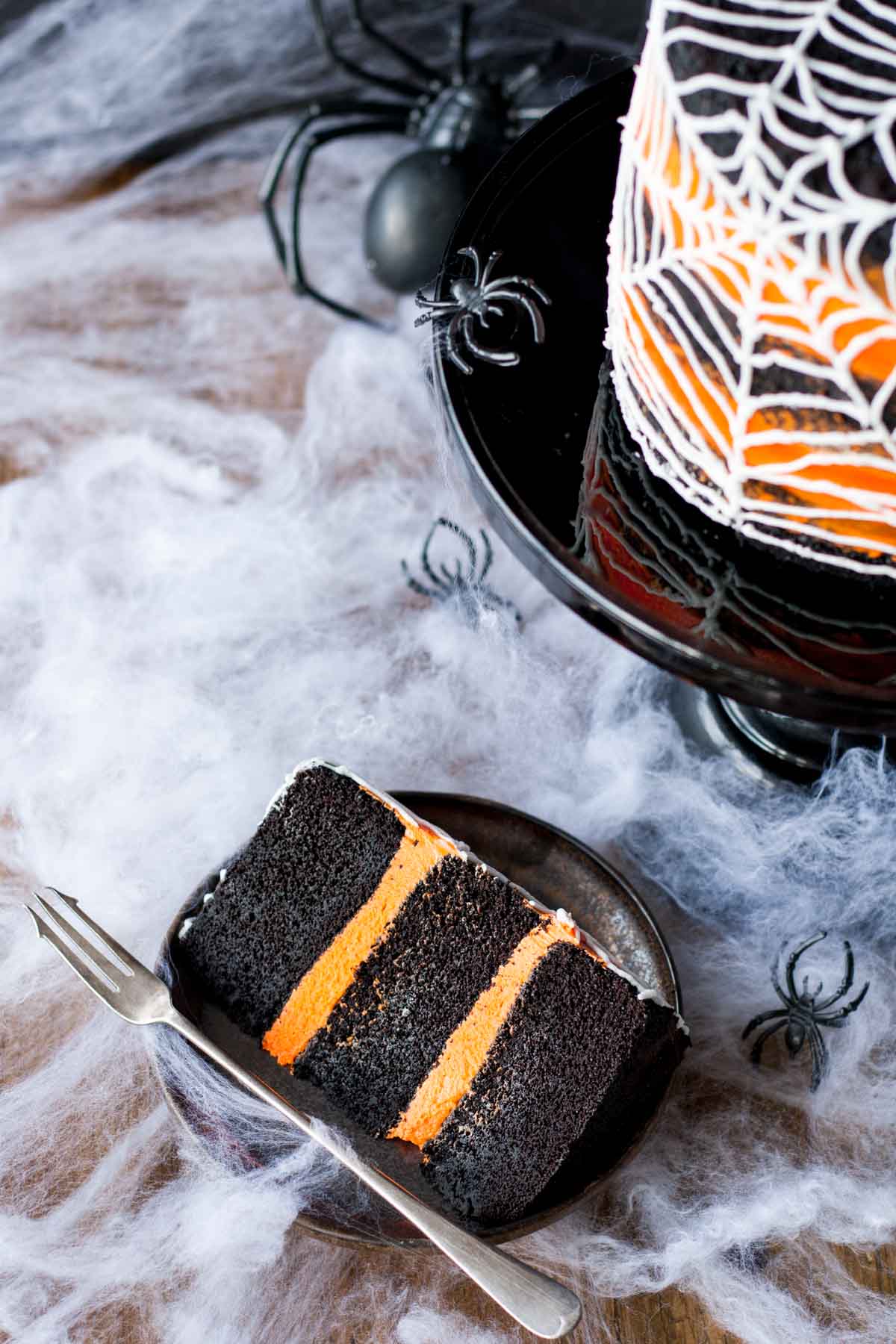 I am notoriously hard on myself, and everyone who has seen this cake doesn't notice the issues I do (well, now you'll notice them because I told you about them!).
Ok on to the good things. It tastes amAZing! That's the most important part, right? I've used the cake recipe before in my Mocha Chocolate Cake (it's incredibly moist and delicious), except that I substituted some of the regular cocoa powder for black cocoa. I love that the black color was achieved without using any black color gel.
As for the buttercream, I added in some orange extract to go with the orange color. It tastes just like a Terry's Chocolate Orange which is technically more Christmas than Halloween but still… Delicious!
Overall, there are things I would do differently next time, but I am happy with how it turned out. I hope I didn't scare you away from trying it. Learn from my mistakes, people!
So if you do attempt this (and honestly it really wasn't that bad, I'm just being dramatic), here are some tips:
Tips for this Spiderweb Cake:
Don't overdo it with the color gel — remember that it will get darker as it sits.
CHILL the cake! At least 2 hours, you want to make sure that buttercream is FIRM.
Have at least some sort of a plan going into the piping.
Use royal icing for the spiderweb. This isn't really a necessity, but it may make for smoother lines.
To help ensure your cake layers bake up nice and flat, see my Flat Top Cakes post.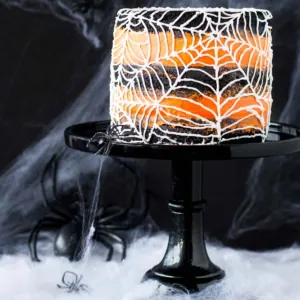 Spiderweb Cake
This Spiderweb Cake is perfect for Halloween! A rich black cocoa cake with an orange flavored buttercream.
Ingredients
Orange Buttercream:
1

cup

unsalted butter

room temperature

2 1/2

cups

powdered sugar

depending on sweetness preference

1

Tbsp

heavy whipping cream

1/4

tsp

orange extract

1/2

tsp

Electric Orange Americolor Gel Color

optional*
White Buttercream:
1/2

cup

shortening

2

cups

powdered sugar

1

tsp

clear vanilla extract

optional, but don't use regular vanilla or it will come out tinted brown

3

Tbsp

milk

as needed to thin frosting
Instructions
Black Cocoa Cake:
Preheat oven to 350F, grease three 6″ round baking pans and dust with cocoa powder. Line bottoms with parchment.

Place all dry ingredients into the bowl of a stand mixer fitted with a paddle attachment. Stir to combine.

In a medium bowl whisk all wet ingredients (pour coffee in slowly as not to cook the eggs if very hot).

Add wet ingredients to dry and mix on medium for 2-3 mins. Batter will be very thin.

Pour evenly into prepared pans. I used a kitchen scale to ensure the batter is evenly distributed.

Bake until a cake tester comes out mostly clean. A total of 30-35mins. Cool in pans for 10mins, then turn out to cool completely on a wire rack.
Orange Buttercream:
Whip butter until creamy in a stand mixer fitted with a paddle.

Reduce speed to low and add in icing sugar 1 cup at a time until well blended.

Increase speed to med and beat for 3 minutes.

Add orange extract and cream and continue to beat on medium for 1 minute. Add in color gel and whip until combined.

Frost cooled cake layers and chill.
White Buttercream:
Whip shortening until creamy in a stand mixer fitted with a paddle. Reduce speed to low and add in icing sugar 1 cup at a time until well blended.

Increase speed to med and beat for 3 minutes. Add water and continue to beat on medium for 1 minute.

Using a #2 pastry tip, pipe spiderweb pattern on chilled cake.
Notes
* I actually ended up using almost half a bottle, so you may need a bit more, but just know that it will darken as it sits!
Calories:
620
kcal
Carbohydrates:
86
g
Protein:
4
g
Fat:
31
g
Saturated Fat:
16
g
Cholesterol:
75
mg
Sodium:
384
mg
Potassium:
184
mg
Fiber:
2
g
Sugar:
70
g
Vitamin A:
560
IU
Calcium:
54
mg
Iron:
1.7
mg
The nutritional information and metric conversions are calculated automatically. I cannot guarantee the accuracy of this data. If this is important to you, please verify with your favorite nutrition calculator and/or metric conversion tool.
Originally published on Oct 25, 2015