Combine classic chocolate cake with your favorite guilty pleasure in this Cookie Dough Cake!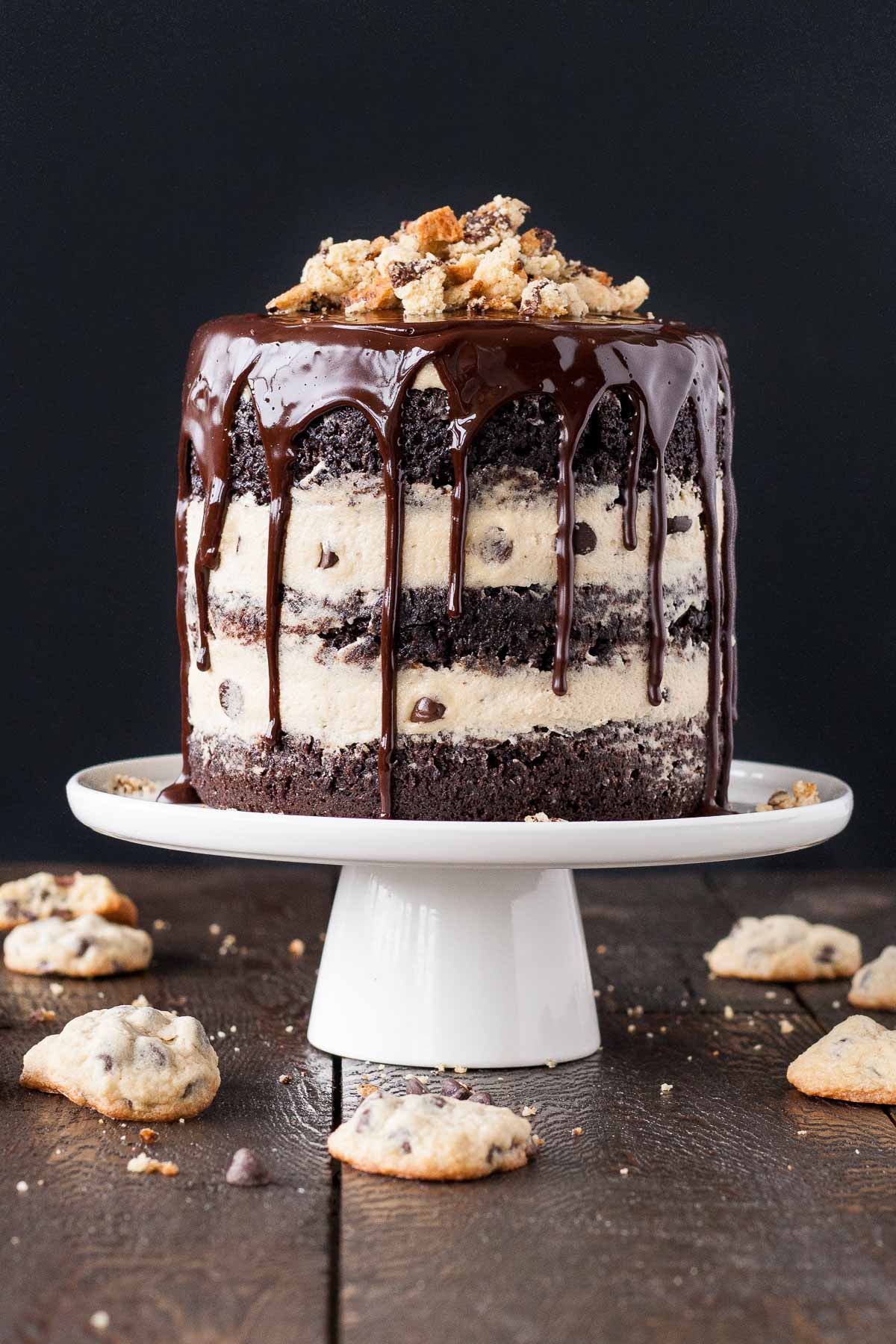 You're going to think I'm crazy. Most of my friends and family already do, so I may as well let the cat out of the bag… I hate the way this Cookie Dough Cake turned out. Flavor-wise, it's perfect; aesthetically, not so much. This is not what it was supposed to look like! Or rather, it was supposed to be less messy looking. You're rolling your eyes at me already, I can tell. That's ok, I fully embrace my craziness.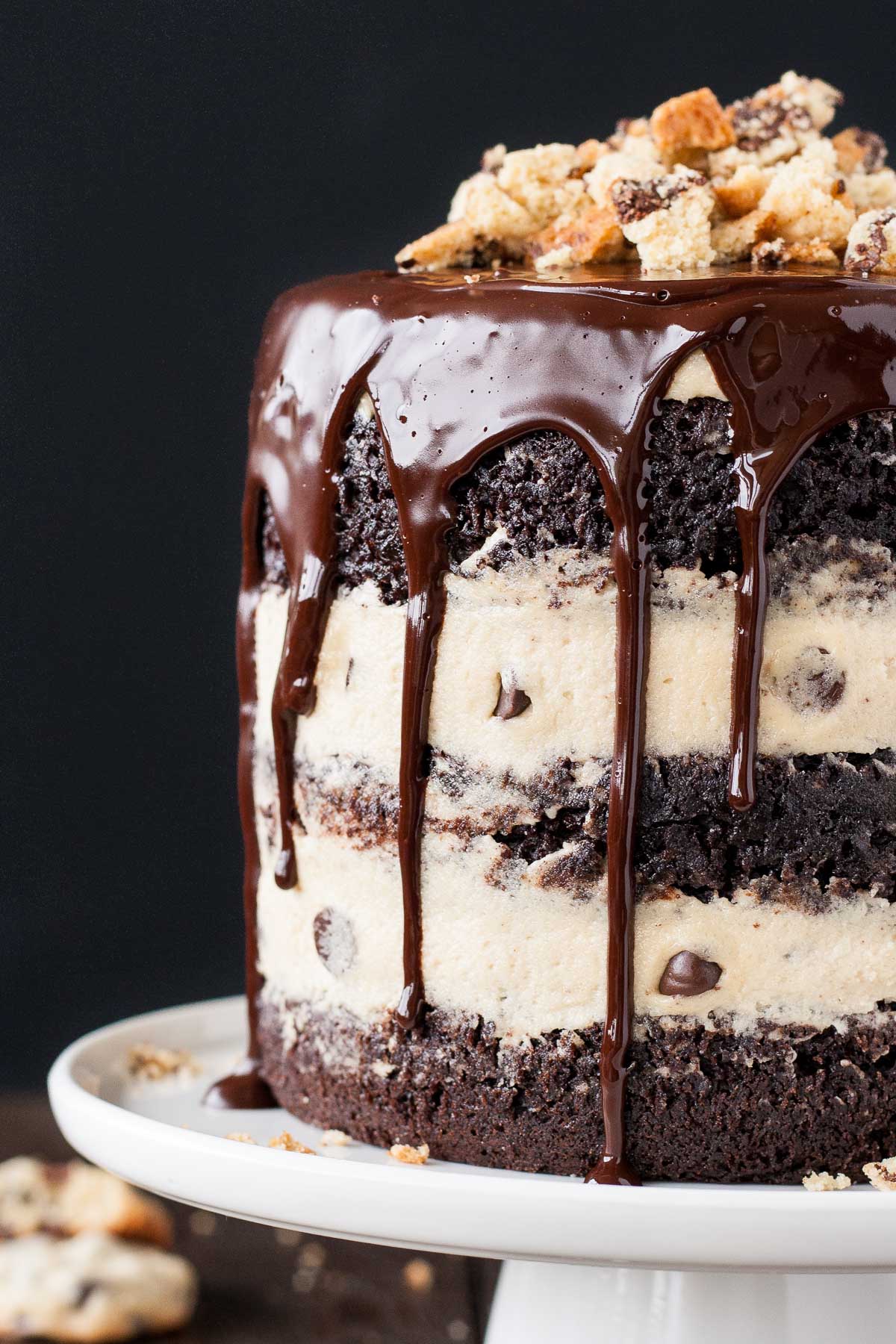 I'd been wanting to do a cookie dough frosting for some time now, and thought it would pair perfectly with my chocolate cake recipe. If you haven't tried this chocolate cake, you need to.
It's a really easy recipe and makes the fudgiest cake. I used my favorite chocolate chip cookie recipe for the frosting, except I swapped out the eggs for milk, heat-treated the flour, and left out the baking soda. I use the term "frosting" lightly. It's basically cookie dough whipped into oblivion. You could add more milk to make it even lighter if you prefer.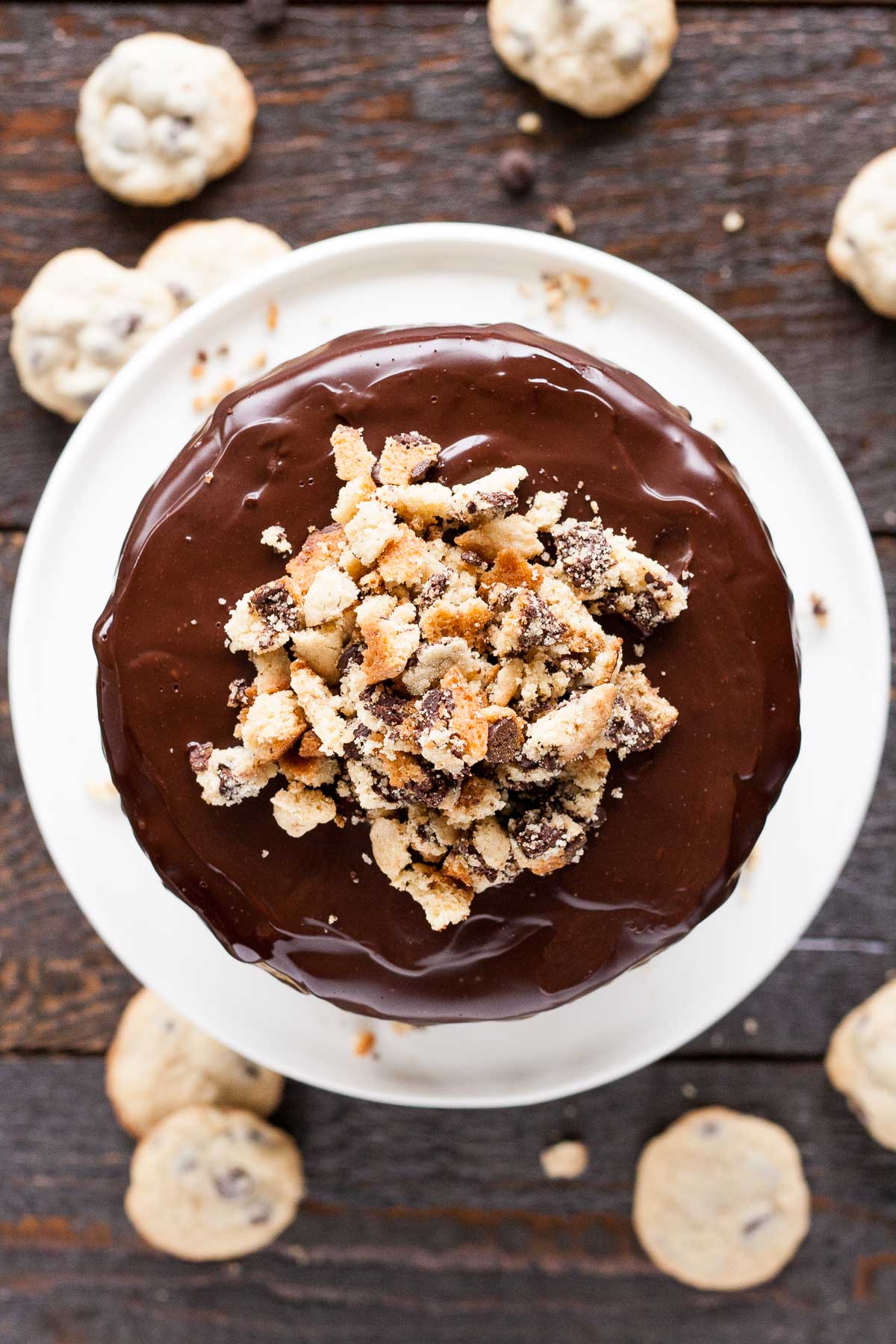 Ok, so my plan was always to do a naked cake, so that the cookie dough frosting would contrast nicely with the dark chocolatey layers. That went mostly ok, except the cookie dough was a bit difficult to spread evenly due to the chocolate chips. Thank goodness I didn't use the full 2 cups of chocolate chips in the original recipe!!
If you used mini-chocolate chips this would be less of an issue. It wasn't really an issue, but as you know I'm a perfectionist and those layers better be perfectly even and flat! Anyhow…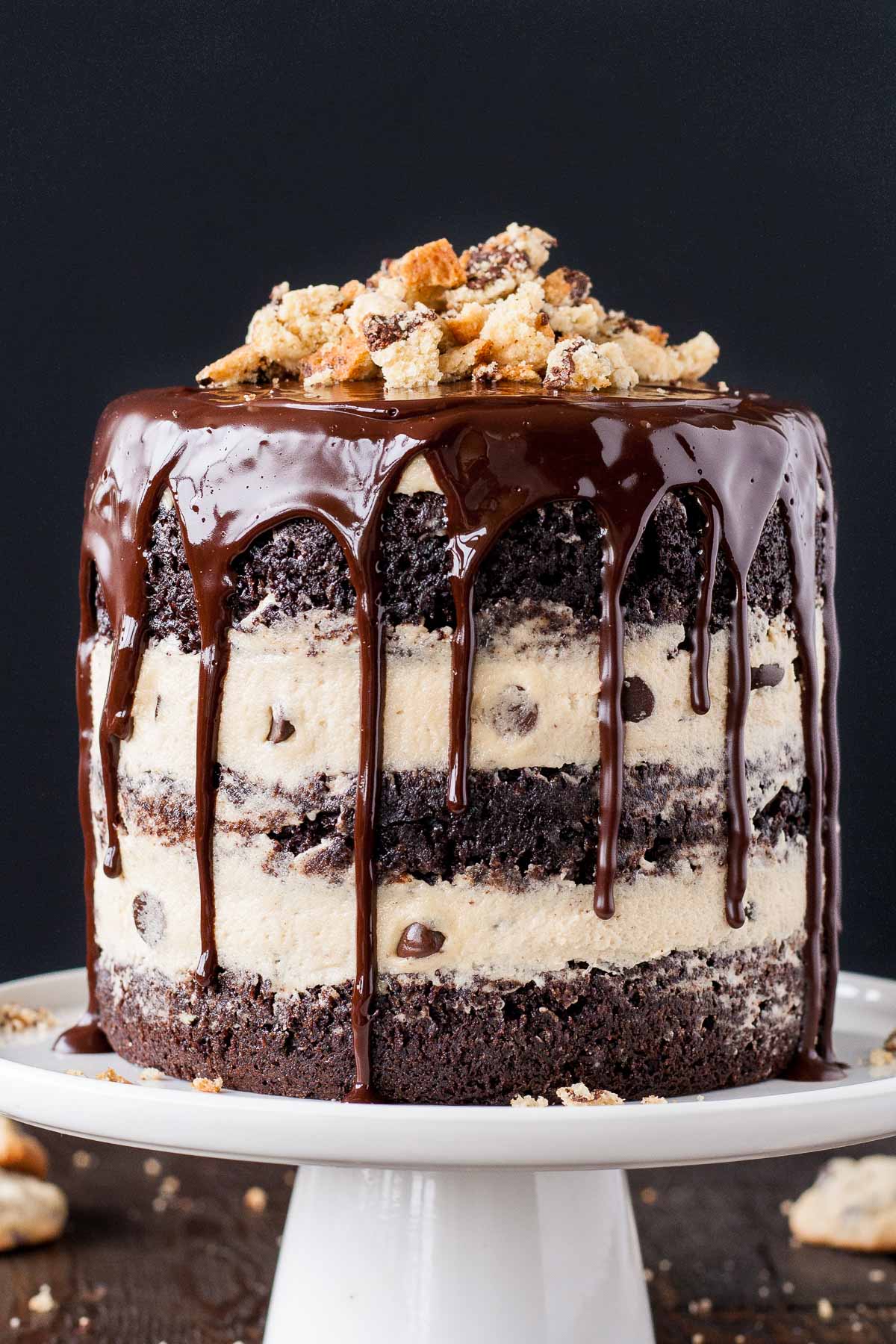 Frosting this Cookie Dough Cake was pretty straightforward, except for my spatula getting snagged on the chocolate chips here and there. The top part gave me the most trouble.
I wanted to add a top layer of frosting to have the same number of frosting layers as cake layers, but that top layer was especially a pain to get flat and perfect. So, it isn't. It's kinda rounded and lopsided, and not really what I wanted. And because the top edges aren't exactly crisp, the drips turned out less than perfect.
They're like, too evenly spaced or something. I can't quite put my finger on it, but something's off, and I don't like it. I can feel you rolling your eyes.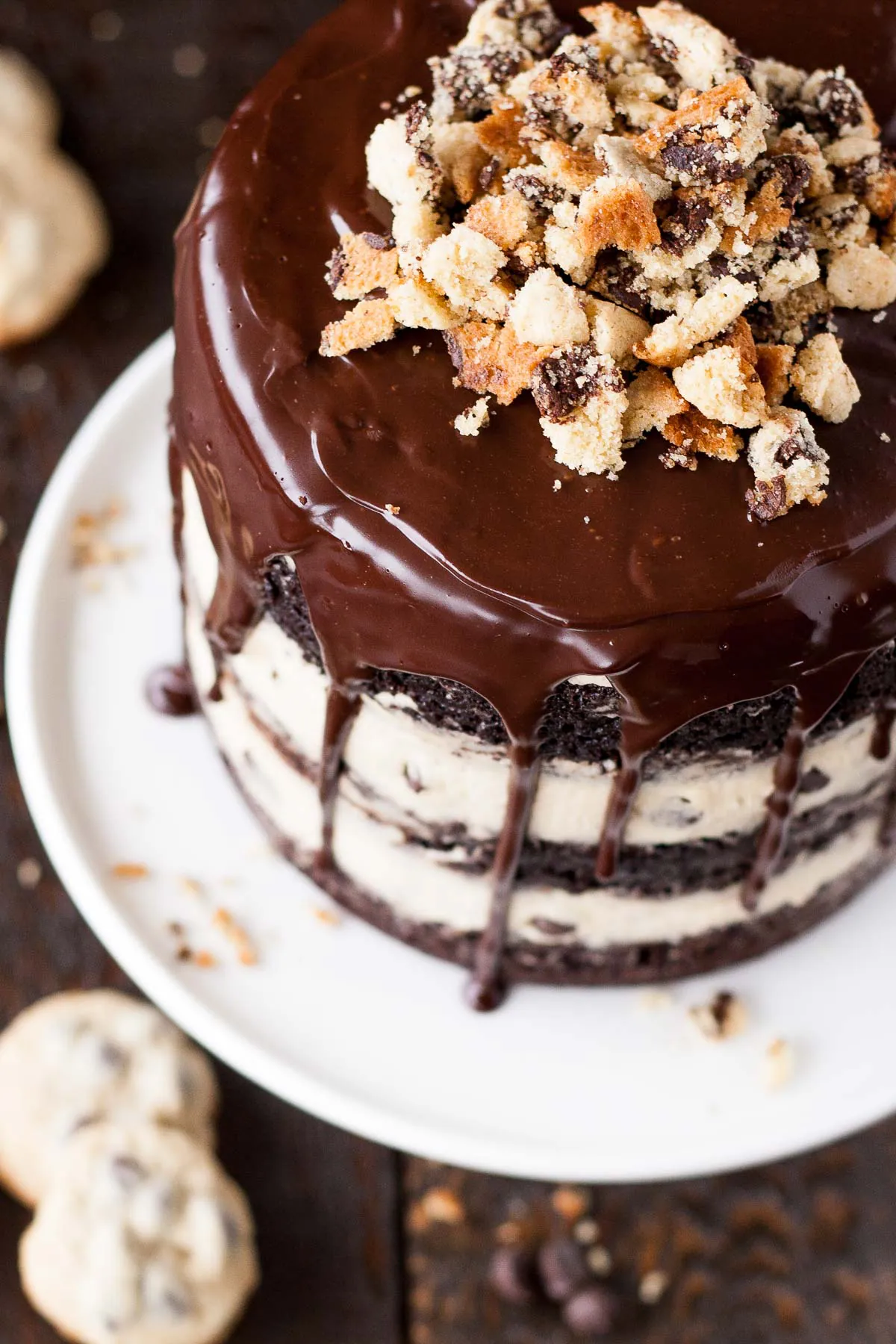 At some point the cake decided it would be fun to start tilting to the side too, so that was great. I had to try to nudge it straight and rotate it so that it looked even. Pics have been taken from the most flattering angle.
The beauty of naked cakes is that they're super easy to decorate because they're supposed to look more rustic and imperfect. This is a great technique if you're worried about your cake frosting skills!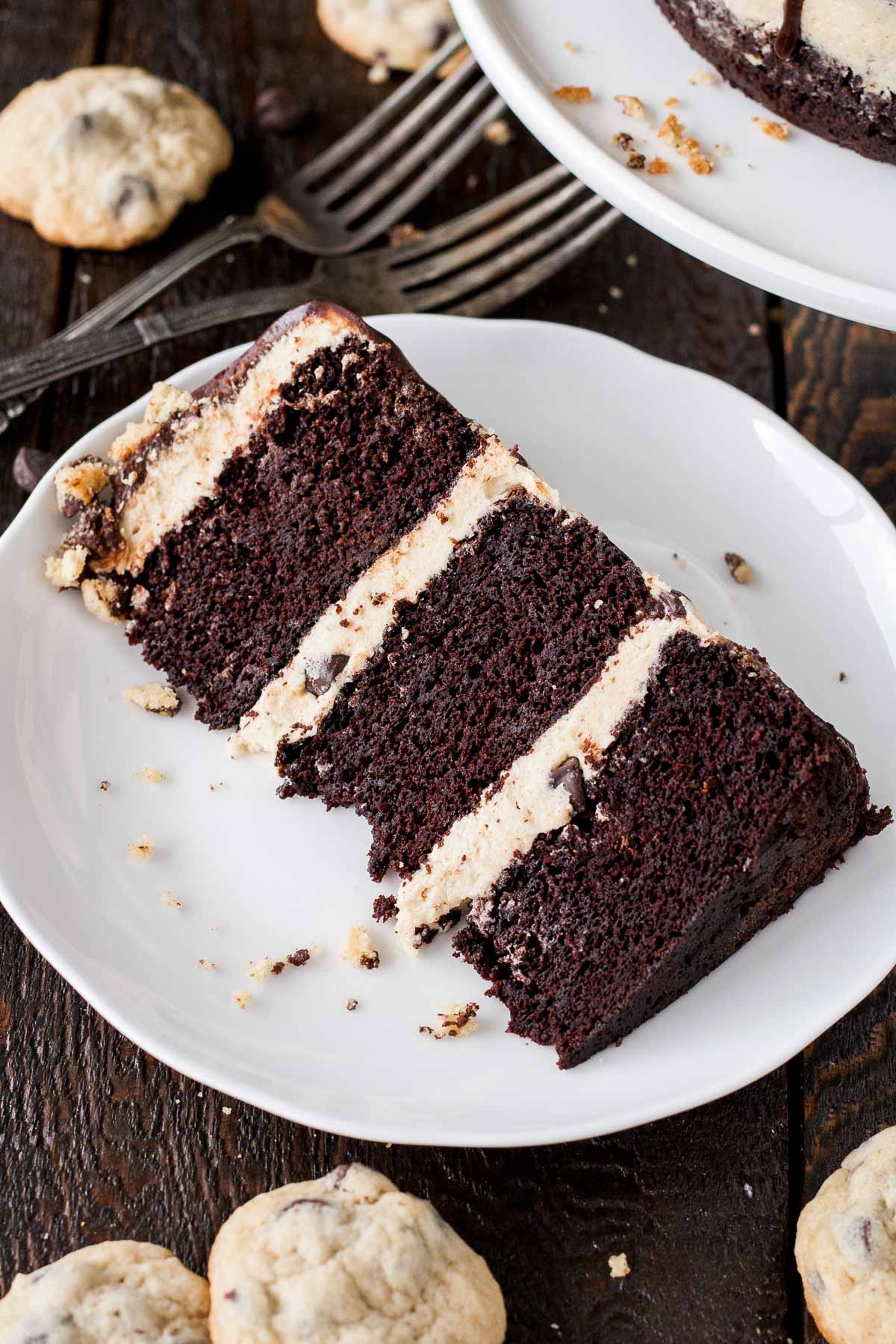 Cake decorating "issues" aside, I love the way this Cookie Dough Cake tastes!! If you're a cookie dough lover (and really, why wouldn't you be) you will love this frosting. It goes really well with the chocolate cake, but would go great with a classic vanilla cake too. The chocolate drips add another hit of chocolate and some flare. Topped off with some crumbled chocolate chip cookies for some crunch.
Notes & tips for this Cookie Dough Cake:
You can use hot water instead of hot coffee in the cake batter. The coffee helps to enhance the chocolate flavor, but it tastes just as good using hot water instead.
For the ganache, I let mine set overnight (with plastic wrap placed directly on the surface). It will be too thick at this point, so I microwave it for 10 secs and stir it until it's the right consistency.
Be sure to heat-treat your flour for the cookie dough. Bake the flour at 350F for 5-10mins.
The drip technique works best on a chilled cake so that the drips set quickly.
To help ensure your cake layers bake up nice and flat, see my tips here.
You will have some cookie dough frosting left over. I recommend making Cookie Dough Truffles with the excess. Chocolate Chip Cookie recipe here!
Cookie Dough Cake
Combining classic chocolate cake with your favorite guilty pleasure in this Cookie Dough Cake!
Instructions
Chocolate Cake:
Preheat oven to 350F, grease three 6″ round baking pans and dust with cocoa powder. Line bottoms with parchment.

Place all dry ingredients into the bowl of a stand mixer fitted with a paddle attachment. Stir to combine.

In a medium bowl whisk all wet ingredients (pour coffee in slowly as not to cook the eggs if very hot).

Add wet ingredients to dry and mix on medium for 2-3 mins. Batter will be very thin.

Pour evenly into prepared pans. I used a kitchen scale to ensure the batter is evenly distributed.

Bake until a cake tester comes out mostly clean. A total of 30-35mins.
Cookie Dough Frosting:
Combine flour and salt in a bowl, set aside.

Beat butter until creamy, add sugars and beat on high until pale and fluffy (approx. 2-3mins). Add vanilla and mix until combined.

Reduce speed to low and slowly add in flour mixture. Mix until just incorporated. Slowly pour in milk. Increase speed to med-high and beat for 2-3 minutes until light and fluffy. Stir in chocolate chips.
Ganache:
Place chopped chocolate and cream into a microwave safe bowl. Stir to combine. Microwave for 20 seconds, stir. Microwave in 10 second intervals, stirring in between, until ganache is smooth and silky. Set aside to cool completely before using on cake.
Assembly:
Place one layer of cake on a cake stand or serving dish. Top with about 2/3 cup buttercream. Repeat with remaining layers. Smooth the outside, chill for 30mins.

Using a teaspoon, drip ganache along the edges then fill in the top. Chill for 15mins.

Top with chopped cookies if desired.
Notes
Note: You will have some cookie dough frosting left over. I recommend making Cookie Dough Truffles with the excess. Chocolate Chip Cookie recipe here!
Calories:
689
kcal
Carbohydrates:
95
g
Protein:
8
g
Fat:
32
g
Saturated Fat:
20
g
Cholesterol:
81
mg
Sodium:
590
mg
Potassium:
365
mg
Fiber:
4
g
Sugar:
59
g
Vitamin A:
630
IU
Calcium:
97
mg
Iron:
4.4
mg
The nutritional information and metric conversions are calculated automatically. I cannot guarantee the accuracy of this data. If this is important to you, please verify with your favorite nutrition calculator and/or metric conversion tool.