Transform a traditional Thanksgiving side dish into the perfect dessert with this Sweet Potato Cake with Marshmallow Frosting.
I didn't know this combination was even a thing until a couple of years ago, but apparently sweet potato casserole with marshmallows is a huge thing at Thanksgiving. Or at least it is in the US. I don't think anyone I know in Canada has ever had it as part of their Thanksgiving dinners. Are we missing out or what?!
The most interesting thing about this dish is that it's not meant to be a dessert, but a Thanksgiving dinner side dish. Craziness! Though to be honest, it sounds delicious. I've never had the real thing, but I thought why not do a take on it with this Sweet Potato Cake with Marshmallow Frosting.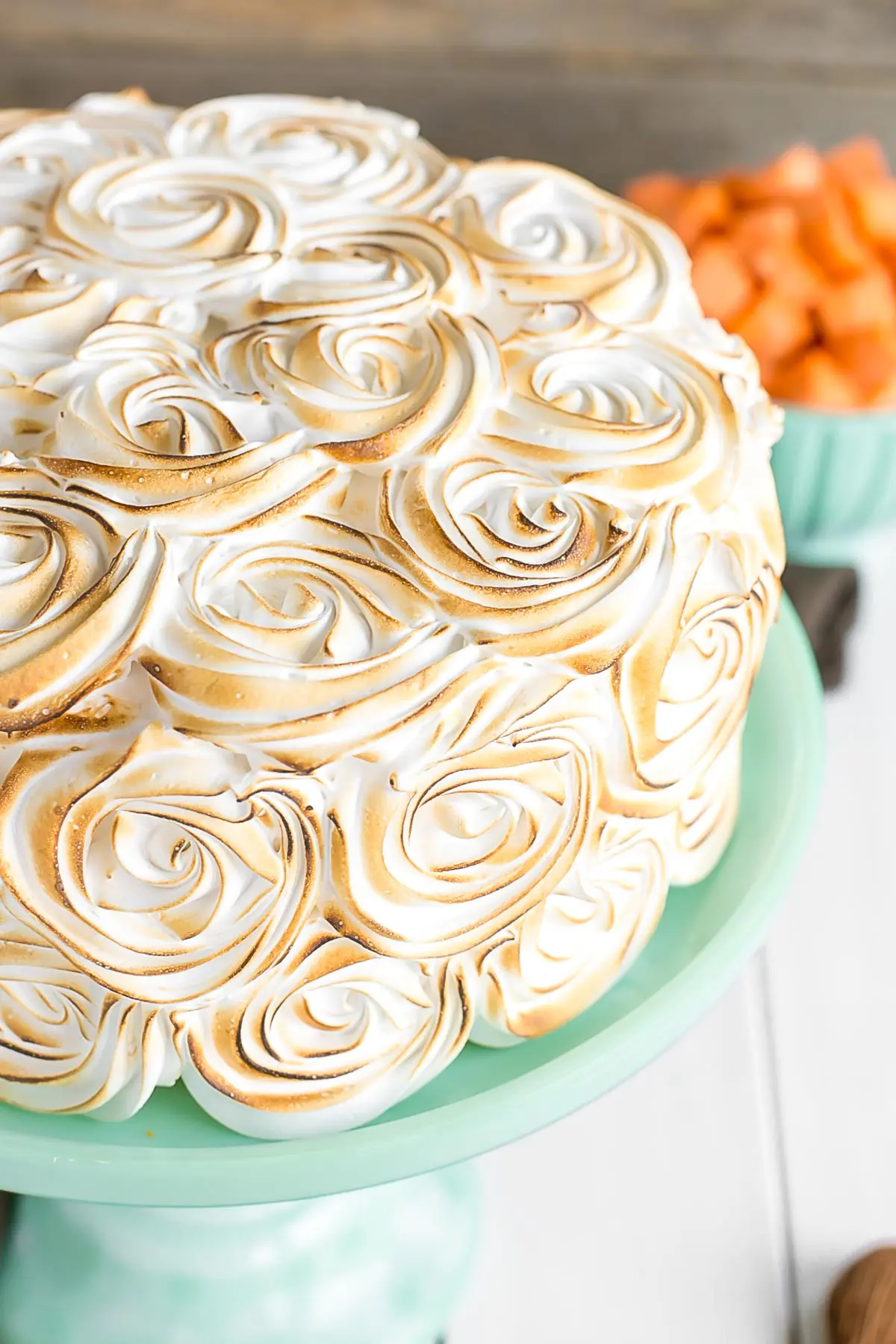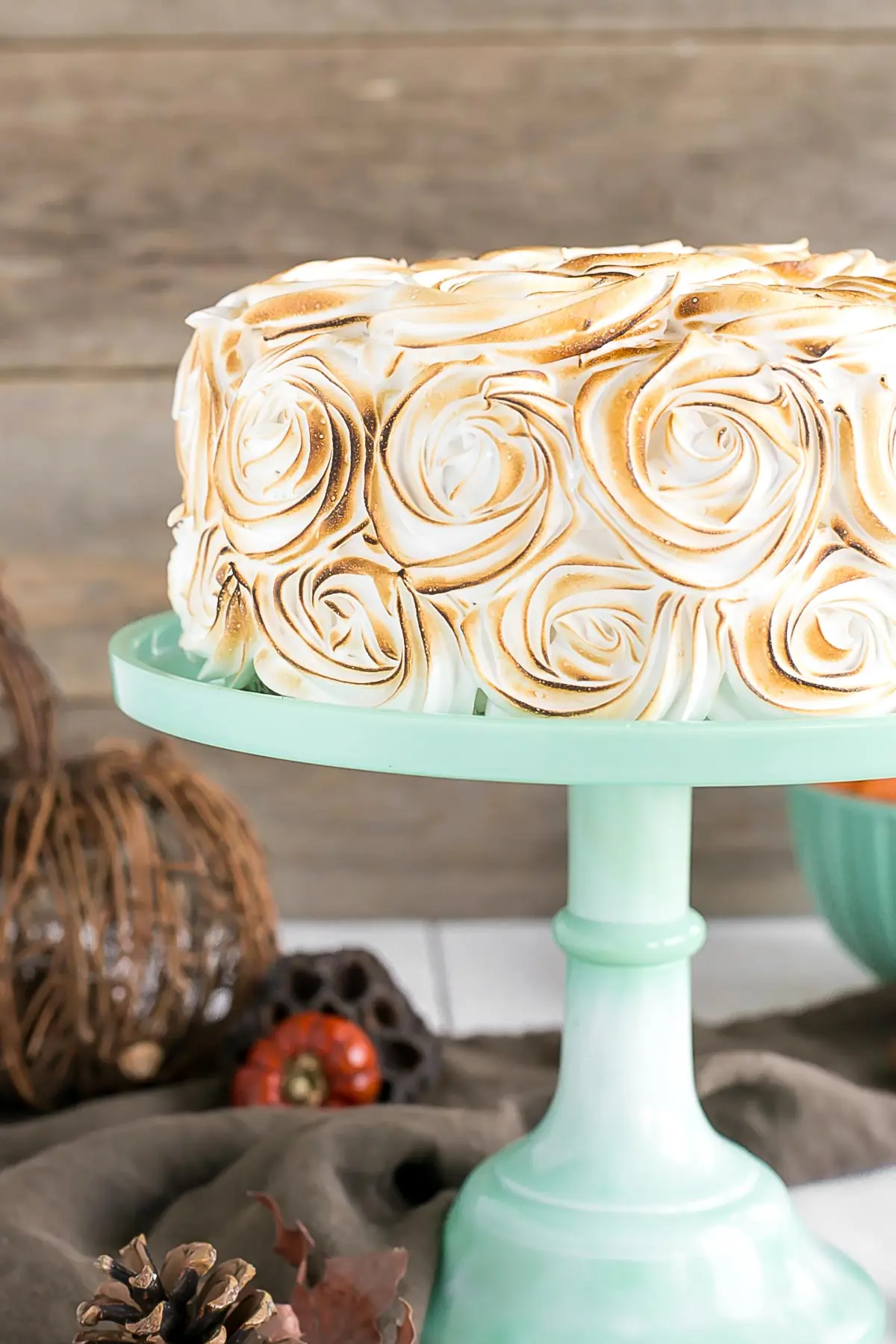 I was super intrigued to know how this bizarre combination of a dish came about. Hilariously, it turns out it originated from the marshmallow industry as a way to sell more marshmallows! Apparently, back in 1917, the marketing team at Angelus Marshmallows hired someone to create a recipe book that focused on marshmallows as one of the ingredients. The sweet potato casserole was one of those recipes, and it's clearly still going strong today. Now that's marketing done right.
Whether you love the original or not, I hope that this Sweet Potato Cake will be either a loving tribute or a grateful alternative to the classic Thanksgiving dinner staple.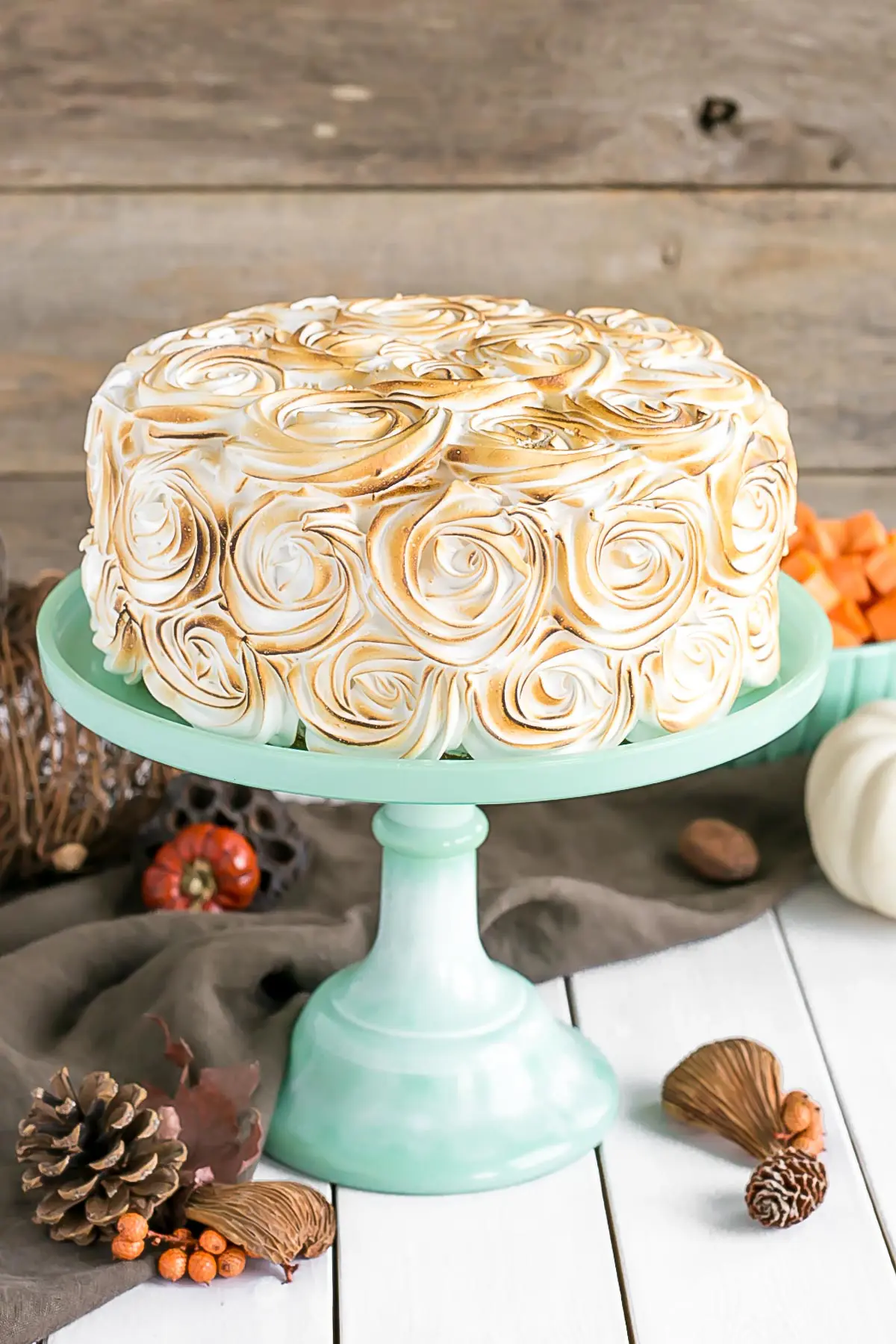 If you've never had sweet potatoes before, you really need to give them a try. They are delicious! I've had them as fries (dipped in a creamy dill sauce – yum), mashed up with some butter & brown sugar, or just steamed on their own with some salt and pepper. Each and every combination is a winner. Yes, even the one with the marshmallows. Especially when it's in the form of a cake!
How to Make this Sweet Potato Cake
To make this Sweet Potato Cake, I modified my Pumpkin Spice Latte Cake recipe and used canned sweet potato puree, instead of pumpkin. You could certainly make your own puree with some mashed up cooked sweet potatoes if you prefer.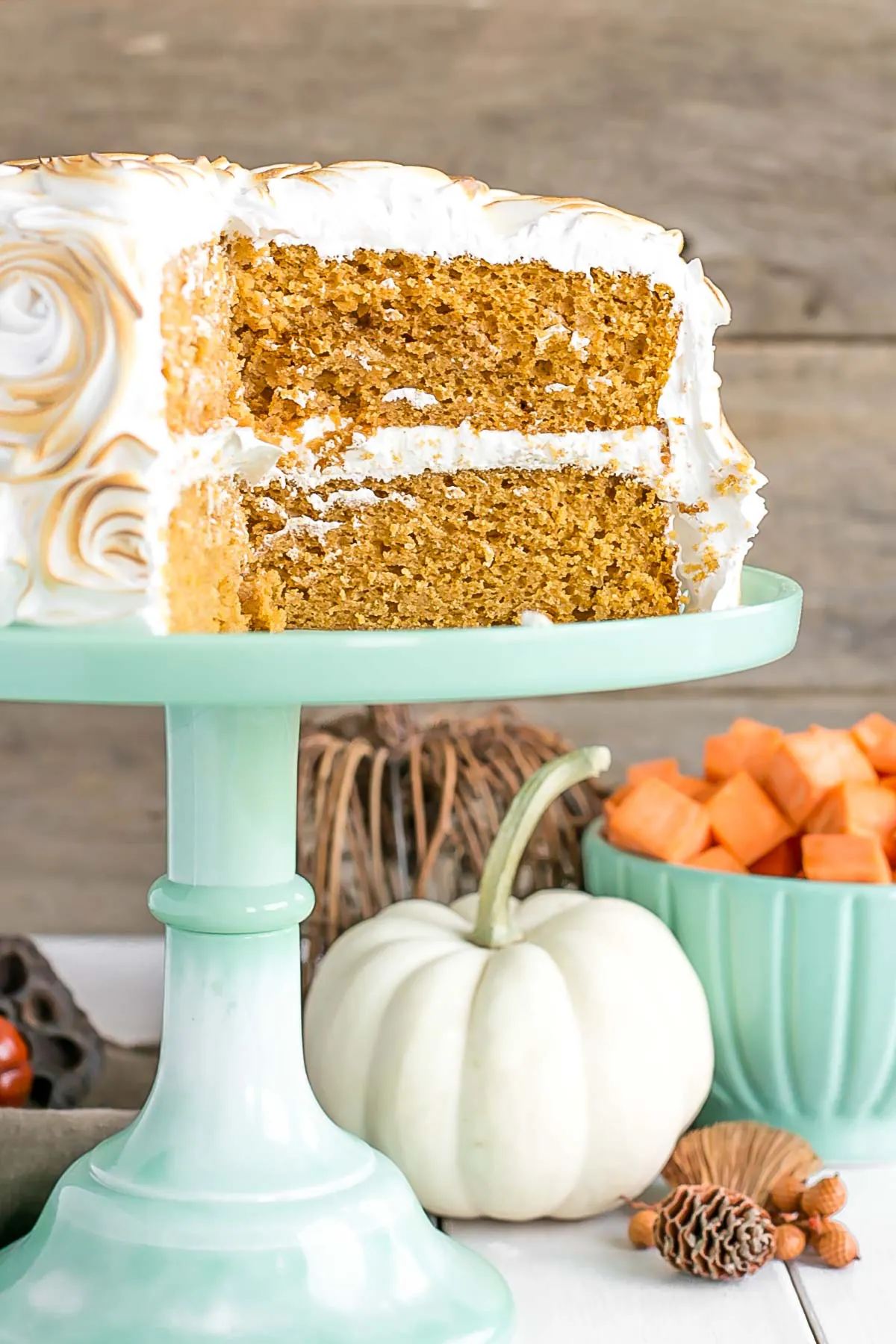 I paired the cake with homemade marshmallow fluff as frosting to keep it similar to the traditional Thanksgiving dish.
Unfortunately, I did not make nearly enough marshmallow fluff. While this cake looks pretty and perfect, I can assure you things aren't always what they seem. There are no rosettes on the back of it (lol). I knew I would run out, so I did what I could and covered the critical areas (read: I was too lazy to make more fluff). The recipe has been adjusted to make the correct amounts.
I am happy to report that there were no issues with my kitchen torch this time. That's twice in a row now that I've managed not to burn myself or set myself on fire. Rest assured though, I'm always nervous when I go to use it.
This Sweet Potato Cake is moist and delicious. The cake itself has a comforting Fall spice flavor, reminiscent of pumpkin, but not quite. The cake is not super sweet, so it pairs really well with the sweet but light as air marshmallow frosting.
If you love Pumpkin Cake I think you'll love this one too. I hope you enjoy my tribute to this wacky Thanksgiving side dish!
Tips for this Sweet Potato Cake with Marshmallow Frosting:
The recipe as-is will also work in three 6″ pans. For three 8″ pans, 1.5x the recipe.
To make cupcakes, all you need to do is reduce the baking time — start checking at 15mins or so.
The cooled cake layers can be baked ahead of time, double wrapped in plastic wrap, and frozen for up to 3 months. Take out 2-3 hours before assembly.
You can cook and mash your own sweet potatoes if you'd prefer to use that instead of canned sweet potato puree.
You don't have to torch the marshmallow, but it will help "set" it (and it tastes delicious).
Do NOT use store-bought marshmallow fluff. It is too runny and will not pipe well.
Ideally, serve the cake the same day — the marshmallow fluff inside the cake will soften and turn runny the longer it sits. This is not bad by any means, but maybe less aesthetically pleasing.
Learn how to keep your cakes moist using Simple Syrup.
To help ensure your cake layers bake up nice and flat, check out my How to Bake Flat Cake Layers post!
Sweet Potato Cake with Marshmallow Frosting
Transform a traditional Thanksgiving side dish into the perfect dessert with this Sweet Potato Cake with Marshmallow Frosting.
Instructions
Sweet Potato Cake:
Preheat oven to 350F and grease & flour two 8″ cake pans.

In a medium bowl, whisk together flour, cinnamon, nutmeg, baking powder, and salt.

In a large bowl, whisk together sugars, melted butter, oil, sweet potato, and eggs.

Add dry to wet and mix until just combined.

Divide batter evenly between prepared pans and bake until a toothpick inserted into the center comes out mostly clean (approx. 35-40 mins).

Cool in pans on wire rack for 10mins, then turn out onto wire racks to cool completely.
Marshmallow Fluff:
Place water, sugar, and corn syrup in a medium saucepan. Stir to combine.

Insert a candy thermometer into the pot and heat over medium-high. Do not stir from this point on as crystals will form.


Ensure mixer bowl and whisk are completely grease free.* Place egg whites and cream of tartar in the bowl of a stand mixer.


When the sugar syrup reaches about 225°F, start whipping the egg whites to soft peaks.


When the whites are ready, the sugar syrup should be at 240°F. Remove from the heat, turn mixer to medium and very slowly and carefully pour the sugar syrup into the whites in a thin, steady stream.**

Once all of the syrup is in, set mixer to medium/high and continue whipping. The whites will deflate at first, but they will thicken and fluff up.

Continue to whip for 7-8 minutes, or until the mixture is thick and glossy. Add in vanilla and whip until the fluff has cooled.



Assembly:
Place one layer of cake onto a serving plate or cake stand. Top with 1 cup marshmallow fluff. Spread evenly. It will be thick and sticky.

Place remaining layer on top and do a thin coat of marshmallow all around the cake, just to hide any dark bits of cake.
Notes
* If there is even a speck of grease (or egg yolk) the meringue will not whip. I wipe everything down with lemon juice before adding the egg whites.
** The sweet spot for this is getting the stream right between the whisk and the sides of the bowl, so the syrup doesn't get splashed by the whisk.
*** The torching will help set the marshmallow. Ideally serve same day as the marshmallow fluff inside the cake will soften and turn runny. This is not bad, by any means, but maybe less aesthetically pleasing.
Calories:
618
kcal
Carbohydrates:
120
g
Protein:
6
g
Fat:
14
g
Saturated Fat:
9
g
Cholesterol:
61
mg
Sodium:
238
mg
Potassium:
398
mg
Fiber:
1
g
Sugar:
94
g
Vitamin A:
6970
IU
Vitamin C:
6.8
mg
Calcium:
91
mg
Iron:
1.9
mg
The nutritional information and metric conversions are calculated automatically. I cannot guarantee the accuracy of this data. If this is important to you, please verify with your favorite nutrition calculator and/or metric conversion tool.
Originally Published on Oct 15, 2017