These Nanaimo bars are a classic Canadian treat! Coconut, graham cracker crumbs, chocolate, and a delicious custard layer. No-bake, super easy to make!
How many times have YOU used your hair dryer in the kitchen?
I'm up to twice already. The first time I used it was to save some thawed swiss meringue buttercream that basically looked like cottage cheese soup (lovely, right?). I was this close to tossing it, but was too lazy to make more.
Laziness pays off sometimes. Shockingly, heating the bowl of the mixer with a hair dryer did the trick, and the buttercream came back together better than ever.
The second time was with these Nanaimo bars, because I'm a crazy person and my perfectionism gets a little out of hand sometimes.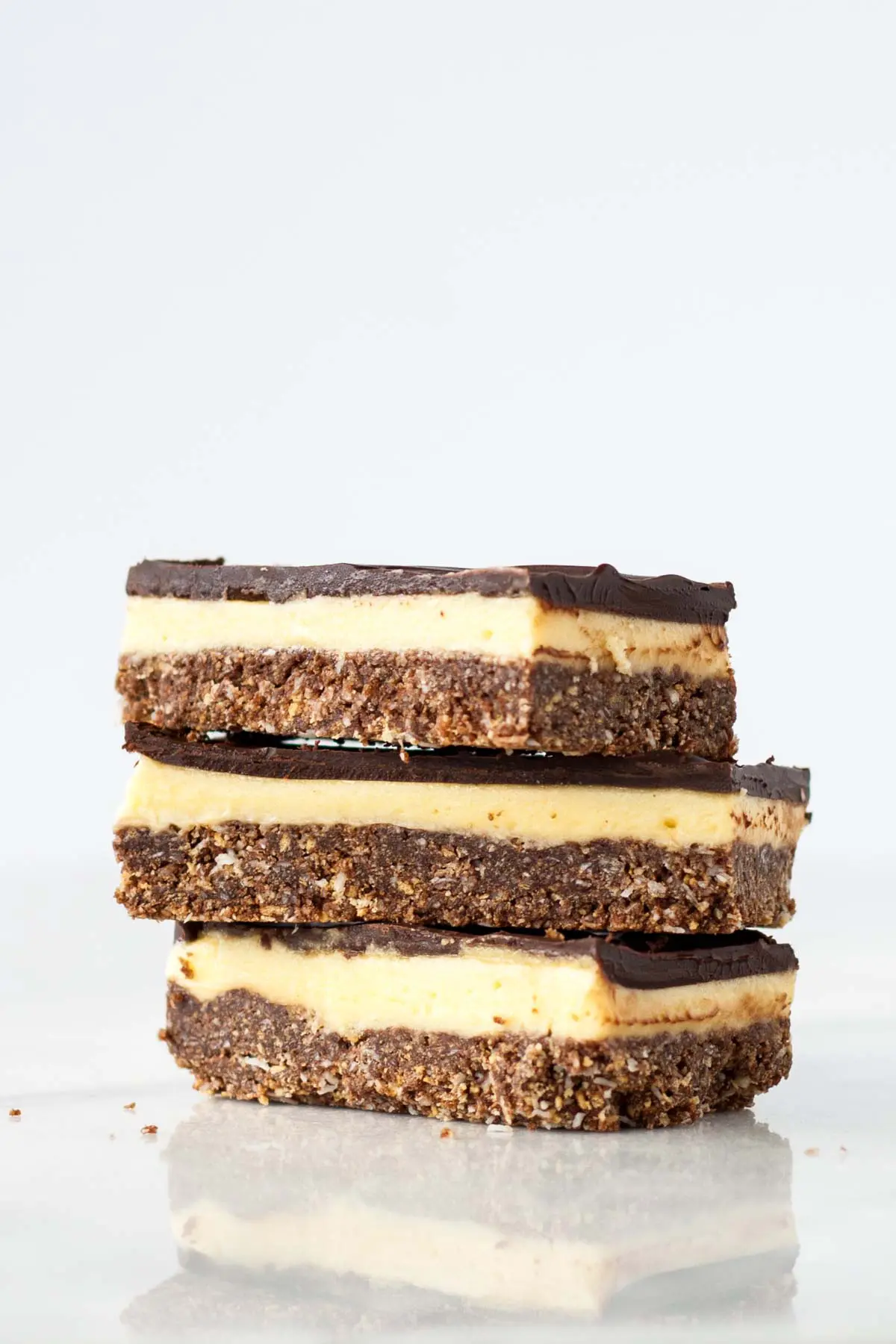 What Are Nanaimo Bars?
Nanaimo bars are a Canadian tradition dating back to the 50's. They are named after the city of Nanaimo on Vancouver Island in British Columbia.
The Nanaimo bar consists of three layers:
A graham cracker, coconut, and chocolate base
A custard frosting filling
A chocolate ganache on top
They're identified by their signature yellow custard layer which is a frosting of sorts traditionally made with Bird's Custard Powder.
I actually never used to like them. I found them chalky, chewy, and kinda bland. The reality is that I'd never had a good one before!
The first time I had a good Nanaimo bar was from this little Italian bakery close to where I live. My friend Karen brought some over one night, so I tried one and actually liked it (read: loved it).
Karen assured me that the recipe she used to make them was even better. Well this I needed to try! Rest assured, these are the BEST Nanaimo bars you will ever have. EVER!
Plus, no-bake. I mean… come on, that should be a selling point right there.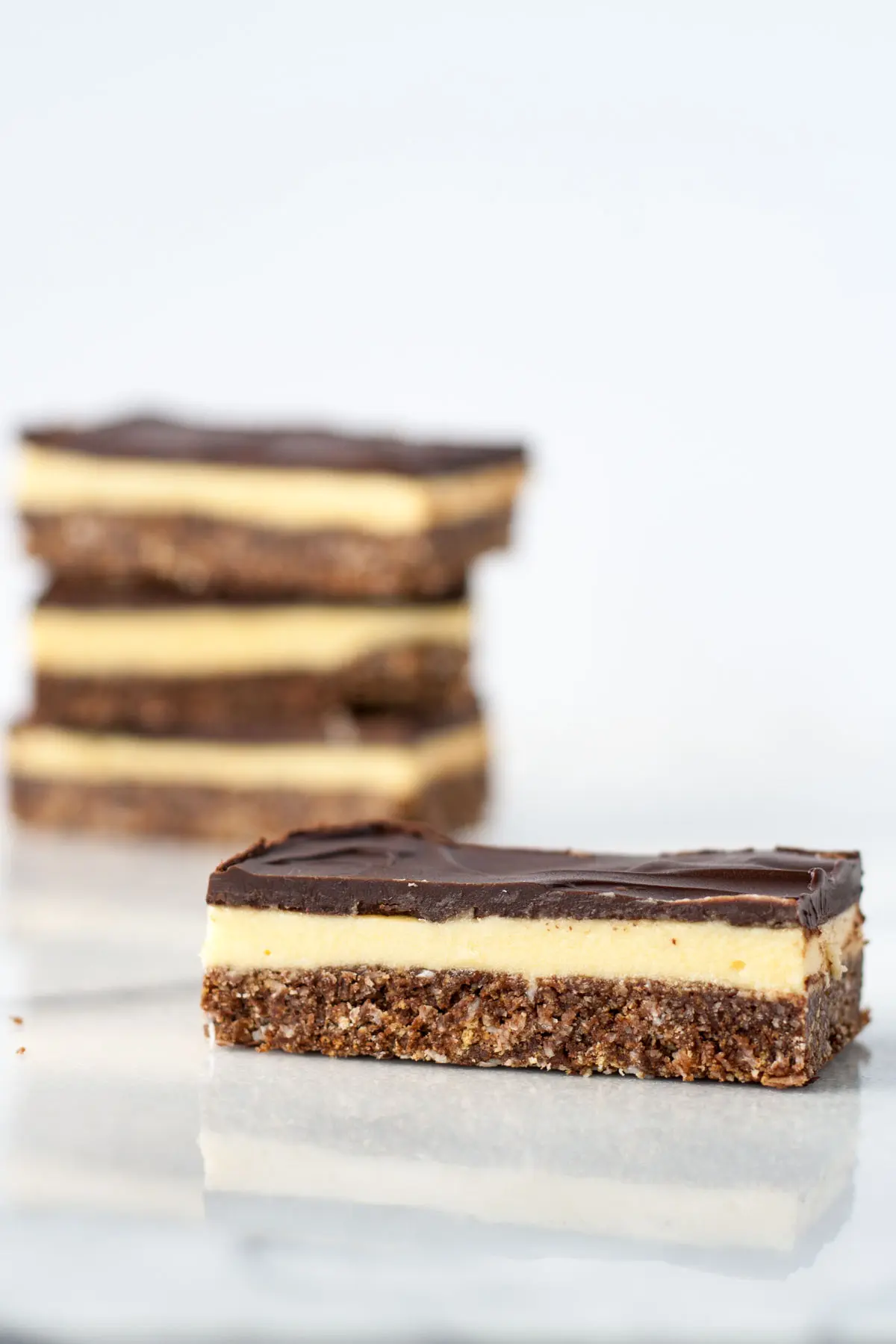 How to Make The Perfect Nanaimo Bars
Now you're probably wondering where the hair dryer comes in. Well, that was purely for aesthetic reasons.
You see, I didn't like what the chocolate layer on top looked like. I can almost hear you rolling your eyes right now.
It wasn't smooth enough for me, but it had already hardened against the chilled custard. I kid you not, I whipped out that hair dryer and melted the chocolate so I could smooth it out.
This ended up being pointless, as I decided I wanted a thicker chocolate layer anyway, so I made more and added it over the top (note: the recipe below lists the total amount of chocolate I used).
Now, before some of you get all worked up about the "hair dryer in the kitchen" being unsanitary, I can assure you I ate (most of) these on my own – they were too good to give away. Plus my hair dryer is spotless thankyouverymuch.
These days though, I'd probably bust out my kitchen torch instead, though that has proven to be more of a safety hazard than the hair dryer.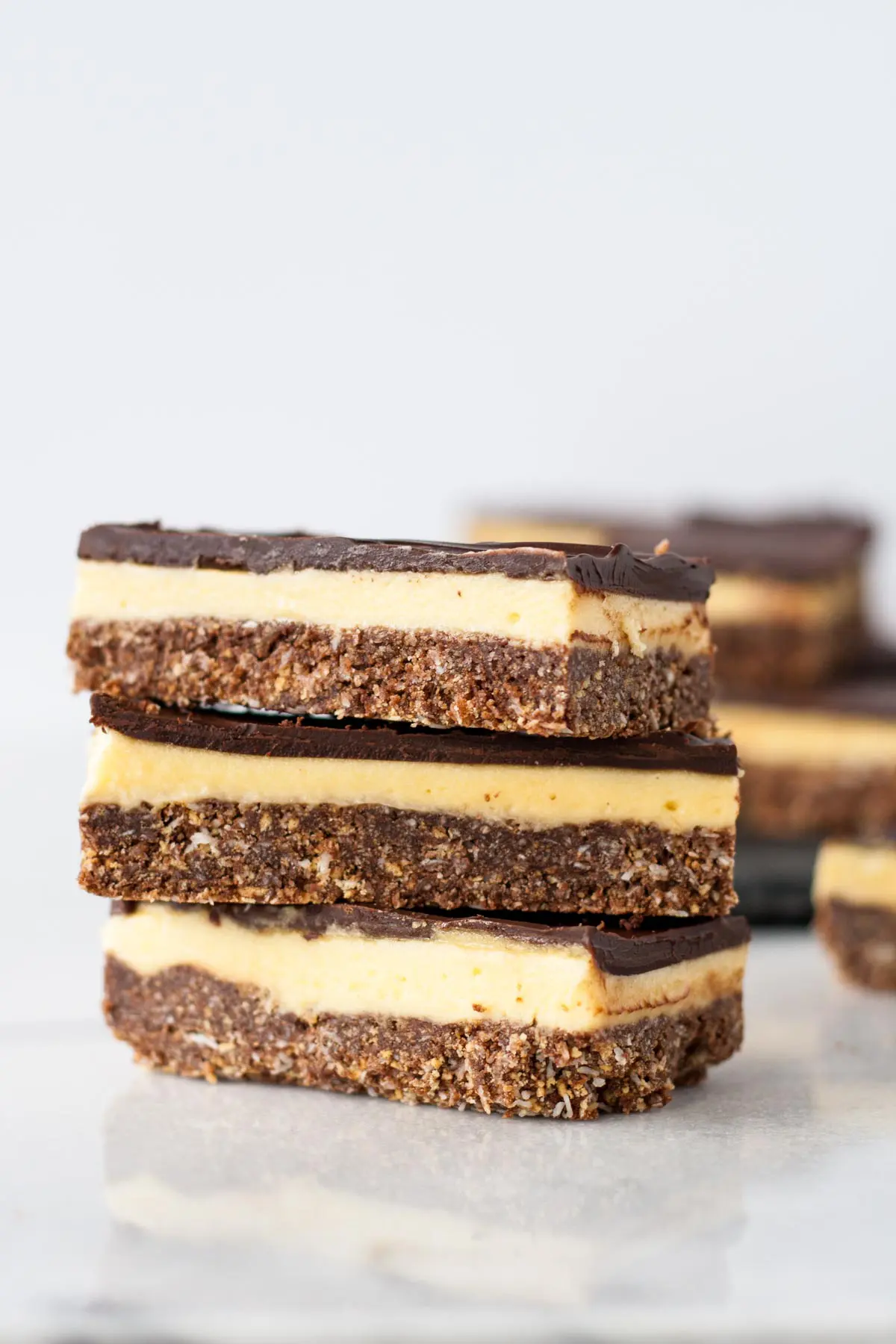 What do Nanaimo Bars Taste Like?
Nanaimo bars are a delicious combination of chocolate, vanilla, and coconut. The key ingredient is custard powder which has a vanilla flavor. You really can't make these without it. You can try substituting vanilla pudding or cornstarch, but it will not yield the same results and therefore not be a true Nanaimo Bar (I'm sure they'll still be delicious though).
What Kind of Coconut Should I Use?
It is best to use fine coconut, not just the shredded kind – make sure it says fine. It really improves the texture.
What is the Best Chocolate to Use?
Good quality chocolate for the top layer makes a huge difference. I use Callebaut because that's what is available to me, but you could just as easily use chocolate chips and they would still be delicious!
If you're a Nanaimo bar hater like I was, give these a try. You won't regret it. And if you're a die-hard Nanaimo Bar fan, you MUST try my Nanaimo Bar Cake!
Tips for Making Nanaimo Bars
Use finely shredded coconut for the base layer. It will yield a better texture.
I do not recommend making substitutions for the custard powder. It will not yield the same results and not be a true Nanaimo Bar.
If you don't have Dutch-processed cocoa powder, regular will work just fine.
I recommend using good quality dark or semi-sweet chocolate for the top layer if you can (I like Callebaut), but good old chocolate chips will work fine too.
Classic Nanaimo Bars
These Nanaimo bars are a classic Canadian treat. Delicious, no-bake, super easy to make!
Ingredients
Chocolate:*
8

oz

good quality dark or semi-sweet chocolate

chopped

2

Tbsp

unsalted butter
Instructions
Base:
Grease a 9 x 9" pan and line with parchment.

Place 1/2 cup butter, 1/4 cup sugar, and 3 Tbsp cocoa powder into a large, heatproof bowl over a pot with simmering water. Whisk until combined.

Slowly pour in egg while whisking vigorously. Add vanilla. Continue whisking over simmering water until mixture has thickened and resembles a pudding.

Remove mixture from heat and stir in graham cracker crumbs and coconut.

Spread mixture evenly into the bottom of your 9×9 pan. Press down firmly to pack in. Chill in fridge while making custard.
Custard:
Cream together butter and powdered sugar, add in custard powder and milk and beat until smooth.**

Spread evenly over base layer and return to fridge. Chill for 30mins.
Chocolate:
Place chopped chocolate and butter in to a microwave safe bowl. Microwave for 30 seconds, stir. Continue microwaving in 10 second intervals, stirring in between, until chocolate has melted.

Spread evenly over custard layer. Chill in fridge until set (about 1 hour).

Cut with a hot serrated knife.
Notes
* The original recipe calls for half this amount of chocolate & butter. I doubled it as I prefer a thicker chocolate layer, but this will make them harder to cut.
** This can be done by hand but I used my stand mixer.
Calories:
300
kcal
Carbohydrates:
33
g
Protein:
3
g
Fat:
18
g
Saturated Fat:
12
g
Cholesterol:
39
mg
Sodium:
76
mg
Potassium:
142
mg
Fiber:
2
g
Sugar:
23
g
Vitamin A:
305
IU
Vitamin C:
1
mg
Calcium:
28
mg
Iron:
2
mg
The nutritional information and metric conversions are calculated automatically. I cannot guarantee the accuracy of this data. If this is important to you, please verify with your favorite nutrition calculator and/or metric conversion tool.