This S'mores Cake is better than the real thing! A graham cracker cake filled with a whipped milk chocolate ganache and topped with toasted marshmallow fluff.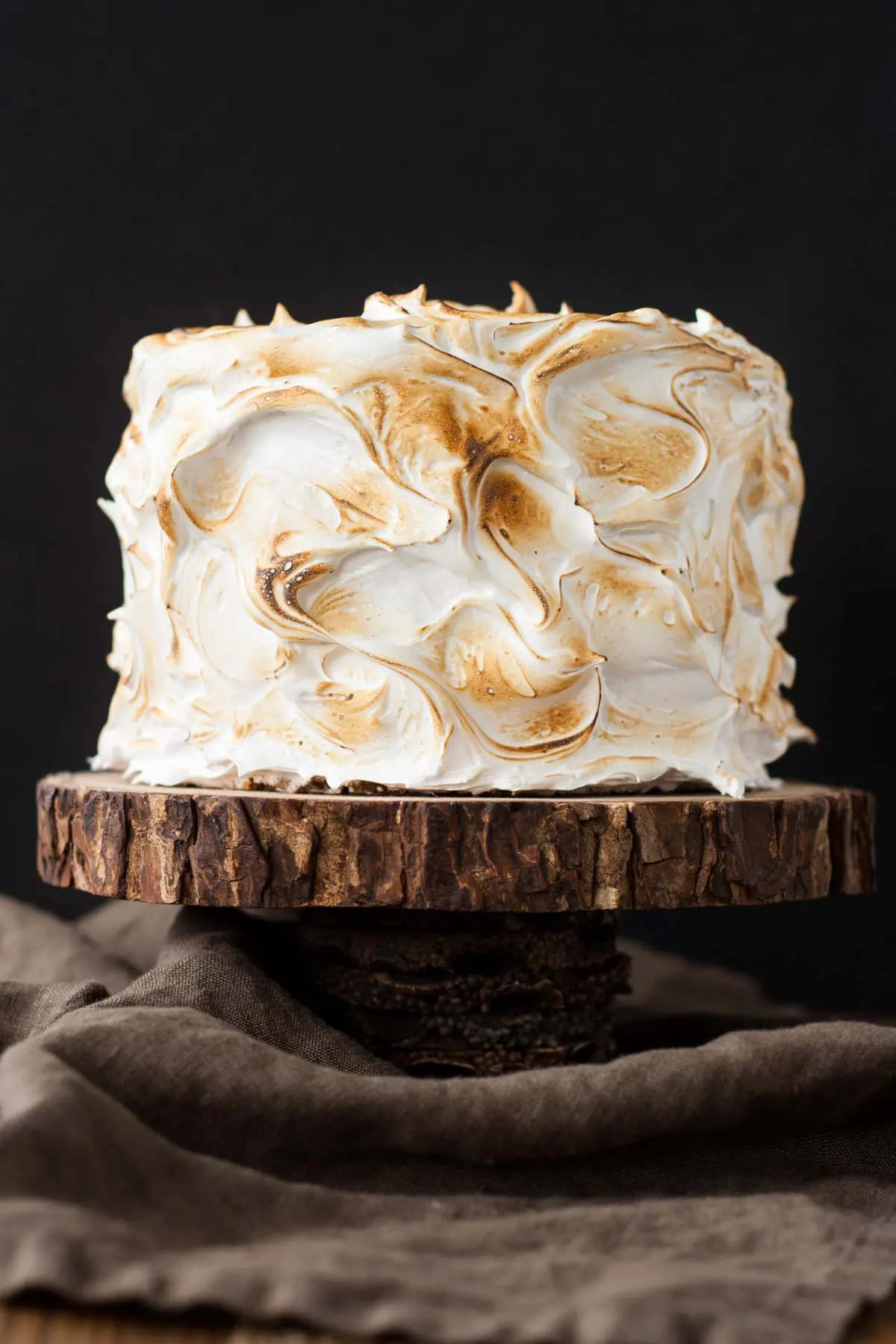 This is not what this cake was supposed to look like.
Ryan requested another S'mores Cake because he loved my S'mores Bundt Cake so much. I was happy to make it again, but I wanted to try something different. My plan was to make a naked cake with milk chocolate ganache and marshmallow fluff between each layer.
Except my store-bought marshmallow fluff was an epic fail.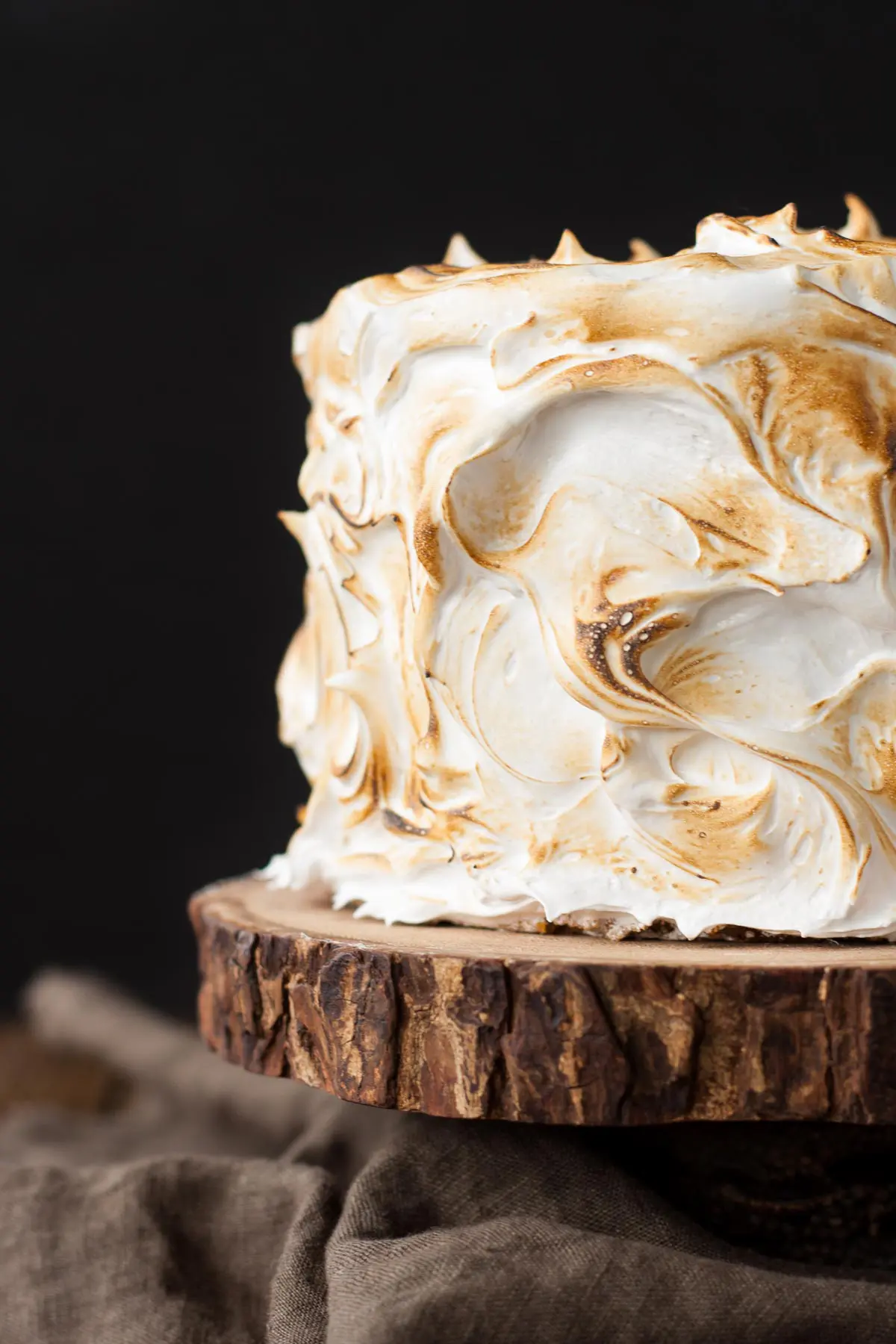 I had a little homemade marshmallow fluff left over in the freezer from the S'mores Bundt Cake, but was too lazy to make more, so I decided to top it up with some store-bought stuff.
I'm not exactly sure what happened. I mixed the two together, and maybe I beat too much air out of it, or maybe the stuff I had in the freezer was too thin. No idea, but it was basically marshmallow soup. In hindsight, I don't know why I decided to go ahead with it anyhow.
Plenty of cursing, as usual — par for the course with my baking. It's rare that something works out on the first go. It's a wonder I keep doing it! I actually took pics of my fails this time, which I almost never do because I'm too frustrated at the time. The pics are crappy and unedited, but I thought you'd appreciate them.
Here's the lovely first layer that actually got entirely scrapped. It was still eaten, of course, but did not make it into the final cake.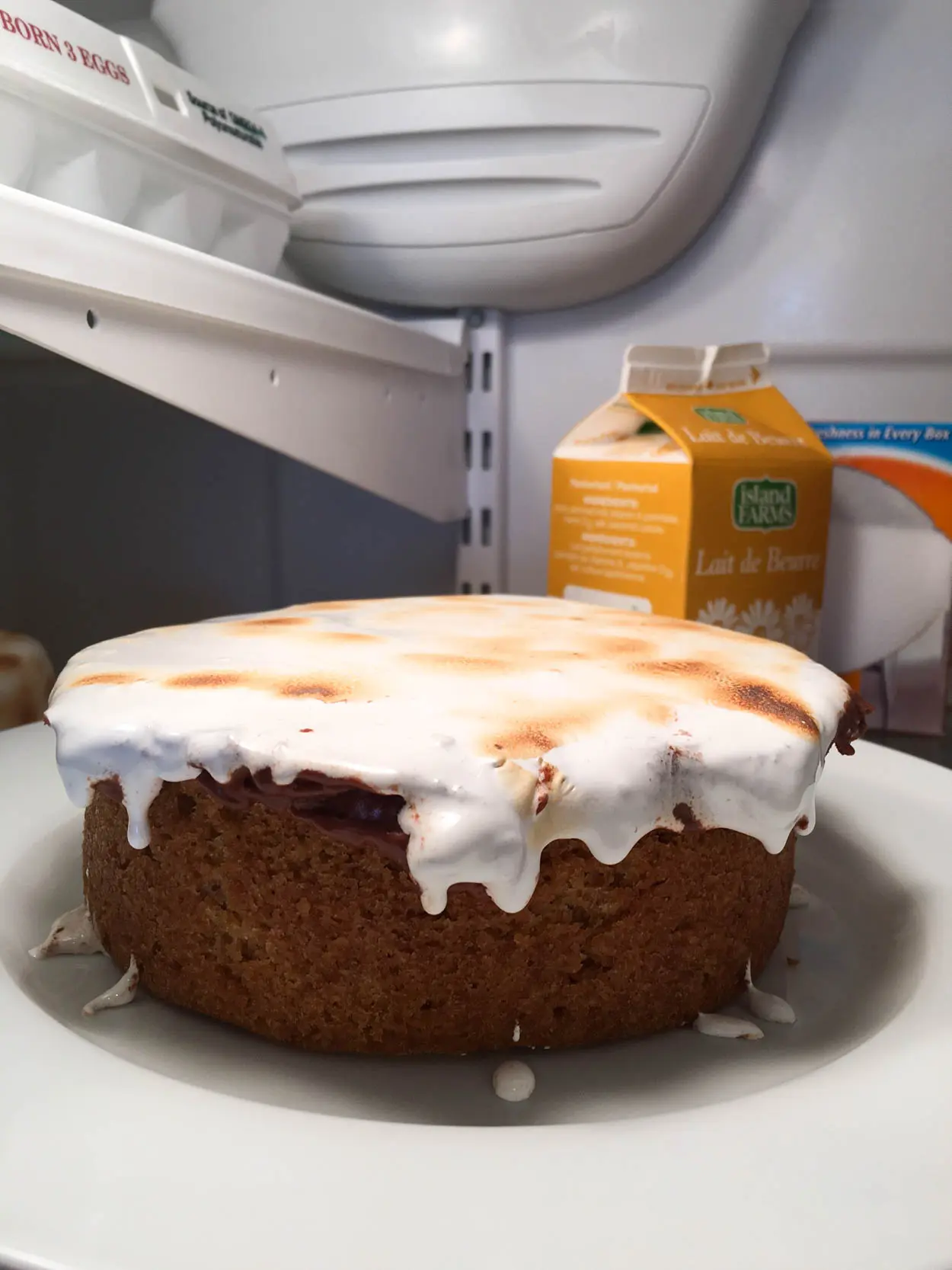 Like, what is even going ON there? Marshmallow. Soup.
The next attempt wasn't much better. I decided to take the remaining two layers, put the whipped ganache in between, and then top it with a marshmallow glaze…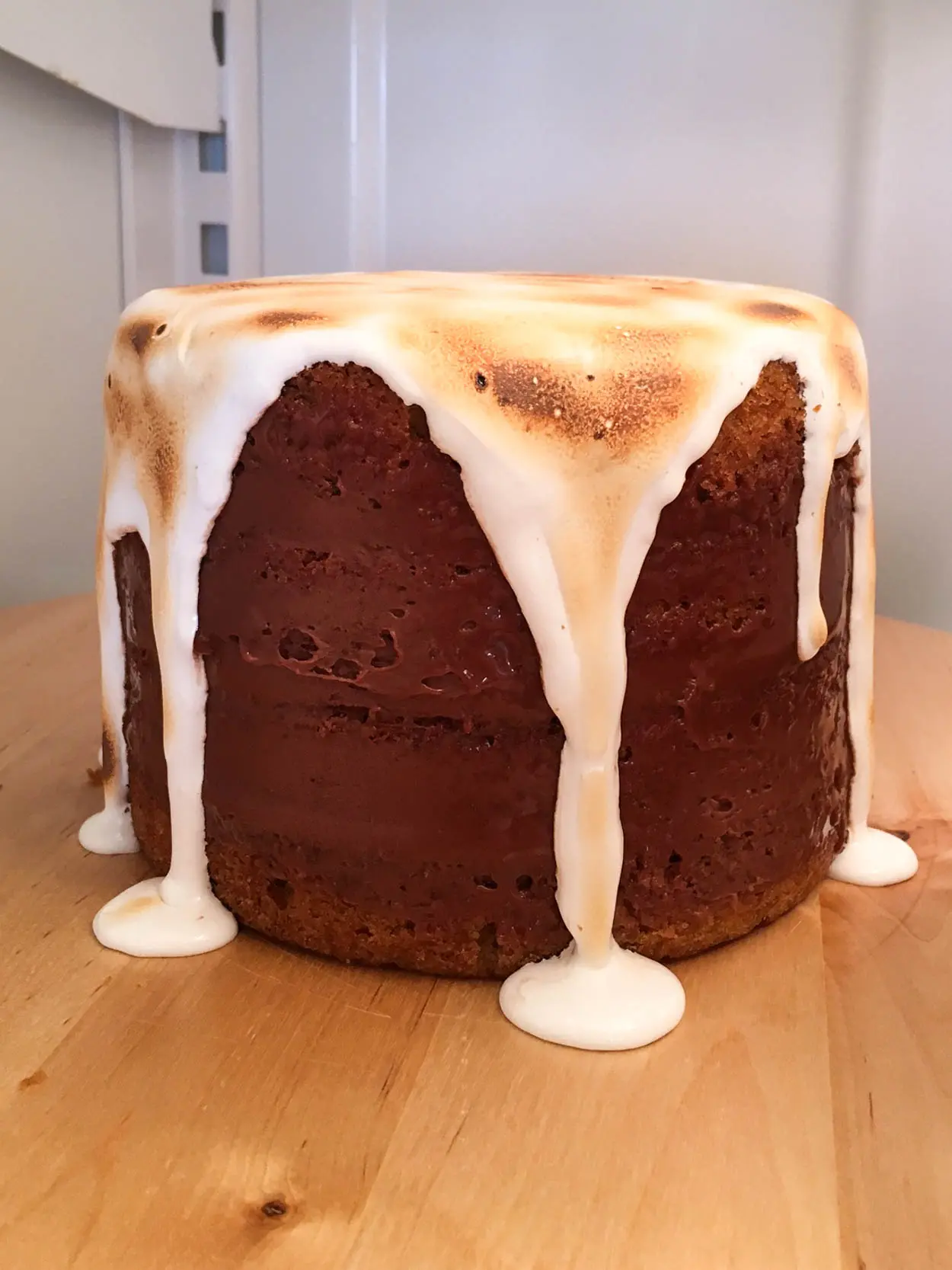 It's comical really, in hindsight. I could NOT take pics of this cake….it was destined to end up on Cake Wrecks.
So I scraped the whole mess off, MADE new marshmallow fluff from scratch, and covered the entire thing.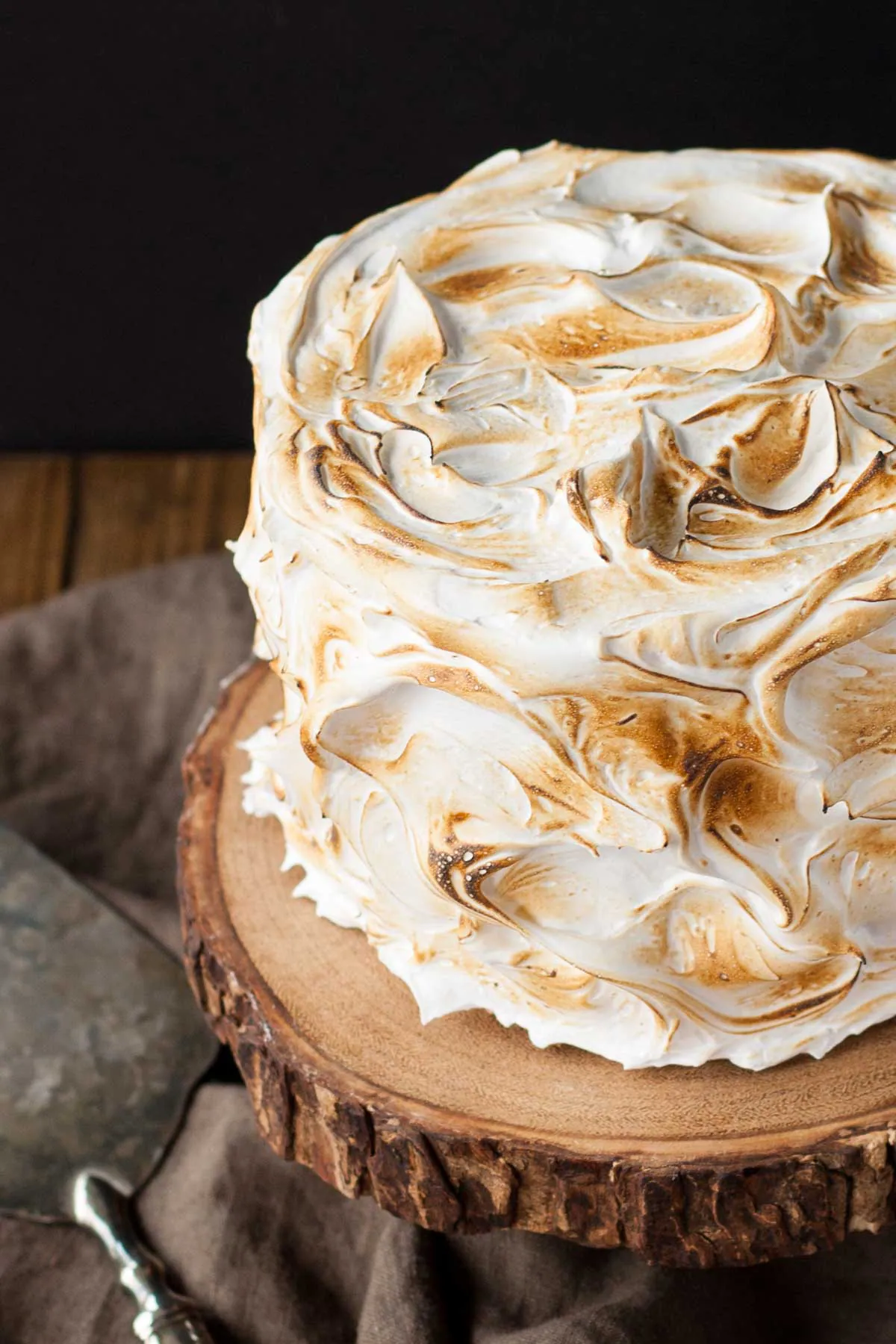 It's not the look I was going for, but I think it turned out even better. I actually love that it's almost the perfect shape of a marshmallow!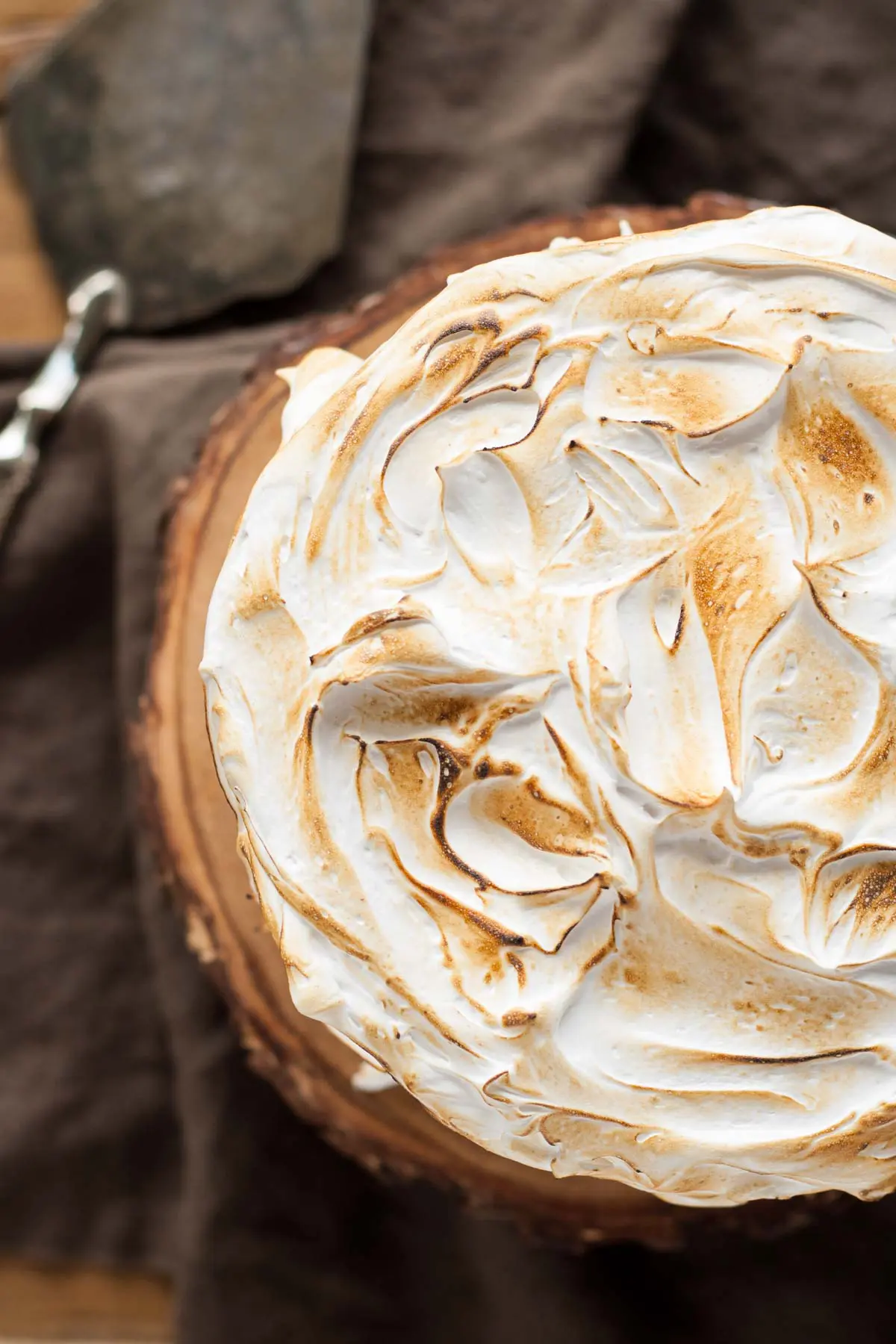 And, of course, the most important part is that it tastes amazing!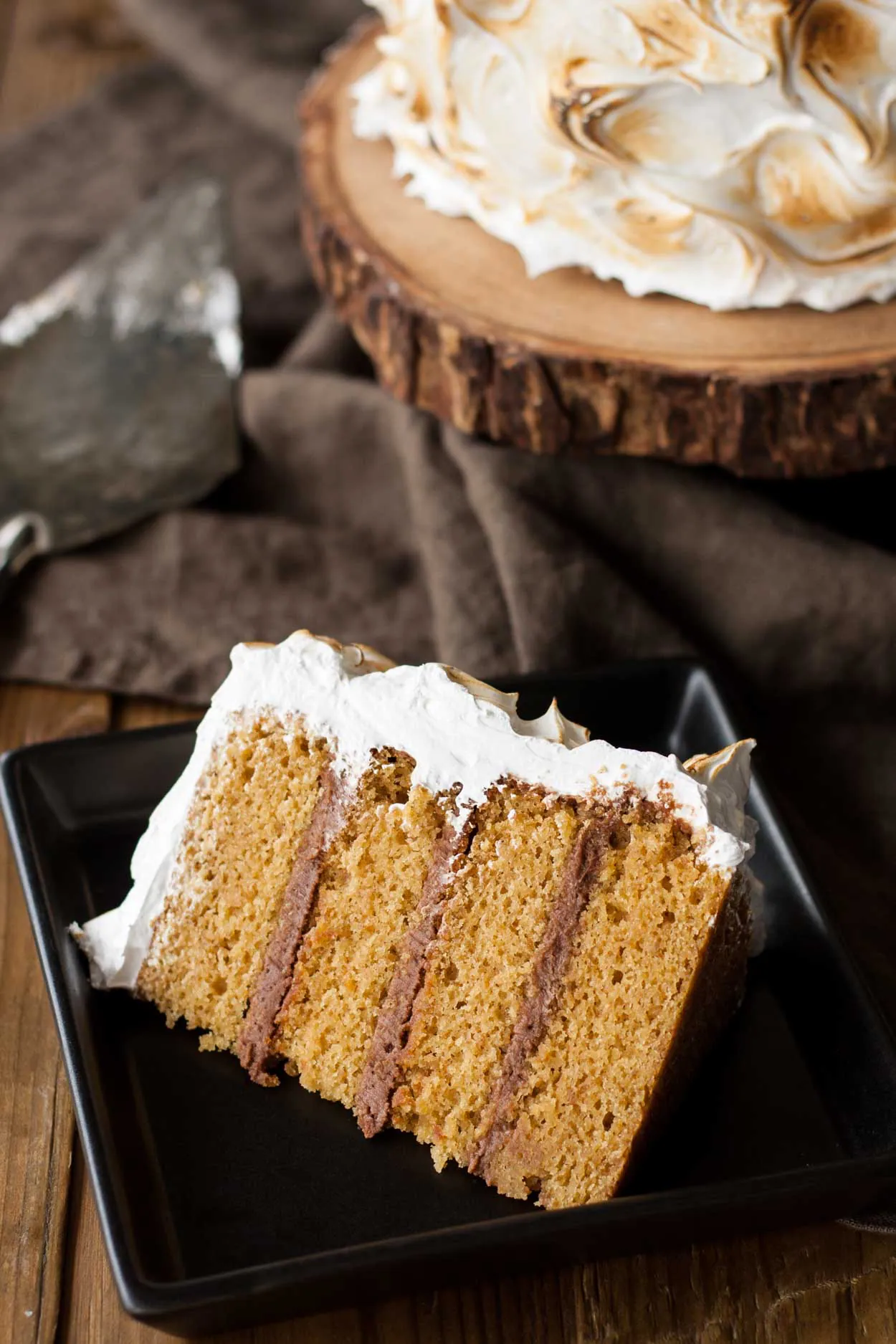 The graham cracker cake has a unique and delicious texture. The cake itself isn't too sweet and the marshmallow is light, but if you'd like to tone it down, you could always swap the milk chocolate for dark chocolate.
Either way, this S'mores Cake is delicious and so perfect for summer. I hope you try it!
Tips for making this S'mores Cake:
NOTE: The photos show a 4 layer cake — it's actually two layers cut in half since I scrapped one of the (see post). The recipe makes a three-layer 6″ cake. If you'd like to replicate what I have in the photos use 2/3 of the recipe (change the Servings to 8 to get the amounts).
The recipe as-is will also work in two 8″ pans. For three 8″ pans, 1.5x the recipe.
To make cupcakes, all you need to do is reduce the baking time — start checking at 15mins or so.
The cooled cake layers can be baked ahead of time, double wrapped in plastic wrap, and frozen for up to 3 months. Take out 2-3 hours before assembly.
You could use dark chocolate ganache if you prefer, or a chocolate buttercream.
If there are still some chunks of unmelted chocolate, microwave in 10-second bursts until all chocolate has melted.
You can make the ganache a day ahead and leave it on the counter overnight, then whip.
Do NOT use store-bought marshmallow fluff. It's too thin/runny.
Make sure there is no trace of egg yolk in your whites and that your tools are completely grease-free before making the fluff. If it isn't stiff, don't use it. See my Homemade Marshmallow Fluff post for details.
You will need a thermometer for the marshmallow fluff. My favorite is from Thermapen.
I used a kitchen torch to toast the outside once it was frosted.
Learn how to keep your cakes moist using Simple Syrup.
To help ensure your cake layers bake up nice and flat, check out my How to Bake Flat Cake Layers post!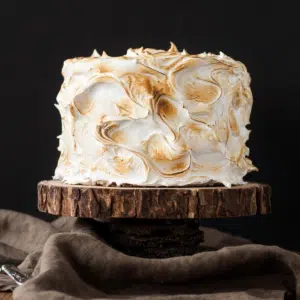 S'mores Cake
This S'mores Cake is better than the real thing! A graham cracker cake filled with a whipped milk chocolate ganache and topped with toasted marshmallow fluff.
Ingredients
Milk Chocolate Ganache:*
12

oz

milk chocolate

finely chopped

6

oz

heavy whipping cream

2

Tbsp

Baileys Irish Cream

optional
Instructions
Graham Cracker Cake:
Preheat oven to 350F and grease and flour three 6″ cake rounds, line with parchment.

In a medium bowl, whisk flour, graham cracker crumbs, baking powder, baking soda, and salt until well combined.

Using a stand mixer fitted with the paddle attachment, beat butter until smooth.

Add sugars and beat on med-high until pale and fluffy (2-3mins).

Reduce speed and add eggs one at a time, fully incorporating after each addition. Add vanilla.

Alternate adding flour mixture and buttermilk, beginning and ending with flour (3 additions of flour and 2 of milk). Fully incorporating after each addition. Do not overmix.

Spread batter evenly into prepared pans. Smooth the top with a spatula and whack the pans against the counter to evenly distribute.

Bake for approx. 40mins or until a toothpick inserted into the center comes out mostly clean.

Place cakes on wire rack to cool for 10mins. Whack the pans on the counter to loosen the cakes and turn out onto wire rack to cool completely.
Milk Chocolate Ganache:
Finely chop chocolate and place into a bowl. Bring cream just barely to a simmer and pour over chopped chocolate. Cover with plastic wrap and let stand 2 mins. Stir with a spatula until combined and smooth. **

Cool in the refrigerator until thickened, but still soft (stirring occasionally). ***

Transfer to bowl of stand mixer and whip using the whisk attachment until the ganache is fluffy and has lightened in color (approx. 1 or 2 minutes).
Assembly:
Once the cakes have cooled completely, frost the layers with the whipped ganache. Place in fridge to set.

Spread marshmallow fluff roughly all over cake and torch to toast.

Serve at room temperature.
Notes
*You can use a milk chocolate buttercream if you prefer. **If there are still some chunks of unmelted chocolate, microwave in 10 second bursts until all chocolate has melted. ***You can make the ganache a day ahead and refrigerate it overnight, then take it out and allow it to come to room temperature before whipping.
Calories:
708
kcal
Carbohydrates:
101
g
Protein:
6
g
Fat:
34
g
Saturated Fat:
19
g
Cholesterol:
124
mg
Sodium:
378
mg
Potassium:
249
mg
Fiber:
2
g
Sugar:
70
g
Vitamin A:
805
IU
Vitamin C:
0.1
mg
Calcium:
97
mg
Iron:
2.4
mg
The nutritional information and metric conversions are calculated automatically. I cannot guarantee the accuracy of this data. If this is important to you, please verify with your favorite nutrition calculator and/or metric conversion tool.
Originally published November 2015