This delicious from scratch Strawberry Cake recipe has no artificial colors or flavours! Paired with fresh strawberries and mascarpone buttercream.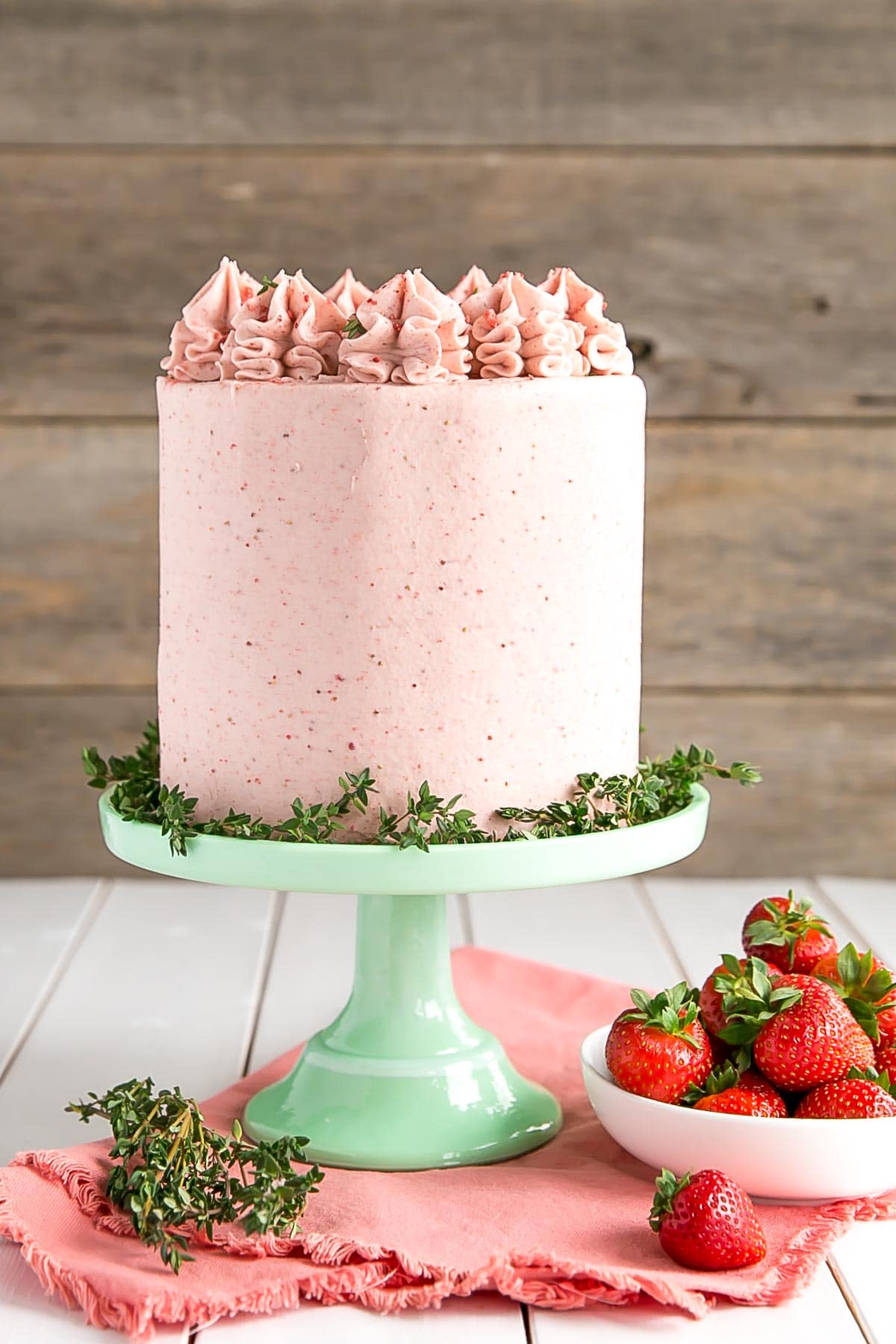 "Blue Monday is a name given to a day in January (typically the third Monday of the month) claimed to be the most depressing day of the year." (source: Wikipedia).
Well, here we are, the third week in January. We're dealing with post-holiday doldrums, crappy weather (in most places), and NY resolutions that you've likely already broken or cheated on (it's ok, happens to everyone). Are you feeling it? I know I certainly am.
Further in the article… "The date is generally reported as falling on the third Monday in January, but also on the second or fourth Monday, or the Monday of the last full week of January." So, every Monday in January? Sounds about right!
This time of year is always challenging for me, so I try to focus on some bright and vibrant things to bake (you know, to help with those resolutions!). Today, I'm bringing you this cheery Strawberry Cake with Mascarpone Buttercream!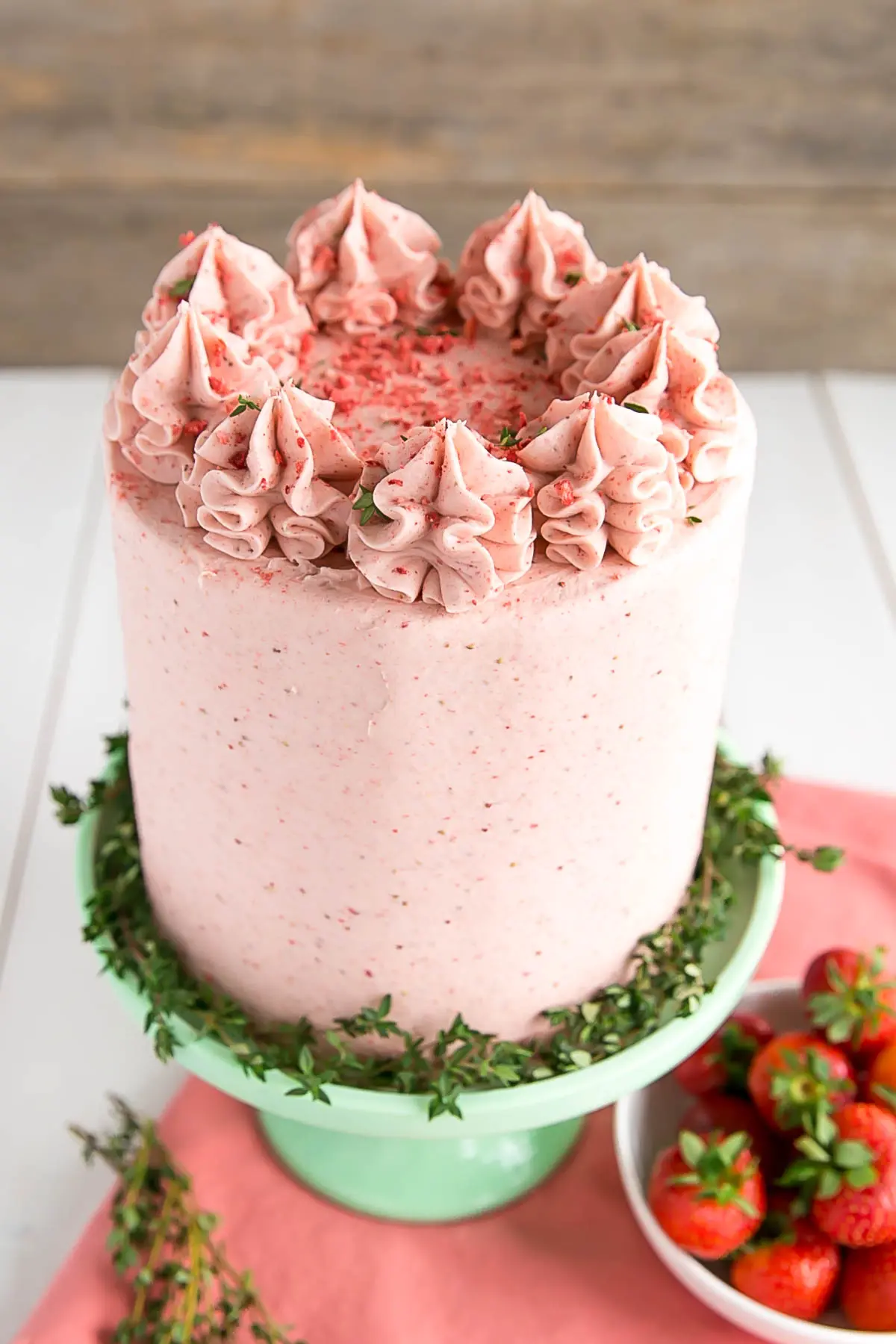 How to make this Strawberry Cake recipe
A strawberry cake recipe has been on my radar since last year, but it kept getting postponed. I thought this would be the perfect way to say goodbye to the holidays and look ahead to better, non-January times.
Initially, I was planning on using pureed fresh strawberries in this cake and frosting, but I wanted to try something different to give it a more intense strawberry flavour and color (without using something like Jell-O or artificial color gel). I knew that fresh strawberries would not give me the result I wanted, so I decided to hunt down some freeze-dried strawberries.
It is ridiculously hard to find freeze-dried strawberries in Vancouver. I checked like 5 or 6 stores before giving up and ordering them online from Amazon. Apparently they are available on every corner in the US (exaggerating, but still). They are available in most grocery stores and you can get them for a deal at Trader Joe's. I wish we had a Trader Joe's here!!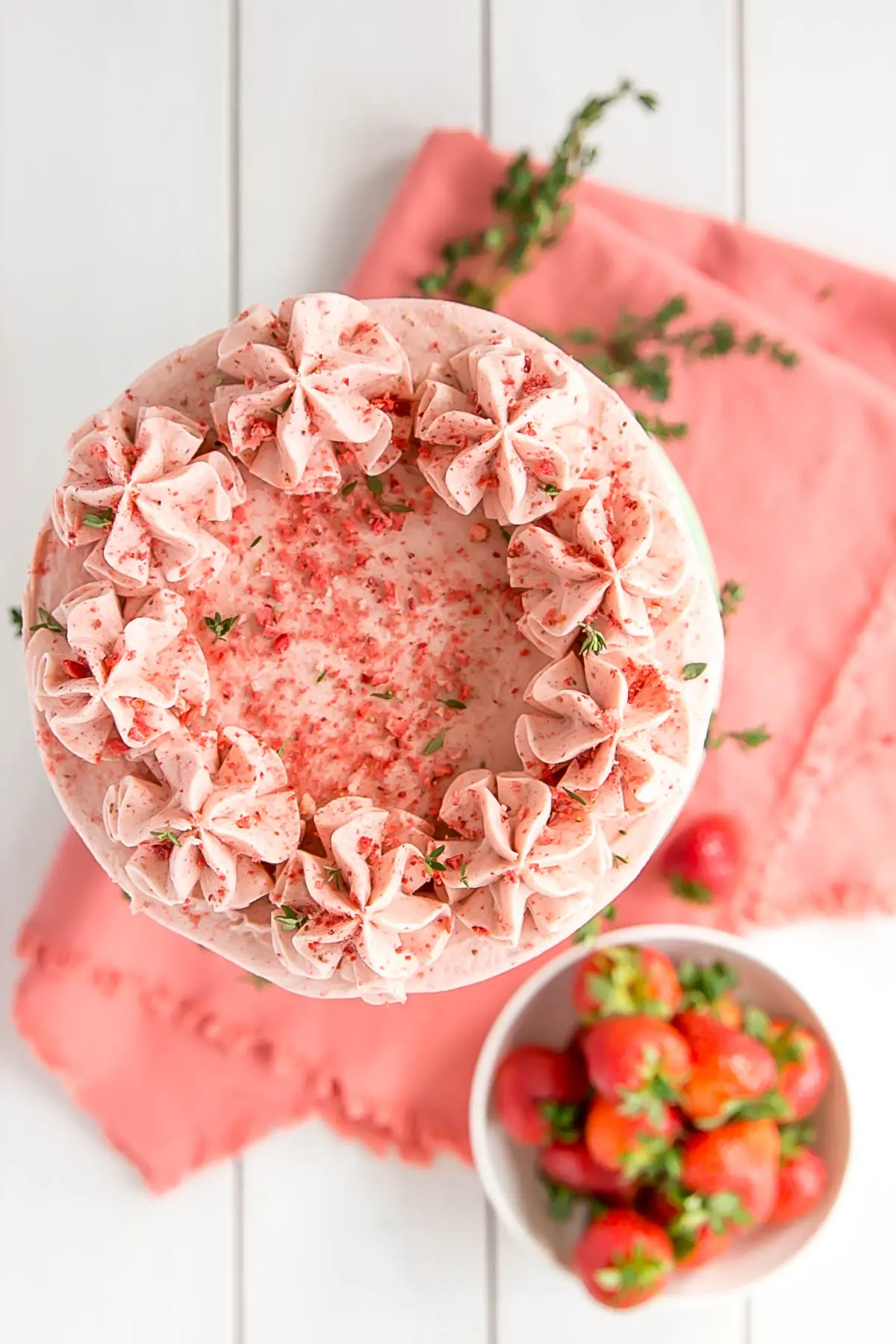 Is there a difference between freeze-dried and dehydrated fruit?
Freeze-dried fruit is different from dehydrated fruit. Dehydration, which typically involves slicing fruit and then dehydrating it in an oven or a food dehydrator, removes about 90% of the moisture. Freeze drying, which involves freezing the sliced fruit (which releases more moisture) and vacuuming out the moisture, removes about 98%.
Though that may not seem like a huge difference, you cannot use regular dehydrated fruit in place of freeze dried in most recipes (including this one).
Freeze-dried fruit is less perishable, but often more expensive than dehydrated due to the process. And it is perfect for baking!! The flavour and colors that come through are amazing. I'll probably still scour the stores here to see if I can come across some raspberries or blueberries to give them a try.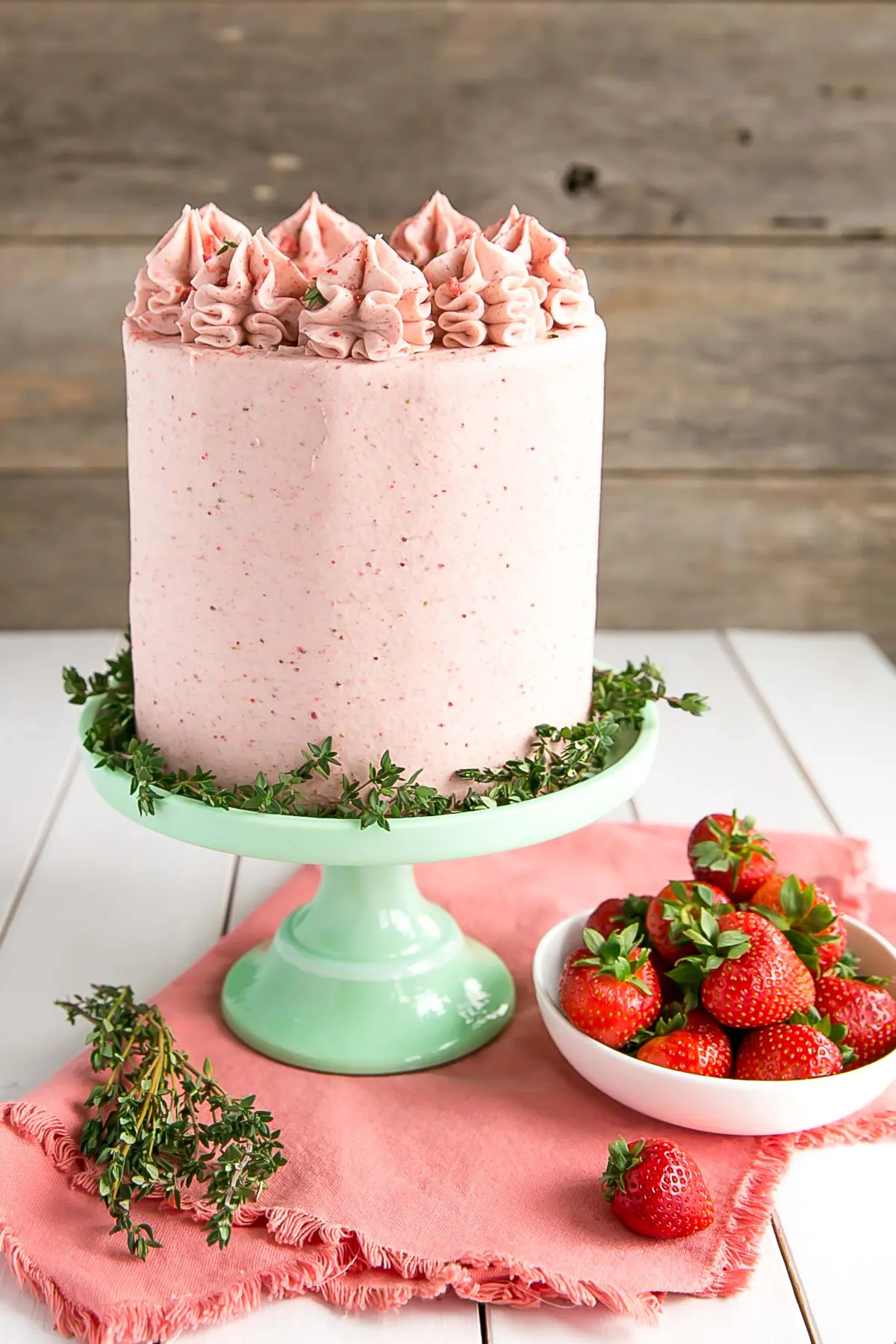 I bought sliced freeze dried strawberries because I wanted to chop some up for garnish, but you could just by freeze-dried strawberry powder for ease. I put the strawberry powder in both the cake layers and the frosting.
Initially I was going to pair this cake with a cream cheese frosting, but I decided to do mascarpone for something different but equally delicious. If you don't like mascarpone, you could totally do a cream cheese frosting or even an American Butterceam or Swiss Meringue. All would work perfectly well.
I used whole eggs in this Strawberry Cake recipe, but using just egg whites would take away the yellowish tint from the layers. Either works perfectly fine, it's just a matter of preference. I just didn't want to waste good yolks! Use 5 large egg whites instead of 3 whole eggs if you'd like to go this route.
I sliced fresh strawberries to put in between the layers, but should have sliced them thicker. I used my food processor for ease, but should have adjusted the setting — oh well! Learn from my mistakes, people. Cut your strawberries thicker, and press them into the frosting between the layers.
This cake has an intense and wonderful strawberry flavour. The mascarpone buttercream is a perfect match. If you are a strawberry fan, you will LOVE it.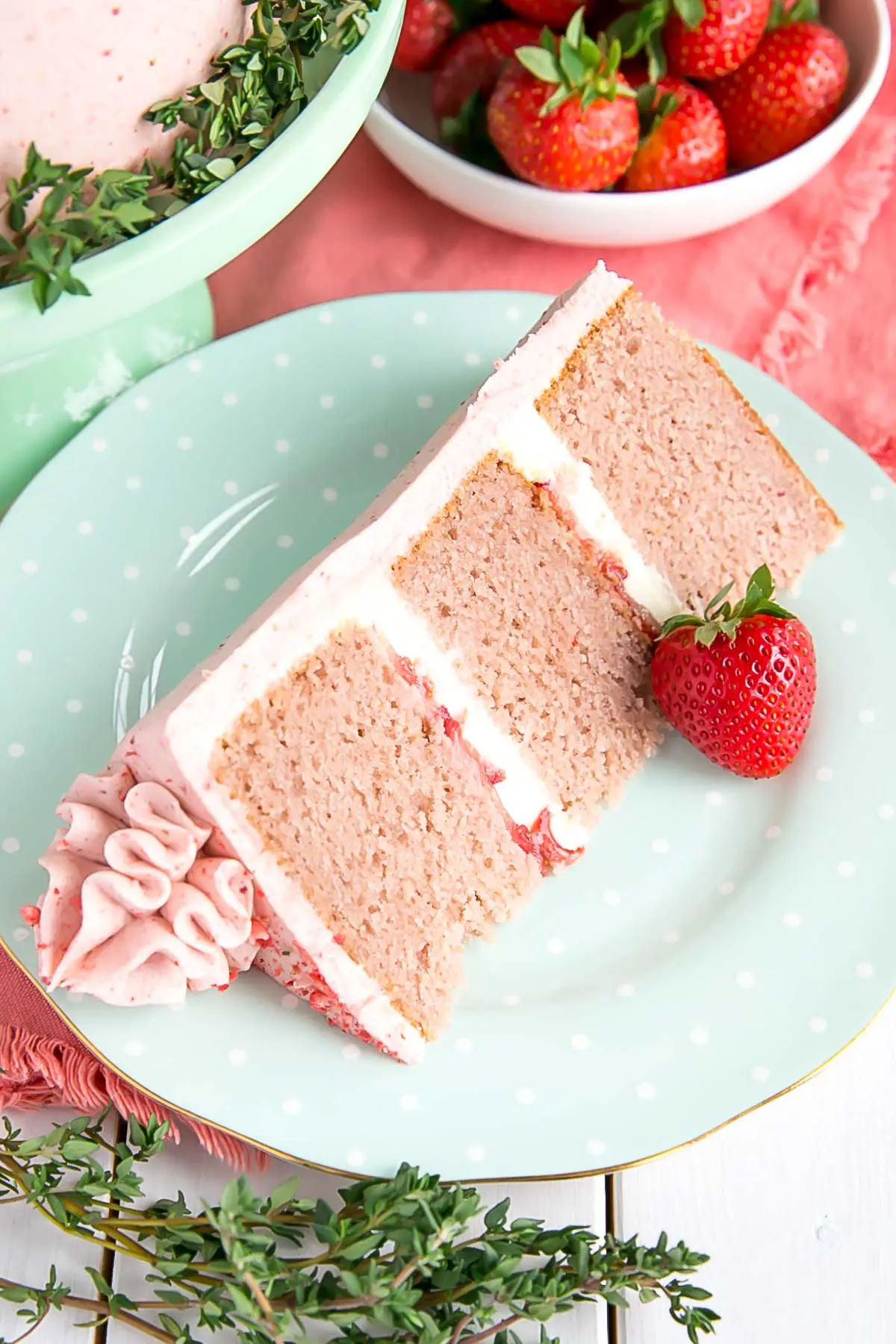 More Berry Cake Recipes you might like:
Tips for making this Strawberry Cake recipe:
The recipe as-is will also work in two 8″ pans. For three 8″ pans, 1.5x the recipe.
To make cupcakes, all you need to do is reduce the baking time — start checking at 15mins or so.
You can purchase freeze-dried strawberry powder instead of whole freeze-dried strawberries, if it's easier to find. Do not use dehydrated strawberries — they must be freeze-dried.
If you like, you can add some pink or red color gel to the cake batter to make the color more vibrant.
You can use 5 large egg whites instead of 3 large eggs so the yolks don't affect the color.
In hindsight, I should have either cut my strawberries thicker or added more of them between the layers. The thickness or amount is up to you, but note that adding too much can make the cake a bit unstable and hard to stack (it will slide around) — try to press the berries into the frosting to avoid this.
I added in the strawberry dust from the bottom of the freeze-dried strawberry container into the frosting, as I wanted some seeds showing throughout it.
Learn how to keep your cakes moist using Simple Syrup.
To help ensure your cake layers bake up nice and flat, see my Flat Top Cakes post.
Strawberry Cake with Mascarpone Buttercream
This delicious from scratch Strawberry Cake recipe has no artificial colors or flavours! Paired with fresh strawberries and mascarpone buttercream.

Total Time
2
hours
40
minutes
Ingredients
Instructions
Strawberry Powder
Pulse freeze-dried strawberries in a coffee grinder or food processor to a fine powder. Pass through a fine mesh strainer. Measure out 1/2 cup for the cake batter and 6 Tbsp for the frosting (more if desired). Set aside.
Strawberry Cake:
Preheat oven to 350F. Grease and flour three 6" cake rounds and line with parchment.

In a medium bowl, whisk flour, 1/2 cup strawberry powder, baking powder, and salt. Sift to ensure it's well combined. Set aside.

Using a stand mixer fitted with a paddle attachment, cream butter and sugar on med-high until pale and fluffy (approx 3mins). Reduce speed and add eggs one at a time fully incorporating after each addition. Add vanilla.

Alternate adding flour mixture and milk, beginning and ending with flour (3 additions of flour and 2 of milk). Fully incorporating after each addition.

Bake for 35-40 mins or until a toothpick inserted into the center comes out mostly clean.

Place cakes on wire rack to cool for 10mins then turn out onto wire rack to cool completely.
Strawberry Mascarpone Buttercream:
Beat butter until smooth. Add mascarpone cheese and beat until smooth and combined.


Slowly add in powdered sugar (1/2 cup at a time). Add vanilla and 1 Tbsp cream and beat on med-high for 5mins. Reduce speed to low and beat for 2mins. Add more cream if desired.

Strawberry powder to be added during assembly below.
Assembly:
Place one layer of cake on a cake stand or serving plate. Top with approximately 1 cup of buttercream, spread evenly. Top with a thin layer of sliced strawberries.**

Repeat with remaining layer and apply a thin layer of frosting all over to crumb coat the cake. Chill for 20mins.


While cake is chilling, add 1/4 cup strawberry powder to the remaining frosting. Beat to combine.***

Frost the top and sides of the cake and smooth with an

icing scraper

. Using a

1M tip

, pipe dollop ruffles onto the top of the cake. If desired, sprinkle top with chopped freeze-dried strawberries and garnish with thyme sprigs.
Notes
* You can purchase
freeze-dried strawberry powder
instead, if it's easier to find.
** The thickness or amount is up to you, but note that adding too much can make the cake a bit unstable and hard to stack -- try to press the berries into the frosting.
*** I also added in the strawberry powder from the bottom of the freeze-dried strawberry container as I wanted some seeds throughout the frosting.
Calories:
792
kcal
Carbohydrates:
94
g
Protein:
6
g
Fat:
43
g
Saturated Fat:
27
g
Cholesterol:
156
mg
Sodium:
143
mg
Potassium:
315
mg
Fiber:
1
g
Sugar:
71
g
Vitamin A:
27.9
%
Vitamin C:
114.6
%
Calcium:
12.4
%
Iron:
17.5
%
The nutritional information and metric conversions are calculated automatically. I cannot guarantee the accuracy of this data. If this important to you, please verify with your favourite nutrition calculator and/or metric conversion tool.