Chocolate cookie cups filled with a fluffy chocolate Baileys cheesecake. The perfect bite-sized indulgence!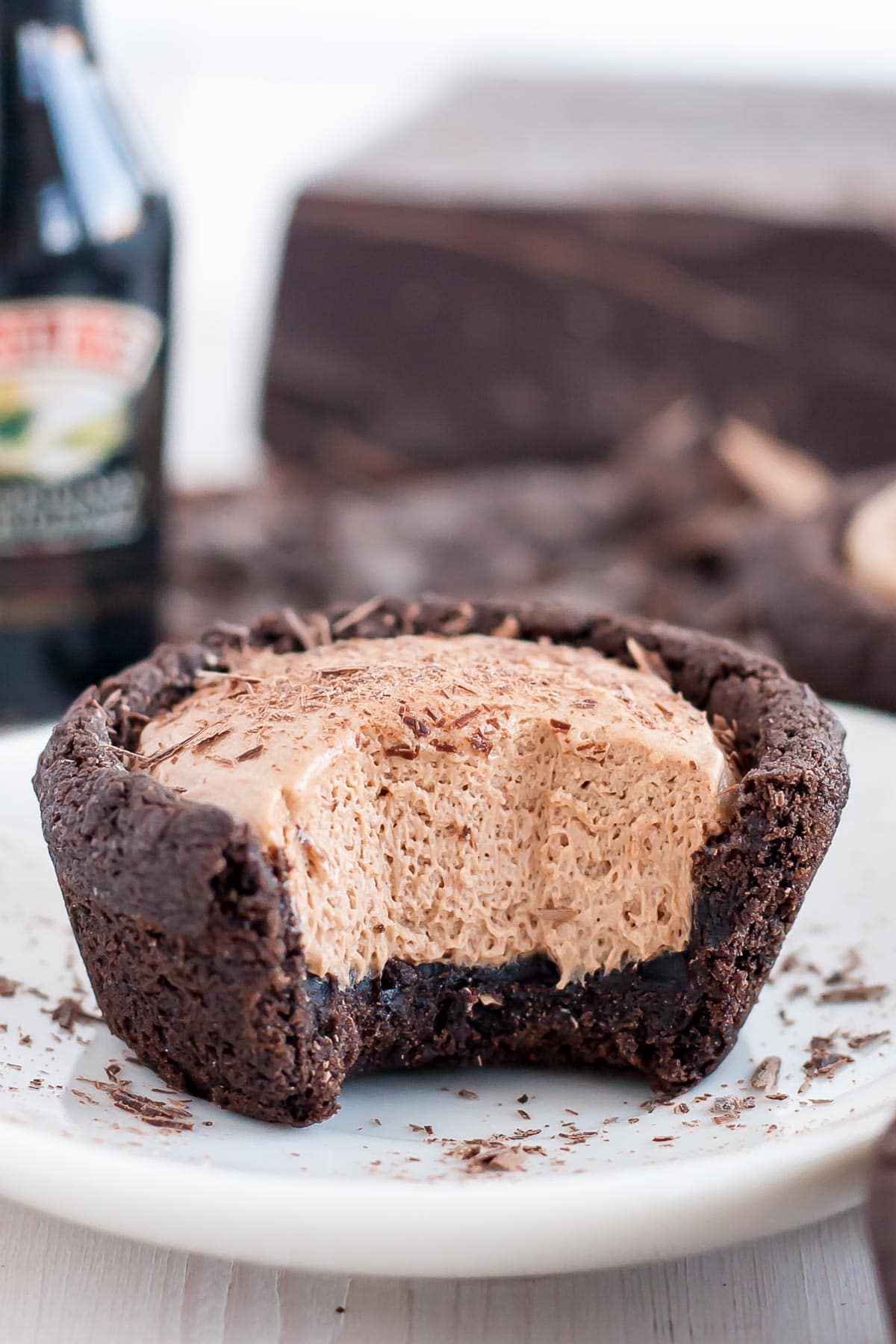 It's no secret that we have our fair share of Baileys around at this time of year. Ok, really all year but more so around the holidays. It is the perfect addition to coffee or hot chocolate during these chilly winter months.
It's actually snowing as I write this. It almost never snows here, and certainly not like it is now. Giant flakes coming down, and a blanket of snow covering everything. It's a Baileys kinda night (or afternoon, don't judge)!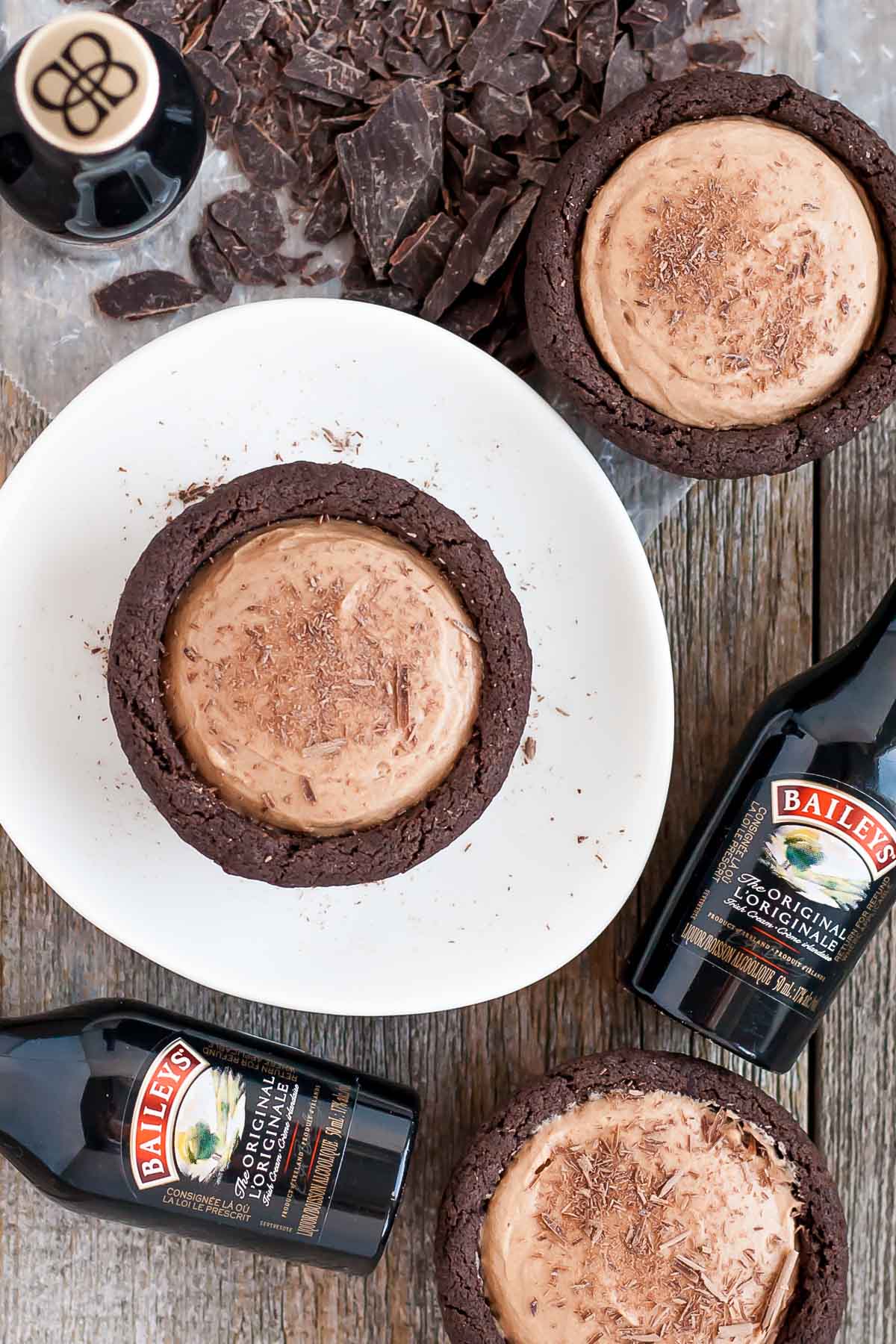 I was trying to decide how I wanted to style these pics last minute (as usual) when my friend Chrisy suggested using some mini Baileys bottles as props. Except I didn't have any — we only buy the big bottles around here (lol), and I no longer have a liquor store within walking distance.
I literally couldn't think of anything else to style these pics with, so off I went on icy, treacherous roads (not really) to the liquor store… at 11am. They had just opened, or I would have gone even earlier.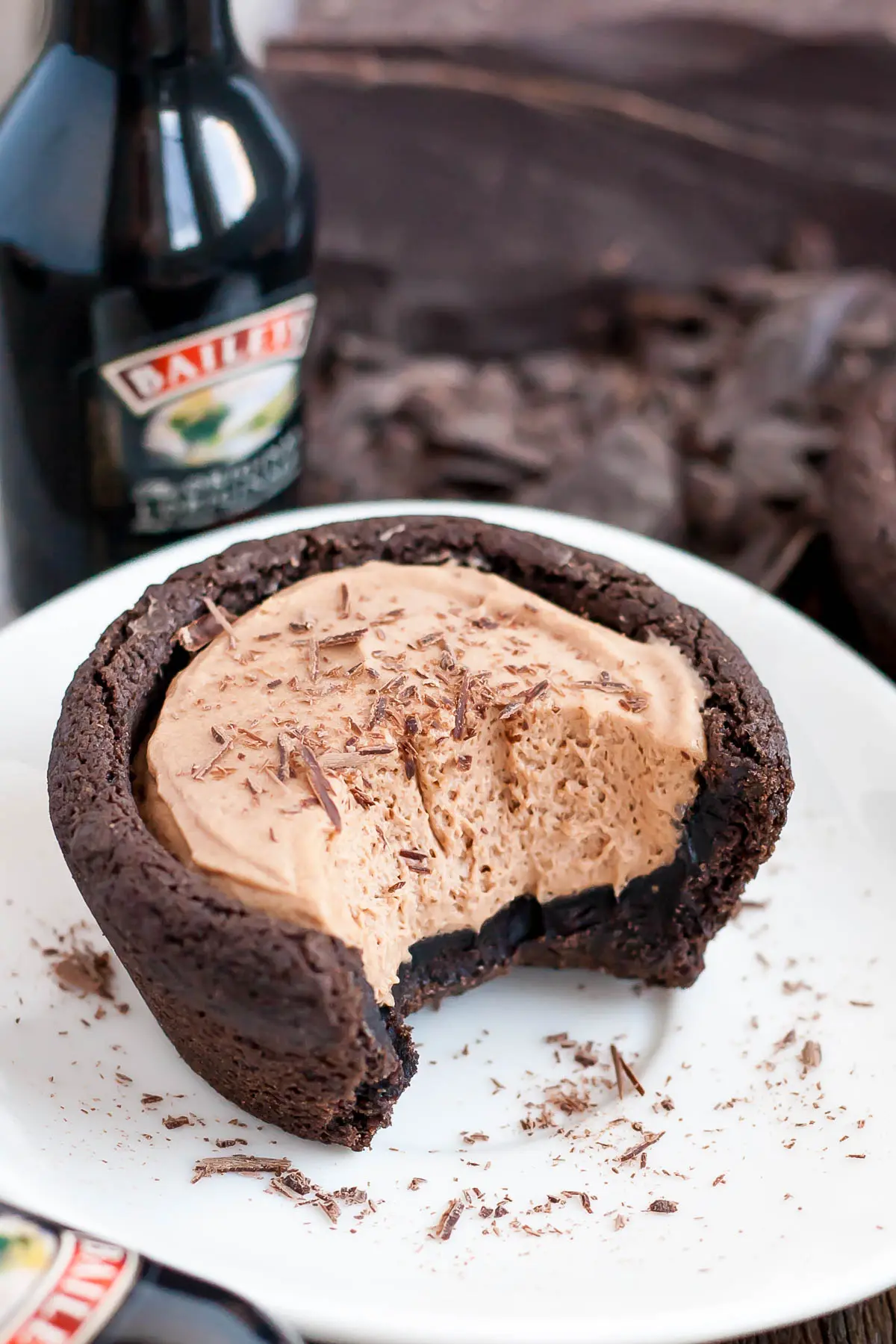 The girl at the counter saw me looking around furiously and asked if I needed help. I pretty much always need help in the liquor store. Aside from Baileys and the occasional bottle of sangria, we don't drink much, so I never know where to find ANYthing.
I told her that I was looking for the travel-sized Baileys bottles and she said they didn't have any (dammit). BUT, you know how you can sometimes get samples of the mini bottles attached to the big ones? She went over to the large Baileys bottles, asked me how many little ones I needed, pulled them off and GAVE them to me. For FREE. Best ever, right??
She totally helped me out of a bind, as I was not about to go from liquor store to liquor store looking for some. I think we can agree that they really work in these pics, right? I should bring her some of these Baileys Cheesecake Cookie Cups as a Thank You.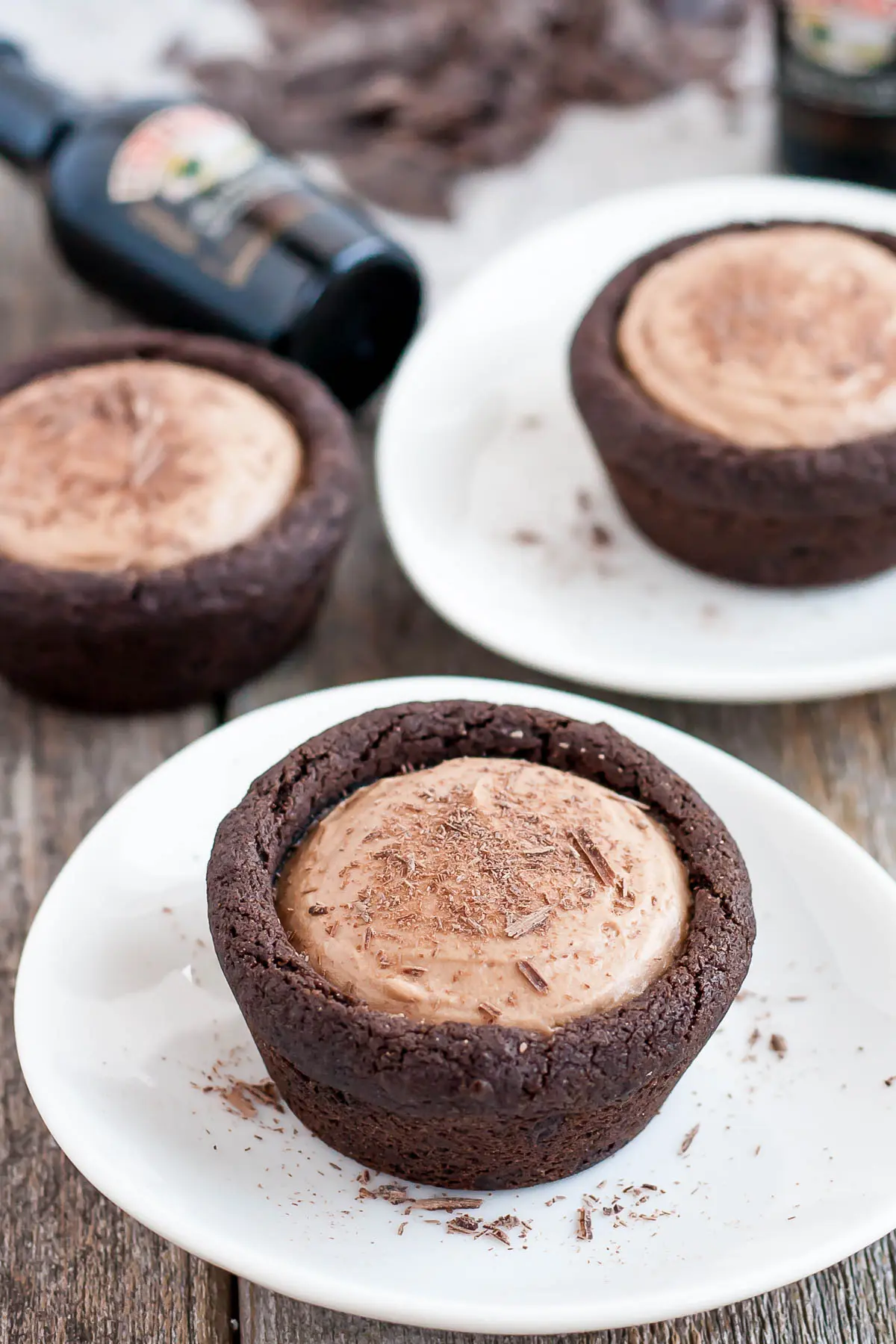 I've baked with Baileys a few times before but it's been a while since my last Baileys post. I'm surprised it's been so long since I've used it in a recipe! It adds such a delicious and unique flavor, and pairs perfectly with chocolate.
I used my favorite chocolate cookie recipe for the base of these Baileys Cheesecake Cookie Cups and filled them with a light no-bake chocolate Baileys cheesecake.
I've used this cookie recipe quite a few times before, and I totally love it. It uses black cocoa, which gives it an Oreo flavor, but if you only have regular cocoa you can just use that. You could leave the chocolate out of the cheesecake if you like, but I love the Baileys and chocolate combo myself.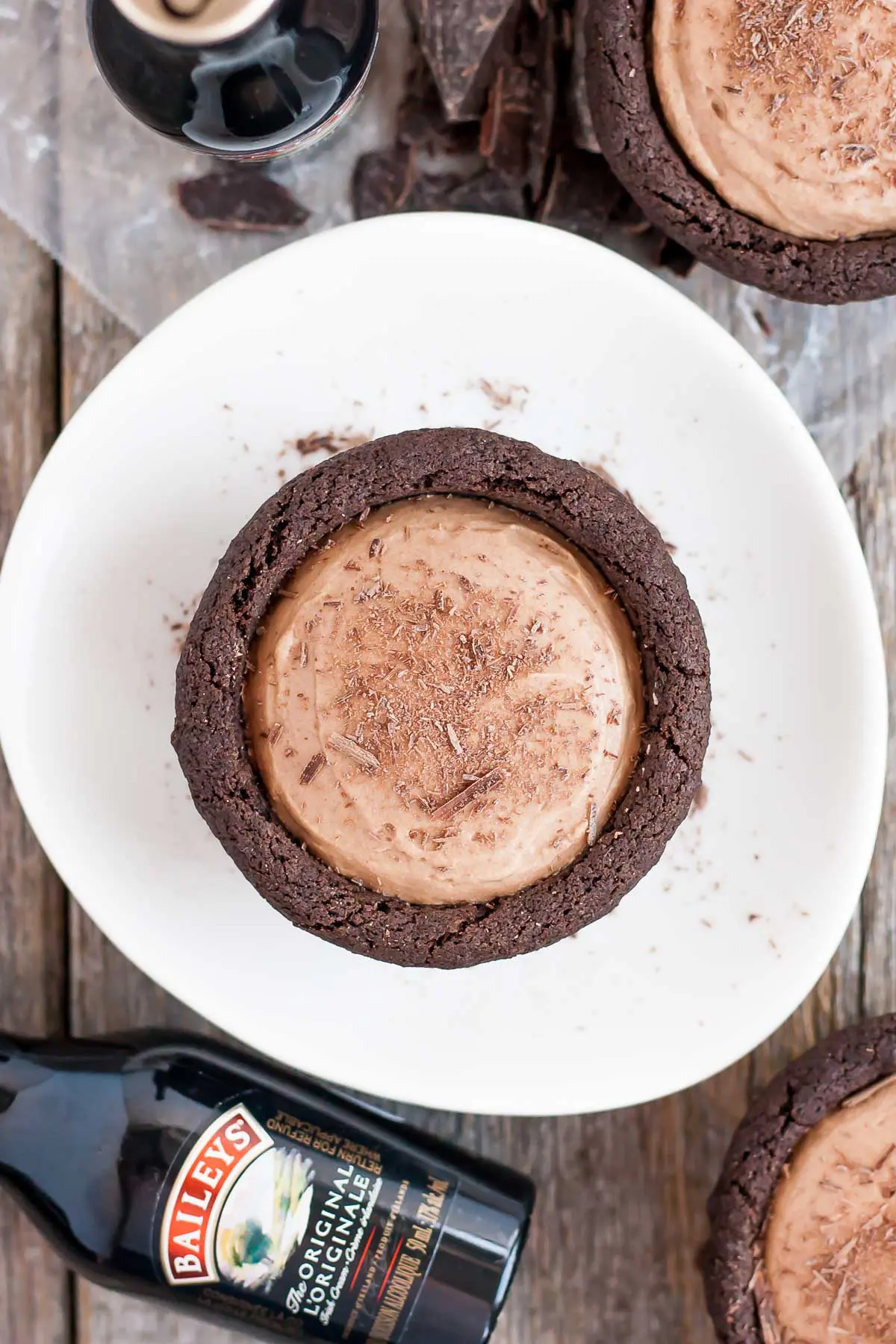 These Baileys Cheesecake Cookie Cups come together really quickly. The bulk of the time is just waiting for them to chill/set, but you don't really need to do that. I totally dove into one as soon as it was filled — for quality control purposes, you know. Ahem.
They do firm up in the fridge, so if you'd prefer a more cheesecakey texture vs. a whipped cream/mousse texture, definitely let them chill!
If you are a Baileys fan, or have one in your life, you will love these Baileys Cheesecake Cookie Cups!
Notes & tips for these Baileys Cheesecake Cookie Cups:
If you don't have black cocoa powder, you can use regular cocoa powder. The recipe will work fine, but it will affect the flavor and color slightly.
Ensure your heavy cream is cold (ideally the mixer bowl too) as this will make the cream whip up better.
The cookie part of these cookie cups will soften over time as they sit with the filling.
These freeze very well! Store in fridge for up to 5 days or in freezer (in an airtight container) for 1-2 months.
Best served cold, out of the fridge.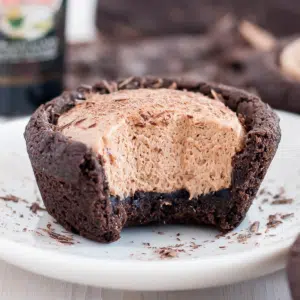 Baileys Cheesecake Cookie Cups
Chocolate cookie cups filled with a chocolate Baileys cheesecake. The perfect bite-sized indulgence!
Ingredients
Baileys Chocolate Cheesecake Filling:
1

cup

heavy whipping cream

chilled

8

oz

cream cheese

full fat,softened

1/2

cup

granulated sugar

2

oz

semi-sweet chocolate

melted, cooled

1/4

cup

Baileys Irish Cream
Instructions
Preheat oven to 350°F. Spray two regular sized muffin tins with cooking spray.

Whisk together flour, cocoa powders, baking soda, and salt. Set aside.

Beat butter and sugars on med-high until light and fluffy (approx. 2-3mins). Reduce speed and add eggs one at a time and vanilla. Beat until combined. Add flour mixture and mix until just combined.

Using a large cookie scoop (3 Tbsp) scoop dough into muffin tins, press down to flatten.

Bake for approx. 10-13mins or until mostly set, but still soft in the middle.

Remove from oven and immediately use a small jar or container to press firmly down in the center to create a well. Cool in pans for 10mins, loosen each slightly by twisting it in the pan. Cool for 5 more minutes then remove from pan and cool completely on a wire rack.
Baileys Chocolate Cheesecake Filling:
Whip heavy cream until stiff peaks (ideally with a cold whisk and in a cold bowl).

In a separate bowl, beat cream cheese and sugar until smooth. Add chocolate and Baileys and beat until incorporated.*

Fold cream cheese mixture into whipped cream and pipe into cooled cookie cups. Refrigerate until set (approx. 2 hours).

Sprinkle with chocolate shavings or cocoa powder if desired. Serve chilled and eat within 2-3 days. Or freeze for up to 4 weeks.
Notes
* I whipped the cream in my stand mixer, transferred the cream to a bowl, then whipped up the cream cheese using the same bowl and whisk from the whipped cream (without cleaning it- easier this way!)
Calories:
325
kcal
Carbohydrates:
34
g
Protein:
3
g
Fat:
19
g
Saturated Fat:
11
g
Cholesterol:
71
mg
Sodium:
174
mg
Potassium:
111
mg
Fiber:
1
g
Sugar:
22
g
Vitamin A:
640
IU
Vitamin C:
0.1
mg
Calcium:
40
mg
Iron:
1.3
mg
The nutritional information and metric conversions are calculated automatically. I cannot guarantee the accuracy of this data. If this is important to you, please verify with your favorite nutrition calculator and/or metric conversion tool.
Originally published on Dec 7, 2016