Honey walnut cake layers paired with a honey cinnamon buttercream and honey glazed walnuts.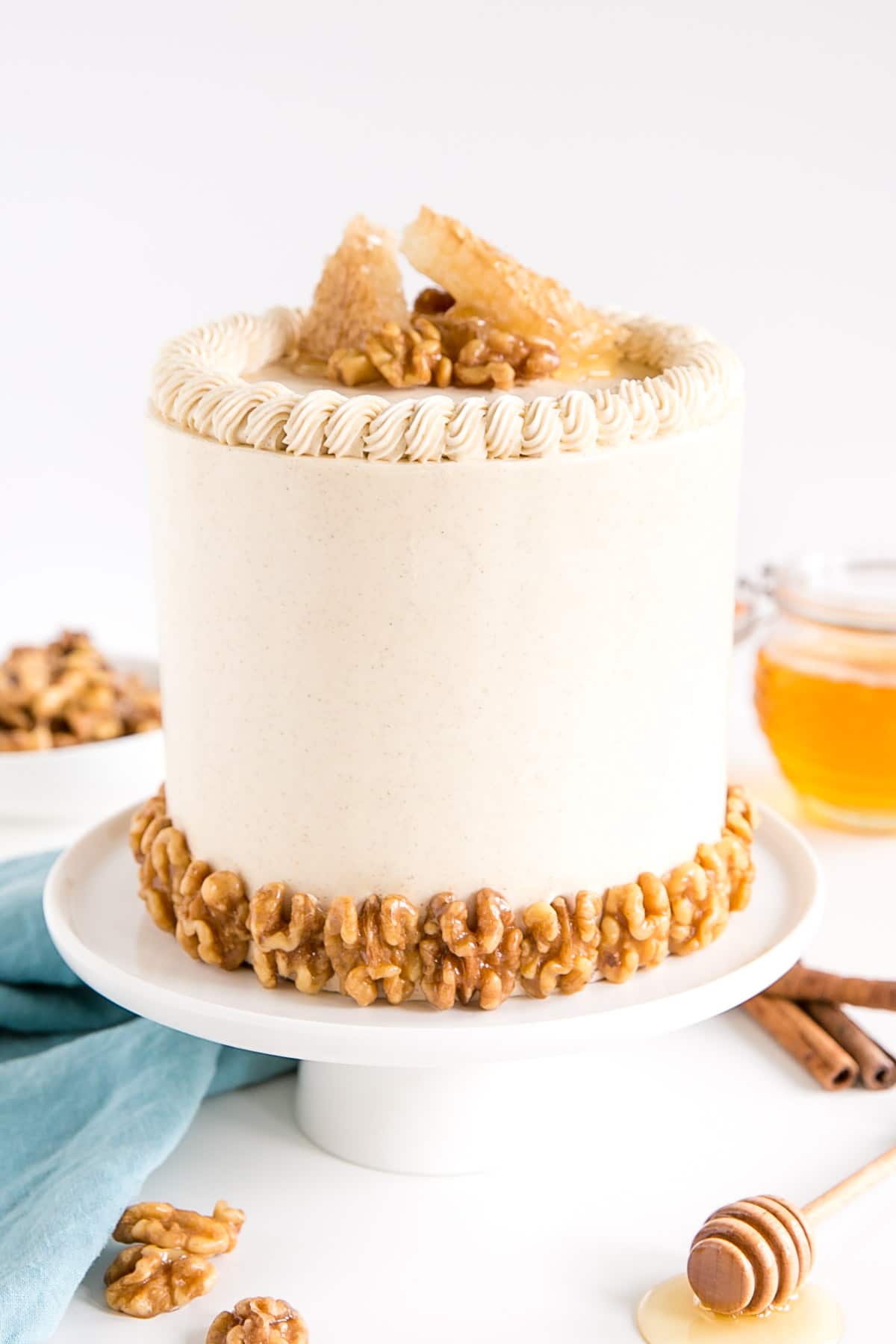 It all started with the Baklava Cake I made a few years ago. As soon as I tasted those honey walnut cake layers I knew they needed to shine on their own!
The Baklava Cake was amazing, but it's a little (a lot) more involved with that baklava layer. It's probably a bit intimidating to people and I did not want you to miss out on those delicious cake layers.
So, the Honey Walnut Cake was born.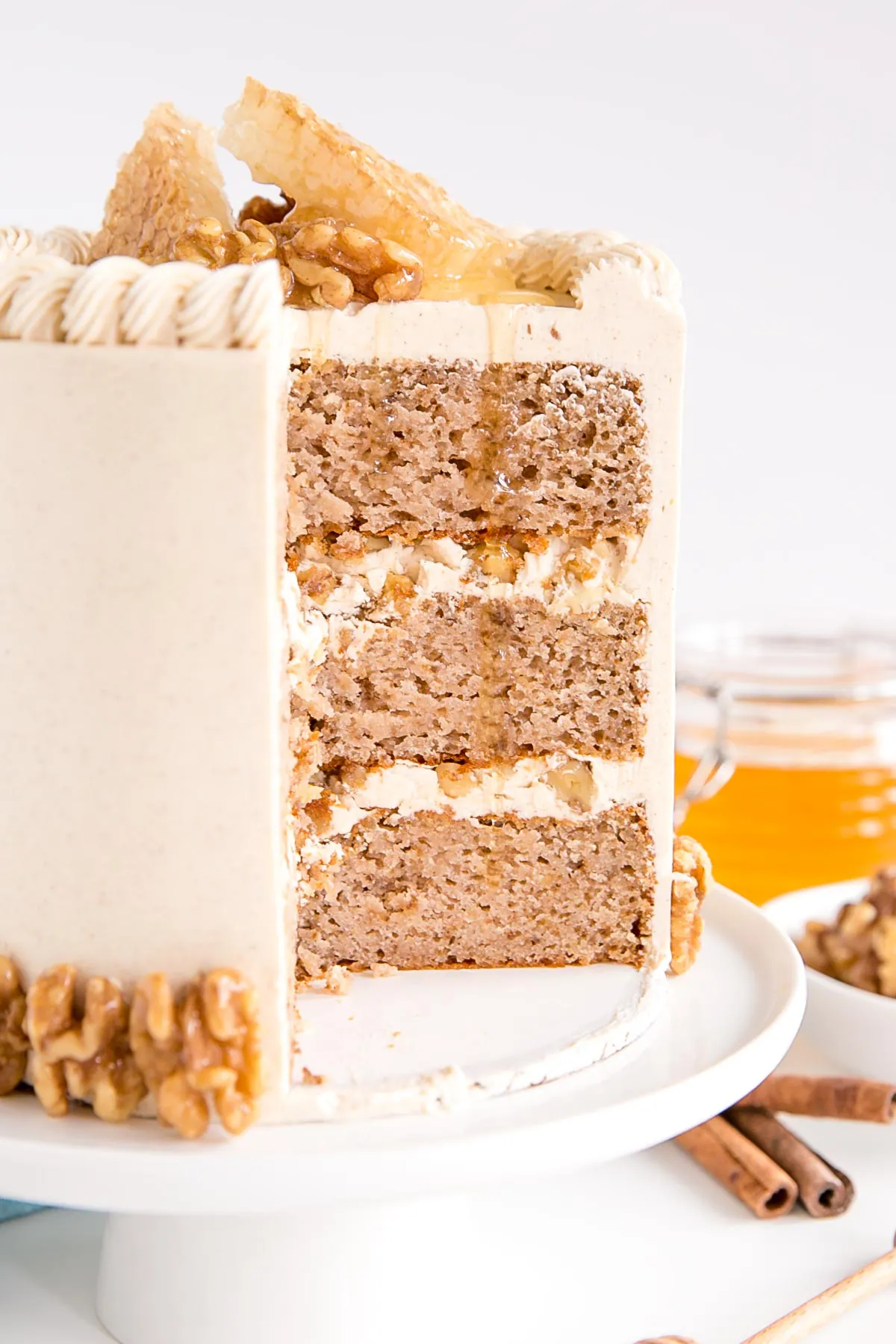 How to Make this Honey Walnut Cake
You're going to need walnut flour for the cake layers. You can buy this or make your own at home. I recommend making your own because it's not a huge amount that you need, so unless you'll use walnut flour for other things it's easy enough to just grind up some walnuts at home.
You need about 1/2 cup or 60g of finely ground walnuts.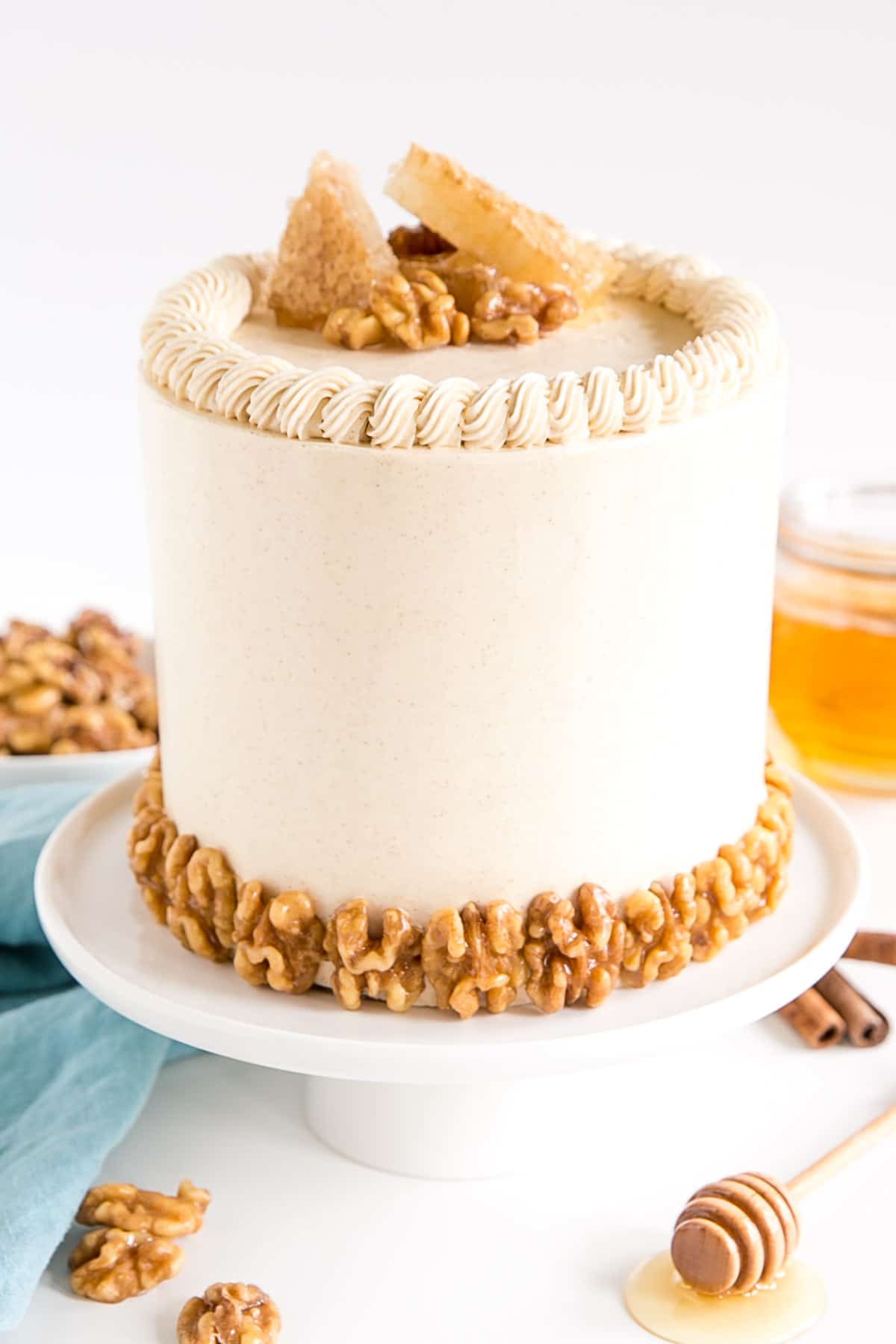 If you have a scale this is easy to measure out, if not, I recommend tossing roughly 2/3 cup walnuts or walnut pieces into a food processor, pulsing them a bit until they are small but not too fine, then measuring our 1/2 cup from that and pulsing that amount with the flour until it's fine and blended.
If you don't add the flour it will quickly turn into walnut butter so I always add some (or all) of the flour mixture.
The honey and walnut combo in these cake layers is truly amazing. I'd happily eat this on its own, no frosting or anything, for breakfast or with my afternoon tea. But since this is a layer cake, it obviously needs a delicious buttercream to go with it.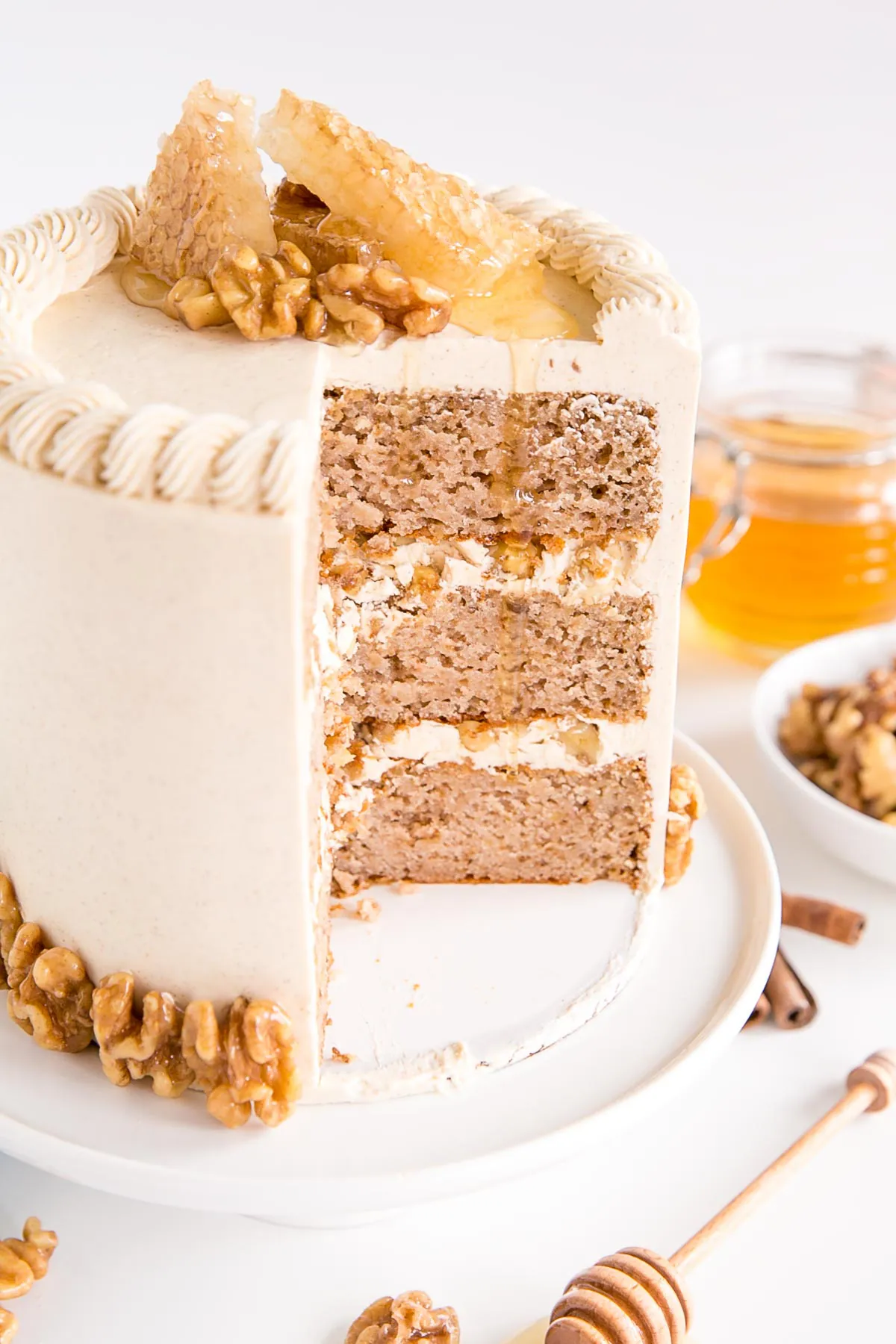 Honey Swiss Meringue Buttercream
I slightly modified my Swiss Meringue Buttercream recipe for the amounts I'd need and added some honey to it at the end. Adding honey will add more sweetness to an already sweet frosting, so I add a pinch of salt at the end to cut the sweetness a bit.
I wasn't initially going to add cinnamon to the honey buttercream because I did that with my Baklava Cake, but the honey glazed walnuts I made for a garnish had cinnamon in them and I felt like it would tie the cake together well. You can leave the cinnamon out if you prefer.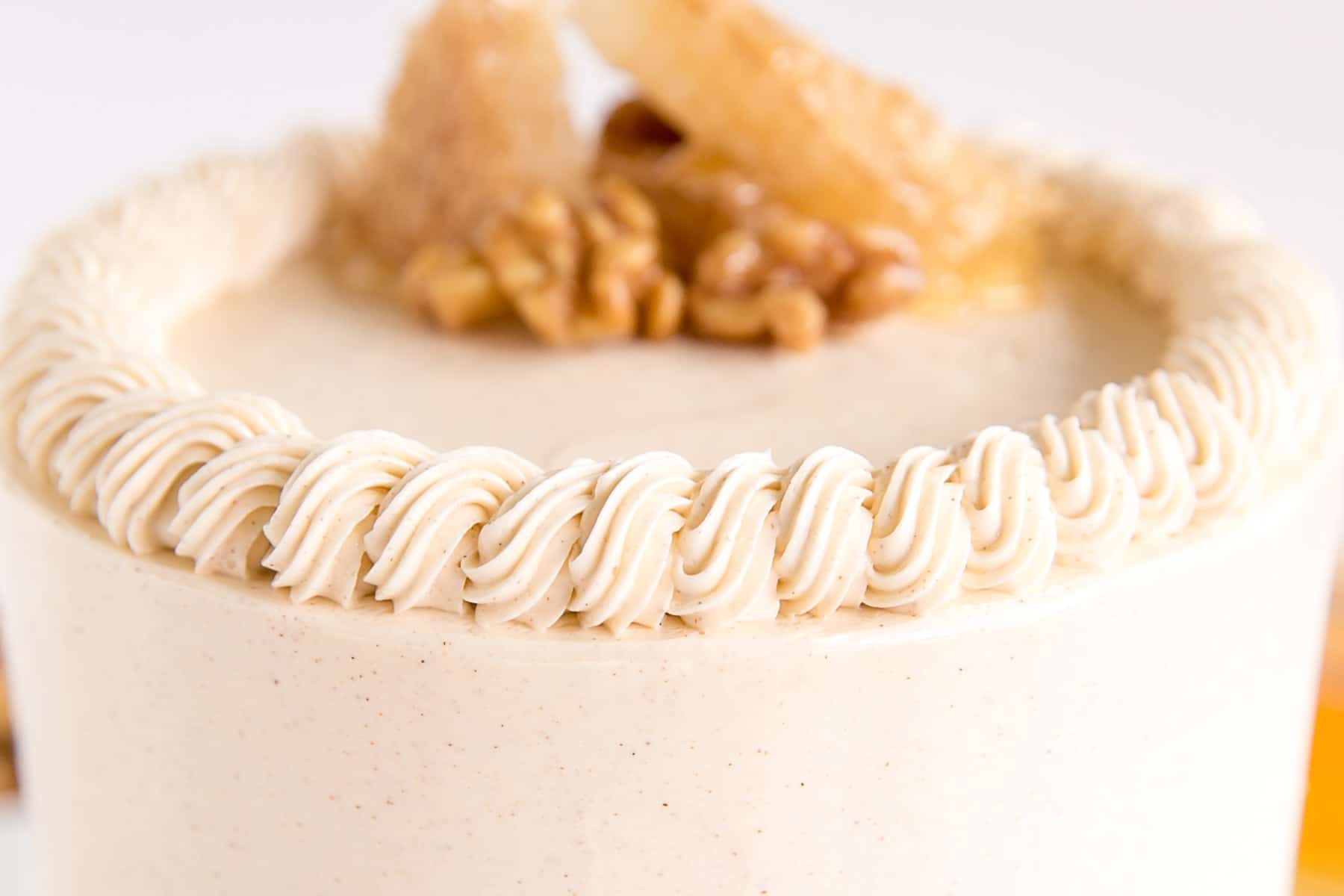 I used a smaller piping tip than I usually do for the rope border on top because I wanted plenty of room for the honeycomb and walnuts.
I usually use a 1M or a 6B tip but this time I used Tip #32 and I think it turned out perfect.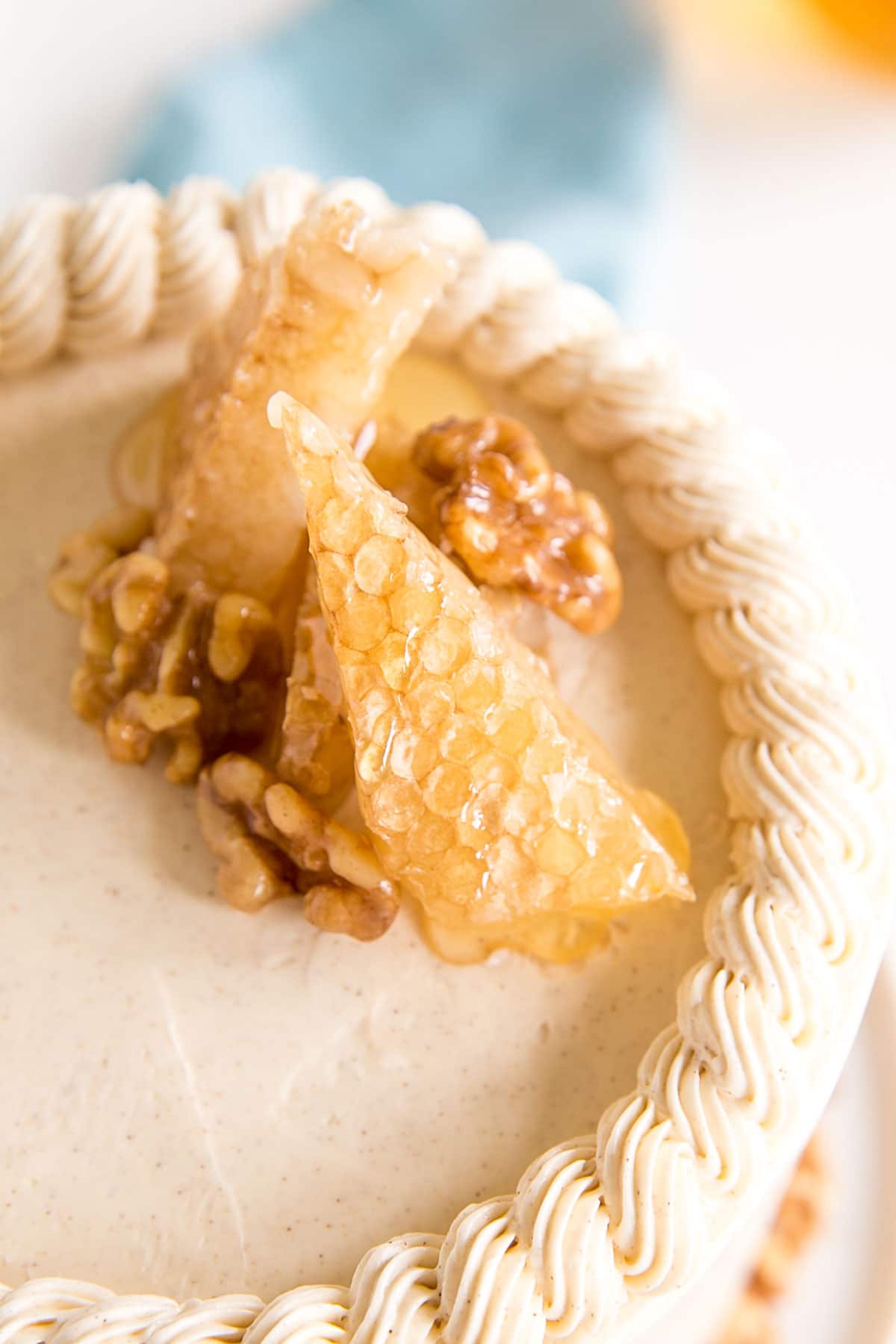 What is Honeycomb?
Honeycomb is made by honey bees and fills the interior of a beehive. It consists of small clusters of hexagonal cells made of beeswax and is made to store honey and pollen, etc.
Can you eat Honeycomb?
You can eat the entire honeycomb including the waxy hexagonal cells. It has numerous health benefits that you can read about here. It's important to note that raw honey is not pasteurized or filtered like commercial honey.
Honey Glazed Walnuts
I had planned on garnishing the cake with just plain toasted walnuts but then I came across this Honey Glazed Walnuts recipe from Melanie over at Garnish & Glaze and I couldn't resist!
The recipe is super simple to make and comes together quickly. The walnuts will be somewhat sticky, even after cooling, and will tend to stick together, so be sure to separate them quickly once you spread them on parchment paper.
Specifically, separate out the large pretty ones that will adorn the outside of your cake. For the rest, it doesn't matter as you'll be chopping them up to sprinkle over the frosting in the cake layers.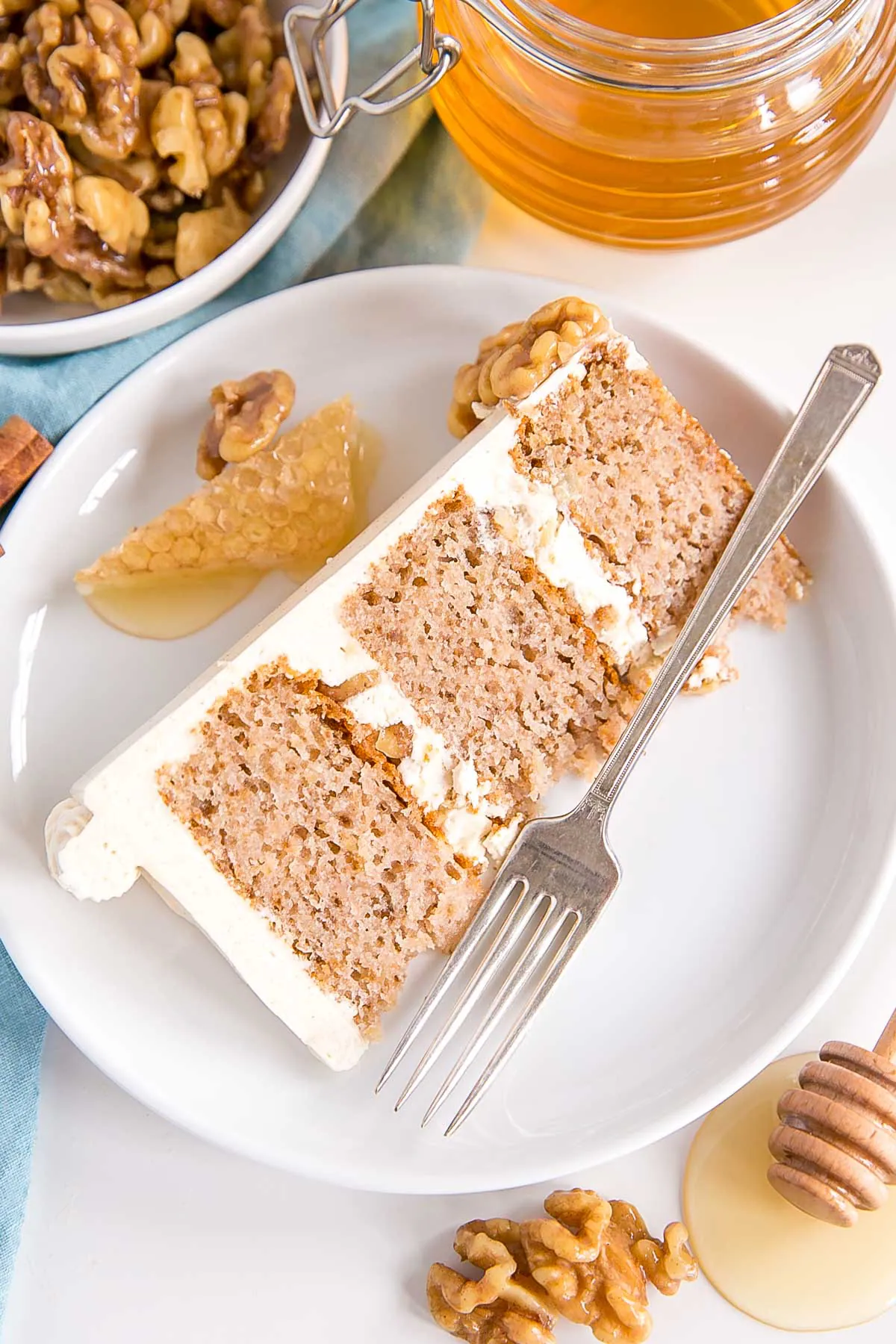 I feel like this is one of those recipes that probably doesn't sound very exciting to people, but trust me, it IS AMAZING. You need this Honey Walnut Cake in your life. Be sure to try my Honey Almond Cake as well!
Oh, and I don't even like honey. Not in its pure form, not really drizzled on anything, but if it's in delicious desserts like Baklava or this cake, it's a total game-changer.
I hope you guys love this one as much as we did!
Looking for more Nut-Based Cake recipes?
Tips for making this Honey Walnut Cake
The recipe as-is will also work in two 8″ pans. For three 8″ pans, 1.5x the recipe.
To make cupcakes, all you need to do is reduce the baking time — start checking at 15mins or so.
The cooled cake layers can be baked ahead of time, double wrapped in plastic wrap, and frozen for up to 3 months. Take out 2-3 hours before assembly.
The frosting can be placed in an airtight container and refrigerated for 1 week for frozen for 3 months. Bring to room temp and rewhip before using.
Honey Glazed Walnuts recipe from Melanie over at Garnish & Glaze.
Be sure to check my Swiss Meringue Buttercream post for tips and troubleshooting.
Learn how to keep your cakes moist using Simple Syrup.
To help ensure your cake layers bake up nice and flat, check out my How to Bake Flat Cake Layers post!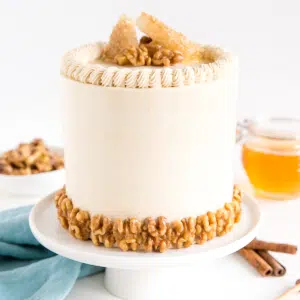 Honey Walnut Cake
Honey walnut cake layers paired with a honey cinnamon buttercream and honey glazed walnuts.
Ingredients
Honey Cinnamon Swiss Meringue Buttercream:
Instructions
Honey Walnut Cake:
Note: If making your own walnut flour, pulse the walnuts a few times, measure out 1/2 cup, then pulse again mixed with the flour. Otherwise it will turn to walnut butter.

Preheat oven to 350F. Grease and flour three 6" cake rounds and line with parchment.

In a medium bowl, whisk flour, walnut flour, baking powder,and salt until well combined. Set aside.

Using a stand mixer fitted with a paddle attachment, cream butter and sugar on med-high until pale and fluffy (approx 3mins). Reduce speed and add eggs one at a time fully incorporating after each addition. Add honey and vanilla and blend well.

Alternate adding flour mixture and milk mixture, beginning and ending with flour (3 additions of flour and 2 of milk). Fully incorporating after each addition.

Bake for about 25-30 mins or until a toothpick inserted into the center comes out mostly clean.

Place cakes on wire rack to cool for 10mins then turn out onto wire rack. Allow cakes to cool completely.
Honey Cinnamon Swiss Meringue Buttercream:
Place egg whites and sugar into the bowl of a stand mixer, whisk until combined.*

Place bowl over a pot with about 1″ of simmering water. Whisk constantly until the mixture is hot and no longer grainy to the touch (about 3mins). Or registers 160F on a candy thermometer.

Place bowl on your stand mixer and whisk on med-high until the meringue is stiff and cooled (the bowl is no longer warm to the touch (about 5-10mins)).

Switch to paddle attachment. Slowly add cubed butter and mix until smooth.** Add honey and cinnamon and whip until fluffy.
Honey Glazed Walnuts:
Prepare as per recipe. Cool completely. Pick out any pretty whole pieces to adorn the bottom of the cake. Chop enough of the remiander to measure out 1/2 cup chopped walnuts.
Assembly:
Place one layer of cake on a cake stand or serving plate. Top with approximately 2/3 cup of buttercream, spread evenly. Sprinkle 1/4 cup chopped honey walnuts over top. Repeat with remaining layers.

Frost and smooth the outside with a thin crumb coat. Chill for 20mins.

Frost and smooth the outside of the cake. Pipe a rope border along the top using a small star tip (I used #32).

Place honey glazed walnuts along the bottom as well as some on the top with some pieces of honeycomb if desired. Drizzle with honey.
Notes
* Wipe your mixer bowl and whisk down with lemon juice or vinegar to make sure it is completely grease free and make sure there is no trace of yolk in your whites or your meringue will not stiffen.
** The buttercream may look like it's curdled at some point. Keep mixing until it is completely smooth. If it looks soupy, place it in the fridge for 20mins and rewhip.
Honey Walnuts recipe from Melanie at Garnish & Glaze.
Calories:
718
kcal
Carbohydrates:
73
g
Protein:
7
g
Fat:
46
g
Saturated Fat:
28
g
Cholesterol:
160
mg
Sodium:
251
mg
Potassium:
220
mg
Fiber:
1
g
Sugar:
58
g
Vitamin A:
1400
IU
Vitamin C:
1
mg
Calcium:
93
mg
Iron:
1
mg
The nutritional information and metric conversions are calculated automatically. I cannot guarantee the accuracy of this data. If this is important to you, please verify with your favorite nutrition calculator and/or metric conversion tool.