This Raffaello Cake is a coconut lover's dream! Layers of moist and tender almond cake, coconut custard, and coconut Swiss meringue buttercream.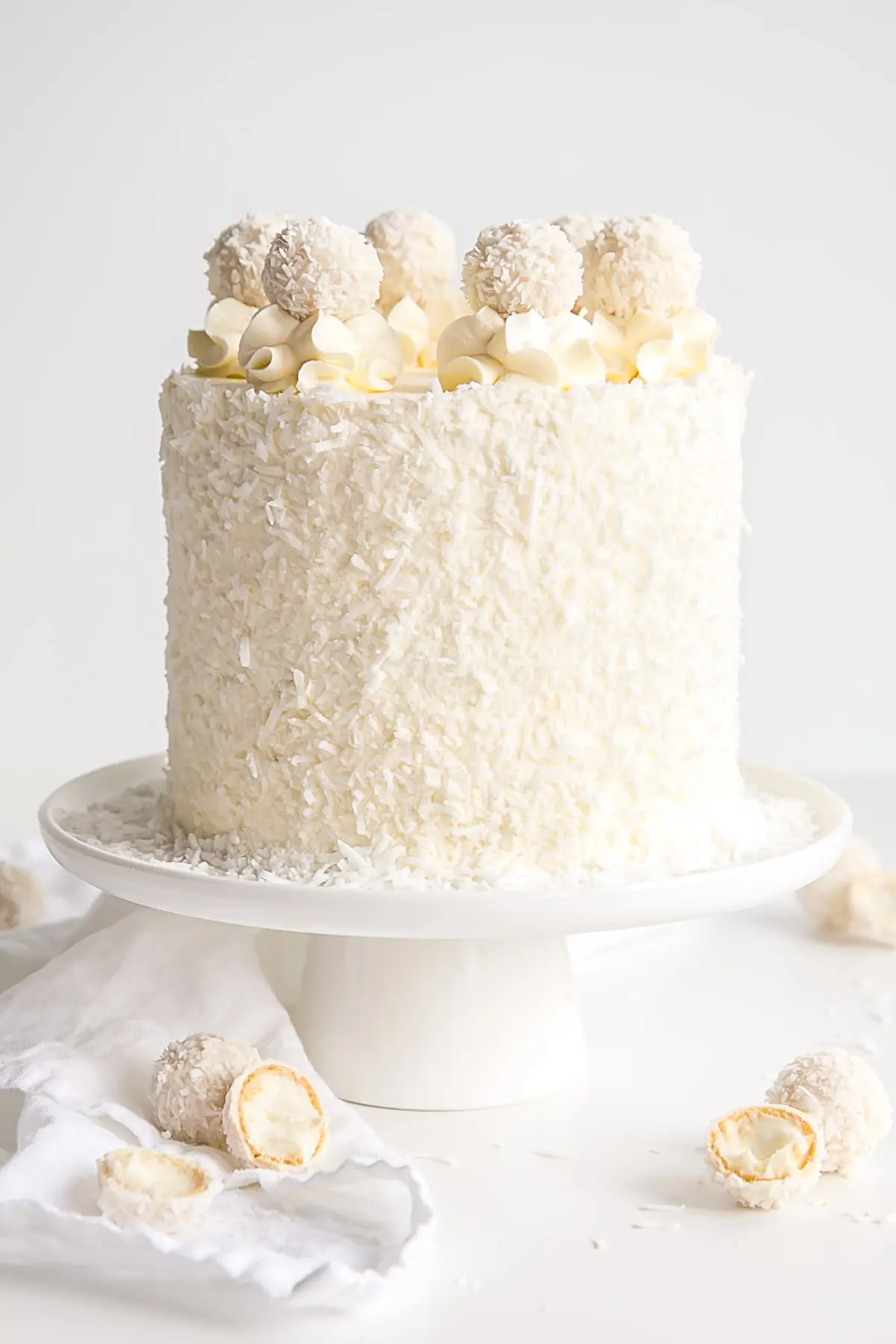 Ever do something a million times over, without issue, and then suddenly fail at it consecutively? It's happened to me before, with macarons (I've yet to go back to making them) and now suddenly with the meringue for this Raffaello Cake. I had to make the meringue three times, and it still wasn't perfect. Like, what is going onnnnn?! Infuriating.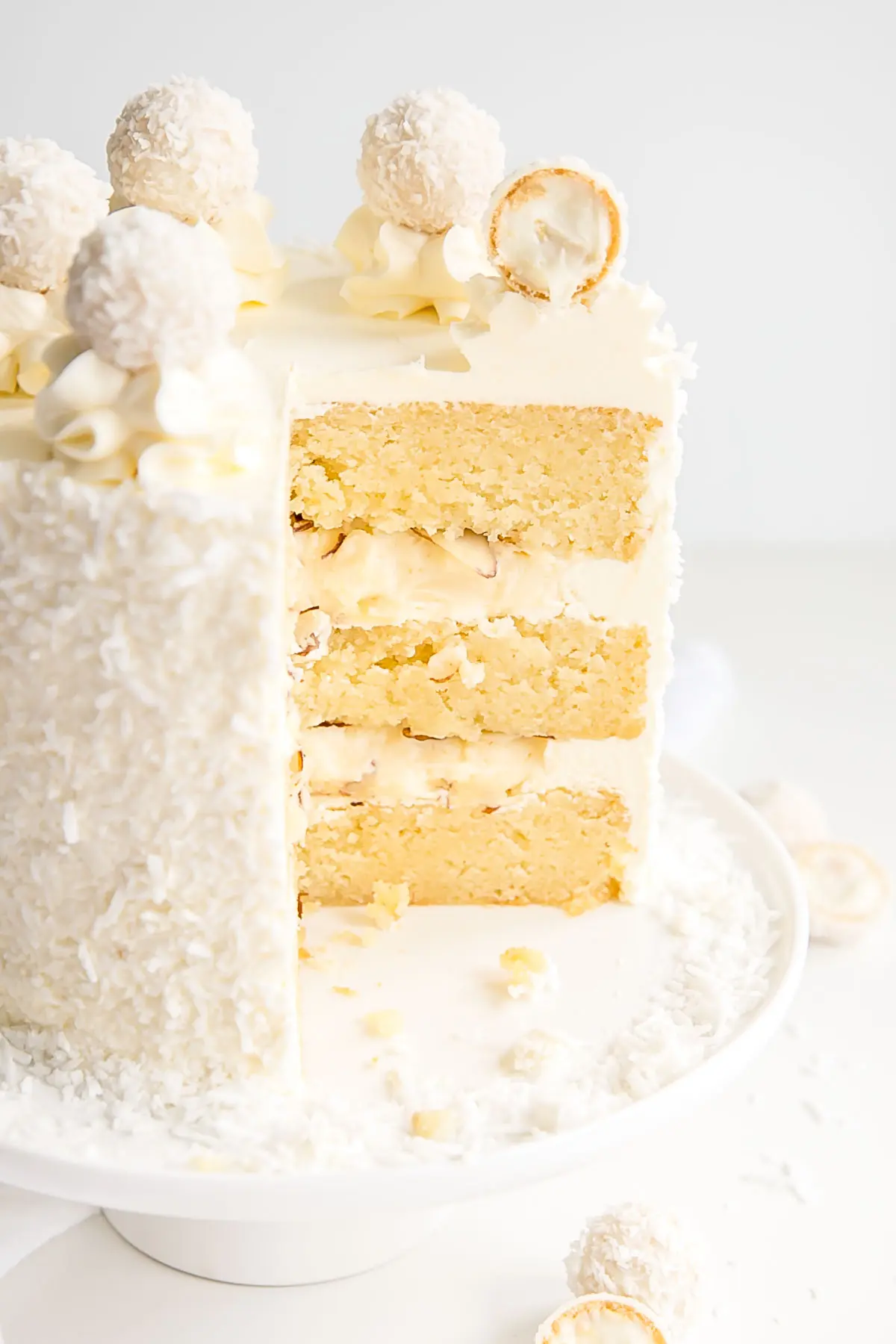 For some reason, my meringue kept turning out grainy and not completely stiff. The graininess speaks to the sugar granules not being totally dissolved during the double-boiler cooking process. I'll admit that the first time, it was my fault. I thought it was almost there and went with it. It wasn't there. The meringue was super hot (maybe hotter than it should have been), and I assumed the remaining few granules would dissolve while whipping. They did not. I had to scrap it all and start again.
The second time, I swore the sugar was dissolved, but it clearly wasn't. Basically, a repeat of the above.
The third time, I switched to using a larger pot, thinking that would help. The meringue was hot, and I didn't feel a single granule when I tested it three times, but sure enough, my meringue still had a bit of grit to it. WTH.
I don't understand. Is it the humidity? It was raining at the time, but that's not unusual for Vancouver. The only difference between this recipe and the ones I've been using recently is scale. I usually work with a larger batch of meringue, but this time I went back to a small batch (though one I've used countless times in the past, without issue). The only thing I can think is that there wasn't enough egg whites to sugar to dissolve it properly, or something. Though the recipe works completely fine if doubled, and has worked in the past. Anyhow, if you have any insight, I'm all ears.
Coincidentally, I ran out of buttercream (lol). No joke. So I should have made a bigger batch to begin with. Recipe has been adjusted accordingly.
Okay enough ranting, on to this Raffaello Cake!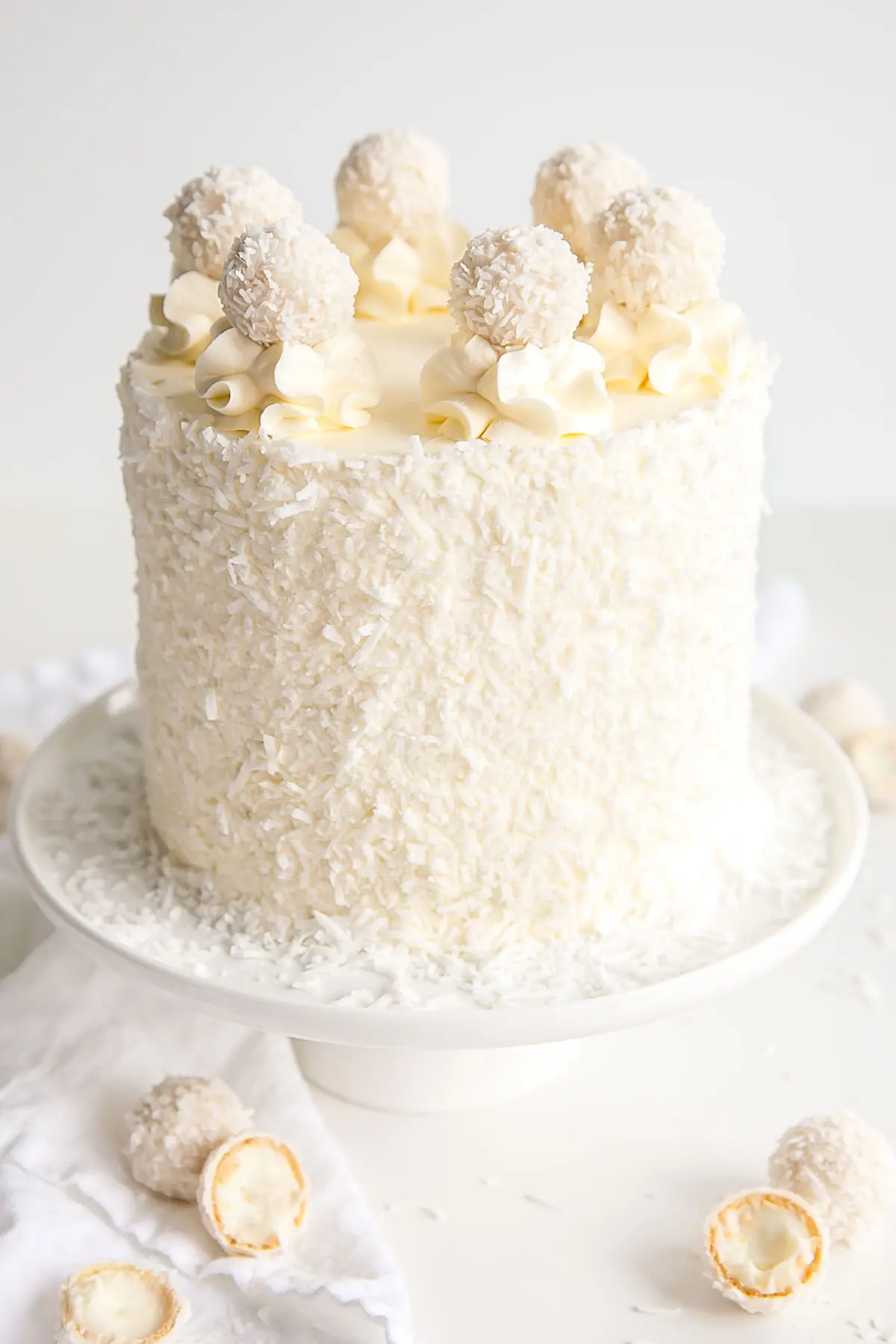 What is a Raffaello?
If you're a coconut fan and have never had a Raffaello in your life, you need to run (not walk) to the nearest store and get yourself some. You will not regret it. They are pure heaven!!
Raffaello is a coconut almond confection made by the Ferrero company. You may be familiar with its cousin, the Ferrero Rocher. The Raffaello contains no chocolate. It consists of a whole blanched almond surrounded by coconut cream in a crisp wafer shell, all covered in shredded coconut. Delicious right?
I'm not going to lie to you that I tried my first Raffaello only after I decided to make this cake. They're not as common as Ferrero Rocher's around here, and I had to track them down in one specific store. But I found them! And they're delicious. You have to be a coconut fan to truly appreciate them though, as that is the dominant flavor.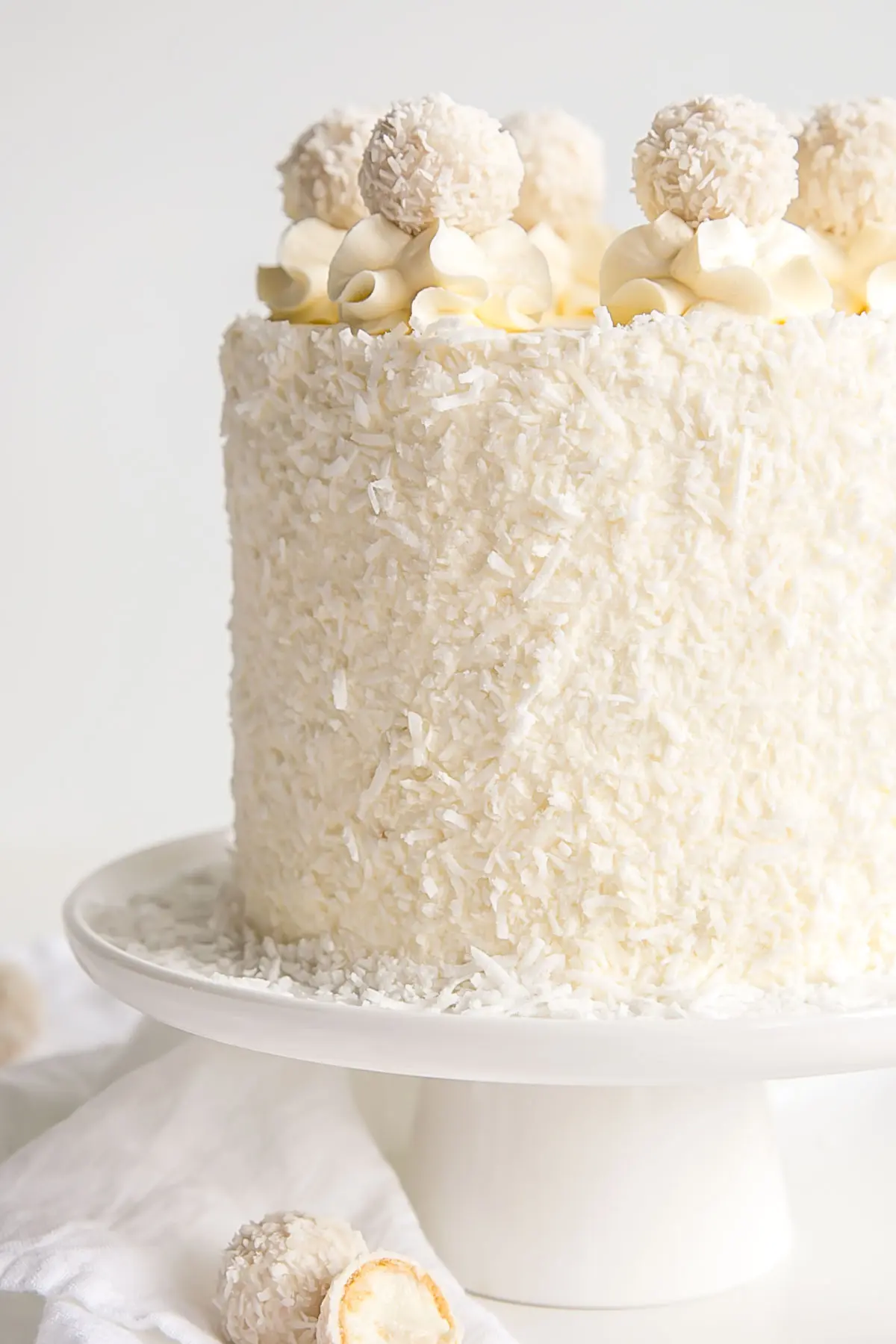 How do you make this Raffaello Cake?
My interpretation of a Raffaello in cake form is this:
Almond cake layers – made with almond flour and almond extract
Coconut custard – a pastry cream made with coconut milk (canned) instead of regular milk
Coconut almond Swiss meringue buttercream – made with coconut milk powder and a touch of almond extract
Sliced almonds for some crunch
The almond cake layers are one of my favorites. I lightly adapted my Almond Amaretto Cake to swap out the liqueur and use almond extract instead. You guys know I don't love to use extracts at all (outside of vanilla). They can taste strong and artificial, and that's often the case with almond extract. The key is to use a little bit. Like a fraction of what you'd use normally. That way, you get a hint of the flavor without being overpowering.
If you prefer to skip the extract, you can use amaretto liqueur instead (see Almond Amaretto Cake recipe for proportions), or skip it altogether and just use the almond flour.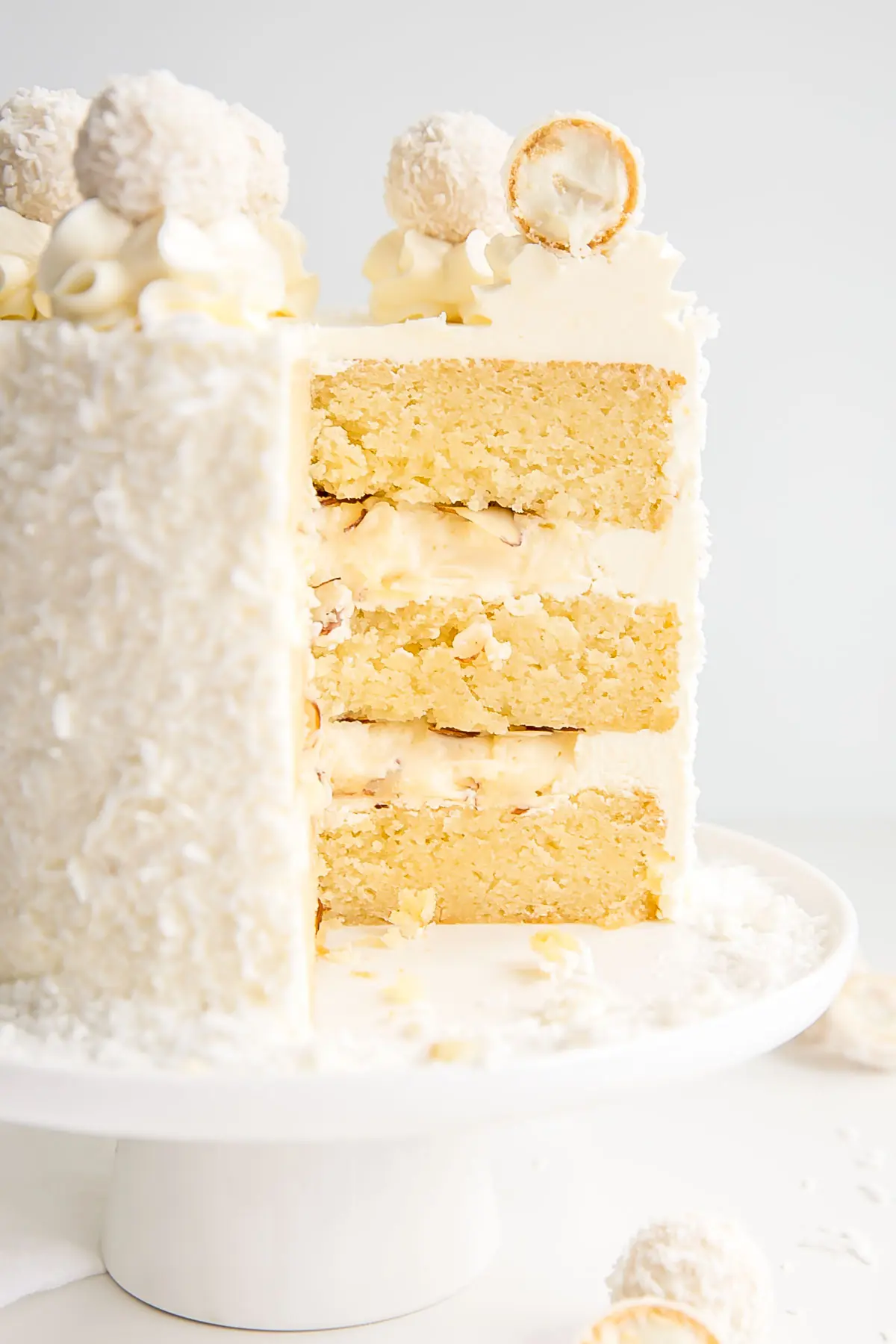 The coconut custard is simple to make. If you've made a pastry cream or pudding, then you know the process. The key here is to use canned coconut milk, not the stuff in the carton. The canned milk is much more flavorful. You'll need to shake the can well or give the milk a good whip if it's chunky though (mine was this time).
The coconut Swiss meringue buttercream is a favorite that I've used a couple times before. This time I added just a drop or two of almond extract to it for some additional flavor.
When assembling the cake, I chose to use natural sliced almonds rather than blanched, as I wanted a bit of contrast. Either works though.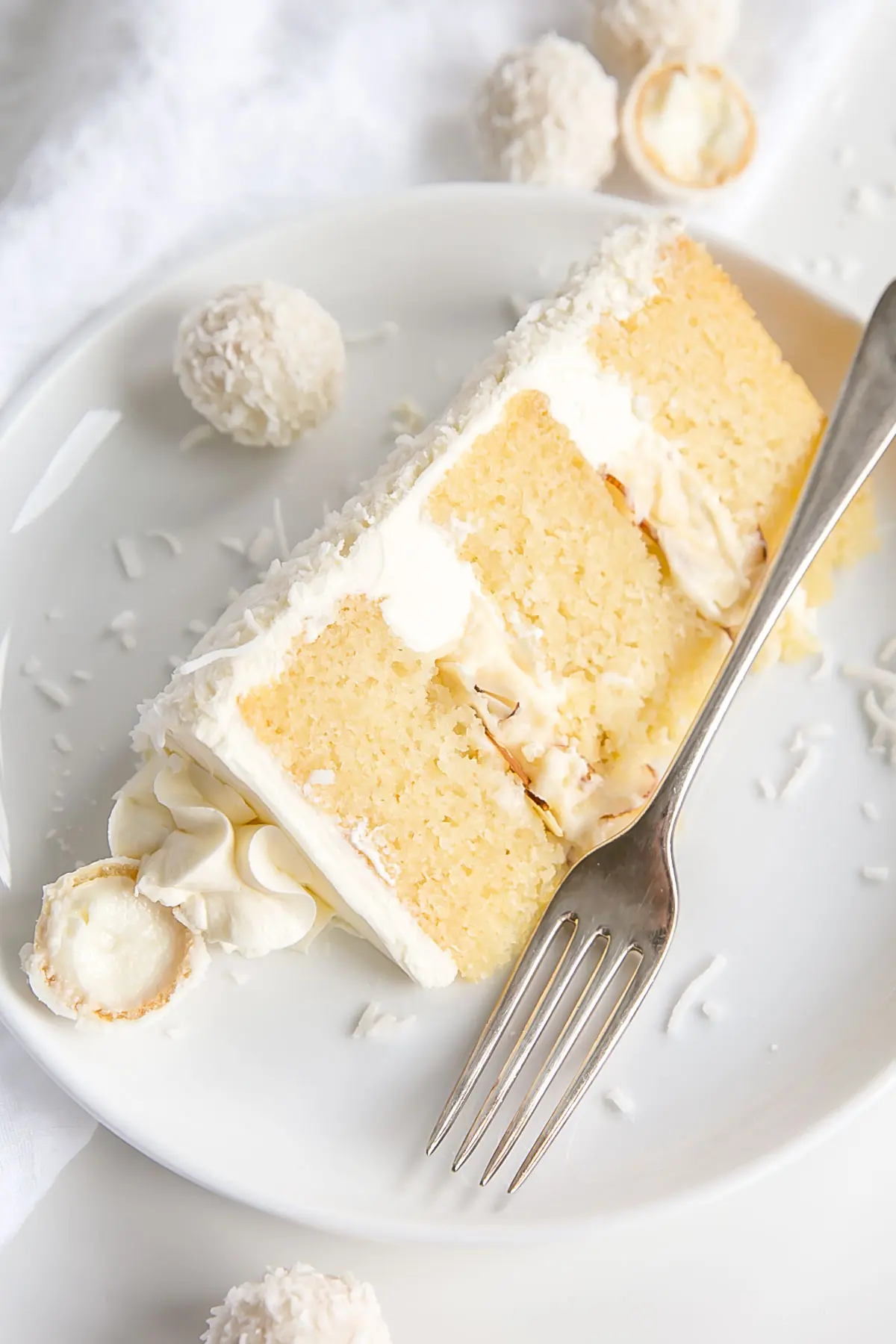 If you're a coconut fan, you will LOVE this cake. If you're a Raffaello fan, you need this cake in your life!!
Looking for more Coconut desserts?
Tips for making this Coconut Almond Cake
The recipe as-is will also work in two 8″ pans. For three 8″ pans 1.5x the recipe.
To make cupcakes, all you need to do is reduce the baking time — start checking at 15mins or so.
If you don't have almond flour and can't be bothered to buy it, you can just leave it out and increase the flour to 2 1/4 cups.
Be sure to use canned coconut milk for the custard, not the stuff in the carton. Either shake the can well or whisk the milk to get rid of any chunks first, before measuring.
The custard does not freeze well. You can store it in the fridge for a couple days, but do not attempt to freeze it or slices of the cake.
Go easy on the almond extract. It is very strong and can be very overpowering. In most cases, you need less than 1/4 tsp.
Be sure to check my

Swiss Meringue Buttercream

post for tips and troubleshooting.
Learn how to keep your cakes moist using Simple Syrup.
To help ensure your cake layers bake up nice and flat, check out my Flat Top Cakes post!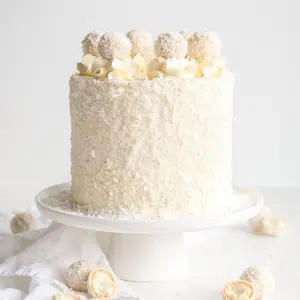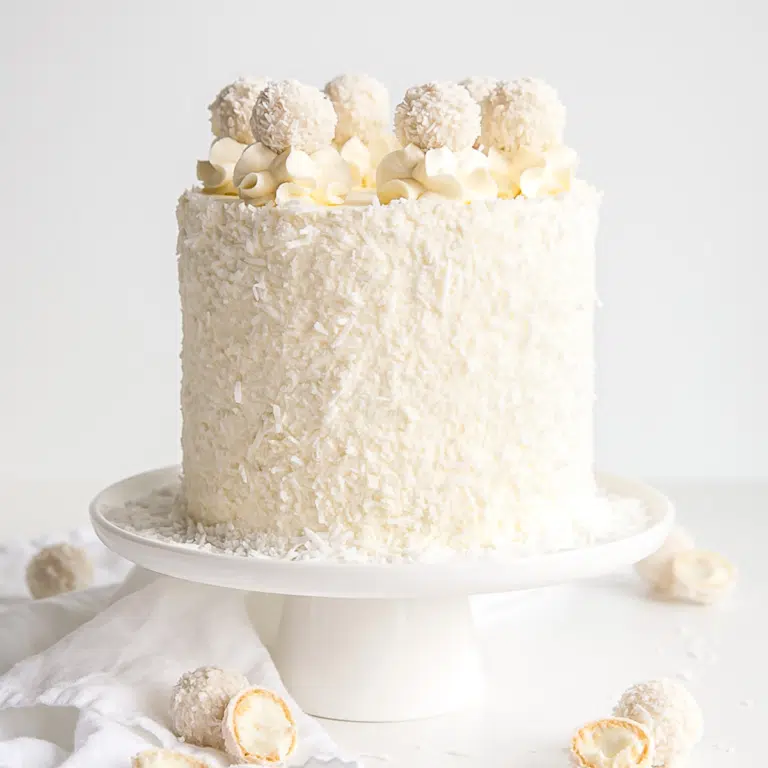 Raffaello Cake
This Raffaello Cake is a coconut lover's dream! Layers of moist and tender almond cake, coconut custard, and coconut Swiss meringue buttercream!
Ingredients
Instructions
Almond Cake:
Preheat oven to 350F. Grease and flour three 6″ cake rounds and line with parchment.

In a medium bowl, whisk flour, almond flour, baking powder,and salt until well combined. Set aside.

Using a stand mixer fitted with a paddle attachment, cream butter and sugar on med-high until pale and fluffy (approx 3mins). Reduce speed and add eggs one at a time fully incorporating after each addition. Add vanilla and almond extract.

Alternate adding flour mixture and milk, beginning and ending with flour (3 additions of flour and 2 of milk). Fully incorporating after each addition.

Bake for approx. 35mins or until a toothpick inserted into the center comes out mostly clean.

Place cakes on wire rack to cool for 10mins then turn out onto wire rack. Allow cakes to cool completely.
Coconut Custard (make in advance):
Place 3/4 cup coconut milk and vanilla into a medium saucepan. Cook over high heat, stirring often until it just starts to simmer. Remove from heat.

In a medium bowl, whisk remaining 1/4 cup coconut milk, egg yolk, sugar, and cornstarch.


While whisking vigorously, slowly pour the hot milk into the egg mixture.

Return mixture to saucepan and cook over high heat, whisking constantly, until it thickens and comes to a boil.




Pass through a strainer and into a small bowl. Place plastic wrap directly on top of custard to prevent a skin from forming. Cool to room temperature then place in refrigerator a couple hours to set.
Coconut Swiss Meringue Buttercream:
Place egg whites and sugar into the bowl of a stand mixer, whisk until combined.*

Place bowl over a pot with 1-2" of simmering water and stir constantly with a whisk until the mixture is hot and no longer grainy to the touch or reads 160F on a candy thermometer (approx. 3mins)

Place bowl on your stand mixer and whisk on med-high until the meringue is stiff and cooled (the bowl is no longer warm to the touch (approx. 5-10mins)).

Switch to paddle attachment. Slowly add cubed butter and mix until smooth.** Add coconut milk powder, almond extract and mix until smooth and fluffy.
Assembly:
Place one layer of cake on a cake stand or serving plate. Drizzle or brush with simple syrup (optional).


Do a thin coat of buttercream on the layer and pipe a dam around the edge using a large round tip to hold in the custard. Fill center with half of the custard (about 1/2 cup) and spread evenly. Sprinkle with about 2 Tbsp sliced almonds (more if you like). Repeat with next layer.

Top with final layer of cake. Frost and smooth the outside with a thin crumb coat. Chill for 20mins.

Frost the top and sides of the cake and pipe dollops on top using an Ateco or Wilton 1M tip, top each with a Raffaello if desired.


Gently press shredded coconut into the sides of the cake.
Notes
* Ensure there is no trace of egg yolks in your whites and that your mixer bowl and whisk is completely grease free or your meringue won't stiffen.
** The buttercream may look like it's curdled at some point. Keep mixing until it is completely smooth.
Calories:
730
kcal
Carbohydrates:
71
g
Protein:
8
g
Fat:
47
g
Saturated Fat:
28
g
Cholesterol:
161
mg
Sodium:
211
mg
Potassium:
230
mg
Fiber:
1
g
Sugar:
54
g
Vitamin A:
1185
IU
Vitamin C:
0.2
mg
Calcium:
101
mg
Iron:
2.1
mg
The nutritional information and metric conversions are calculated automatically. I cannot guarantee the accuracy of this data. If this is important to you, please verify with your favorite nutrition calculator and/or metric conversion tool.