My take on the traditional German Bee Sting Cake! Honey Almond cake layers filled with a light & fluffy Diplomat cream and garnished with almond praline.
I have been hesitant to post this recipe because the cake isn't quite up to my standards aesthetically. However, it IS delicious and that's really the most important thing so who am I to keep you from a yummy cake recipe just because I don't think it looks pretty enough??
I made this cake for my friend Crystal's birthday last month. Those of you that know me know that I don't bake cakes for people. I used to, but baking for others added stress and took all the fun out of it so I stopped. I don't even bake cakes for family, which maybe makes me a terrible person but when you make cakes for a living it's sometimes the last thing you want to do in your free time.
Thankfully my family is very understanding. Ryan didn't even get a cake for his birthday last year! I did make him his favorite Chocolate Chip Cookies though which he maybe liked even better.
Crystal has been bugging me to make a Bee Sting Cake for ages. It's one of her favorite cakes. I'd only had it for the first time in the last year at a local bakery.
In true Olivia fashion though, I wanted to tweak it and make it a bit different than the original. So mine is more "inspired by" rather than a traditional version.
What is Bee Sting Cake?
Bienenstich or Bee Sting Cake is a traditional German dessert consisting of a yeast-based sweet dough baked with a crunchy honey almond topping. The cake is then cut in half and filled with either a pastry cream, pudding, whipped cream, or diplomat cream.
The origins of this cake are said to date back to the 15th century in where a group of German bakers tossed beehives at invaders who were trying to raid their village. They celebrated the victory with the Bee Sting Cake.
I chose to make a non-traditional version of the Bee Sting Cake for a couple of reasons:
I don't enjoy baking with/eating yeast-based dough.
I wanted to do something different.
I find yeast-based cakes and pastries delicious, but only for a short time. They tend to dry out and go stale quickly and, if not eaten same day, lose their appeal. To me anyhow. It's easy enough to pop a day-old croissant into the oven for a refresh, but not so much a cream-filled cake.
So I decided to bake up a Honey Almond Cake that had most of the elements of a traditional Bee Sting Cake but in layer cake form.
For a truly authentic version of the Bee Sting Cake head on over to my friend Sabine's recipe here.
My layer cake version consists of:
Honey almond cake layers
Honey simple syrup
Diplomat cream
Almond praline
Honey Almond Cake
For my honey almond cake layers I modified my Honey Walnut Cake to use almond flour instead of walnut flour. Easy and delicious.
I made a honey simple syrup to brush on top of each layer for added flavor.
What is Diplomat Cream?
Diplomat cream is an incredibly delicious combination of pastry cream and whipped cream. It is a filling used in many desserts and pastries.
For those new to it, I have a detailed tutorial on How to Make Pastry Cream. It's basically a cooked custard/pudding made from eggs, milk, sugar, and cornstarch. I don't love the flavor of it in its pure form, but fold in some whipped cream and it's basically heaven.
Diplomat cream is soft. If you're going to use it as a filling for a cake you need to have some structure in there to hold it in.
Instead of using a buttercream or ganache dam to hold in the very soft Diplomat Cream, I decided to carve a little bit of the cake out to create a well for it to sit in. I did this to each of the cake layers and then inverted the top one so it held the filling in.
Alternatively, you could bake the cake layers in a tart pan with a raised center like this one. I only found that these existed recently.
One of my Instagram friends, René, happened to mention that she used a pan with a built-in "well" to hold in filling. Genius. Bonus is that the sides would be super pretty too and you could just leave those as is!
It would probably be best to use a ganache dam to hold in the filling. It would be most sturdy and you wouldn't have to trim any cake.
I didn't want to do this because I didn't want the white chocolate to affect (taint) the rest of the delicious cake! But it's something to consider.

Almond Praline
Oh-em-gee this stuff is good!! I'd call it crack but I'd have people coming after me for being offensive or not politically correct. Anyhow, it's delicious. And really easy to make!
All you need to do stir some toasted sliced almonds (toasting really adds a lot of flavor) into a caramel with some butter and spread them on a baking sheet to cool. Once cooled you break it all into shards (I used a kitchen mallet to do this).
For those of you that haven't made caramel before, I have a detailed tutorial on that too. Instead of adding butter & cream you add the almonds & butter.
My inspiration for decorating this cake came from my Creme Brulee Cake from a few years ago. I wanted to replicate that with the almond praline shards and I think it turned out great!
I hope you like my non-traditional version of the Bee Sting Cake. Though it's more rustic and not as pretty as most of my cakes I can assure you that it is completely delicious and totally worth it. Let me know if you give it a try!
Frequently Asked Questions
How can I convert this recipe?
The recipe as-is will also work in two 8″ pans. For three 8″ pans, 1.5x the recipe. Baking time may need to be adjusted.
To make cupcakes, all you need to do is reduce the baking time — start checking at 15mins or so. The recipe will make 18-24 cupcakes depending on size.
For other conversions go here.
Can I make it in advance?
The cooled cake layers can be baked ahead of time, double wrapped in plastic wrap, and frozen for up to 3 months. Take out 2-3 hours before assembly.
The diplomat cream does not keep well and should be used same day.
The almond praline can be stored in an airtight container at room temperature for two weeks.
Can I get the measurements by weight/grams?
There is a Metric option in the recipe card. If you click it it will convert everything to grams.
This conversion is done automatically and I cannot guarantee the accuracy but many readers have had success using the metric option for this recipe.
Tips for making this Honey Almond Cake
The Diplomat Cream is very soft. You will need to either do a buttercream/ganache dam to hold it in or create a well in the cake layers like I did.
See my How to Make Pastry Cream post for a detailed tutorial on that.
See my How to Make Caramel post for a tutorial on making the caramel for the praline.
I like to prepare my cake pans using

Homemade Cake Release

then line with parchment.
Learn how to keep your cakes moist using Simple Syrup.
To help ensure your cake layers bake up nice and flat, check out my How to Bake Flat Cake Layers post!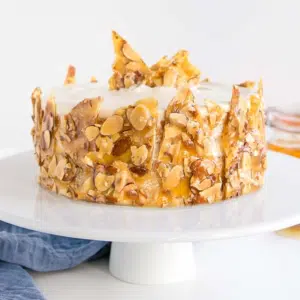 Honey Almond Cake with Diplomat Cream
My take on the traditional German Bee Sting Cake! Honey Almond cake layers filled with a light & fluffy Diplomat cream and garnished with almond praline.
Ingredients
Instructions
Honey Almond Cake:
Preheat oven to 350F. Grease and flour two 8" cake rounds and line with parchment.

In a medium bowl, whisk flour, almond flour, baking powder,and salt until well combined. Set aside.

Using a stand mixer fitted with a paddle attachment, cream butter and sugar on med-high until pale and fluffy (approx 3mins). Reduce speed and add eggs one at a time fully incorporating after each addition. Add vanilla, honey, and almond extract and mix until combined.

Alternate adding flour mixture and milk, beginning and ending with flour (3 additions of flour and 2 of milk). Fully incorporating after each addition.

Bake for approx. 30mins or until a toothpick inserted into the center comes out mostly clean.

Place cakes on wire rack to cool for 10mins then turn out onto wire rack. Allow cakes to cool completely.
Honey Almond Syrup:
Place honey, almond extract, and water into a small pot. Stir and bring to a simmer. Cool completely.
Pastry Cream:
Place 3/4 cups milk and vanilla bean paste into a medium saucepan. Cook over high heat, stirring often until it just starts to simmer. Remove from heat

In a medium bowl, whisk remaining 1/4 cup milk, egg yolks, sugar, and cornstarch.

While whisking vigorously, slowly pour the hot milk into the egg mixture.

Return mixture to saucepan and cook over high heat, whisking constantly, until it thickens and comes to a boil.

Pass through a strainer and into a bowl. Place plastic wrap directly on top of custard to prevent a skin from forming.

Cool to room temperature then place in the refrigerator for a couple of hours to set.

Go here for a detailed tutorial on How to Make Pastry Cream but follow ingredient amounts listed with this Honey Almond Cake.
Diplomat Cream:
Whip cream until soft peaks (ideally in a cold bowl with a cold whisk). Add powdered sugar and skim milk powder and whip until stiff peaks.

Remove plastic wrap from top of pastry cream. Whip by hand with a whisk until smooth.

Fold 1/2 cup whipped cream into the pastry cream until smooth. Fold in the rest of the whipped cream until smooth.

Chill for 30-60mins in the fridge.
Almond Praline:
Line a sheet pan with parchment, set aside.

Place sugar and water into a medium saucepan over high heat. Stir to combine and until sugar dissolves. Do not stir from this point forward. Use a pastry brush to wash down the inside of the pot occasionally to prevent sugar from crystalizing.

Cook sugar, swirling pot occasionally until desired color of caramel is reached (10-15 minutes).

Remove from heat and add the butter and almonds. Stir to combine and immediately pour onto baking sheet and spread evenly as best as possible. Cool completely (about 30mins).

Once the praline has cooled and set use a kitchen mallet or similar to break sugar into shards.
Assembly:
Carve a circle 1/2" deep in each cake layer to hold in the filling. I used a 6" cake round as a template, placed that on top, and cut around it. Alternatively, you can do a white chocoalte ganache dam around the edge to hold in the filling. Generously brush the cake layers with honey almond syrup.

Place one cake layer on a cake stand or serving plate. Sprinkle with 1/2 cup of toasted sliced almonds.

Fill the center with Diplomat cream so that it domes. Sprinkle more toasted almonds over top. Invert the second layer and place it carved side down on top of the dome (it's ok if some diplomat cream squeezes out).

Frost and smooth the outside of the cake in a rustic manner with remaining diplomat cream Chill for 30mins.

Place almond praline shards around the outside of the cake.

Diplomat cream will not keep very long. Store cake in the fridge and ideally serve same day.
Calories:
727
kcal
Carbohydrates:
97
g
Protein:
12
g
Fat:
36
g
Saturated Fat:
14
g
Trans Fat:
1
g
Cholesterol:
119
mg
Sodium:
197
mg
Potassium:
374
mg
Fiber:
4
g
Sugar:
77
g
Vitamin A:
774
IU
Vitamin C:
1
mg
Calcium:
193
mg
Iron:
2
mg
The nutritional information and metric conversions are calculated automatically. I cannot guarantee the accuracy of this data. If this is important to you, please verify with your favorite nutrition calculator and/or metric conversion tool.