The ultimate Hazelnut Cake! All-natural hazelnut flavor in the cake layers and frosting. A simple and delicious combination.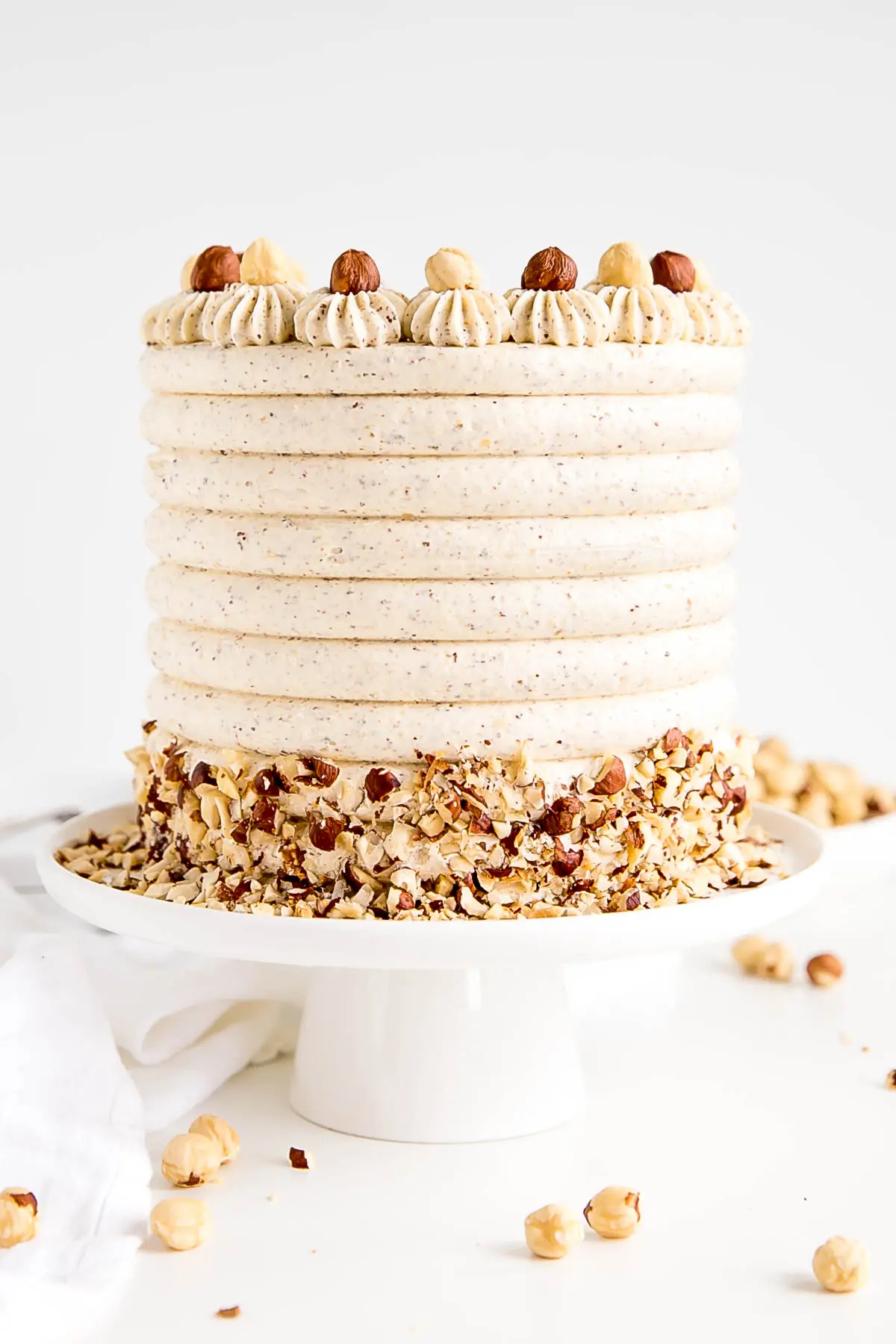 I bought WAY too many hazelnuts. Like, so many.
In hindsight, I don't know what I was thinking. Especially since I already had not one, but TWO bags of hazelnut flour because I forgot I already had one and bought another.
I had tossed around a couple of ideas of how I might decorate this Hazelnut Cake, but I'm pretty sure none would have required a 2+lb bag of $30 hazelnuts.
I don't even like hazelnuts!
True story. But I do love nut-based cakes like my Almond Amaretto Cake and my Baklava Cake that uses walnuts in the cake layers. The nuts add delicious flavor and texture to cakes so making a Hazelnut Cake was a no-brainer.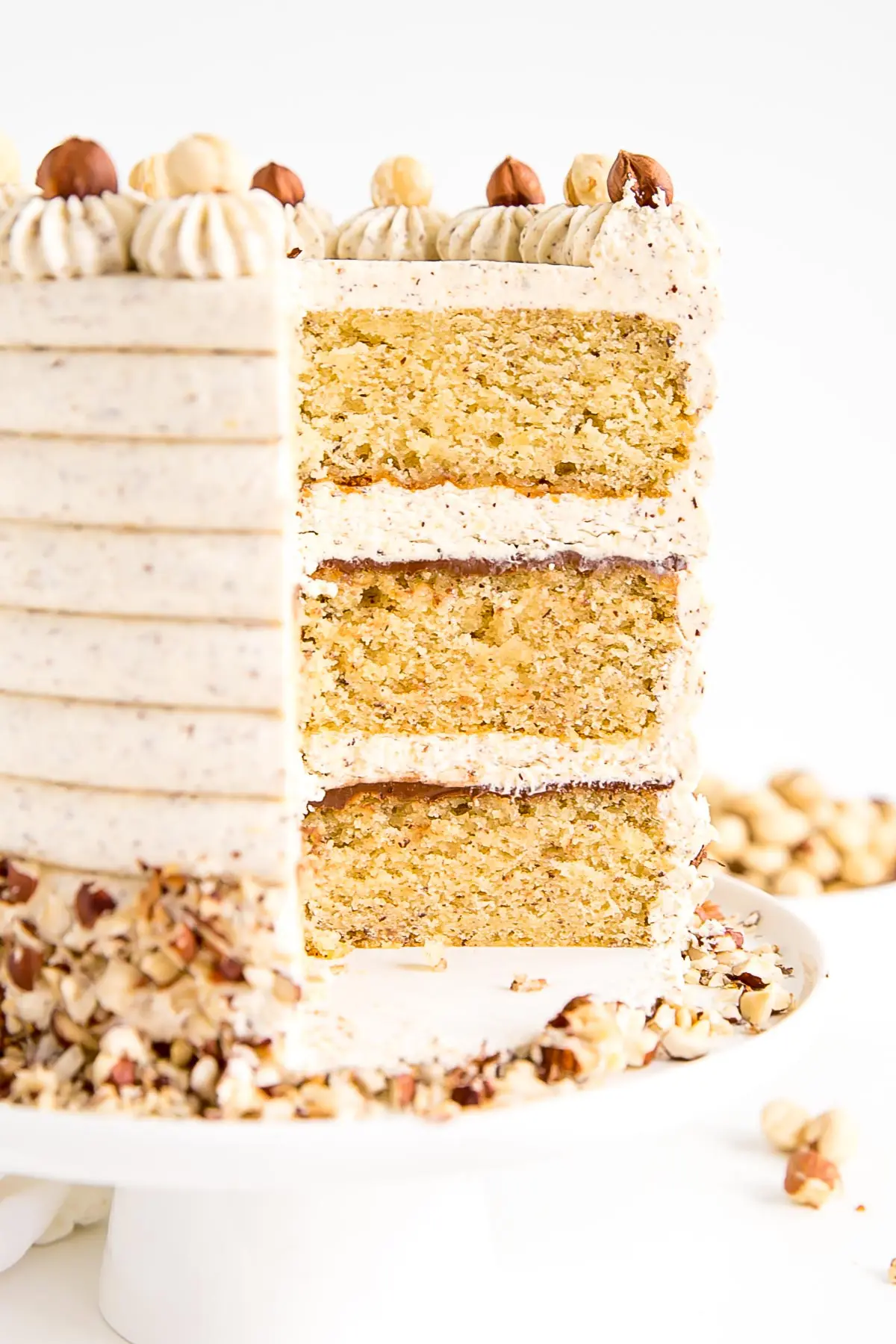 How to Make this Hazelnut Cake
I used store-bought hazelnut flour for the cake layers. It's like almond flour, but hazelnut. It's not super cost-effective, I'm not going to lie.
You can easily make your own hazelnut flour by pulverizing some toasted, skinned hazelnuts in a food processor until you get a fine powder. You can sift out any larger chunks then measure the amount you need. I am lazy though so I just bought the flour.
Cake Tip!
Be sure not to over-process the nuts as it will eventually turn into hazelnut butter (like peanut butter).
To make this cake I simply replaced some of the regular all-purpose flour in my standard Vanilla Cake recipe with hazelnut flour.
The cakes smelled heavenly!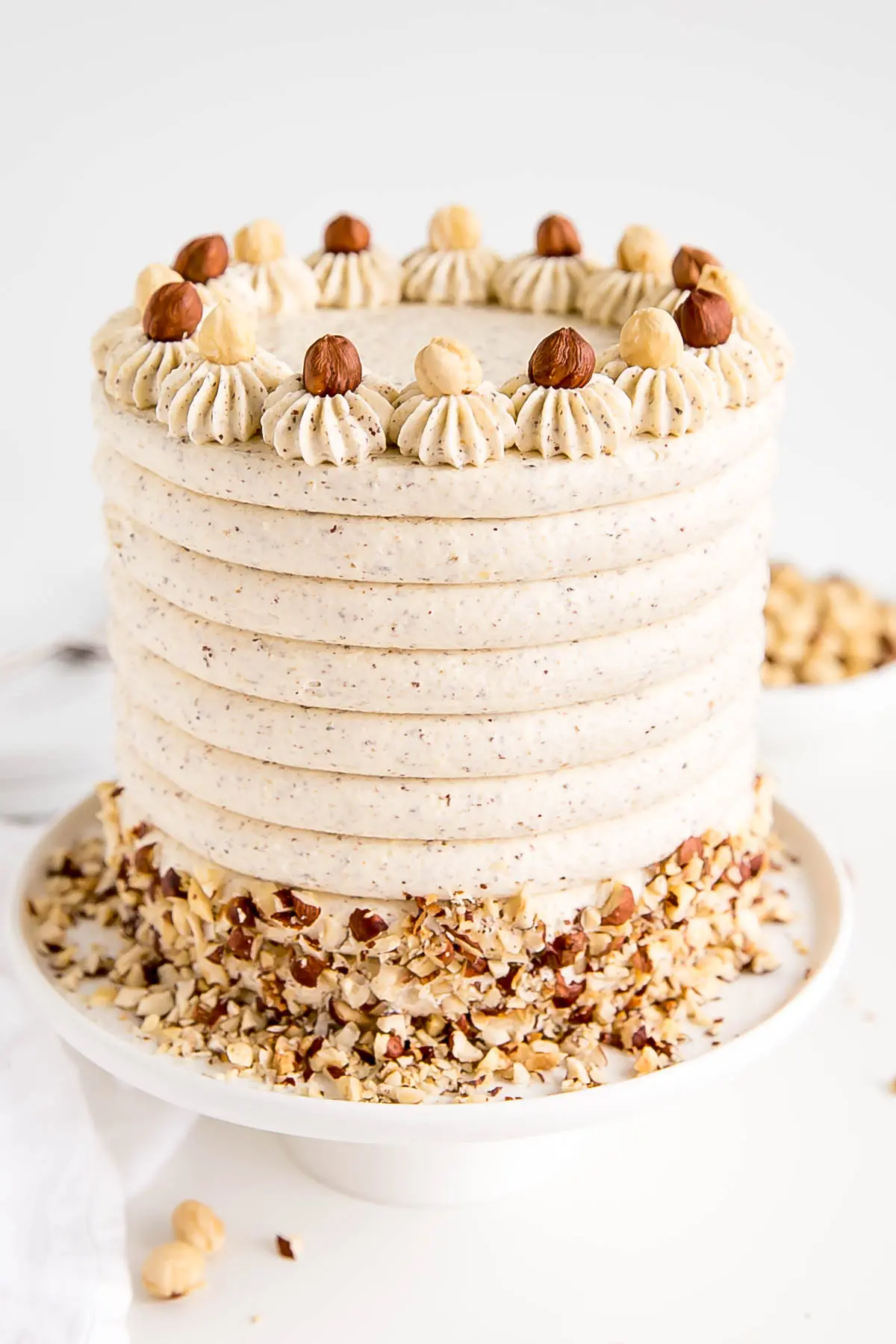 Hazelnut German Buttercream
I used my German Buttercream as a frosting for this cake, but you could use any buttercream you like and just add hazelnut flour to it.
To me, the German buttercream seemed like a perfect fit. It's light, fluffy, not too sweet, and just delicious. I have a detailed tutorial on How to Make German Buttercream, so be sure to check that out if you try it. It's not difficult at all, just a bit time intensive.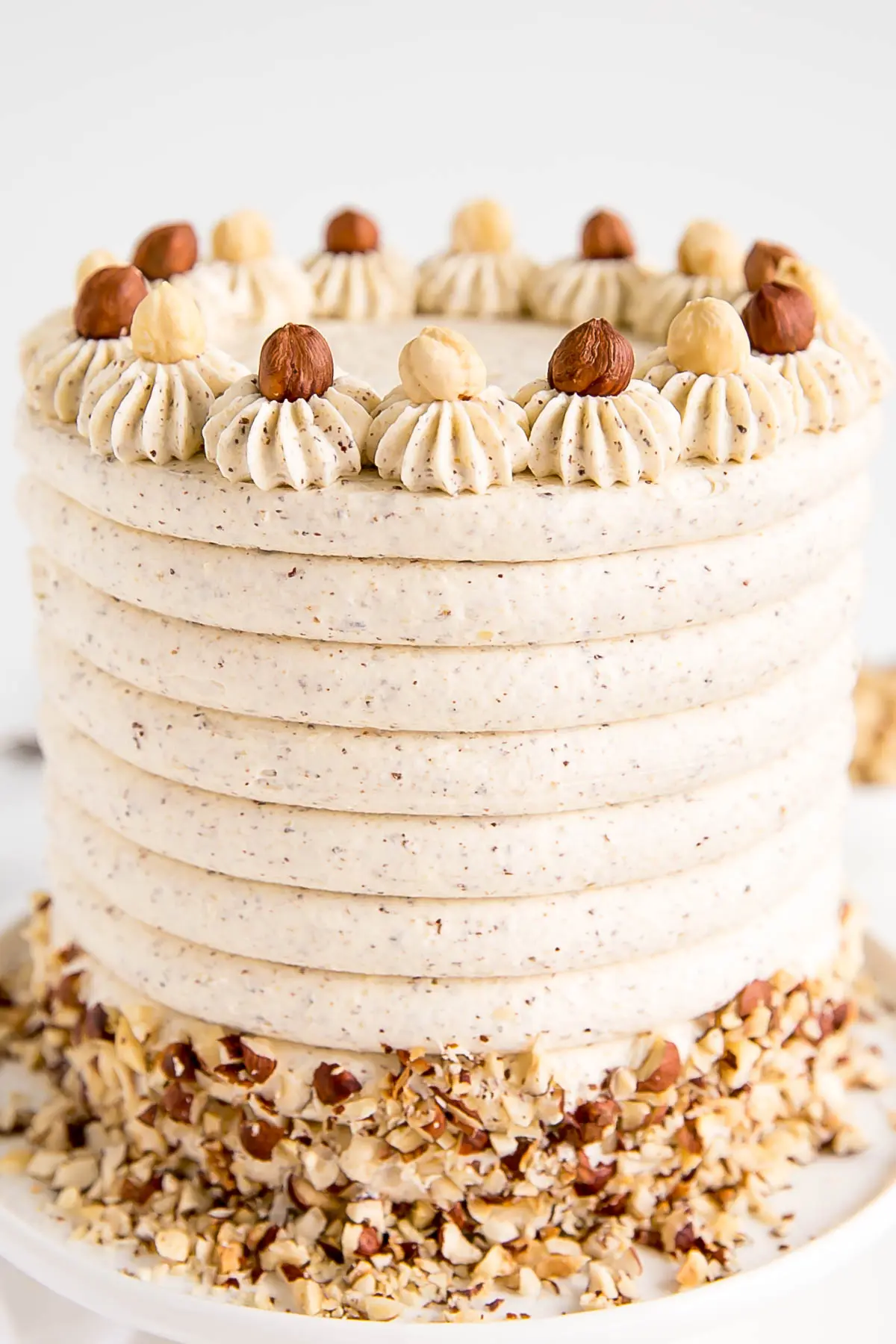 I kept adding hazelnut flour to the buttercream until I was satisfied with the flavor. You can add more or less if you like. I love the flecks throughout the frosting.
I added a schmear of Nutella on top of each cake layer as I was assembling the cake because why not?? This is optional but adds a yummy chocolate hazelnut flavor.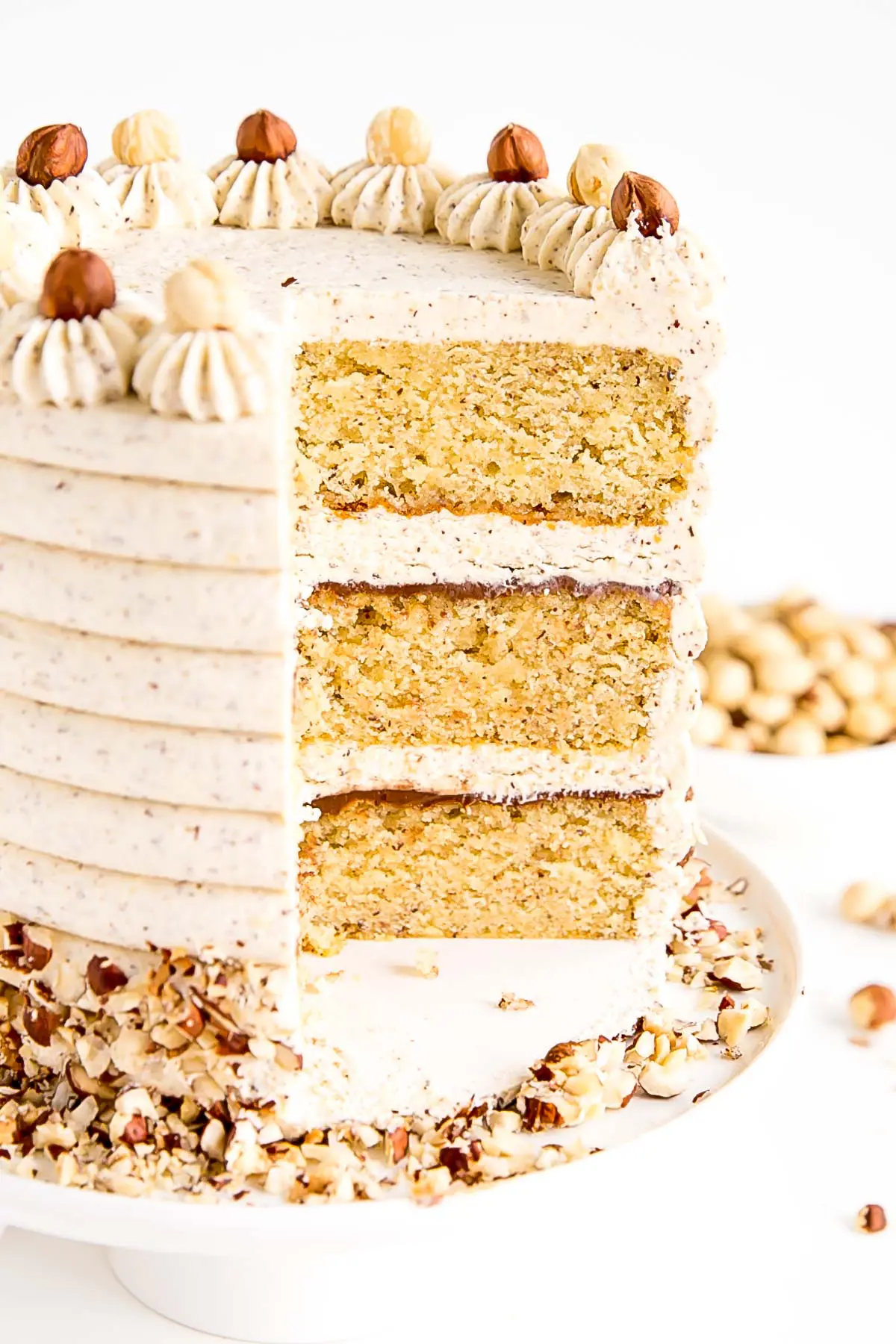 Decorating Tips
The initial reason I bought so many hazelnuts was because I thought I would decorate the cake somehow with candied hazelnuts. Like I did with this Nutella Hazelnut Cake.
That cake is one of my very first recipes and could probably use a refresh, but it is a much-loved recipe. Candied hazelnuts are a stunning way to garnish any dessert and they are surprisingly easy to make!
Check out my Candied Hazelnut tutorial for details.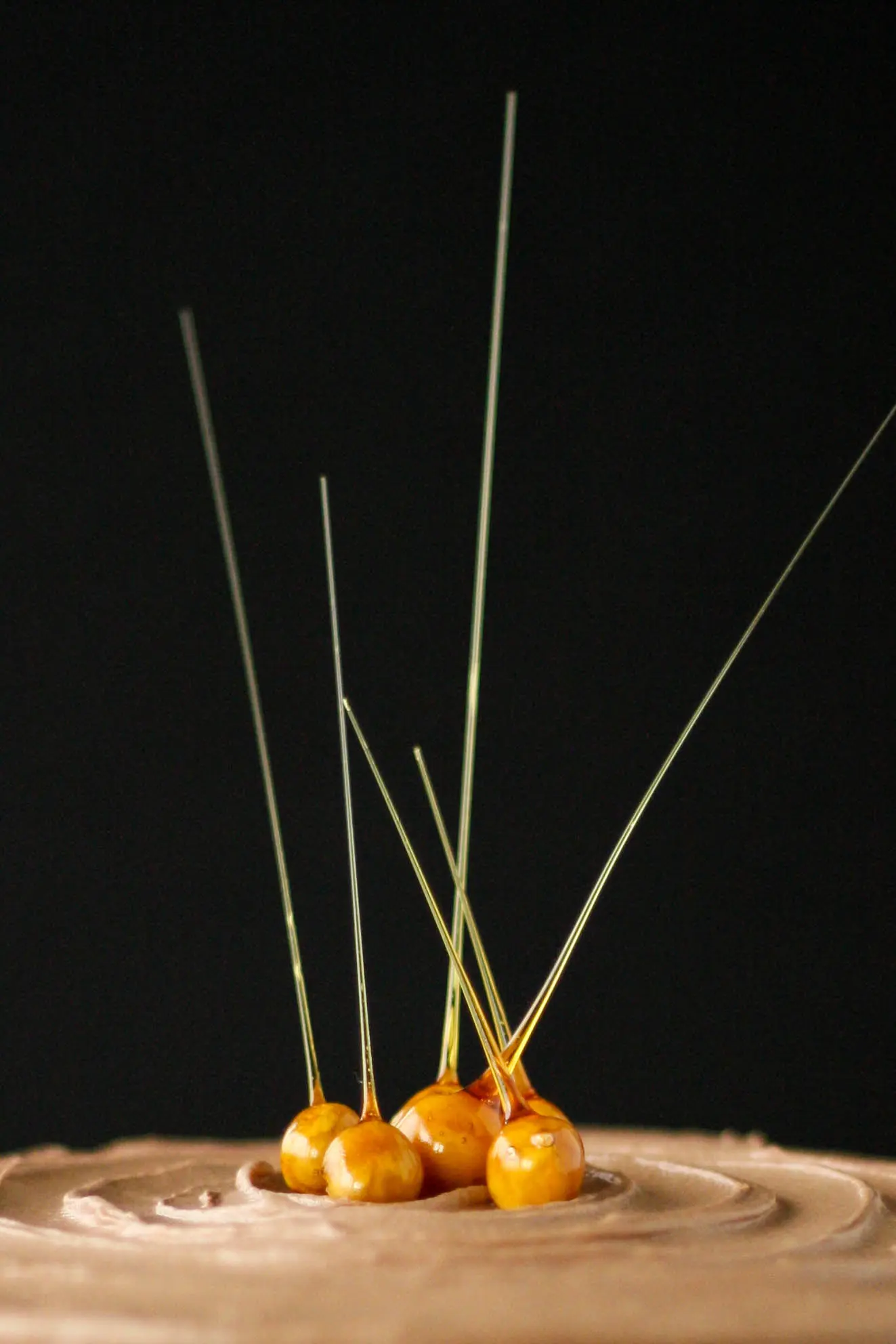 Thing is, they don't last long. As with any sugar-based garnish, they will start to melt. The more humidity, the faster the sugar melts/gets sticky. It has been super hot and humid here so I just figured that was a recipe for disaster all around.
If you do decide to make them. I recommend making them shortly before serving the cake and definitely do not put them in the fridge.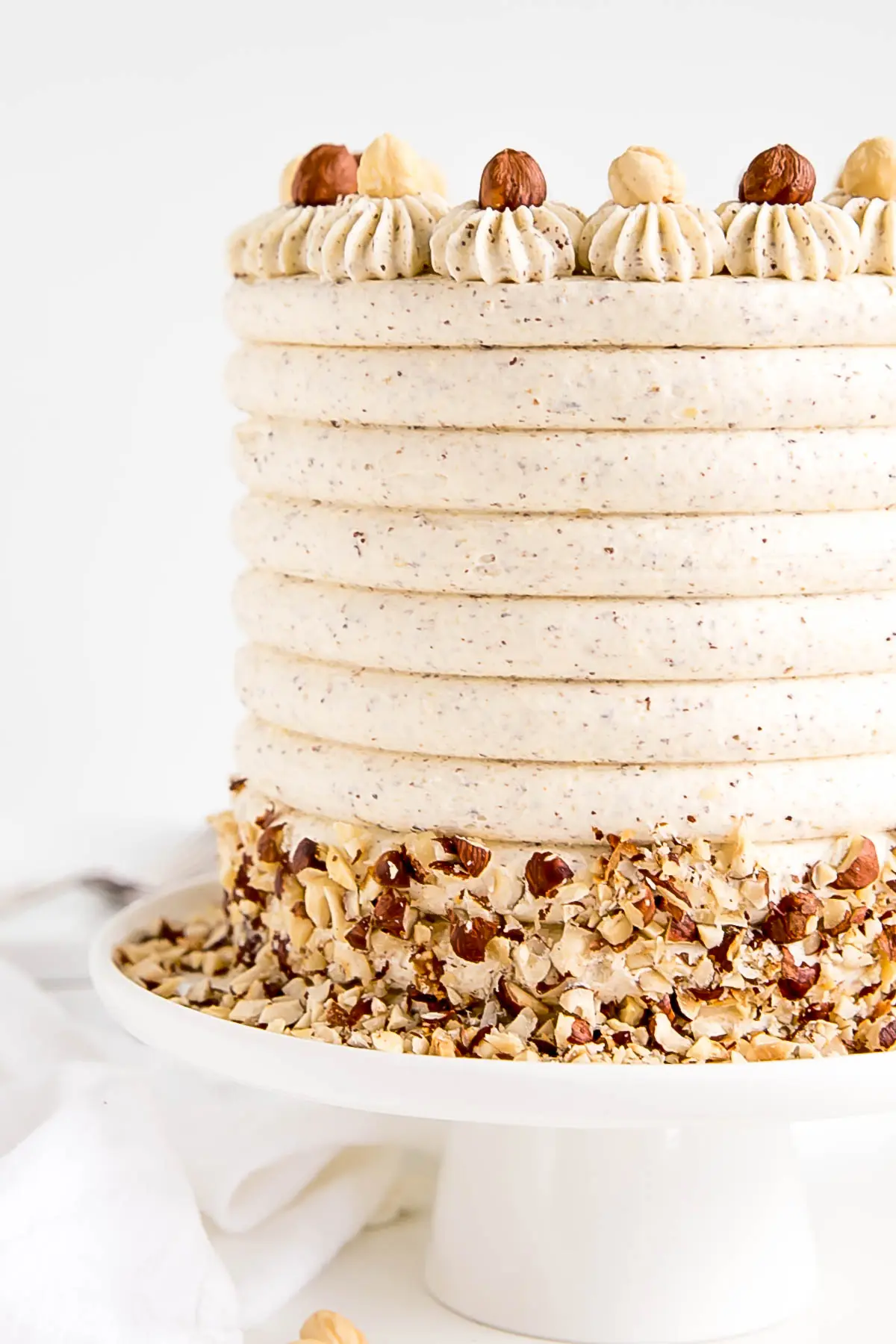 I decided to decorate the cake with one of my favorite cake combs. I used the left side of the right cake comb from this set.
You'll want a rather thick layer of frosting around the outside of the cake if you're going to be using a cake comb and it might take a few passes (and some patching) to get it perfect, but it's really a very simple way to add a stunning impact to your cakes.
I topped it off with some simple buttercream dollops using a 6B piping tip and topped each one of those with alternating skinned and unskinned hazelnuts.
I think it makes for a pretty effect. Finished it off with some chopped hazelnuts pressed along the bottom.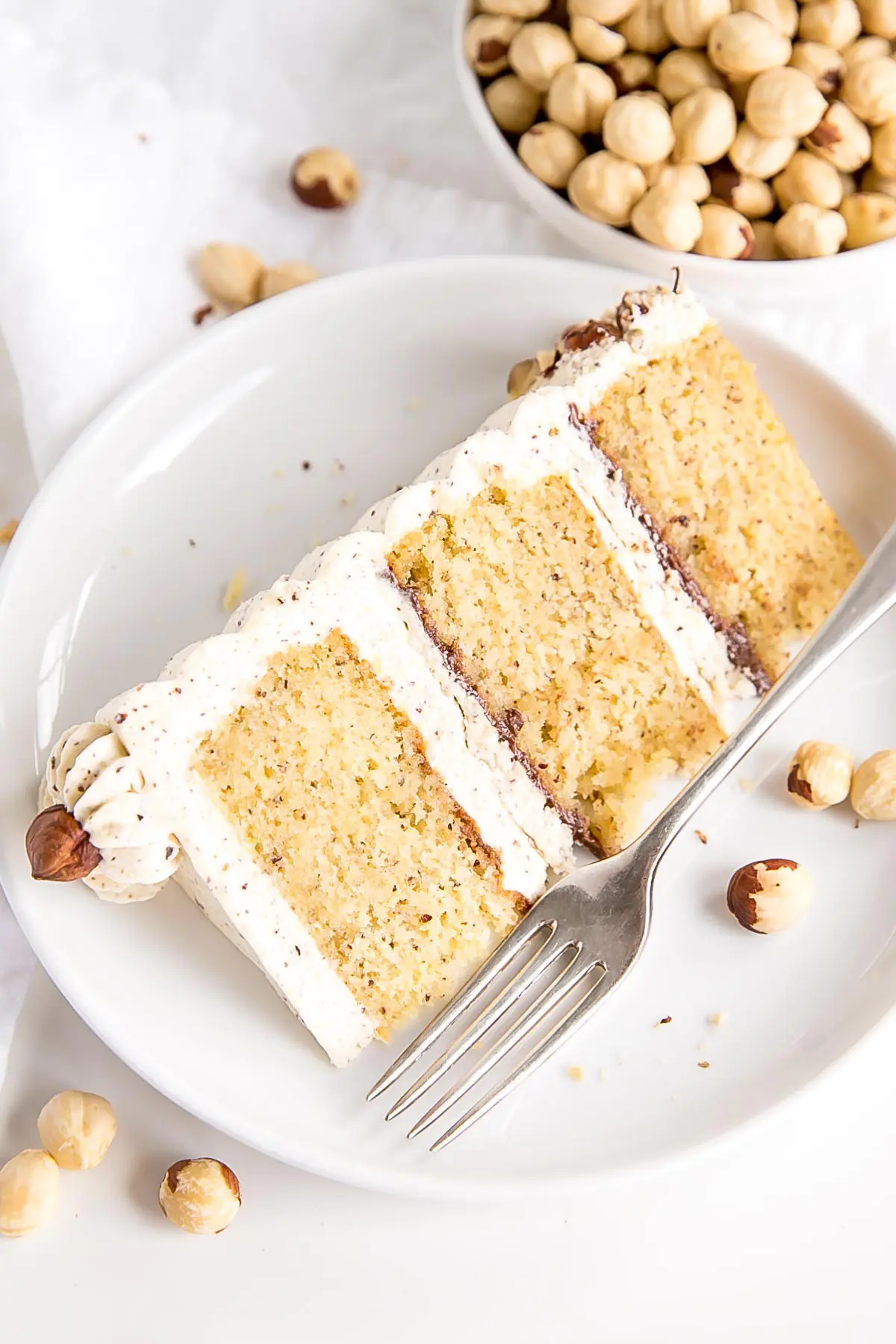 This Hazelnut cake has a wonderful hazelnut flavor throughout. The texture of the cake and buttercream are perfect together. If you're a hazelnut fan or have one in your life, you need to try this cake!
Looking for more nut-based cakes?
Frequently Asked Questions
How can I convert this recipe?
The recipe as-is will also work in two 8″ pans. For three 8″ pans, 1.5x the recipe. Baking time may need to be adjusted.
To make cupcakes, all you need to do is reduce the baking time — start checking at 15mins or so. The recipe will make 18-24 cupcakes depending on size.
For other conversions go

here

. Bake time may vary depending on pan size.
Baking time will vary if you change the pan size. Every oven is different so I can't say for certain what you'll need to adjust it to. Be sure to check on the cakes while they are baking.
Can I make it in advance?
The cooled cake layers can be baked ahead of time, double wrapped in plastic wrap, and frozen for up to 3 months. Take out 2-3 hours before assembly.
The frosting can be placed in an airtight container and refrigerated for 1 week or frozen for 3 months. Bring to room temp and rewhip before using.
The finished cake (whole or sliced, stored airtight) can be frozen for up to 3 months.
Can I get the measurements by weight/grams?
There is a Metric option in the recipe card. If you click it it will convert everything to grams.
This conversion is done automatically and I cannot guarantee the accuracy but many readers have had success using the metric option on my recipes.
Tips for Making this Hazelnut Cake
Hazelnut Cake
Hazelnut Cake layers made with ground hazelnuts paired with delicious hazelnut buttercream and decorated with chopped toasted hazelnuts.
Ingredients
Hazelnut German Buttercream:
Assembly:
4

Tbsp

Nutella

optional

whole and chopped hazelnuts
Instructions
Hazelnut Cake:
Preheat oven to 350F. Grease and flour three 6″ cake rounds and line with parchment.

In a medium bowl, whisk flour, hazelnut flour, baking powder, and salt until well combined. Set aside.

Using a stand mixer fitted with a paddle attachment, cream butter and sugar on med-high until pale and fluffy (about 3mins). Reduce speed and add eggs one at a time fully incorporating after each addition. Add vanilla.

Alternate adding flour mixture and milk, beginning and ending with flour (3 additions of flour and 2 of milk). Fully incorporating after each addition.

Bake for about 30-35mins or until a toothpick inserted into the center comes out mostly clean.

Place cakes on wire rack to cool for 10mins then turn out onto wire rack. Allow cakes to cool completely.
Hazelnut German Buttercream:
Place 1 1/2 cups milk and the vanilla into a medium saucepan. Cook over high heat, stirring often until it just starts to simmer. Remove from heat.

In a medium bowl, whisk remaining 1/2 cup milk, egg yolks, sugar, and cornstarch.

While whisking vigorously, slowly pour the hot milk into the egg mixture.

Return mixture to saucepan and cook over high heat, whisking constantly, until it thickens and comes to a boil.

Pass through a strainer and into a bowl. Place plastic wrap directly on top of the custard to prevent a skin from forming.

Cool to room temperature then place in the refrigerator for a couple hours to set. Bring to room temperature before using in buttercream.

Ensure pastry cream and butter are at room temperature. Whisk pastry cream by hand until smooth.

Using a stand mixer or hand mixer, beat the butter on high until pale and fluffy (3 mins). Add the room temperature custard 1 Tbsp at a time, incorporating well after each addition. Add Hazelnut flour 1/4 cup at a time.

Taste, add sifted powdered sugar if desired. Beat for 2-3mins until smooth and fluffy.
Assembly:
Place one layer of cake on a cake stand or serving plate. Spread about 2 Tbsp Nutella on top of the cake layer. Top with approximately 2/3 cup of buttercream and spread evenly. Repeat with remaining layers.

Frost and smooth the outside with a thin crumb coat. Chill for 20mins.

Frost and smooth the outside of the cake, generously frosting the sides specifically. Smooth with an icing smoother. Use a cake comb on the sides of the cake. Repeat, scraping off more frosting each time, until smooth.

Press chopped hazelnuts around the bottom of the cake if desired.
Calories:
765
kcal
Carbohydrates:
62
g
Protein:
8
g
Fat:
55
g
Saturated Fat:
31
g
Cholesterol:
195
mg
Sodium:
201
mg
Potassium:
253
mg
Fiber:
2
g
Sugar:
43
g
Vitamin A:
1507
IU
Vitamin C:
1
mg
Calcium:
158
mg
Iron:
2
mg
The nutritional information and metric conversions are calculated automatically. I cannot guarantee the accuracy of this data. If this is important to you, please verify with your favorite nutrition calculator and/or metric conversion tool.