This Classic Vanilla Cake recipe pairs fluffy vanilla cake layers with a silky vanilla buttercream. The perfect cake for birthdays, weddings, and holidays!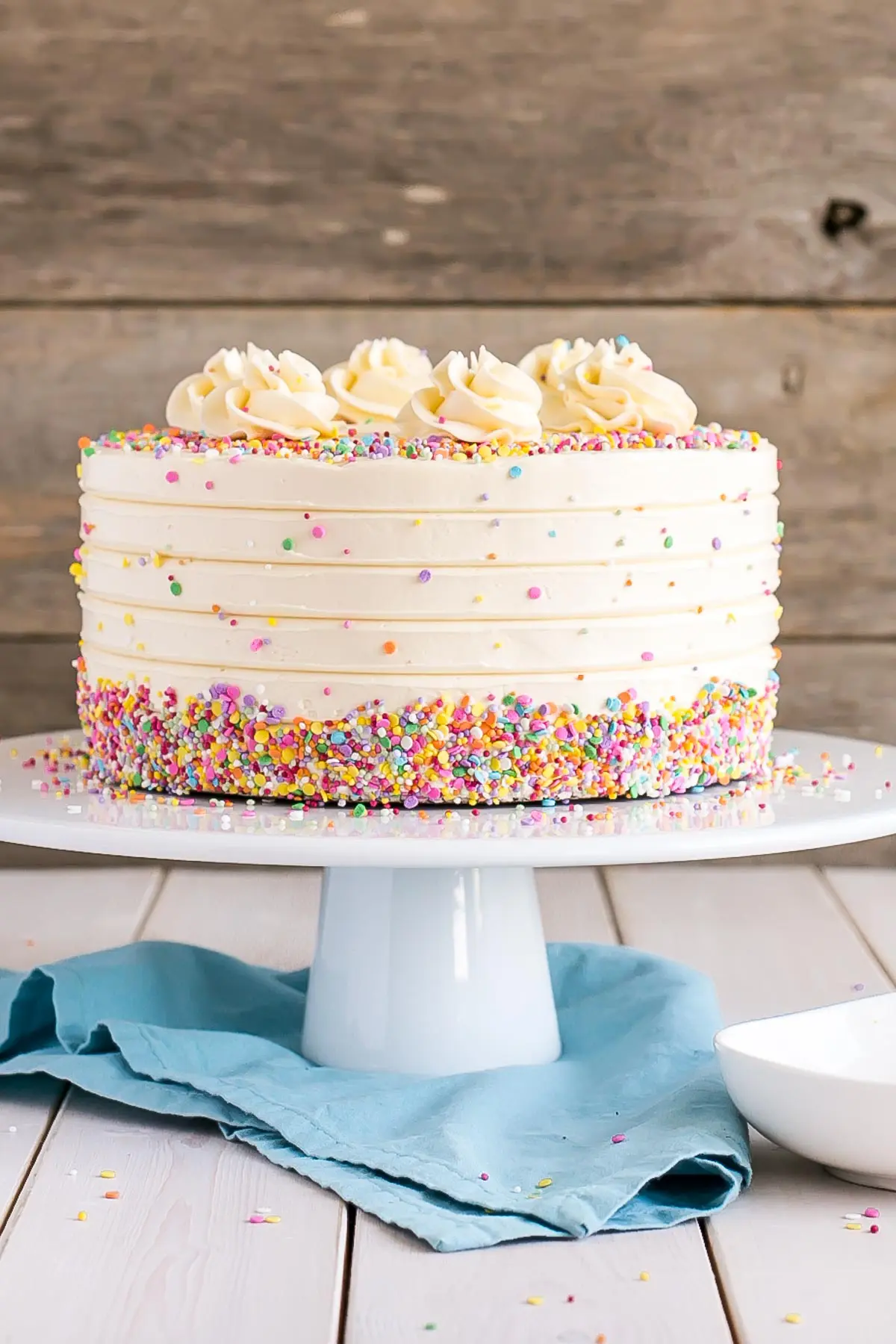 This classic Vanilla Cake is one of the most beloved recipes on Liv for Cake.
I always thought that there were so many of these recipes out there that I'd stick to more unique ones. But really, I think the world needs my version of this simple, classic, delicious flavor combination.
Truthfully, most of my cakes use this vanilla cake recipe, but I've never paired it with a vanilla buttercream.
I know it's easy enough for some people to grab a cake recipe from one post and a frosting recipe from another, but for those of us that are a little less comfortable mixing and matching for fear of epic failures, I'm putting it together for you into one recipe!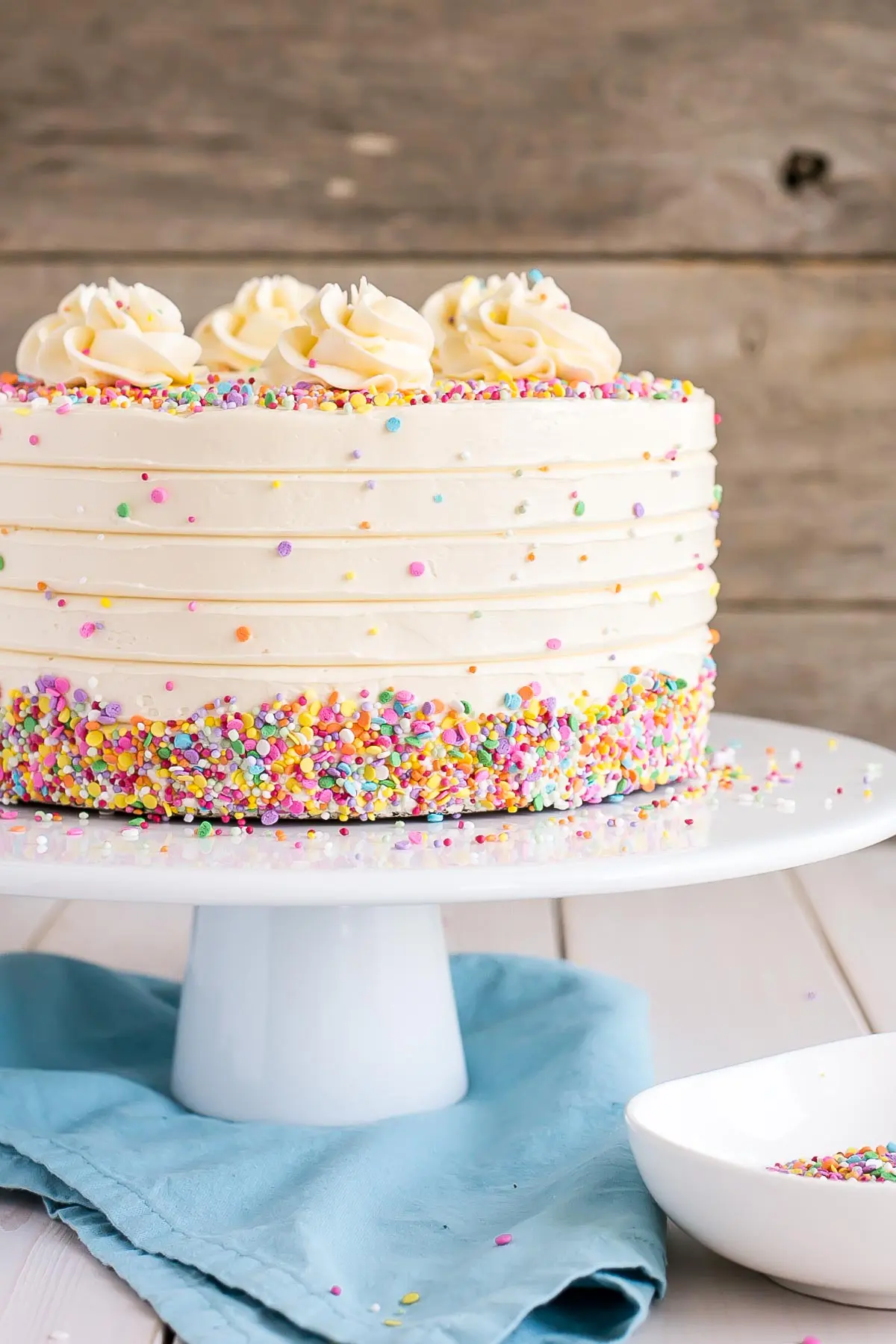 How to Make this Homemade Vanilla Cake
This vanilla cake recipe is the one I use as the base for all of my white/yellow cake-based recipes.
I've changed up the liquid like in this Pink Champagne Cake, the butter in this Brown Butter Cake, and sugars in this Chocolate Chip Cookie Cake, etc. to create different flavors. Some recipes require more experimentation, like this Coconut Cake.
Cake Tip!
Modifying cake recipes requires expertise and experimentation, so don't make changes to a recipe unless you're confident it will work out. It's always best to ask if you're not sure!
I use the creaming method to make this vanilla cake which requires:
Creaming the butter and sugar
Incorporating the eggs one at a time
Alternating adding the flour and liquid
I use buttermilk in this vanilla cake recipe because I love the flavor and texture it gives the cake. The buttermilk in the cake helps ensure that it's not super sweet, and it works well with any kind of frosting.
If you don't have buttermilk, you can easily make your own at home:
Simply add 1 Tbsp of either fresh lemon juice or vinegar into 1 cup of milk. Stir and let sit for about 10mins. The milk will start to curdle and essentially turn into a perfect buttermilk substitute.
That being said, if you don't have buttermilk on hand and if you prefer a sweeter cake, you can use regular milk instead. Ideally use whole milk, but I never have that on hand, so I use 1% and it works just fine.
Milk substitutes such as almond milk or coconut milk, etc. will work fine too.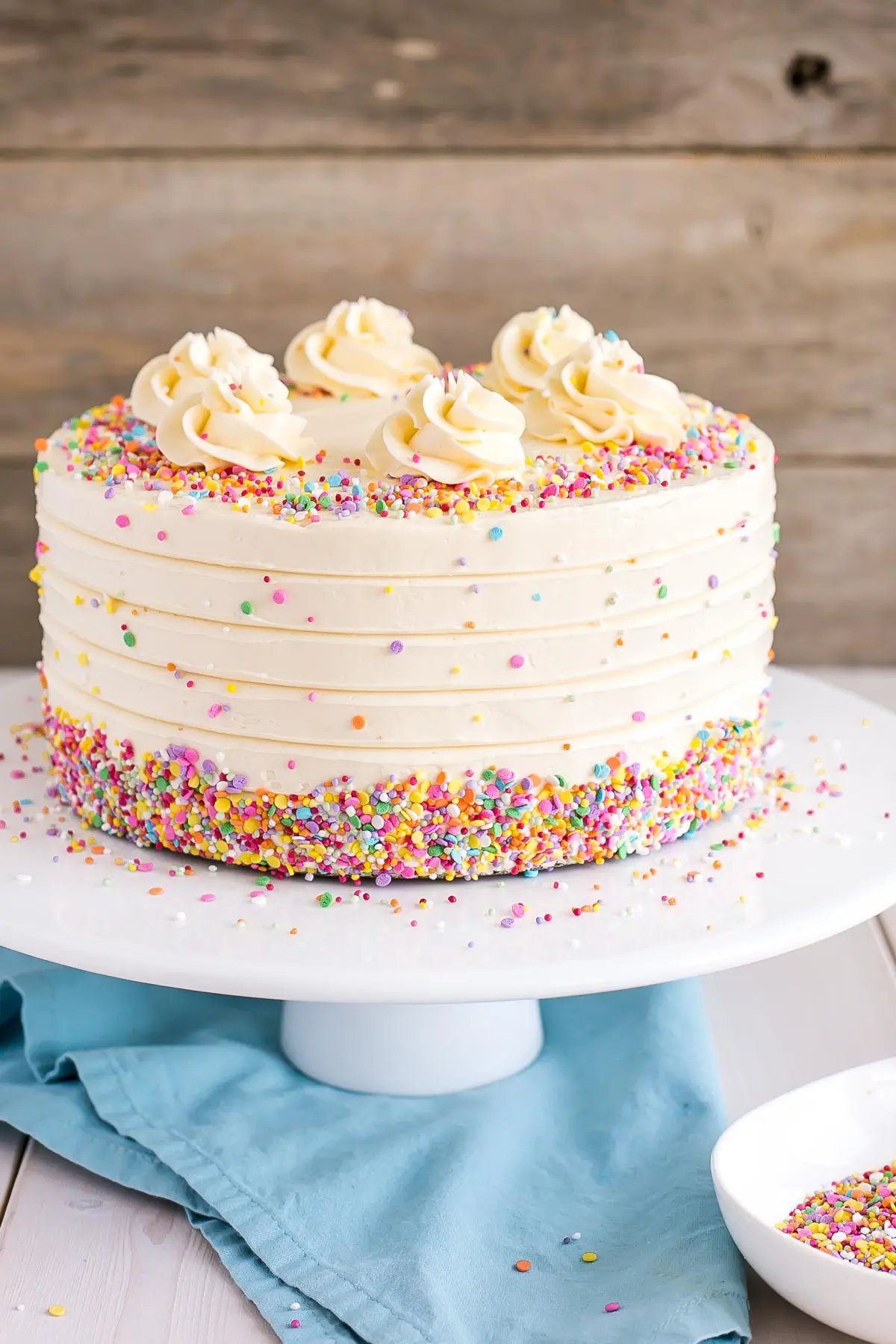 Swiss Meringue Buttercream
I used a Swiss meringue buttercream here because it's my favorite, but you can use an American buttercream instead if you prefer.
If you're going to make Swiss meringue buttercream for the first time, have a read through my detailed tutorial so you know what to do and what not to do to make it a success. I provide a thorough step-by-step process as well as tips and troubleshooting.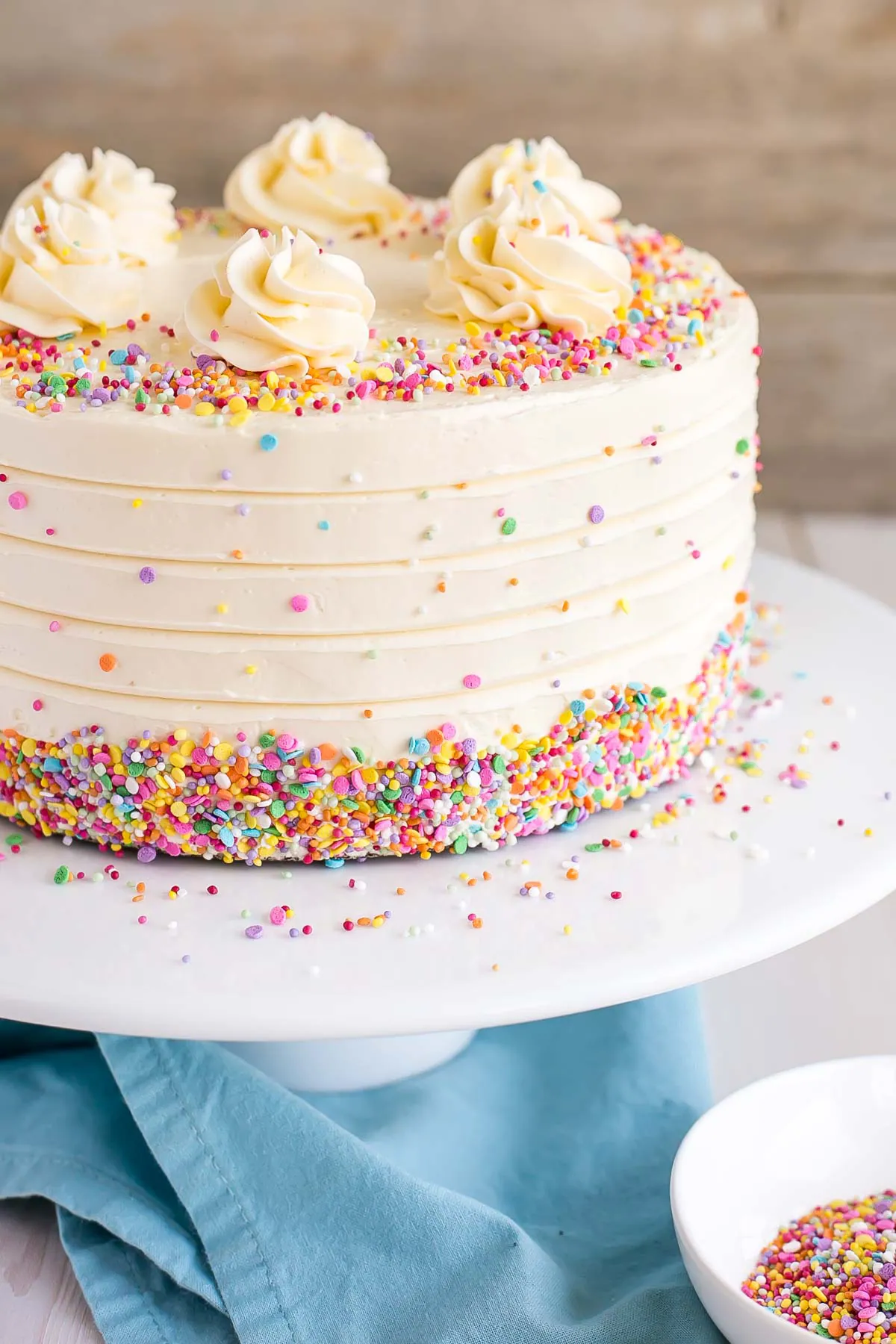 I chose to decorate this classic vanilla cake with simple rosettes and sprinkles. I used a decorating comb to make the lines in the sides of the cake, and I love how it turned out!
Definitely going to be trying the other combs in the set, as it's such an easy way to give a pretty result.
I typically shy away from decorating combs since they remind me of grocery store cakes (not that there's anything wrong with that), but this one gives it a particularly modern, clean look.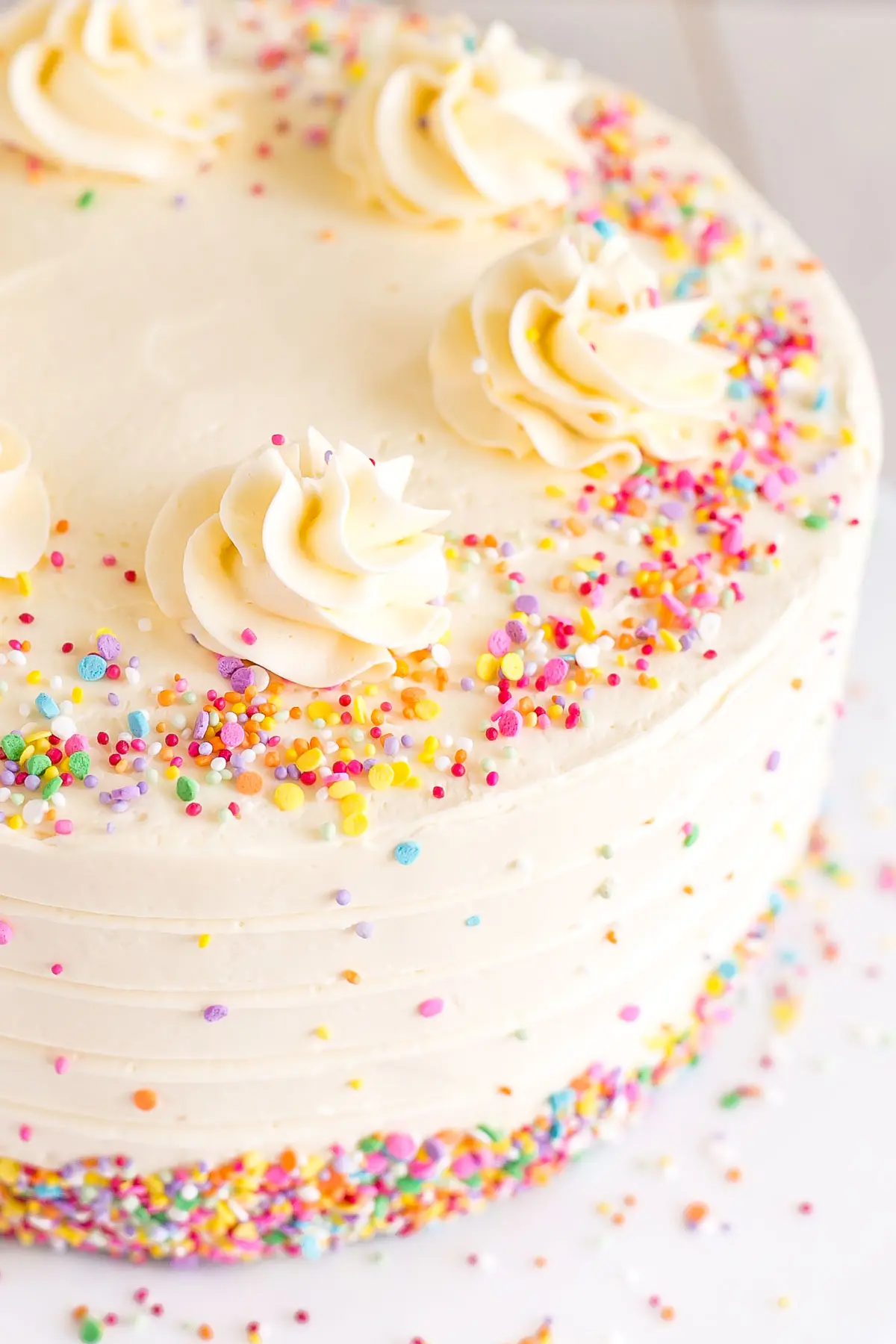 Keys to Success with this Vanilla Cake recipe
Or any cake recipe, really. When it comes to baking, especially cakes, it's best not to take shortcuts. You want to follow the recipe exactly as written and pay attention to any notes.
Here are the key things you should keep in mind to help bake cakes successfully:
Ensure all ingredients are at room temperature. Or whatever temperature is specified in the recipe. This helps make sure everything gets incorporated together properly. Not doing this can result in poor emulsification and a less-than-perfect final product.
Measure your flour properly. Spoon and level the flour into the measuring cup rather than using the measuring cup as a scoop. The latter packs in the flour and can result in dense and dry cakes.
Don't skimp on creaming the butter & sugars. You want to make sure they are pale and fluffy. Beat for at least 2-3 minutes.
Fully incorporate each egg one at a time. Again, for proper emulsification and to ensure a good texture, add one egg at a time and mix well until adding the next.
Don't overmix once you add the flour. Mix on low and only till the flour is just incorporated. Overmixing can cause dense but also fragile and crumbly cakes.
Grease & flour your pans & line bottoms with parchment. To help ensure cakes come out cleanly.
Use baking times as a guideline only. Every oven is different. Some run hot, some run cold, some have hot spots. Only you know how your oven bakes and it will require some testing on your part to know what works for you.
Cool your cakes in the pans for 10mins. Any more and the sugars will start to set and the cakes will stick to the pans, any less and the cakes will be too fragile and might break when you're turning them out.
Cool cakes completely before frosting. This is critical or you'll melt your frosting and have a very hard time of putting the cake together.
Following these steps will really help ensure your cakes are successful. It will also make your life easier and less stressful, trust me!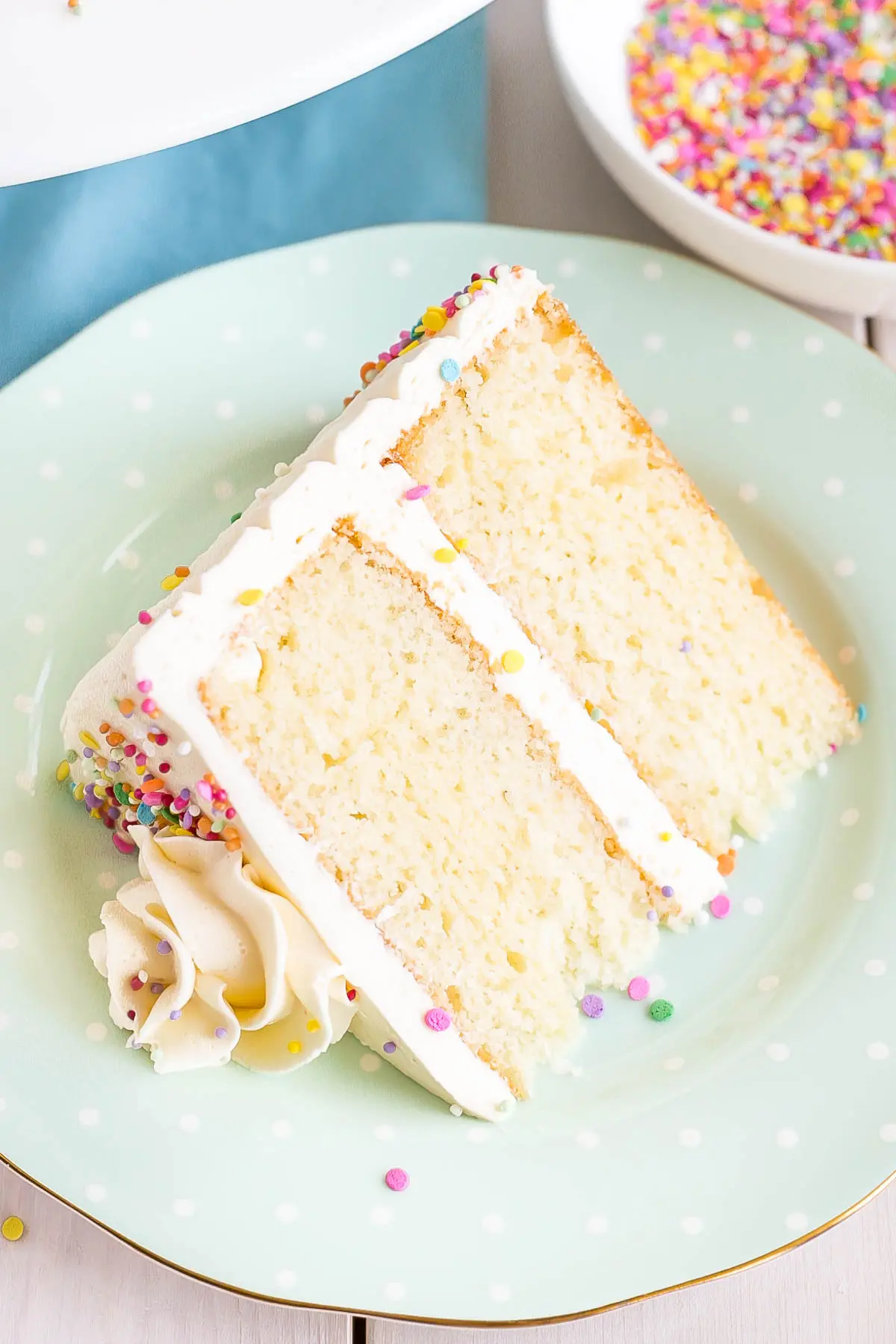 If you're looking for a delicious vanilla cake recipe, whether it be for a birthday, anniversary, or any celebration (even if it's just making it through the week), you will love this cake!
Looking for more Classic Cake recipes?
Frequently Asked Questions
How can I convert this recipe?
The recipe as-is will also work in three 6″ pans. For three 8″ pans, 1.5x the recipe. Baking time may need to be adjusted. You can use two 9″ as well but the layers will be thinner (reduce baking time accordingly).
To make cupcakes, all you need to do is reduce the baking time — start checking at 15mins or so. The recipe will make 18-24 cupcakes depending on size.
You can bake it in a 9×13 pan. Baking time will be slightly shorter.
You can bake it in a Bundt pan as well but you'll need to increase the baking time.
For other conversions go

here

. Bake time may vary depending on pan size.
Baking time will vary if you change the pan size. Every oven is different so I can't say for certain what you'll need to adjust it to. Be sure to check on the cakes while they are baking.
Can I make it in advance?
The cooled cake layers can be baked ahead of time, double wrapped in plastic wrap, and frozen for up to 3 months. Take out 2-3 hours before assembly.
The frosting can be placed in an airtight container and refrigerated for 1 week or frozen for 3 months. Bring to room temp and rewhip before using.
The finished cake (whole or sliced, stored airtight) can be frozen for up to 3 months.
Can I get the measurements by weight/grams?
There is a Metric option in the recipe card. If you click it it will convert everything to grams.
This conversion is done automatically and I cannot guarantee the accuracy but many readers have had success using the metric option on my recipes.
What if I don't have buttermilk?
For best results, use actual buttermilk, but if you don't have any you can make your own at home by combining 1 cup of milk (whole milk ideally, but I often just use 1%) with 1 Tbsp of lemon juice or vinegar and letting it sit for 10mins.
Tips for this Vanilla Cake recipe:
If you don't have buttermilk on hand you can make your own (see post for details) or you can use regular milk or milk substitutes instead.
If you'd prefer to use an American buttercream, you can use one full recipe of Simple Vanilla Buttercream instead.
Or if you're looking for a chocolate buttercream version, check out my Classic Birthday Cake.
If you want a white cake instead of a yellow cake, use this recipe here.
I used a decorating comb for the texture on the sides of the cake. I used the left side of the one on the left pictured here.
I prepare my cake pans using

Homemade Cake Release

and line with parchment paper.
Be sure to check my

Swiss Meringue Buttercream

post for tips and troubleshooting.
Learn how to keep your cakes moist using

Simple Syrup

.
To help ensure your cake layers bake up nice and flat, check out my

How to Bake Flat Cakes

post!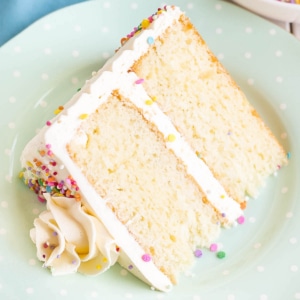 The BEST Vanilla Cake Recipe
This Classic Vanilla Cake pairs fluffy vanilla cake layers with a silky vanilla buttercream. The perfect cake for birthdays, weddings, or any occasion!

Instructions
Vanilla Cake:
Preheat oven to 350F. Grease and flour two 8″ cake rounds and line with parchment.

In a medium bowl, whisk flour, baking powder, and salt until well combined. Set aside.

Using a stand mixer fitted with a paddle attachment, cream the butter and sugar on med-high until pale and fluffy (about 3mins). Reduce speed and add eggs one at a time fully incorporating after each addition. Add vanilla.

Alternate adding flour mixture and buttermilk, beginning and ending with flour (3 additions of flour and 2 of milk). Fully incorporating after each addition.

Bake for 30-35mins or until a toothpick inserted into the center comes out mostly clean.

Place cakes on wire rack to cool for 10mins then turn out onto wire rack.
Vanilla Buttercream:
Place egg whites and sugar into the bowl of a stand mixer, whisk until combined.*

Place bowl over a pot with 1-2″ of simmering water and whisk constantly until the mixture is hot and no longer grainy to the touch or reads 160F on a candy thermometer (approx. 3mins)


Place bowl on your stand mixer and whisk on med-high until the meringue is stiff and cooled (the bowl is no longer warm to the touch (approx. 5-10mins)).

Switch to paddle attachment. Slowly add cubed butter and mix until smooth.**

Add vanilla and whip until smooth.
Assembly:
Place one layer of cake on a cake stand or serving plate. Top with approximately 1 cup of buttercream. Repeat with remaining layer and crumb coat the cake. Chill for 20mins.

Frost the top and sides of the cake and smooth with a bench scraper.

Mix confetti and nonpareils in a small bowl. Press sprinkles gently along the bottom of the cake and sprinkle along the top. For the speckled sides, I grabbed a pinch of sprinkles and tossed them randomly at the sides.

Pipe rosettes using a 1M tip with remainder of frosting.
Notes
Be sure to check my Swiss Meringue Buttercream post for tips and troubleshooting.
* Ensure there is NO trace of egg yolks in your whites and that your mixer bowl and whisk is completely grease-free or your meringue won't stiffen.
** The buttercream may look like it's curdled at some point. Keep mixing until it is completely smooth.
*** I used the left side of the one on the left pictured here.
Calories:
694
kcal
Carbohydrates:
69
g
Protein:
6
g
Fat:
44
g
Saturated Fat:
27
g
Cholesterol:
160
mg
Sodium:
219
mg
Potassium:
192
mg
Sugar:
51
g
Vitamin A:
1400
IU
Calcium:
83
mg
Iron:
1.4
mg
The nutritional information and metric conversions are calculated automatically. I cannot guarantee the accuracy of this data. If this is important to you, please verify with your favorite nutrition calculator and/or metric conversion tool.
This recipe was originally published on June 12th, 2017 and was updated with new content on January 30th, 2023.