This classic Hummingbird Cake is packed with pineapple, banana, and pecans. Ultra moist cake layers with hints of cinnamon and nutmeg covered in a cream cheese frosting.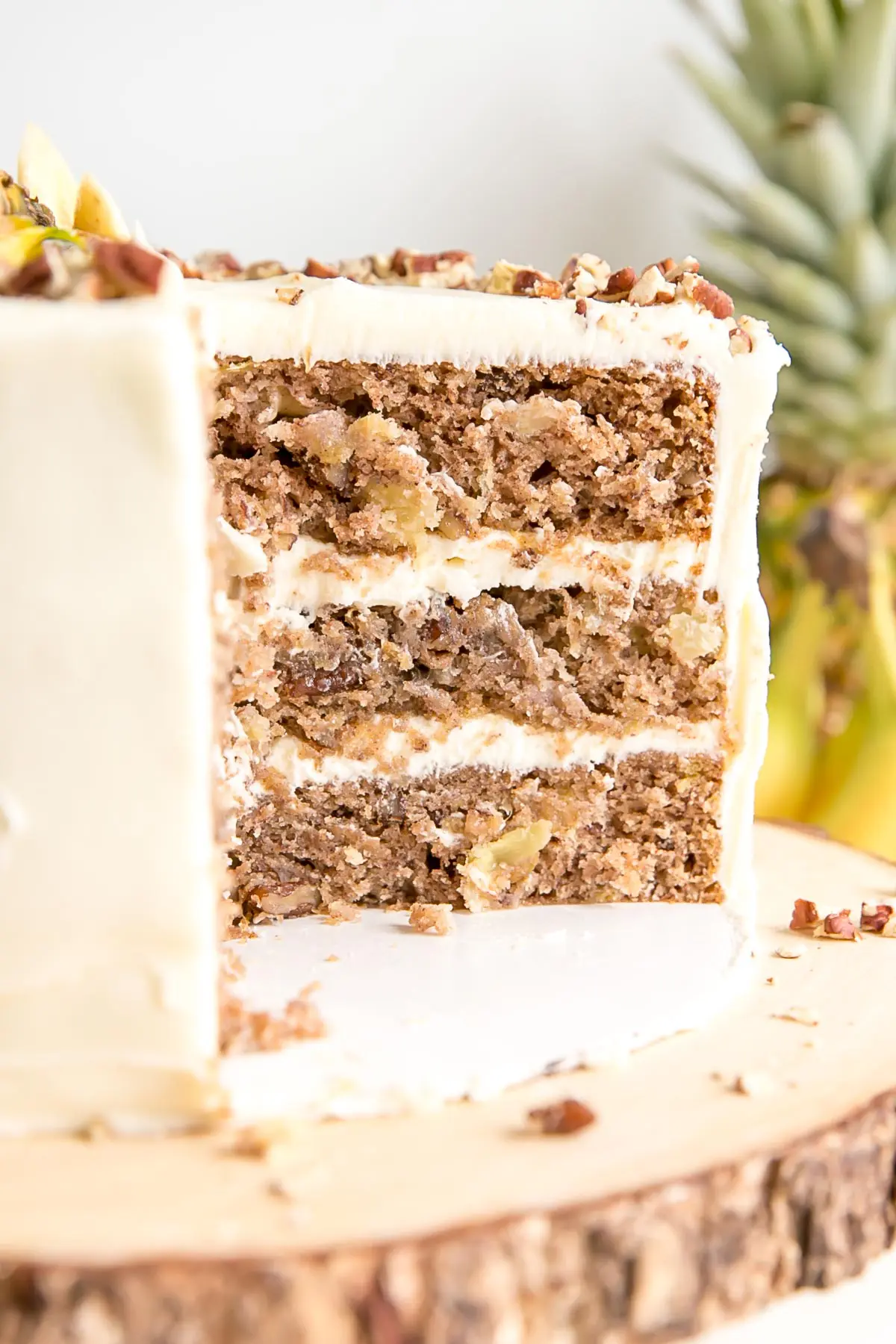 I've had a Hummingbird Cake on my radar for a while now, ever since I first had one on our trip to Walt Disney World a couple of years ago. It kept getting bumped by something or other.
Part of me wondered if the world really needed another Hummingbird Cake recipe. But, since a few of you have asked me for one lately who am I to refuse?? I hope this recipe lives up to your expectations. It has truly exceeded mine!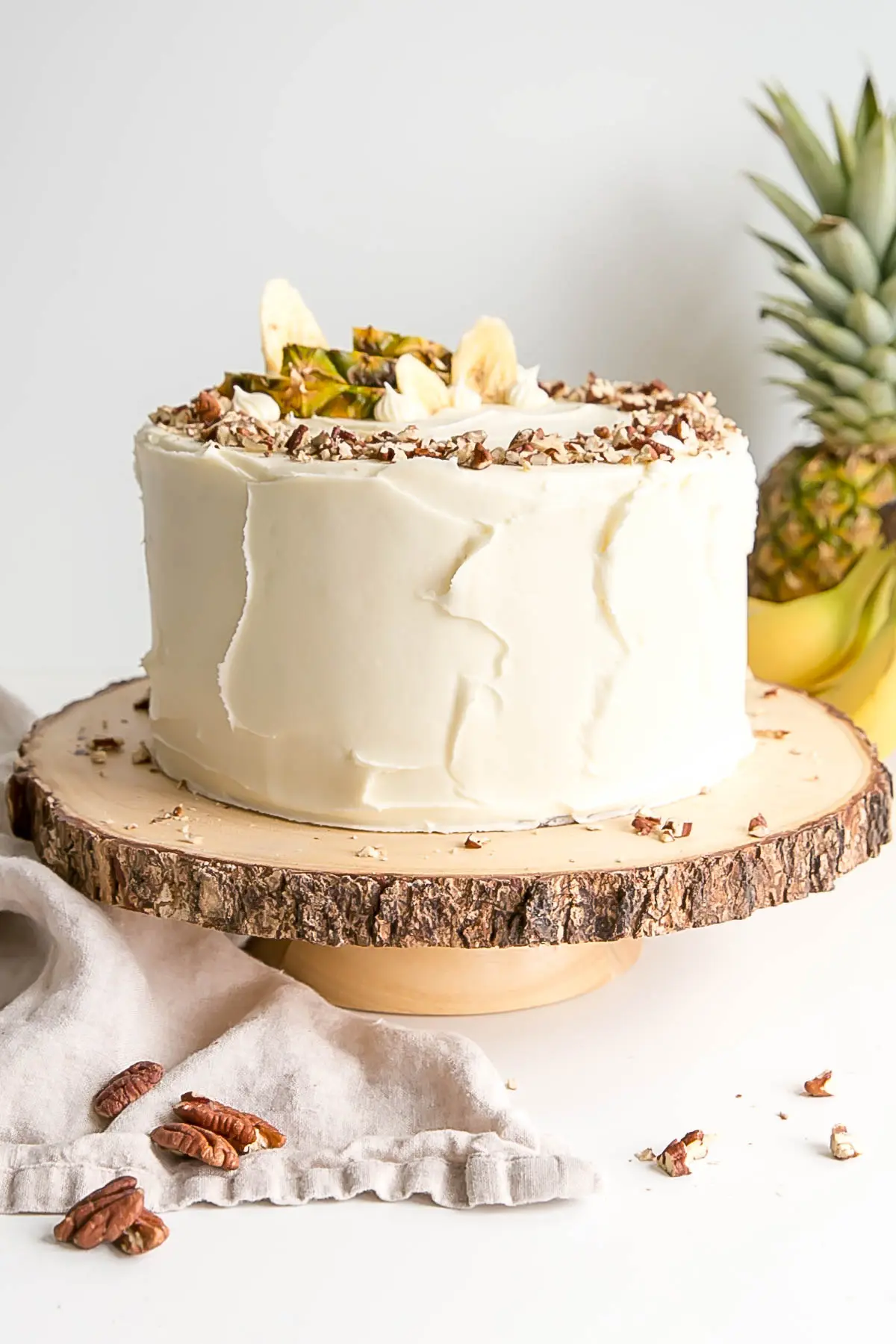 What Flavor is Hummingbird Cake?
A hummingbird cake is a dense and moist cake consisting of pineapple, bananas, pecans, and spices paired with a cream cheese frosting. It is a very popular Southern dessert that originated in Jamaica in the 1960's.
It is named after the island's national bird and is also known as the Doctor Bird Cake (which is another name for hummingbird).
The key ingredients are very simple:
pineapple
banana
pecans
cinnamon
My very first experience with this cake was at Art Smith's Homecomin' restaurant in Disney Springs.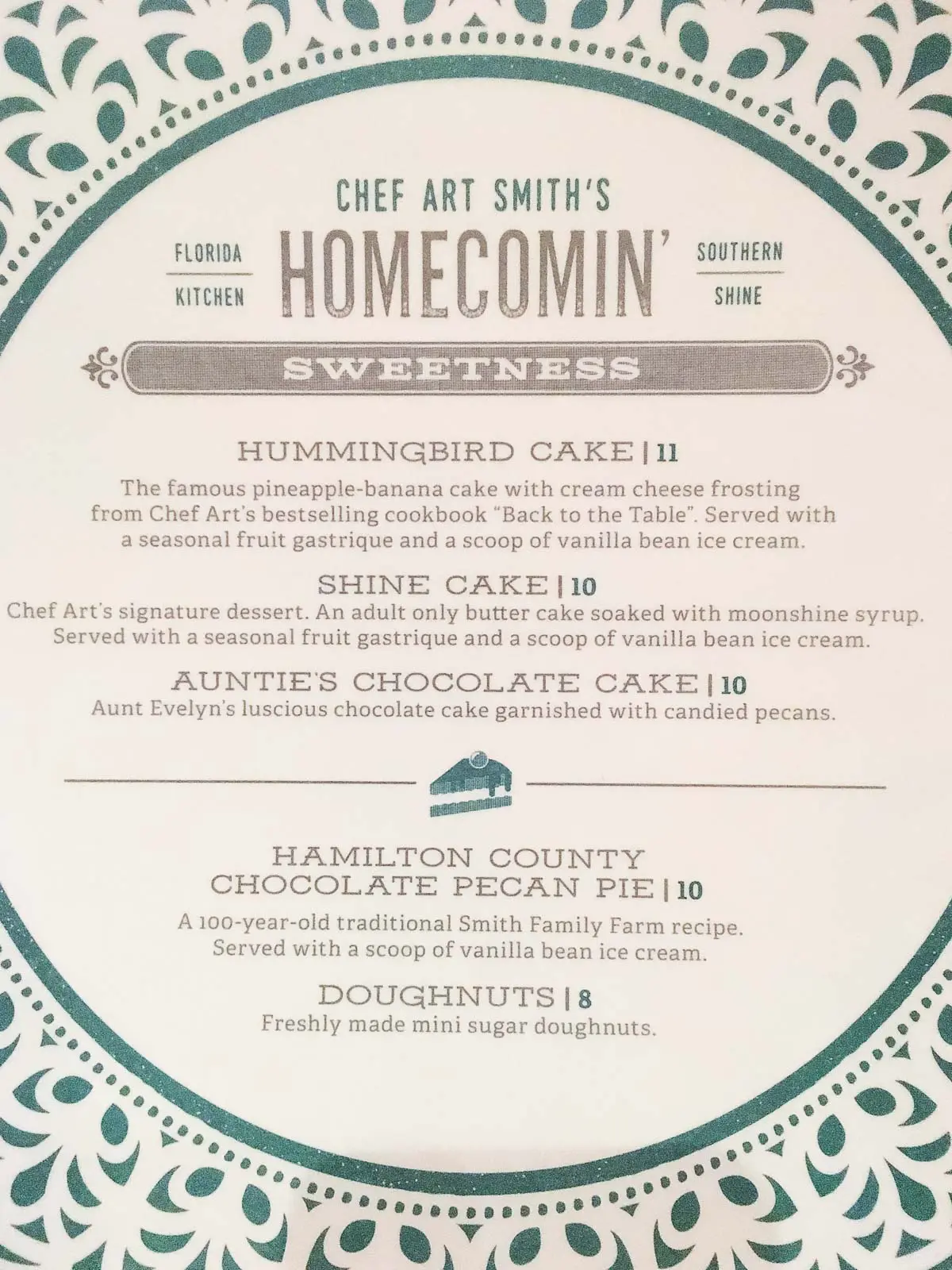 The meal and dessert at Homecomin' was the most memorable and our favorite by far. SO good. Naturally, I had to sample his famous Hummingbird Cake (I'd heard rave reviews) and it was every bit as delicious as I had hoped/expected.
If you're ever in the Disney Springs area, do yourself a favor and go to Homecomin'. You honestly will not regret it. There are many restaurants to choose from when you're in WDW, and we sampled many, but this one truly was just the best.
This Hummingbird Cake Recipe I bring you today, is my modified version of Chef Art Smith's recipe.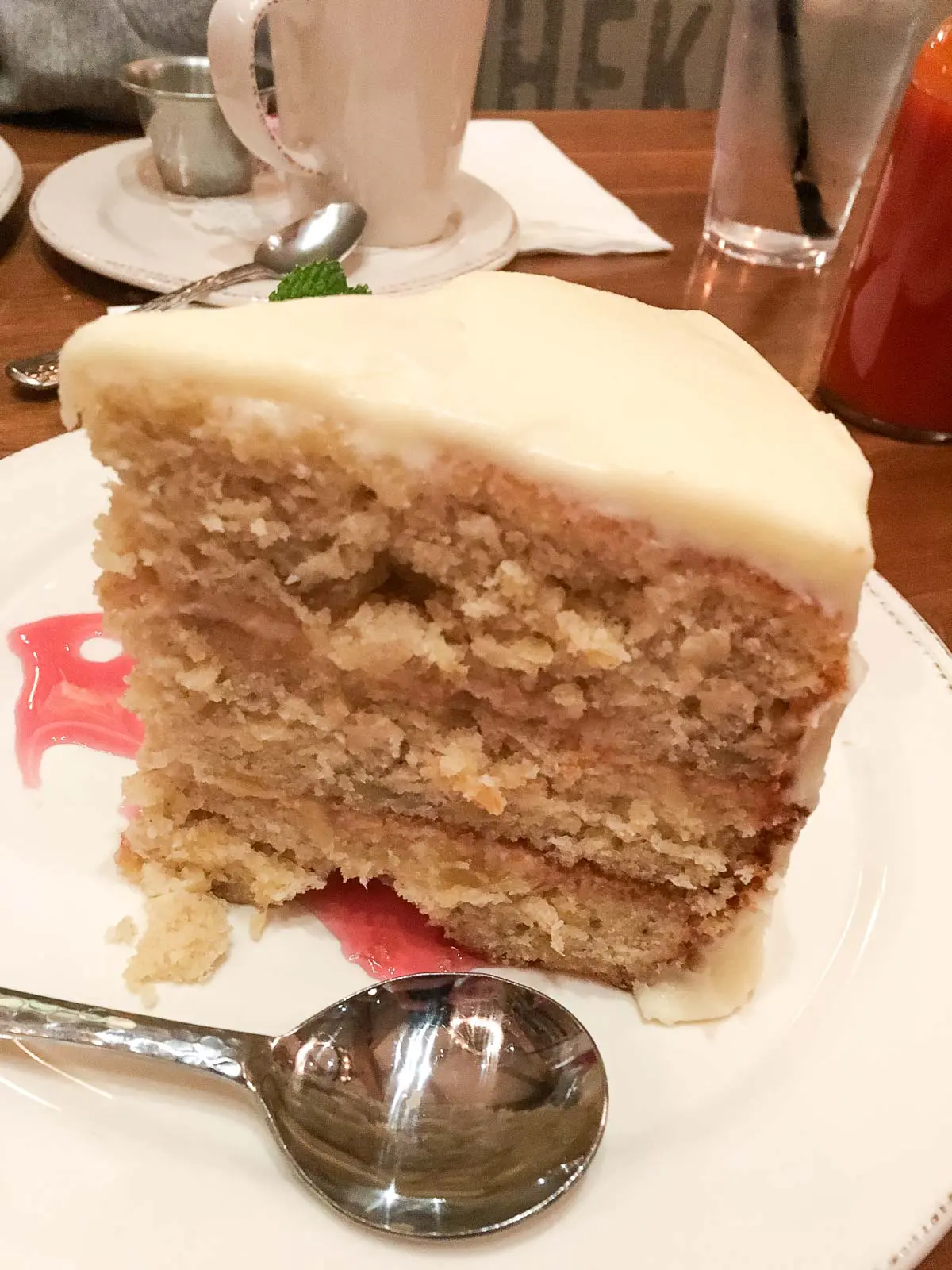 Art Smith's cake is completely delicious as is, but I thought that adding brown sugar, some extra spices & flavorings, and some more chopped pecans would make it even better (spoiler alert: it did!).
Cake Tip!
Toast the pecans at 350F for 5mins to give them a bit more flavor.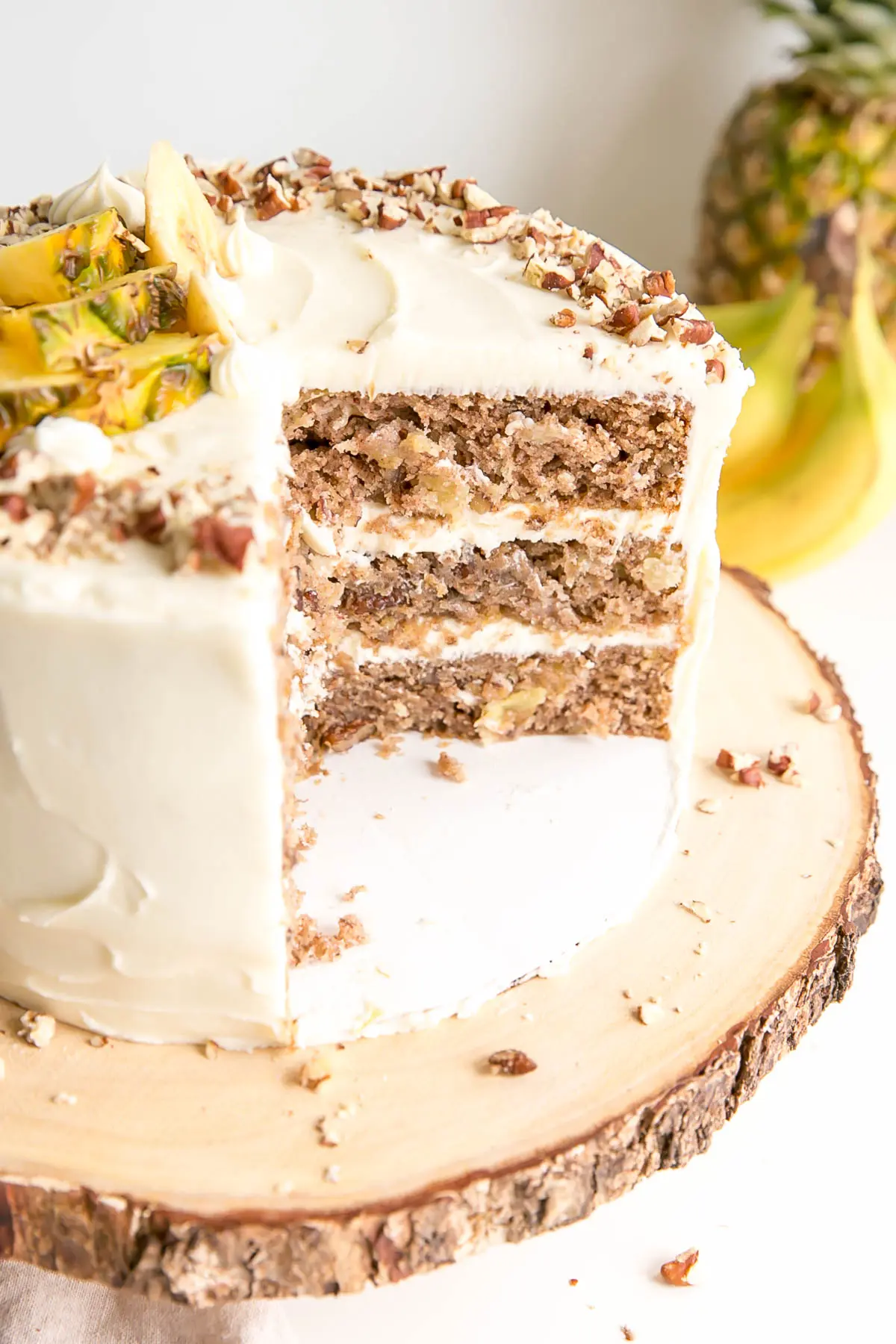 How to Make Hummingbird Cake
The mixing method for this cake is different than your typical cake recipe. It does not involve creaming butter and sugar. In fact, it's recommended that you don't use a mixer at all so that you don't overmix the ingredients.
It's really a super simple recipe that anyone can make:
Whisk dry ingredients together.
Whisk wet ingredients together.
Fold dry ingredients into wet.
Gently fold in pecans.
Bake!
I recommend sifting your dry ingredients together and whisking them well. This will help make sure everything is properly dispersed.
The batter will be quite thick and doesn't rise a ton. The resulting cake is deliciously dense and moist and truly just heavenly. The added brown sugar and extra spices give this cake a delicious flavor.
I chopped my banana vs mashing it as I wanted some larger banana pieces in there, to go with the pineapple pieces and the pieces of pecans. This almost has the consistency of a fruit cake in that regard (but a good one) — extremely moist with chunks of fruit and nuts.
If you don't love that you can totally mash the banana and even puree the pineapple a bit, but I love the texture as is.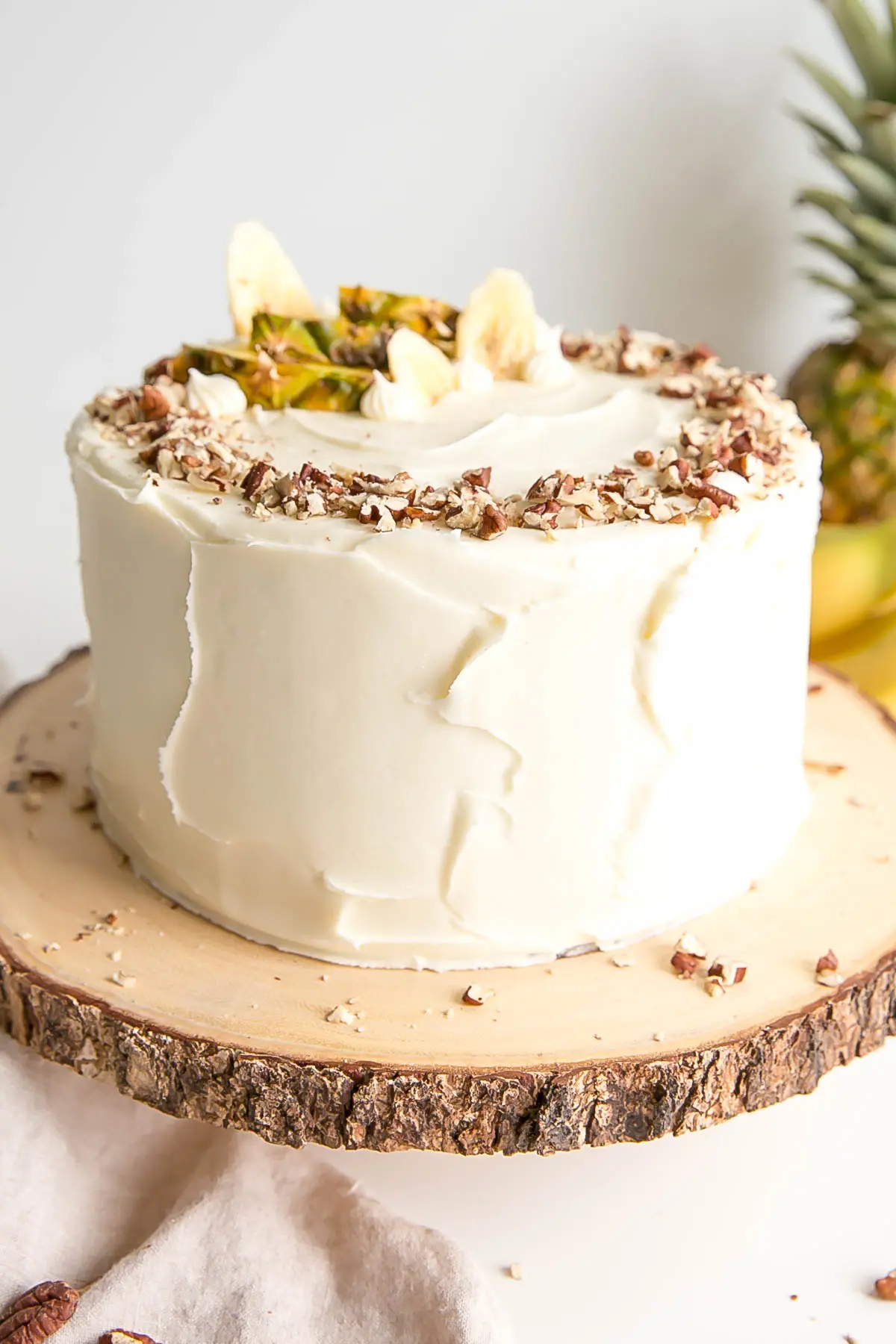 Cream Cheese Frosting
Cream cheese frosting is notoriously difficult to work with. Though I love the flavor pairing with certain cake recipes, I don't like working with it as I find it too soft and difficult to decorate with. I don't like it to be overly sweet either, so don't want to add a ton of powdered sugar in there.
For this frosting recipe, I used softened (but still cool) butter and cream cheese. Not room temperature as I find them too soft. You can add more or less powdered sugar if you like, and more or less salt to cut the sweetness. It's pretty forgiving in that regard, but will not be as firm as an American buttercream or Swiss meringue buttercream.
The slightly chilled butter and cream cheese helped (as did the cooler temperatures – finally!). Also, I always sift my powdered sugar. This is not critical, but mine is always super lumpy so I just sift it.
As with all my cream cheese frosting cakes, I tend to stick to a more rustic manner of decorating. I just don't want to fuss with crisp, smooth edges or piping. Plus a rustic frosting just goes perfectly with this Hummingbird Cake I think.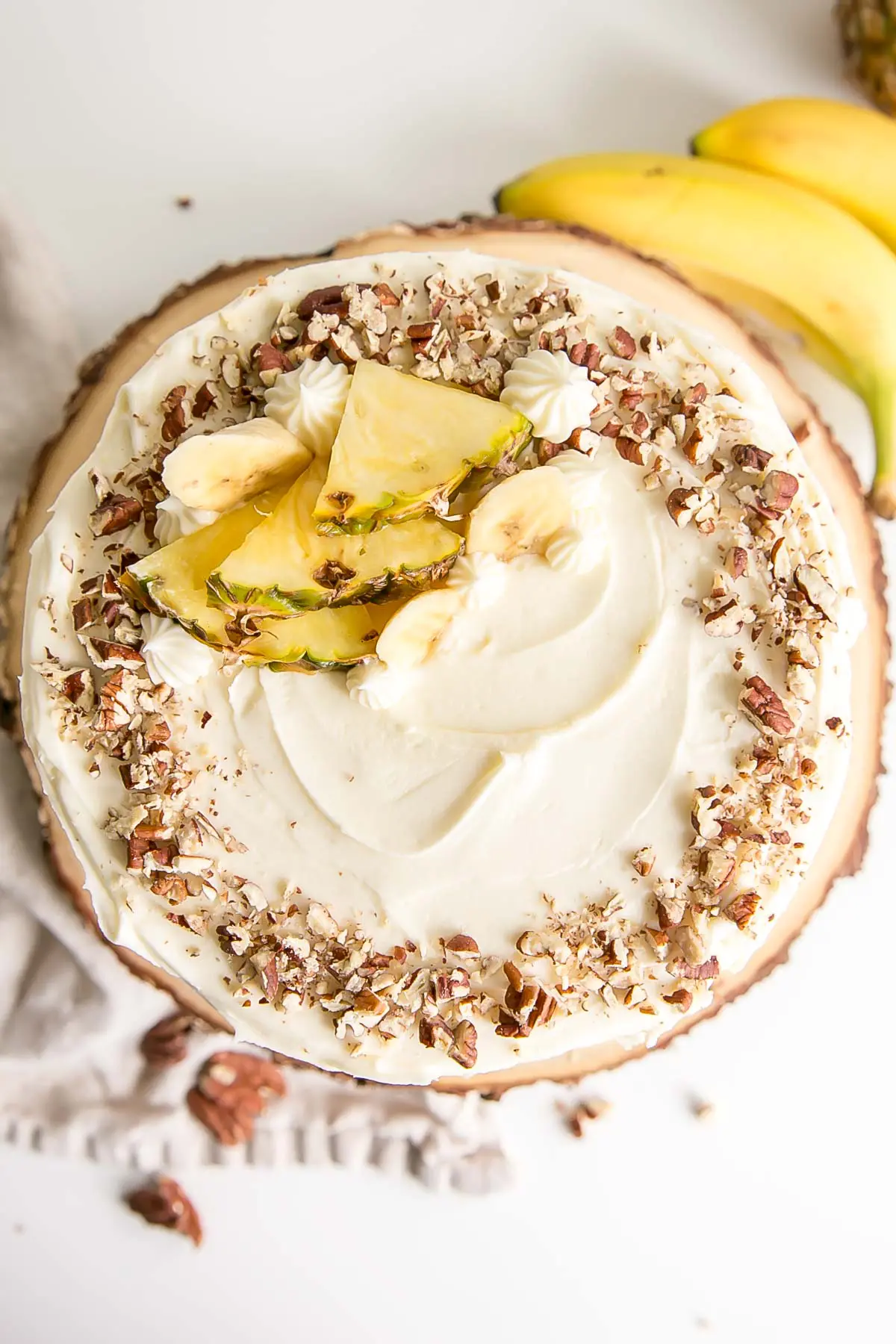 I tried to do something pretty and fancy with the fruit on the top but failed miserably. Literally probably an hour of cutting, placing, moving, removing the fruit until I just gave up and did a pecan border around the top and placed some fruit slices on the top.
I don't love how it looks, but whatever, it tastes like heaven!!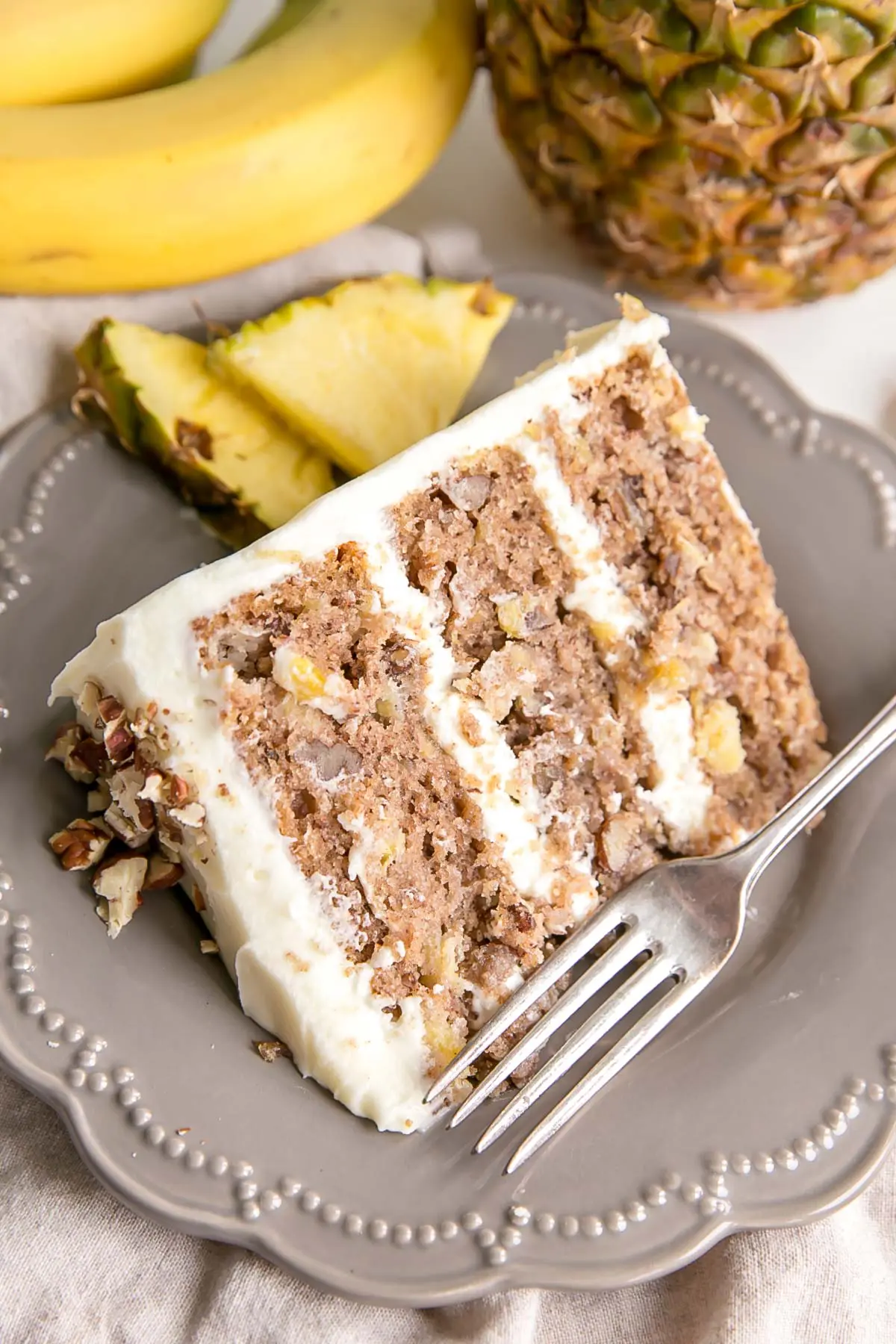 This truly is a delicious cake. I like to think of it as a Fall cake, even though it has summer fruits in there because it's just perfectly comforting. If you're a Hummingbird Cake fan, I hope you give my version a try!
Frequently Asked Questions
How can I convert this recipe?
This recipe as-is will also work in two 8″ pans as long as they are 3″ tall, or two 9″ pans. Baking time may need to be adjusted.
For a three layer 6″ cake, change the Servings to 12 and use those amounts. Or, if your pans are 3″ tall you can leave the recipe as is. The layers will be thicker so baking time will need to be adjusted.
To make cupcakes, all you need to do is reduce the baking time — start checking at 15mins or so. The recipe will make at least 24 cupcakes depending on size.
For other conversions go

here

.
Can I make it in advance?
The cooled cake layers can be baked ahead of time, double wrapped in plastic wrap, and frozen for up to 3 months. Take out 2-3 hours before assembly.
The frosting can be placed in an airtight container and refrigerated for 1 week for frozen for 3 months. Bring to room temp and rewhip before using.
The finished cake (whole or sliced, stored airtight) can be frozen for up to 3 months.
Can I get the measurements by weight/grams?
There is a Metric option in the recipe card. If you click it it will convert everything to grams.
This conversion is done automatically and I cannot guarantee the accuracy but many readers have had success using the metric option for this recipe.
Tips for making this Hummingbird Cake Recipe
Apr 14, 2022 – Cream Cheese Frosting recipe revised to make a more stable frosting.
This cake is very moist and dense. The layers do not rise a lot.
Make sure your bananas are overripe for best results. Do not try to use underripe bananas for this.
I slightly drained the crushed pineapple. You want some of that juice in there, but not all of it.
Toss the chopped pecans in a bit of flour before folding into the cake batter. This will prevent them from sinking.
Don't use a mixer — just mix the batter by hand.
I like to prepare my cake pans using

Homemade Cake Release

then line with parchment.
Learn how to keep your cakes moist using Simple Syrup.
To help ensure your cake layers bake up nice and flat, check out my Flat Top Cakes post!
Hummingbird Cake
This classic Hummingbird Cake is packed with pineapple, banana, and pecans. Ultra moist cake layers with hints of cinnamon and nutmeg covered in a cream cheese frosting.
Ingredients
Cream Cheese Frosting:
1 1/2

cups

unsalted butter

room temperature

6

cups

powdered sugar

sifted

1

Tbsp

vanilla extract

1 1/2

cups

cream cheese

12 oz, chilled, full fat, block (not tub)

1/4

tsp

salt
Instructions
Hummingbird Cake:
Preheat oven to 350F. Grease and flour three 8" cake rounds and line with parchment.

In a large bowl, sift flour, baking soda, sugars, spices, and salt. Whisk until well combined. Set aside.

In a large bowl, combine bananas, pineapple, oil, eggs,vanilla. Whisk until well combined.

Gently fold dry ingredients into wet. Fold in chopped pecans. Batter will be quite thick.

Spread batter evenly among the pans and bake for 30-35 mins or until a toothpick inserted into the center comes out mostly clean and the middle of the cake springs back when pressed.

Remove from oven. Place cakes on wire rack to cool for 10 mins then turn out onto wire rack. Allow cakes to cool completely.
Cream Cheese Frosting:
Using a stand mixer or hand mixer beat butter until pale and creamy.

Reduce speed to low. Add powdered sugar 1 cup at a time and mix on low until well blended. Increase speed to medium and beat for 3 minutes. Add vanilla and salt and continue to beat on medium for 1 minute.

Slowly add chilled cream cheese one cube at a time (about 1 tablespoon at a time). Beat well until blended and ensure no lumps of cream cheese remain.

If needed, add cornstarch or meringue powder 1 tablespoon at a time to stiffen the frosting (I didn't but this is an option).

Run mixer on low for a couple of minutes to remove any air bubbles.
Assembly:
Place one layer of cake on a cake stand or serving plate. Top with about 1 cup of buttercream, spread evenly. Repeat with remaining layers and apply a thin coat of frosting all over the cake to crumb coat. Chill for 20mins.

Frost the cake with a rustic pattern using the remaining buttercream. Sprinkle chopped pecans around the top (or along the bottom) and top with fresh pineapple and banana slices if desired.
Calories:
704
kcal
Carbohydrates:
100
g
Protein:
6
g
Fat:
33
g
Saturated Fat:
16
g
Polyunsaturated Fat:
3
g
Monounsaturated Fat:
11
g
Trans Fat:
1
g
Cholesterol:
90
mg
Sodium:
259
mg
Potassium:
241
mg
Fiber:
3
g
Sugar:
76
g
Vitamin A:
883
IU
Vitamin C:
4
mg
Calcium:
52
mg
Iron:
2
mg
The nutritional information and metric conversions are calculated automatically. I cannot guarantee the accuracy of this data. If this is important to you, please verify with your favorite nutrition calculator and/or metric conversion tool.