This classic Carrot Cake recipe is one you'll want to add to your collection! A moist and delicious cake paired with a not-too-sweet cream cheese frosting.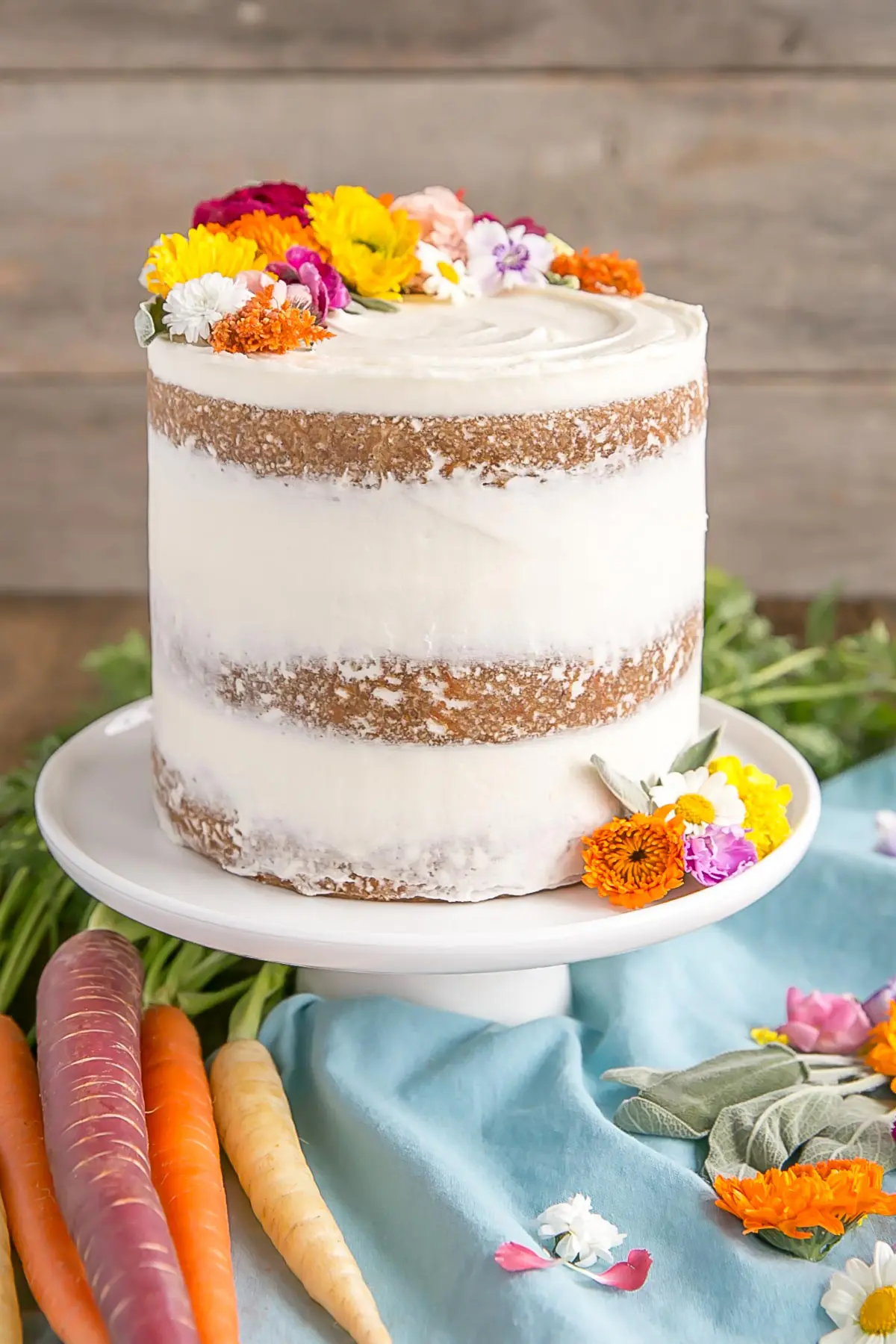 A lot of the recipes you find on Liv for Cake are ones where I try to transform a dessert into a cake (like this Tiramisu Cake, or Pecan Pie Cake), or ones with a variety of different flavor combinations and pairings (like my Banana Chocolate Chip Cake with Peanut Butter Frosting).
I try to make things that are interesting or unique, but I often have people requesting the staples, so I've decided to start introducing some more basic recipes into my collection, starting with this Carrot Cake Recipe!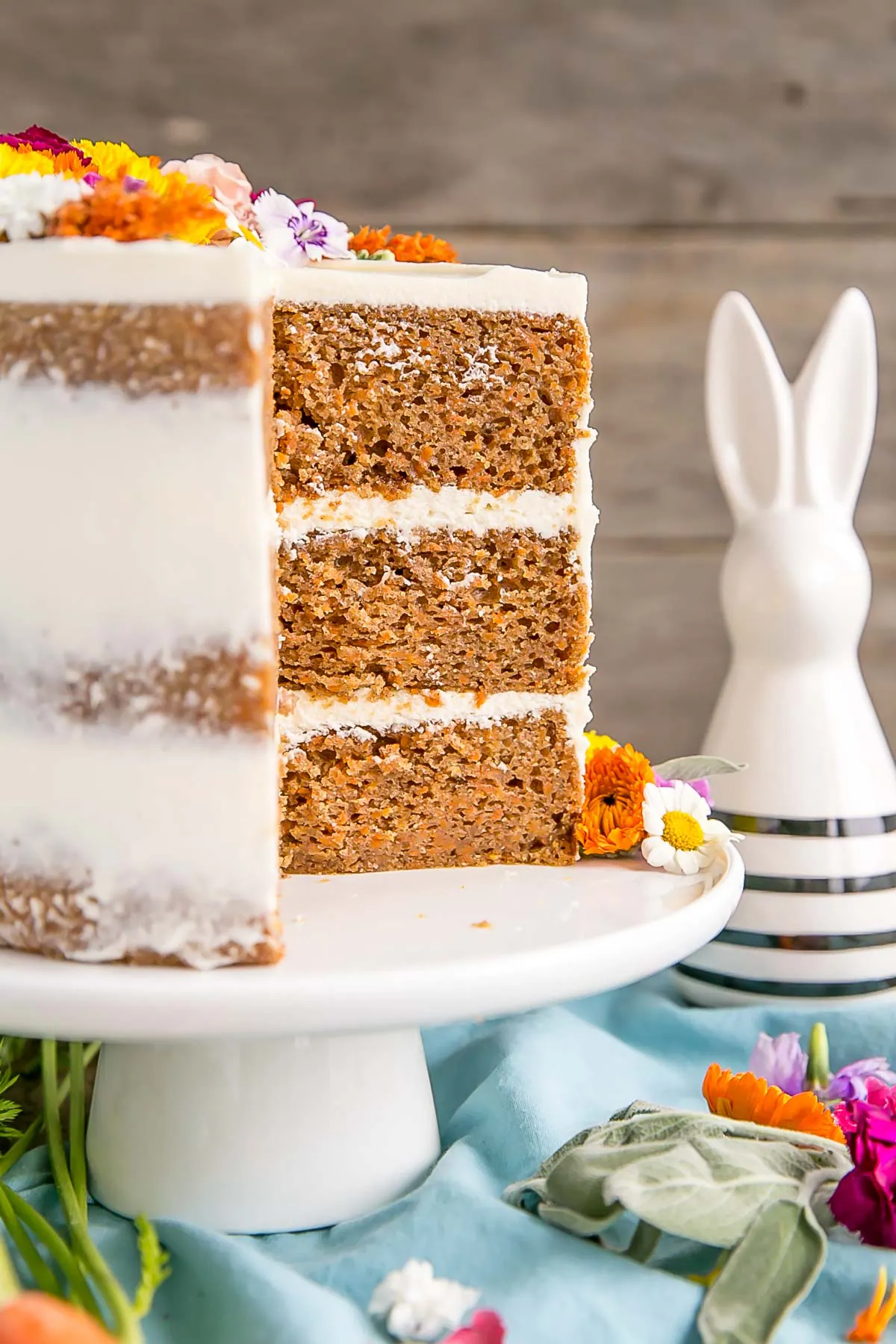 This actually isn't the first "staple" recipe I have on my blog. Two of my most popular posts are my classic Vanilla Cake and my Simple Vanilla Buttercream. They are great "base" recipes that can be tweaked and flavored to your heart's content.
But, in light of Easter on the horizon, I thought it would be a perfect time for a (somewhat) themed dessert to go along with it.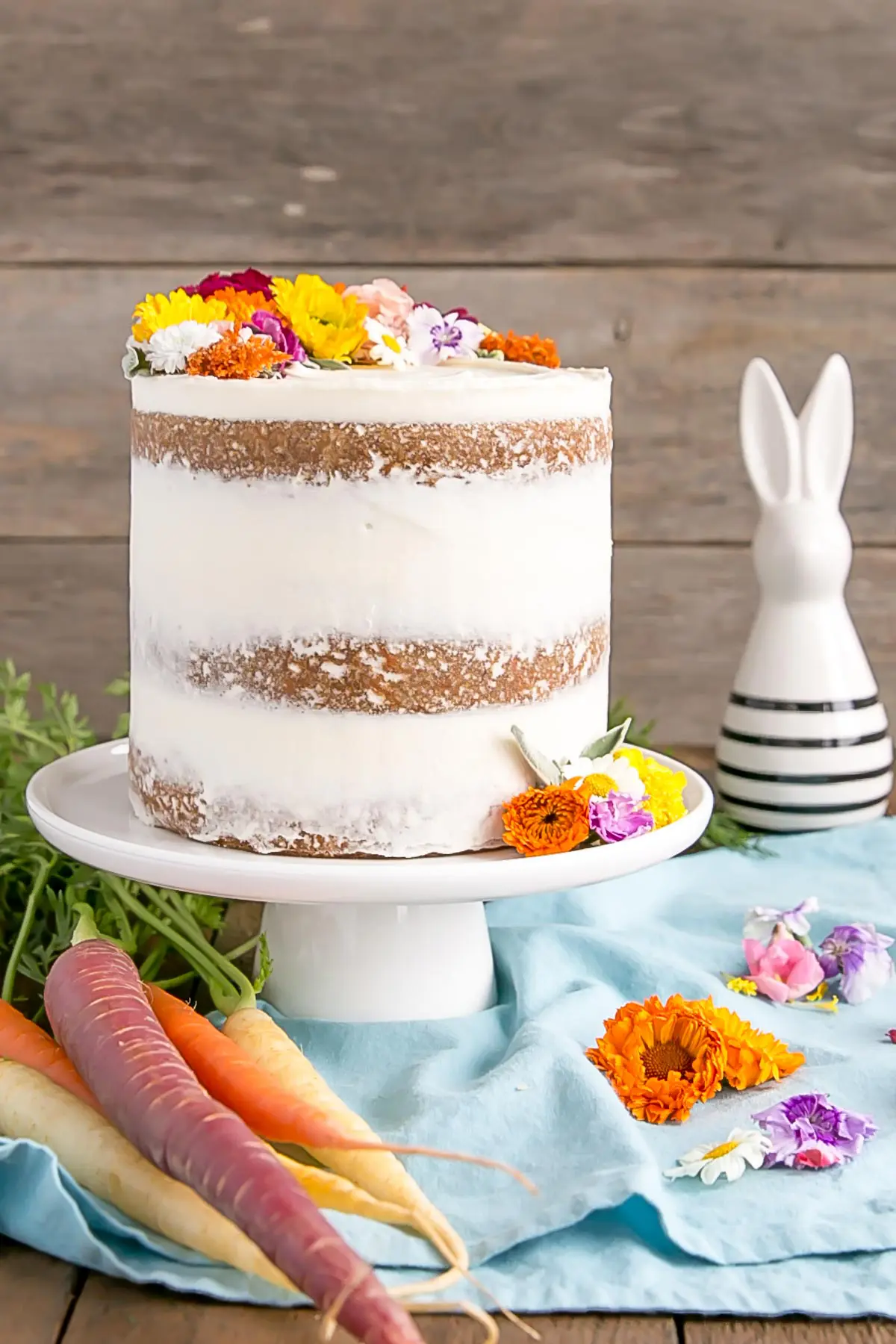 The Best Carrot Cake Recipe
I actually didn't really care for carrot cake until a few years ago. I guess I just never had a good one, or they had too many additions I didn't particularly care for (pineapple, walnuts, or raisins (gasp!!)), or they were dry. I don't know, it was just never a go-to recipe for me… until I had it at my sister-in-law's wedding a few years ago.
At the wedding, they had a three tier cake, each with a different flavor, so naturally I had to try them all. I was least excited about the carrot cake but WOW, it totally blew me away and was easily the best of the bunch. Since then, it's been one of my favorites.
The other thing that used to turn me off of carrot cake was the cream cheese frosting. I am not a cream cheese fan. You'll never catch me ordering a cheesecake unless I know it's made with something like ricotta. Cream cheese is just too strong for me, and I found that on most carrot cakes it was overpowering.
My cream cheese frosting is different than most, as it uses more butter than cream cheese, but you can totally still taste the cream cheese. It's also not overly heavy on the sugar, but you can add more if you like. I found this recipe to be best structurally too, as a lot of cream cheese frostings can be too soft and difficult to work with. It's important to use the full-fat brick cream cheese (not from a tub) for best results.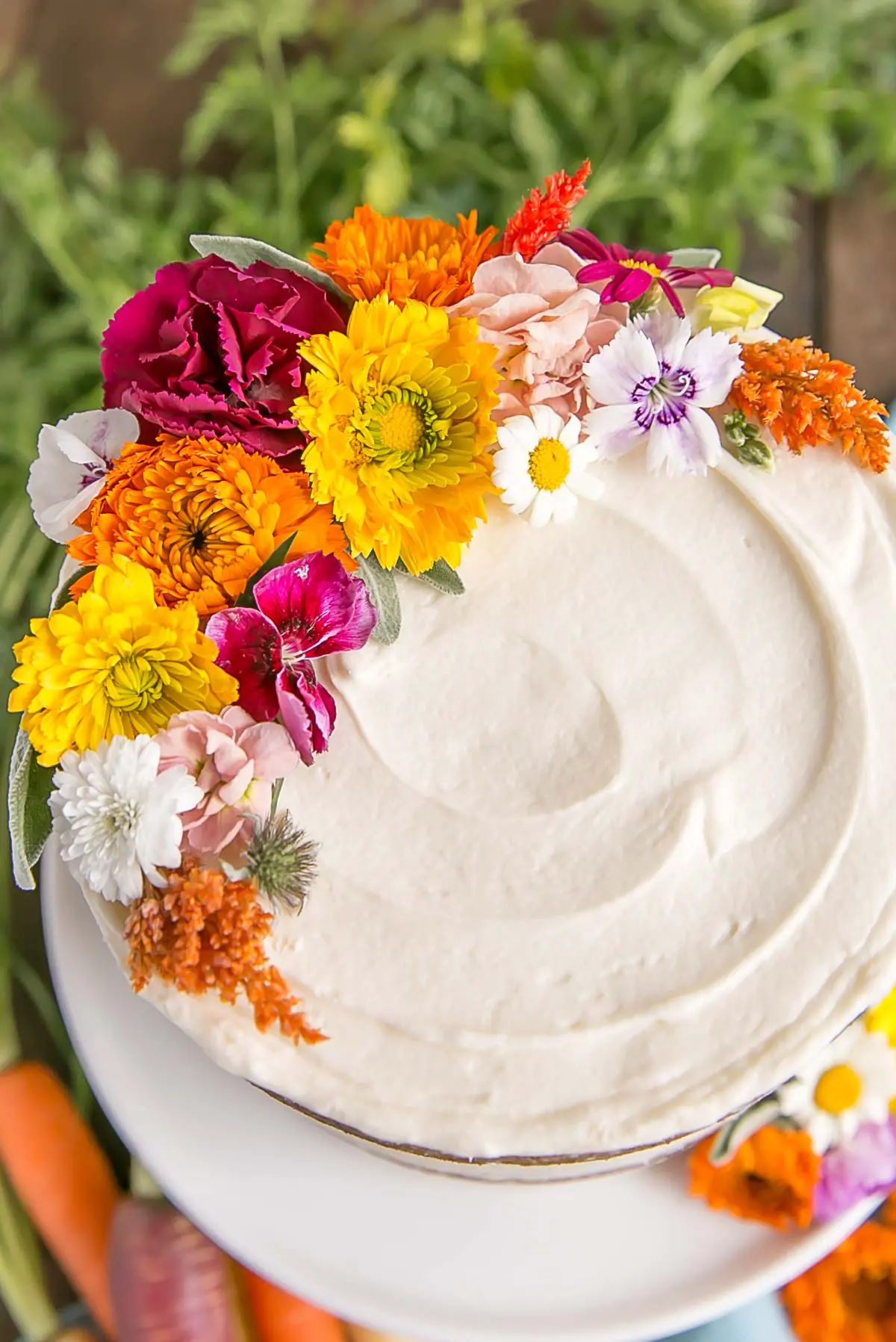 I chose to keep the decorating simple and do a naked cake. The recipe makes enough frosting to cover the whole cake though, if you prefer. I thought the edible flowers would be a nice touch and go well with the the spring and Easter theme. Edible flowers aren't super easy to find, but Whole Foods almost always has some.
Make sure the flowers you use are safe to eat — some can be toxic!
This carrot cake has been a major hit over here. Ryan doesn't typically enjoy desserts that aren't of the chocolate variety, but he made it a point to tell me to "hold back" as much of this cake as possible. So, sorry friends! This one will be stashed in our freezer.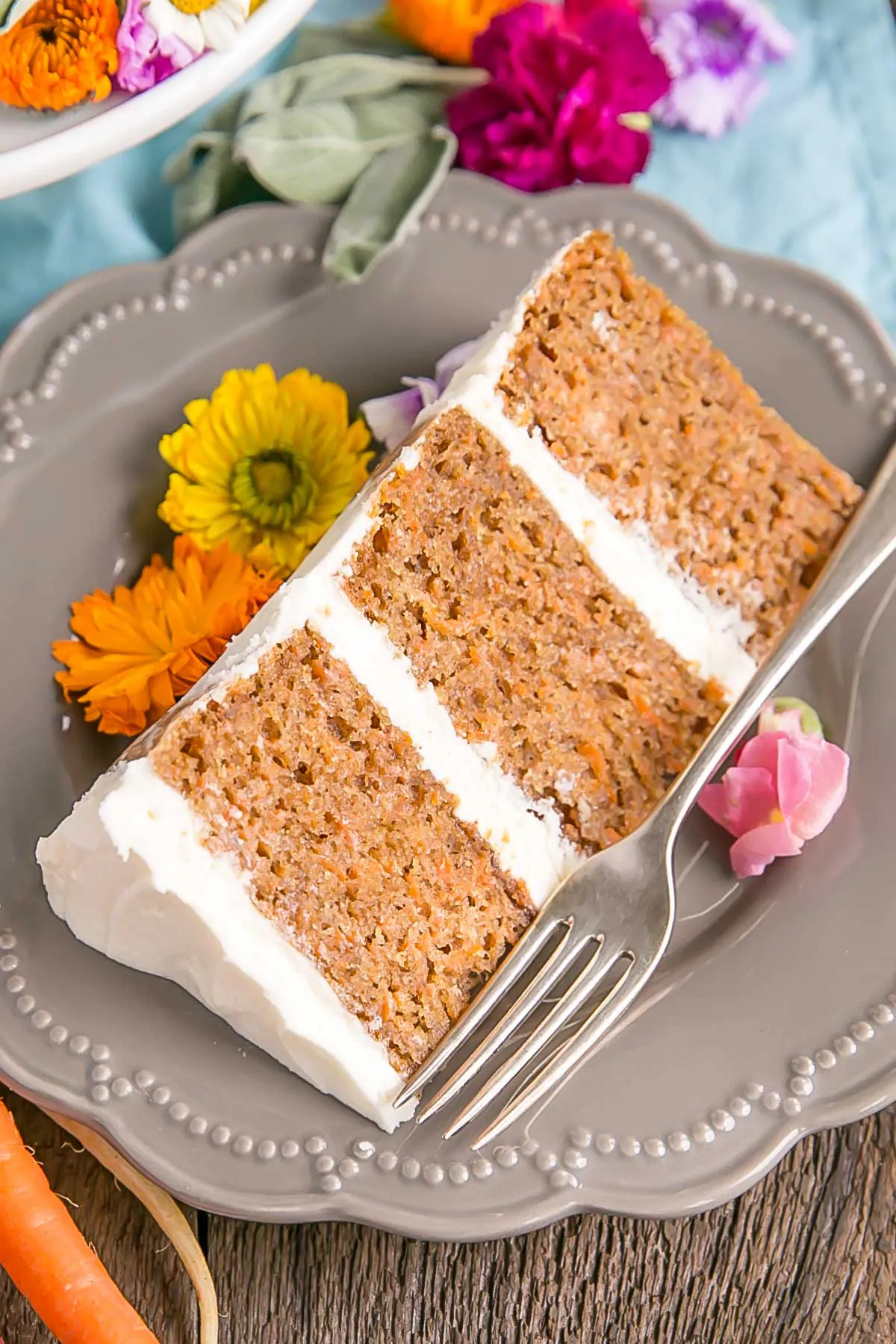 Looking for more Easter recipes?
Tips for this Carrot Cake recipe
Apr 14, 2022 – Cream Cheese Frosting recipe revised to make a more stable frosting.
You can make this recipe as-is in two 8″ pans instead of three 6″ pans.
I used my food processor on the fine (not coarse) setting to grate the carrots. You can grate them by hand also.
I didn't use rainbow carrots for the inside of the cake, but you can. Just note that the purple will come out somewhat black/green and may not look very pretty!
Use full-fat brick cream cheese (not in a tub) for best results for the frosting.
To help ensure your cake layers bake up nice and flat, see my Flat Top Cakes post.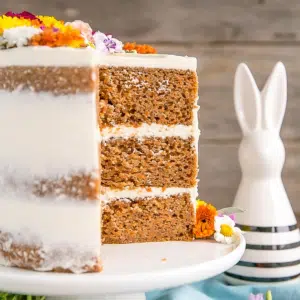 Carrot Cake with Cream Cheese Frosting
This classic Carrot Cake recipe is one you'll want to add to your collection! A moist and delicious cake paired with a not-too-sweet cream cheese frosting.
Ingredients
Cream Cheese Frosting:
1

cup

unsalted butter

room temperature

1

cup

cream cheese

full fat, chilled

4

cups

powdered sugar

sifted

1

tsp

vanilla extract

cornstarch or meringue powder

optional, as needed
Instructions
Carrot Cake:
Preheat oven to 350F. Grease and flour three 6″ cake rounds, line with parchment.

In a medium bowl, combine flour, baking powder, baking soda, spices, and salt. Set aside.

In the bowl of a stand mixer combine vegetable oil and sugars. Beat until well combined (2 mins). Add eggs one at a time, fully incorporating after each addition. Add vanilla.

Add flour mixture in 3 parts. Fold in carrots.

Spread batter evenly into prepared pans and bake for 55mins or until a toothpick inserted into the center comes out clean.

Place cakes on wire rack to cool for 10mins then turn out onto wire rack to cool completely.
Cream Cheese Frosting:
Using a stand mixer or hand mixer beat butter until pale and creamy. Reduce speed to low. Add powdered sugar 1 cup at a time and mix on low until well blended. Increase speed to medium and beat for 3 minutes.

Add vanilla and continue to beat on medium for 1 minute.

Slowly add chilled cream cheese one cube at a time (about 1 tablespoon at a time). Beat well until blended and ensure no lumps of cream cheese remain.

If needed, add cornstarch or meringue powder 1 tablespoon at a time to stiffen the frosting (I didn't but this is an option). Run mixer on low for a couple of minutes to remove any air bubbles.
Assembly:
Place one layer of cake on a cake stand or serving plate. Top with approximately 2/3 cup of buttercream and spread evenly. Repeat with remaining layers. Frost and smooth the outside with a thin crumb coat.

Decorate the top with a swirl and some edible flowers if desired.
Calories:
572
kcal
Carbohydrates:
85
g
Protein:
5
g
Fat:
24
g
Saturated Fat:
14
g
Cholesterol:
118
mg
Sodium:
272
mg
Potassium:
280
mg
Fiber:
1
g
Sugar:
66
g
Vitamin A:
6100
IU
Vitamin C:
1.9
mg
Calcium:
96
mg
Iron:
1.7
mg
The nutritional information and metric conversions are calculated automatically. I cannot guarantee the accuracy of this data. If this is important to you, please verify with your favorite nutrition calculator and/or metric conversion tool.