The ultimate birthday cake recipe! A classic yellow cake with a rich chocolate frosting and colorful sprinkles. The perfect flashback to your childhood.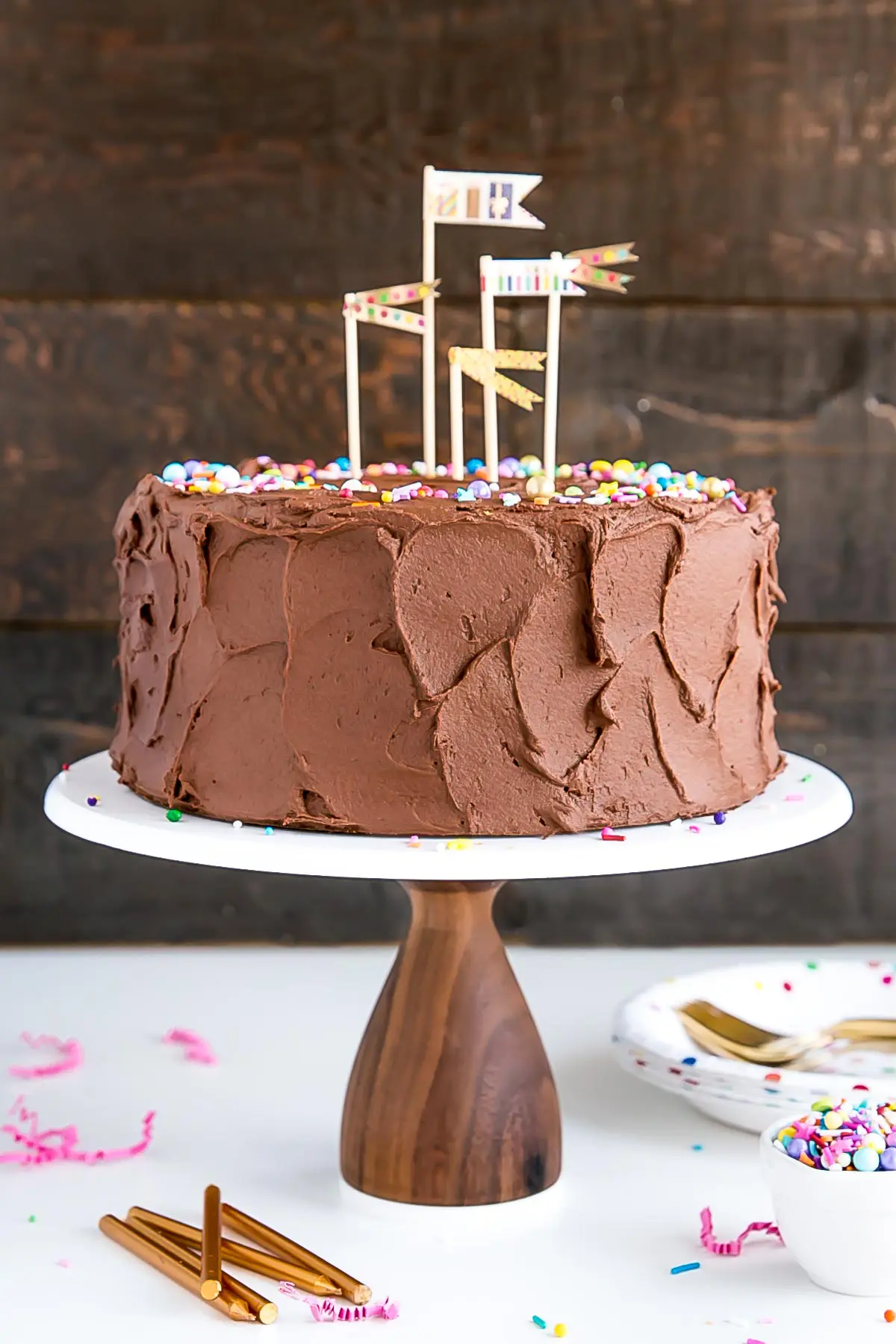 I am channeling my very best 80's vibe with this cake.
The 80's was such a perfect time to grow up, maybe the last perfect decade to be a kid. Technology was slowly infiltrating our homes, but it hadn't completely taken over our lives yet. Kids could still be kids. Birthdays were not the lavish Pinterest-fuelled affairs they are now. We'd invite our friends, have a handful of snacks out, maybe some balloons or hats, and of course, the classic birthday cake.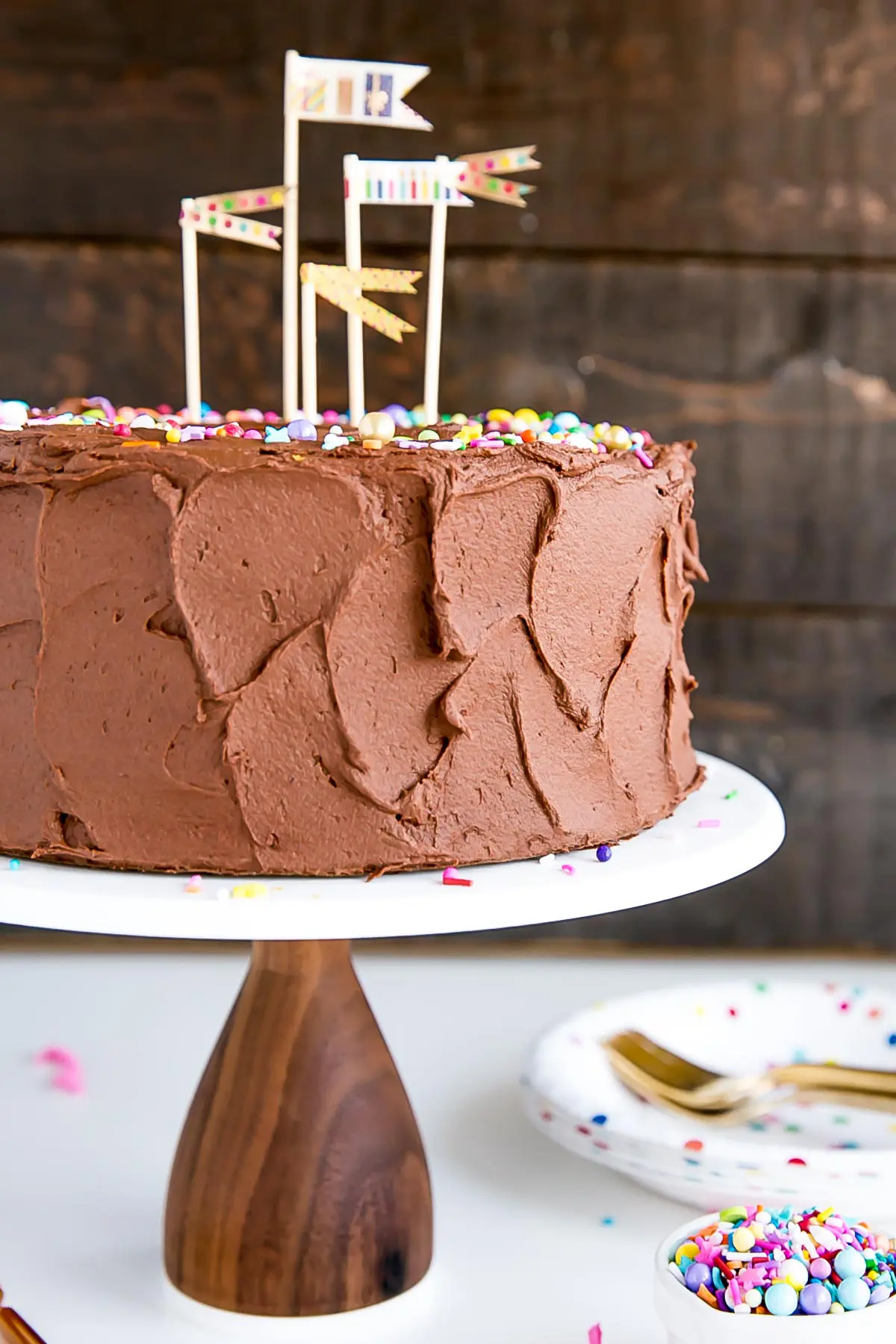 You know what I'm talking about. That yellow cake box mix and the tub of chocolate frosting. It was perfect.
Honestly, if someone put that in front of me today, I would not turn my nose up at it. I still love it. I've talked about my love for store-bought or box mix cakes before – I'm not ashamed to admit it.
While I do love to bake, there's something comforting about those nostalgic flavors. And let's be real here, I've yet to recreate the perfect flavor that is the Betty Crocker French Vanilla cake mix. So. Good!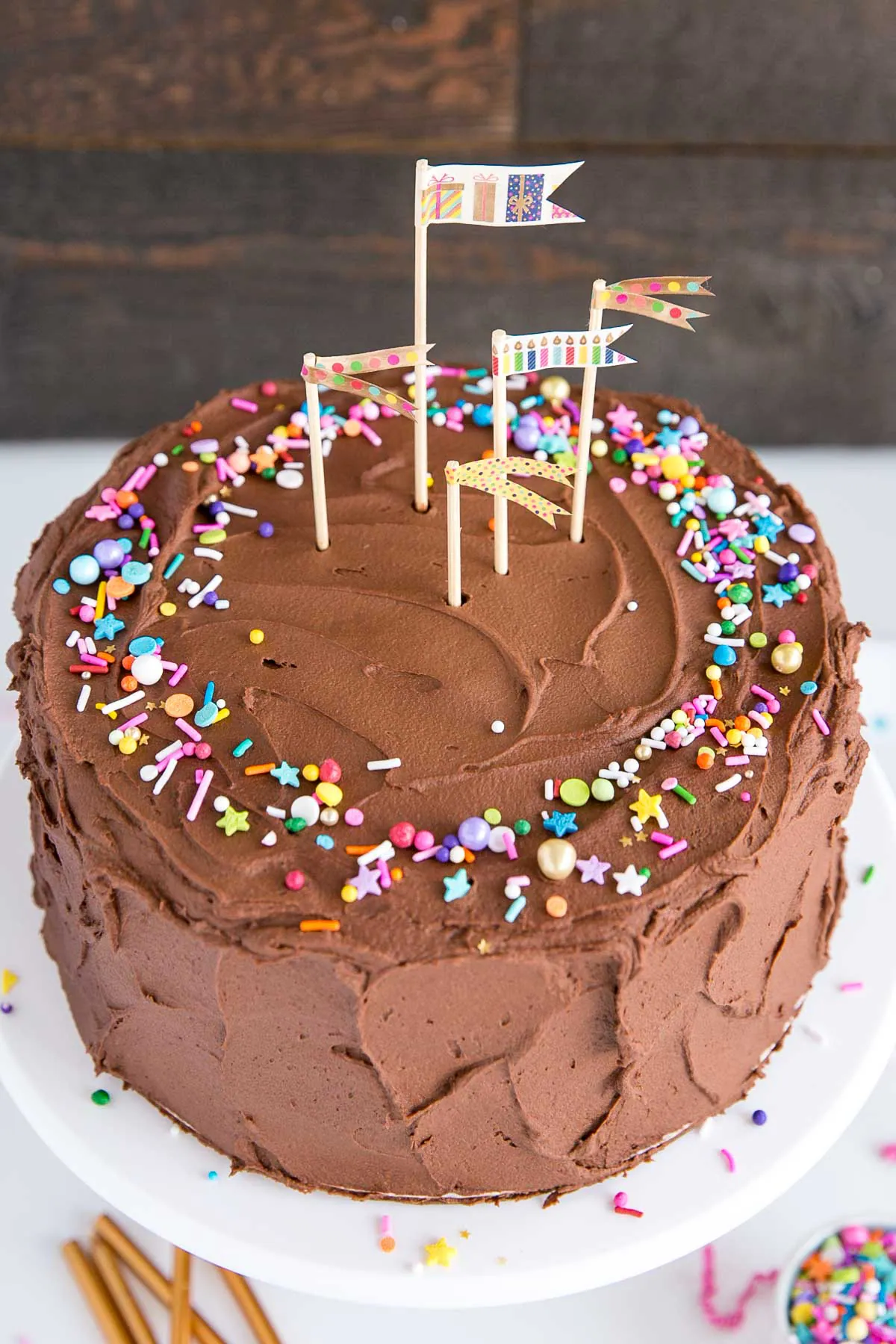 This cake I bring you today is what I consider to be the perfect birthday cake recipe.
I've used this yellow cake recipe a few times before, and it's my favorite. It's often what I use as a base to work from when I'm looking at creating new cake flavors. The one difference this time around is the clear vanilla extract.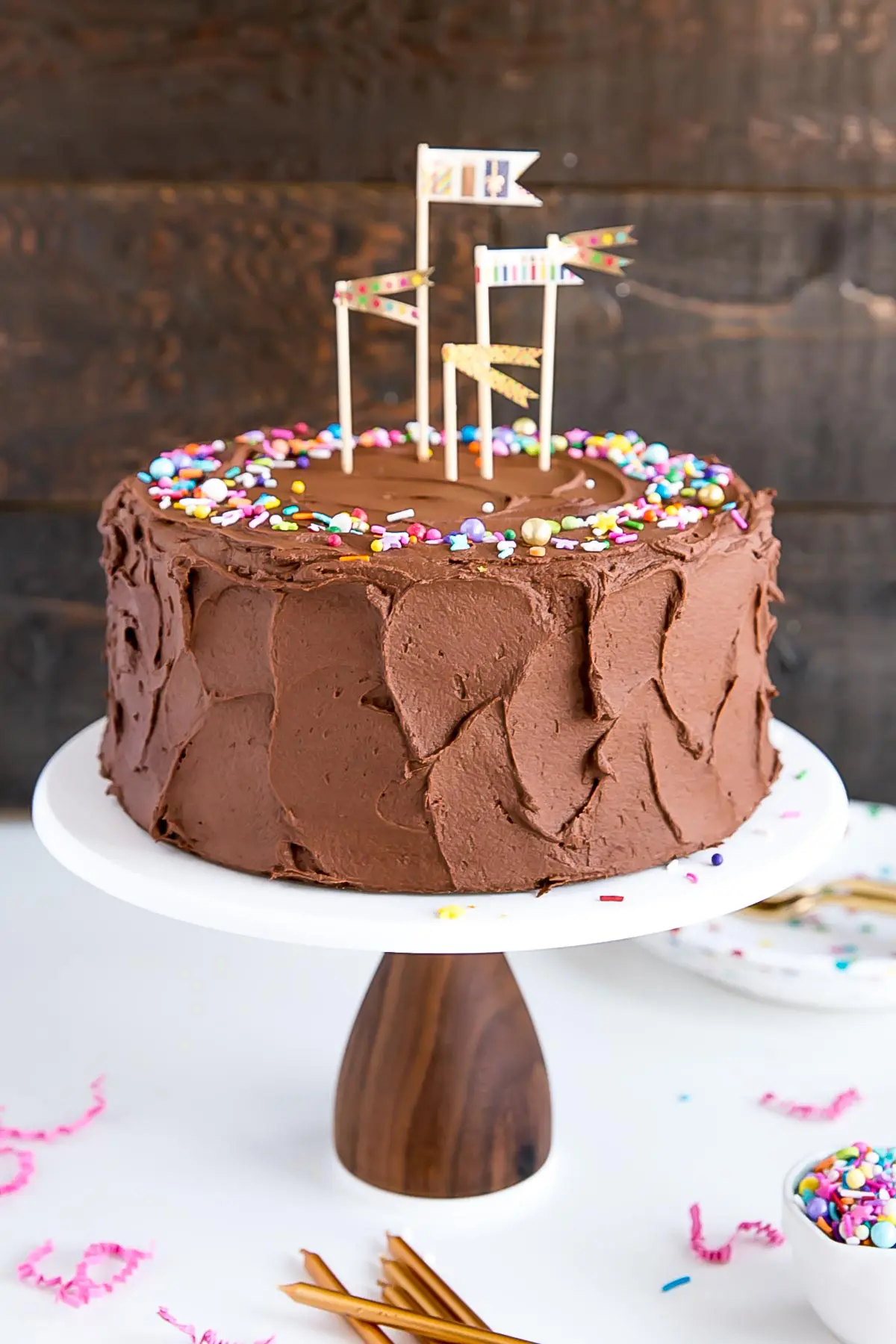 What is clear vanilla?
Clear vanilla extract is an artificially flavored vanilla. It has a sweeter taste than classic vanilla, and I find it to evoke more of that box-mix cake flavor. It's often used in cakes and frostings that need to be pure white, as it won't tint the color of the cake. If you don't have clear vanilla extract though, it's not a deal breaker. Regular vanilla extract will work just fine too.
The chocolate frosting is simple to make, and it's delicious. I don't make American-style buttercreams often, but it was a must-do for this classic birthday cake. A simple mix of butter, powdered sugar, cocoa, and melted chocolate.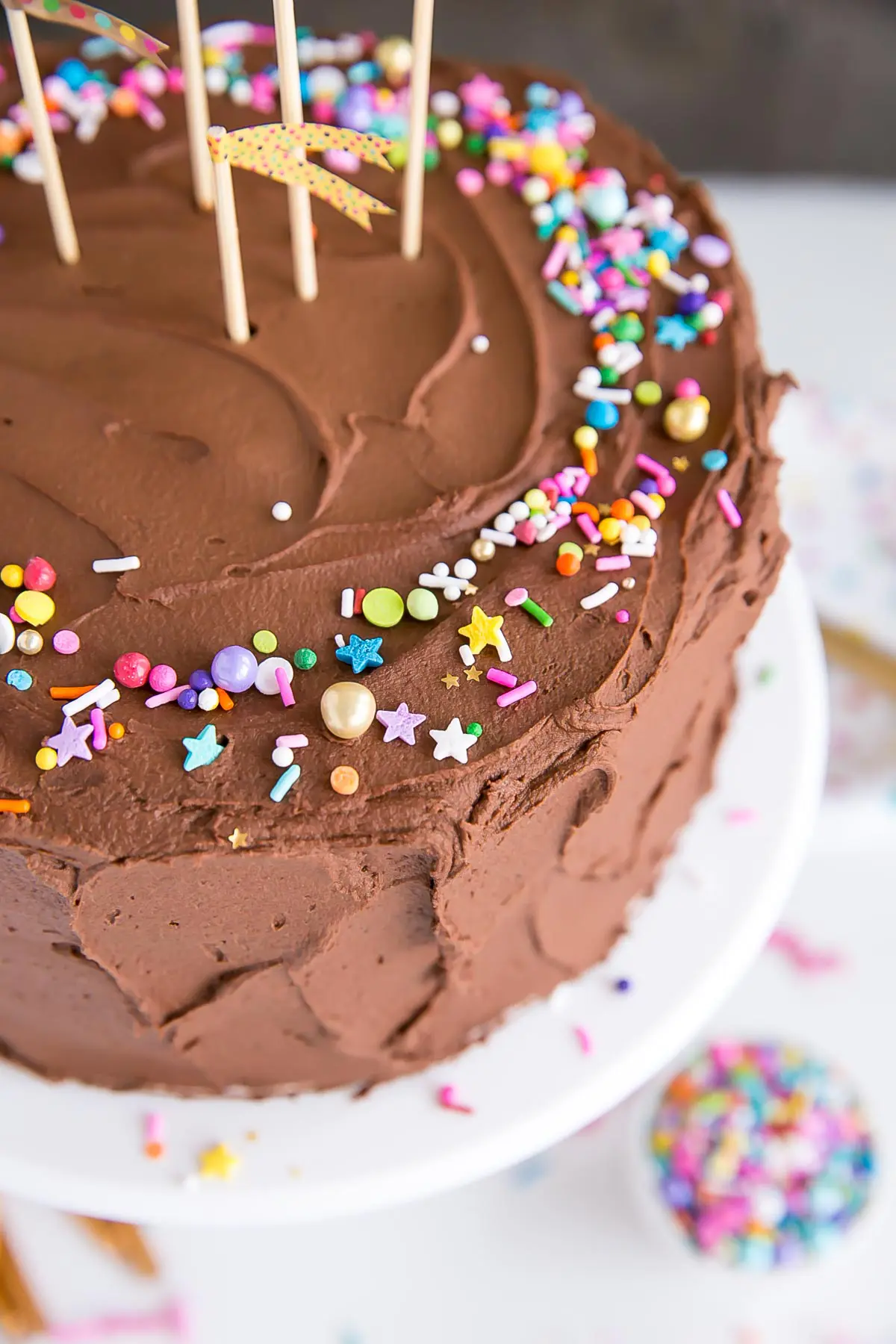 I kept the decorating on this cake simple. No fancy piping or chocolate drips or anything. Just some rustic swirls on the sides and top, some fun sprinkles, and little flags made out of washi tape.
If you're looking for a birthday cake for that special someone, or want a way to relive those awesome memories of birthdays gone by, this classic birthday cake is for you!
Looking for more Birthday Cake ideas?
Tips for making this yellow cake with chocolate frosting:
Classic Birthday Cake
The ultimate birthday cake recipe! A classic yellow cake with a rich chocolate frosting and colorful sprinkles. The perfect flashback to your childhood.
Instructions
Vanilla Cake:
Preheat oven to 350F. Grease and flour two 8″ cake rounds and line with parchment.

In a medium bowl, whisk flour, baking powder, and salt until well combined. Set aside.

Using a stand mixer fitted with a paddle attachment, cream butter and sugar on med-high until pale and fluffy (approx 3mins). Reduce speed and add eggs one at a time fully incorporating after each addition. Add vanilla.

Alternate adding flour mixture and milk, beginning and ending with flour (3 additions of flour and 2 of milk). Fully incorporating after each addition.

Bake for 35-40mins or until a toothpick inserted into the center comes out mostly clean.

Place cakes on wire rack to cool for 10mins then turn out onto wire rack.
Chocolate Frosting
In a large bowl, whisk sifted powdered sugar and cocoa powder to combine. Set aside.

Beat butter until smooth and creamy. Add powdered sugar 1/2 cup at a time, beating well between each addition. Beat until smooth (approx 5mins).

Add in cooled melted chocolate and beat until combined. Add in milk until desired consistency is reached (I added all 4 Tbsp).
Assembly:
Place one layer of cake on a cake stand or serving plate. Top with approximately 1 cup of buttercream. Repeat with remaining layer and crumb coat the cake. Chill for 20mins.

Frost the top and sides of the cake in a rustic manner using an offset spatula.

Decorate the top with sprinkles and decorative flags if desired.
Notes
* Clear vanilla extract is artificial and I find gives more of that classic birthday cake flavor. You can use any kind of vanilla though.
Calories:
683
kcal
Carbohydrates:
88
g
Protein:
6
g
Fat:
35
g
Saturated Fat:
21
g
Cholesterol:
120
mg
Sodium:
182
mg
Potassium:
331
mg
Fiber:
3
g
Sugar:
64
g
Vitamin A:
935
IU
Calcium:
100
mg
Iron:
3.6
mg
The nutritional information and metric conversions are calculated automatically. I cannot guarantee the accuracy of this data. If this is important to you, please verify with your favorite nutrition calculator and/or metric conversion tool.